Lately, I have the feeling of starting every post in the same way, apologizing for the lack of time to devote to blogging, but if you´re a mother, wife, cook, employee, prepare handmade gifts with one or more hobbies taht take away sleep, and also blogger, then you will surely understand my lack of time on these dates so special...
Ultimamente, tengo la sensación de empezar todos los post de la misma forma, pidiendo disculpas por la falta de tiempo para dedicar a los blogs, pero si usted es madre de familia, esposa, cocinera, trabajadora, preparadora de regalos hechos a mano, con uno o varios hobbies que le quitan el sueño, y además bloguera, entonces usted seguramente comprenderá mi falta de tiempo en estas fechas tan especiales....
So while there has been little time to sew, I have chosen and begun to sew the dress for wear with the last bag I sewed, however, does not mean that I have not used the bag...
Actually, I´ve used it a lot and I wanted some clothes in my closet to match colors of it. In this first photo, I´m wearing the dress "Second opportunity".
There´s even a funny anecdote about this bag when the last day I was walking down the street with the outfit of the photo above, a woman passing by , stopped me and asked me where I had bought the bag, I said very funny that it was made by me... the Mrs. looked at me a few seconds and then asked me to buy it... right there!
Of course, reject her offer politely, but she insisted and even offered to give me a plastic bag for I placed all things that I had in the bag at the time...
Así que aunque no ha habido mucho tiempo para coser, yo tengo elegido y empezado ya el vestido para lucir con el último bolso que yo cosí, sin embargo, esto no significa que yo no he usado el bolso....
en realidad, yo lo he usado mucho y he buscado algunas prendas en mi armario para combinar con los colores de él. En esta primera foto , yo estoy usando el vestido
"Segunda oportunidad"
.
Hay incluso una divertida anécdota en torno a este bolso cuando el último día yo iba andando por la calle con el look de la foto de arriba, una señora que pasaba por mi lado me paró para preguntarme donde había comprado el bolso, yo le contesté muy divertida que era hecho por mi... la señora me miró algunos segundos y después me propuso comprarlo... allí mismo!
Por supuesto, rechazé su oferta muy amablemente, aunque ella insistía e incluso se ofreció a darme una bolsa de plástico que llevaba para que yo colocara las cosas que llevaba en el bolso en ese momento...
Another beautiful day, I had the opportunity to combine the bag with the jacket that I customizes the end of last summer, though I wore the hat that I made to go with this jacket, it was impossible to use because it was very hot that day, so the hat was kept in the car for another time.
Otro día hermoso, yo tuve la oportunidad de combinar el bolso con la chaqueta que customizé el final de verano pasado,
aunque yo llevaba el sombrero
que hice a juego con esta chaqueta, fué imposible usarlo porque hacía mucho calor ese día, así que el sombrero quedó guardado en el coche para otra ocasión.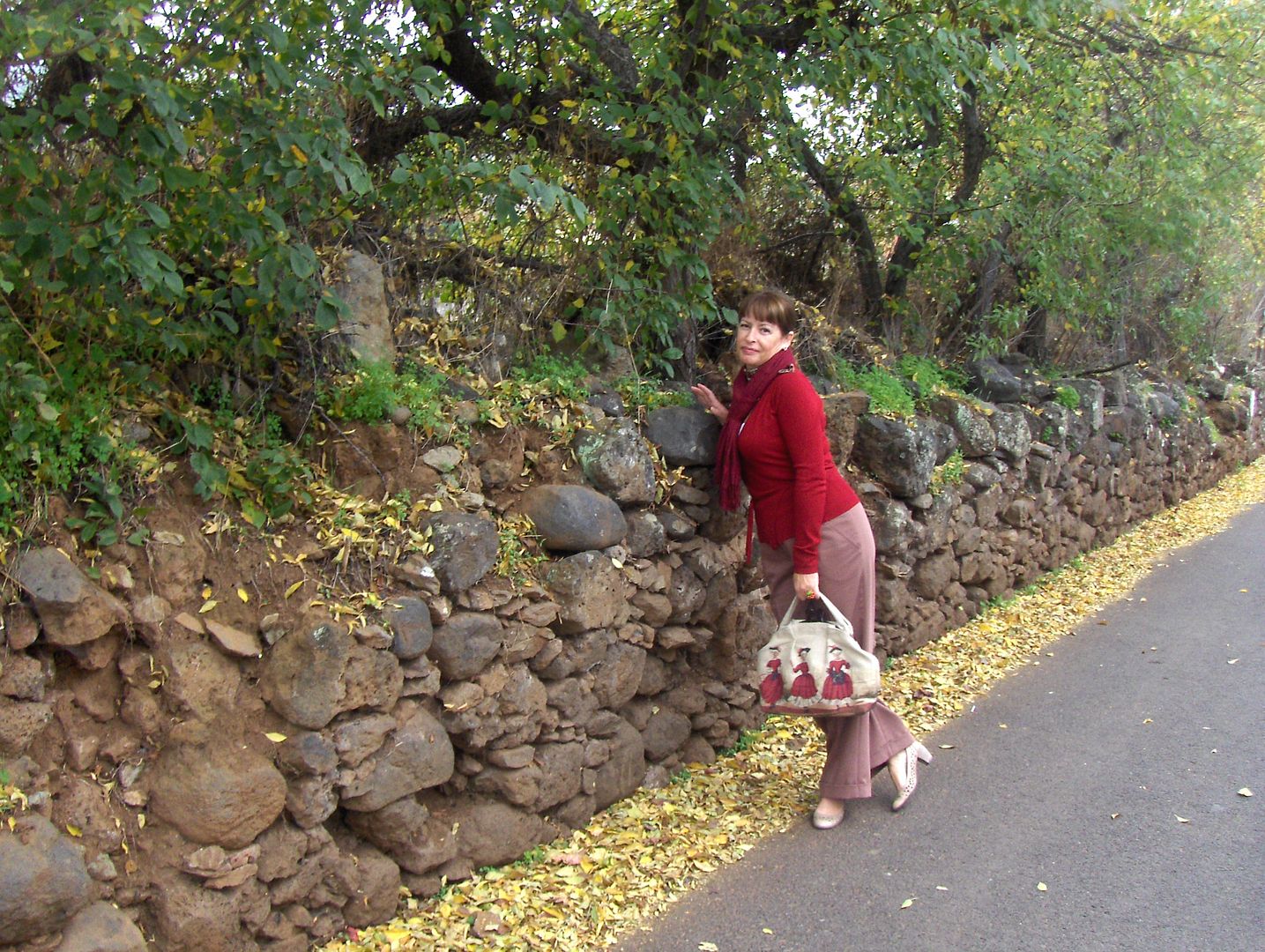 This little adventure was quite fun because there are Christmas markets in almost all villages of the island and you can find pretty things there...
En otra ocasión yo combiné el bolso con
el pantalón que yo cosía
en un intento de look de los cuarenta.
Esta pequeña aventura fue bastante divertida porque ya están instalados los mercadillos navideños en casi todos los pueblos de la isla y usted se puede encontrar con cosas tan bonitas allí ...
In any case, I want to thank all the wonderful people who have followed commenting and sending emails to my inbox during my absence blogger, I promise to answer all, because you all are a beautiful community always willing to share all information about any subject, l enjoyed the comments of the last post about the dresses that are appeared in various films and TV programs.
Thank you very much also to new fans and please leave a way back for me to also be able to follow you if you passed for here.
En todo caso, yo quiero dar las gracias a todas las maravillosas personas que han seguido comentando y enviando emails a mi buzón durante mi ausencia blogueril, yo prometo contestar a todos , porque todos ustedes son una hermosa comunidad siempre dispuesta a compartir toda la información acerca de cualquier tema, yo disfruté mucho de los comentarios del último post acerca de los vestidos que se repiten en los distintos programas de cine y televisión.
Muchas gracias también a los nuevos seguidores y por favor, dejar un camino de vuelta para yo también poder seguir a usted si se pasó por aquí.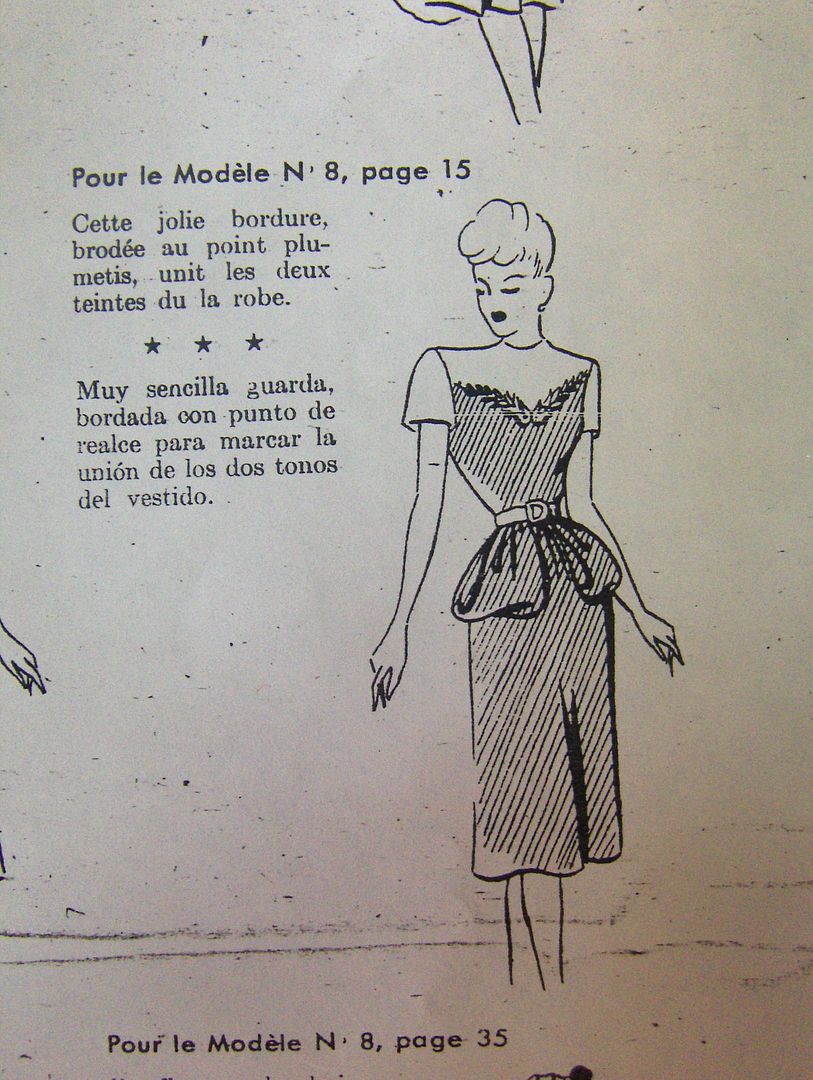 And finally, a sneak preview of the dress is on my sewing table right now, I will explain the details of this model in a future post, for not doing this too long.
Just tell you that I have only the image of this dress, so I´ll draw patterns to achieve something close to this picture.
Y por último, un pequeño adelanto del vestido que está sobre mi mesa de costura en estos momentos, yo voy a explicar los detalles de este modelo en un próximo post, para no hacer este demasiado largo.
Simplemente, contar que yo solamente tengo la imagen, así que yo dibujaré los patrones para conseguir algo aproximado a este dibujo.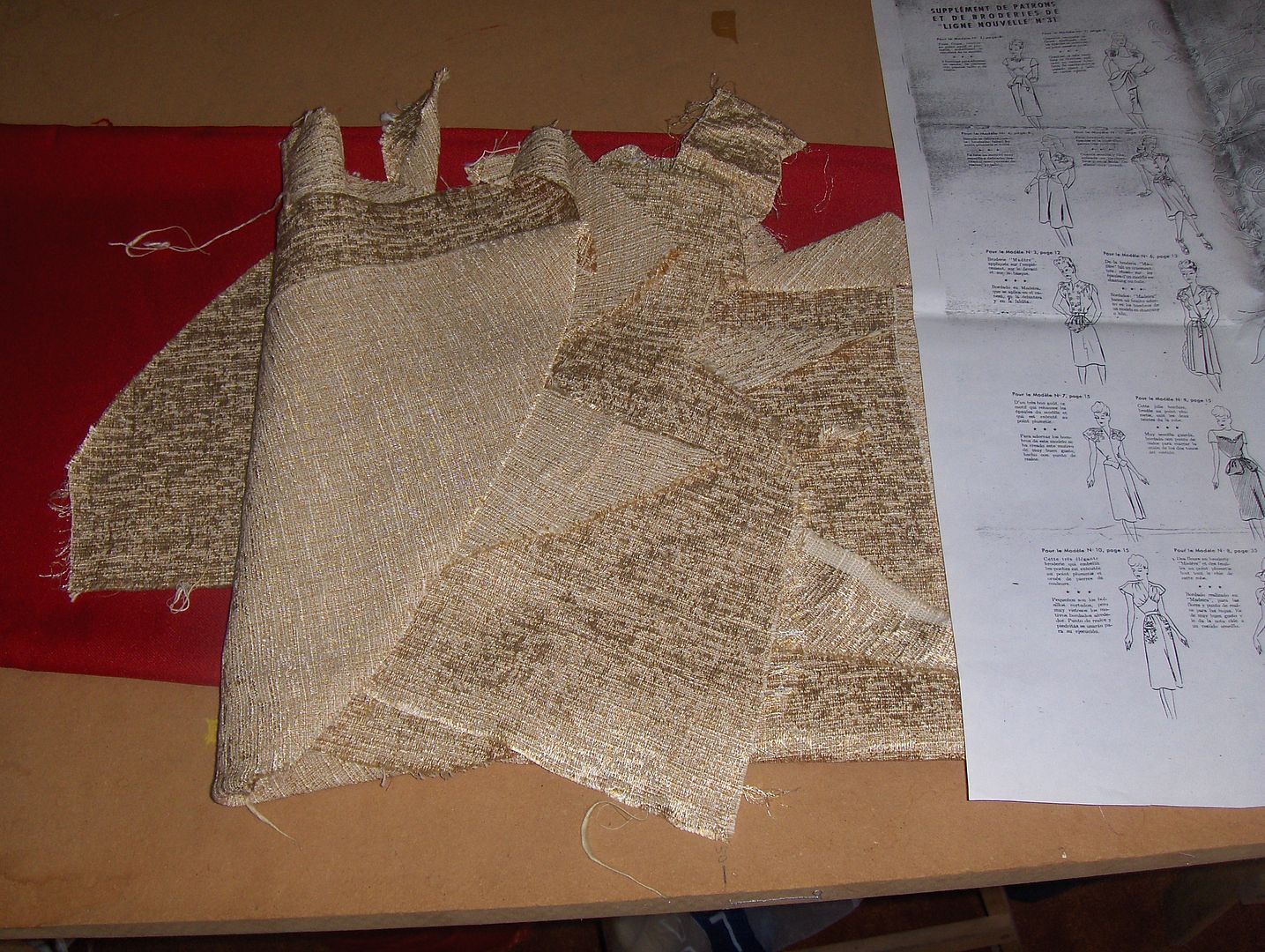 For this dress I chose a cherry red piece of fabric from my stash for the dress and some scraps left over from a previous project in caramel color, the latter is for the yoke and sleeves of the dress, matching again with the colors of the last bag I sewed.
The red fabric is one meter and half, and caramel- colored fabric remnants are small bits and pieces, so I´ll have to juggle to cut the dress with so little fabric, but every effort will be worthwhile for the showcasing the beautiful embroidered that will look the dress on the junction of yoke.
Para este vestido yo elegí un trozo de tela de mi stash en rojo cereza para el vestido y algunos trozos sobrantes de un proyecto anterior en color caramelo, esto último será el canesú y las mangas del vestido, jugando otra vez con los colores del último bolso que yo cosí.
El retal de la tela roja mide un metro y medio, y los retales de color caramelo son pequeños trozos sueltos, así que yo voy a tener que hacer malabarismos para cortar el vestido con tan poquita tela, pero todo esfuerzo valdrá la pena para el lucimiento del bonito bordado que lleva el vestido en la unión del canesú.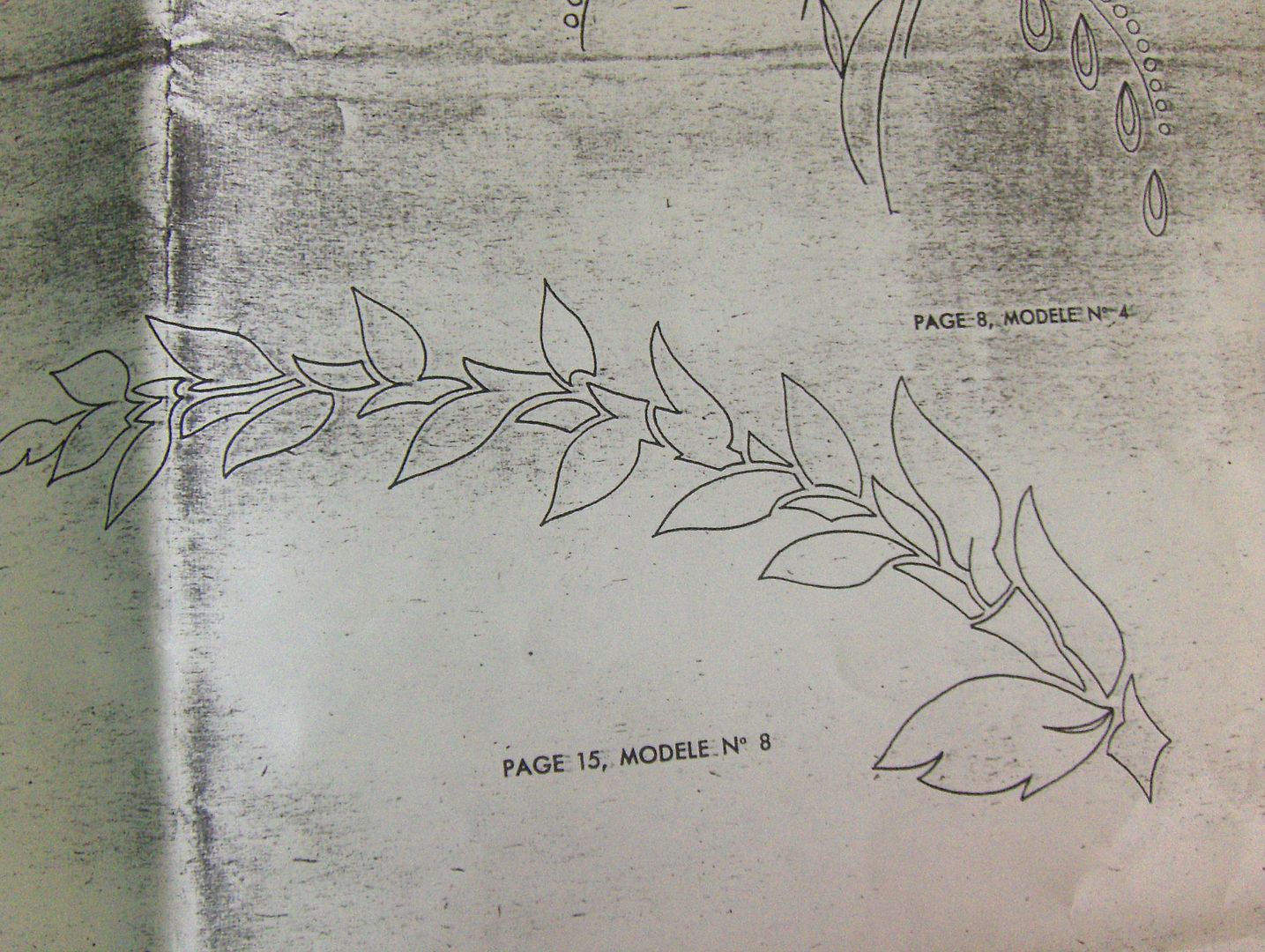 In the next post, I will continue to count all details and evolution of this model...
Meanwhile, the countdown begins for the arrival of Christmas , I want to receive my gift on Christmas Eve... I want time, more time... please, anyone know where I can buy it??
En el próximo post seguiré contando todos los detalles y la evolución de este modelo...
Mientras tanto, comienza la cuenta atrás para la llegada de la Navidad, yo ya tengo elegido el regalo que quiero recibir esta Nochebuena... quiero tiempo, más tiempo... por favor, alguien sabe donde puedo comprarlo??