As I
promised you
, I
'll try to
explain as clearly as
possible
how to make
the facing of
a dress with
crew neck
and sleeveless
with techniques of
haute couture.
However
, I must
tell
you (
I am
very repetitive
) that
English is not
my native language,
so if you
think something
spelled incorrectly or
explained here
, please
feel
free to say
, I
try to do better
.
Also, I
have divided
the process
into three
different
post
, making
it
one
can only be
very tired and
make some mistakes,
so in this
first post,
I'll try to
explain to you
how to copy a
paper
pattern
for the lining of
your
dress
-top,
thus
you are totally
self-sufficient
to do this in
any dress
, even if you
alter
the original dress
and not
depend on the
pattern
you purchased.
The second
post
will be dedicated
to "
cleanse"
the area
right
where the
invisible zipper
for
a perfect view
with
f
acing
inside
and out, with
the finishing of
the zipper,
this technique
is the same for
use
also in a
skirt when it´s
f
acing with
the waist.
The third
post
is the way to
finish the
shoulder seams
so you can
show
it
on the inside with
pride
complete
...
Ok, let´s go away..
Como te había prometido, intentaré explicarte tan claremente como sea posible la forma de hacer la vista de un vestido con cuello caja y sin mangas con las técnicas de alta costura.
Yo he dividido este proceso en tres partes, así que este es el primer post y voy a explicarte como copiar en papel el patrón para la vista de cuello y sisas de tu vestido, de manera que tú puedas ser auto-suficiente para hacerlo en cualquier vestido, incluso si tu prenda original no trae esta opción.
El segundo post será dedicado a "limpiar" el area donde está la cremallera invisible para que esto se vea perfecto tanto en el interior como en el exterior, esta técnica es igual si queremos colocar vistas en la cinturilla de una falda .
El tercer post será la forma de terminar limpiamente la costura de los hombros, así puedes mostrar el interior de tu vestido con orgullo total...
Vamos allá...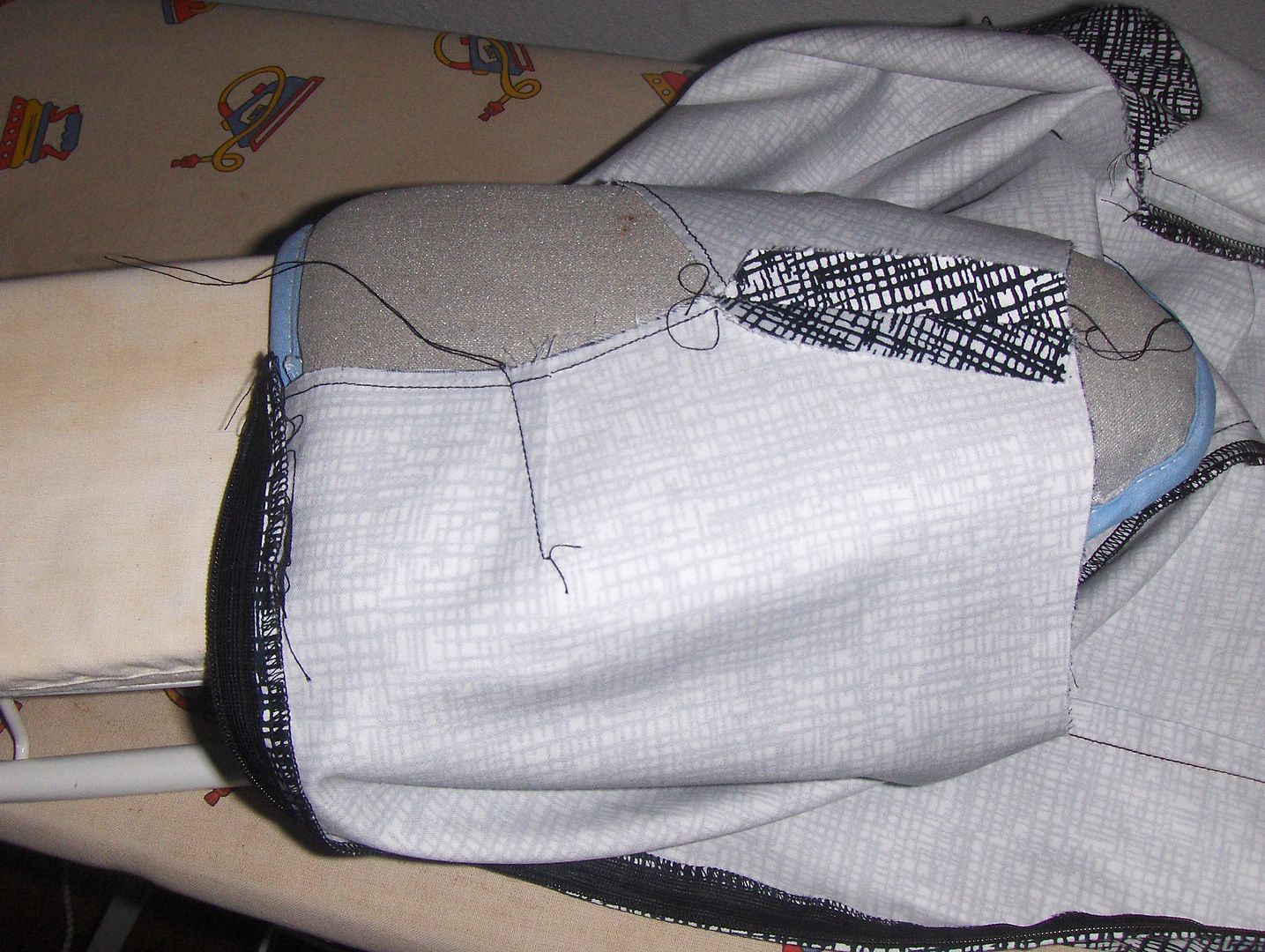 First of all
, sewing
the shoulder
dress
with a
long
stitch
and
ironing
the
seam
allowance
, I
sewed
a small
dart at
the back to
adjust the
neck
line of
my neck,
this is optional and
you must decide if
your
dress needs
it
or not
.
Primero de todo, coser la costura de los hombros con una puntada larga en nuestra máquina de coser y planchar los márgenes abiertos, esta vez yo hice una pequeña pinza en la espalda de mi vestido para ajustarlo mejor a mi escote, esto es opcional y tú decides si lo necesitas o no.
Unpick the
seams
of the shoulders
, put
the dress
wrong side
out
and fold in
the center of the
front
as pictured
, put
pins in
the entire area
of the shoulders,
neckline and
armholes
checking that
both sides of the
body are
together
with the seams
aligned.
Descosemos las costuras de los hombros y colocar el vestido doblado por el centro, los derechos encarados tal como muestra la foto, colocar alfireres en el area entera de los hombros, cuello y sisas controlaneo que ambas caras del cuerpo del vestido están juntas con las costuras alineadas.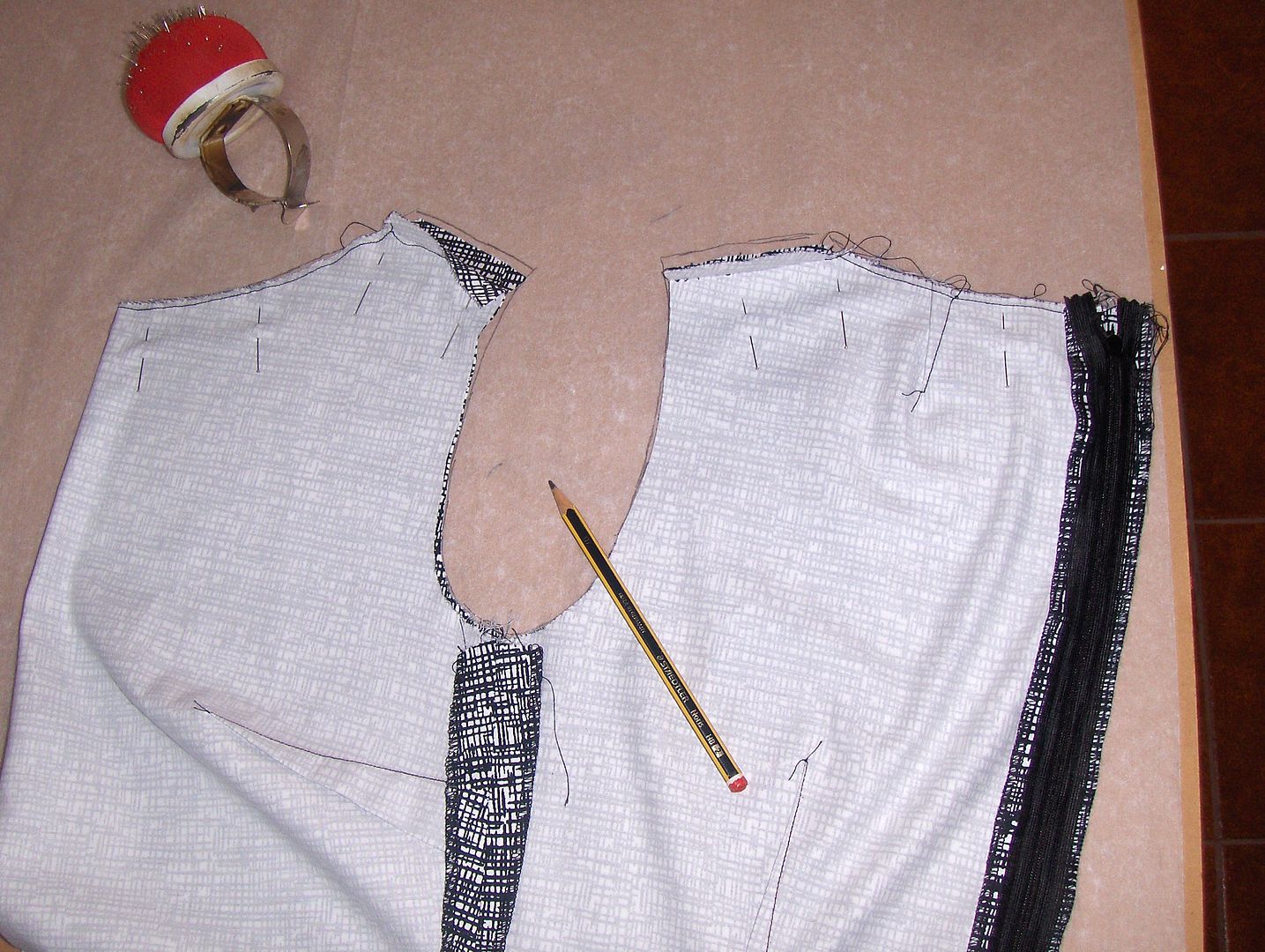 Place a
paper under
your
dress
to copy the
pattern that you will
use to
cut the
facing,
draw
around the
outline of the
dress from
the front center
to the center of
the back,on t
hese two extremes
, we descend
to draw
the line
a
bout
three inches
(8 cm
), this is
the height that
has the
f
acing
the center
front and
center
back.
Draw
the line
along the
edge of the fabric
, this includes
seam allowance
.
Coloca un papel debajo del vestido, cláva algunos alfileres para que no se mueva y copia a lo largo de todo el borde para dibujar el patrón de la vista, en los extremos de este patrón, que serán el centro de espalda y centro delantero, bajamos una linea de unos ocho centímetros, esto será el alto de nuestro patrón.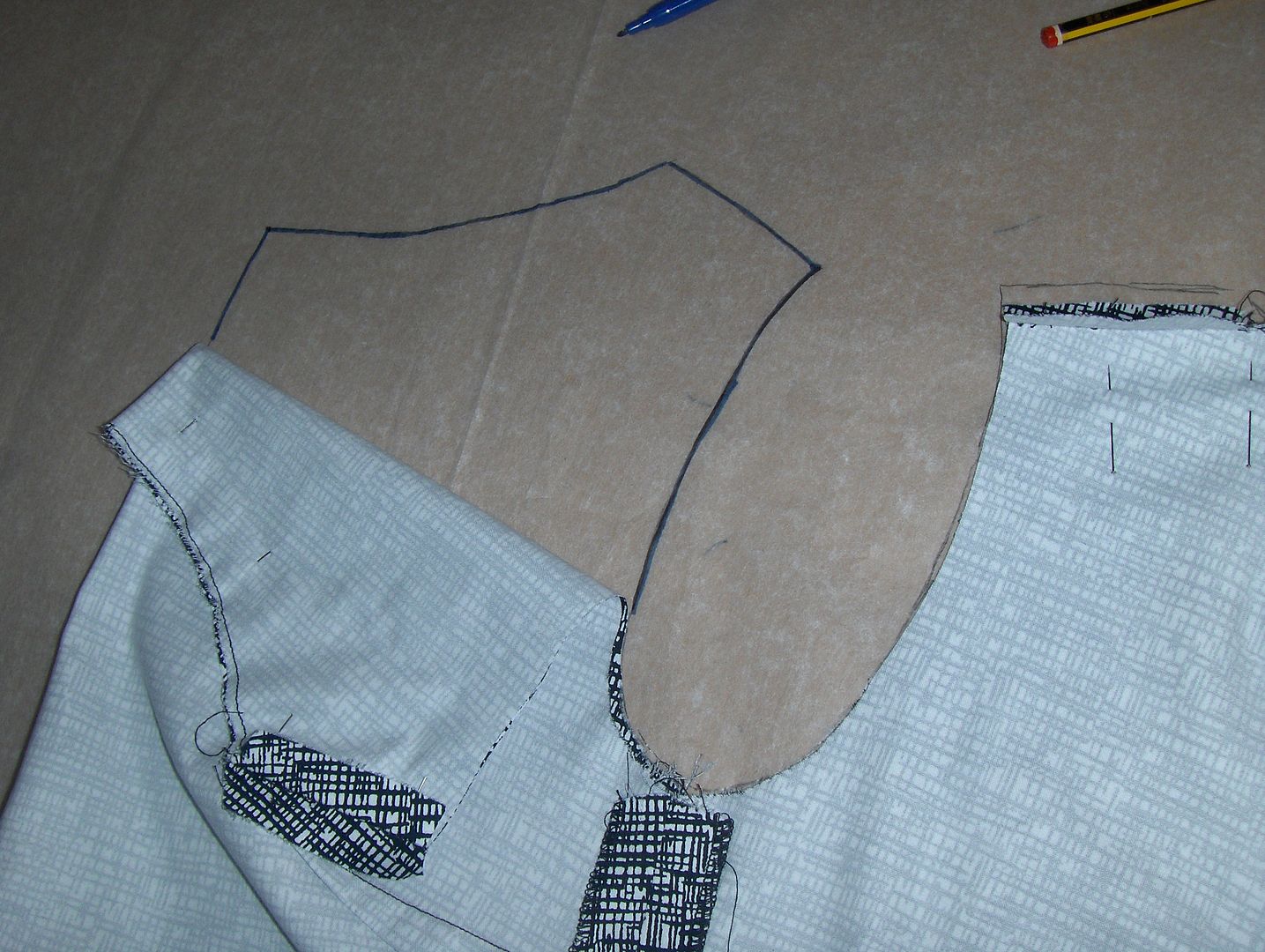 As shown in the
picture ...
make sure the
dress is
completely flat
on the paper
when you draw
the line,
if necessary,
pins the dress
with
the paper so
it
does not move during
the process.
Como se muestra en al foto, comprueba que esta zona del vestido, que estamos dibujando está completamente plana sobre el papel cuando estás dibujándola, es necesario que el vestido no se mueva durante el proceso.
Remove
pins and
remove
clothing,
you get this
pattern,
more or
less, depending on
the shape of
your
dress,
drawing on
the pattern
all the brands that
can help you locate
the pattern
, the front
, back,
side seam
line
in the
armhole,
to make it easier
all
the checks.
Draw
a line in
the bottom of the
pattern
starting
from the center
front
, lower
gently into the
armhole
area
and
go back up
to join
this line with
the center
back,
the image with
dashed
line
for you to
differentiate
it.
Ahora quita los alfileres y aparta la prenda, tendrás algo como este patrón de la foto superior, más o menos dependiendo de la forma de tu vestido, dibuja toda la información necesaria sobre el patrón para que te pueda ayudar a localizar las zonas del patrón, el frontal, la espalda, la lina de costura de la axila, todo .
Ahora dibuja una forma de lineas discontínuas en la parte de abajo del patrón , empezando desde el centro del delantero y terminando en el centro de espalda, bajando en la linea de la sisa, fíjate en la foto.
Make
small marks on
the front center
of the
pattern to
remember that here,
the fabric should
be
folded
....
Haz unas pequeñas marcas en el centro del frontal para recordar que esta parte del patrón va colocada sobre el doblez de la tela.
Cut the
paper
pattern
, I did
it
in one piece
because I
'm
completely
sure I have
enough fabric
to cut
f
acing
so,
if you don´t
have enough
fabric, to cut
it
and
separate the
pattern
on the line
under the
armhole
seam
(
side seam
) and add
seam allowance
in the pattern
.
Corta el patrón de papel, yo lo hice todo de una pieza porque yo he comprobado que tengo suficiente tela para cortar las vista juntas, pero si tú no tienes esta cantidad de tela, tendrás que separar el patrón del delantero y el de espalda y cortarlos en la tela por separado, en este caso no te olvides de añadir algunos centímetros a la costura de la sisa,
Place the
pattern
over the
folded fabric
to cut the
facing,
remember that
the front center
is
located above the
front
flold of
fabric
to
get the
full
f
acing
.
Colocar el patrón sobre la tela doblada y corta la vista, recuerda colocar el centro de el delantero sobre la tela doblada para que esta vista sea una sola pieza.