If the Saturday, I spent the day at the beach... on Sunday, hubby and I decided that we wanted something in nature and went for a walk to the villages in the center of the island, the surprise was that it rained, so it was good change weather, although it was very hot, really.
The outfit that I chosen for this tour was very rokcabilly.... and I was very happy because I was wearing five things made with my hands.
Although you can´t see it, I was wearing a petticoat bearing my initials embroidered and dogtooth skirt here, broock crochet cherries included tutorial is here and although not seen in the photo, the hair clip too here.
The fifth element is the crochet bag that I made so long time ago, before I started writing this blog, so there is´nt link to it.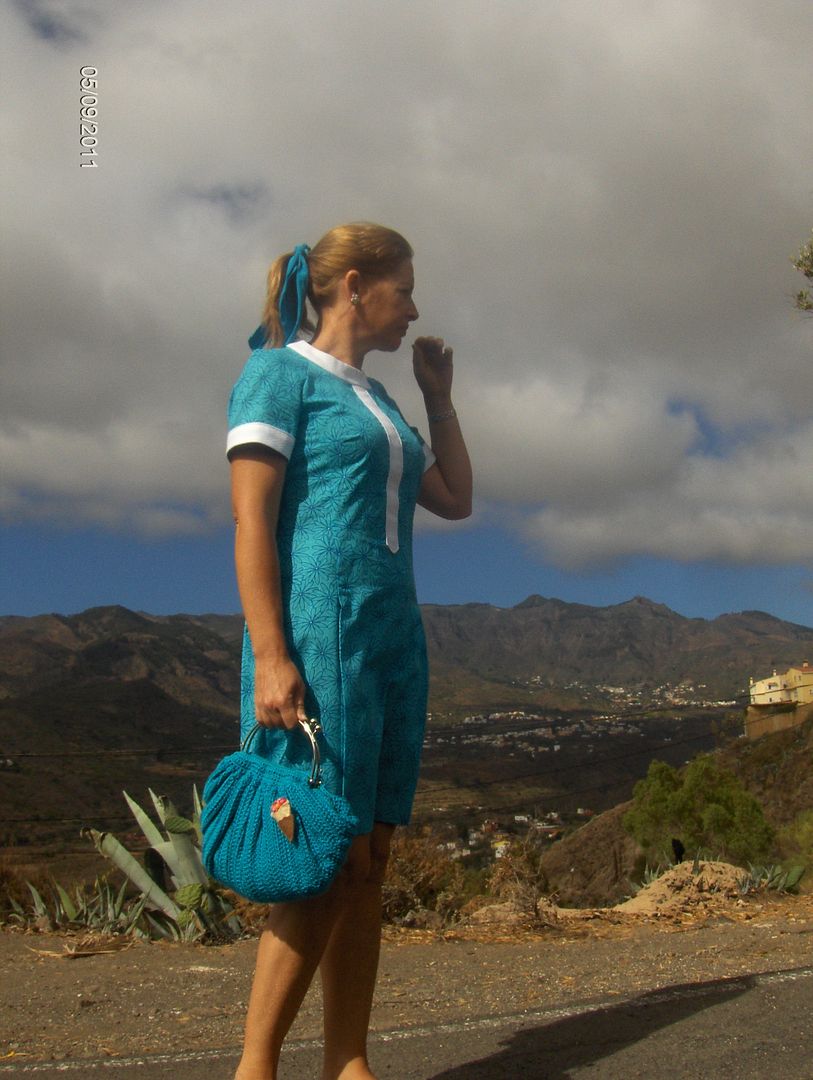 .
On Monday, back to the weekly routine, so a quick photo on the edge of the way home after work. I´m wearing the dress that I sewed here, crochet bag here, if you look a bit, this bag and the black bag of Sunday, was made with the same pattern of crochet.
I´m also wearing earrings that I made with buttons here.
Meanwhile, I´m still tangled up with my dress Peggy Olson , the back of the dress is complete. I got some pictures of the episode where I see this dress for that I see it from all angles.
In principle, the zipper on the back... My God!! This was a toodhache ... I redid it three times, the plaids were not aligned, so the third I gave up... yes.
Of course, I sewed an invisible zipper on the dress, although some seamstresses who sew the zippers like the same way as was done in that time.
I respect all these ways of make it, but for me... is the same as if I now wash all the clothes by hand, existing washing machines that do this for me...
Or just as if I ironed clothes as my mother did, heating the iron on the kitchen stove and splashing clothes with water, when there are wonderful steam irons now...
This is just a personal opinion and I repeat that I respect and admire the way each person chooses to do things simply.. . I want to dressing to have a vintage look with contemporary advances taht the industry offers today.
So, Happy sewing!!