The week has flown by, again.... so I´ll give you a quick look at what I´ve used all these days for the challenge of "Self Stitchet September"...
Monday.
A stop at a roadside on the way home after work to show what I wore today, I sewed a dress in January this year, here:
Also, the crochet bag I made in June 2009, if you look, this bag is the same pattern that the bag I looked yesterday, this here:
And last, but I do not know if they so noticeable in the picture, the earrings I did too, here: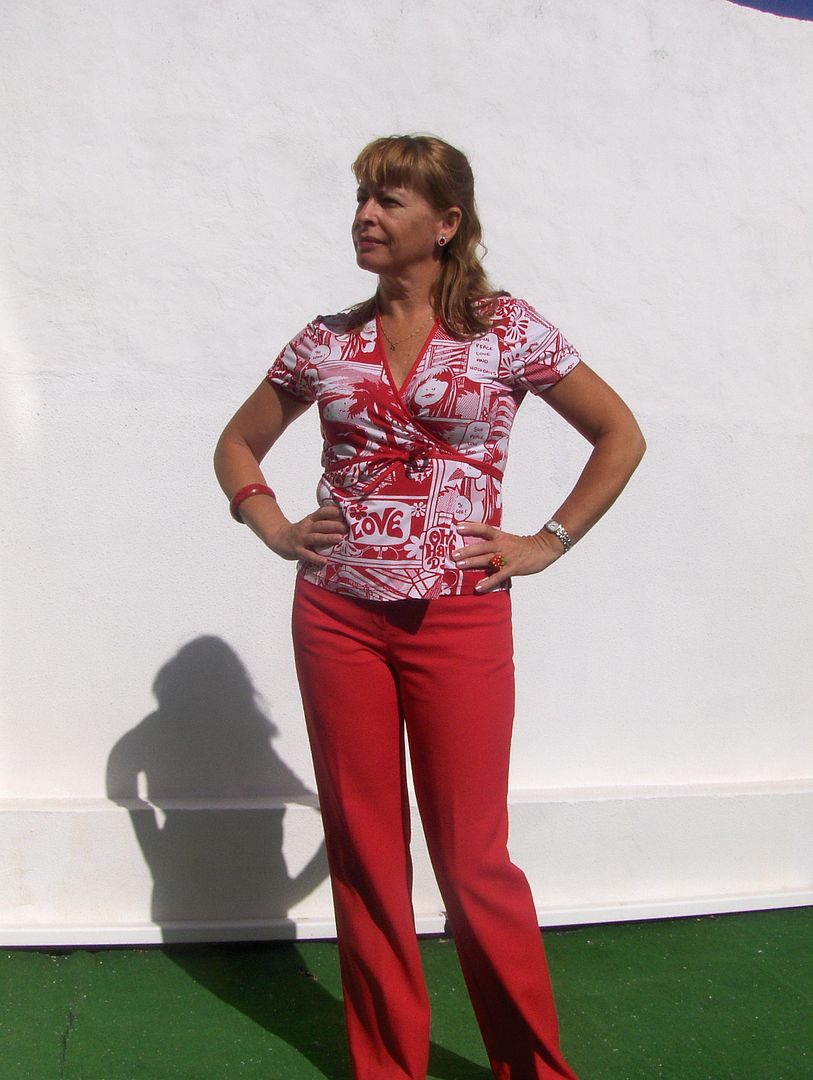 Tuesday:
The red pants I sewed in August 2009, here:
The top, really, this was a twin-set when I sewed it, there is a strapless top and this was the cardigan, but at some moment I decided that it would be more usable if I cut the sleeves and wore it like a top, this was a good decision, because it has a lot of wear now, I sewed this in October 2008 here
:
sewingadicta.blogspot.com/2008/10/twin-set.html
Wednesday
..., I'm wearing the skirt I sewed on March 2009, I call this skirt .. "high flying" for two reasons ... The print of this fabric that are airplanes and balloons ... and because this skirt really like playing with the wind, it quickly rises ... so I can use it only days there is no wind, .... Skirt, here:
The perfect accessory for this outfit is the fascinator I made in April this year, blogging here, tutorial included, ... if you like to do one:
Friday, better for dinner and celebrate that the weekend begins ...
So this time the picture at night ... a dress called "spring orange", yes, I confess that I like to name all my dresses ... they are like my babies, after all ...
This dress was sewn by me in June 2009 and is blogged here
:
sewingadicta.blogspot.com/2009/06/por-fin-acabe-el-vestid...
Saturday:
... to enjoy the beach, sun and sea .... so I'm wearing my bikini I sewed in August last year, I love this bikini, it is full of details like me. If you want to see the details here:
sewingadicta.blogspot.com/2010/08/bikini-whith-bows.html
And Sunday:
Today Sunday, going for a walk to the villages in the center of the island is almost obligatory, for this ... I wore my dress "Navy inspiration". I can not say of this dress, more than you can see in detail here:
So ended the second week of September and so far ererything is going well in this challenge... I have to tell you that I finished the dress of Peggy Olson, so pictures of it soon...