And then I got this ... the result is relatively good, but there is much work for make, here.
If you did not read the previous post, Sew Weekly suggested the theme "pin up" this week... what became a real challenge for me... nothing further from me than a pin up... and I immediately associated the item with a corset.
After the photo that I showed in the previous post, I went back to get into the seams of the waist, comments of all the wonderful girls with more experience in this than I did make me rethink the theme and this is the result. So thank you very much to Lynne, dfr2010, Esther, Rachel and Ewa for help, and all the other ladies for the comments of support.
Few ornaments and a splash of color did the rest.
Y entonces yo conseguí esto... el resultado es relativamente aceptable, pero queda mucho por trabajar.
Si usted no leyó el post anterior, Sew Weekly propuso el tema "pin up" esta semana... lo que se convirtió en un verdadero reto para mi... no hay nada más lejano de mi que una pin up... y yo asocié inmediatamente el tema con un corsé.
Después de la foto que yo mostré en el post anterior, yo volví a entrar en las costuras de la cintura, los comentarios de todas las maravillosas chicas con más experiencia en esto que yo hicieron que yo replanteara el tema y este es el resultado. Así que muchas gracias a
Lynne
,
dfr2010,
Esther
,
Raquel
y
Ewa.
Unos pocos adornos y una pincelada de color hicieron el resto.
Ahora un poco de humor....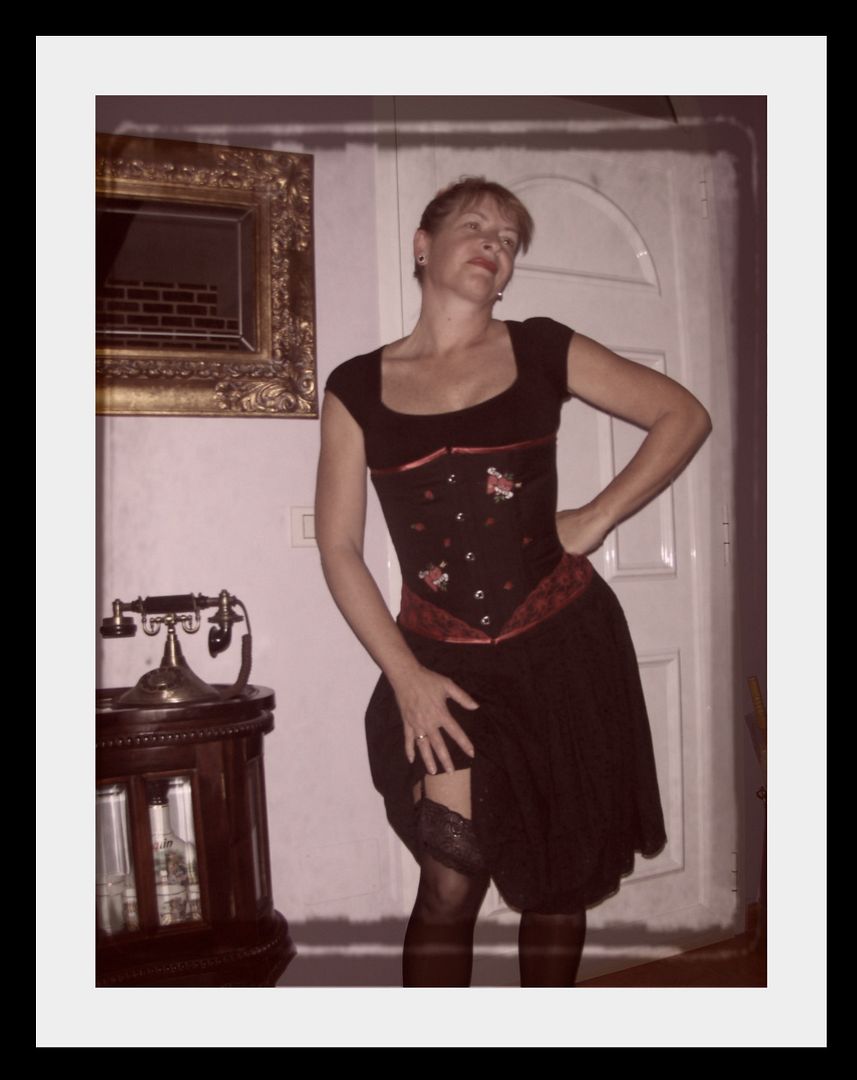 And this is my pathetic attempt to emulate a pin up... at home, this resulted in fits of laughter and I commented that the corset had a rockabily "air", while my son thought that I was more like Lily Munster, what else..
As I said, this isn´t the last attempt, I´m planning to do a few corsets more with different patterns drawn for me to go play with the possibilities.
Have a beautiful week, Ladies.
Y esto es mi patético intento de emular una pin up... en casa, esto provocó ataques de risa y yo comenté que el corsé tenía un aire rockabily, mientras mi hijo opinaba que yo era más parecida a
Lily Munster
que otra cosa...
Como dije anteriormente, este no será el último, yo estoy planeando hacer unos pocos más con diferentes patrones dibujados por mi para ir jugando con las posibilidades.
Tener una hermosa semana, Ladies.