I´m really proud of this dress for several reasons... Chief among them is that aside from the fabric that was in my cave sewing about a year, all other components that I used to get the desired effect are recycled.
Realmente, estoy orgullosa de este vestido por varias razones... la principal de todas es que aparte de la tela que llevaba en mi cueva de costura alrededor de un año, todo los demás componentes que yo usé para conseguir el efecto deseado son reciclados.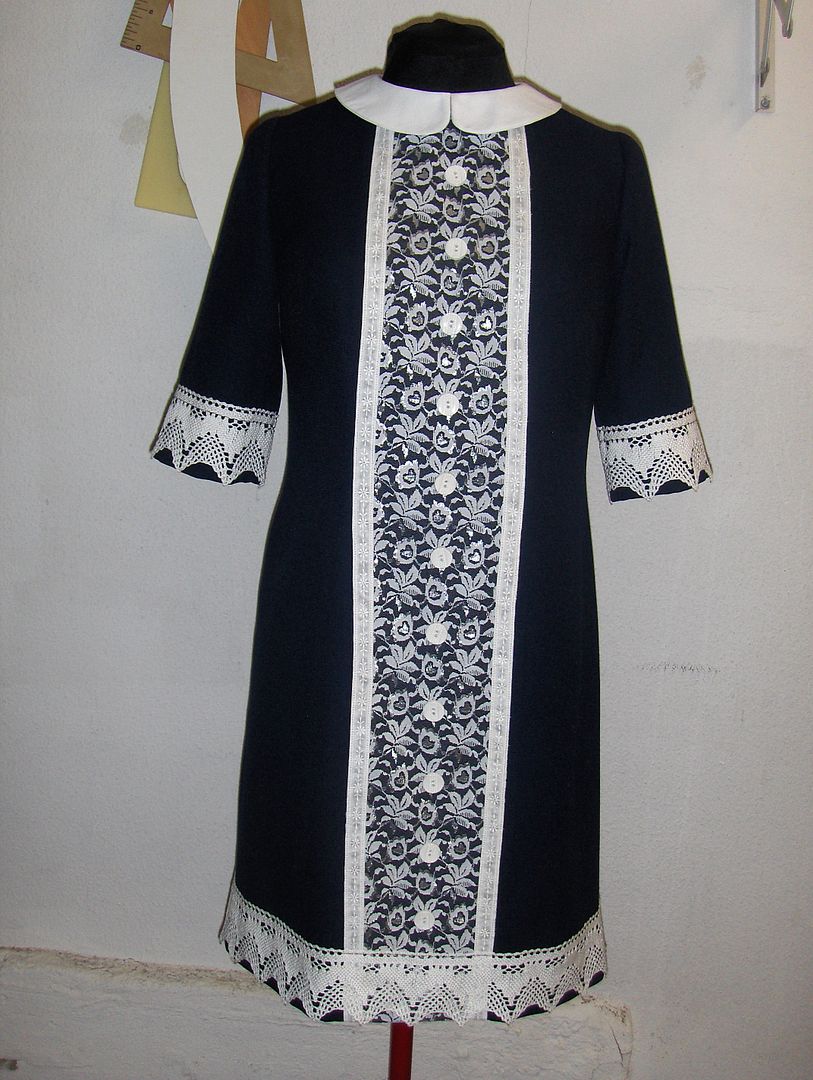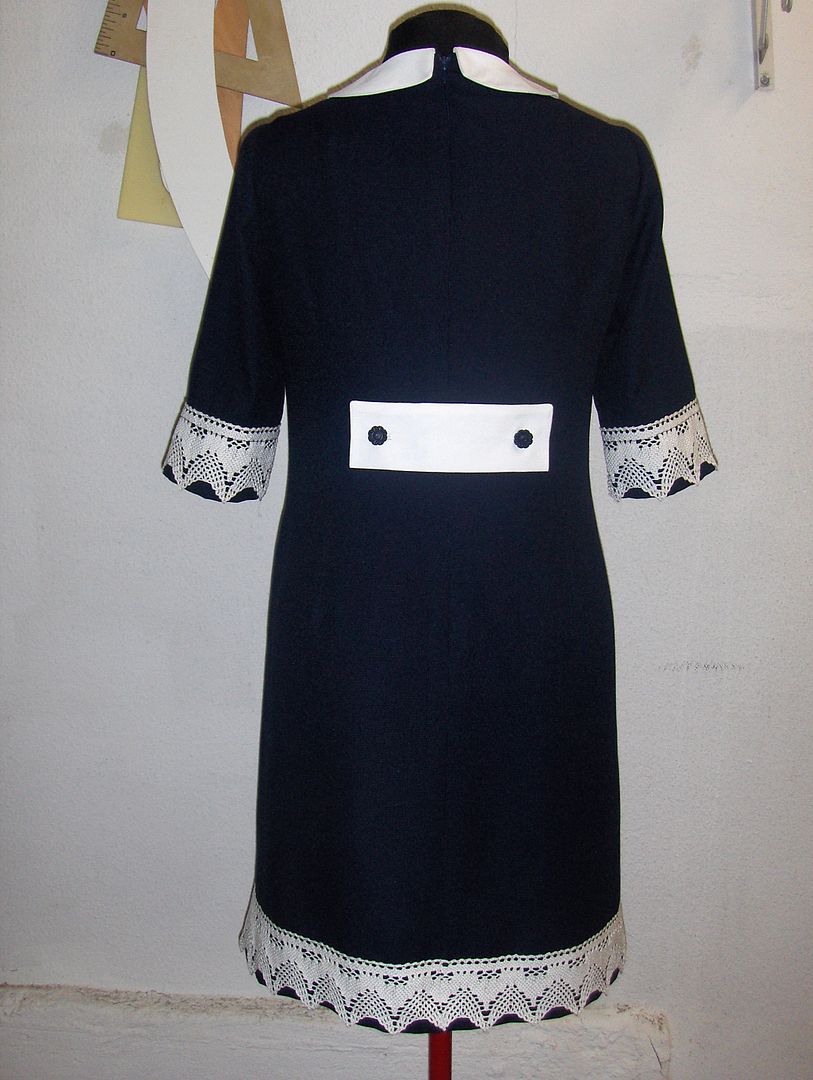 Dress is a nice pattern Burdastyle 10/2011, which I had fallen in love since I had this magazine in my hands, it has some "slight air" Chanel style in the original model.
El vestido es un bonito patrón de
Burdastyle 10/2011
que me había enamorado desde que yo tuve la revista en mis manos, tiene un ligero aire estilo Chanel en el modelo original.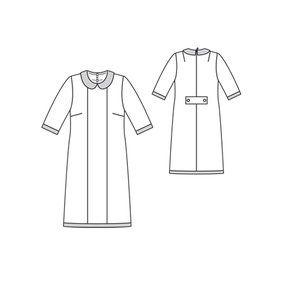 But I wanted to give my personal style to ir, so I did some modifications, using a lace piece of fabric left over from a project very far back in time. I have a little hobby to keep anything that might have a second chance, so my sewing cave is full of boxes with small pieces of fabric, ribbons, lace, buttons , zippers and anything you can imagine related to the sewing, so I feel a great happiness when I use any of these things...
Pero yo quería darle mi estilo personal , así que hice algunas modificaciones, usando un trozo de tela de encaje sobrante de algún proyecto muy lejano atrás en el tiempo. Yo tengo la pequeña manía de guardar cualquier cosa que pueda tener una segunda oportunidad, así que mi cueva de costura está llena de cajas con pequeños trozos de tela, cintas, encajes , botones, cremalleras y cualquier cosa que usted pueda imaginar relacionada con la costura; así que yo siento una inmensa felicidad cuando utilizo alguna de estas cosas...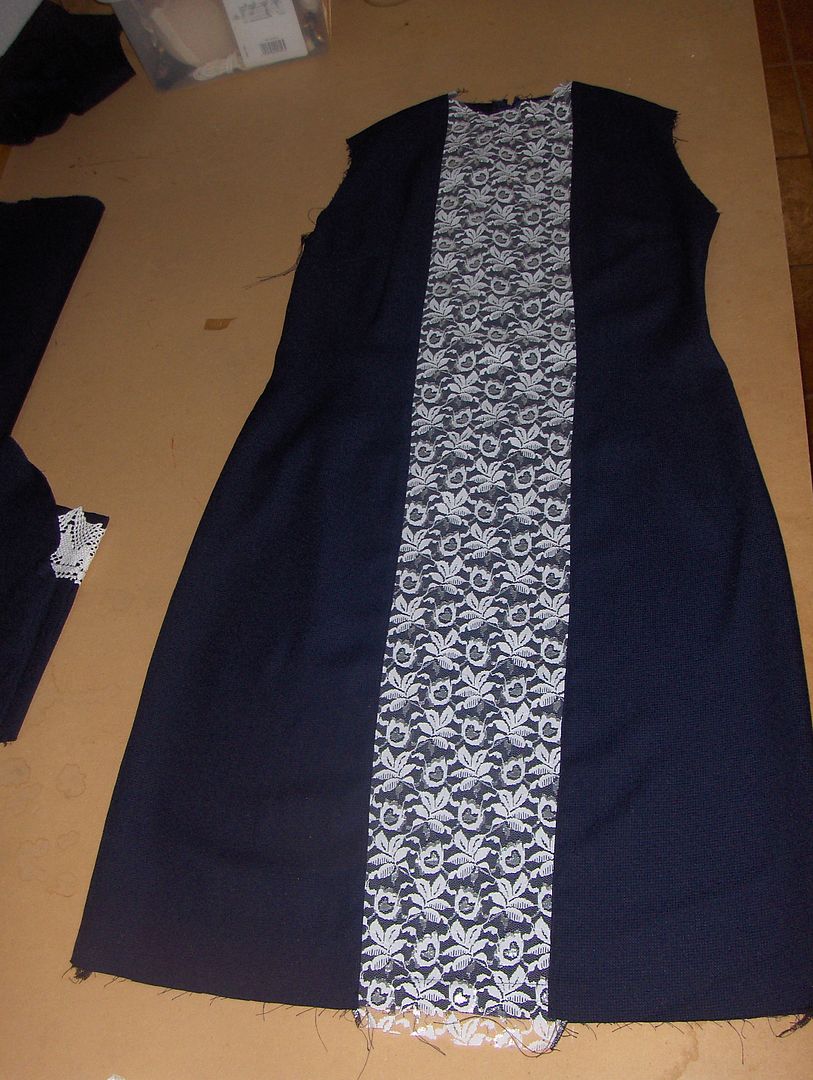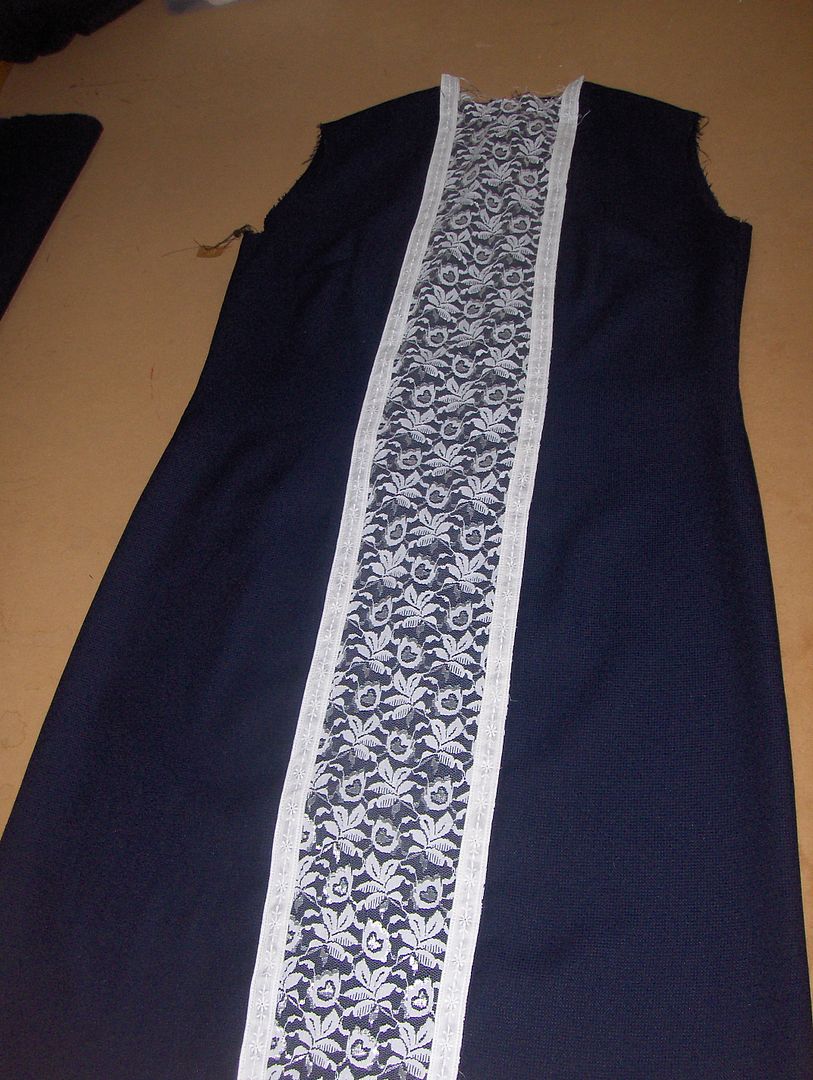 To cover the junction of the center of lace, I sewed two pieces of ribbon embroidered...
Para cubrir la unión del centro de encaje, yo cosí dos trozos de cinta bordada...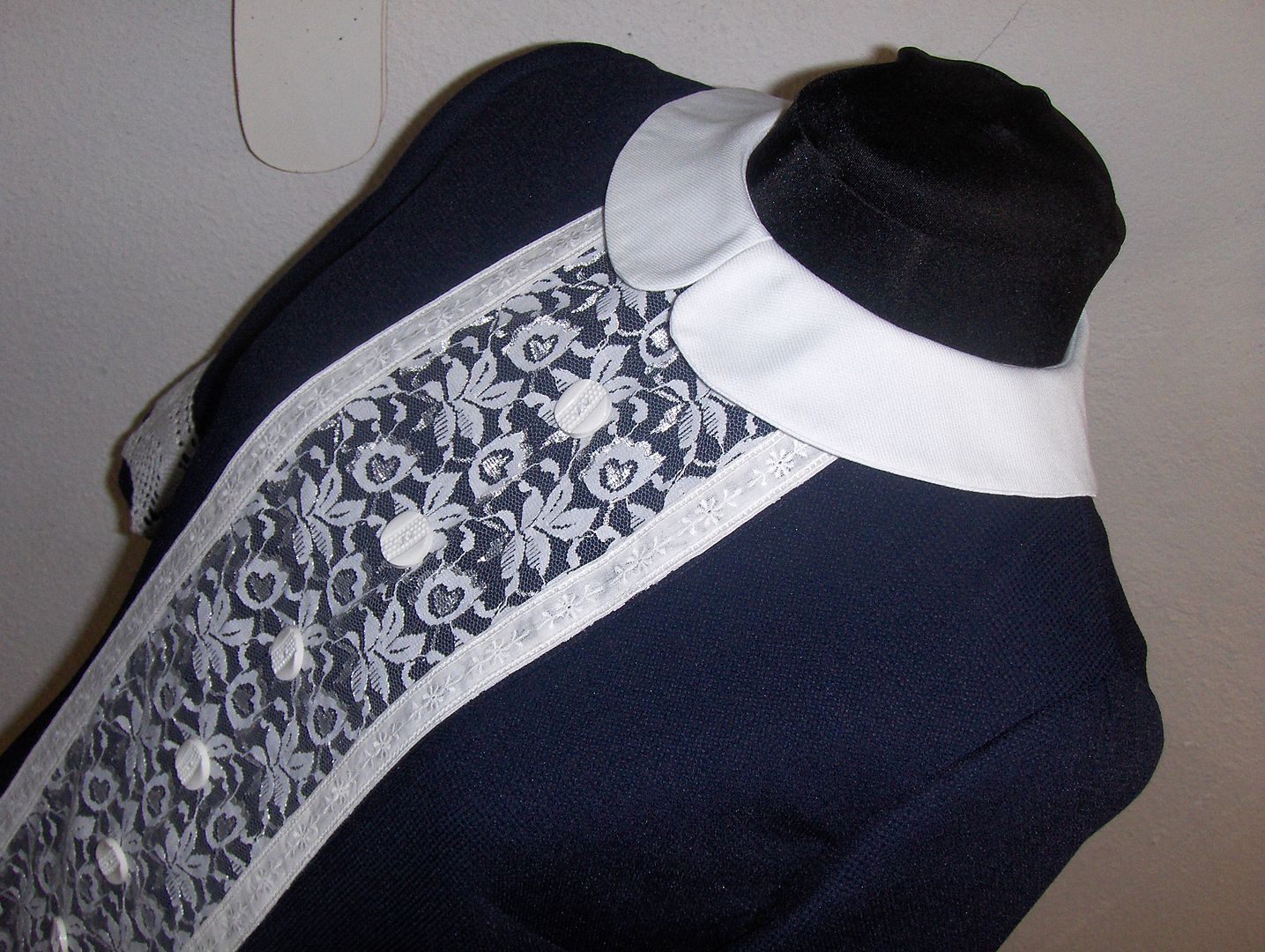 The white collar was made with a pique fabric piece that I found in the box of scraps, strips of lace at the hem and sleeves are the excess when I sewed my apron traditional Canarian and buttons that adorn the front center are part of a box full of buttons that I unstitched at old garments...
El cuello blanco se hizo con un trozo de piqué que encontré en el cajón de los retales, las tiras de encaje de bolillos en el dobladillo y las mangas son el sobrante de cuando yo cosí
el delantal de mi traje tradicional
canario y los botones que adornan el centro delantero son parte de una caja llena de botones que yo voy quitando a las prendas en deshuso...
Changes to the original pattern... Well, I adjusted my dress, Burdastyle pattern is slightly evasee and zipper on the back ends just at the waist, the small white band is sewn at the waist, at the end of zipper... well, I did this, add two verticals darts on the back of the dress and accentuate the waist line side seams, making it necessary to place a longer zipper that ends at hip area, I solved the problem of the white band sewing a button next to the other side and made a buttonhole ... as a picture is worth a thousand words, a photo below...
Los cambios con el original... bien, yo entallé un poco el vestido, el patrón de Burdastyle es ligeramente evaseé y la cremallera en la espalda termina justamente en la cintura, la pequeña banda blanca está cosida en la cintura, al final de la cremallera... lo que yo hice fue añadir dos pinzas verticales en la espalda del vestido y acentuar la linea de cintura en las costuras laterales, lo que obliga a colocar una cremallera más larga que termina en la zona de cadera, yo solucioné el problema de la banda blanca cosiendo un lado con el botón azul y el otro lateral hice un ojal , como una imagen vale más que mil palabras...
The name that I chose for this dress was inspired by the color blue so deep, it reminds me of a dark night lit by incursions of white accents , so "Moonlight" is set to the essence of this dress for me...
And now, as always, something as much fun as going to bed thinking about accessories that can go well with this dress with inspired 60s...
El nombre que yo elegí para el vestido fue inspirado por el color azul tan profundo que me recuerda una noche oscura iluminada por las incursiones de los detalles en blanco, así que "Luz de Luna" se ajusta a la esencia de este vestido para mi...
Y ahora , como siempre, una parte tan divertida como irme a la cama pensando en los accesorios que pueden ir bien con este vestido de inspiración sesentera...