Fall has arrived suddenly, without warning, to treason... and now I´m in the same situation that was a few months ago, with nothing in the closet to wear this season.
Recently, talking with a friend, she said, "enough is enough to make your clothes, you have many garments", and I laughed inwardly, because I guessed taht the new season was going to assume that I would find with my closet almost vacuum against the cold. At that time I made a resoution, a "self-challenge" for myself, colorful autumn-winter.. no boring wardrobes. So here is the first item of this season, a skirt.
El otoño ha llegado de golpe y porrazo, sin avisar, a traición... y ahora yo estoy en la misma situación que estaba hace unos pocos meses, sin nada en el armario para enfrentar esta estación.
Hace poco tiempo, hablando con una amiga, esta me dijo, "ya está bien de hacerte ropa, tienes muchos vestidos" y yo me reía interiormente, porque adivinaba que la nueva temporada por venir iba a suponer que me iba a encontrar con el armario casi vacío para hacer frente al frío. En ese momento yo tomé una resolución, un "auto-desafío" para conmigo misma, llenar de color el otoño-invierno... nada de armarios aburridos. Así que aquí está la primera prenda de la temporada, una falda.
It´s been a long journey of mind to reach this skirt, ... when I bought this fabric for something that included orange color to the challenge of Sew Weekly, plaids inspired me at first a coat, then I thought a beautiful cap, more then perhaps a dress... to finish in a skirt.
Ha sido un largo recorrido mental para llegar a esta falda, cuando yo compré la tela buscando algo que incluyera color naranja para el desafío de Sew Weekly, los cuadros escoceses me inspiraron en principio un abrigo, después pensé en una hermosa capa, más tarde quizá un vestido.... para terminar en una falda.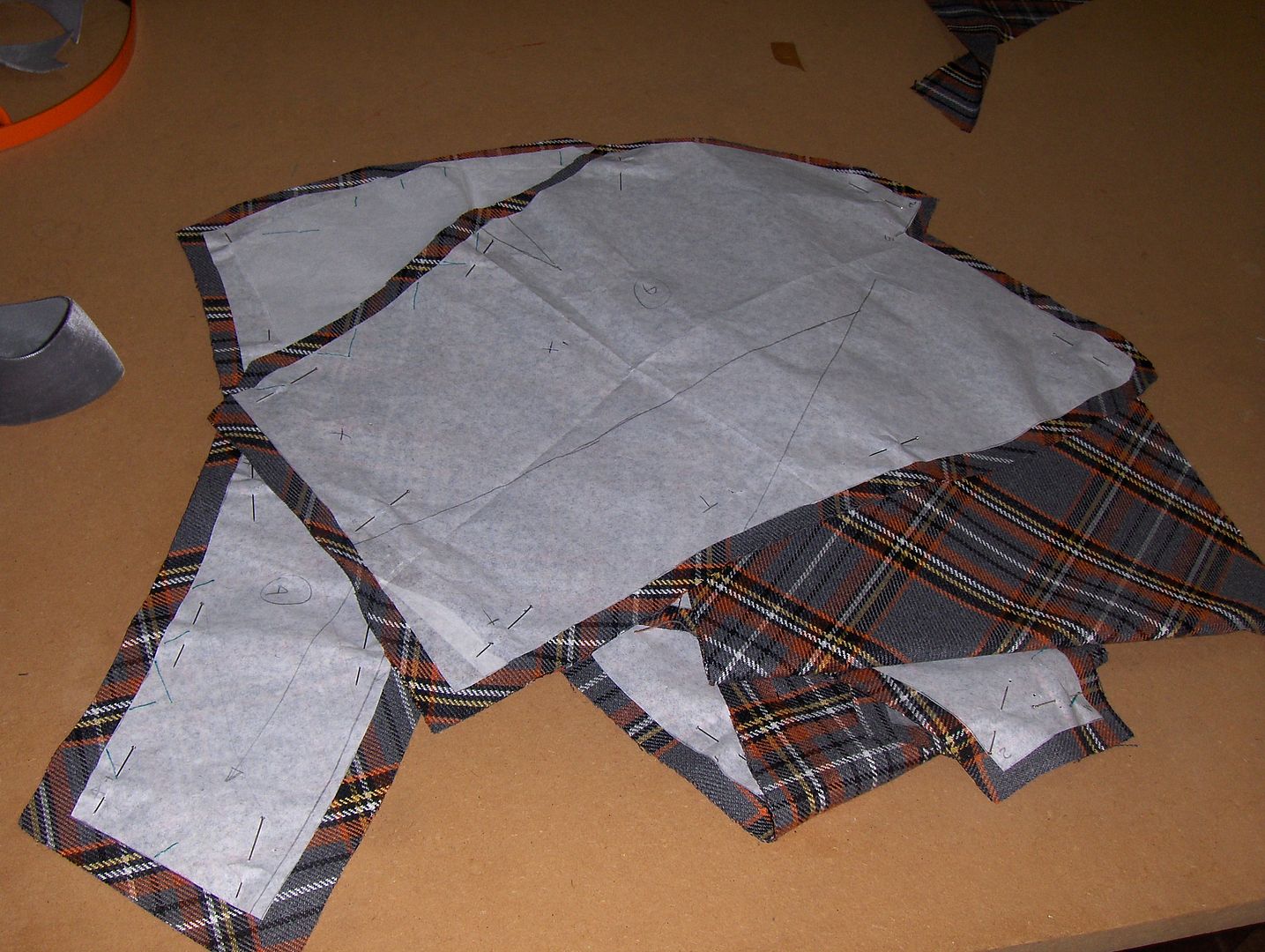 Anyway, when I cut the pieces, the dress was installed on my mind, if you wonder yourself which the pattern, it´s the same in this dress. I had cut the full dress and then I abandoned the idea, so now I have a finished skirt, using the bottom of the dress and upper parts of the dress will become a vest, sometime this fall-winter... be more versatile and combined with other garments.
De todas formas, cuando yo corté las piezas, el vestido estaba instalado en mi mente, si usted se pregunta cual es el patrón, es el mismo
de este vestido
. Yo había cortado el vestido completo y después abandoné la idea, así que ahora yo tengo una falda terminada , aprovechando la parte inferior del vestido y las piezas de la parte superior del vestido se convertirán en un chaleco en algún momento de este otoño-invierno... así será más versátil para combinar con otras prendas.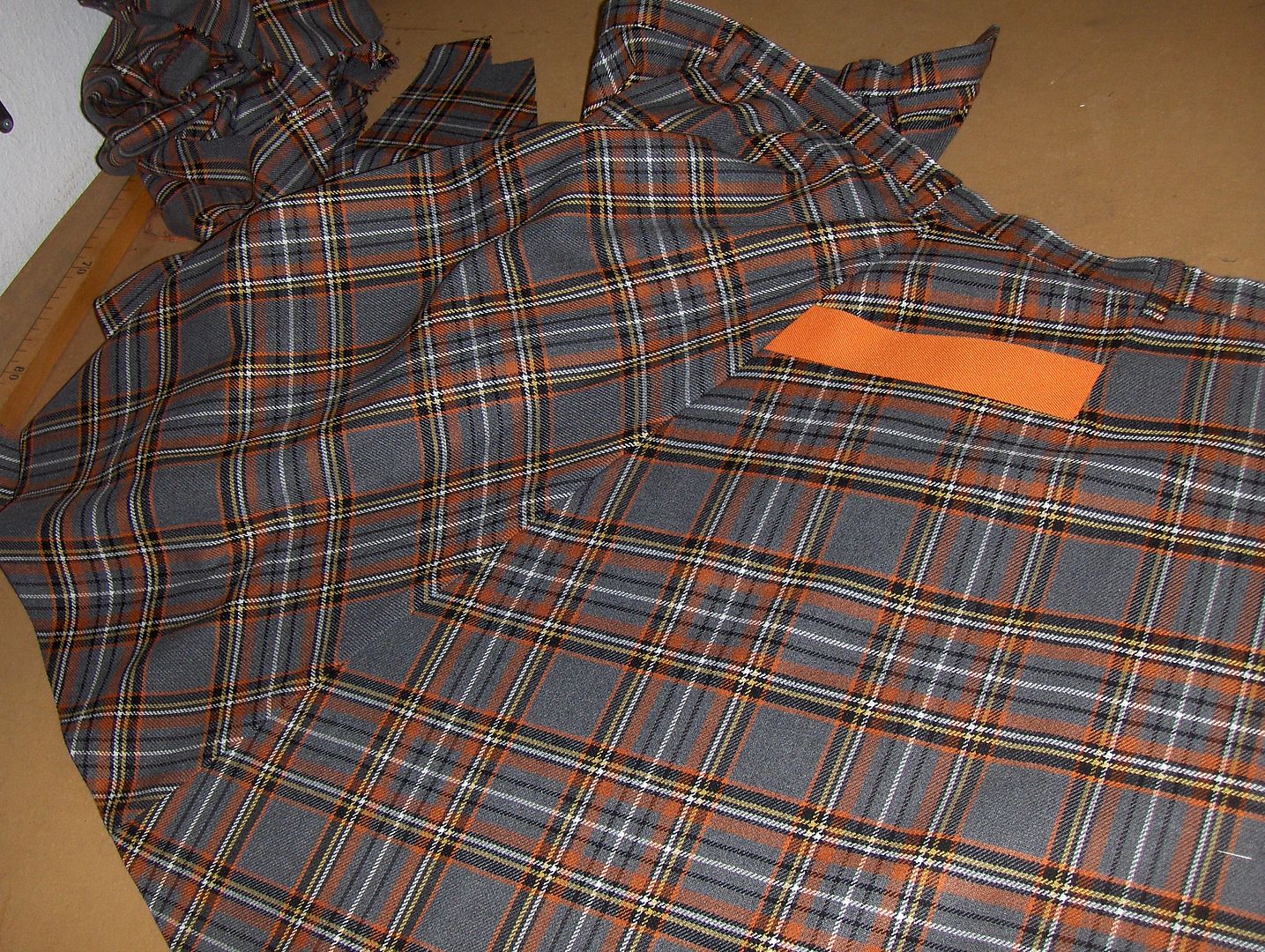 If you think, looking at this skirt not too much color in it, tomorrow there will be photos of the outfit while hubby and I are going to enjoy a craft fair in a nearby town, sure you´ll change your mind about the amount of color present...
Si piensas , mirando esta falda que no hay demasiado color en ella, mañana habrá fotos del outfit completo mientras hubby y yo vamos a ir a disfrutar de una feria artesanal en un pueblo cercano, seguro que cambiarás de idea sobre la cantidad de color presente....
In advance, I´ll tell you that I used a nice bright orange buttons and convert them in some fun earrrings.. and a piece of gray velvet ribbon, together with a brooch becomes a romantic tie for the collar of my shirt.. Yay! I enjoy creating accessories to complete my outfit!
And you... Do you think of the accessories for your look, or improvise??
Como adelanto, yo te contaré que he usado unos bonitos botones en brillante color naranja y los convertí en unos divertidos pendientes ... y un trozo de cinta de terciopelo gris, unido a un broche se convertirá en una romántica lazada para el cuello... Yay! Cómo disfruto creando accesorios para completar mi outfit!
Y tú... piensas en los accesorios para tu look, o improvisas?