Much of my energy is spent on recycling, Do you know the feeling of seeing a garment on the hanger and imagine a different one from the first one?
This happens to me constantly, there are tons of clothes that are waiting for the remodeling that takes so long to arrive, sometimes it´s just a button or a zipper that broke at some point, sometimes are garments that have completed one full cycle wait patiently for a little cosmetic surgery to look again at its best... and sometimes they´re clothes that I bought in a moment of inspiration and thought "Hey, this skirt would be great if I convert it into a vest.. or that dress would look great as a skirt..."
Buena parte de mi energía es gastada en el reciclaje,... Conoces la sensación de ver una prenda en la percha e imaginar otra diferente a partir de la primera??
Esto me sucede constantemente, en mi cueva de costura hay toneladas de prendas de vestir esperando esa remodelación que tarda tanto en llegar, a veces es simplemente un botón, o una cremallera que se rompió en algún momento; otras veces son prendas completas que han cumplido un ciclo y esperan pacientemente un poco de cirugía estética para volver a lucir en todo su esplendor... y otras veces son prendas que se compraron en un momento de inspiración y pensar "Hey, esta falda estaría genial si la convierto en un chaleco... o ese vestido luciría fantástico como falda.."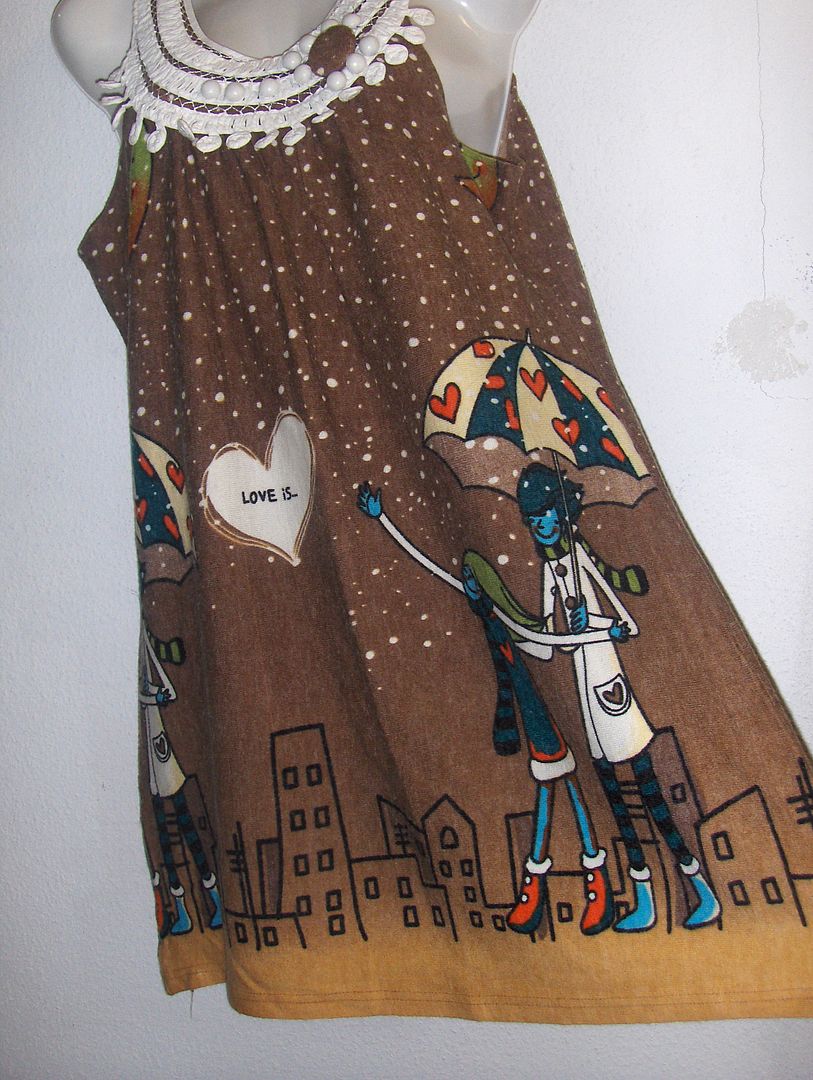 Well, this is exactly what happened when I found this jersey knit dress in a thrift store, the dress could be loved by a romantic teenager, surely someone of my age haven´t noticed it but when I saw it as abandoned, I thought quickly about the picture printed on the fabric , it could be more fun on a winter skirt, so I took it with me at home.
Pues esto es lo que pasó exactamente cuando yo encontré este vestido de punto jersey en una tienda de segunda mano, el modelito podría ser amado por alguna adolescente romántica, seguramente alguien de mi edad no repararía en él pero cuando yo lo vi tan abandonado, pensé rapidamente que ese dibujo estampado en la tela podía ser más divertido en una falda de invierno, así que yo lo traje conmigo a casa.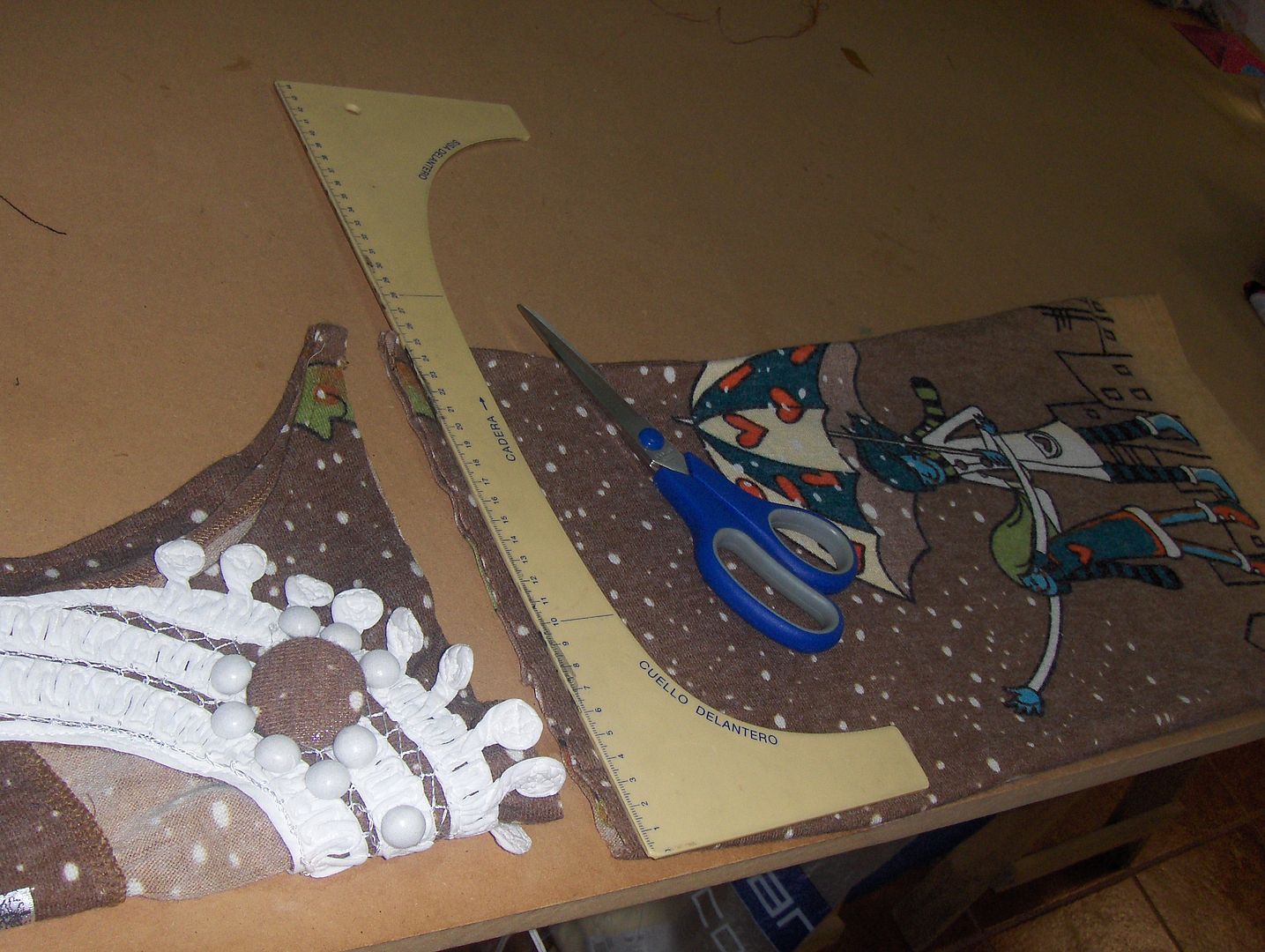 You can imagine how short was the dress if you see that I cut off flush with pit armhole to fit my waist, I really put on my dress and took a picture so that you could see the before and after, but let me tell, dear reader, that this photo went straight to the trash virtual, to save such a grotesque image. The full dress barely covered the tops of my thighs, so I thought it was much better for my self-esteem that this sad image es readily erased from my memory. My dignity will be safe as well.
Puedes imaginarte lo corto que era el vestido si observas que yo corté de tajo a ras de la sisa para ajustar a mi cintura, realmente yo me puse el vestido y saqué una foto para que pudieses apreciar el antes y el después, pero déjame decirte, querido lector que la foto fue directamente a la papelera virtual para ahorrarte tan grotesca imagen. El vestido completo apenas cubría la parte superior de mis muslos, así que yo pensé que era mucho mejor para mi autoestima que esa triste imagen sea prontamente borrada de mi memoria. Mi dignidad estará a salvo, así.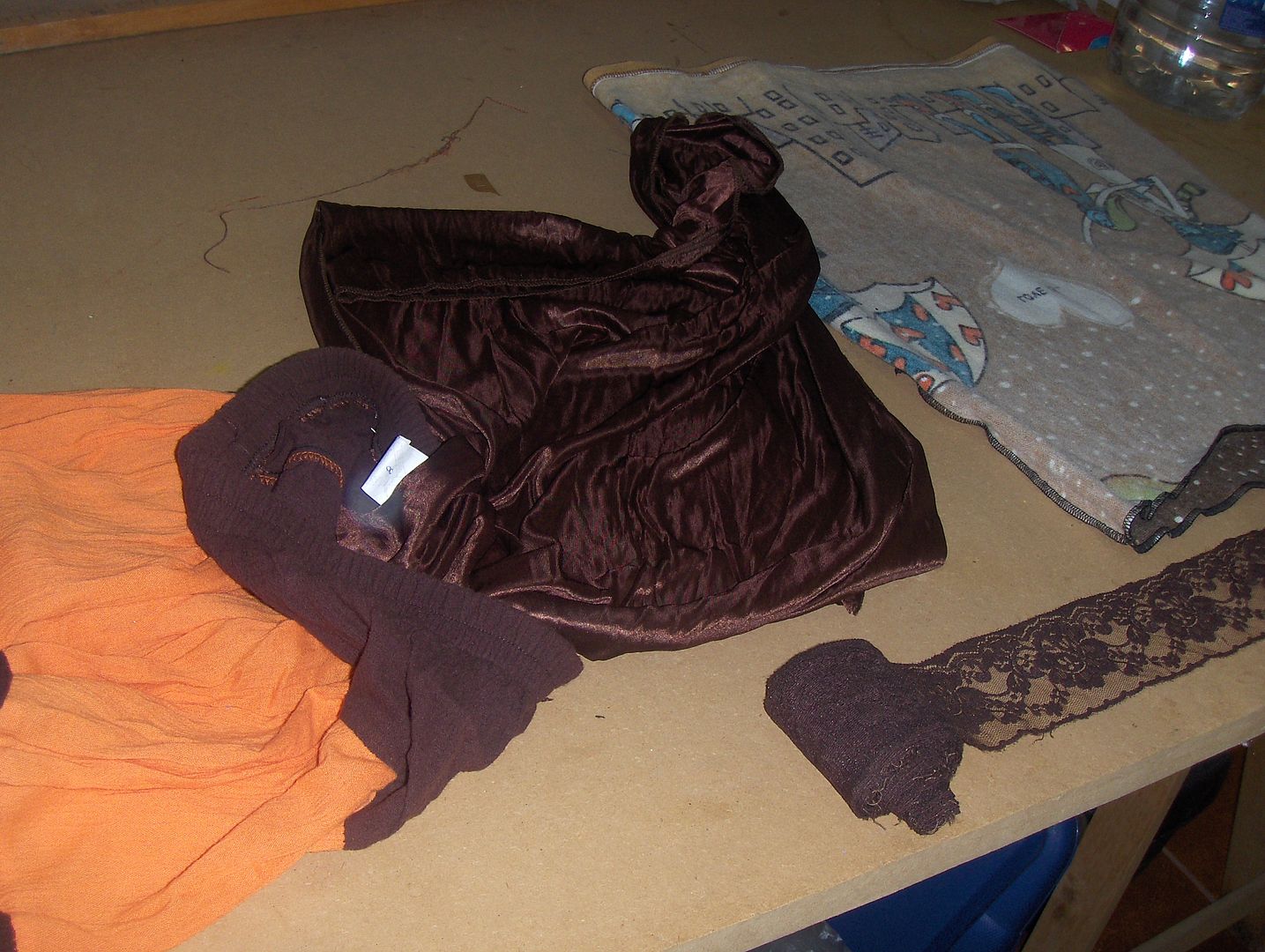 The funny thing is that this poject gathered skirt, comes fully recycled parts from other items, there´s nothing new in it except the elastic waist.
Lining is essential for the skirt for feeling soft at my skin and it does not hold on to my legs when I wear stockings with it. This lining got it from another skirt that was useless in my pile of projects waiting for the opportunity to be helpful. I wanted to add a strip of lace at hem to simulate a slip, like our grandmothers used, this lace strip also comes from some old garment, you can see that it´s full of tiny threads of any previous use.
Lo más divertido de este proyecto es que la falda obtenida finalmente viene de piezas completamente recicladas de otras prendas, no hay nada nuevo en ella a excepción del elástico de la cintura.
El forro indispensable para que la falda de punto sea suave para mi piel y no se agarre a mis piernas cuando yo use medias con ella. Este forro lo obtuve de otra falda inservible que estaba en mi pila de proyectos esperando la oportunidad de ser útil. Yo quise añadir una tira de encaje en el dobladillo del forro para simular una combinación (zagalejo), como las que usaban nuestras abuelas, este encaje también proviene de alguna vieja prenda, puedes ver que está lleno de pequeños hilos de algún uso anterior.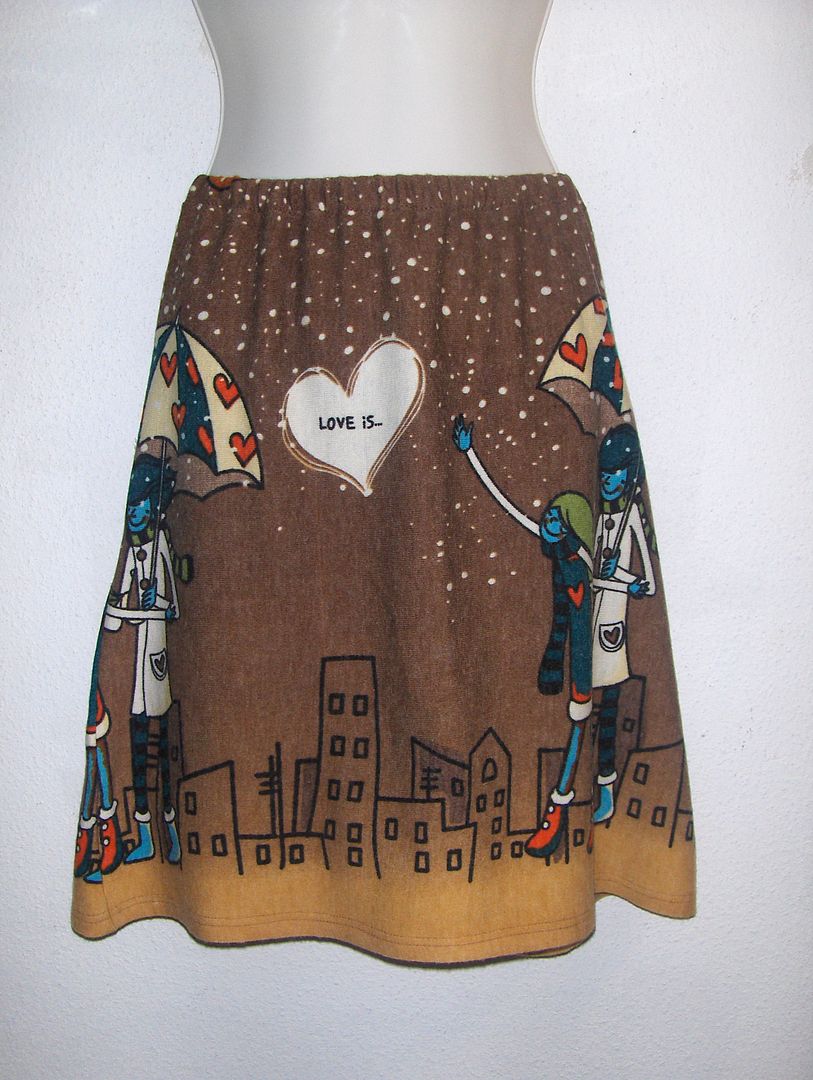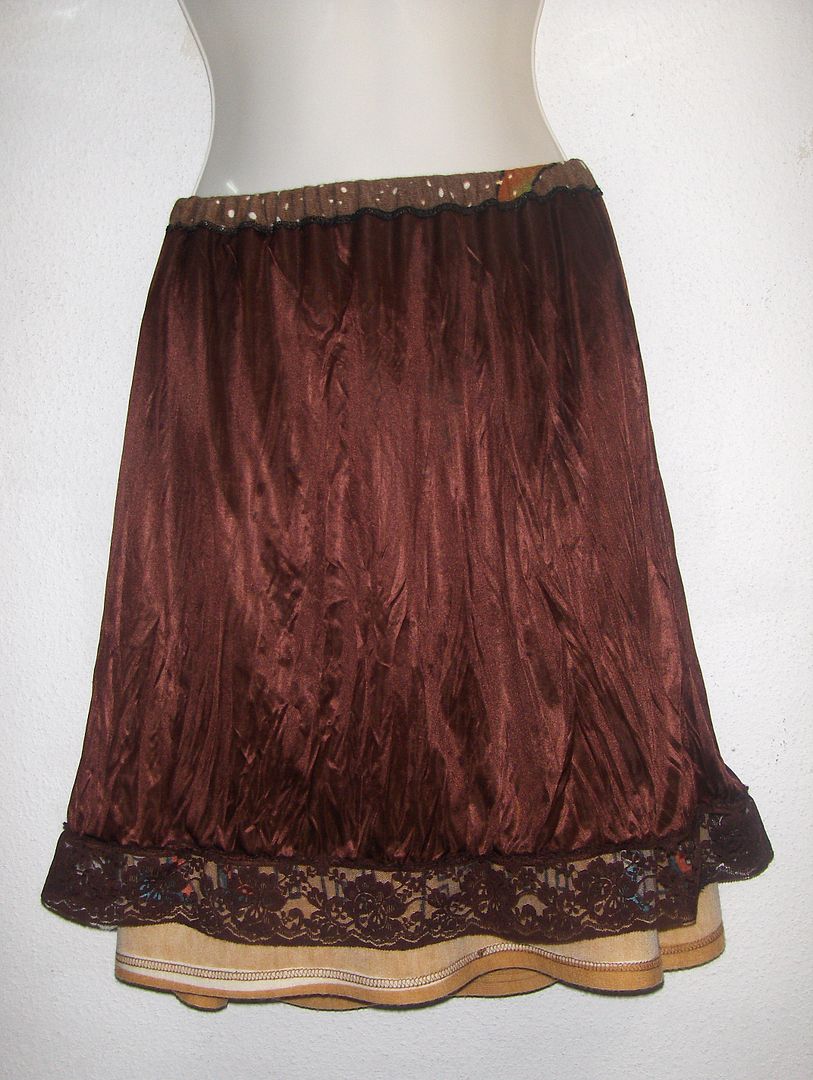 So, this is the skirt finished, it has same drawing panel on the back and it´s now a thoroughly enjoyable piece to use, like a caress on my skin thanks to the soft lining.
Therefore, this is the beginning of a project to end all those clothes that accumulate in a corner of my sewing room, if everything goes so, at least , once a week I´ll add a garment that needs relatively rapid remodeling and some how ends up in things that take even years to come out of hiding.
And what do you think? Do you get courage with your stack of small arrangements??
Así que esta es la falda terminada, el panel del dibujo es igual en la espalda de la falda y ahora es una prenda totalmente agradable de usar, como una caricia en la piel gracias al suave forro.
Por lo tanto, esto es el principio de un proyecto para acabar con todas esas prendas que se acumulan en un rincón de mi cuarto de costura, si todo sigue su camino, por lo menos una vez a la semana voy a añadir alguna prenda que necesita un remodelado relativamente rápido y por alguna razón termina convirtiéndose en cosas que tardan incluso años en salir del escondite.
Qué piensas?? Te animas con tu pila de pequeños arreglos??