I can´t avoid it... I keep seeing things beyond what my eyes show me...
No puedo evitarlo... No dejo de ver cosas más allá de lo que me muestran mis ojos...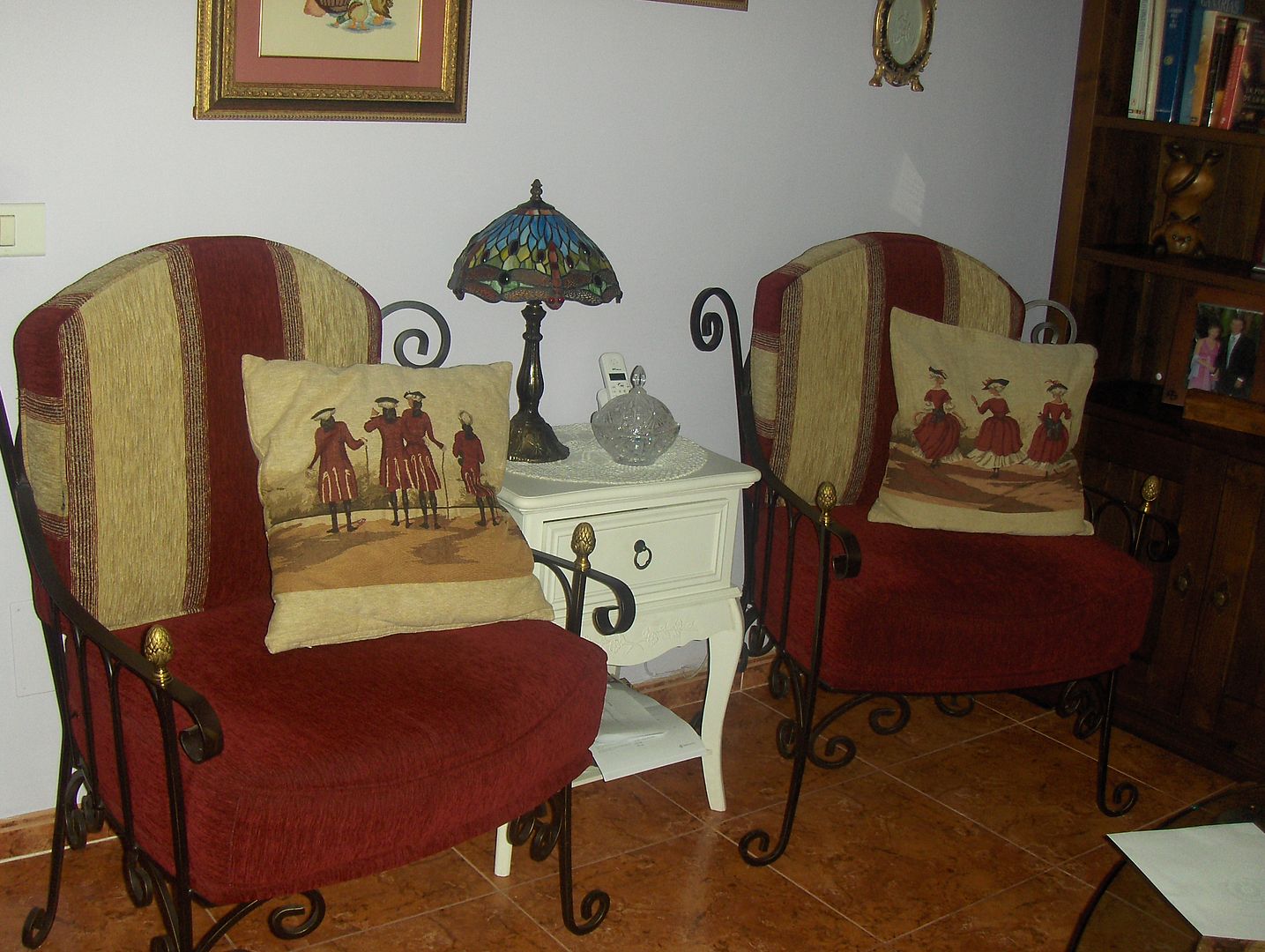 It all started when Mena gave us the sewing theme for this week, recycle something household linen to give a new life...
Well, this is a corner of my home, when I bought these cushions last year, I thought that they were so nice to match with armchairs in my living room... I put them on theirs site and enjoyed the wonderful feel of getting the perfect touch that I´ve been looking for.
So ... an idea struck my mind at night, when I was trying to sleep... Hey! these cushions ... a bag would be great with them!
Todo empezó cuando
Mena
nos dió el tema para coser esta semana, reciclar algo que tenemos como ropa de hogar para darle una nueva vida...
Bien, este es un rincón de mi hogar, cuando yo compré estos cojines el año pasado pensé que estaban tan bonitos a juego con los sillones de mi sala de estar... yo los coloqué en su sitio y disfruté de la maravillosa sensación que da conseguir el toque perfecto que llevaba tanto tiempo buscando.
Entonces... una idea asaltó mi mente por la noche, cuando yo estaba intentando dormir... Hey! esos cojines ... seria genial un bolso con ellos!
So, next day I returned to the store for another couple of cushion covers like those that resting in my room, that was some time ago and now I´ve found an opportunity to return to the idea.
I looked up the cushion cover (the partner is kept waiting for another time), a bag closure and burlap fabric scrap rigid enough to give "body" to the bag.
Así que al día siguiente, yo volví a la tienda a por otra pareja de fundas de cojín igual que las que reposaban en mi salón, eso fue hace algún tiempo y ahora he encontrado la ocasión de volver al tema.
Busqué la funda de cojín (la pareja está guardada esperando para otra ocasión) , un cierre de bolso y un retal de tela arpillera bastante rígida para dar "cuerpo" al bolso.
First, I cut the bottom of the cushion piece that will then be for the handles.
Primero yo corté el trozo inferior del cojín que servirá después para las asas.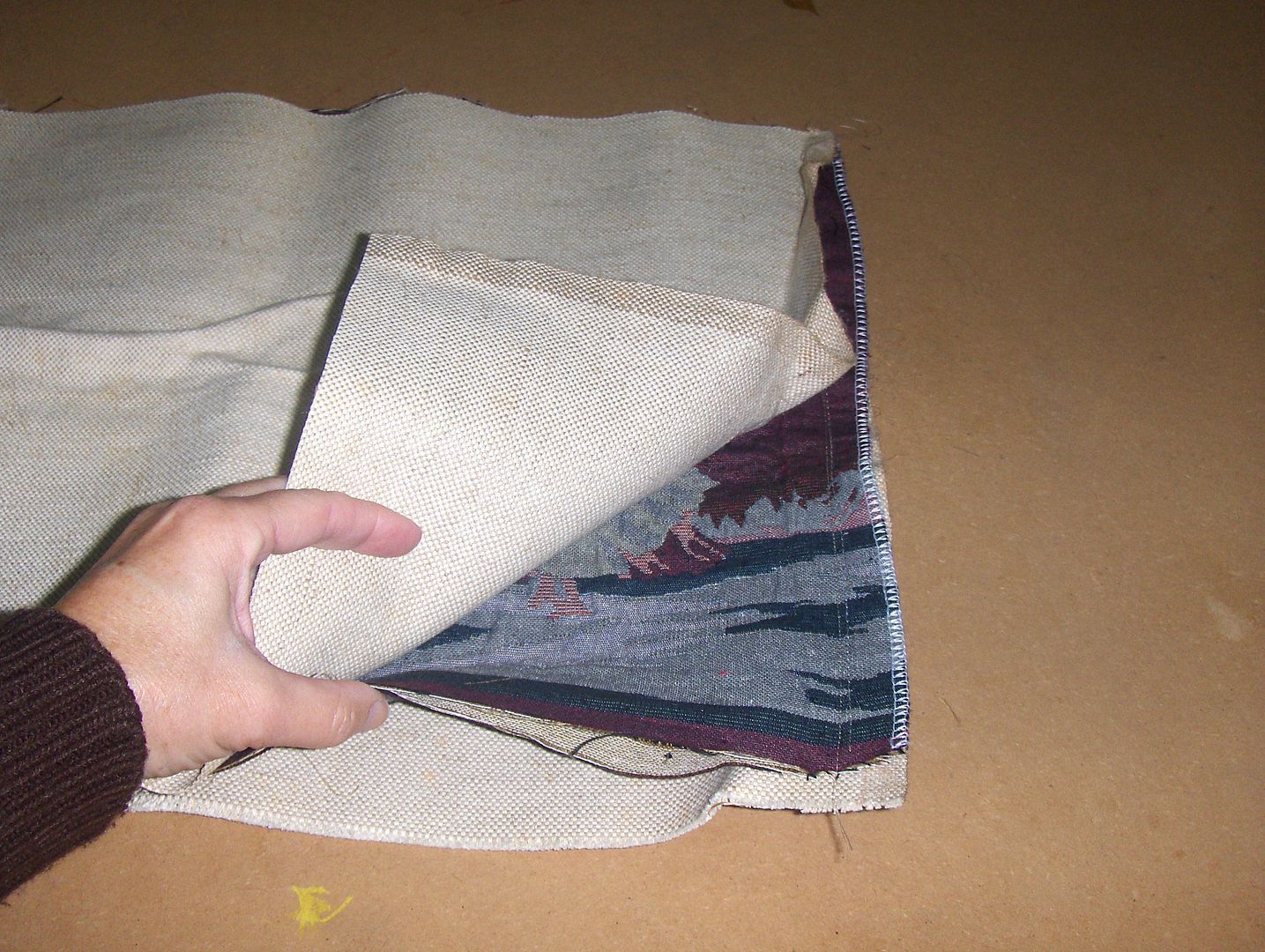 Then, I cut off the top edge seam too, but left intact side seams, with two pieces of equal size to the cushion on burlap fabric, I placed panels as a sandwich and sewed three sides, leaving only one open up.
Entonces yo corté la costura del borde superior también, solamente dejé intactas las costuras laterales, con dos trozos de igual tamaño que el cojín en la tela arpillera coloqué los paneles como un sanwich y cosí los tres lados, dejando solamente uno arriba abierto.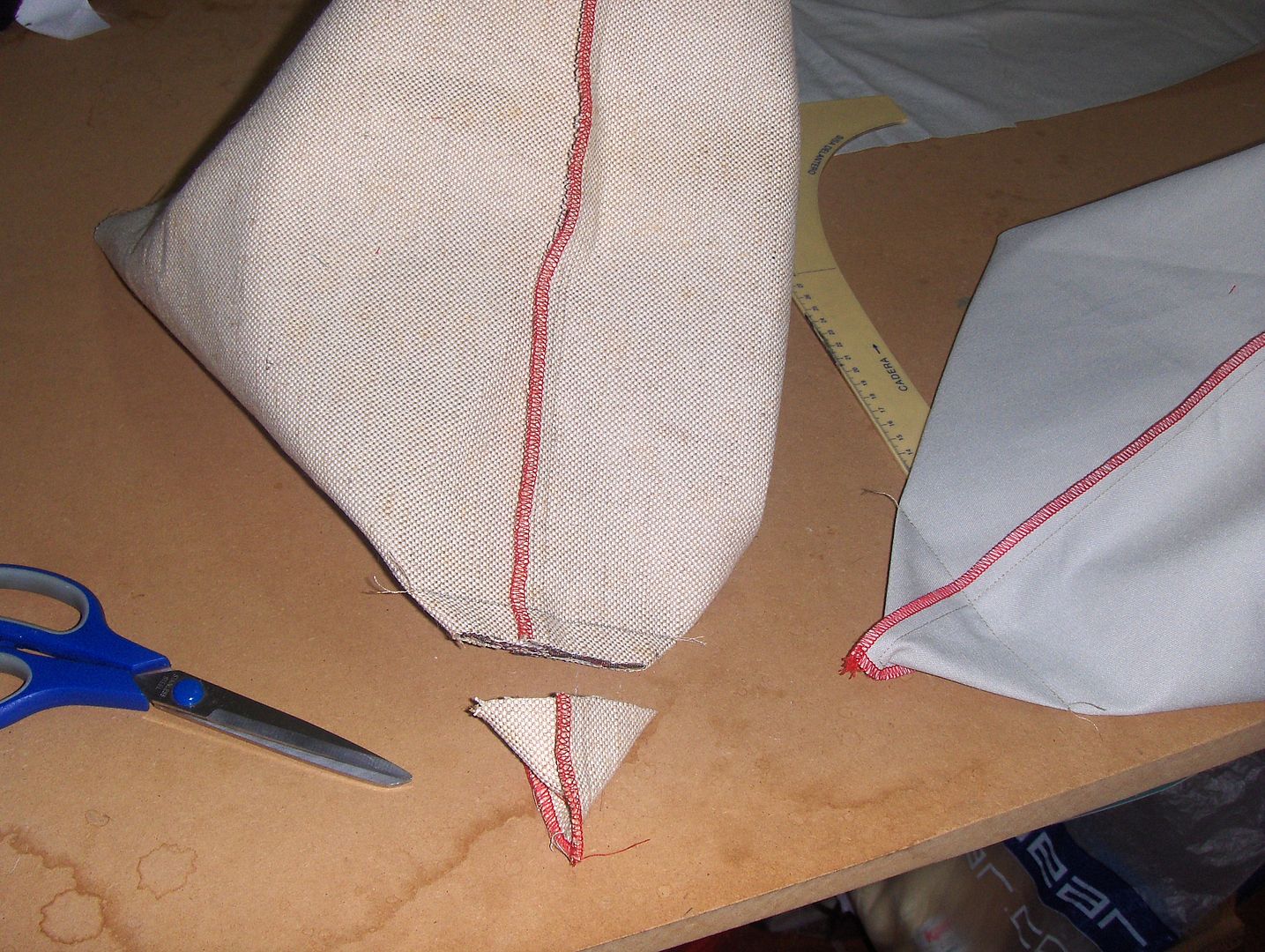 Then, I made another same piece, same size on fabric, it´s lining of the bag. On the bottom corners, sew diagonally to get what will be the bottom of the bag.
Después, hice otra pieza igual, del mismo tamaño en tela que será el forro del bolso. En las esquinas del fondo, coser en diagonal para conseguir lo que será el fondo del bolso.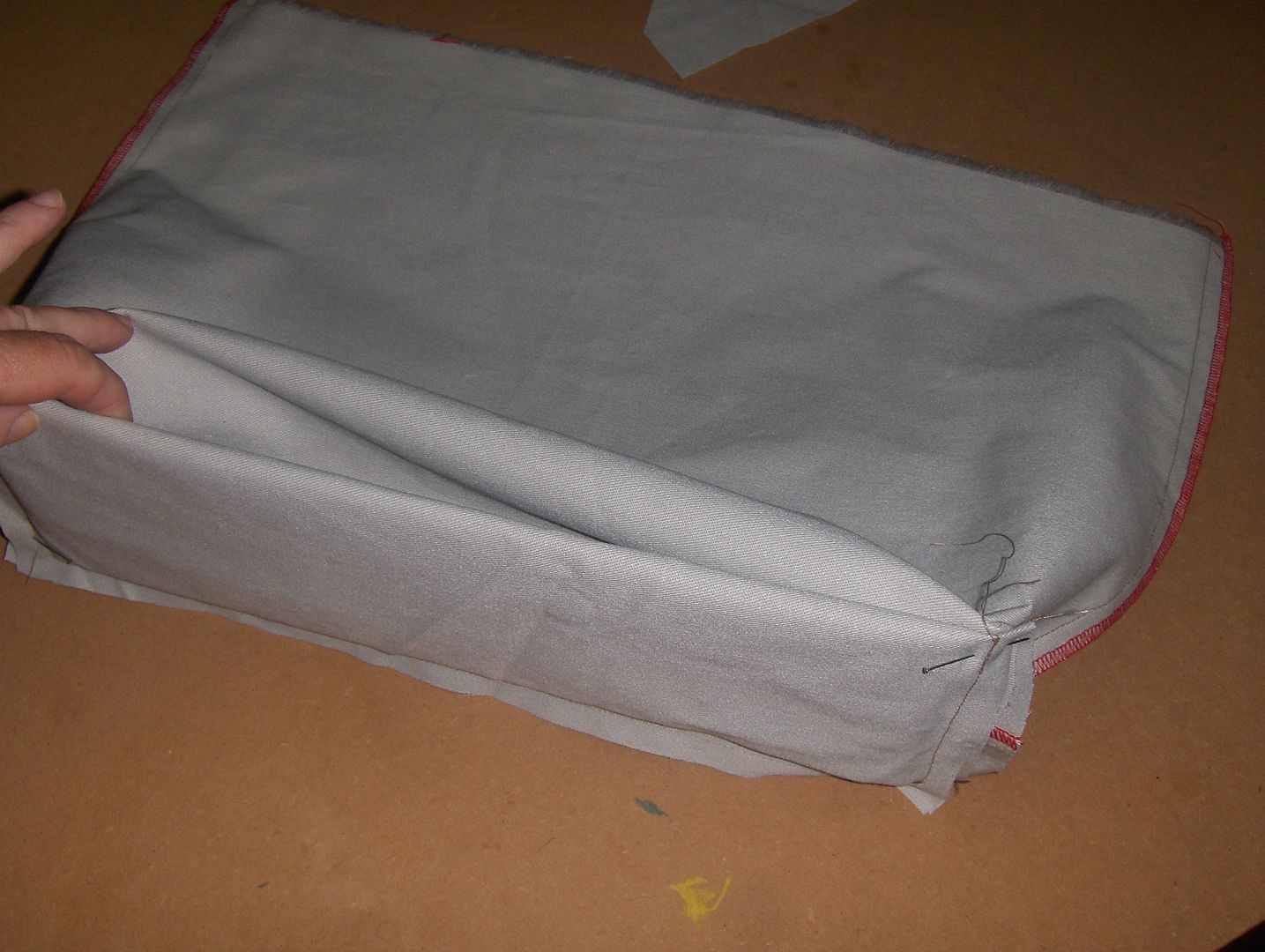 In the lining, I sewed a piece of cover with a cardboard rectangular thick enough, for stability at the bottom of the bag. Just sew on the wrong side of the lining.
En el forro, yo cosí un trozo de funda con un rectángulo de cartón bastante grueso para conseguir estabilidad en el fondo del bolso. Solamente coser los laterales por el revés del forro.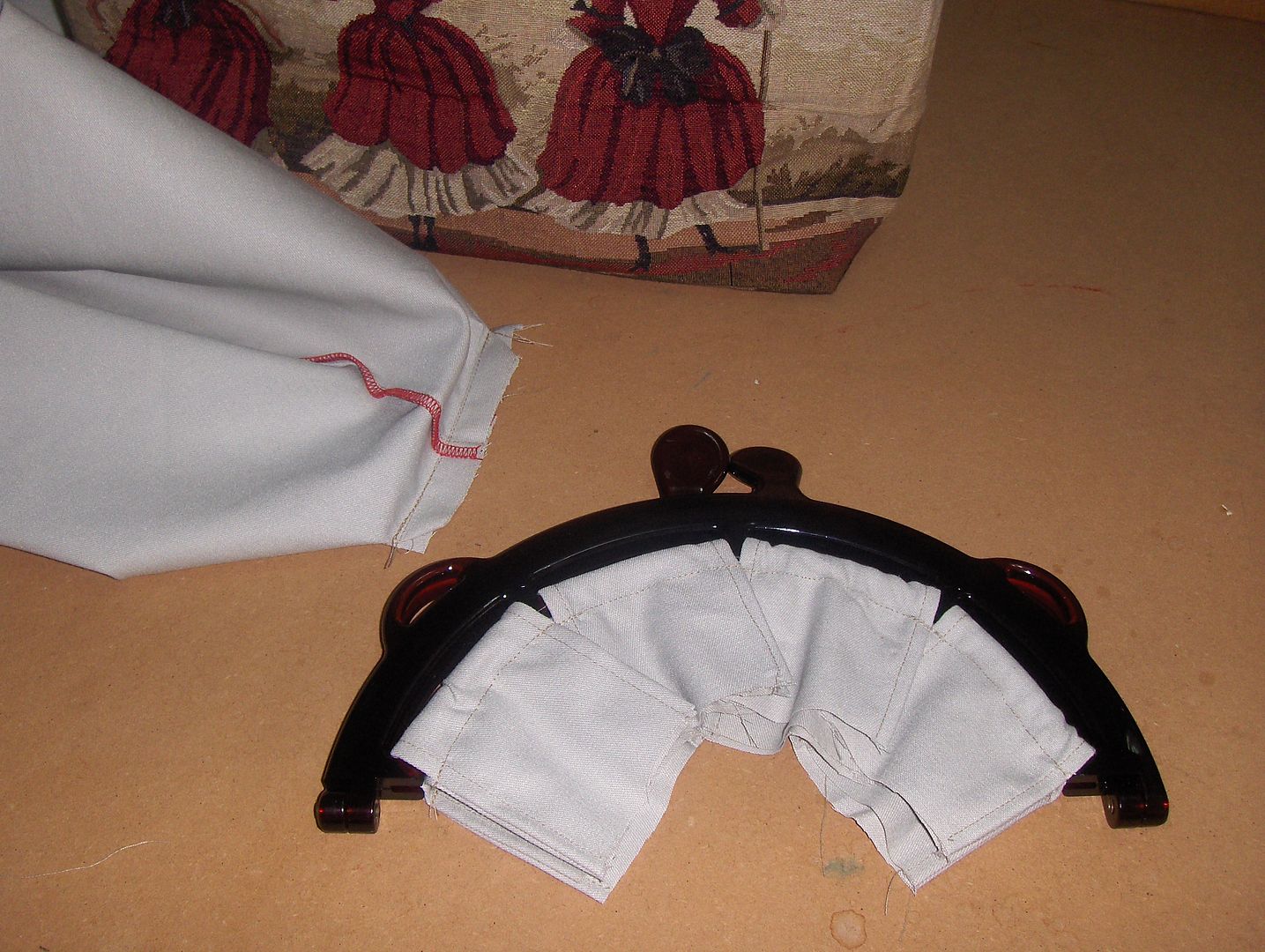 Now, I have the piece of the bag (cushion), a piece same lining and at the closed I managed to sew strips of fabric that will serve as a junction between the handle and rest of the bag.
At the bag piece (cushion), I brushed the tops turning the edges of the fabric in and sew a stitch with machine.
Ahora yo tengo la pieza del bolso (cojín) , una pieza igual de forro y en el cierre yo me las ingenié para coser tiras de tela que servirán de unión entre este asa y el resto del bolso.
En la pieza del bolso (cojín), he pulido los bordes superiores girando los bordes de la tela hacia dentro y pasando un pespunte con la máquina.
Then I sewed the bag closure to the edge, to achieve this, it took tons of patience and some broken needles on the road.
Después, yo cosí el cierre al borde del bolso, para conseguir esto hizo falta toneladas de paciencia y algunas agujas que se rompieron en el camino.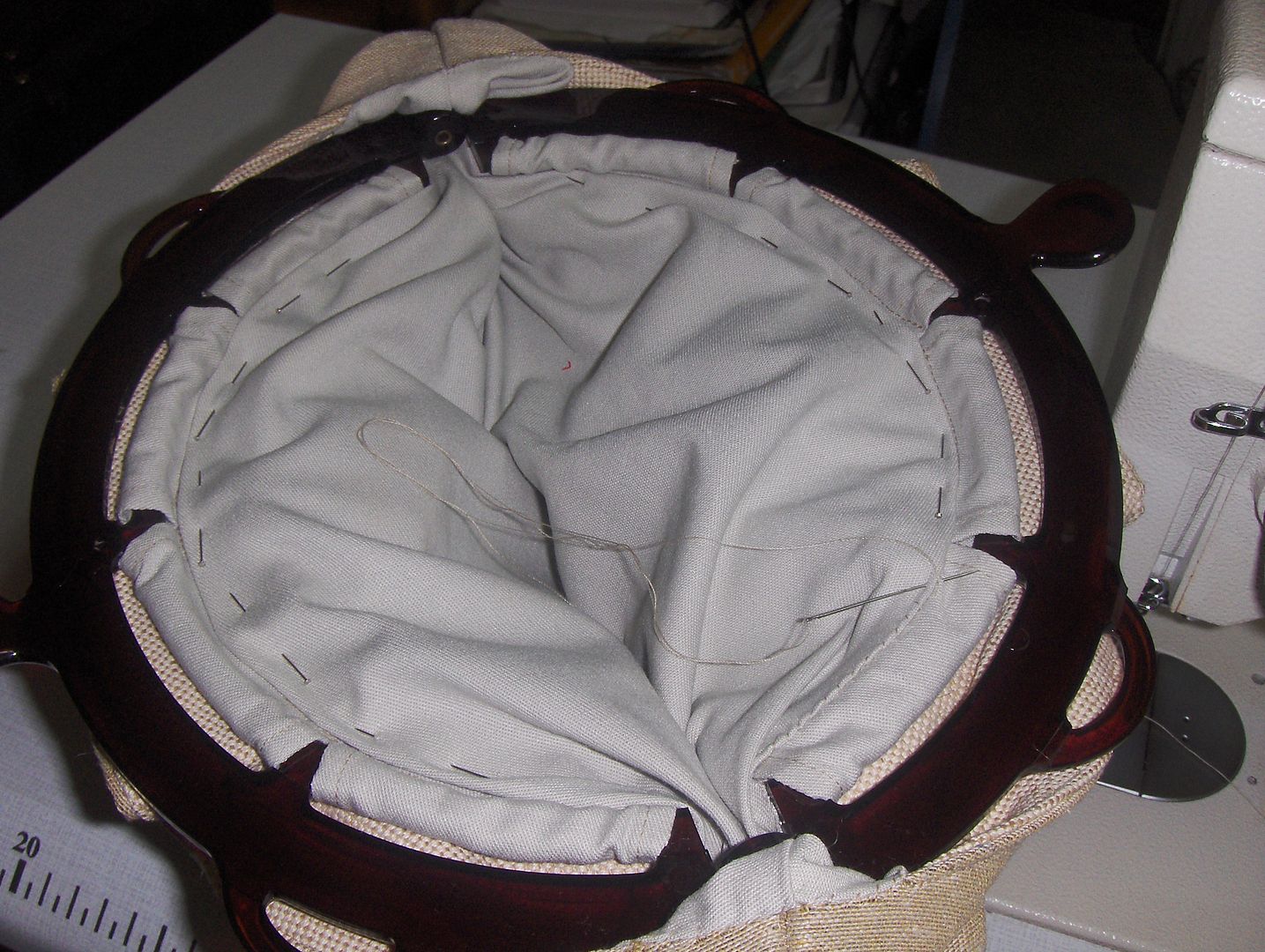 It´s almost... place the lining sack inside the bag and hand sewing around the edge...
Ya casi está... colocar el saco de forro dentro del bolso y coser a mano todo el borde ...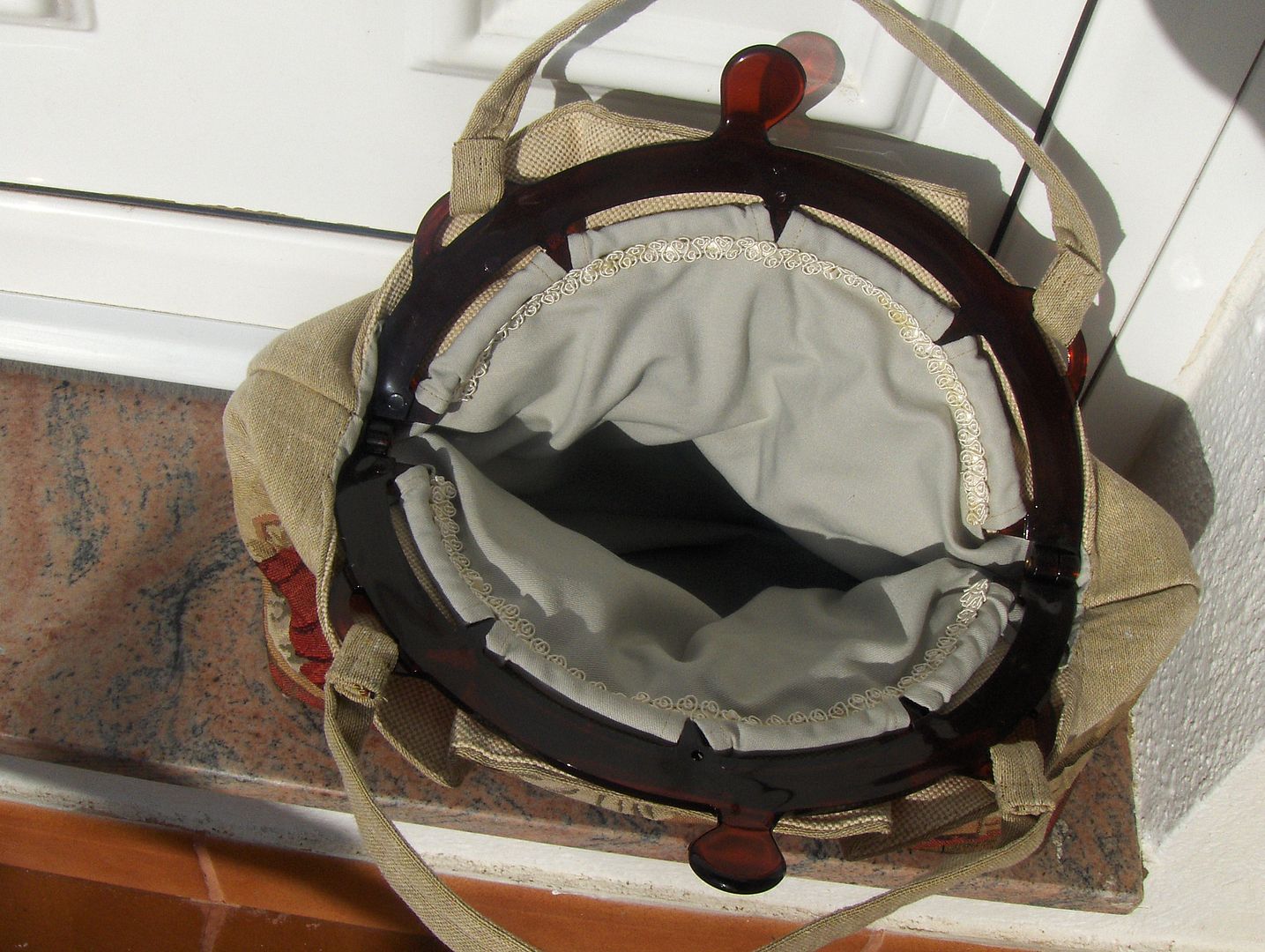 To hide this hand stitch, I glued a strip of trimming over the seam and stitched handles with the piece that I cut the beginning.... and Voila!!
Para ocultar este pespunte a mano, yo pegué una tira de pasamanería encima de la costura y cosí asas con el trozo que corté al principio... Voila!!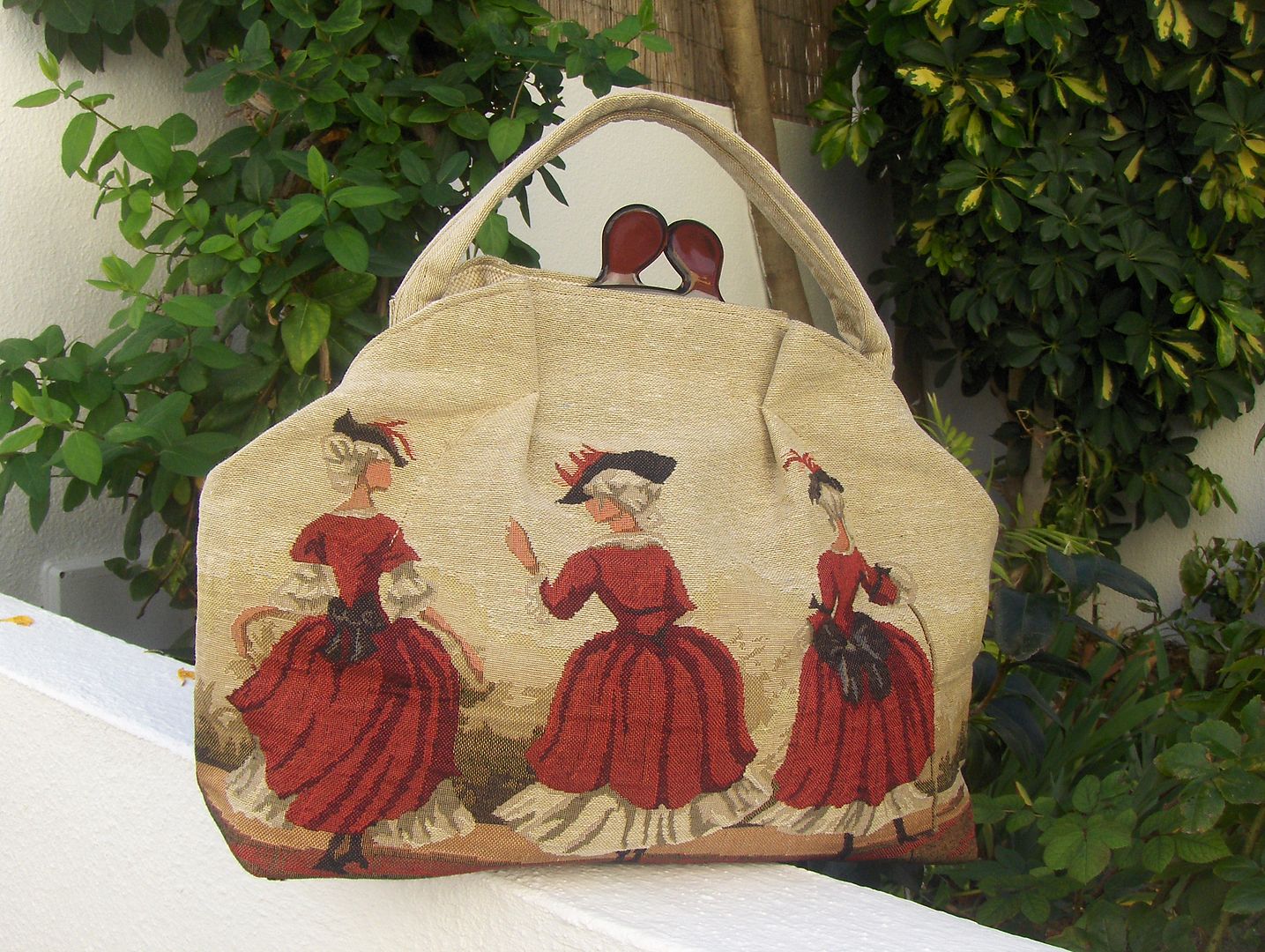 I have in my closet a new winter bag...
Yo tengo en mi armario un nuevo bolso para el invierno...
And of course, I´m going to the bed tonight looking mentally for clothes that I can use with it... or maybe I can make a new dress to achieve the perfect outfit... Yay.... I would love to play with these colors in my wardrobe...
a very special bag needs a special dress.... Don´t you agree??
Y por supuesto, esta noche yo me voy a la cama buscando mentalmente las prendas que yo pueda usar con él.... o quizá yo pueda hacer un vestido nuevo para lograr el outfit perfecto.... si... me gustaría mucho jugar con estos colores en mi wardrobe....
Un bolso tan especial necesita un vestido especial.... No está usted de acuerdo??