Starting over... I had lost my sewing mojo, no, it´s just that sometimes there are other things that require more attention at certain times of life, but I´m here again looking forward to sewing accumulated.
I had planned to sew and embroider this dress from 40s, this is a copy that I made a few years ago, about ten years ago, an elderly lady very kindly lent me some magazines to share with me such beautiful treasures, I just have a few photocopies of that illustrations of clothing and embroidery designs, that means no patterns of dresses, so I have to "invent" on the drawing.
Comenzar de nuevo... No es que yo hubiese perdido mis ganas de coser, no, es simplemente que a veces hay otras cosas que requieren más atención en momentos determinados de la vida, pero aquí estoy otra vez con muchas ganas de costura acumuladas.
Yo tenía había planeado coser y bordar este vestido de finales de los años cuarenta, esto es una fotocopia que yo hice hace algunos años, quizá diez años atrás, de unas revistas que me prestó muy amablemente una señora anciana para compartir conmigo tan hermosos tesoros, yo solamente tengo unas pocas fotocopias de las ilustraciones de los vestidos y el dibujo para bordar a tamaño natural, eso significa que no hay patrones de los vestidos, así que simplemente tengo que "inventar" sobre el dibujo.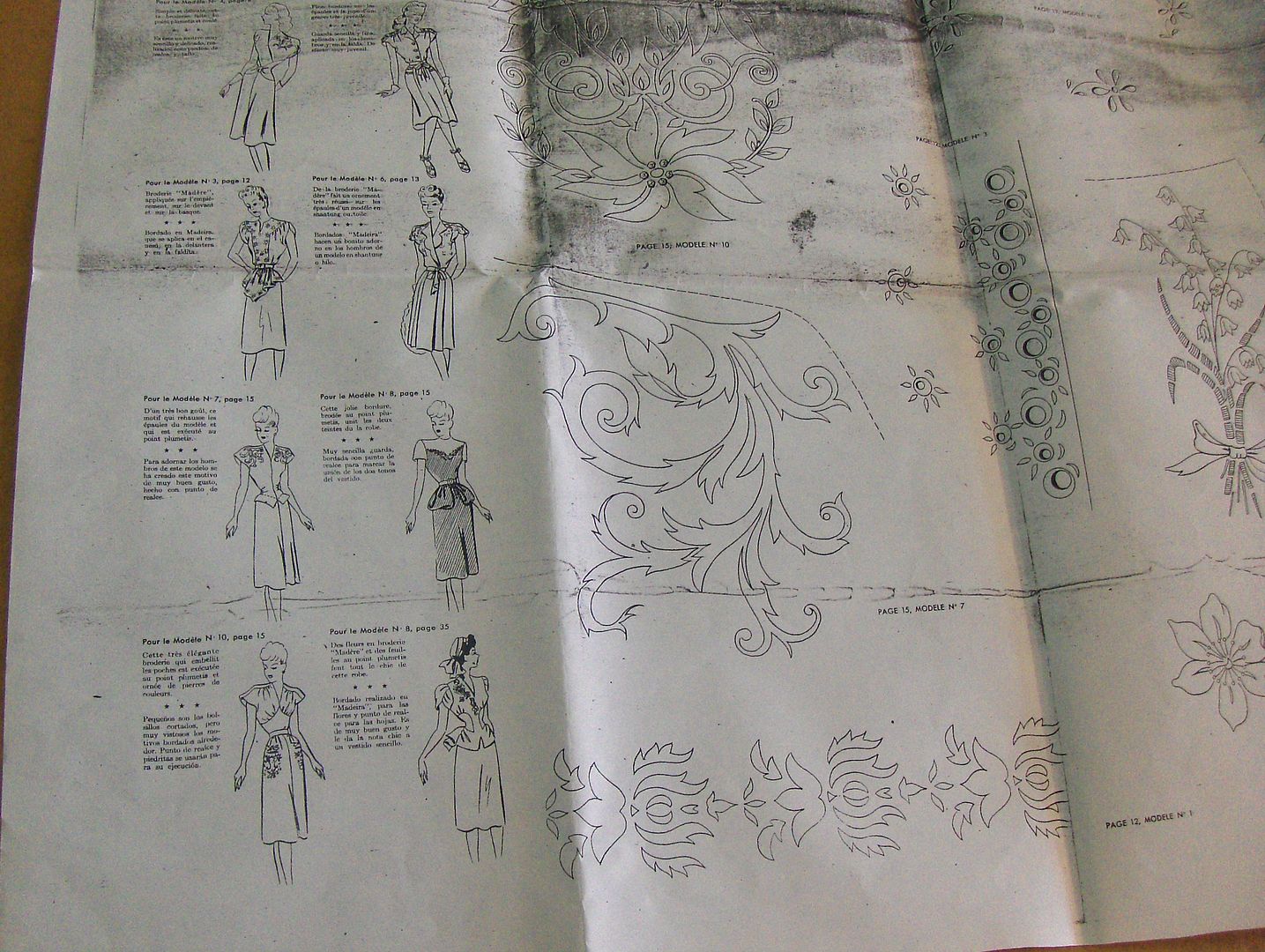 I chose a shade of cherry red fabric for the dress, there are about one meter and half of this fabric and some caramel pieces cut for the yoke and sleeves, so I´ll have to do some juggling with the cutting of patterns for get all pieces fit because I have planned to cut the skirt on the bias.
I´m still deciding whether to make the piece that leaves the waist, which seems to be some kind of pockets hanging there, I will decide along the way.
Elegí un retal de tela en color rojo cereza para el vestido, hay cerca de un metro y medio de esta y algunos trozos cortados en color caramelo para el canesú y las mangas, así que tendré que hacer algunos malabares con el corte de los patrones para conseguir encajar las piezas porque yo tengo planeado cortar la falda al biés.
Aún estoy decidiendo si hacer la pieza que sale de la cintura, lo que parece ser alguna clase de bolsillos colgando de allí, lo decidiré a lo largo del camino.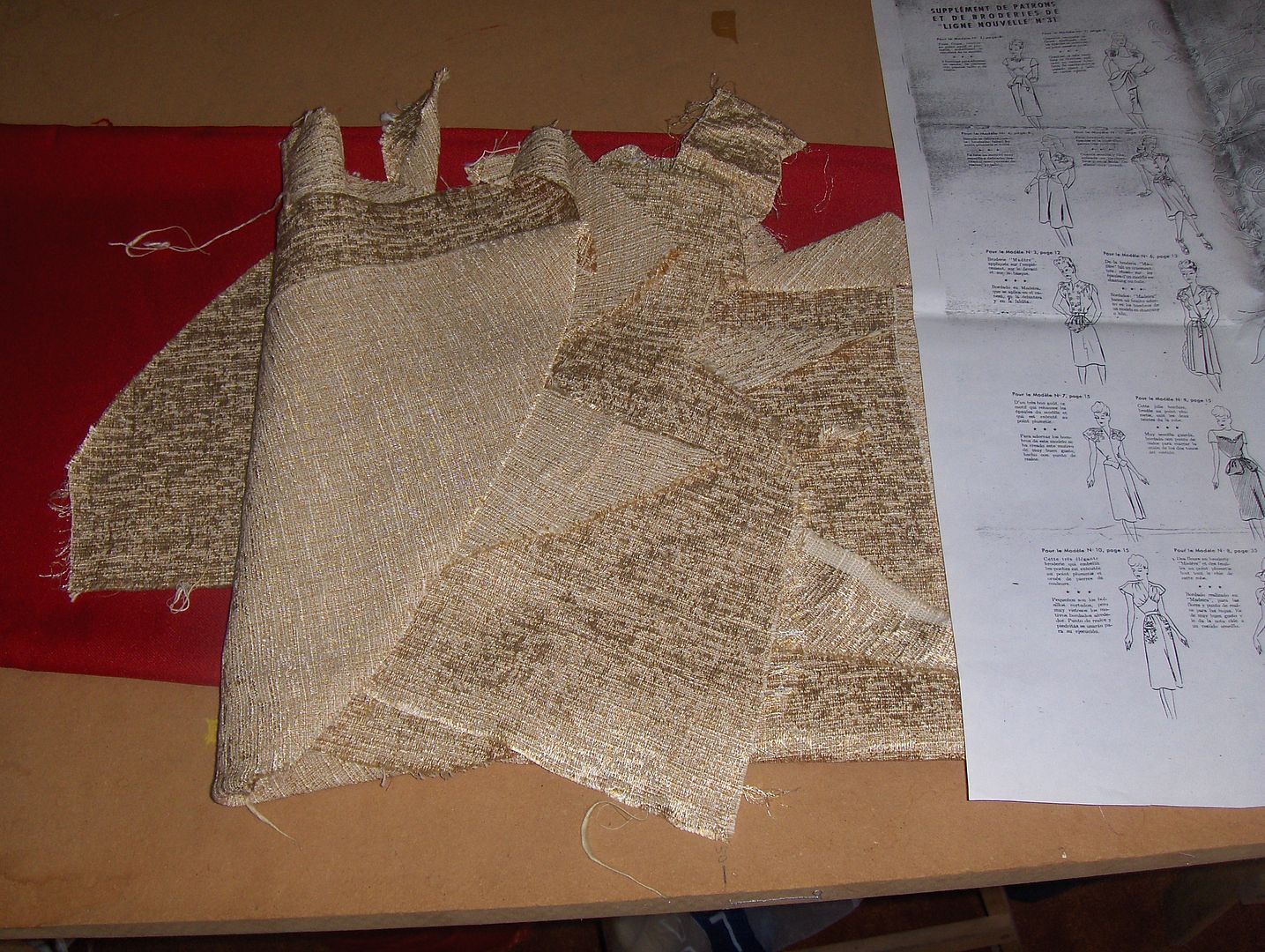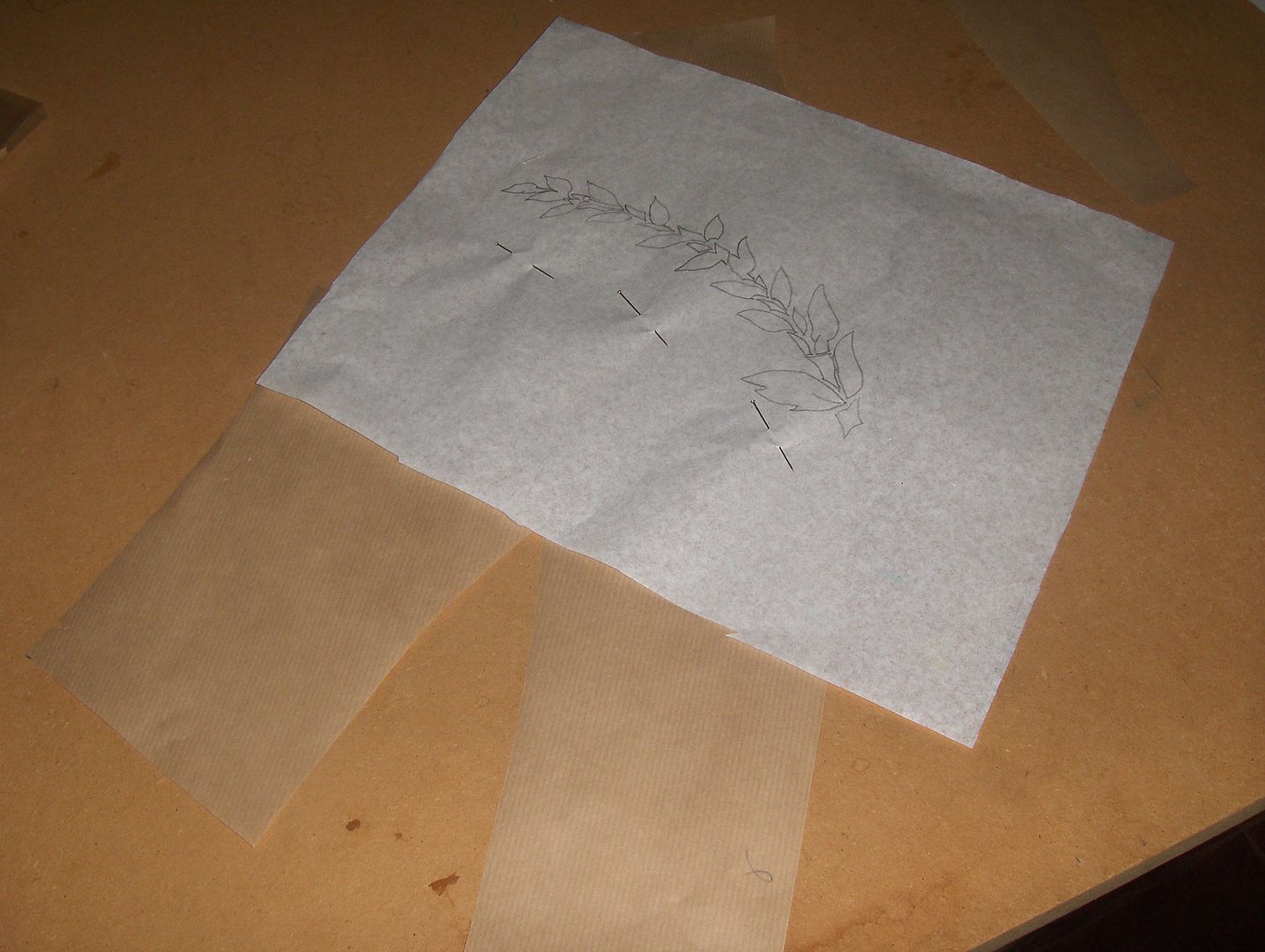 I started copying the drawing in tissue paper and place it on the front of a basic pattern in my size body, in this way, I can decide where to cut the line that separates the yoke (toffee fabric) and front (cherry red fabric)
Then I drew the line on the pattern to separate the two pieces, so it´s ready to cut into the two fabrics...
Comencé copiando el dibujo en papel de seda y colocarlo sobre el delantero de un patrón básico de cuerpo en mi talla, de esta forma, yo puedo decidir donde hacer la línea de corte que separa el canesú ( tela color caramelo) y el delantero (tela rojo cereza).
Entonces dibujé la linea sobre el patrón para separar las dos piezas, así que ya está listo para cortar en las dos telas.
So that once together, I get this... the following step is replacing the embroidery pattern to the selected location along the line joining the two fabrics and tracing over them, which gave me "enough war", it was as a toothache trying to make the drawing is transferred on the bulk of the union.
De forma que una vez unidos, yo obtengo esto... lo siguiente es volver a colocar el dibujo del bordado en el lugar seleccionado siguiendo la linea de unión de las dos telas y calcar sobre estas, lo cual me dió bastante guerra, ya que fué un dolor de muelas intentar que el dibujo se transfiriera sobre el grueso de la unión.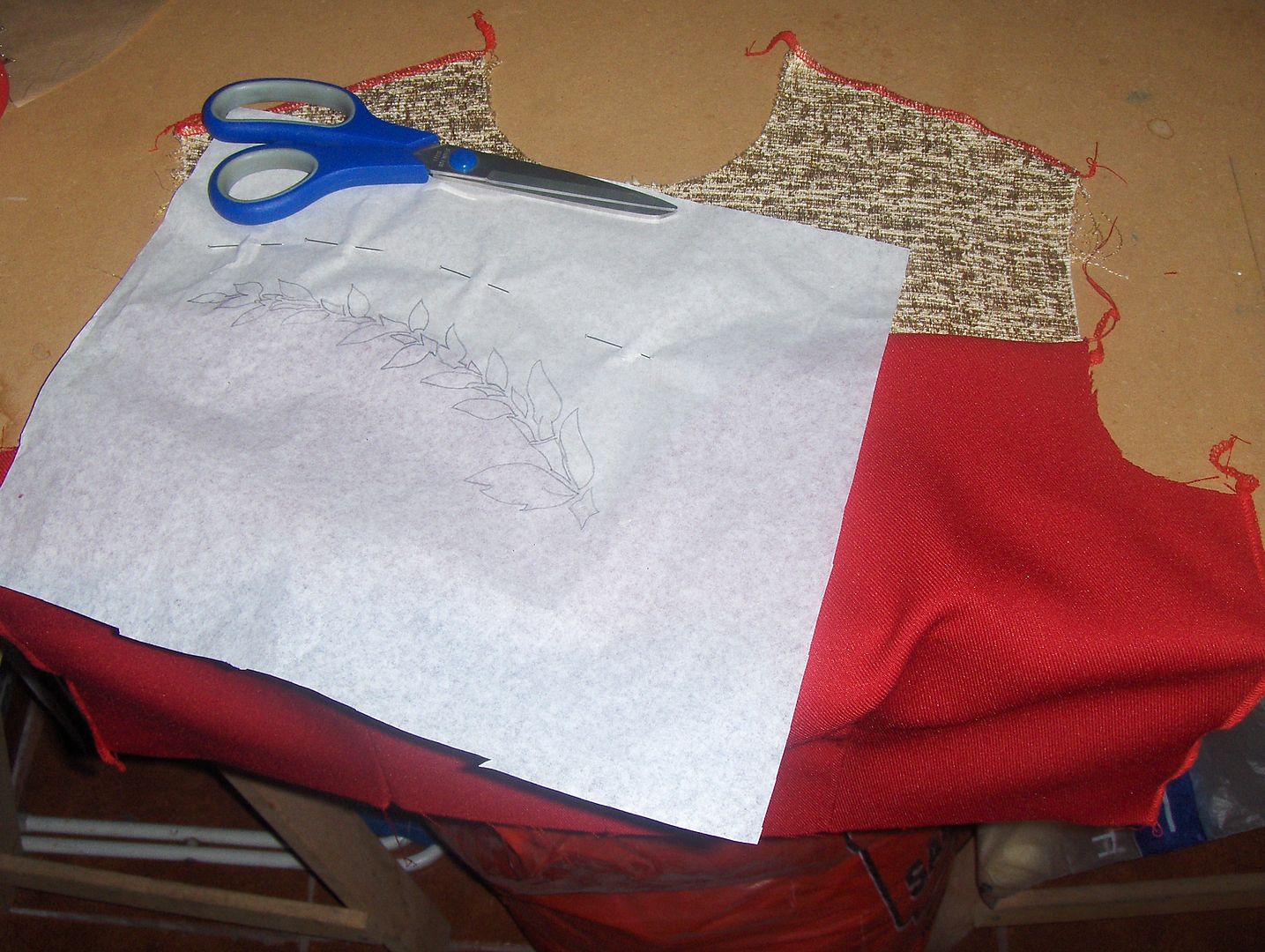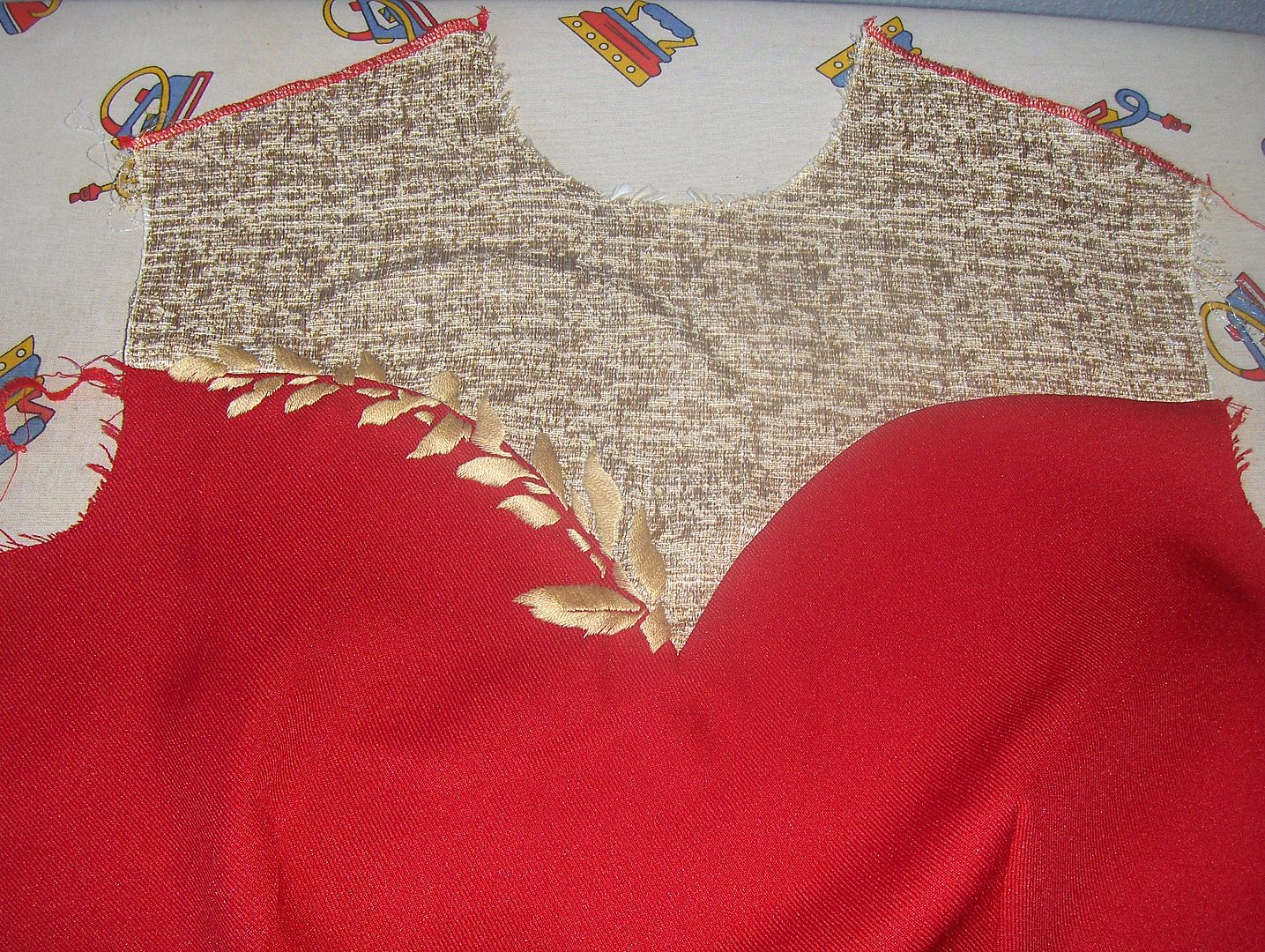 For now, this is what I got, hand embroidery is quite slow, in response to my dear Irene, but it´s a beautiful work and well worth the time invested in it, satisfaction of seeing how the drawing is formed with threads is as gratifying....
Por ahora, esto es lo que he conseguido, el bordado a mano es bastante lento, en respuesta a mi querida
Irene
, pero es un hermoso trabajo que vale la pena el tiempo invertido en él, la satisfacción de observar como se forma el dibujo con hilos es algo tan gratificante....
With the added value to get a totally unique and exclusive garment one completed it.
Yay, I think it´s worth the effort... I´m already dreaming of the finished dress....
Con el valor añadido de conseguir una prenda totalmente única y exclusiva una vez terminado.
Si, yo creo que vale la pena el esfuerzo... yo ya estoy soñando con el vestido acabado....