It seems that everything is back to normal, step by step... this means I have a lot of photos to show you and many things that have accumulated in my computer and my brain respectively.
For starters, I´ll have to sort the data trying to not make a mess and get as far as possible a coherent post.
Parece que todo va volviendo a la normalidad, poco a poco... esto significa que tengo un montón de fotos para mostrar y muchas cosas que contarte acumuladas en mi ordenador y mi cerebro respectivamente.
Para empezar, yo tendré que clasificar los datos intentando no hacer un revuelto y conseguir dentro de lo posible un post coherente.
Last Christmas was really a delight, I spent a long time for walk with family, baking, prepare gifts to hand and enjoy all the possible hours of the company of family and friends, that means less consumption and I think we have all gained by the approach, less stress.
Estas pasadas Navidades fueron realmente una delicia, yo dediqué mucho tiempo a pasear con la familia, hornear, preparar regalos a mano y disfrutar de todas las horas posibles de la compañía de los familiares y amigos, eso se traduce en menos consumismo y yo creo que todos hemos salido ganando con el planteamiento, menos stress.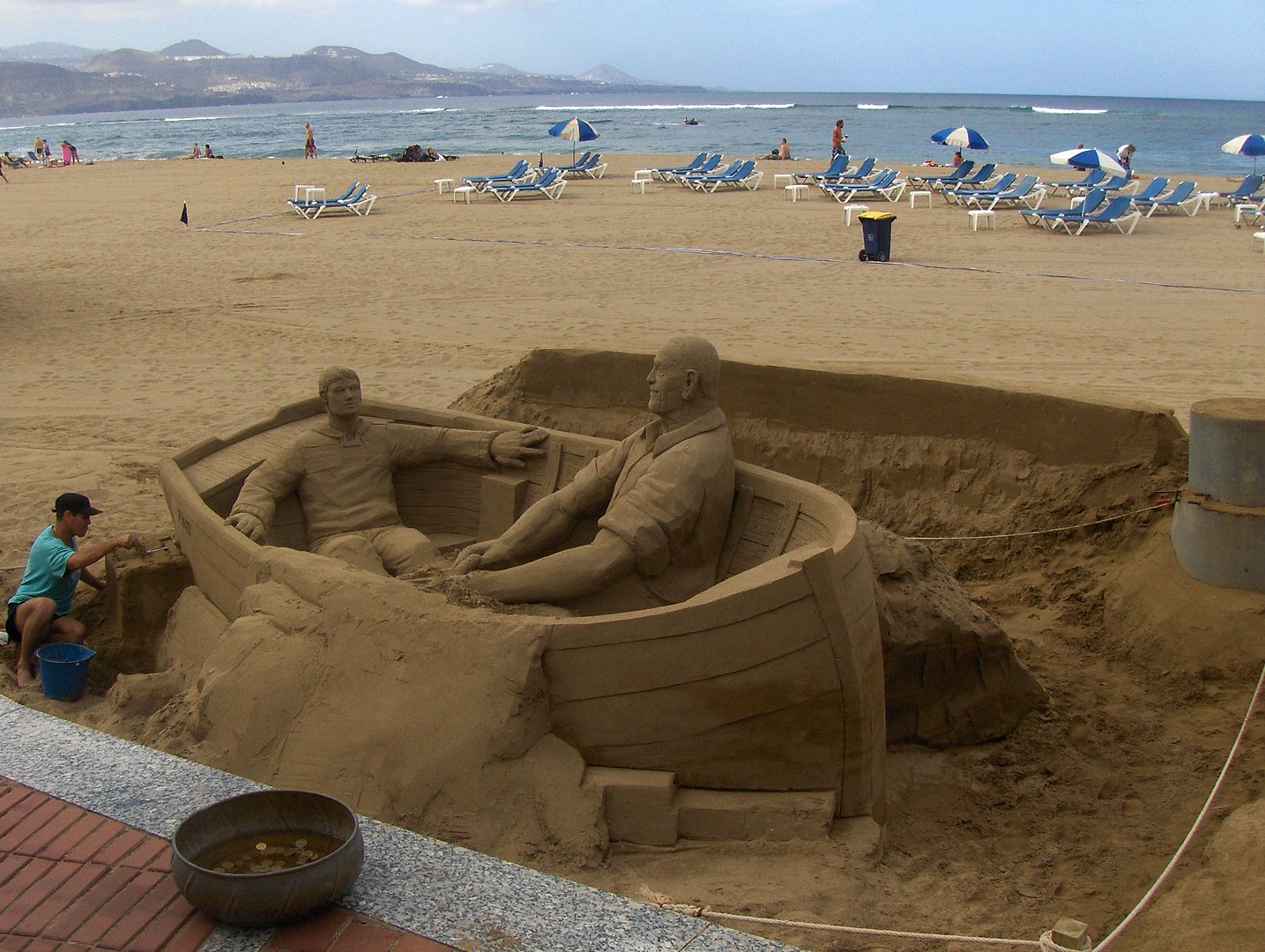 A good time was dedicated to walk and discover how each year the " Sand Bethlehem" is usually made on the beach in the capital, as its name implies , this Bethlehem is made entirely of sand on the beach and you can walk inside it.
Un buen rato lo dedicamos a pasear y descubrir como cada año, el Belén de Arena que suele hacerse en la playa de la capital, como su nombre indica, este Belén está hecho totalmente de arena de la playa y se puede pasear dentro de él.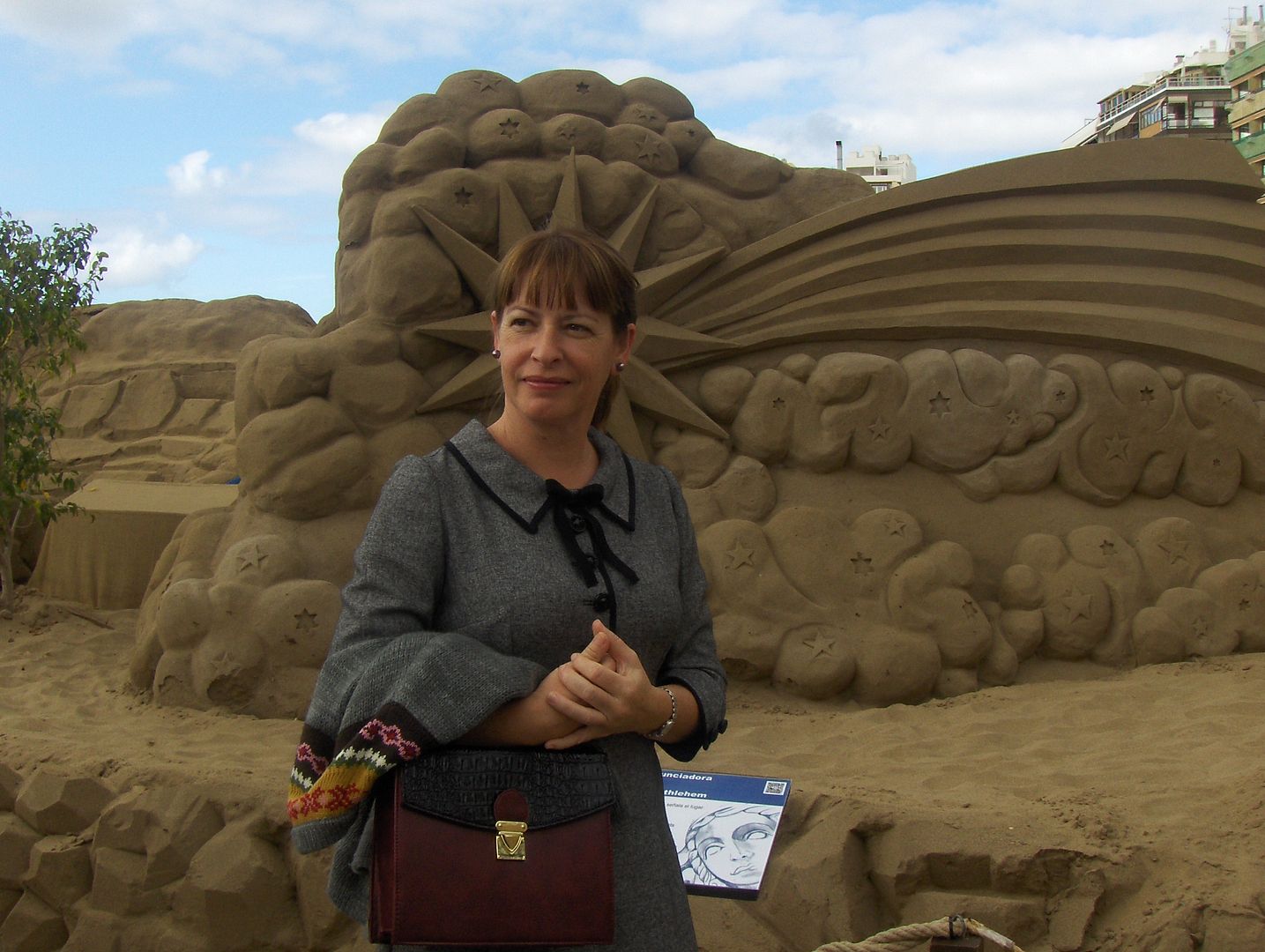 It was fun to see the frame that made my husband of this photo, you can see "light rays" of the star right behind my head... so this was the subject of all sorts of jokes...
Fue divertido observar el encuadre que hizo mi marido de esta foto, usted puede observar los "rayos de luz" de la estrella justo detrás de mi cabeza... así que en casa esto fue objeto de todo tipo de bromas...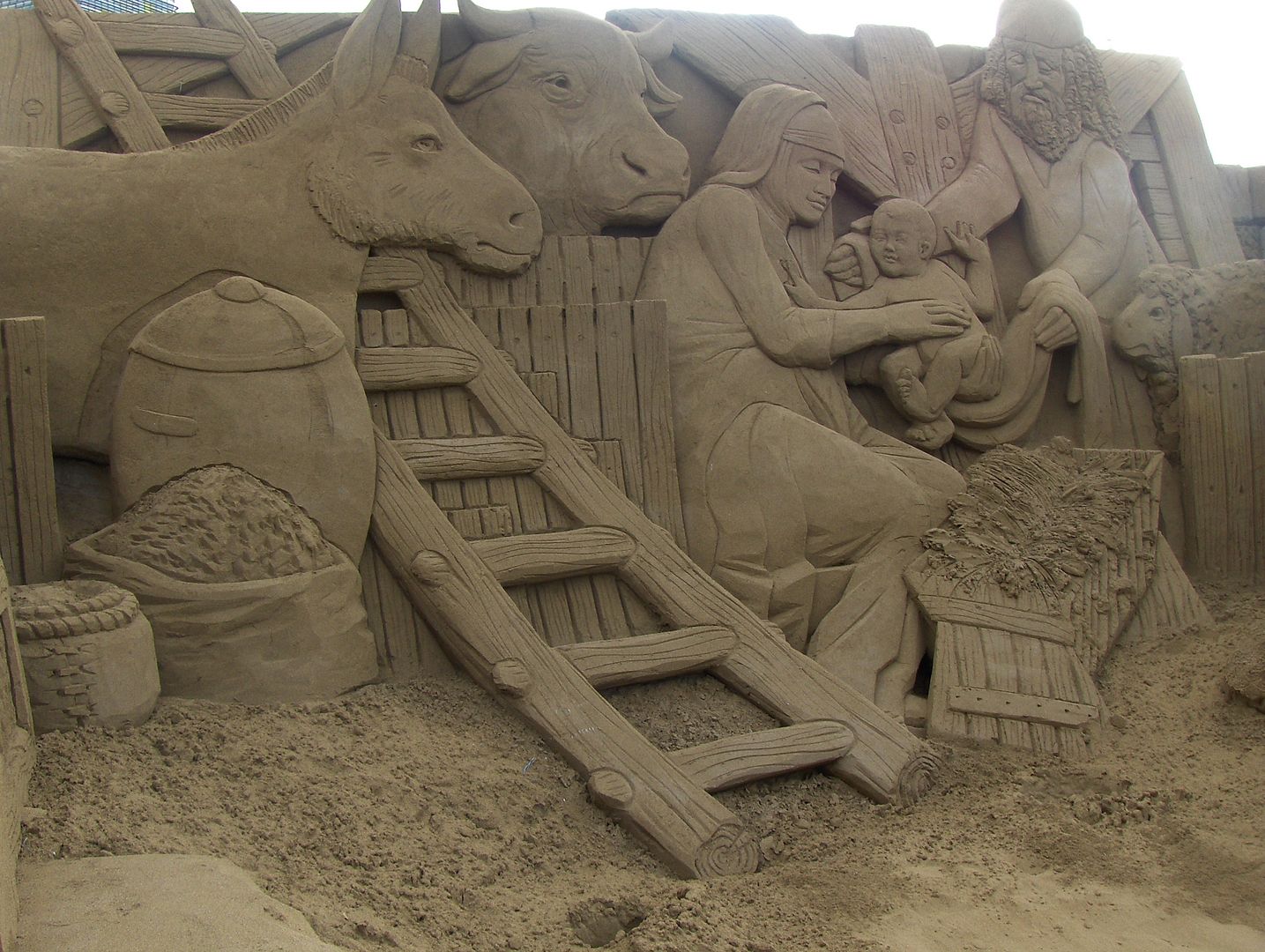 Image of "Birth Scene" with great detail on the sand... Really, this could be measure over two meters and half above the ground, a true work of art.
And walking at night was fun...
Imagen del "Nacimiento", con todo lujo de detalles sobre la arena... En realidad, esto podía medir sobre dos metros y medio sobre el suelo, una verdadera obra de arte.
Y pasear por las noches era muy divertido....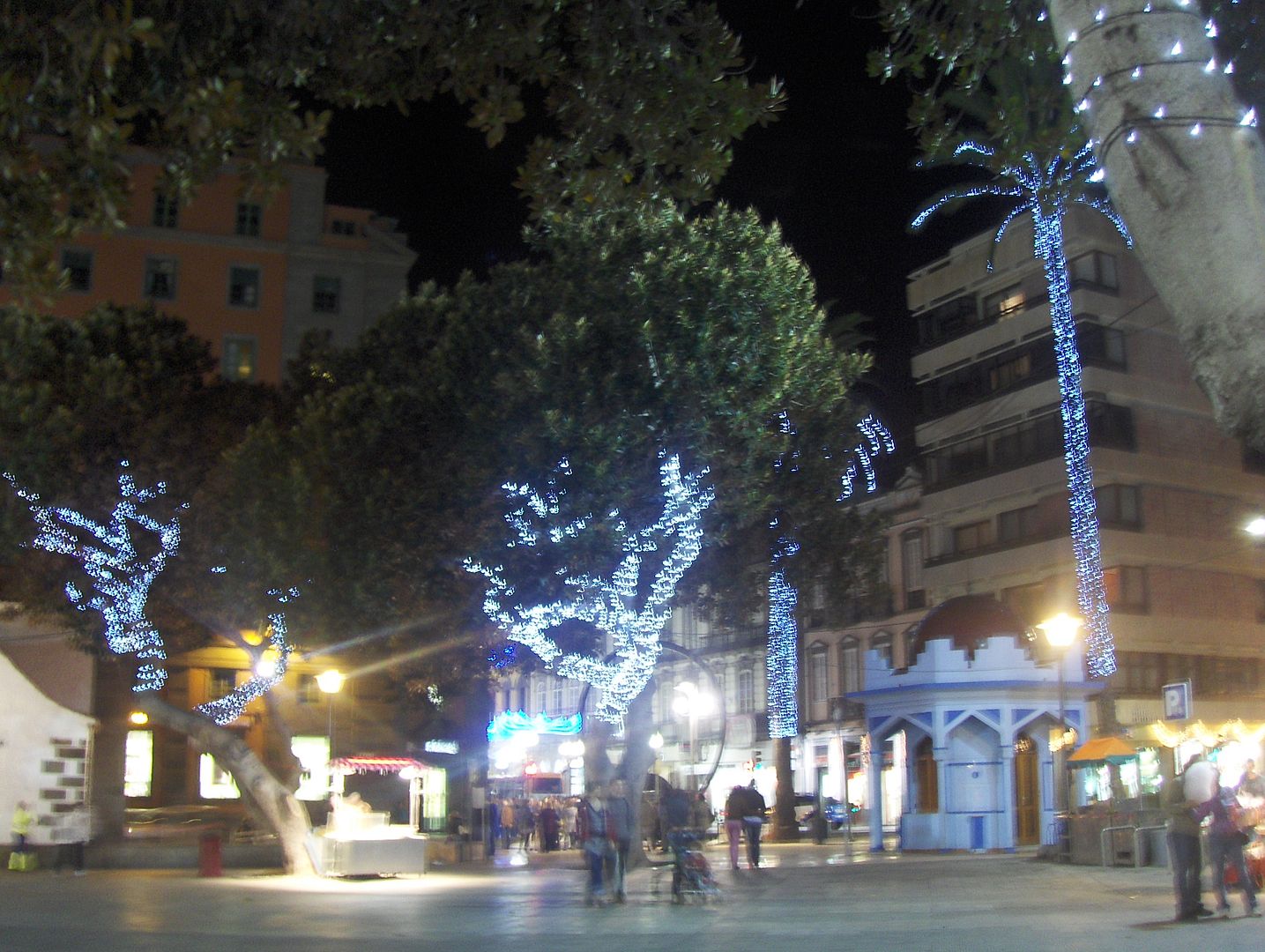 Some of the time was spent on gifts hand made, this gift was from my needles for a very special person that has been integrated into my family last Christmas, this is a scarf that looks like Harry Potter, a meter and eighty centimeters of scarf, which needed some stolen moments to get good ending just on the eve of Epiphany. I began this gift here.
Parte del tiempo fue invertido en regalos hechos a mano, el regalo de la foto fue desde mis agujas para una persona muy especial que ha sido integrada en la familia estas Navidades, se trata de una bufanda como la que luce Harry Potter, un metro y ochenta centímetros de bufanda que necesitó algunos ratos robados para llegar a buen final justo la víspera de Reyes. Yo comenzaba este regalo
aquí.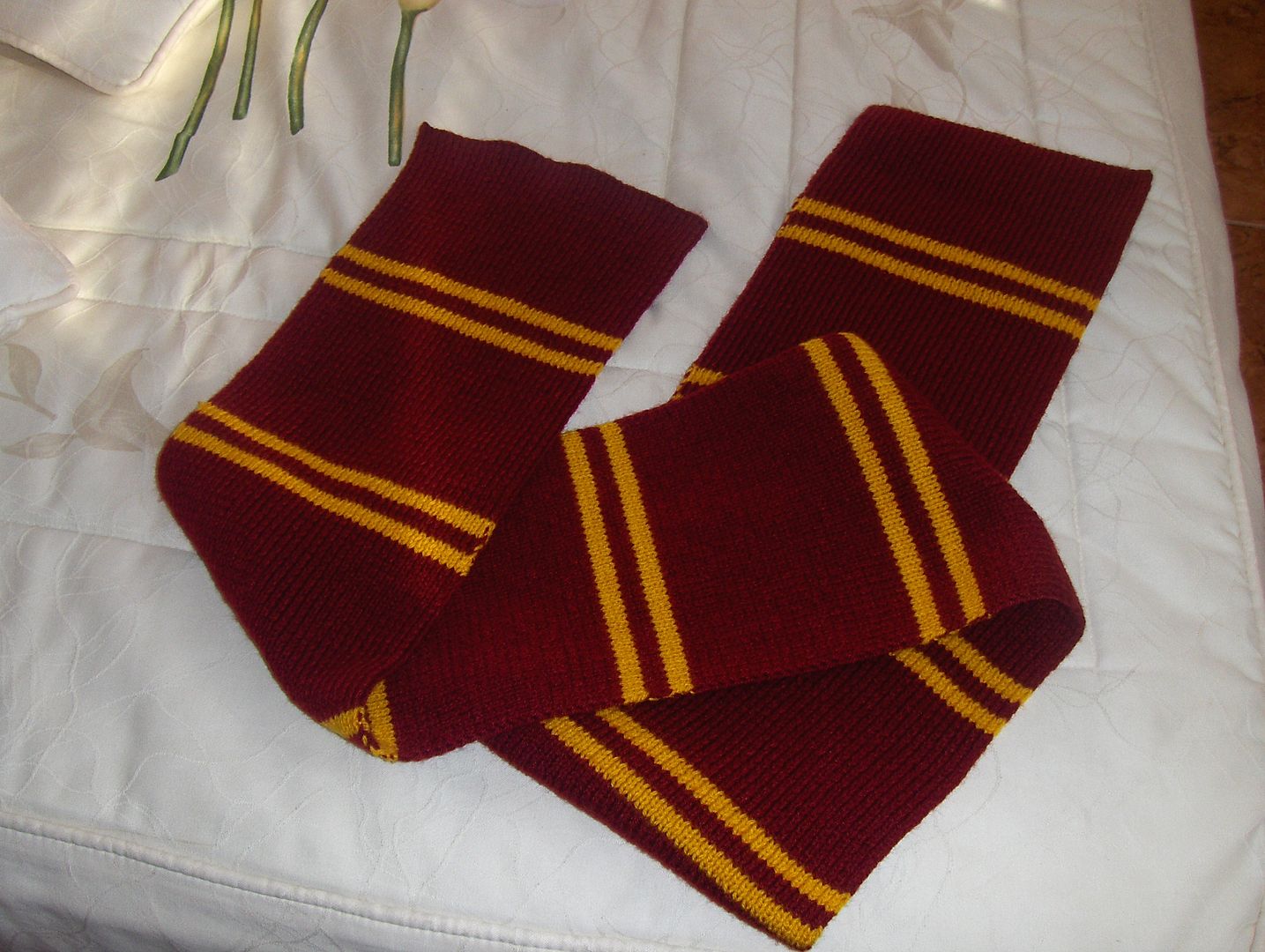 The shield embroidered of Gryffindor school is pending still, but the gift recipient enjoyed it any way.
And of course, I received gifts too, I will not bore you with all of them, I just want to share with you the "black humor" of my son who thought this shirt was ideal for me.... Ehhh!
Aún queda pendiente bordar el escudo de la escuela Gryffindor, pero la destinataria del regalo lo disfrutó igualmente.
Y por supuesto, yo recibí regalos también, yo no voy a aburrirte con todos ellos, solamente quiero compartir contigo el "humor negro" de mi hijo que pensó que esta camiseta era ideal para mi.... Caray!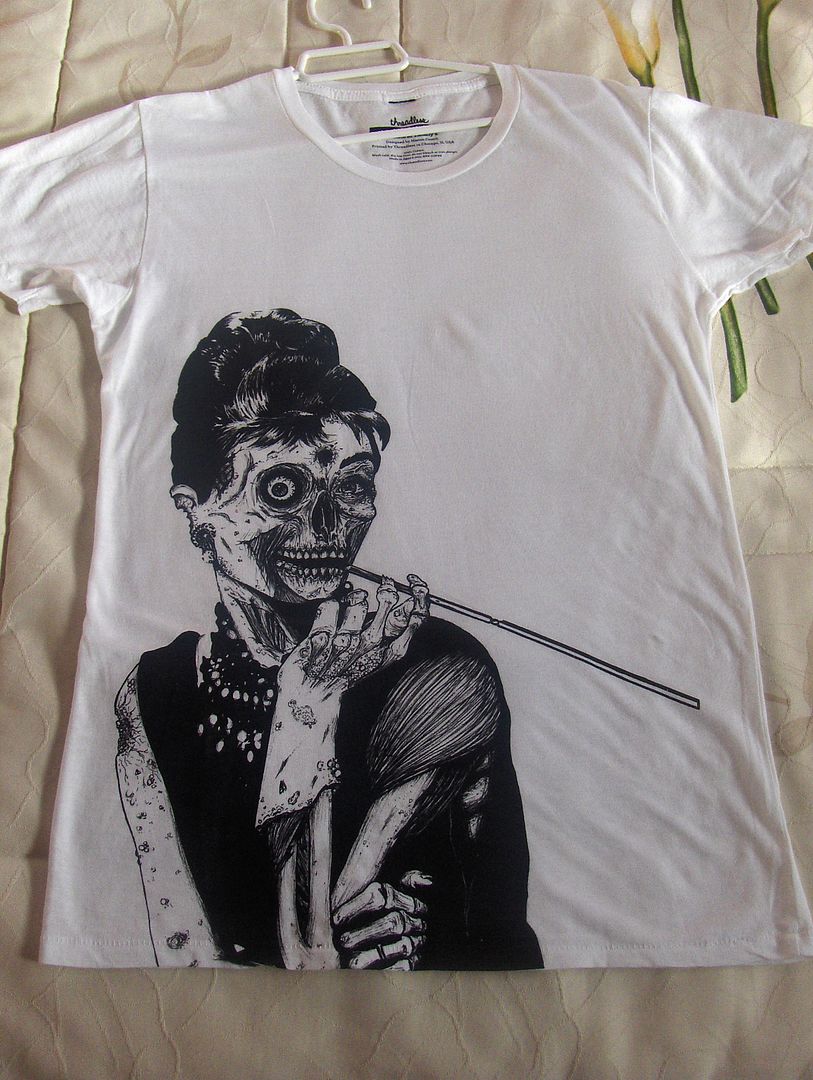 Although this other little gift I got to forgive him... it´s a beautiful brooch with many exquisite details in just two centimeters. Awesome. In addiction, completely handmade by hands of artists of this girls.
Aunque este otro pequeño regalo consiguió que yo lo perdonara...es un hermoso broche con tantos exquisitos detalles en solamente dos centímetros . Impresionante. Además, totalmente hecho a mano por
estas chicas
con manos de artistas.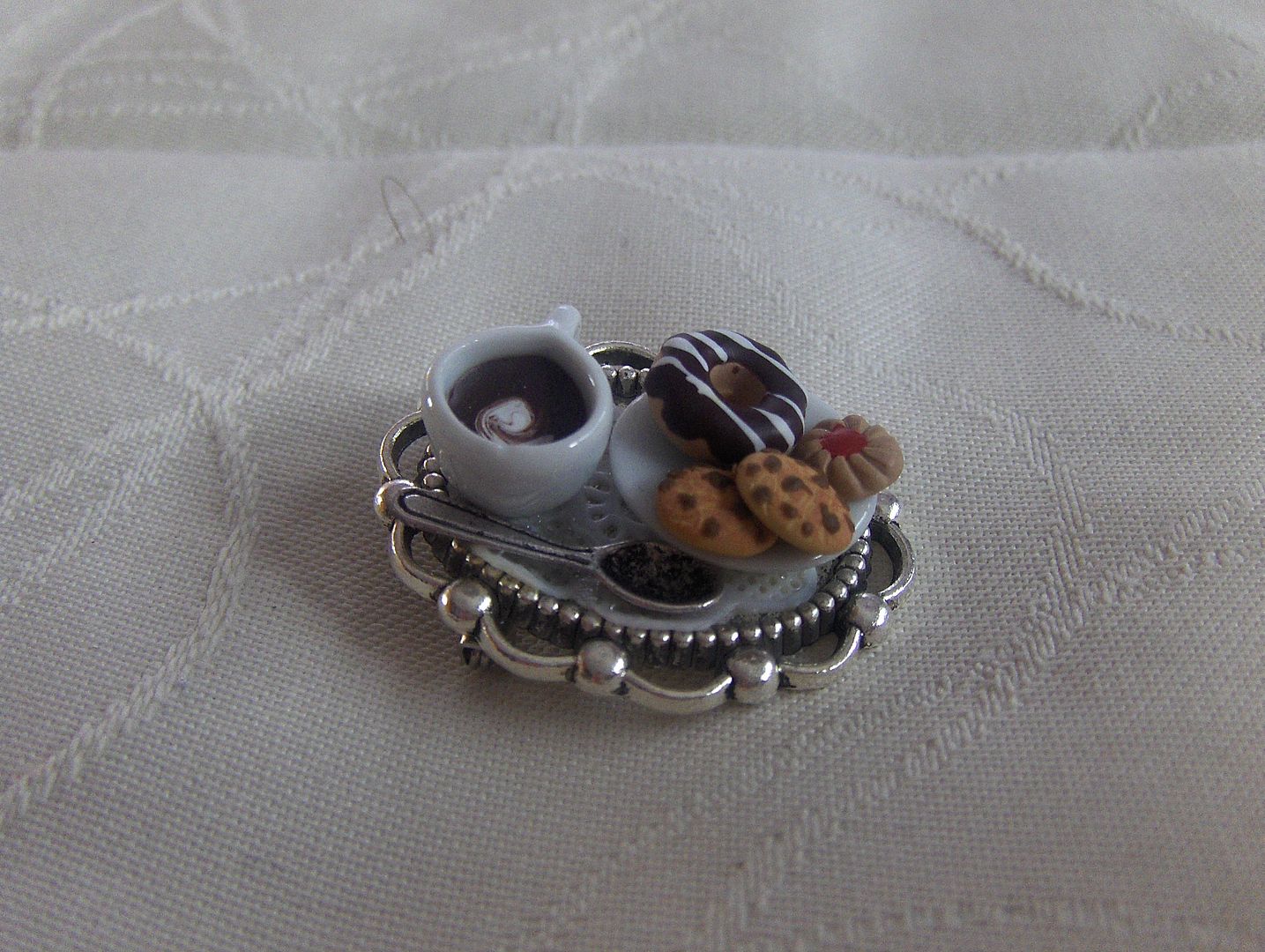 Tomorrow the second part of this post...
I don´t forget to thank all the wonderful colleagues who will remember me at this time to wish happy holidays through comments and emails, I want you to know that although the lack of time prevented me to answer at all, I have been you in my heart .
Mañana la segunda parte de este post....
No se me olvide dar las gracias a todas las maravillosas compañeras que se acordaron de mi en estas fechas para desearme felices fiestas a través de comentarios y emails, quiero que sepan que aunque la falta de tiempo evitó que yo contestara a todas, las llevo en mi corazón igual que si las conociera de toda la vida.