I feel I´ve taken forever to finish this dress, but it wasn´t because the dress will need many hours of work, really it took me longer to embroider it that in altered patterns, cut and sew... simply have been other littles things in between that have slowed this last stage of the preparation.
Siento que he tardado una eternidad en acabar este vestido, pero no ha sido porque el vestido necesitara muchas horas de trabajo, en realidad yo tardé más tiempo en bordarlo que en modificar los patrones, cortar y coser... simplemente han habido otras pequeñas cosas en medio que han ralentizado esta última etapa de la confección.
The dress has some changes to the original design, here, but all this has come as a result of the small amount of fabric available for it ... so I wanted the skirt was cut on the bias to get this beautiful flow, this conditioned to be a little shorter than I would have liked, nor is there enough material for a peplum hanging from the waist.
El vestido tiene algunas modificaciones con respecto al
dibujo original, aquí,
pero todo esto ha venido como consecuencia de la pequeña cantidad de tela disponible para él... así que yo quería que la falda estuviera cortada al bies para conseguir esta hermosa fluidez, esto condicionó que fuera un poco más corta que lo que yo hubiese deseado, tampoco hay tela suficiente para un faldón colgando desde la cintura.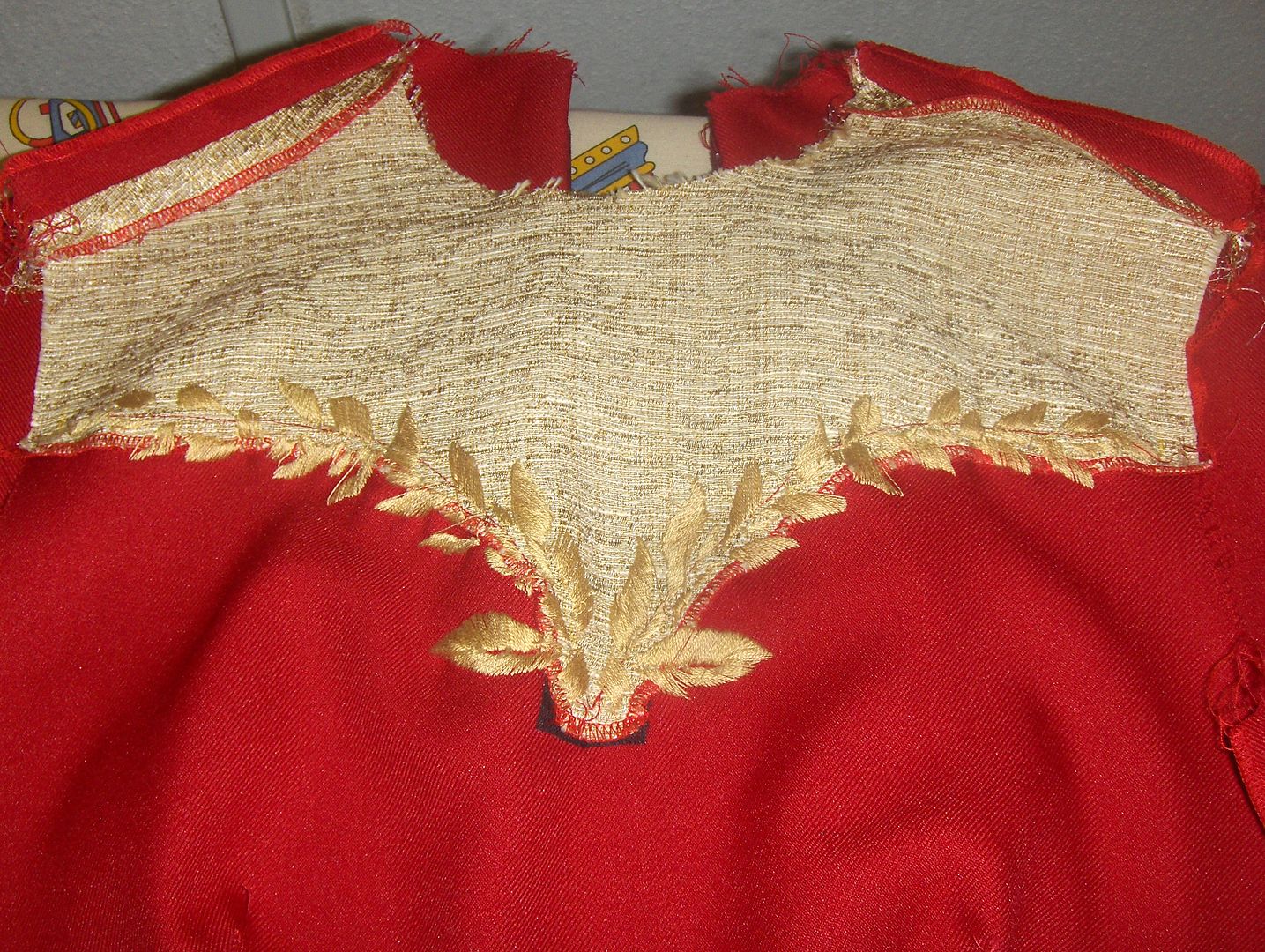 All these restrictions are a lesser evil because the embroidery on the chest gets overshadow everything else, I´m in love with this elegant embroidery, on the photo above you can see the wrong side of this hand made embroidery.
Todas estas restricciones son un mal menor porque el bordado que tiene el vestido sobre el pecho consigue eclipsar todo lo demás, yo estoy enamorada de este elegante bordado, en la foto de arriba se puede ver el revés de este bordado hecho a mano.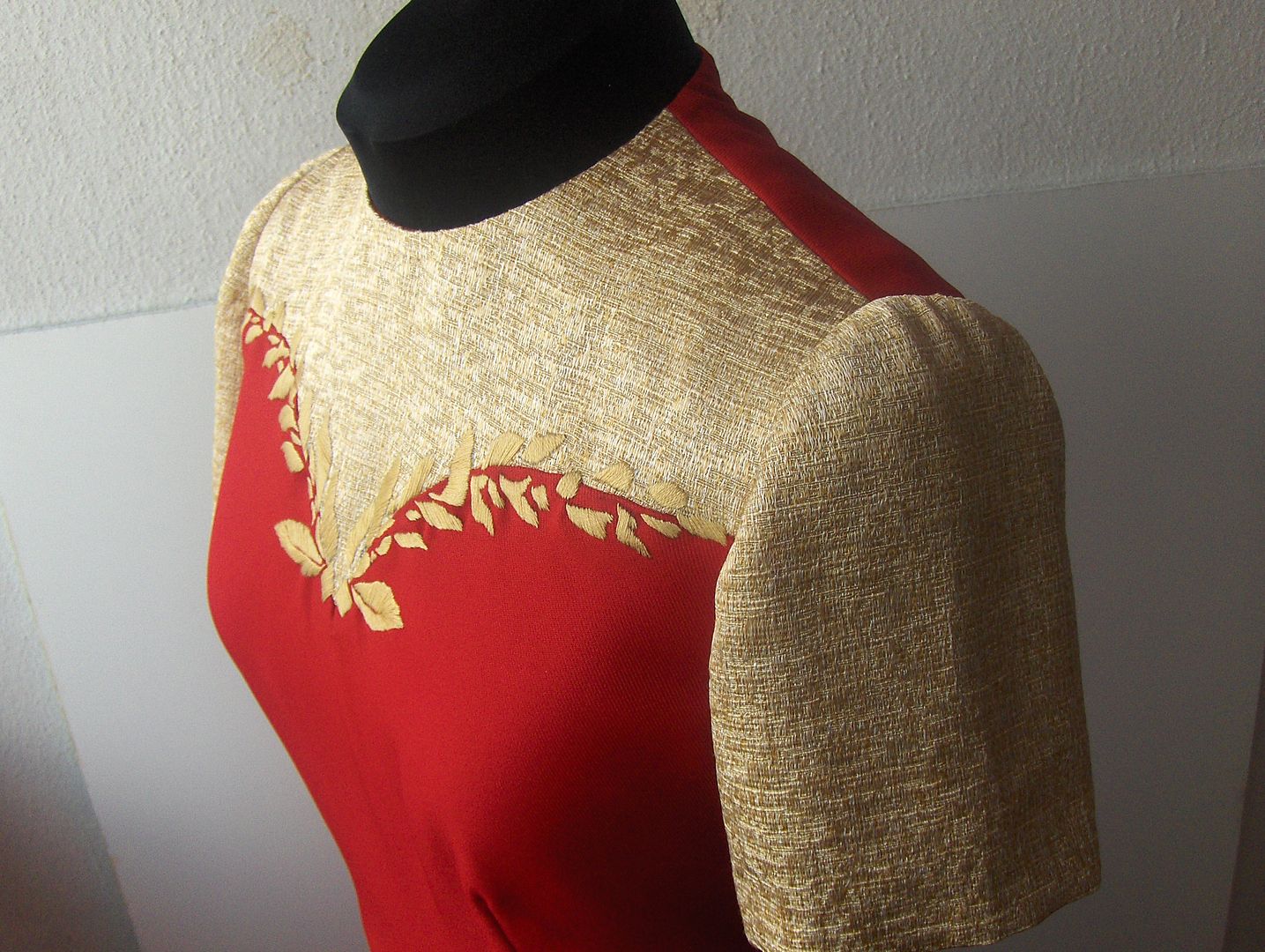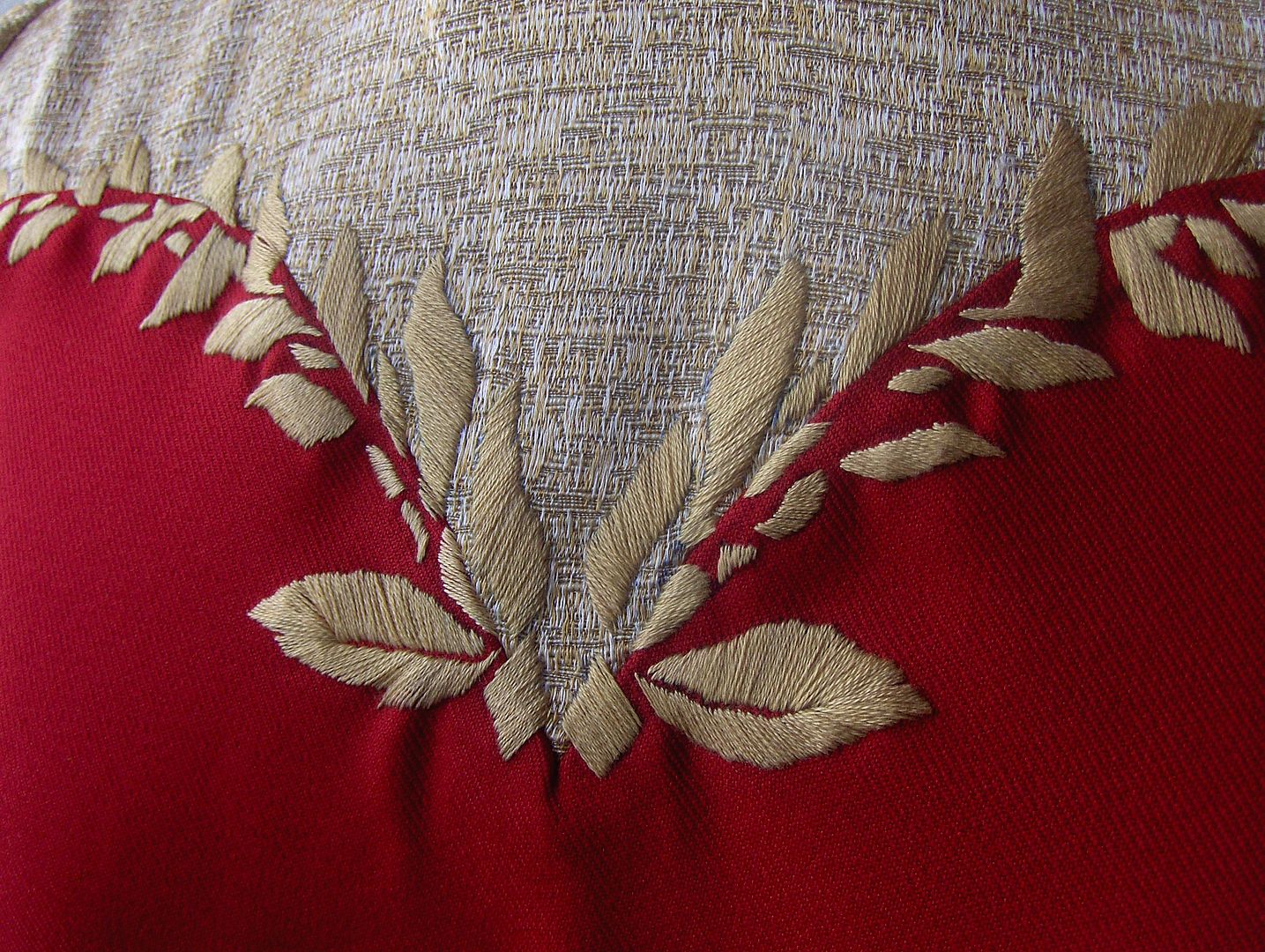 This time I used a slight variation to lining the dress, adding facing neck on the lining , this avoids the tedious task of ironing the interfacing , it´s a fast and effective method that I found here, I remember that I found this link through a sewing blog, but my memory fails at this time.
Esta vez yo usé una pequeña variante para forrar el vestido, añadiendo la vista del cuello sobre el forro del vestido, esto evita la tediosa tarea de planchar entretela en estas vistas, es un método rápido y efectivo que
yo encontré aquí ,
yo recuerdo haber encontrado este enlace a través de un blog, pero mi memoria falla en este momento.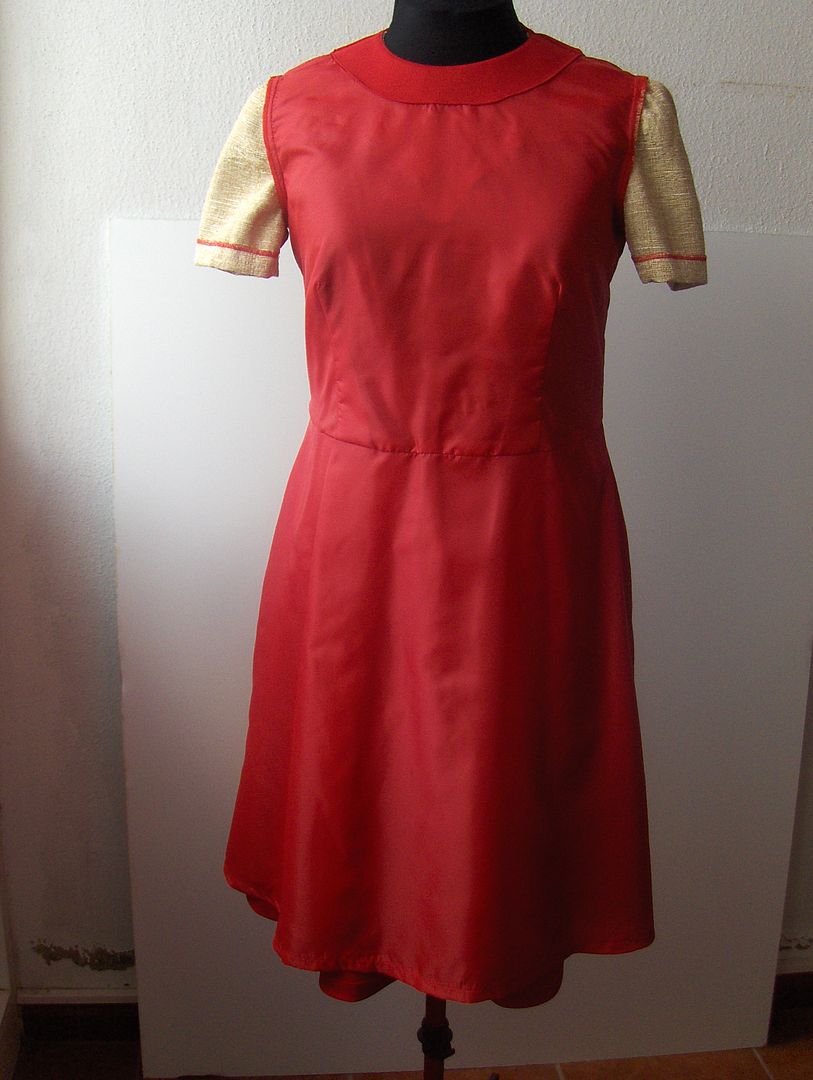 Of course, this dress is crying out for a belt, there isn´t enough fabric to make a belt in one piece only, so I have prepared an original belt with a small piece of fabric of yoke and sleeves, however, this belt is so special that I think deserves a separate post with tutorial included.
I´m looking forward to next weekend to wear it and my thoughts when I go to sleep revolve around accessories that I could use it... and the next project is tormenting me and wants to come to light as soon as possible...
Is this turning into a beautiful obsession?
Por supuesto, este vestido está pidiendo a gritos un cinturón, no hay suficiente tela para conseguir un cinturón de una pieza solamente, así que yo he preparado un original cinturón con un pequeño trozo de tela del canesú y las mangas, sin embargo, este cinturón es tan especial que yo creo que merece un post aparte con tutorial incluído.
Yo estoy deseando que llegue el fin de semana para usarlo y mis pensamientos cuando voy a dormir giran alrededor de los accesorios que yo podría usar con él... y el próximo proyecto me está atormentando ya, quiere salir a la luz lo antes posible...
Se está convirtiendo esto en una hermosa obsesión?