And then I thought... Why don´t a headdress to match with the belt?
So following the same technique as I did for the belt of last post, I made this headband- fascinator , it was to give a finishing touch to a special dress in your closet, you will get an exclusive beautiful detail with little complication.
Y entonces yo pensé... Porqué no un tocado a juego con el cinturón??
Así que siguiendo la misma técnica que hice para
el cinturón del post anterior,
he hecho este tocado, fué tan sencillo y rápido que yo creo que merece la pena dedicar un poco de tiempo para explicar cómo lo hice por si usted quiere dar un toque final a un vestido especial de su armario, usted conseguirá un hermoso detalle de exclusividad con muy poca complicación.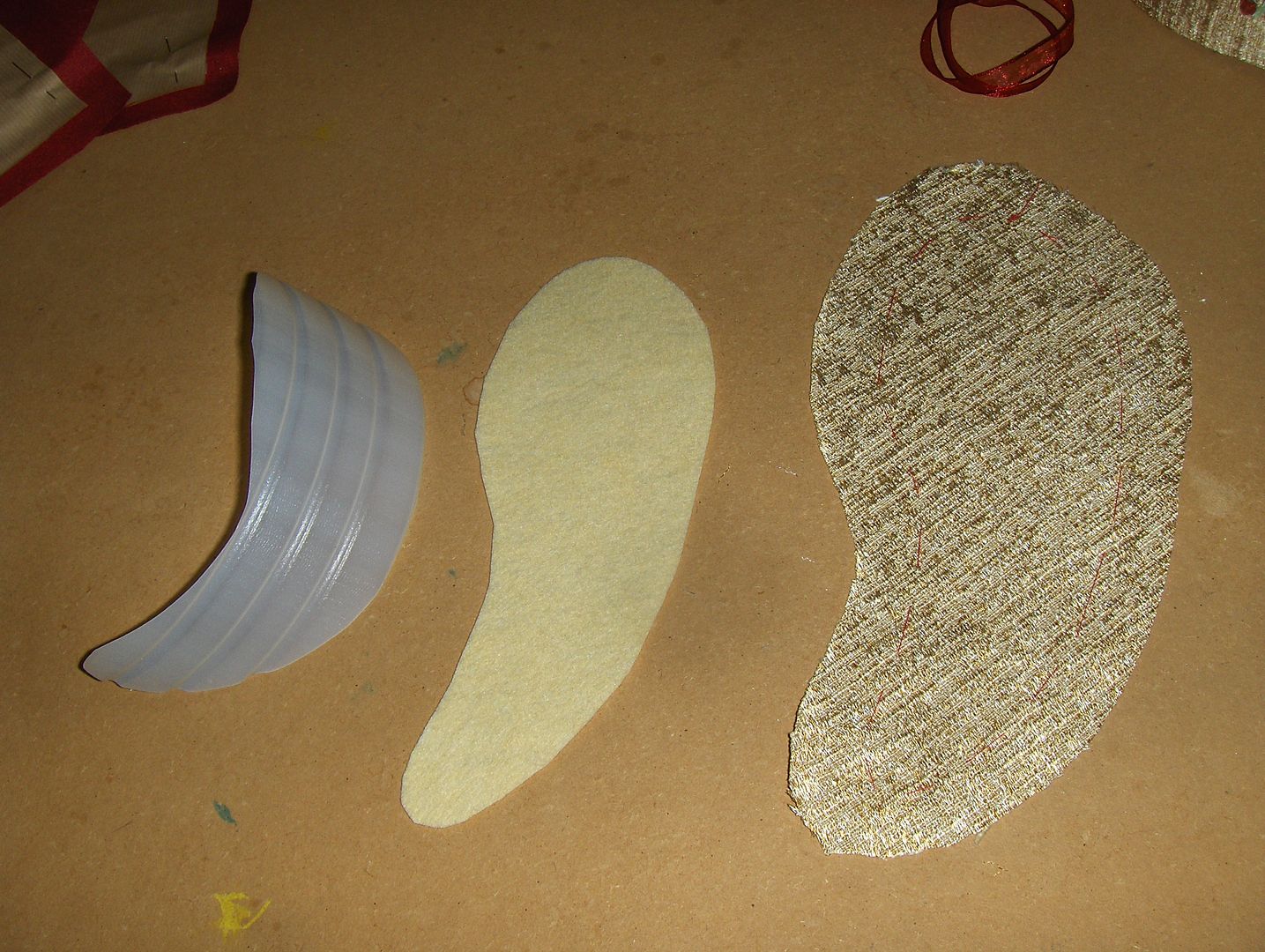 First step was to draw a pattern with the way I wanted it to have the headdress, this is totally free and you should let your imagination, once I decided how to cut the exact shape of the pattern piece in plastic bottle water (explained in previous post), another piece of felt and a fabric piece, the latter leaving a generous seam allowance to work in comfort.
Then you add the details of decoration that you want, I have again embroidered with ribbons to match the belt from the previous post.
El primer paso fué dibujar un patrón con la forma que yo quería que tuviera el tocado, esto es totalmente libre y usted debe dejar volar la imaginación, una vez que yo decidí la forma cortar con la forma exacta del patrón una pieza en plástico de botella de agua (explicado en el post anterior), otra pieza en fieltro y una pieza más en tela, esta última dejar un generoso margen de costura para poder trabajar con comodidad.
Después añadir los detalles de decoración que usted desea, yo he vuelto a repetir el bordado con cintas para hacer juego con el cinturón del post anterior.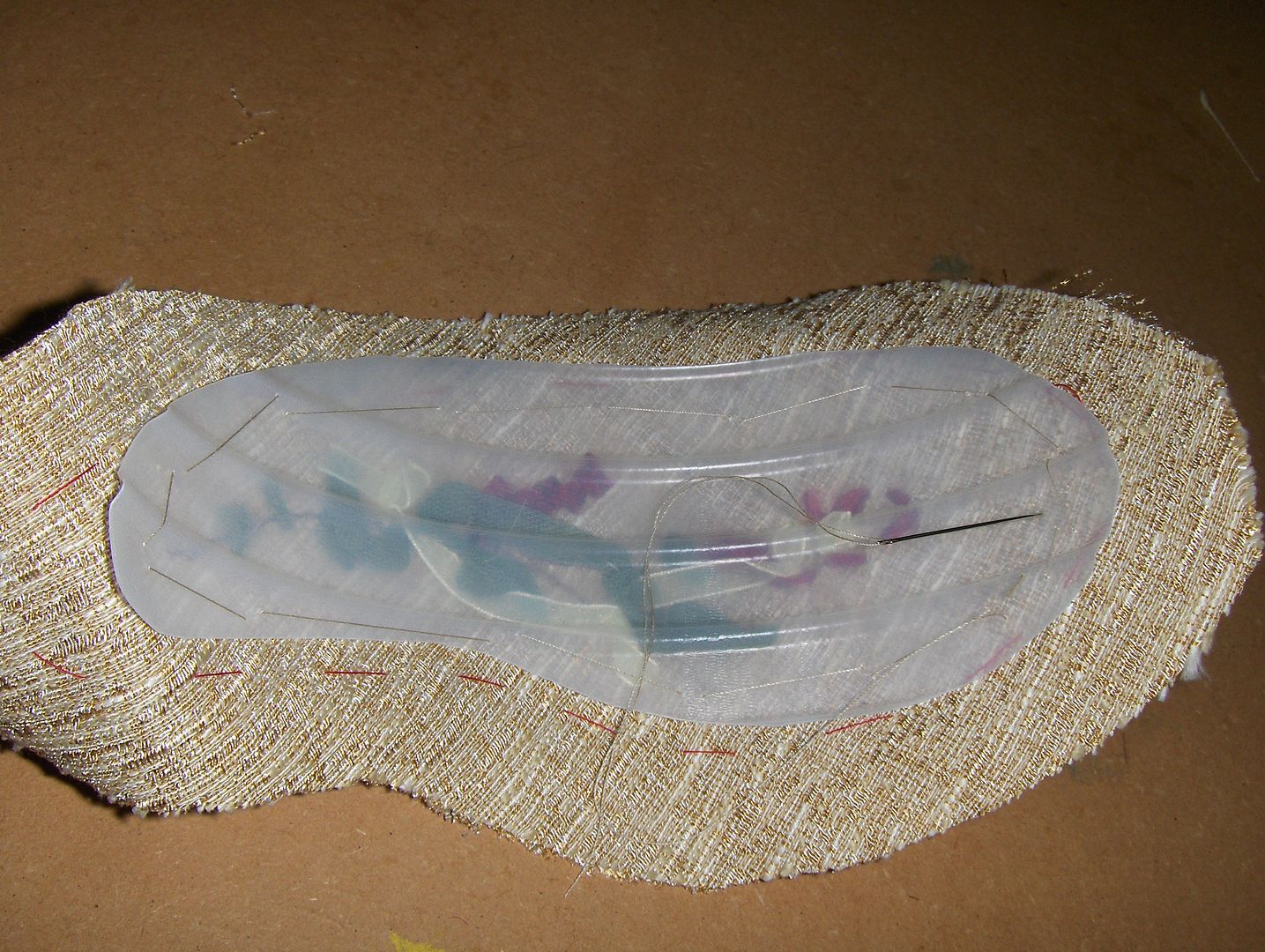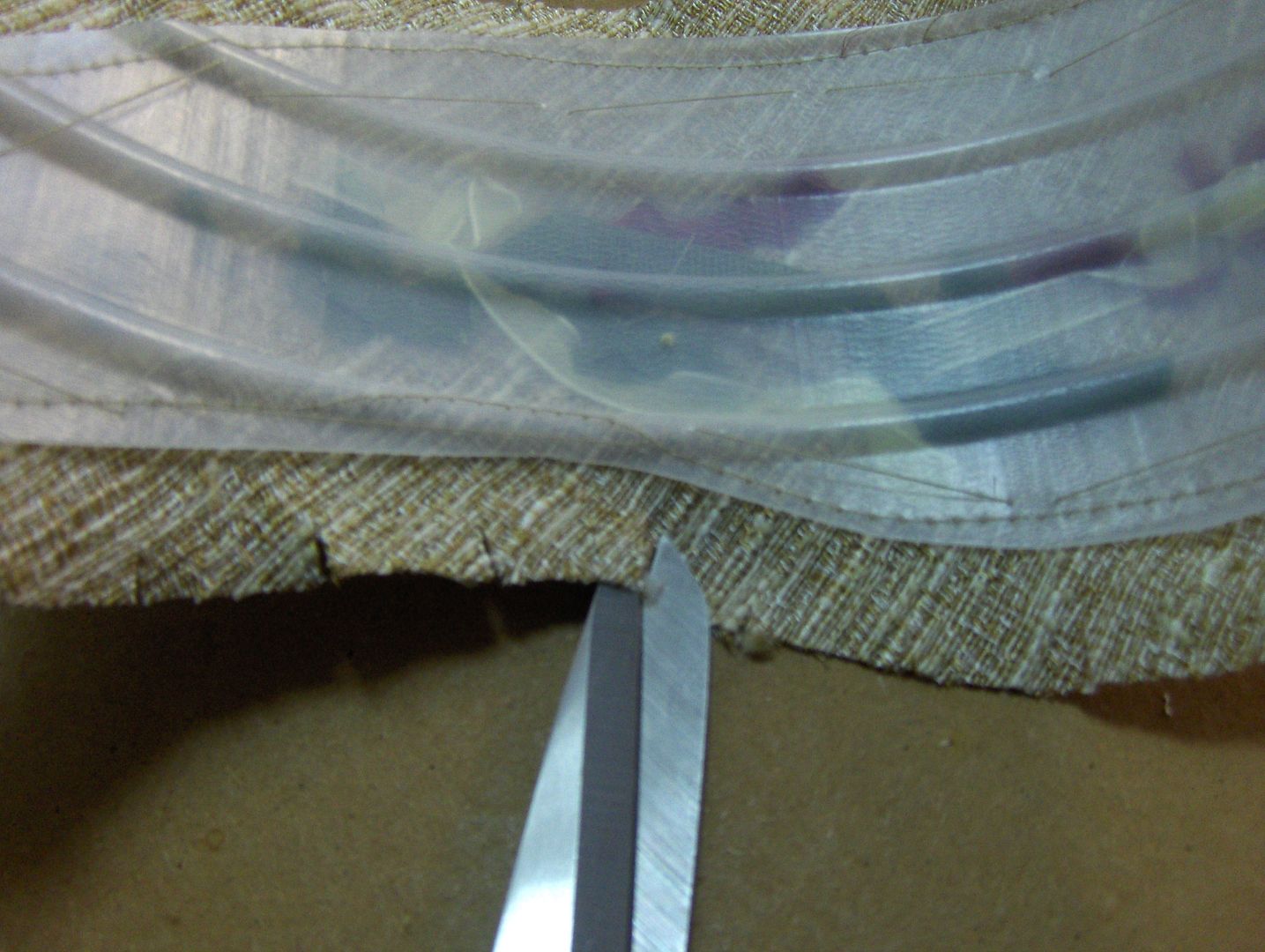 Now baste the fabric to plastic to hold in the exact spot centering the embroidery motif, this is very easy with a needle and using a thimble, you can go through the plastic with out problem, then machine stitch around the edge holding the fabric to plastic to secure.
Trim the excess and leave a margin of one centimeter and a half, making small cuts across the range to fold fabric without wrinkles.
Ahora hilvanar la tela al plástico para sujetar en el lugar exacto centrando el motivo de bordado, esto es muy fácil con una aguja y usando un dedal, usted podrá atravesar el plástico sin problema, entonces pasar un pespunte a máquina en todo el borde sujetando la tela al plástico para asegurar.
Recortar el margen excesivo y dejar un centrímetro y medio aproximadamente, hacer pequeños cortes en todo el margen para poder doblar la tela sin arrugas.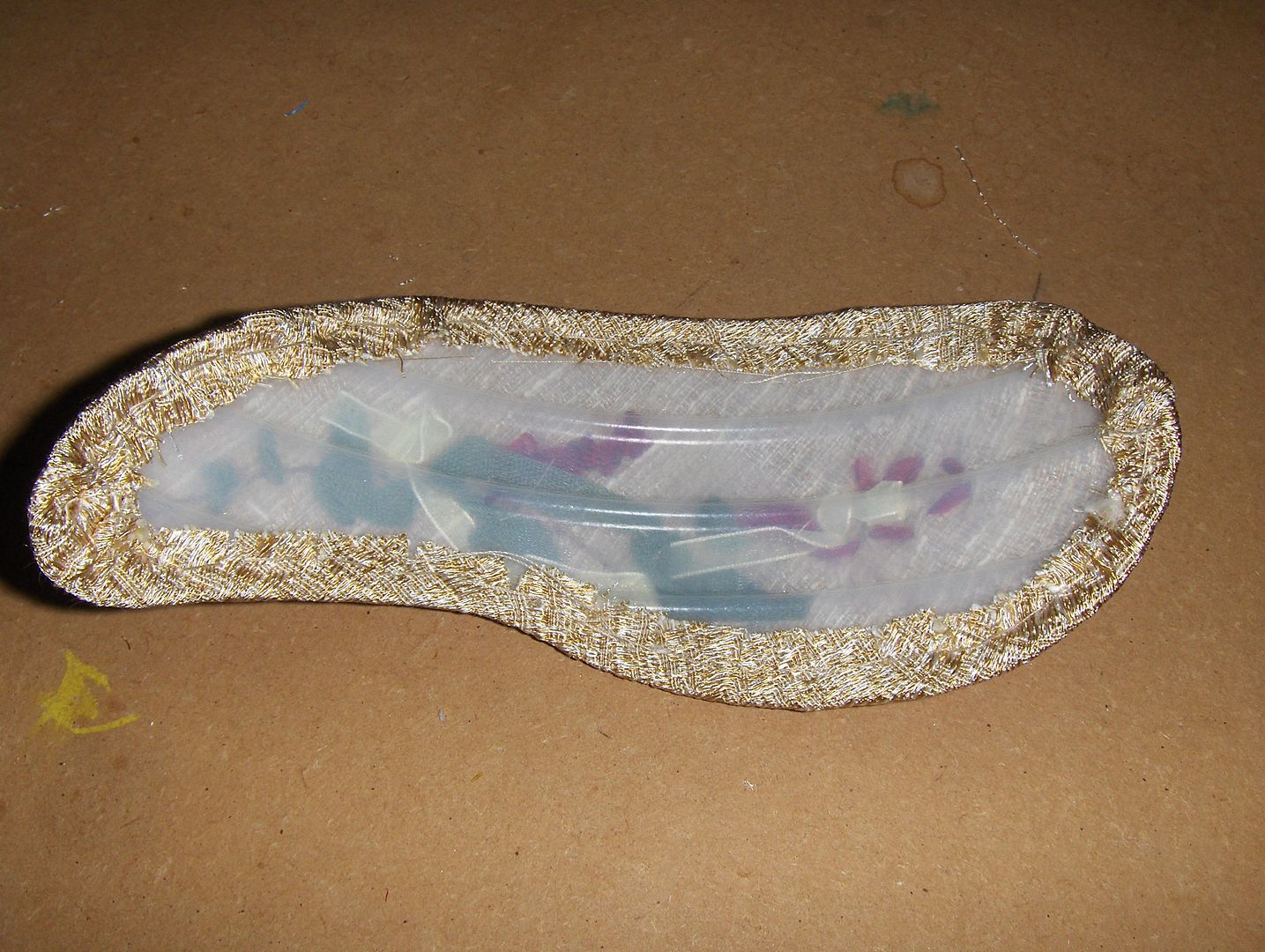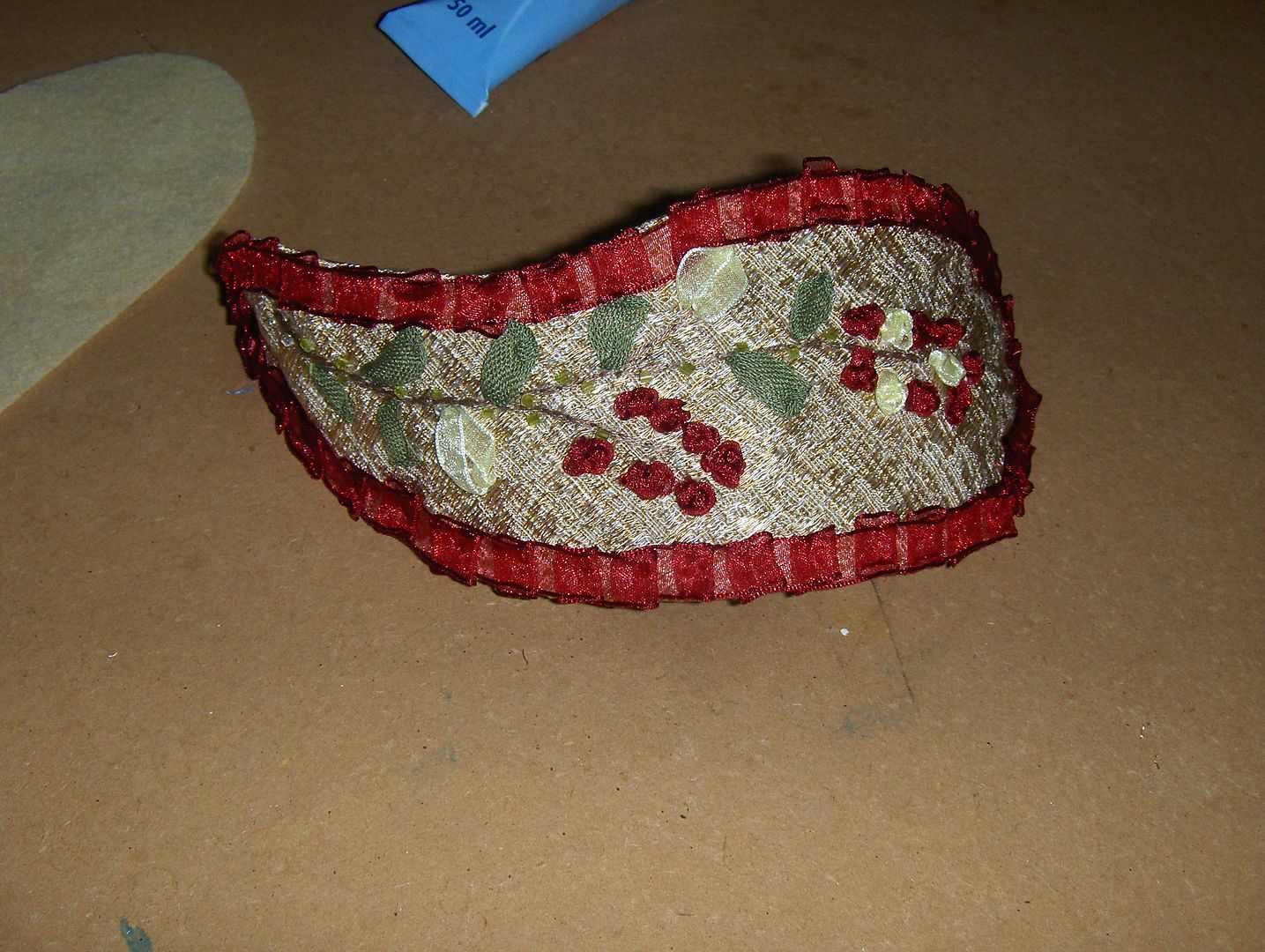 Fold the outside of the fabric and sew to secure, once I finished the edge of the headdress, I decorated it with ruffled organza ribbon to cover the stitching.
Doblar el margen de la tela y volver a coser para sujetar, una vez terminado yo decoré el borde del tocado con cinta de organdí fruncida para cubrir el pespunte.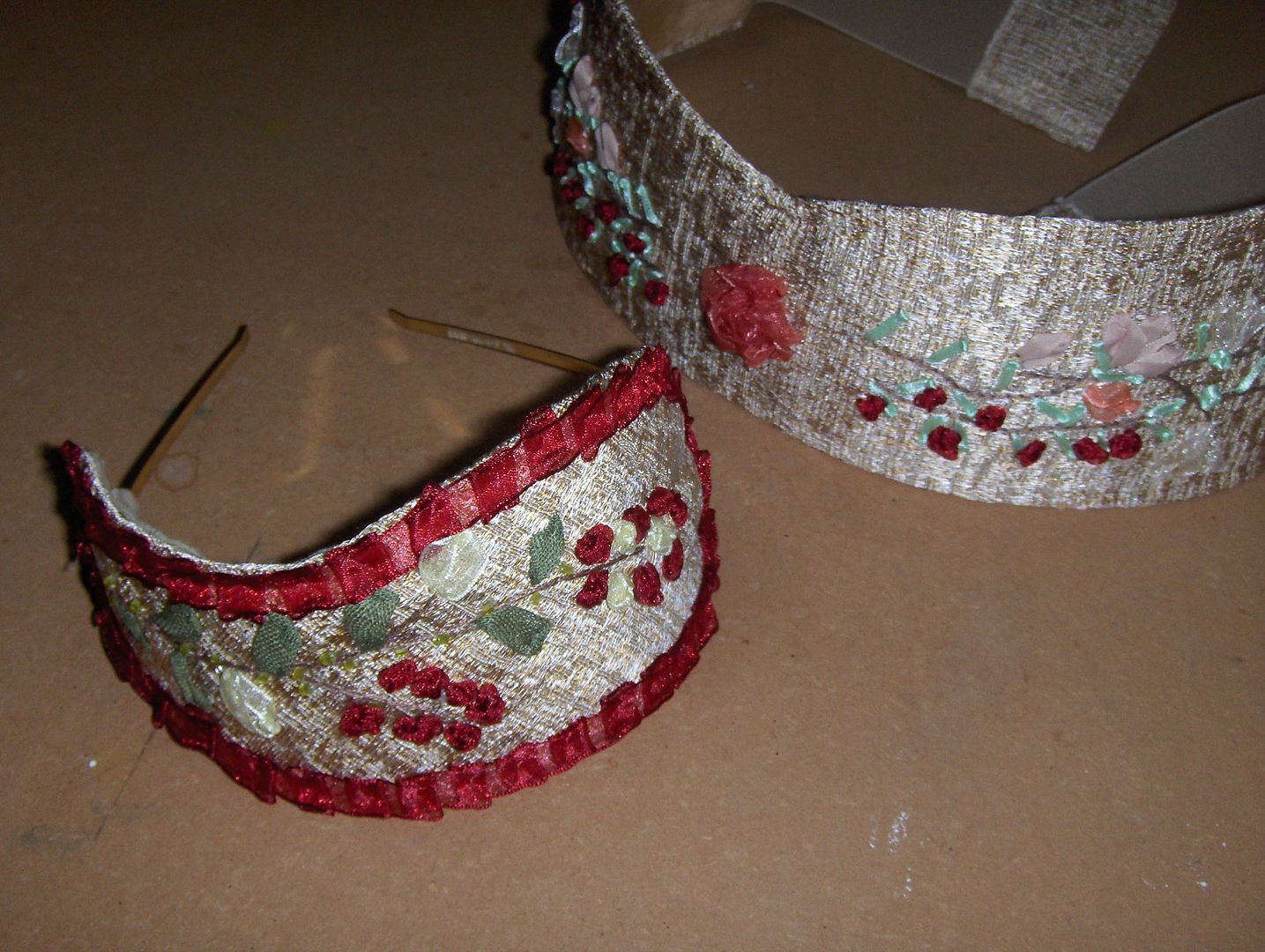 On the wrong side, stick with glue the piece of felt that we had cut the top and place a diadem, once the glue is dry, re-paste another piece of felt on top to cover the diadem and get a look "clean". Finish!
Por el revés, pegar con pegamento la pieza de fieltro que habíamos cortado al principio y colocar una diadema, una vez que el pegamento está seco, volver a pegar otra pieza de fieltro encima para cubrir la diadema y conseguir un aspecto "limpio", Acabado!
Sencillo, fácil y rápido.
Feliz comienzo de semana!