Long time no post and now I have accumulated so much, always the same, many things to count backward that I have to go up little by little, some wonderful news that I will discuss in the next post.
Now I want to share the last dress out of my sewing-cave, this pattern is nº 128 of Burdastyle magazine/ August/ 2009.
This dress has a lot of versions spread throughout the world as it´s a widely accepted model, because it has all, is discreet, stylish, original and comfortable.
Tanto tiempo sin publicar y ahora tengo tantas cosas acumuladas, siempre pasa lo mismo, muchas cosas atrasadas para contar que yo tendré que ir subiendo poco a poco, algunas noticias maravillosas que yo contaré en el próximo post.
Ahora quiero compartir el último vestido que salió de mi cueva de costura, el modelo es el nº 128 de la revista Burdastyle / Agosto /2009.
Este vestido tiene infinidad de versiones repartidas por todo el mundo pues es un modelo con mucha aceptación, y es que lo tiene todo, es discreto, elegante, original y cómodo.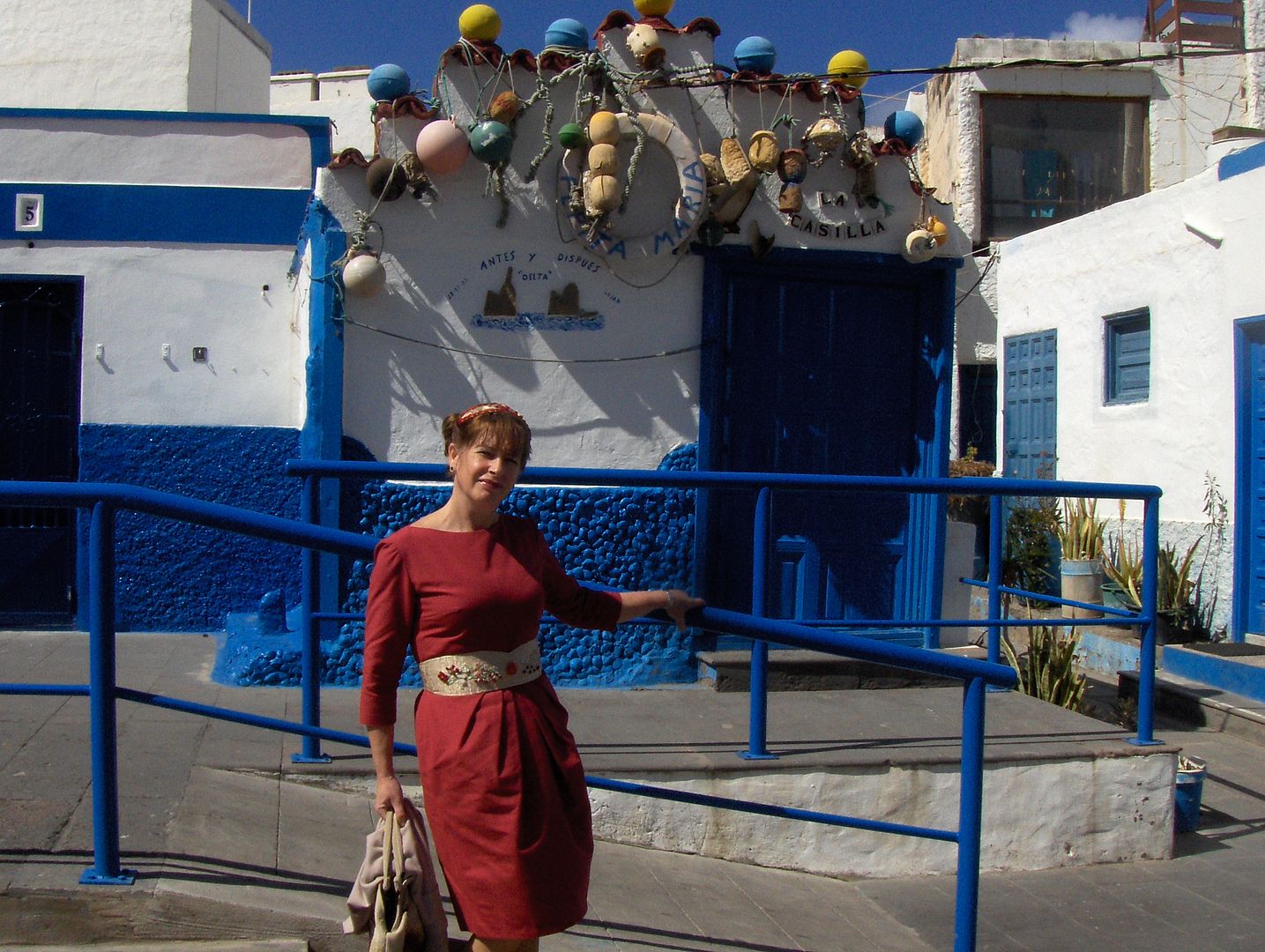 I had already sewn this pattern last July in the sleeveless version to match the summer, so this time I wanted to try the version that comes with sleeves like in the magazine.
Yo ya había cosido
este modelo el pasado mes de Julio
en la versión sin mangas para adaptarlo al verano , así que esta vez yo quería probar la versión con mangas igual que viene en la revista.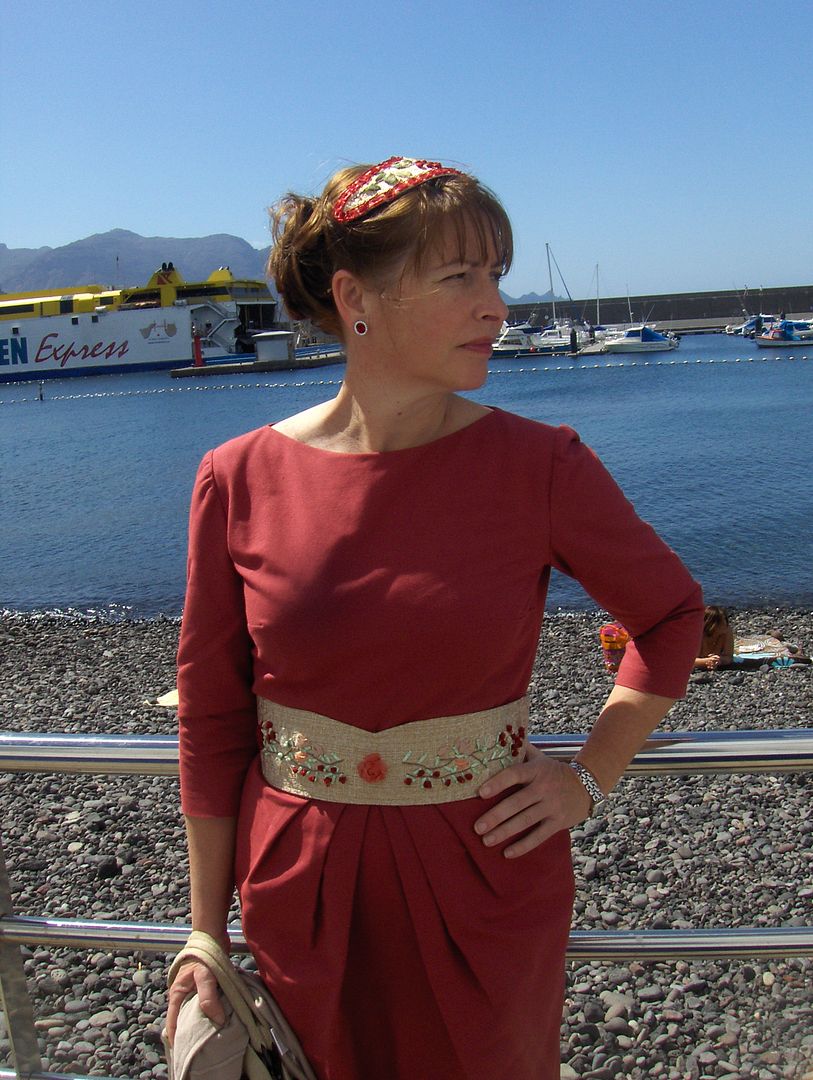 So I chose a poly-cotton blend in a strange color, a mixture of pink-burgundy-tile prelude, really, I don´t know to name this color...
I chose this fabric to match the latest accessories to come out of my cave also sewing, the belt, the fascinator and the bag, I really like the resulting combination, very soft and elegant.
Así que yo elegí una mezcla de poly-algodón en un extraño color, una mezcolanza de rosa-teja-preludio de burdeos, realmente, yo no sabría poner nombre a este color....
Elegí esta tela para combinar con los últimos accesorios que han salido de mi cueva de costura también, el
cinturón
, el
tocado
y el
bolso
, me gusta mucho la combinación resultante, muy suave y elegante.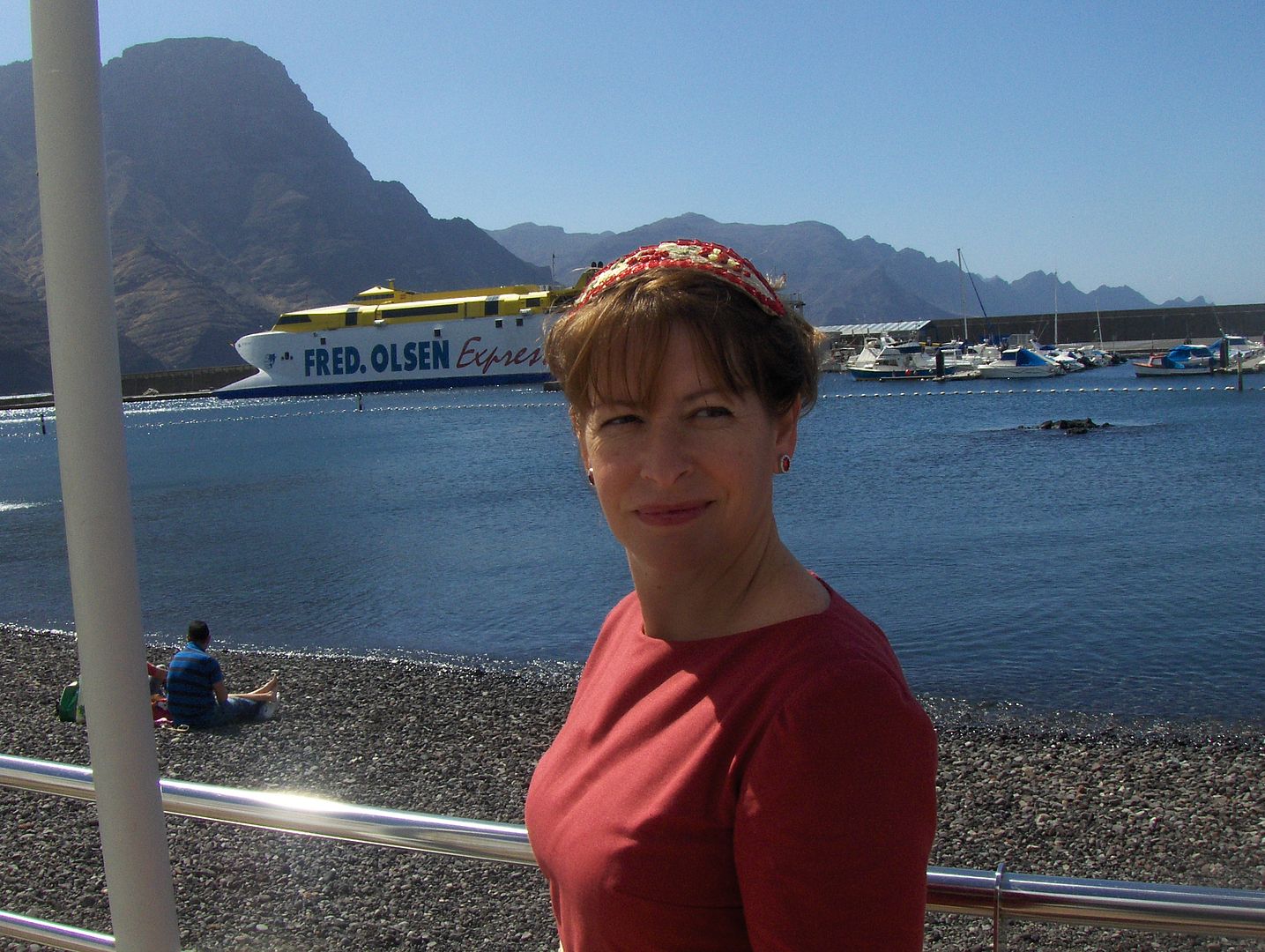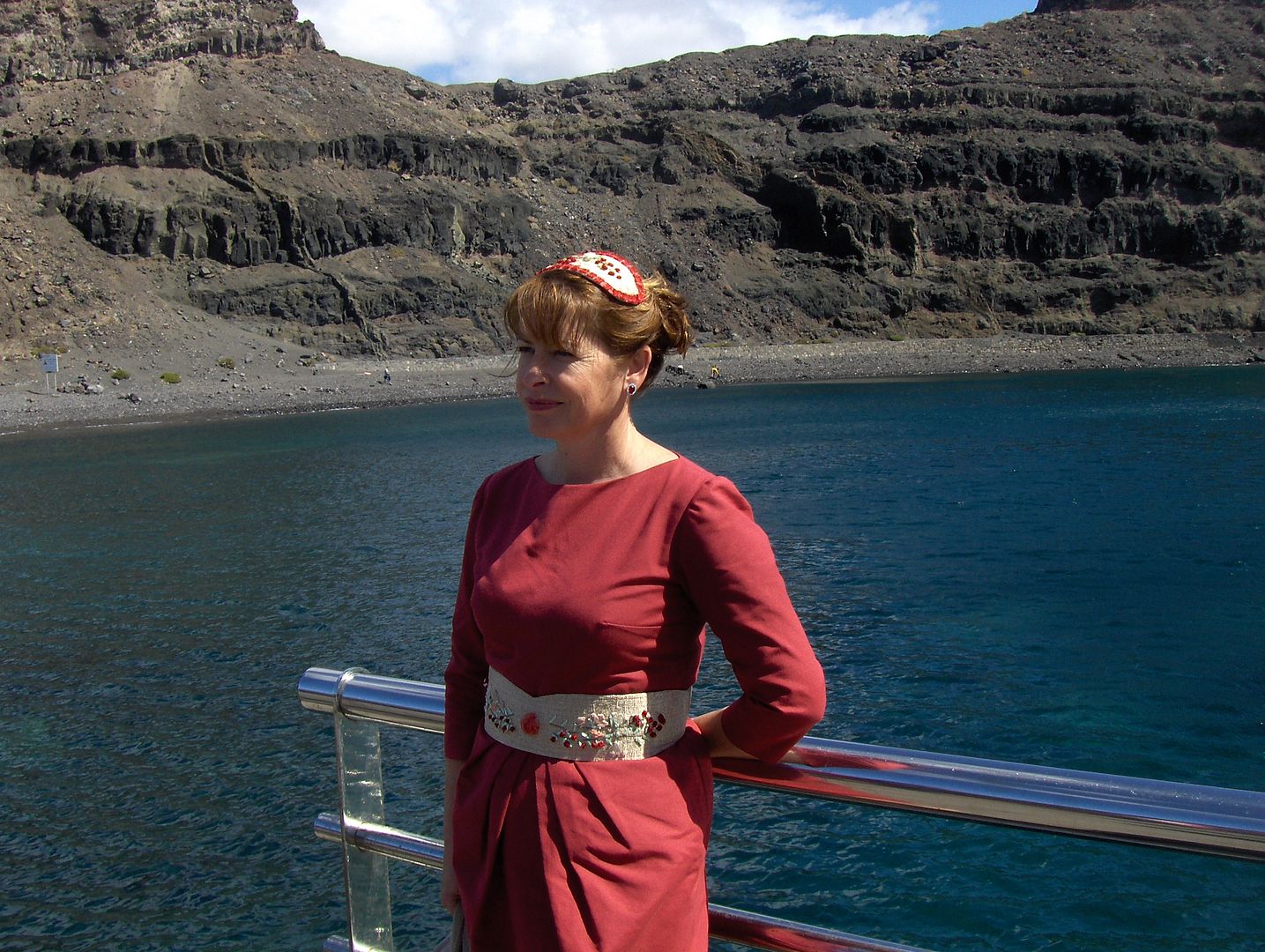 As you can see from the photos, good weather is back and just want to get out and enjoy the beautiful scenery, sunshine and pleasant temperatures, so this time we have taken to wards the rocky beaches of the north of the island.
However, on Monday for to go to work I went back to use the same belt combining this time with another dress that I sewed last September, I like the idea of creating a wardrobe with totally hadmade pieces that can be combined with each other... I think I´m slowly getting it....
Como se pueden ver en las fotos, el buen clima ha vuelto y dan ganas de salir y disfrutar de los bellos paisajes, del sol y la agradable temperatura, así que esta vez hemos tomado rumbo a las playas rocosas del norte de la isla.
Sin embargo, el lunes para ir al trabajo yo volví a usar el mismo cinturón combinándolo esta vez con otro
vestido que yo cosía en Septiembre
pasado, me gusta la idea de crear un armario con piezas totalmente hechas a mano que se pueden combinar entre si..... creo que poco a poco lo estoy consiguiendo...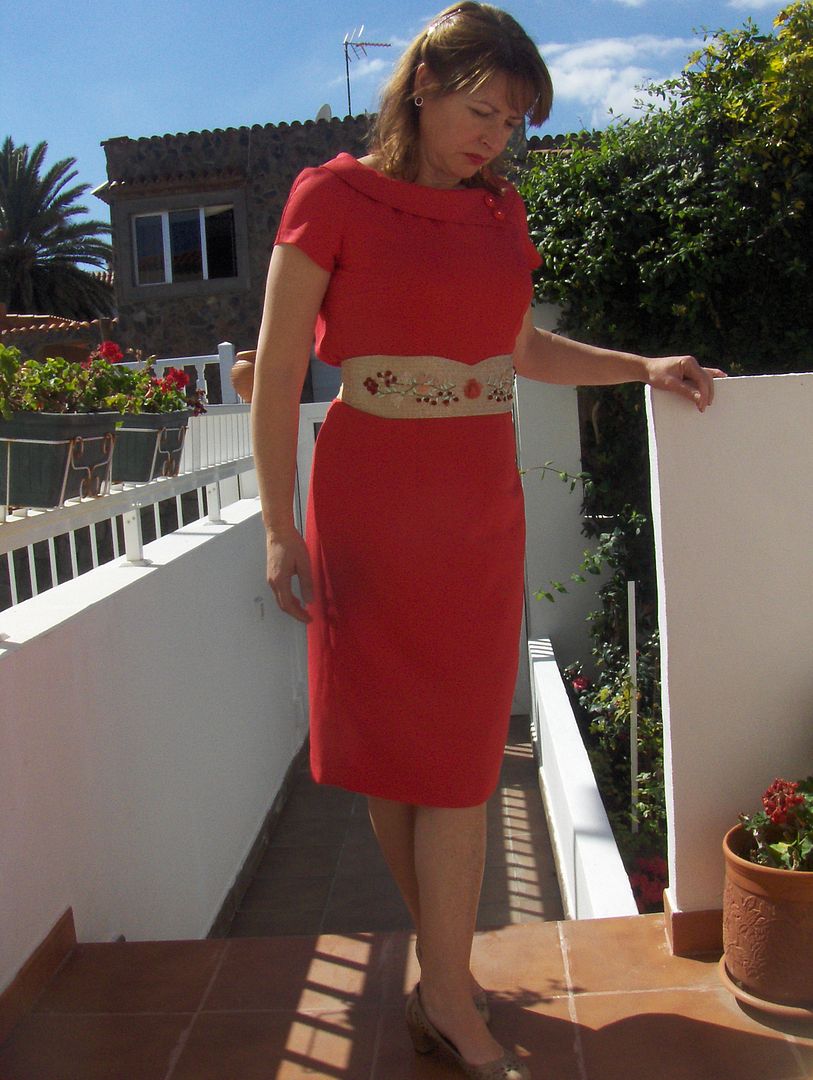 Do you like the idea of combining all clothes in your closet each other?
Te gusta la idea de poder combinar todas las prendas de tu armario entre si?