If you followed the series of posts of the previous dress, you noticed that when I finished sewing the
"Cherries and Toffee Dress"
I spoke to sew a belt, but there was enough material for it, so I thought of making a something original belt ...
Well, I made the belt, the main reason not to use this along with the dress is very obvious...
I was out and I got carried away by the excitement of being embroidering... so when I finished the belt and put it on the mannequin with the dress, they just could not bring together, it appears that both will fight each (dress and belt) wanted to take ownership and divorce that ended... each one separately.
But I want to state that this belt is so beautiful, (I promise that photos don´t do it justice) that right now I´m sewing a dress only to use with it ... so this will be in the next post...
For now, I want to share a tutorial fo how I made the belt with recycled materials that are sure to call your attention much... Here we go...
Si usted siguió la serie de posts del vestido anterior, habrá notado que cuando yo acabé de coser el
vestido "Cherries and Toffee"
yo hablaba de coser un cinturón , sin embargo no había tela suficiente para ello, así que yo pensé en hacer un cinturón algo original....
Bueno, yo hice el cinturón, la razón principal de no usar este junto con el vestido es muy obvia...
Se me fue la pinza, se me fue la mano y me dejé llevar por el entusiasmo de estar bordando... así que cuando yo terminé el cinturón y lo puse en el maniquí con el vestido, simplemente no se podían llevar juntos, parece que ambos se pelearan, cada uno (vestido y cinturón) querían llevar el protagonismo y aquello terminó divorcio ... cada uno por separado.
Pero yo quiero dejar constancia de que este cinturón es tan bonito, (yo prometo que las fotos no le hacen justicia) que en estos momentos yo estoy cosiendo un vestido solamente para usar con él.... así que esto será en el próximo post...
Por ahora, yo quiero compartir un tutorial de la forma en que yo hice el cinturón, con materiales reciclados que seguramente van a llamar mucho tu atención... Vamos allá...
For starters, I had this little piece of fabric only for the entire belt, so the first thing was ironing fusible interlining on the wrong side of the fabric to have some stiffness, then I made a drawing-doodle on the idea of embroidery that I wanted to get and transferred it to the fabric, I started embroidering the branches with embroidery thread with chain stitch and small flower buds with organdy ribbon and knot stitch.
Para empezar, yo contaba con este pequeño pedazo de tela solamente para todo el cinturón, así que lo primero fue planchar un poco de entretela termoadhesiva en el revés de la tela para tener algo de rigidez, después hice un dibujo-garabato sobre la idea del bordado que yo quería conseguir y lo transferí a la tela, empecé bordando las ramas con hilo de bordar y punto de cadeneta, después los pequeños capullos de flor con cinta de organdí y punto de nudo.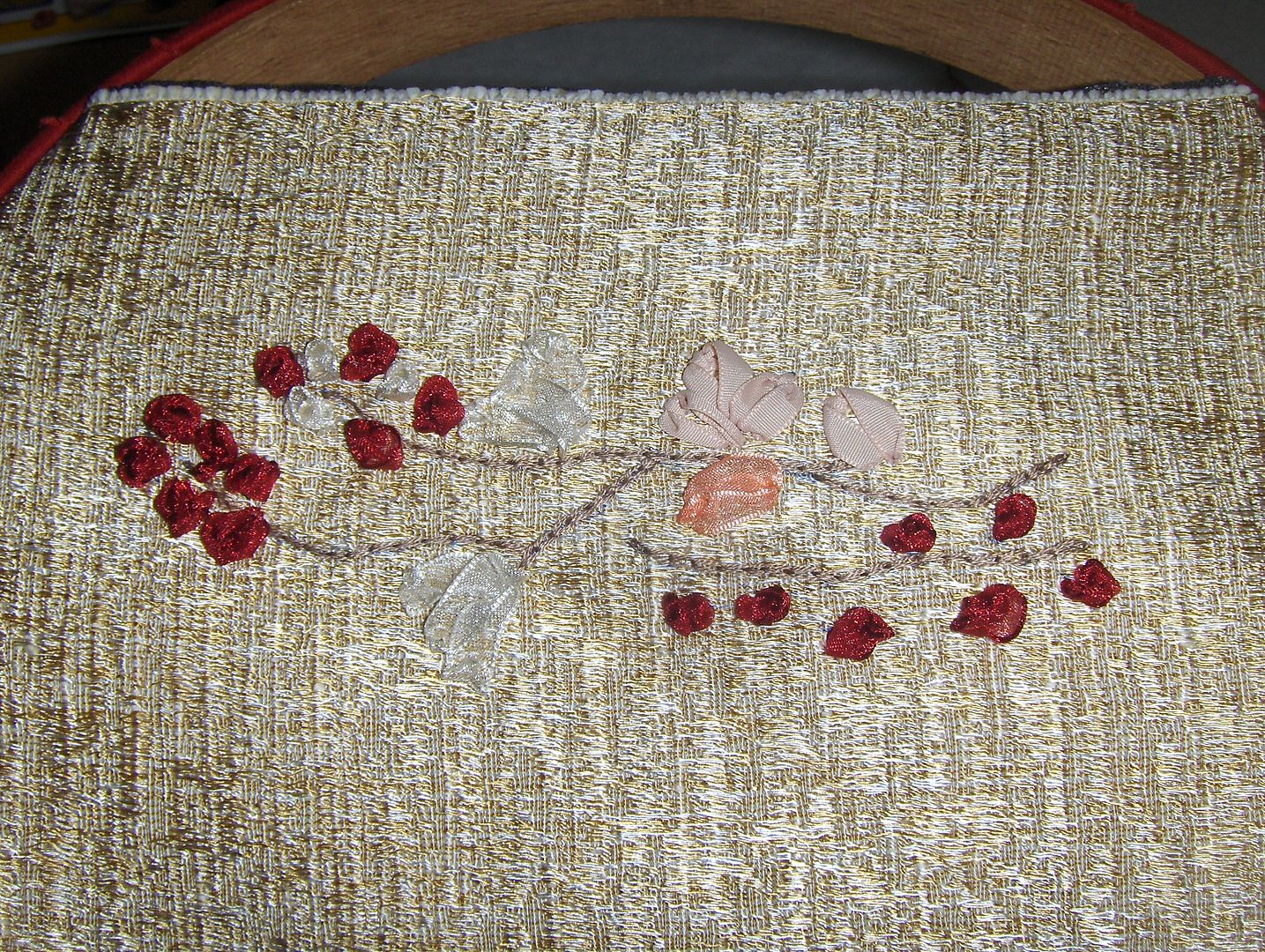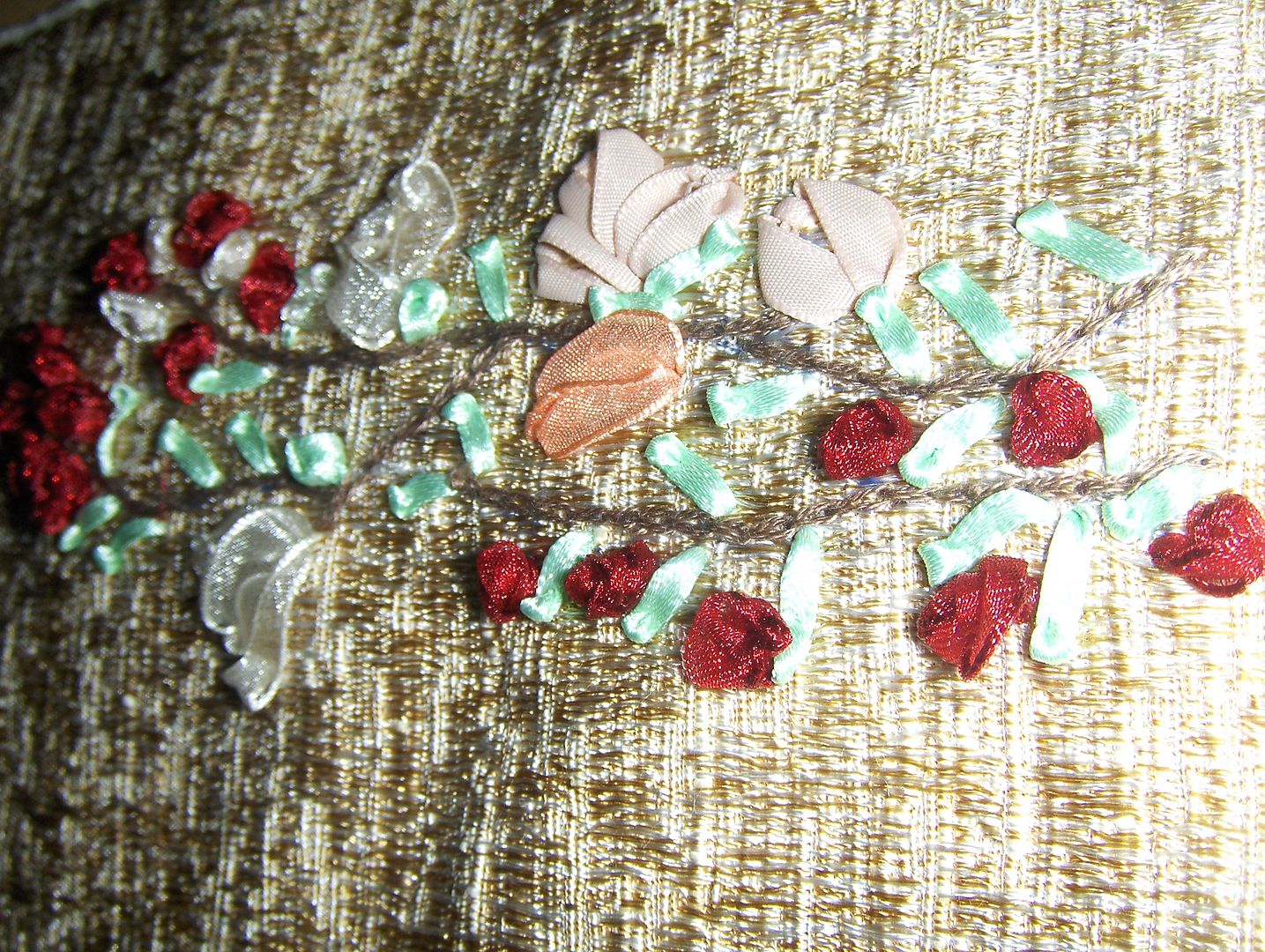 I went on embroidering with ribbons in very soft colors the rest of flowers, (sorry for the poor quality of the photos, they were taken at night with flash) and ended up making the leaves with green ribbon.
Seguí bordando con cintas en colores muy suaves el resto de las flores, (lo siento por la mala calidad de las fotos, fueron tomadas en la noche, con flash) y terminé haciendo las hojas con cinta verde.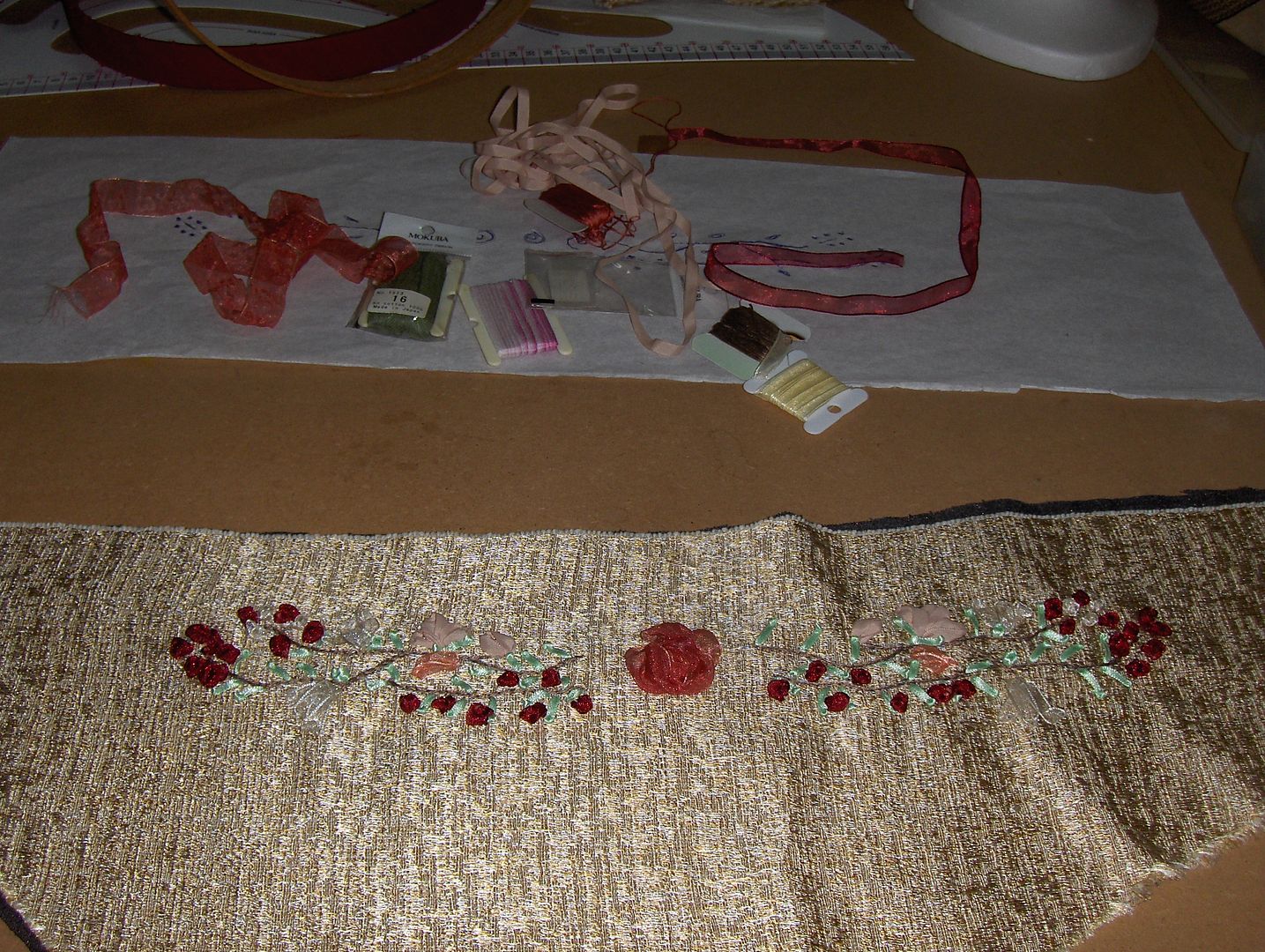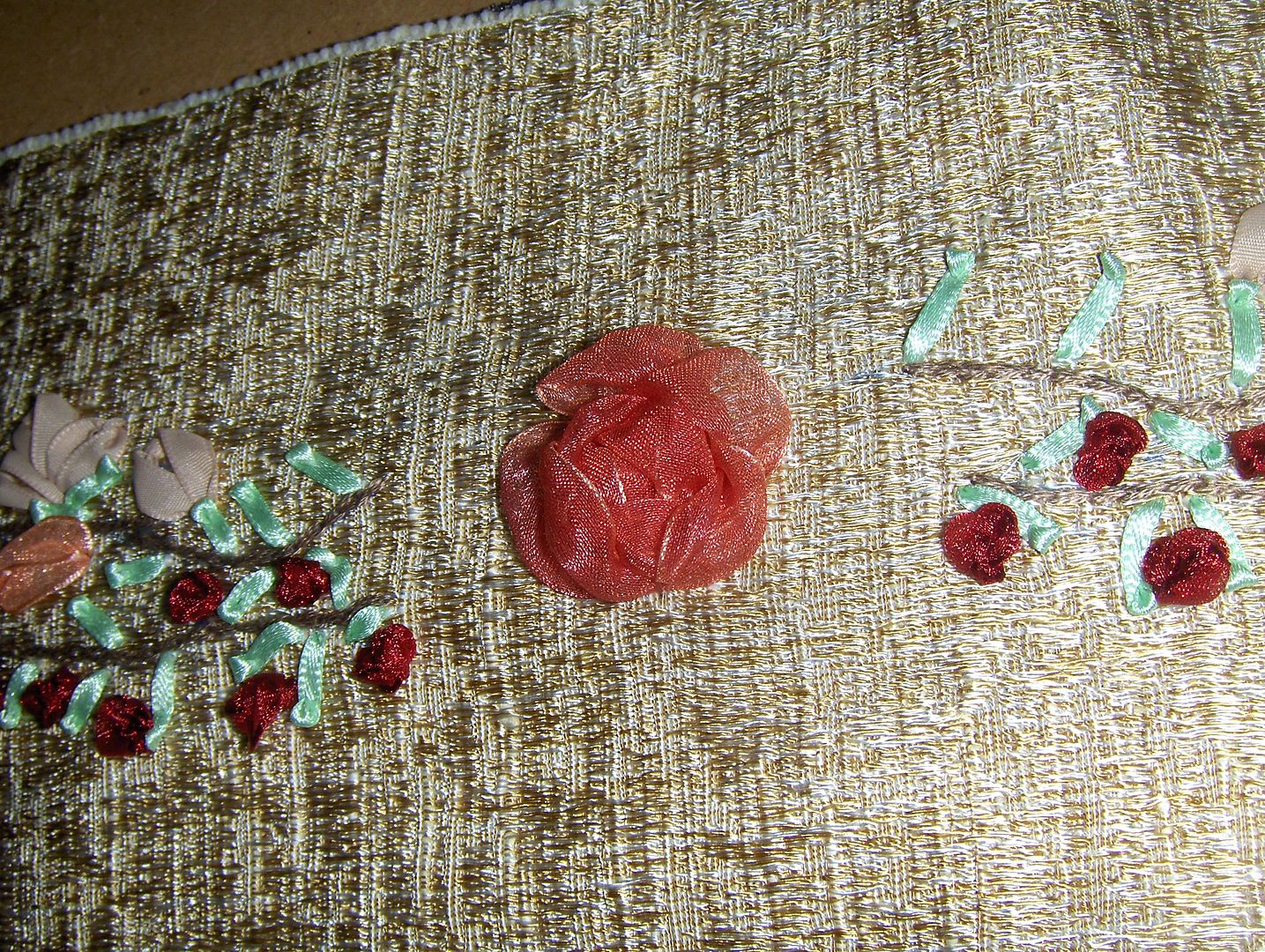 Once finished, I embroidered just like the other side, well, as well as I could... I embroidered just in the center a rose with organza ribbon using the spider stitch.
Una vez terminado, bordé el otro lado igual, bueno, todo lo igual que pude... en el centro bordé una rosa con cinta de organdí utilizando el punto de araña.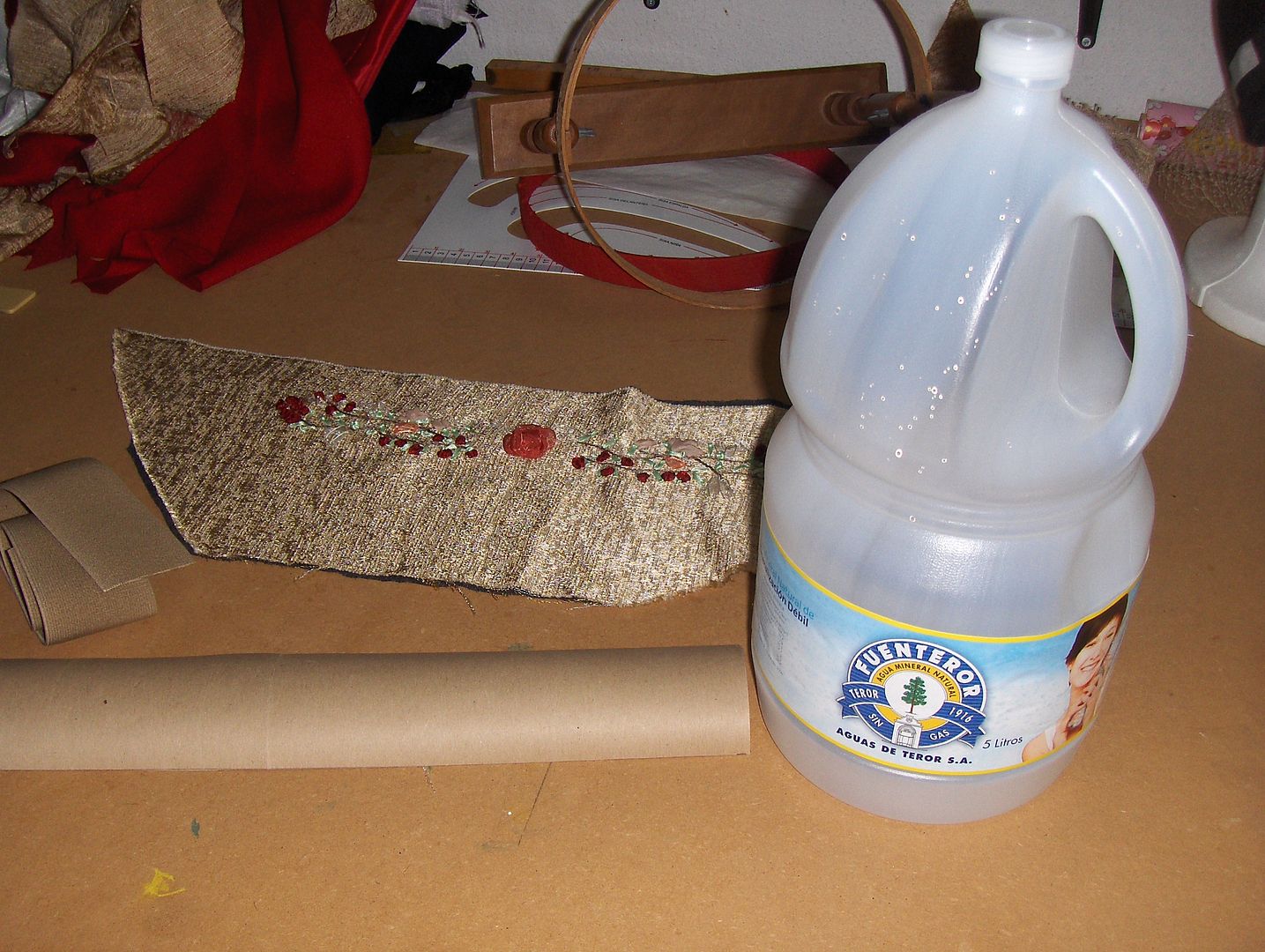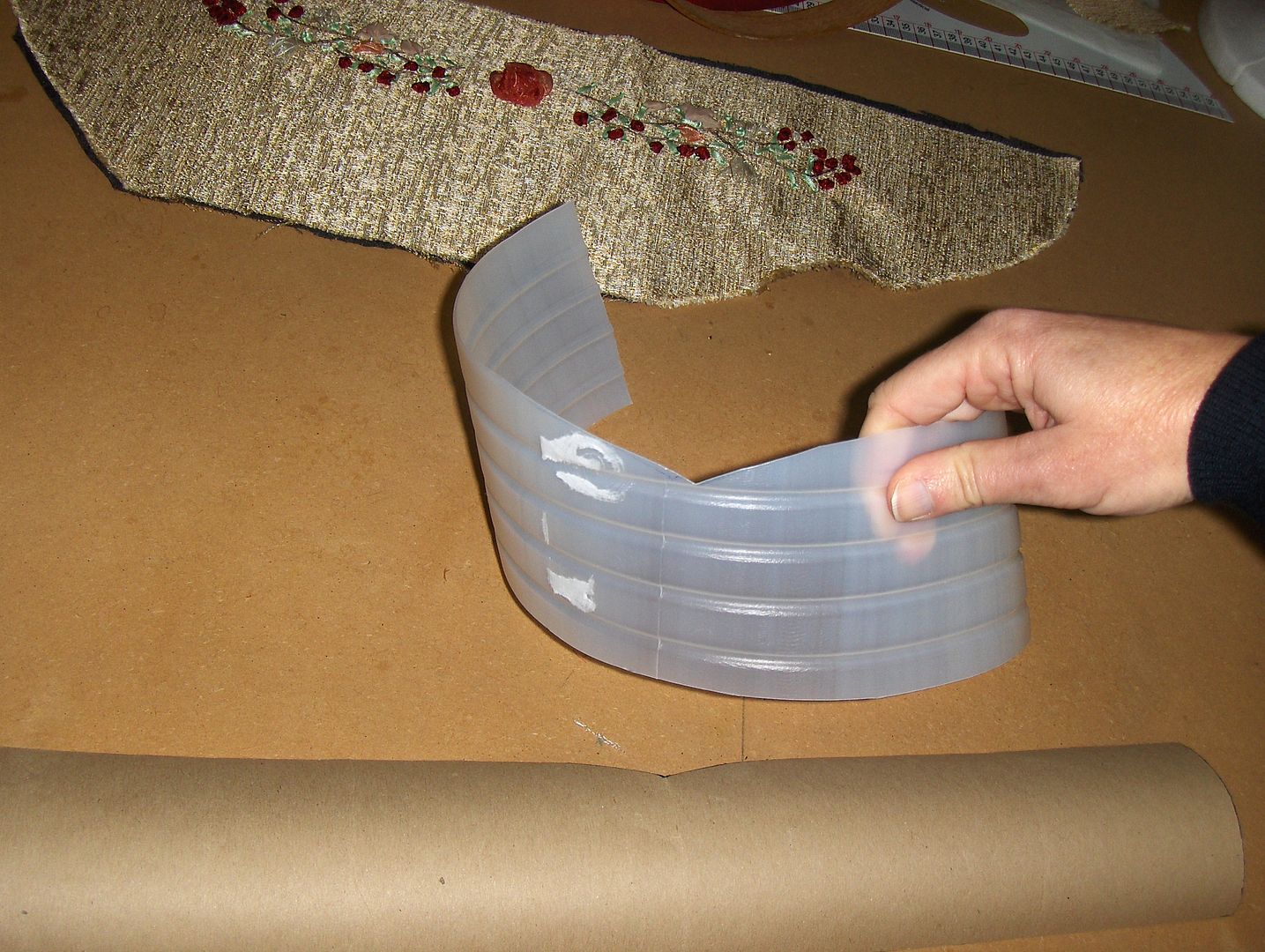 Here began the really original of this belt, completely rigid base is formed by a piece of a bottle of water that we use for drinking, white plastic are ideal for this activity by its thickness, I cut a pattern on paper first with the way I wanted to give the belt, then placed it on top of the bottle with tape and when I was sure the right spot I drew the outline of the pattern with a marker on the plastic of the bottle, then cut it with scissors, this is quite simple and it does not have complications.
Aquí empezó lo realmente original de este cinturón, la base totalmente rígida está formada por un trozo de una garrafa de agua, de esas que usamos para beber, las de plástico blanco son ideales para esta actividad por su grosor, yo corté primero un patrón en papel con la forma que yo quería darle al cinturón, después lo coloqué encima de la garrafa con un poco de cinta adhesiva y cuando estuve segura del sitio correcto dibujé el contorno del patrón con rotulador sobre el plástico de la garrafa, después recortar con una tijera, esto es bastante sencillo y no tiene ninguna complicación.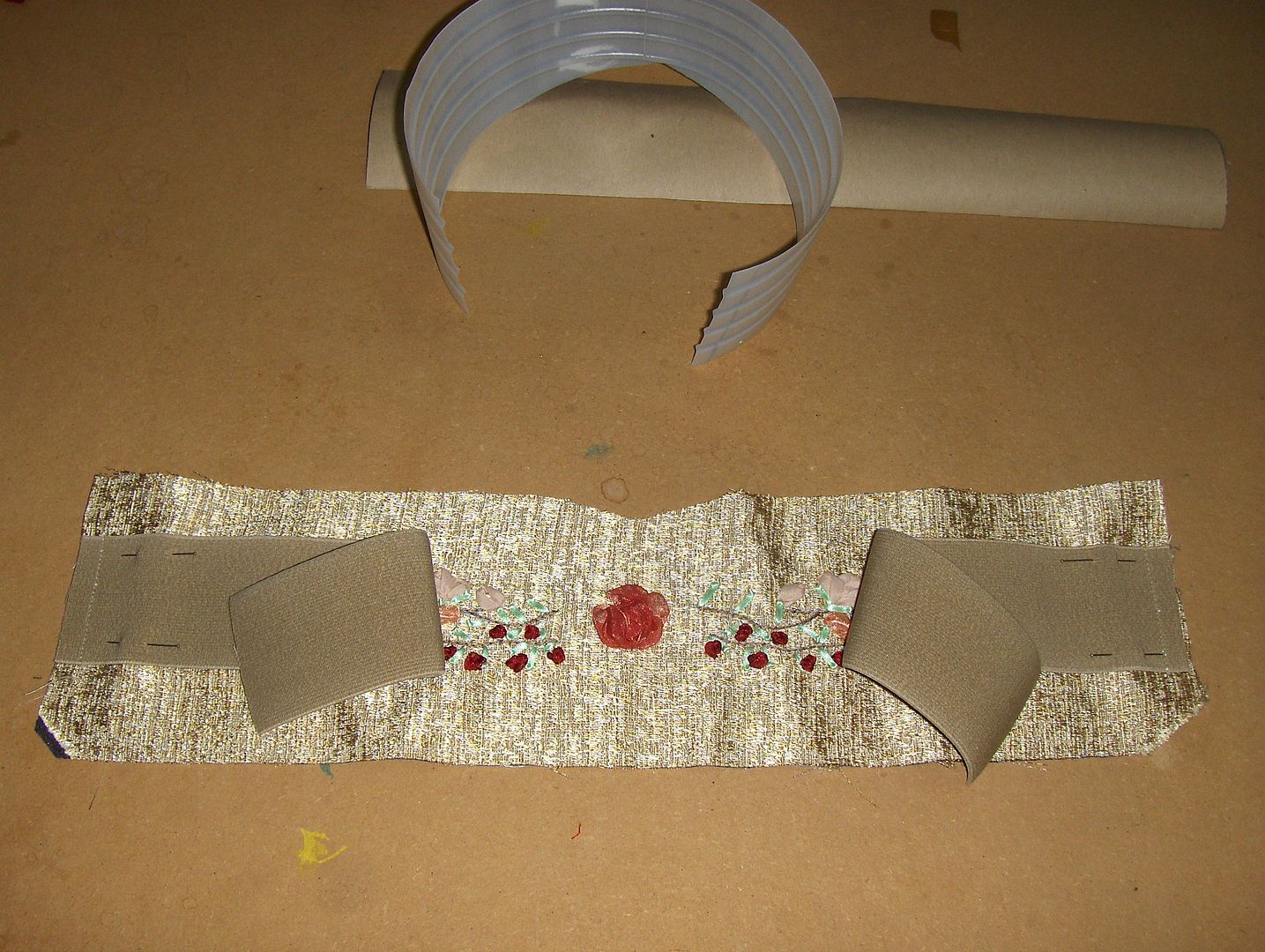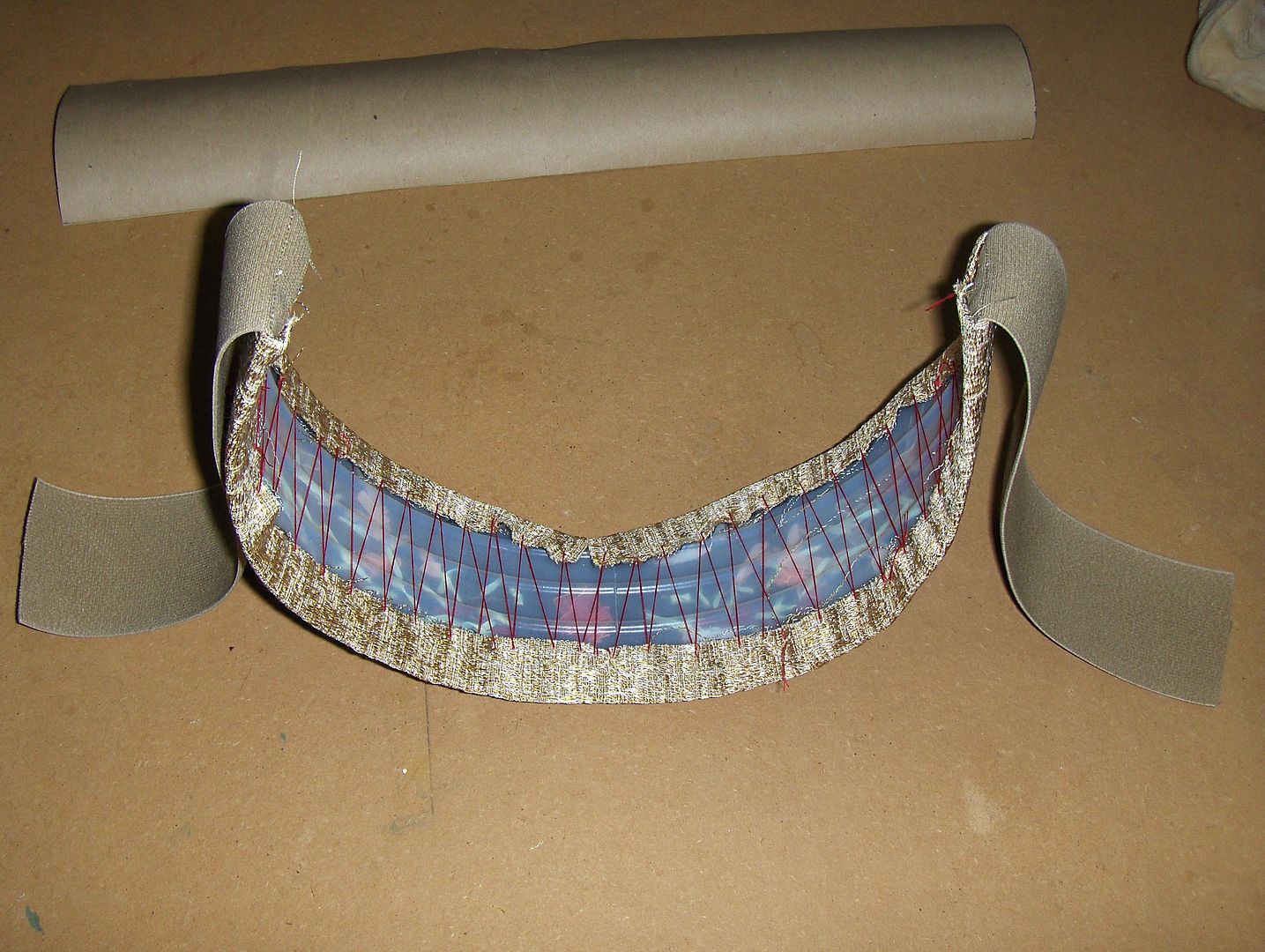 Now we have to fix two pieces of elasticity strap (as wide as possible) at the ends of the fabric, I cut the fabric embroidered in the same pattern that I made before, but leaving enough fabric to fold around the plastic and get this you see in the photo.
Ahora hay que fijar dos trozos de elástico (lo más ancho posible) en los extremos de la tela, yo he recortado la tela bordada siguiendo el mismo patrón que hice antes, pero dejando suficiente tela alrededor para poder doblar sobre el plástico y conseguir esto que se ve en la foto.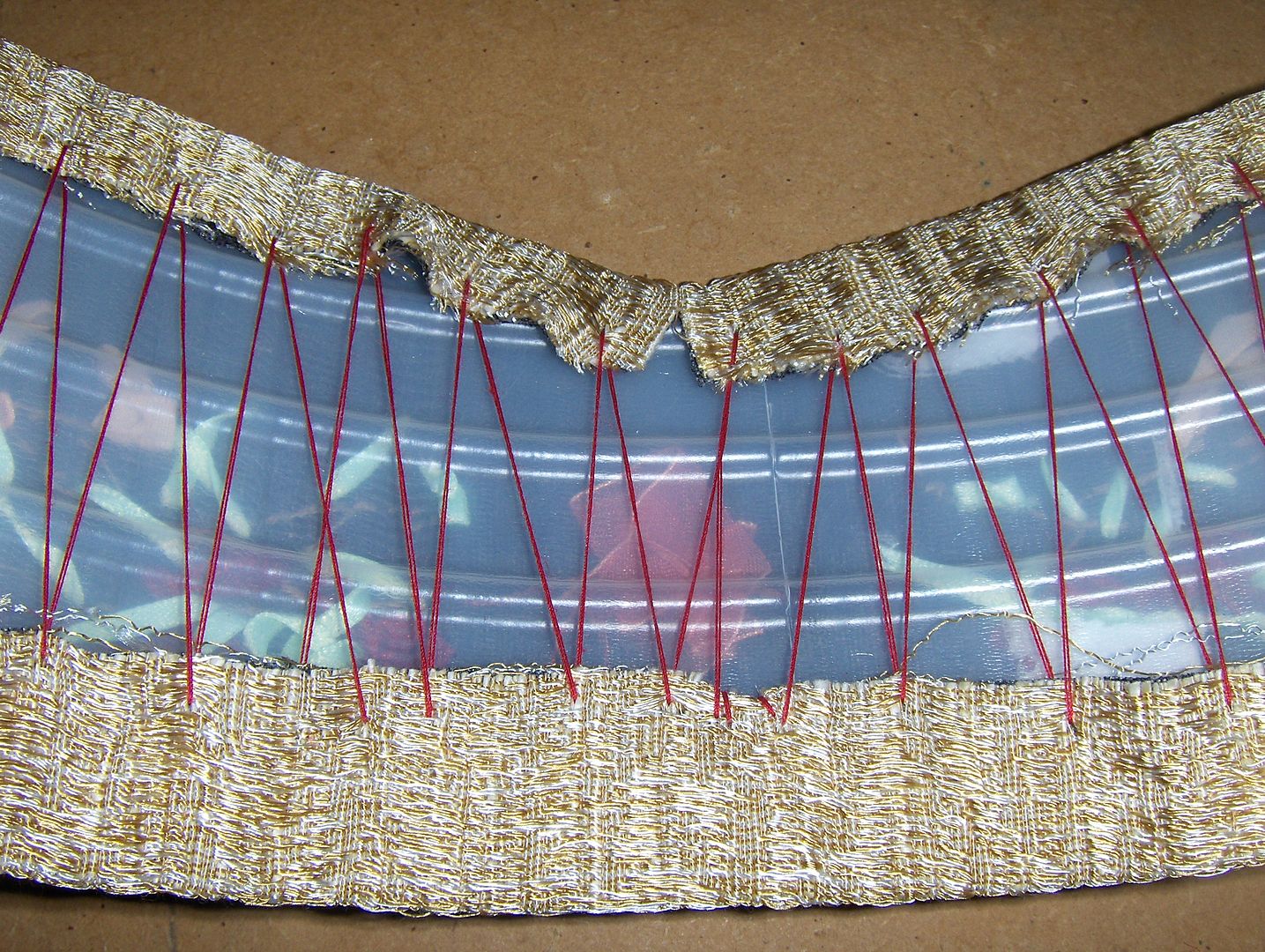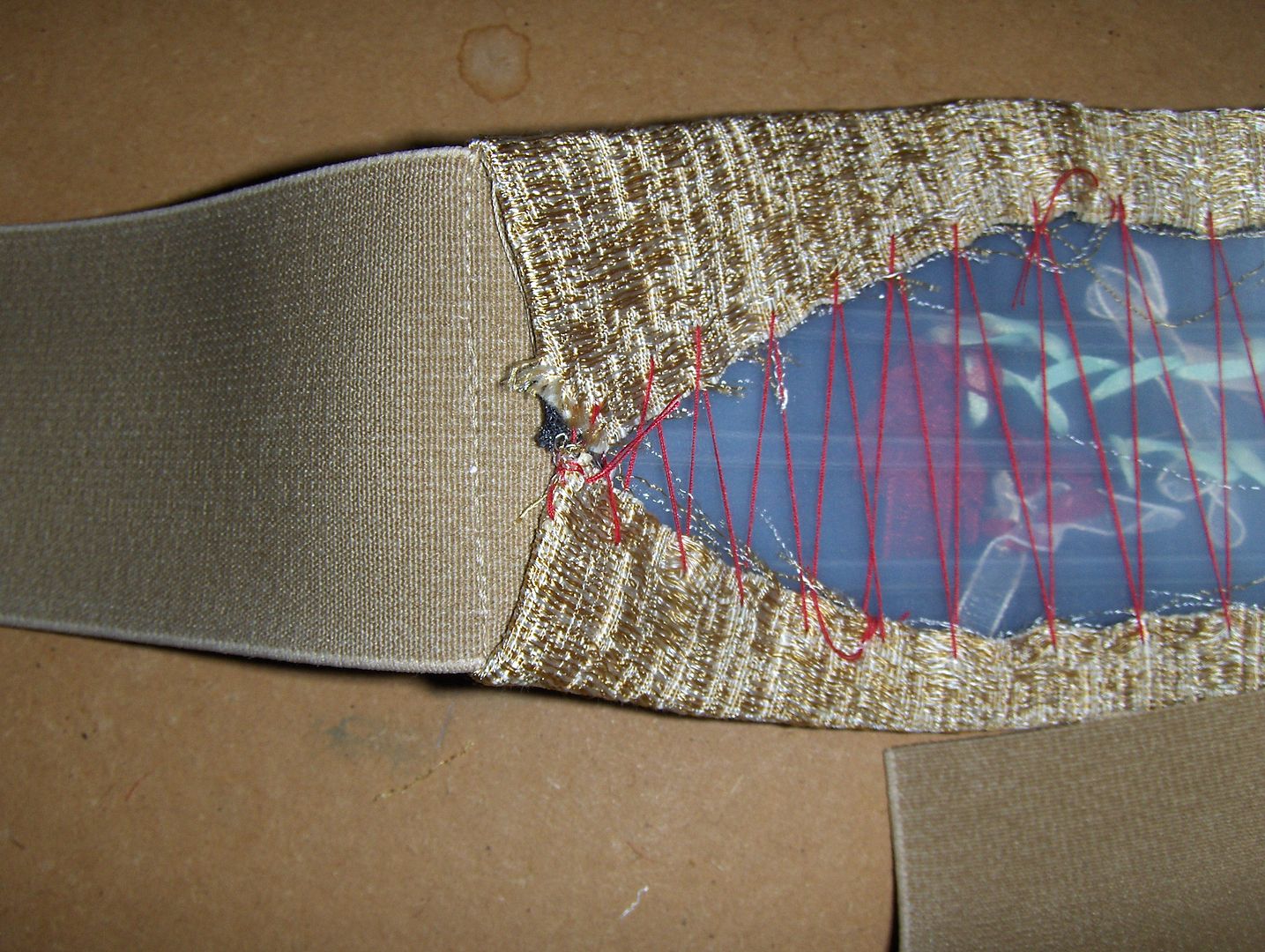 Starting from the center, taking stitches alternate go up and down to hold the fabric in this step must be a bit patient, because we have to start from the center to sides to get the plastic piece is centered with embroidery, trying to get it will not roll.
At the ends, gently cut the edges of the plastic to get finished with the same size as the elastic sewn at the ends, the picture you can appreciate what I try to explain.
Comenzando desde el centro, ir tomando puntadas alternas de arriba y abajo para sujetar la tela, en este paso hay que ser un poco paciente, pues hay que empezar desde el centro hacia los lados para conseguir que la pieza de plástico quede centrada con el bordado, intentando que no se ruede.
En los extremos, cortar suavemente los bordes del plástico para conseguir que termine con el mismo tamaño que el elástico cosido en los extremos, en la foto se puede apreciar mejor lo que yo intento explicar.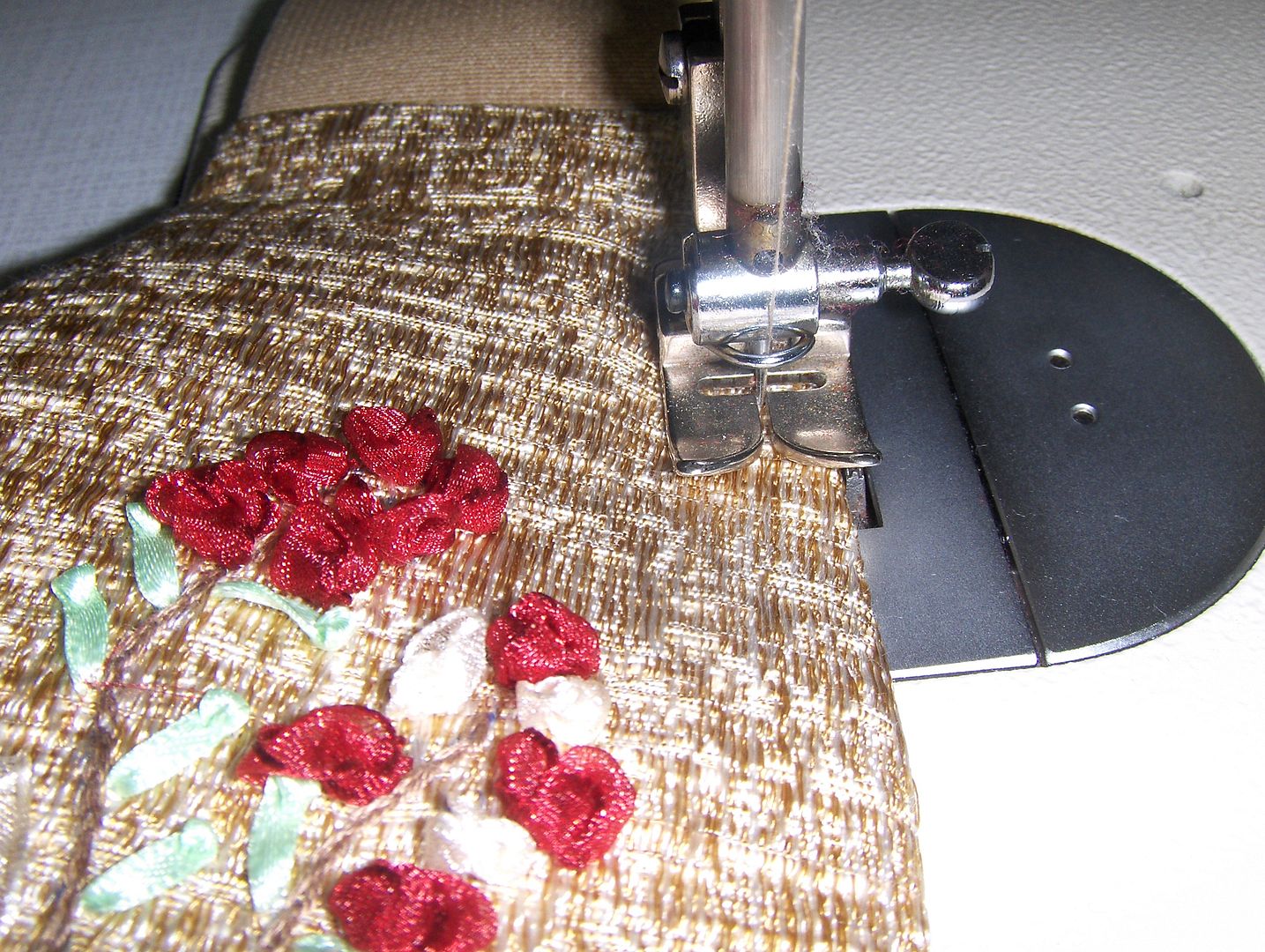 Once completed, it´s time to machine stitch around the edge of the belt, using a thick needle and slowly sewing is easy, the machine and sews perfectly glides over it.
When everything is sewn around, it´s time to line the inside of the belt to get a flawless finish, I used velvet, experience tells me not to use fabric slip as lining fabric or silk, because you have the risk of rotated end it when you´re wearing the belt, so just a piece of fabric to serve as a "grip" the velvet or felt is ideal.
I used a piece of velvet cut on the bias to get them to adapt to the shape of the belt smoothwrinkles, put the piece with the ends tucked inside, pinnen and hand sewing invisible stitch.
Una vez terminado, es el momento de sujetar con una costura a máquina todo el contorno del cinturón, usando una aguja gruesa y cosiendo despacio es muy fácil, la máquina se desliza y cose perfectamente sobre él.
Cuando está todo cosido alrededor, es el momento de forrar el interior del cinturón para conseguir un acabado impecable, yo utilicé terciopelo, la experiencia me dice que no se debe usar telas deslizantes, como tela de forro o seda, porque usted corre el riesgo de terminar con el cinturón girado cuando lleva rato usándolo, así que mejor un trozo de tela que sirva de "agarre" el terciopelo o fieltro es ideal.
Yo utilicé un trozo de terciopelo cortado al bies para conseguir que se adaptara a la forma del cinturón sin problemas de arrugas, colocar la pieza con los bordes metidos hacia dentro, sujetos con alfileres y coser a mano con puntada invisible.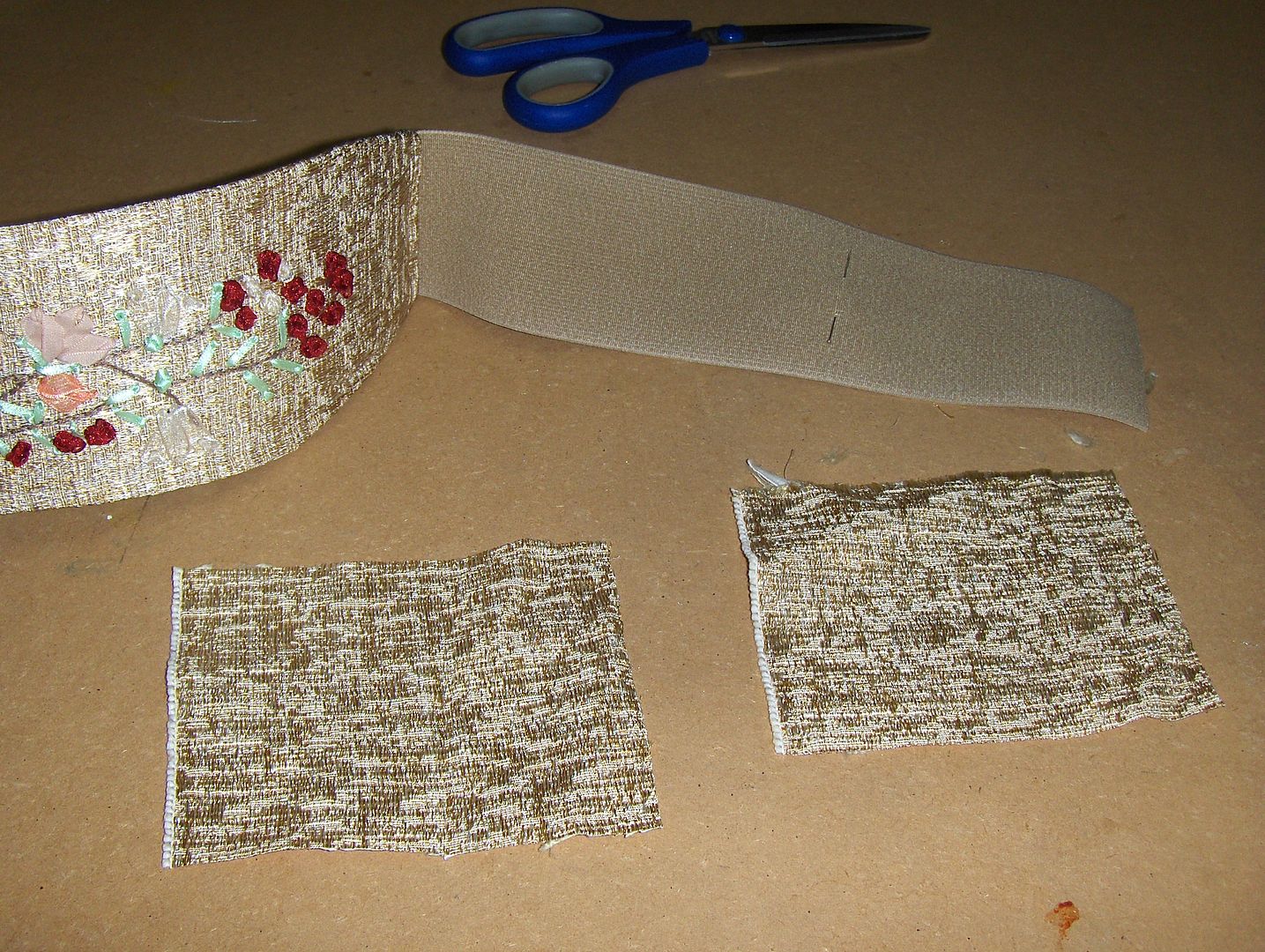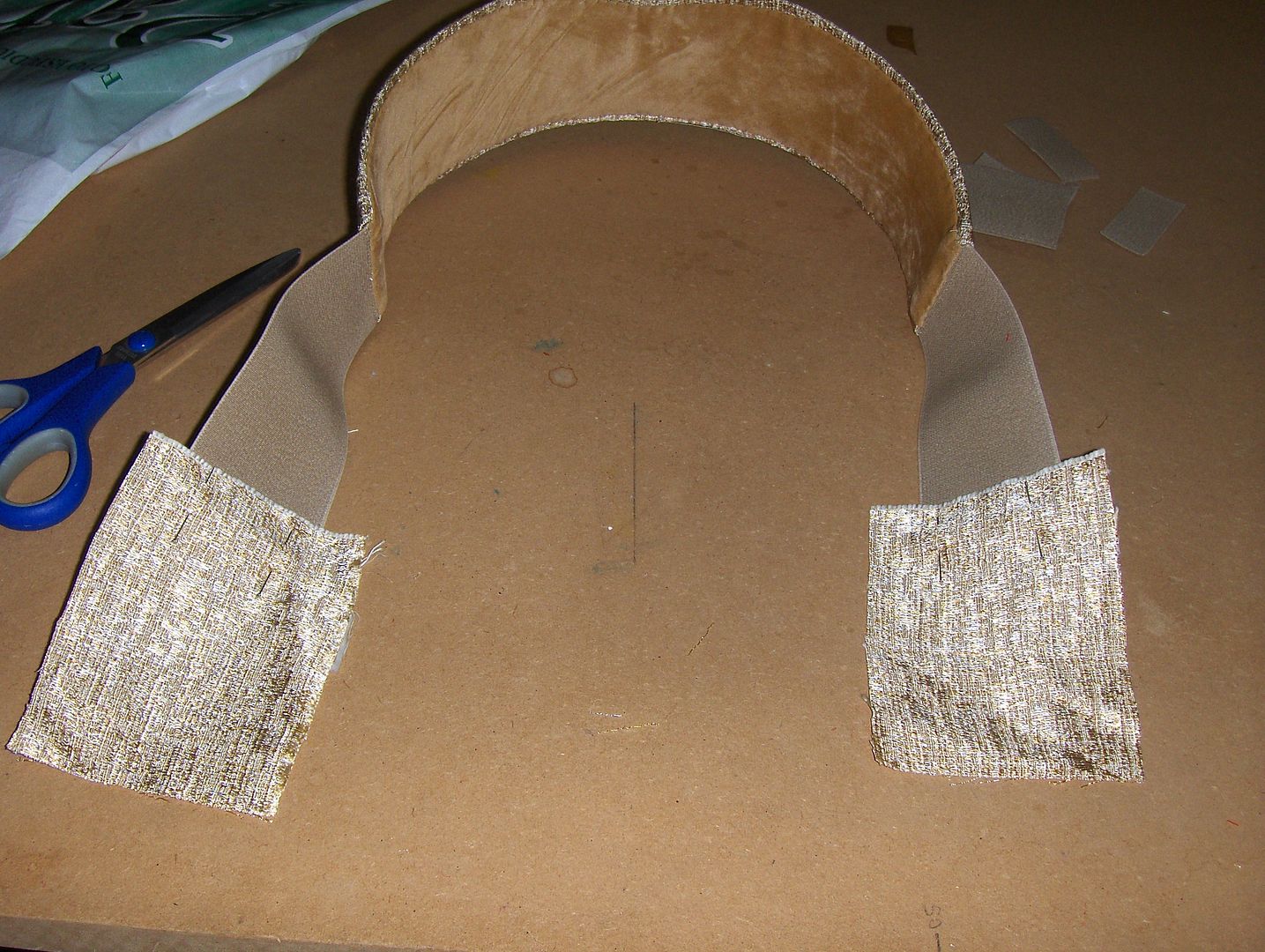 Now we deal with the finishes of the belt, first place it on our waist and mark with a pin the size that you want, so that the belt is subject to the waist do not overtighten.
I have left from the pin that marks the center (on the strap) a inch , to cross borders back closure. Cut two pieces of fabric for covering the ends of the strap, sew one side.
Ahora nos ocupamos de los acabados del cinturón, primero hay que colocarlo sobre la cintura y marcar con un alfiler el tamaño que queremos, de forma que el cinturón quede sujeto a la cintura sin apretar demasiado.
Yo he dejado desde el alfiler que marca el centro (en el elástico) dos centímetros y medio más para cruzar los bordes de cierre en la espalda. Cortar dos trozos de tela para forrar las terminaciones del elástico, coser una cara.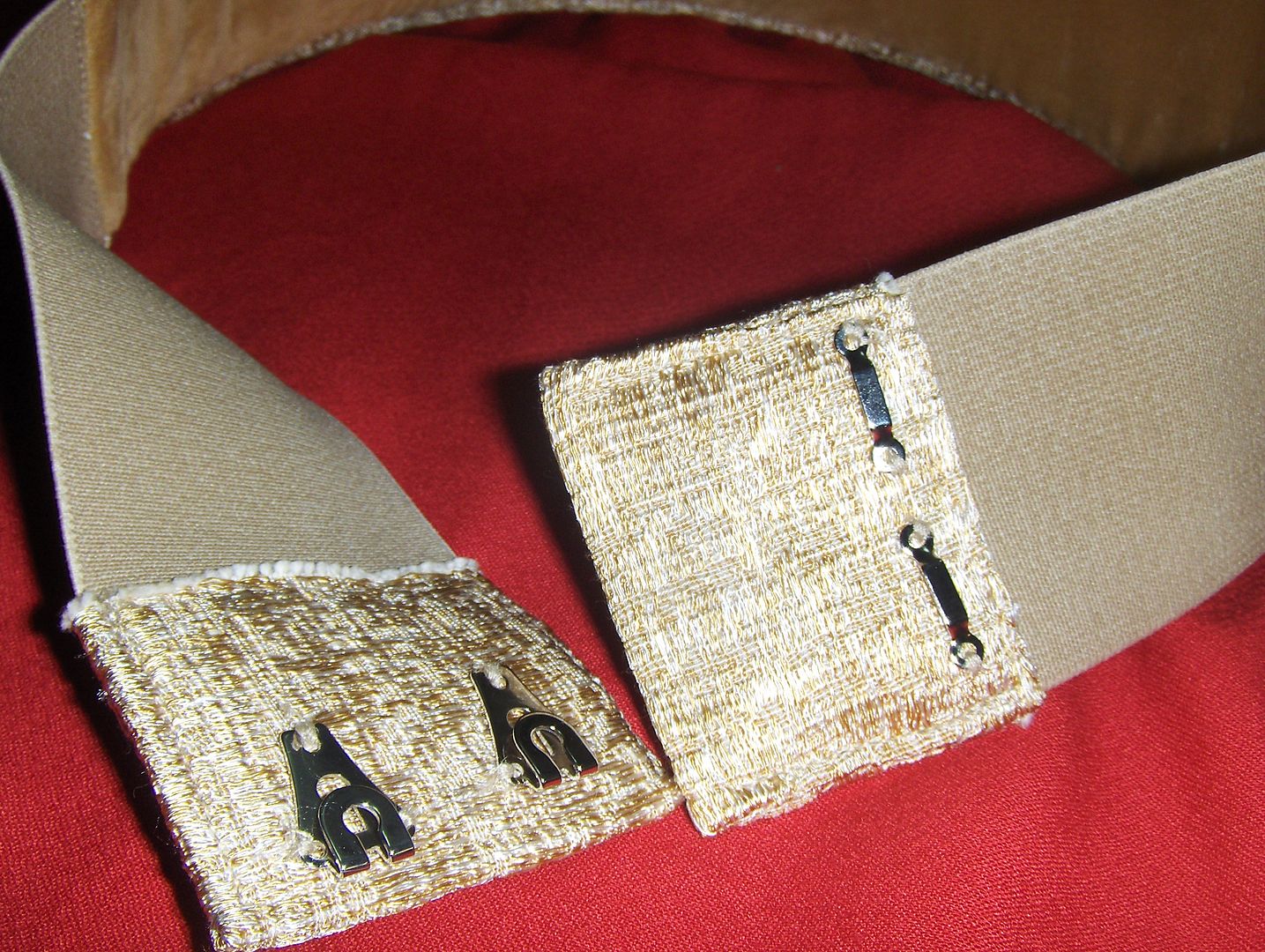 And cover it with the fabric. Sew two hooks to close the belt at back. View of the finished belt.
Y forrar completamente con la tela. Coser dos ganchos para cerrar el cinturón a la espalda. Vista del cinturón acabado.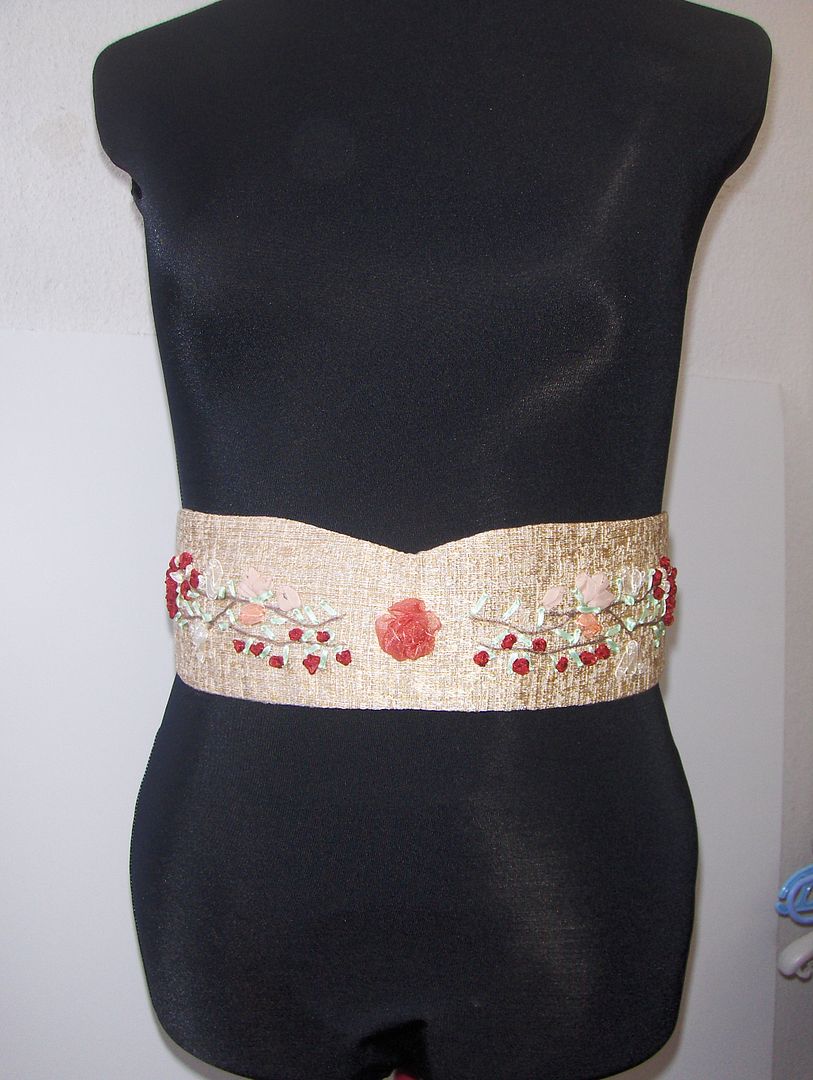 The best of this belt, apart from being completely from recycled materials is that you can spend hours with it on and it will keep the shape, not bent and you will be the center of attention wherever you use it.
So now there is a new dress on my sewing table that will very soon for use exclusively with this pretty belt.
By the way, Happy Valentine´s Day, whether you´re in love or not. Enjoy atmosphere, simply.
Lo mejor de este cinturón aparte del hecho de ser totalmente con materiales reciclados es que usted puede estar horas con él puesto y va a mantener la forma, no se dobla , y será el centro de atención donde quiera que lo use.
Así que ahora hay sobre mi mesa de costura un nuevo vestido que saldrá muy pronto para usar exclusivamente con este bonito cinturón.
Por cierto, Feliz Día de San Valentin, tanto si usted está enamorado como si no. Disfrutar del ambiente.