I already know that the most common is to talk about the dangers of Internet, every day we hear bad things about this, from scams to the most horrible news, but I only know the friendly face of the Internet (Thank God) and now I want to share on this...
Ya se que lo más común es hablar de los peligros de Internet, todos los días oímos cosas malas sobre esto, desde estafas hasta las más horribles noticias, pero yo solamente conozco la cara amable de Internet (Gracias a Dios) y hoy quiero compartir sobre esto...
This wonderful person is Gina, many of you know her for
"Vintage Girl"
, if not, please stop by and say hello, she has a blog full of beautiful things and lately is conducting a series of posts on the cleaning and care of vintage handbags.
Well, some time ago, she did a giveaway for a vintage bag in her blog, I made a comment but didn´t win... was a real shame, because I live in Spain and find a bag beyond the 70s is quite impossible, but she decided that I should have one of their wonderful bags.
This beautiful gesture, generous and totally withour any conditions, filled me with happiness, imagine the scene... Suddenly, someone that you haven´t known and probably never meet in person want to give ayour something just because every time she sees one of her bags, she remember me... Is not Gina an angel on earth???
Esta maravillosa persona es Gina, muchos de ustedes la conocerán por
"Vintage Girl"
, si no es así, por favor pasar por allí y decir Hola, ella tiene un blog lleno de cosas hermosas y últimamente está realizando una serie de posts sobre la limpieza y el cuidado de los bolsos vintage.
Bien, hace algún tiempo ella hizo un sorteo de un bolso vintage en su blog, yo hice un comentario pero no gané.... era una verdadera pena, porque yo vivo en España y encontrar un bolso más allá de los años setenta es totalmente imposible, sin embargo ella decidió que yo debía tener uno de sus maravillosos bolsos.
Este hermosos gesto, totalmente generoso y sin ningún tipo de condiciones me llenó de felicidad, imagina la escena... de repente, alguien que no has conocido ni probablemente conocerás en persona jamás quiere regalarte algo simplemente porque cada vez que ella ve uno de sus bolsos se acuerda de mi... No es Gina un ángel en la tierra???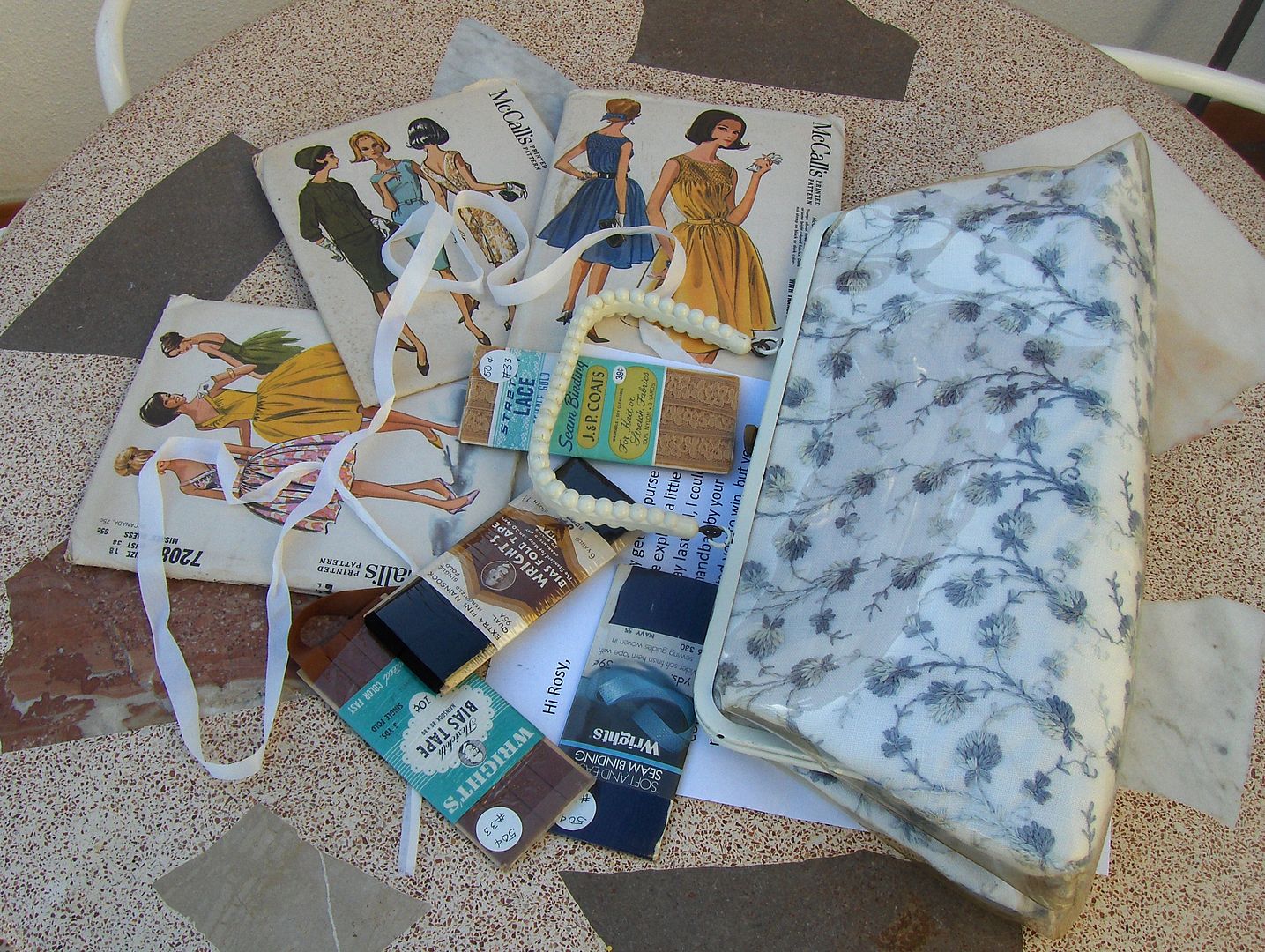 The surprise that managed me to start tears of emotion was when I opened the package and I found all these treasures within.
In addition to the purse I found three patterns of 60s, edging ribbons and strench lace (other wise impossible to find here ) and a beautiful letter full of words that really you touched my heart.
La sorpresa que consiguió arrancarme las lágrimas de emoción fue cuando yo abrí el paquete y encontré todos estos tesoros dentro .
Además de bolso yo encontré tres patrones de los años sesenta, cintas al bies y encaje elástico (otra cosa imposible de encontrar aquí) y una hermosa carta llena de palabras que realmente me tocaron el corazón.
Take a close look at all these patterns, and the bag, Aren´t they all beautiful??
I promise to Gina that I would make a dress to wear with this bag, so I have thought about sewing the dress with jacket 7016 , the second photo... tones bag are gray, so this is a promise in the making.
Thanks Gina, you´re soooo wonderful! I don´t find enough words to thank this beautiful gesture an know that you have a place in my heart....
Echa un vistazo a todos estos patrones, y el bolso de cerca, no son todos hermosos??
Yo prometí a Gina que iba a hacer un vestido para usar con este bolso, así que tengo pensado coser el vestido con chaqueta 7016, foto segunda... los tonos del bolso son en gris, así que esto es una promesa en toda regla.
Gracias Gina, usted es tan maravillosa! Yo no encuentro palabras suficientes para agradecer este hermoso gesto y debe saber que usted tiene un hueco en mi corazón....
And like all goodnews come together, I also received another bag vintage, this time in an exchange made with Sacramento, another person who has touched my heart and for which I have only goods feelings..
She sent me this bag that she bought in one of her trips to England, the package also came a beautiful necklace and a card full of beautiful words.
In return, I asked her measures by email and I sewed a burgundy velvet skirt expressly for her, it was fun to sew in the distance someone you´ve never seen in person either.
Y como todas las noticias buenas vienen juntas, también recibí otro bolso vintage, esta vez en un intercambio realizado con
Sacramento
, otra persona que ha tocado mi corazón y para la que solamente tengo buenos sentimientos...
Ella me envió este bolso que compró en uno de sus viajes a Inglaterra, en el paquete también venía una preciosa gargantilla y una postal llena de lindas palabras.
A cambio, yo le pedí sus medidas por correo y le cosí una falda en terciopelo granate expresamente para ella, fué muy divertido coser en la distancia para alguien que no has visto nunca en persona tampoco.
And another exchange that I did this time with Aminta, this nice person sent me this vintage wool jacket in an exchange too, this jacket is full of fun details, like the red piping in contrast to the olive green wool and fold back, but this jacket is in the pending list to change the liner, in return I made some adjustments to get this dress to wear size 36 (that terrible envy...) and I sent it along with the matching hat to her.
Y otro intercambio que hice esta vez con
Aminta
, esta linda personita me envió esta chaqueta de lana vintage en un intercambio también, esta chaqueta está llena de divertidos detalles, como los vivos rojos en contraste con la lana verde oliva y el pliegue en la espalda, aunque esta chaqueta está en la lista de pendientes para cambiar el forro , a cambio yo hice algunos ajustes en este vestido para conseguir llevarlo a la talla 36 (que terrible envidia...) y se lo envié junto con el sombrero a juego.
Truly, I can only give thanks to Internet, because I just found a lot of love and wonderful people here...
Verdaderamente, yo solamente puedo dar gracias a Internet porque yo solamente encontré mucho amor y gente maravillosa aquí...