I finished the dress, I´ve to confess that it´s the first halter dress in my closet... it´s true! I never have had a dress like this, for some reason I always said that it was inappropriate for me, but with the latest heat wave and the omem that we expected the hottest summer this time I said that I was time to try to take one that I was comfortable and chose this, which appears in the magazine Burda Style of this July, but I modified the design slightly to suit my needs, so this is what happened...
Terminé el vestido, tengo que confesar que es el primer vestido Halter de mi armario... si, es verdad, jamás he tenido un vestido de este tipo, siempre por alguna razón me decía que no era apropiado para mi pero con la última ola de calor y el presagio de que nos espera un verano de lo más caluroso esta vez me dije que ya era hora de intentar llevar uno que me fuera cómodo y elegí este, que aparece en la revista Burda Style de este mes de julio, aunque yo modifiqué un poco el diseño para ajustarlo a mis necesidades, así que esto es lo que sucedió...
What I liked about this pattern is a pattern that was originally published in May / Burda in 1950, this is enough to do it desired for me, here´s a copy of the original magazine sheet containing this dress, you can browse all vintage Burda magazines on
this link.
Lo que más me gustó de este patrón es que originariamente fue un patrón publicado en Burda de mayo en el año 1050, esto es suficiente para hacerlo deseado por mi, aquí tienes una copia de la hoja de esa revista original donde aparece este vestido, puedes ojear todas las revistas Burda vintage en
este enlace
Wow!! They really had that waist then??!!!
The first chage that I made was to hold the strips of the neck to the back of the dress, I hate when the dress starts to slip and let the back of the bra in sight, so I deleted it in the curve pattern that holds the neck and I extended the straps enough to cross on the back, I also used to highlight these blue fabric strips and contrast with the printed fabric.
Another alteration that I did was remove the breast dart on the outside fabric of the dress, I changed it to a puckered that always helps to further enhance the chest, however to avoid too much bulk on the inner linning I sewed the dart as it come in pattern.
Caray! De verdad tenían esa cintura entonces???
El primer cambio que yo hice fué sujetar las tiras del cuello a la espalda del vestido, no soporto cuando el vestido comienza a resbalar y deja la espalda del sujetador a la vista, así que yo suprimí en el patrón la curva que sujeta al cuello y alargué las tiras lo suficiente para cruzar en la espalda, también utilicé tela azul para destacar estas tiras y contrastar con la tela estampada.
Otro ajuste que hice fue eliminar la pinza de pecho en el exterior del vestido, lo cambié por un fruncido que siempre ayuda a realzar más el pecho, sin embargo, para evitar demasiado bulto, en el forro interior yo cosí la pinza como viene en el patrón.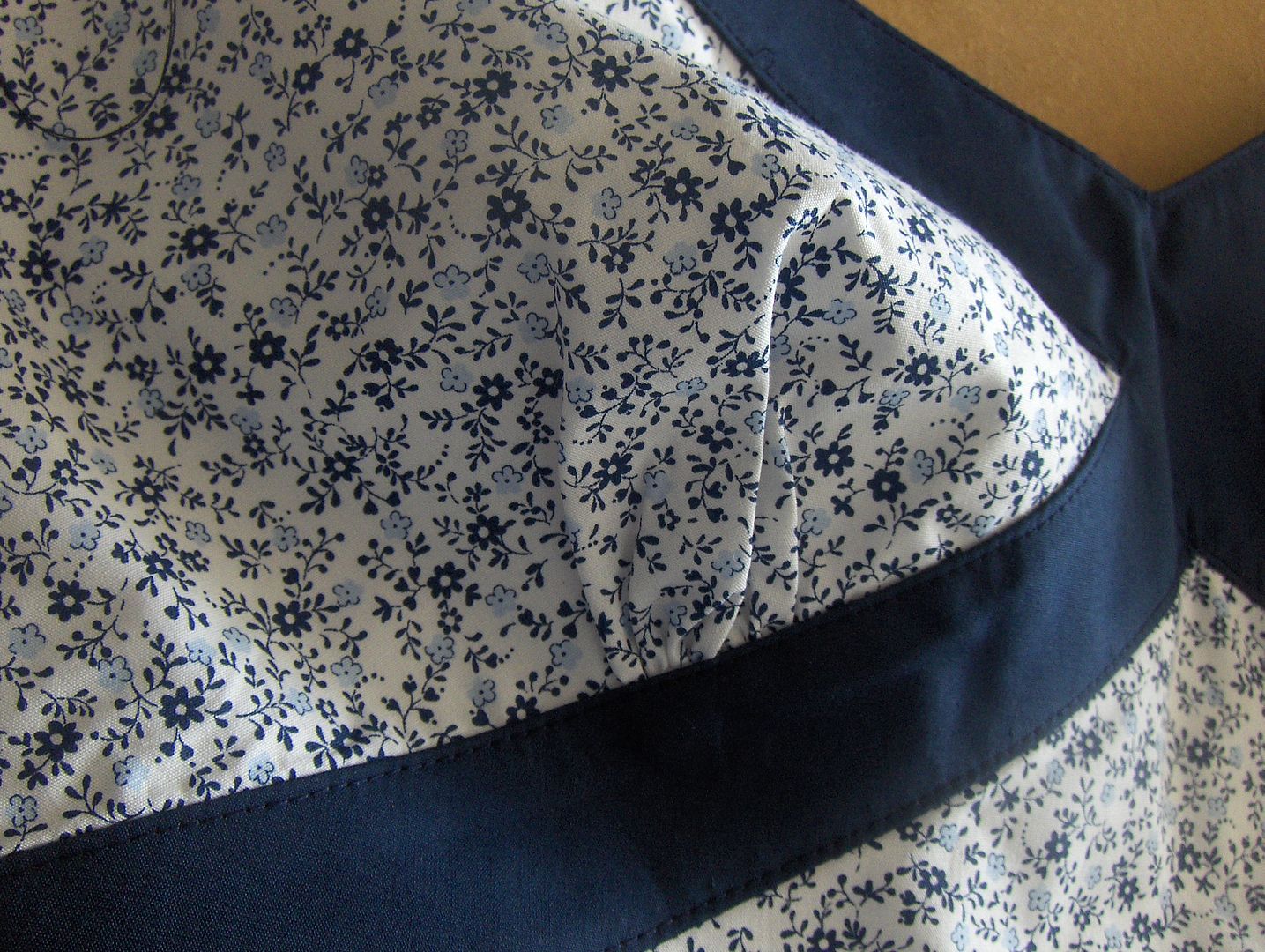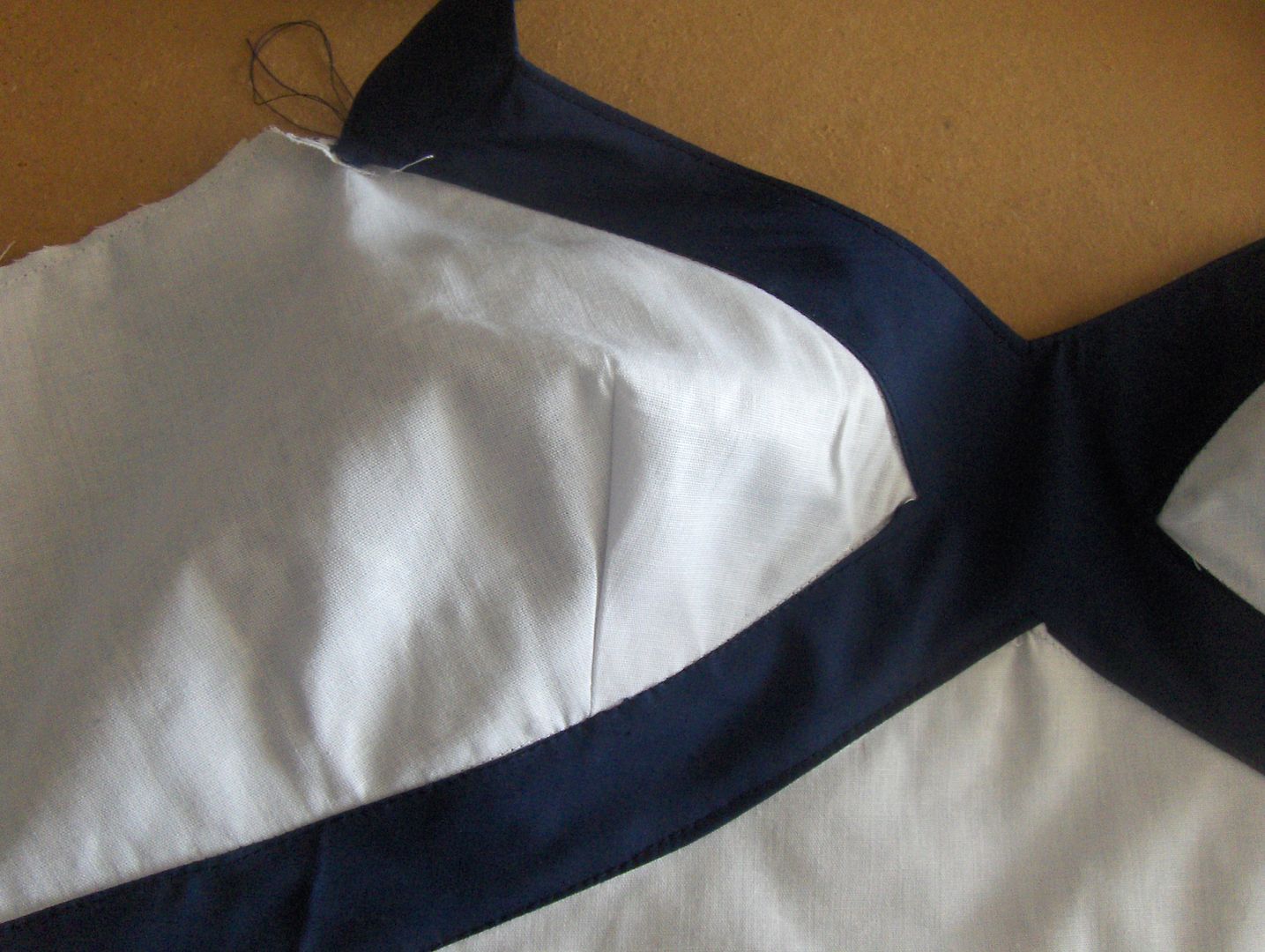 An added plus, I thought the dress needed a belt, so I cut two more strips in blue fabric and then I sewed the strips of contrast in the chest, crossing back and getting a nice effect at the waist.
Un añadido más, pensé que el vestido necesitaba un cinturón, así que corté dos tiras más en tela azul y las cosí a continuación de las tiras de contraste en el pecho, cruzando en la espalda y consiguiendo un bonito efecto en la cintura.
Y este es el resultado...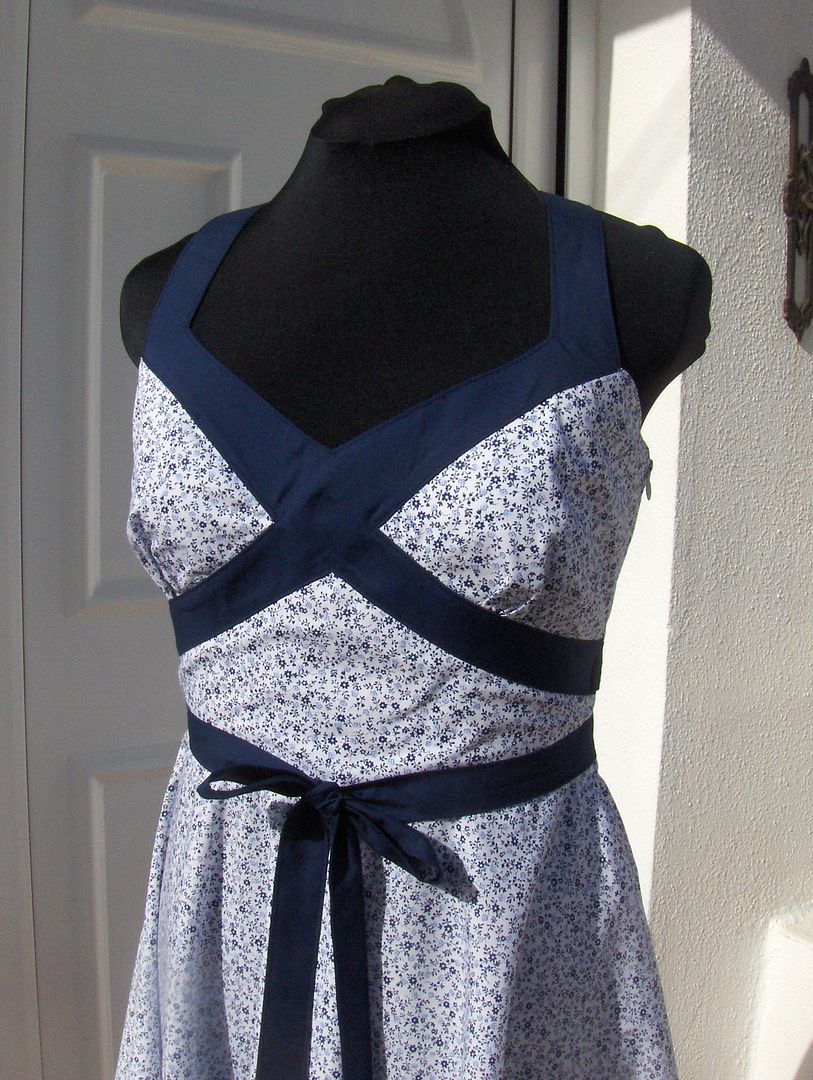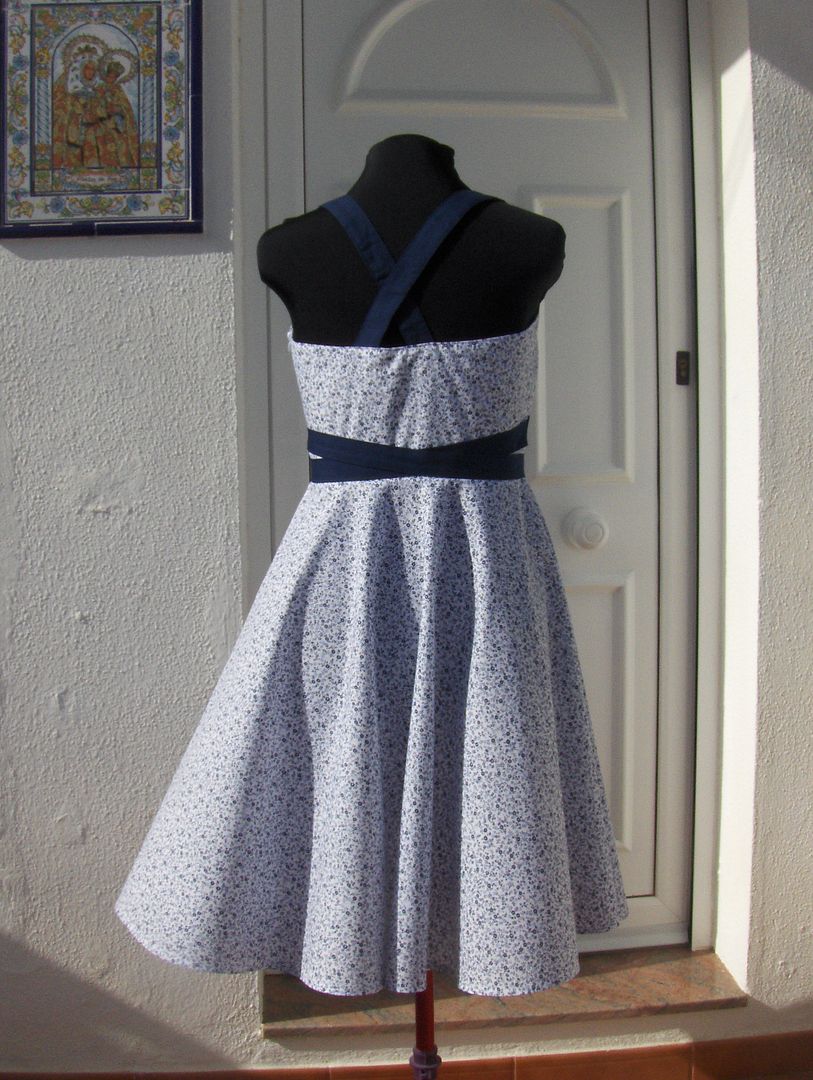 The wrong side of the dress also has some secret of fit...
El revés del vestido también tiene algunos secretos de ajuste...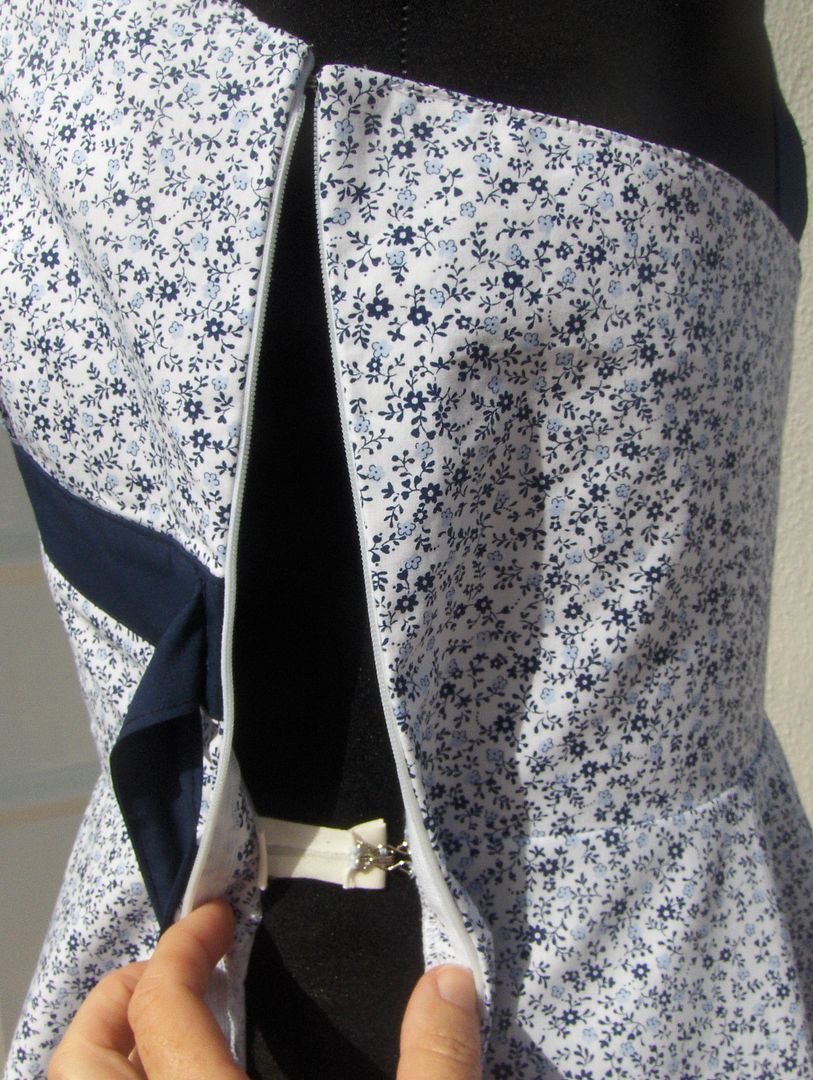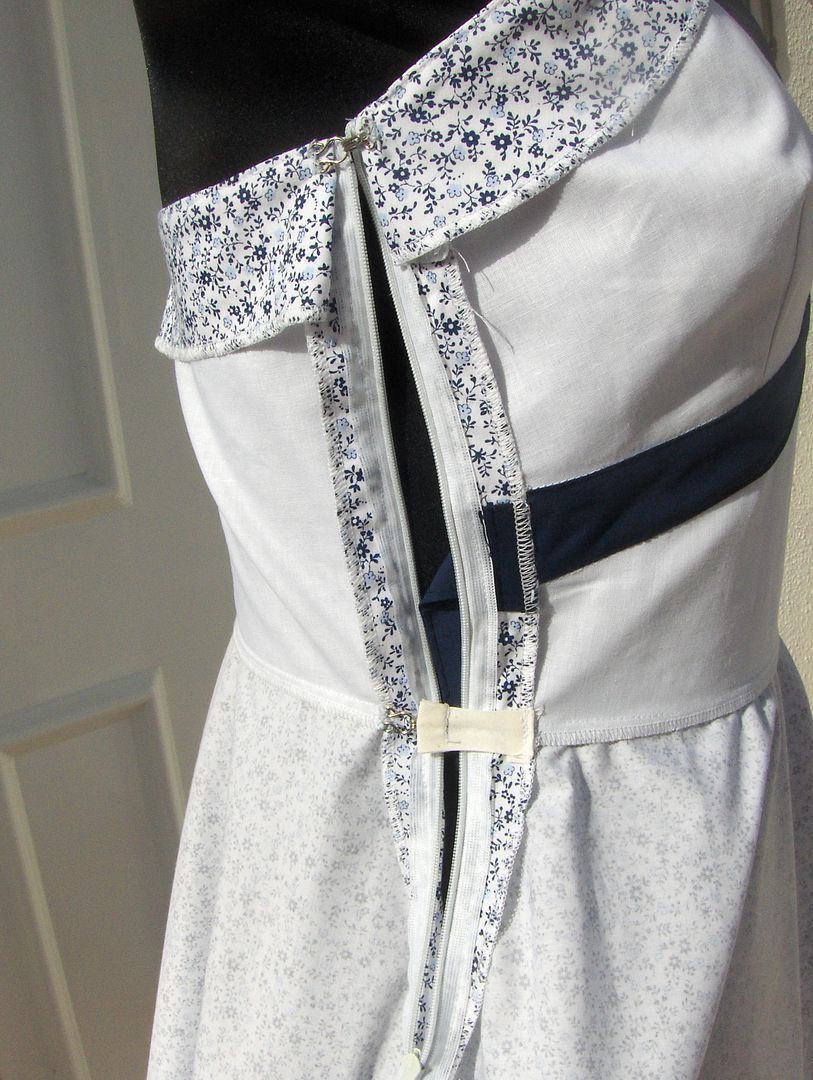 A hook on the top of the zipper helps control the tension at this point and another one at the waist helps the rack here does not suffer from the strain of the area also otherwise, I did not line this dress as like explanations of the journal, simply sewed the two fabrics as one.
So I added another dress to my wardrobe over this magazine and will not be the only edition of this July, because there are some more that will come soon to my wardrobe.
Tomorrow , photos with the outfit...
Happy sewing...
Un enganche en el top de la cremallera ayuda a controlar la tensión en este punto y otro más en la cintura ayuda a que la cremallera aquí no sufra demasiado por la tensión de la zona también, por lo demás, yo no forré el vestido según las explicaciones de la revista, simplemente traté las dos telas como una sola por iniciativa propia añadiendo una vista para limpiar toda la zona del escote.
Así que he añadido a mi armario otro vestido más de esta revista y no va a ser el único de la edición de este mes de julio, porque hay algunos más que entrarán pronto a mi vestuario.
Mañana, fotos con el outfit...
Feliz costura...