On the previous post there is a presentation of the pants that I just finished , I had for years been pining for a pair of 40s style sailor pants.
En el post anterior , presentación del pantalón que acabo de terminar de coser, yo contaba que había estado suspirando desde hace años por un pantalón de estilo marinero años 40.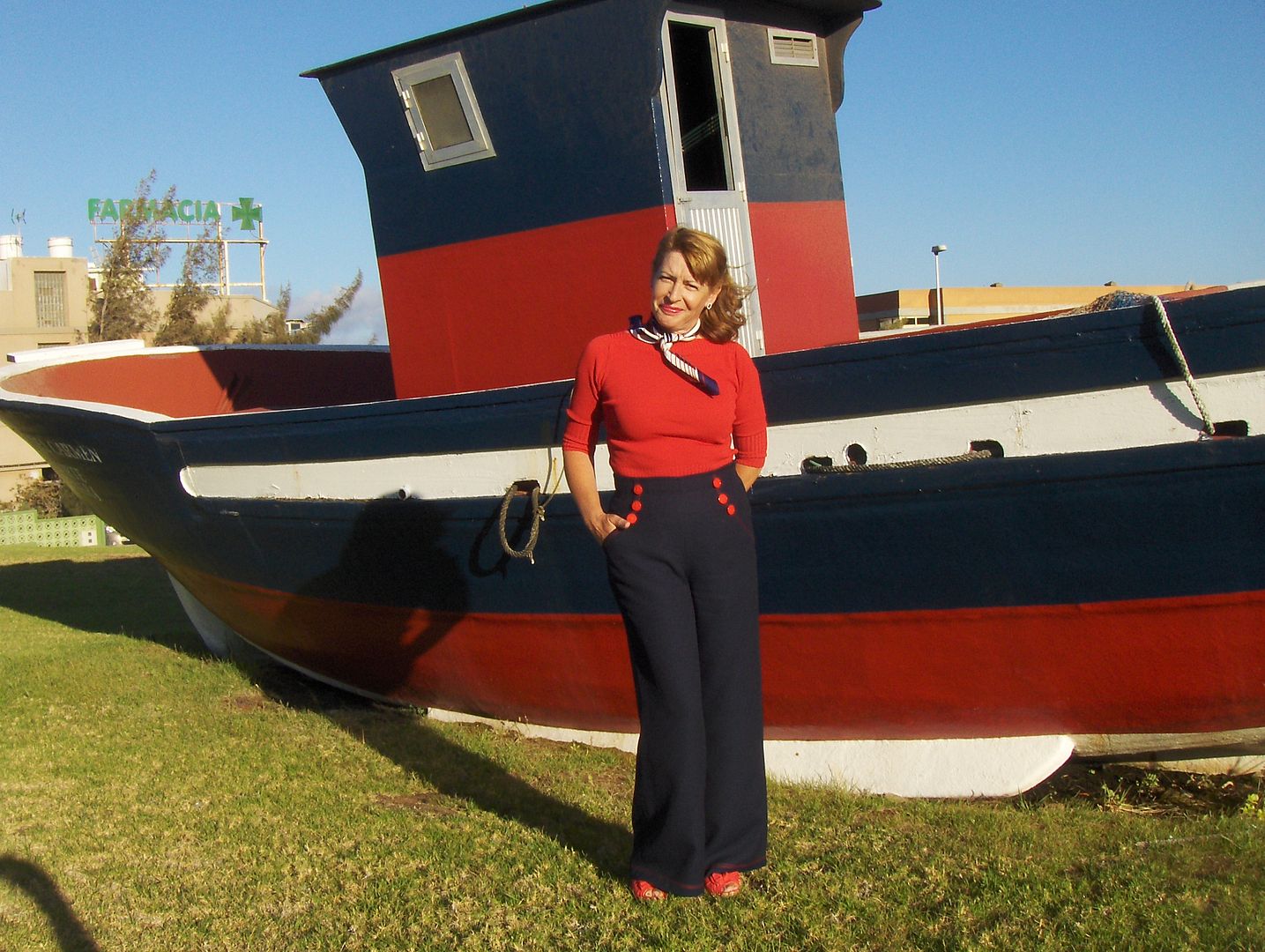 Well, I can say that I´m delighted with it, this is the beginning of a love story at first sight. There are other sailor-inspired clothes in my wardrobe that I have sewn before, here.
Bien, yo puedo decir que estoy encantada con él, este es el principio de una historia de amor a primera vista. Hay otras prendas de inspiración marinera, en mi armario
que he cosido antes, aquí.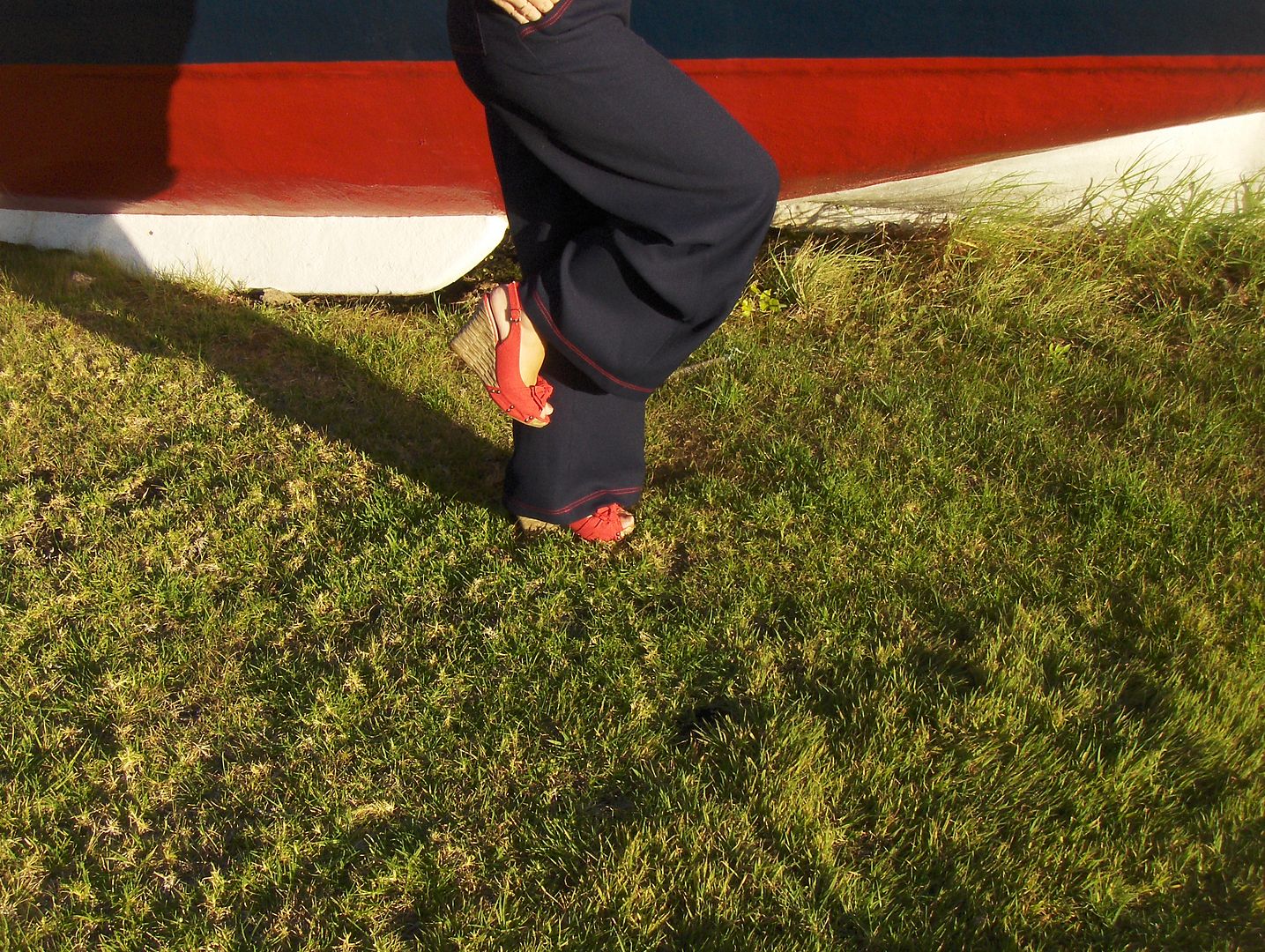 And although this pattern is of 90s, my love of fashion for 40s has won and I go step by step adding garments of this style to my wardrobe.
Y aunque el patrón es de los años 90, mi amor por la moda de los 40 ha triunfado y voy pasito a pasito añadiendo prendas de este estilo a mi armario.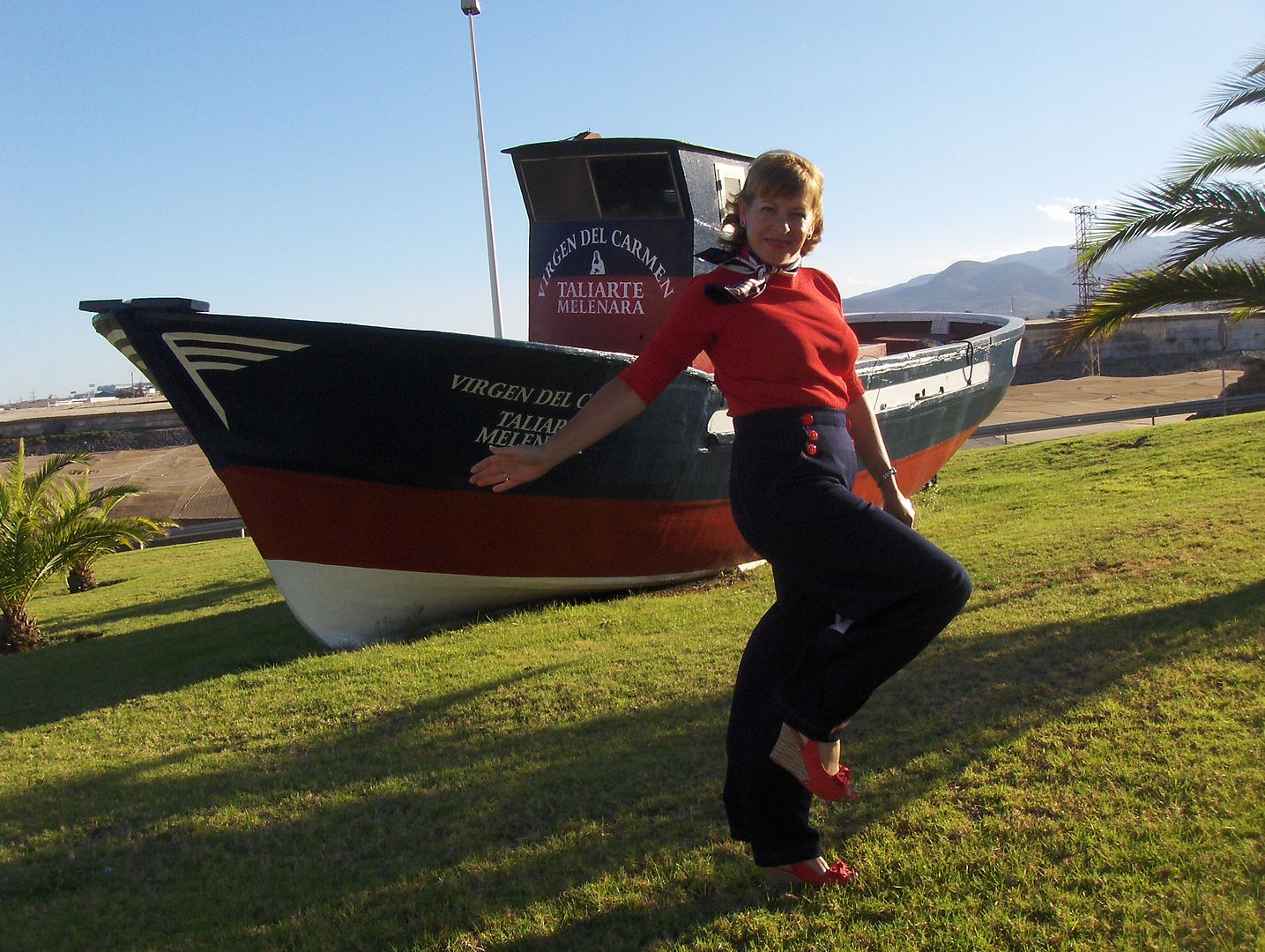 When I suggested to hubby to get some photos to show the outfit, he reminded me that there is a boat on the way to beach and he said: Do you notice colors of the boat?? So we decided to stop at this beautiful setting for us to do a little silly while hubby was shoot photos and made fun of me... it was so fun!
Cuando propuse al marido ir a obtener algunas fotos para mostrar el outfit, él me recordó que hay un barco en el camino a la playa y exclamó: Te has fijado en los colores del barco?? Así que decidimos hacer una parada en este hermoso escenario para hacer un poco el tonto mientras mi marido tiraba fotos y se burlaba de mi... fue tan divertido!!
So while I´m showing you the first clothes that I thought to use with these pants, I´m turning in my head everything in my closet that can succumb to fever "Sailor" this summer...
Y así, mientras estoy mostrándote las primeras prendas que yo pensé para usar con este pantalón, ya estoy dando vueltas en mi cabeza a todo lo que hay en mi armario que puede sucumbir a la fiebre "Sailor" de este verano...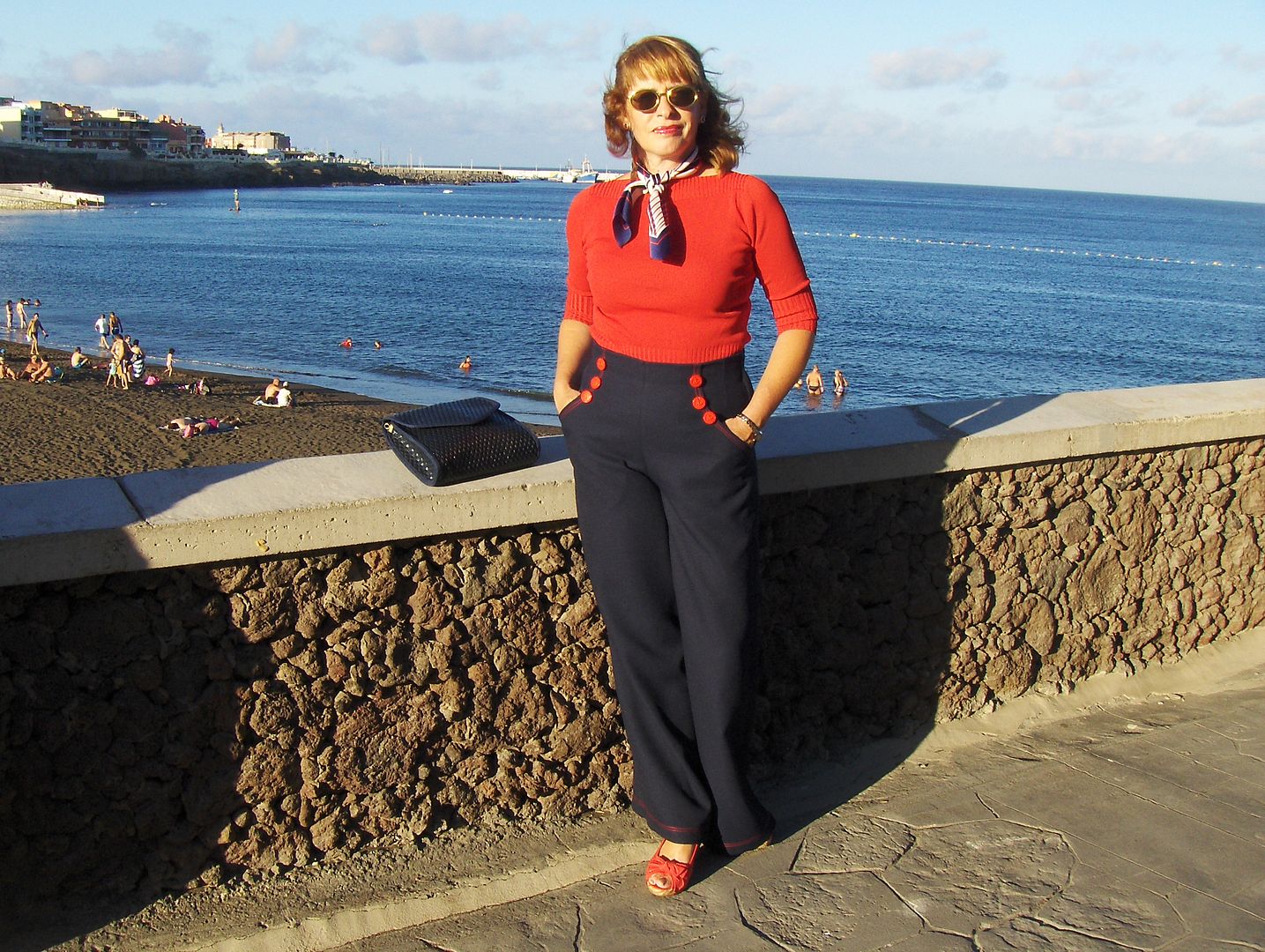 In fact, I´m thinking there´s a piece of fabric in my sewing cave that will combine very well to sew a blouse and it accompany this, so while I´m here, writing this post, my mind is in my sewing cave... And you?? Are you from those sewers which are planning the next sewing project while you are still savoring last one??
Or need some time to enjoy and start over??
De hecho, se me ocurre que hay un trozo de tela en mi cueva que va a combinar muy bien para coser una blusa y acompañar esto, así que mientras estoy aquí escribiendo este post, mi mente está en mi cueva de costura...... Y tú?? Eres de las que está programando el siguiente proyecto de costura cuando aún estás saboreando el último??
O necesitas algún tiempo para disfrutar y volver a empezar??