I had spent years trying to have one of these in my wardrobe and finally got it!!, I have yearned for so long by a pair of 40s-inspired-sailor-pants... there was ahead and I decided that they could wait no longer. Here they are!!
Llevaba años queriendo tener uno de estos en mi armario y por fin lo conseguí, he suspirado durante tanto tiempo por un par de pantalones de inspiración 40s marinero... pero siempre había algo que se adelantaba y decidí que ya no podía esperar más. Aquí están!!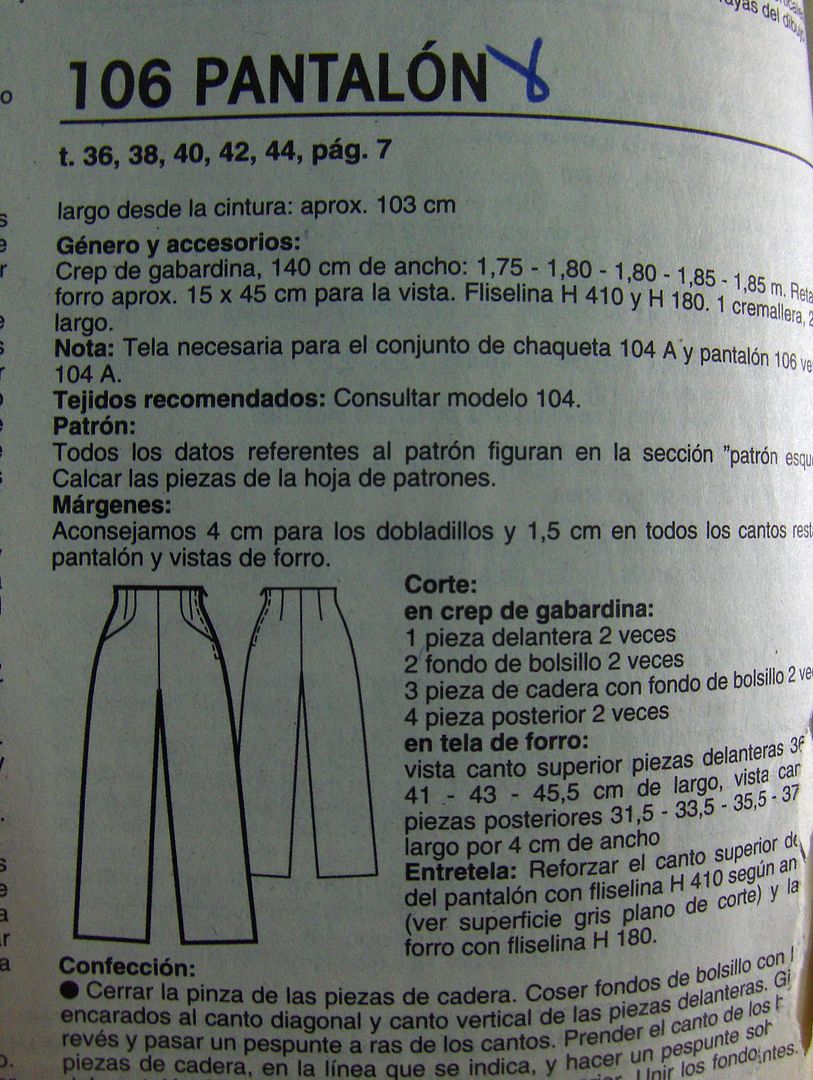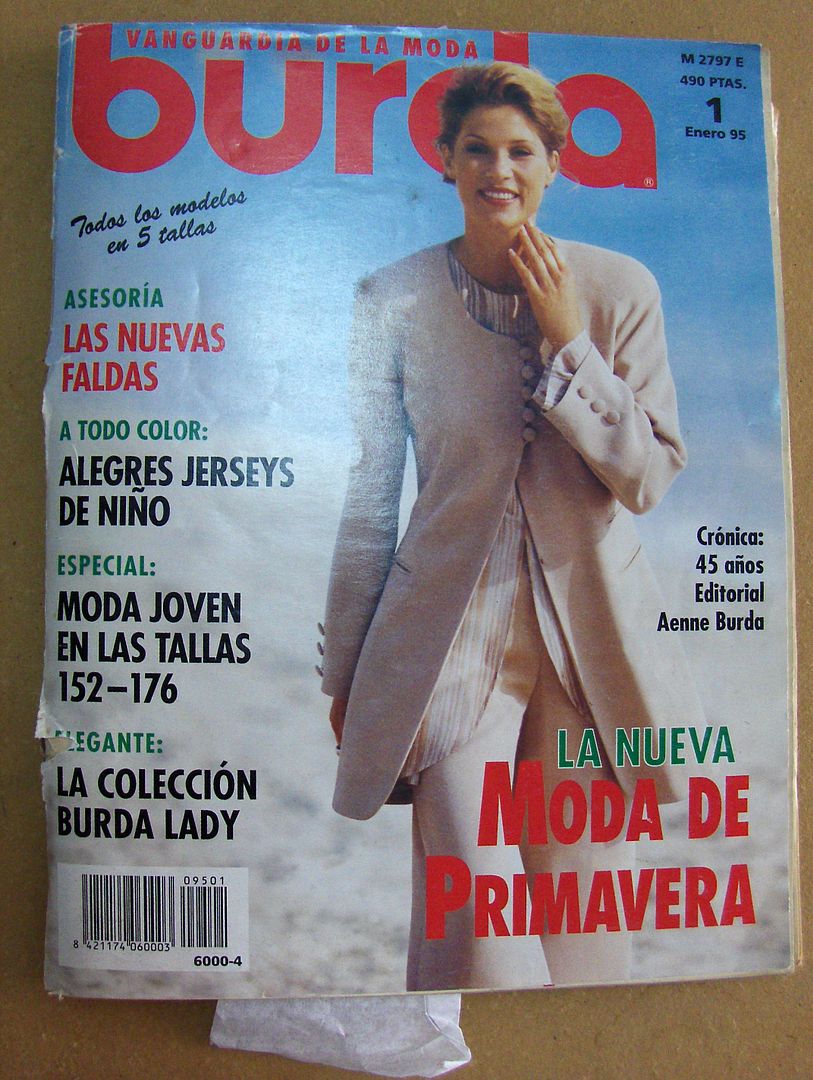 This time, I used Burda magazine January 1995, #106. I´ve got some models of this magazine and it does not end here, Burda magazines tend to bring patterns are timeless and if you added some alteration or some change, they´re incredibly versatile, this is proof.
Esta vez usé un patrón de la revista Burda de Enero de 1995, #106. Ya he sacado algunos modelos de esta misma revista y no termina aquí, las
revistas Burda
suelen traer patrones que son intemporales y con alguna modificación o algún añadido son increíblemente versátiles, esta es la prueba.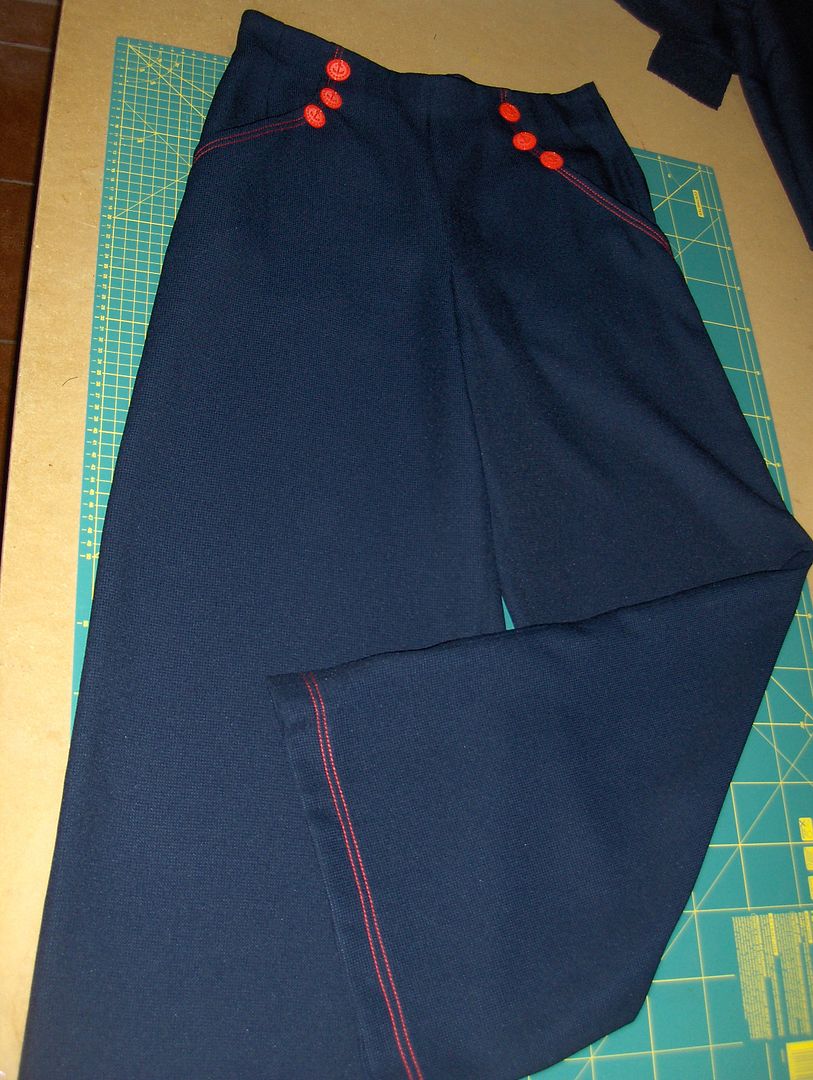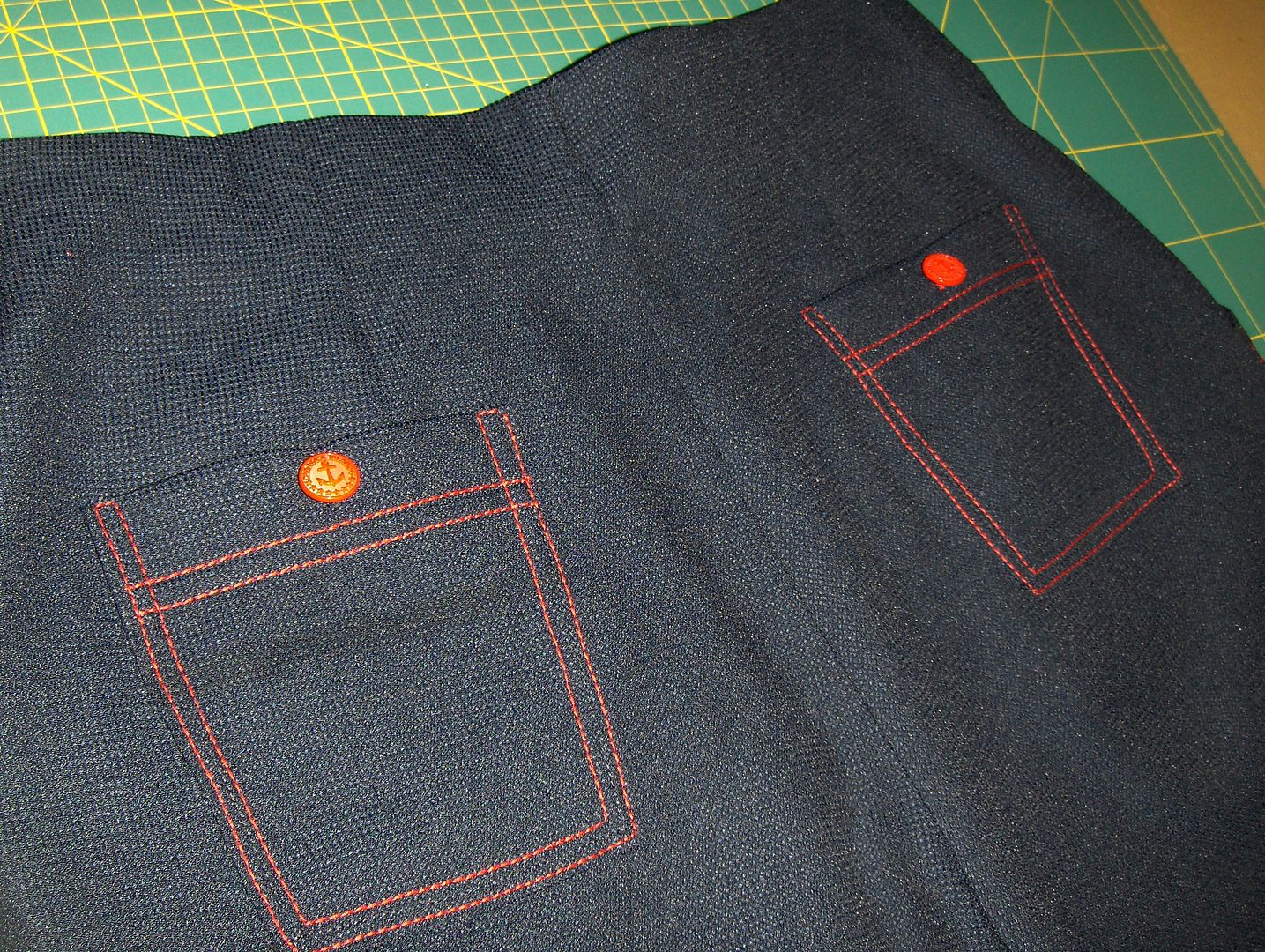 To accentuate the style that I was looking to my pants, I have combined the decorative blue fabric with red stitching, a little tip to do them look more beautiful stitching when we can´t floss tapestry thread, it´s to thread the needle of the machine sewing with two threads of same color at a time, this is done only in the upper thread, the bobbin thread has a single thread as always, if you also put a large stitch size, (I used a number three), result is very nice.
Para acentuar el estilo que yo quería obtener para mi pantalón he combinado la tela azul con pespuntes decorativos en color rojo, un pequeño truco para que los pespuntes se vean más bonitos cuando no podemos usar hilo torzal es enhebrar la aguja de la máquina de coser con dos hilos del mismo color a la vez, esto se hace solamente en el hilo superior, el hilo de la canilla tiene un solo hilo como siempre, si además ponemos un tamaño de puntada grande, yo usé un número tres, el resultado es muy bonito.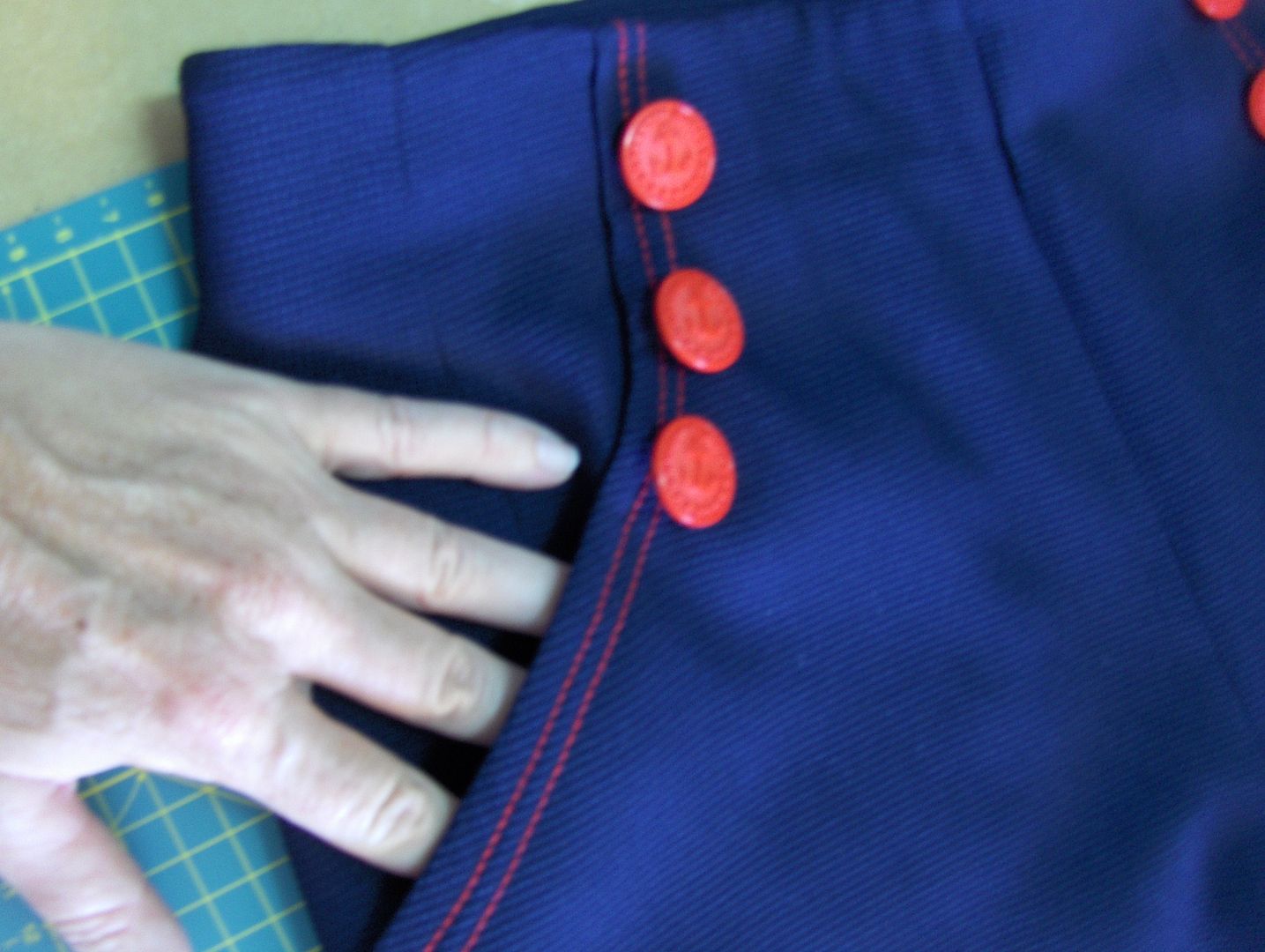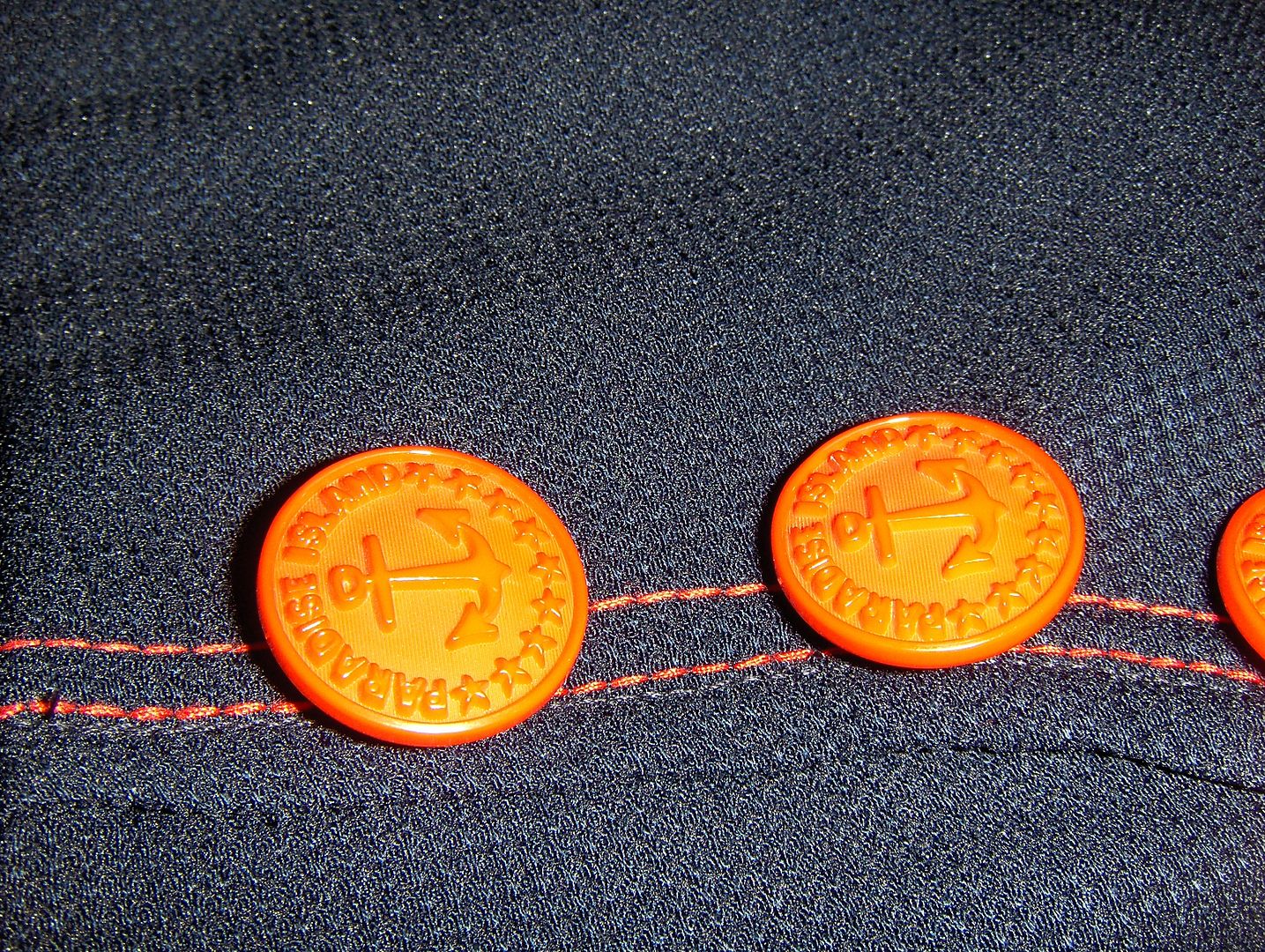 Find red-sailor-style buttons was a pain for me,(yes, they´re red, although my camera flash to strive to demonstrate like orange)
I found these finally, quite acceptable for what I needed.
Me costó lo Dios y ayuda encontrar botones de estilo marinero en color rojo, (si, son rojos aunque el flash de la cámara se empeñe en demostrar un color naranja)
finalmente encontré estos bastante aceptables para lo que yo deseaba.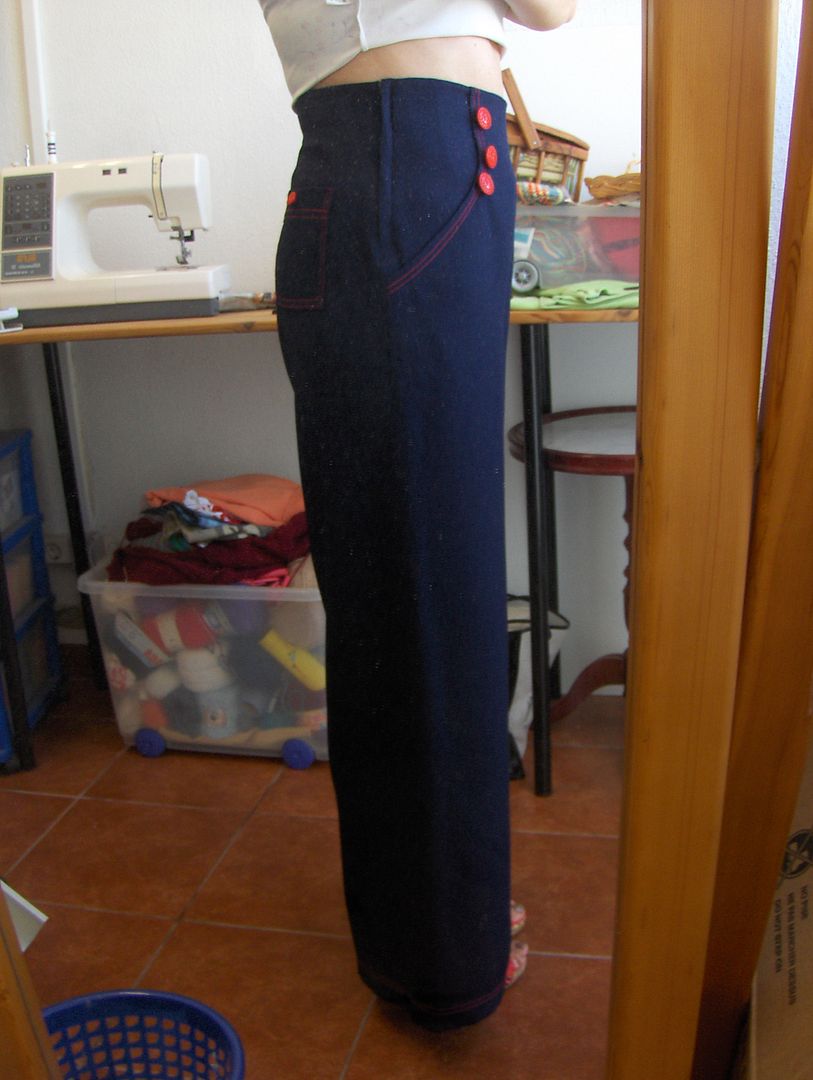 Actually, buttons are simply decorative, on top of the pockets, because the rack is placed on one side, the waistband is beyond my waist line about four centimeters, which accentuates the style of 40s pants. I decided to finish the edge on the inner facing of the waistband with a thin red bias tape, it´s a whim! But after wearing my pants for a while, I realized that this interior detail really helps to define my waist to make slight pressure in this area, it´s great!!
I´m so excited to have one of these in my closet that I´m planning on making some different versions of this same pattern, with buttons on side instead of rack, would fit quite well for this style of 40s wich I love, perhaps with stitching in white... well, I digress, this will be soon, as will immediately display photos with my special tribute to this beautiful style, but that will be tomorrow.
Do you love Sailor Style also??
En realidad, los botones son simplemente decorativos, en la parte superior de los bolsillos, porque la cremallera está colocada en un lateral, la cinturilla del pantalón sobrepasa mi linea de cintura unos cuatro centímetros, lo que acentúa el estilo de pantalones de los años 40. Yo decidí terminar el borde de la vista interior de la cinturilla con un fino biés en rojo, simple capricho! Pero después de usar el pantalón durante un rato, me di cuenta que este detalle interior realmente ayuda a definir mi cintura al hacer ligera presión en esta zona, es genial!!
Estoy tan ilusionada de tener uno de estos en mi armario que estoy pensando en hacer algunas versiones diferentes de este mismo patrón, con botones en el lateral en vez de cremallera, también se ajustaría bastante al estilo que me apasiona de los 40s, quizá con pespuntes en color blanco... bueno, estoy divagando, esto será próximamente, lo más inmediato será mostrar fotos con mi tributo particular a este hermoso estilo, pero eso será mañana.
Te apasiona la moda marinera también a tí??