Certainly, there are things in sewing easier to do if you know the little "tips" that help each process, so I thought I'd share one of them to sew perfect corners, today I will take as an example the dress shown in Burdastyle, August 2012, model 133, but of course, this technique can be applied to any situation requiring stitches a corner and get the blade is clever and without "wrinkles". Here we go ...
Sin duda, en costura hay cosas más sencillas de hacer si conocemos los pequeños "trucos" que ayudan a cada proceso, así que yo pensé en compartir uno de ellos para coser esquinas perfectas, hoy voy a tomar como ejemplo el vestido que aparece en la Burdastyle, agosto de 2012, modelo 133, pero por supuesto, esta técnica puede aplicarse a cualquier situación que requiera coser una esquina y conseguir que esta quede limpia y sin "pellizcos". Vamos allá...
I don´t make "marks" to transfer the pattern to the fabric pattern, simply cut all seam allowances to one centimeter exact pattern edge, and leave two centimeters at the side seams, then you have to sew exactly these centimeters from the edge of the fabric and all the work we avoid passing marks, loose threads and chalk drawings on the fabric. So the first thing is to remove the paper pattern and open the front center piece, cut two small pieces of Vlieseline or thin adhesive interfacing, suffice a small square of 2 x 2 centimeters and stick with the iron on the wrong side of the fabric, cut the small excess remaining in the corner as shown in the last image.
Yo no hago ningún tipo de "marcas" para llevar el dibujo del patrón a la tela, simplemente corto todos los márgenes de costura a un centímetro exacto del borde del patrón, y dejo dos centímetros en las costuras laterales, luego hay que coser exactamente a estos centímetros del borde de la tela y nos evitamos todo el trabajo de pasar marcas, hilos flojos y dibujos con tiza en la tela. Así que lo primero es quitar el patrón de papel y abrir la pieza central delantera, cortar dos pequeños trozos de fliselina o entretela delgada adhesiva, bastarán unos pequeños cuadrados de 2 x 2 centímetros y pegarlos con la plancha por el revés de la tela, recortar el pequeño exceso que queda en la esquina como se puede apreciar en la última imagen.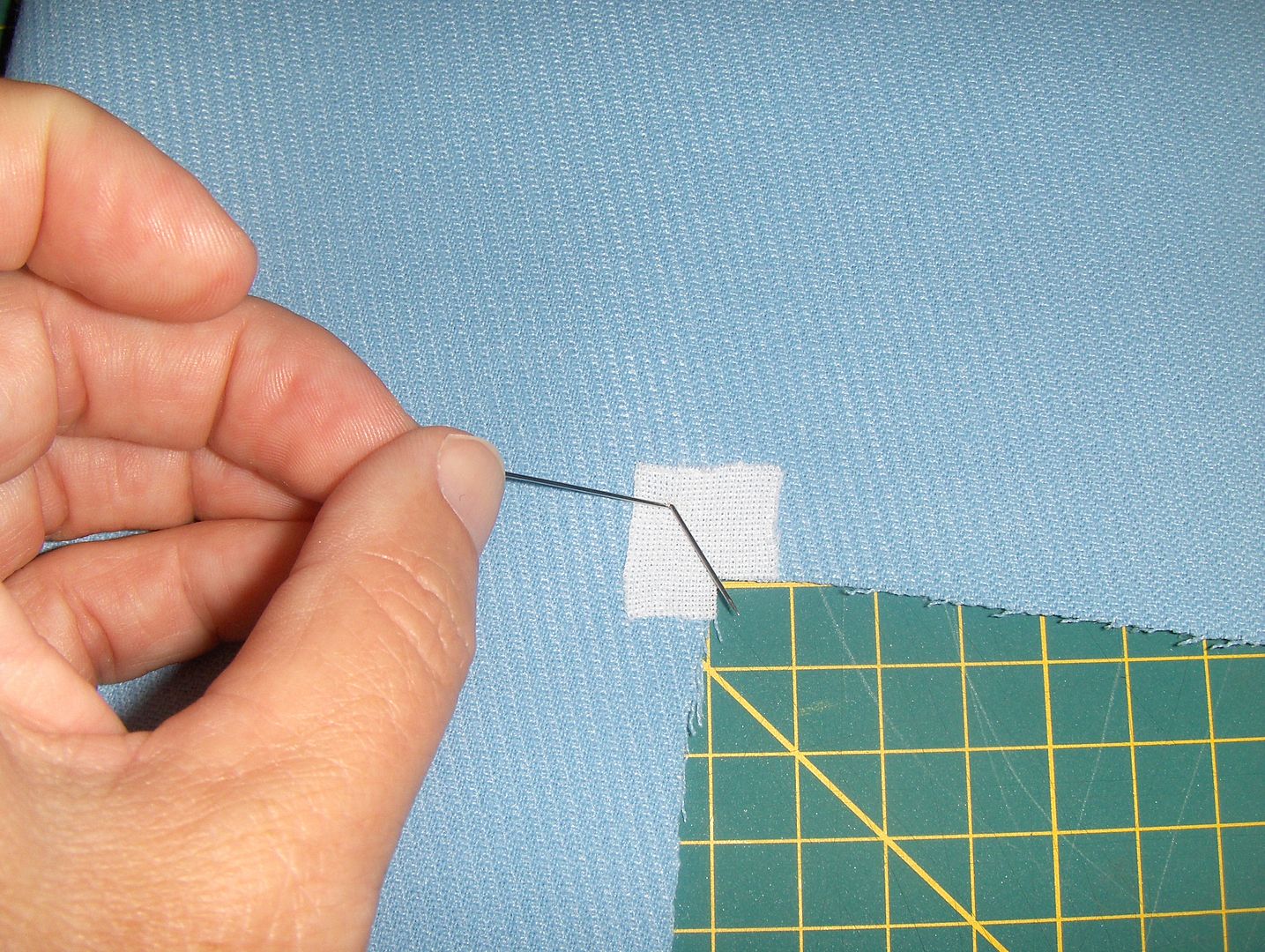 Now fold the frontal piece, and place the paper pattern on the original site again. , Sticking a pin which comes to the other side of the fabric in the exact apex, unpinning the paper pattern again and rotate the fabric folded, preserving the same position on the other side, the tip of the pin appears which has previously nailed ... at that point nailed another pin and open the two layers of fabric, we will be anything like the last picture ...
Ahora volver a doblar el frontal delantero y situar el patrón de papel en el sitio original otra vez, en el vértice exacto clavar un alfiler que salga hacia el otro lado de la tela, desclavar el patrón de papel otra vez y girar la tela doblada, conservando la misma posición, en el otro lado aparecerá la punta del alfiler que has clavado anteriormente... en ese mismo punto clavar otro alfiler y abrir las dos capas de tela, nos quedará algo como la última foto...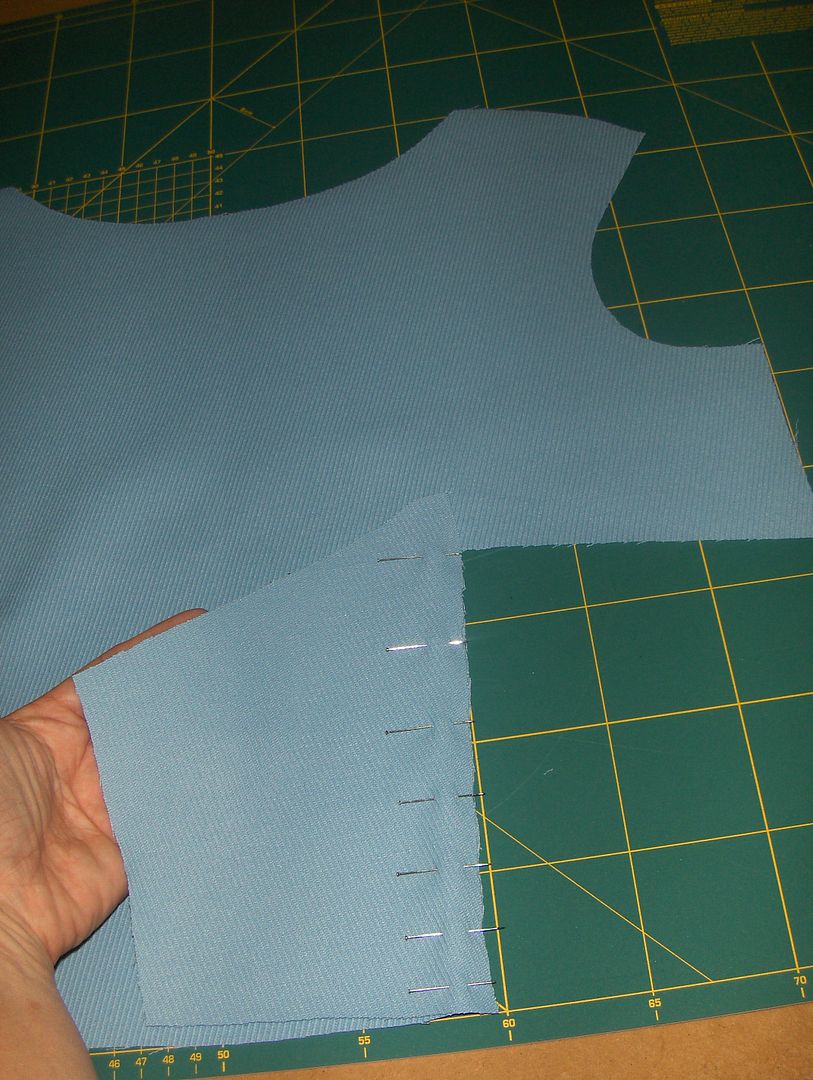 The next step is to draw a small dot whith a pencil (do not use marker pen or pen to not stain the fabric right), this is the exact point of the corner points to where we sew. It is important that everything be to exact size.
Put the piece pierced with pins side of the body from the waist to the corner, this will allow us quietly sew over the pins with the sewing machine.
El siguiente paso es dibujar un pequeño punto con lápiz (no utilizar rotulador o bolígrafo para que no manche el derecho de la tela), este punto es el sitio exacto de las esquinas o vértices hasta donde debemos coser. Es importante que todo sea a la medida exacta.
Clavar con alfileres atravesados la pieza lateral del cuerpo desde la cintura hasta la esquina, esto nos permitirá coser tranquilamente por encima de los alfileres con la máquina de coser.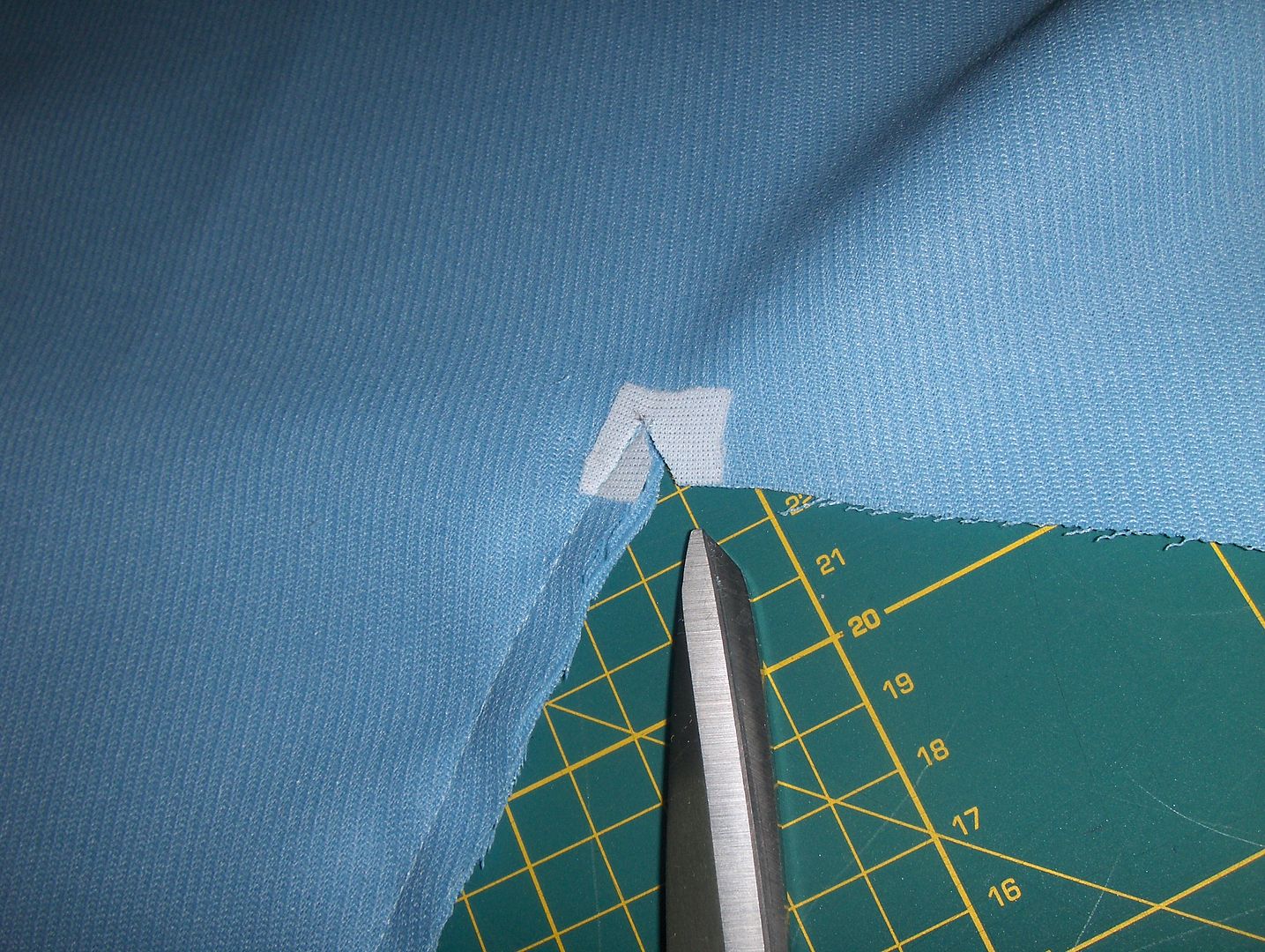 Carefully sew one centimeter from the edge of the fabric up to the point that we have drawn pencil and do a back stitch to secure the seam, sew exactly to the point is important, not a stitch more, no less.
Now make a small cut in the corner taking only the fabric that has the piece of adhered fleece and get exactly to the point.
We can bend the front body fabric to sew the other side of the workpiece, which would be the location of the dart chest.
Coser cuidadosamente a un centímetro del borde de la tela hasta llegar al punto de lápiz que hemos dibujado y hacer unas puntadas hacia atrás para asegurar la costura, importante coser exactamente hasta el punto, ni una puntada más, ni una menos.
Ahora hacer un pequeño corte en la esquina cogiendo solamente la tela que tiene el trozo de fliselina adherido y llegar exactamente hasta el punto.
Ya podemos doblar la tela del cuerpo frontal para coser el otro lado de la pieza, lo que sería la situación de la pinza de pecho.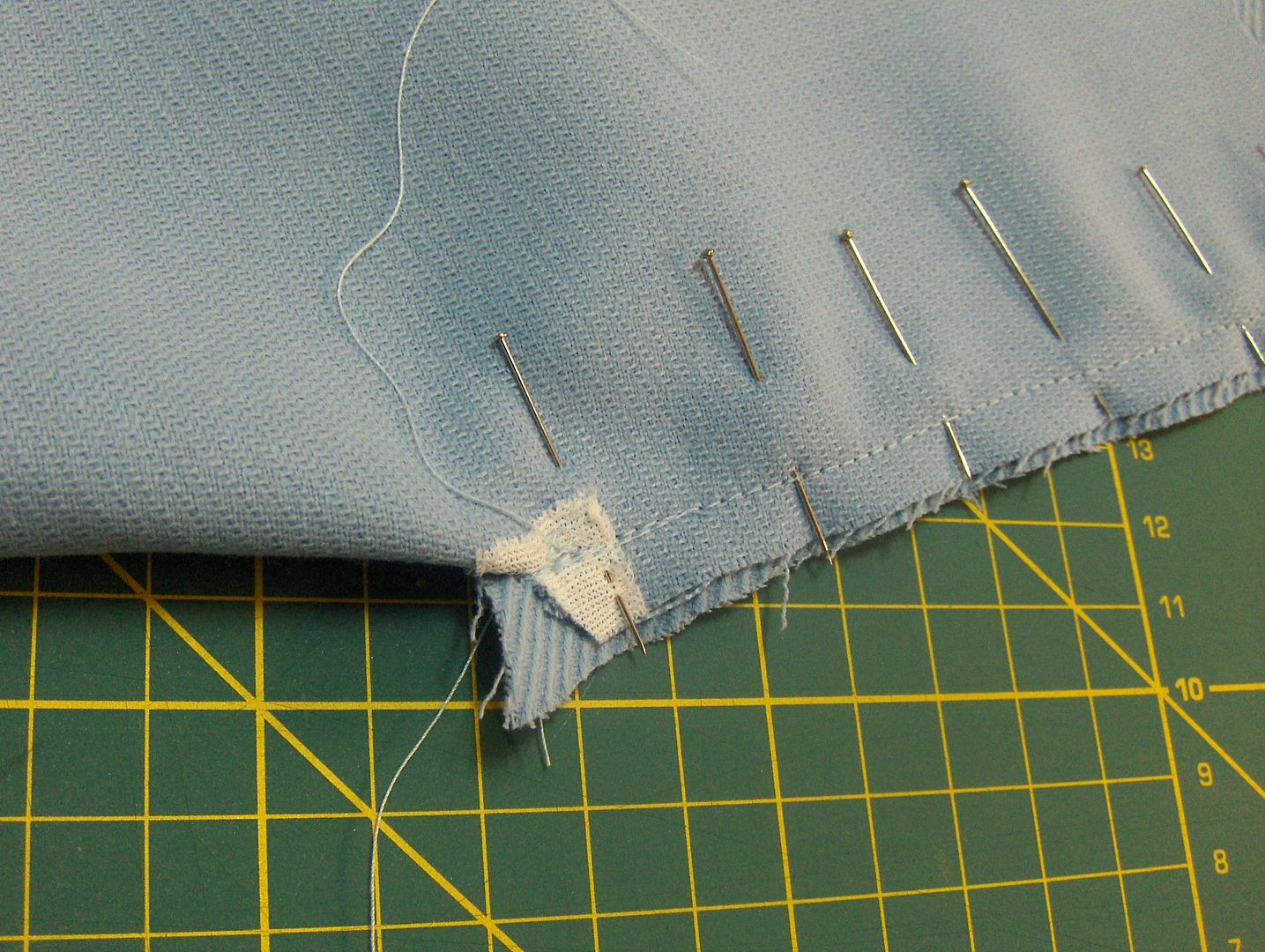 In this picture you can see better, sticking pins in the position noted above them and sew one centimeter from the edge of the fabric coming exactly to the point of pencil and give some back stitches to secure. This seam should get to be exactly what we have sewn above.
En esta imagen se puede apreciar mejor , clavar alfileres en la posición que se observa y coser encima de ellos a un centímetro del borde de la tela llegando exactamente hasta el punto de lápiz y dar unas puntadas hacia atrás para asegurar. Esta costura debe llegar a encontrarse exactamente con la que hemos cosido anteriormente.
If you have followed all the steps above have something exactly like the first picture, now just have to Overlock and iron the seams to have something like the second picture.
Hope you do not bored you too much and if you have any questions, just leave it in the comments or an email and I will respond.
Little by little, I'll go with a series of tutorials to help colleagues, who start sew and show that sewing does not have to be a slow process, laborious and tedious.
If you have any special requests for a tutorial you want, leave it in the comments too, I will try to satisfy you and "infect" with this beautiful virus called sewing.
Si hemos seguido todos los pasos anteriores con precisión tendremos algo parecido a la primera foto, ahora solamente hay que remallar con la overlock y planchar las costuras para tener algo como la segunda foto.
Espero que no te hayas aburrido demasiado y si tienes alguna duda, solamente dejar en los comentarios o un email y yo voy a responder lo antes posible.
Poco a poco, voy a ir realizando una serie de tutoriales para ayudar a las compañeras que empiezan a coser y demostrar que la costura no tiene que ser un proceso lento, laborioso y aburrido.
Si tienes alguna petición especial de algún tutorial que desees, déjalo en los comentarios también, voy a intentar satisfacerte y "infectarte" con este hermoso virus llamado costura.