And then I decided it was time to make a cake .... Well, actually, two ....
Y entonces, yo decidí que ya era hora de hacer un pastel.... Bueno, en realidad, dos....
For a long time since I baked anything, hellish heat we've been through in recent weeks did not invite much to turn the oven, but I wanted and had an image that I lashed relentlessly. Some basket-shaped pastries filled with flowers that have invaded the blogs of many companions lately, so I wanted to try this too, I must say that with questionable results, but it´s the first time and I´m self taught in all aspects, that means I'm learning mainly based on mistakes.
Hacía mucho tiempo ya que no horneaba nada, en realidad el calor infernal que hemos pasado en estas últimas semanas no invitaba mucho a encender el horno, pero ya tenía ganas y había una imagen que me fustigaba incansablemente. Unos pasteles en forma de cesta llena de flores que han invadido los blogs de muchas compañeras ultimamente, así que yo quería intentar esto también, debo decir que con resultados dudosos, pero es la primera vez y yo soy autodidacta en todos los aspectos, eso significa principalmente que voy aprendiendo a base de cometer errores.
Although I can´t complain, because this time I had a excellent assistant , one of my two princesses ... yeah!, until last year I had two sons and now I have two sons and two princesses who are the joy of my family, you know one of them because she´s a part in this blog who is the creative photographer of these images also,
and the other is this that appears here helping with the pastry bag , her name is Antonella.
At this point in my life and I love them two as daughters I never had.
Aunque no me puedo quejar, porque esta vez tuve una ayudante de lujo, una de mis dos princesas... si, hasta el año pasado tenía dos hijos y ahora yo tengo dos hijos y dos princesas que son la alegría de mi familia, una ya la conoces porque participa en este blog , además de ser la creativa fotógrafa de este post y la otra es esta que aparece aquí ayudando con la manga pastelera , se llama Antonella.
A estas alturas de mi vida, ya las quiero a las dos como las hijas que nunca tuve.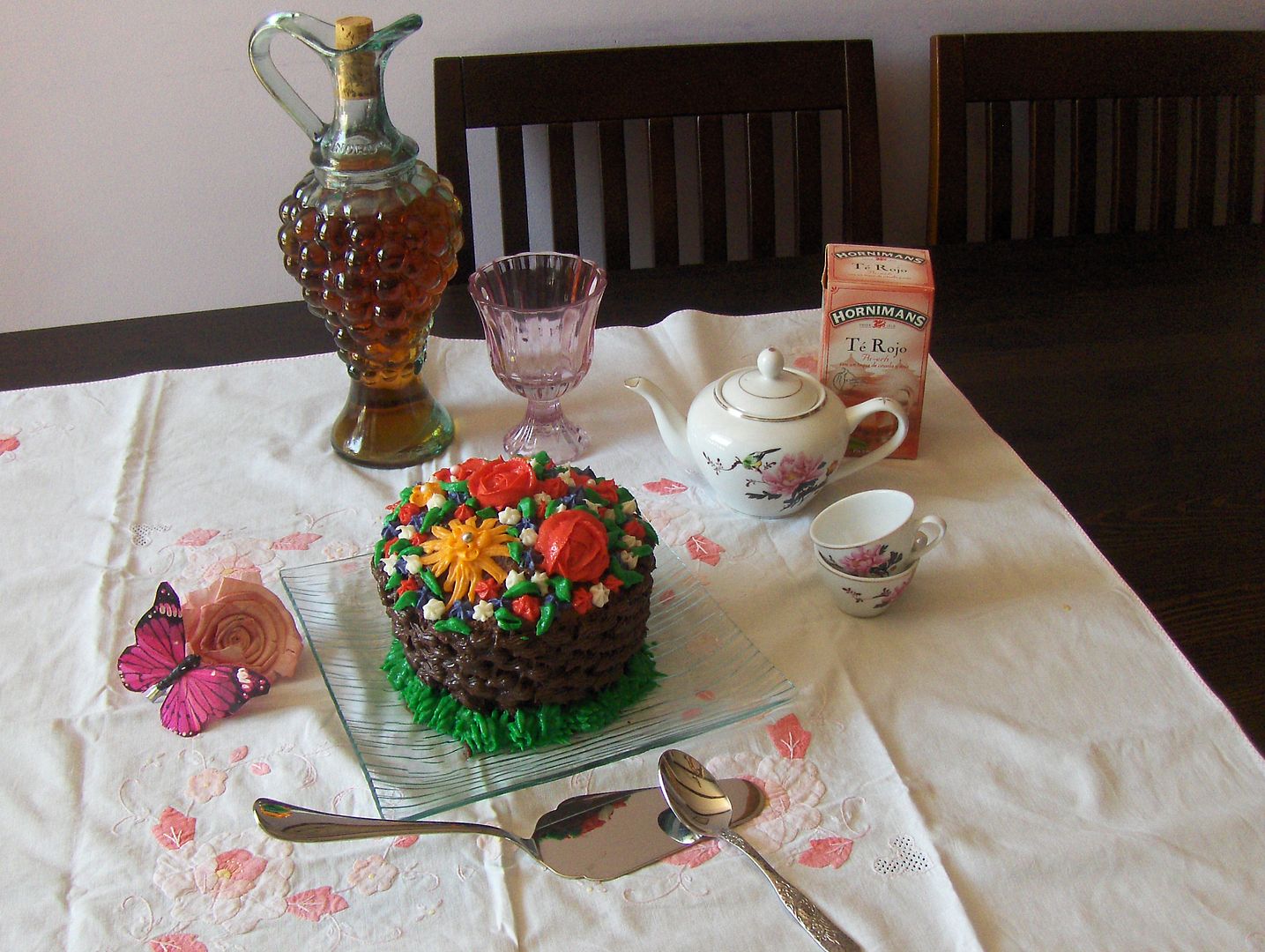 So if you like, go with the recipe, which is basic.
First I made the filling, black chocolate ganache , and cream frosting to cover the cake, so we leave them cooling in the refrigerator while making the cake.
Black chocolate ganache ... 300 gr. black chocolate and 300 grams of whipping cream (35% fat).
Place in a saucepan, heat cream to until it begins to boil, then turn away from heat and add all the chopped chocolate, stir until chocolate is melted and formed the cream, allow to cool. I have assembled the cream once was cold from the refrigerator to use as filler.
Así que si te apetece, vamos con la receta, que es bastante básica.
Primero hice el relleno, Ganaché de chocolate negro, y la crema frosting para cubrir la tarta, así las podemos dejar enfriando en la nevera mientras hacemos el bizcocho.
Ganaché de chocolate negro... 300 gr. de chocolate negro y 300 gr de nata para montar (35% materia grasa).
Poner en un cazo al fuego la nata hasta que comienze a hervir, en ese momento apartamos del fuego y añadimos todo el chocolate troceado, remover hasta que el chocolate se halla fundido y se forma la crema, dejar enfriar. Yo he montado la crema una vez estuvo fría de la nevera para usarla de relleno.
For the frosting, which is coating the cake, I used ....
230 gr butter at room temperature, 340 g cream cheese (Philadelphia) at room temperature also, 3 cups sifted powdered sugar and a teaspoon of lemon essence.
In a bowl, beat butter with electric mixer with the sugar until completely dissolved, then add the cheese and essence and beat on low speed until the cream form, put into refrigerator.
Para el frosting, que es el recubrimiento de la tarta, he usado....
230 gr de mantequilla a temperatura ambiente, 340 gr de queso crema (Philadelphia) a temperatura ambiente también , 3 tazas de azúcar glass tamizado y una cucharadita de esencia de limón.
En un bol, batir con batidora eléctrica la mantequilla con el azúcar hasta la completa disolución, a continuación añadir el queso y la esencia y batir a velocidad baja hasta formar la crema, llevar a la nevera .
The cake ..., 300 gr pastry flour, 200 g butter at room temperature, 200 g sugar, 4 eggs, 1 tablespoon vanilla extract, 10 g of baking powder, 100 ml of milk.
Preheat oven to 180 º C and grease the cake pan. Put the eggs and sugar in a bowl and mix with eletric mixer until sugar is dissolved, add the butter and beat again, then add the flour and yeast screening them in batches, mixing with electric mixer at a time, Finally add the milk and essence and mix well. Pass the resulting mixture to pan and bake for about 35 minutes, until toothpick comes out clean.
El bizcocho, 300 gr de harina repostera, 200 gr de mantequilla a temperatura ambiente, 200 gr de azúcar, 4 huevos, 1 cucharada de extracto de vainilla, 10 gr de levadura en polvo, 100 ml de leche.
Precalentar el horno a 180 ºC y encamisar el molde . Poner los huevos y el azúcar en un bol y mezclar con batidora eléctrica hasta que el azúcar se disuelva, añadir la mantequilla y volver a batir, después añadir la harina y la levadura tamizandolos en varias tandas, mezclando con la batidora eléctrica cada vez, por último añadir la leche y la esencia y mezclar bien. Pasar la mezcla resultante al molde y hornear durante unos 35 minutos, hasta que el palillo salga limpio.
Once baked the cake, let it cool on a rack, cut into layers and fill with the ganache and cover completely with it. So spread the frosting into several bowls to color shades that we use and proceed to the decor.
By the way, if you're wondering ... the other cake was given to some dear friends.
Una vez horneado el bizcocho, dejar enfriar sobre una rejilla, cortar en varias capas y rellenar con el Ganaché y cubrir completamente con él. Entonces, distribuir el frosting en varios cuencos para colorear los distintos tonos que vamos a usar y proceder a la decoración.
Por cierto, si usted se está preguntando... la otra tarta fue regalada a unos queridos amigos.