Lately, there's nothing that makes me happier than sharing illusions, this time I sewed a complete outfit for my youngest son's girlfriend, Antonella.
Ultimamente, no hay nada que me haga más feliz que compartir ilusiones, esta vez he cosido un outfit completo para la novia de mi hijo menor, Antonella.
Four pieces that combine among themselves based on a fabric that she chose from my stash of lycra, the printed fabric is a blend of nylon and lycra with all the pieces that she chose to taste.
Cuatro piezas que combinan entre si mismas partiendo de una tela que ella eligió desde mi stash de lycras, la tela estampada es una mezcla de lycra con poliamida y todas las piezas las eligió ella a su gusto.
There was little of this printed fabric, about half a meter, so after cutting the bikini top, I managed to cut a top with the same fabric that she can use to wearable, as the height of the top not was enough, I removed the hem and sewed into place as ending one stretch lace.
De esta tela estampada no había mucha cantidad, aproximadamente medio metro, así que después de cortar la parte superior del bikini, yo me las arreglé para cortar un top con la misma tela que ella pueda usar para llevar encima, como el alto del top no era suficiente, eliminé el dobladillo y en su lugar le cosí un encaje elástico como terminación.
I used a bakelite ring in the gathering of the top, where the chest dart is collection and repeated the same motif whith a "fake belt" on the culotte to combine everything.
En el frunce del top, donde está recogida la pinza del pecho , yo usé una anilla de bakelita y repetí el mismo motivo con un "falso cinturón" en el culotte para que todo combine.
All parts (except the top) are lined for comfort and avoid unwanted transparencies.
And although summer is advanced, I have in mind I still continue sewing some clothes of this type because that heat always installed in these islands until mid-November
Todas las piezas, excepto el top están forradas para mayor comodidad y evitar transparencias indeseadas.
Y aunque el verano está avanzado , aún tengo en mente seguir cosiendo algunas prendas de este tipo puesto que el calor siempre se instala en estas islas hasta mediados de noviembre.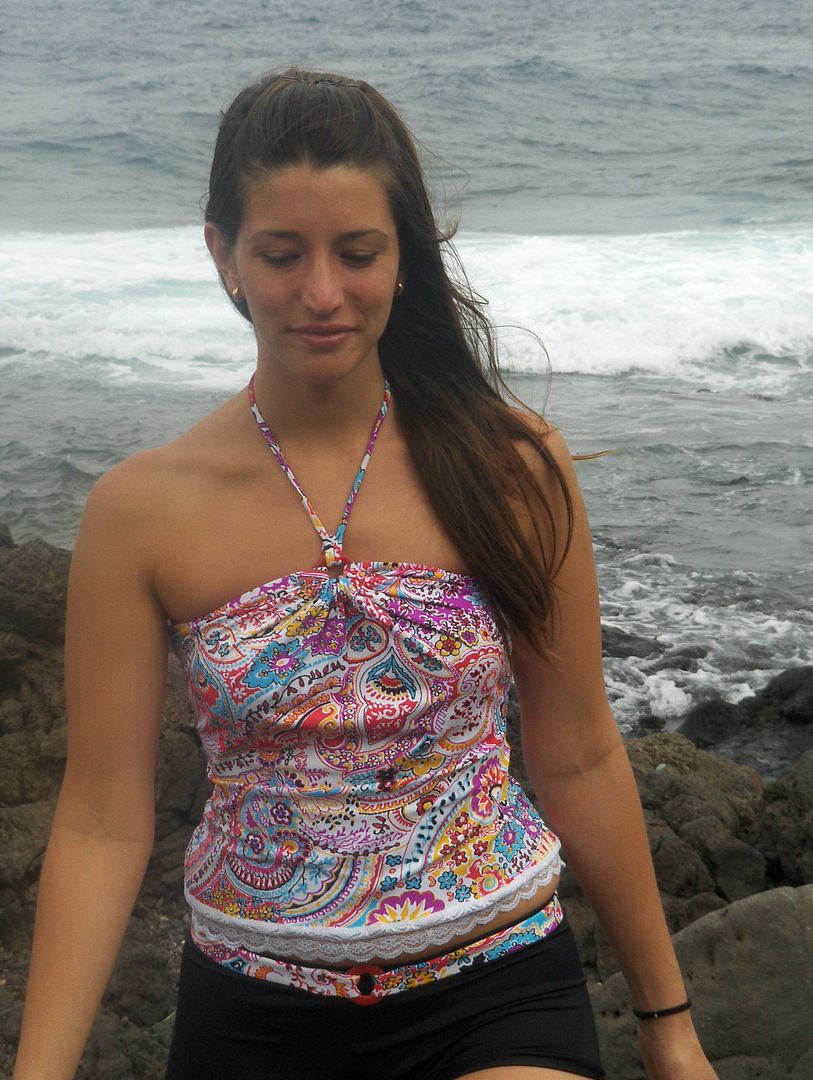 And so, between us ... distribute this type of happiness among loved ones is so rewarding!
Y así, entre nosotras... repartir este tipo de felicidad entre los seres queridos es tan gratificante!