If you've followed this blog for a while, then you know my love altered patterns that I select to become a dress with unique personal style.
Si has seguido este blog desde hace algún tiempo, sabrás mi afición a transformar los patrones que voy seleccionando para convertirlos en un vestido personal y con estilo propio.
The first image is the technical drawing of the model chosen, the second image corresponds to a pattern MacCalls, 4417. probably from the 50s, my favorite fashion season, Can you find the similarity between the two front necklines?
Well, I want a "hybrid" of these two beautiful patterns ... to start I have the Burda pattern and start the process
La primera imagen corresponde al dibujo técnico del modelo elegido, la segunda imagen corresponde a un patrón de MacCalls, 4417. probablemente de la década de los 50, mi época de moda favorita, Encuentras la similitud entre los dos escotes delanteros??
Pues yo quiero un "híbrido" de estos dos hermosos patrones... para empezar tengo el patrón de Burda y comienzo el proceso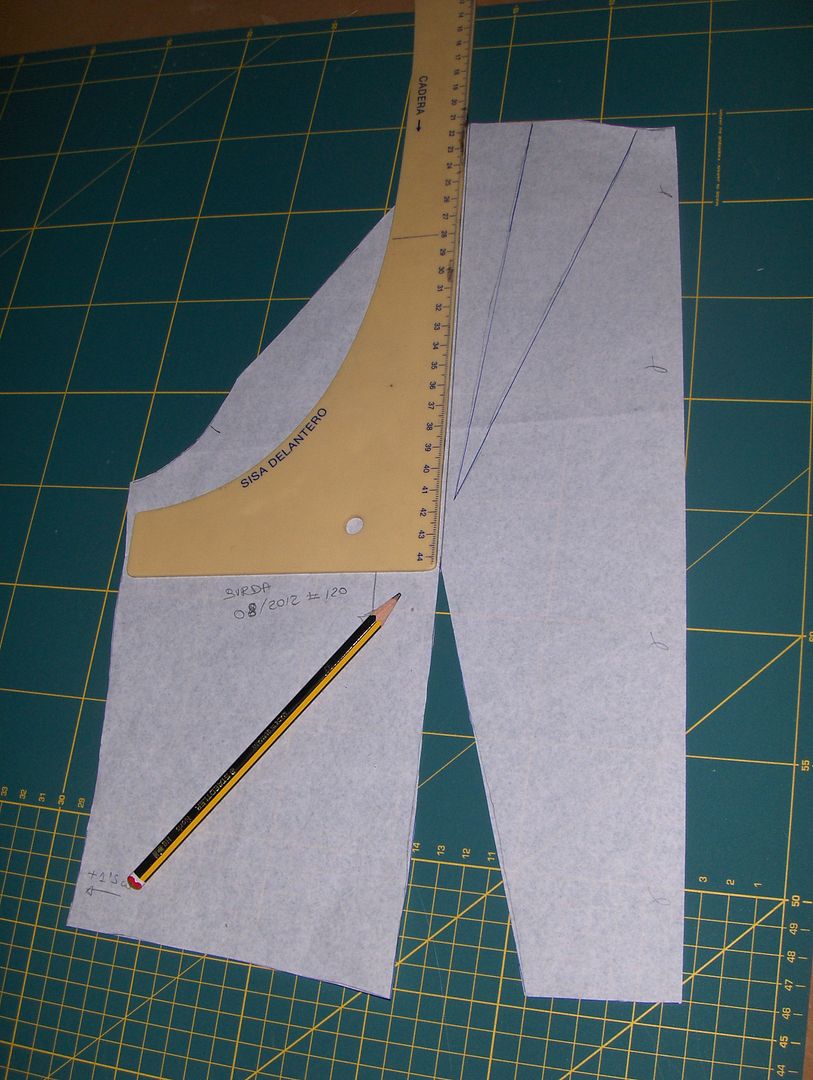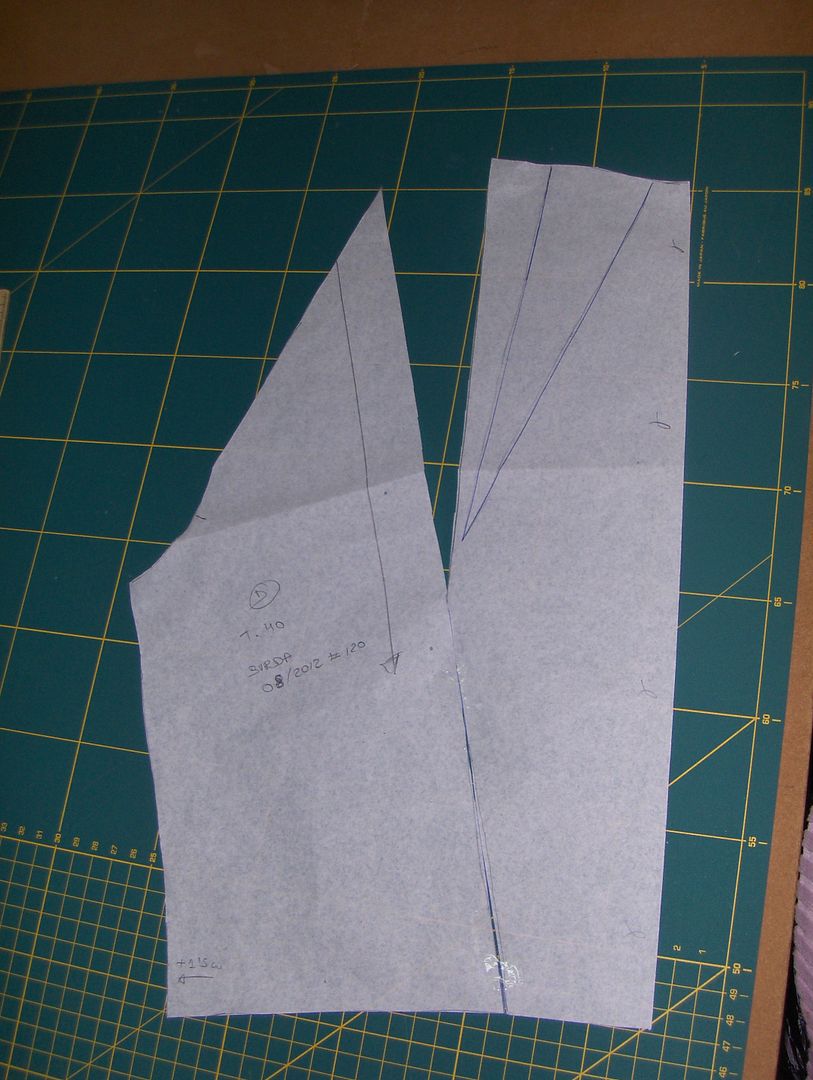 This is the front of the body, the dart above is the neckline fold, and I need two folds, so I cut the notch dart waist and from the apex drew a line with the rule that ends at the end neckline, then cut by the new line and close the previous dart waist and "voila"! I have the second fold at the neckline.
Este es el delantero del cuerpo, la pinza que hay arriba es el pliegue del escote y yo necesito dos pliegues, así que recorto la pinza de entalle de la cintura y desde el vértice trazo una linea con la regla que termina en el extremo del escote, después corto por esa nueva linea y cierro la anterior pinza de cintura y "voilá"! ya tengo otro pliegue en el escote.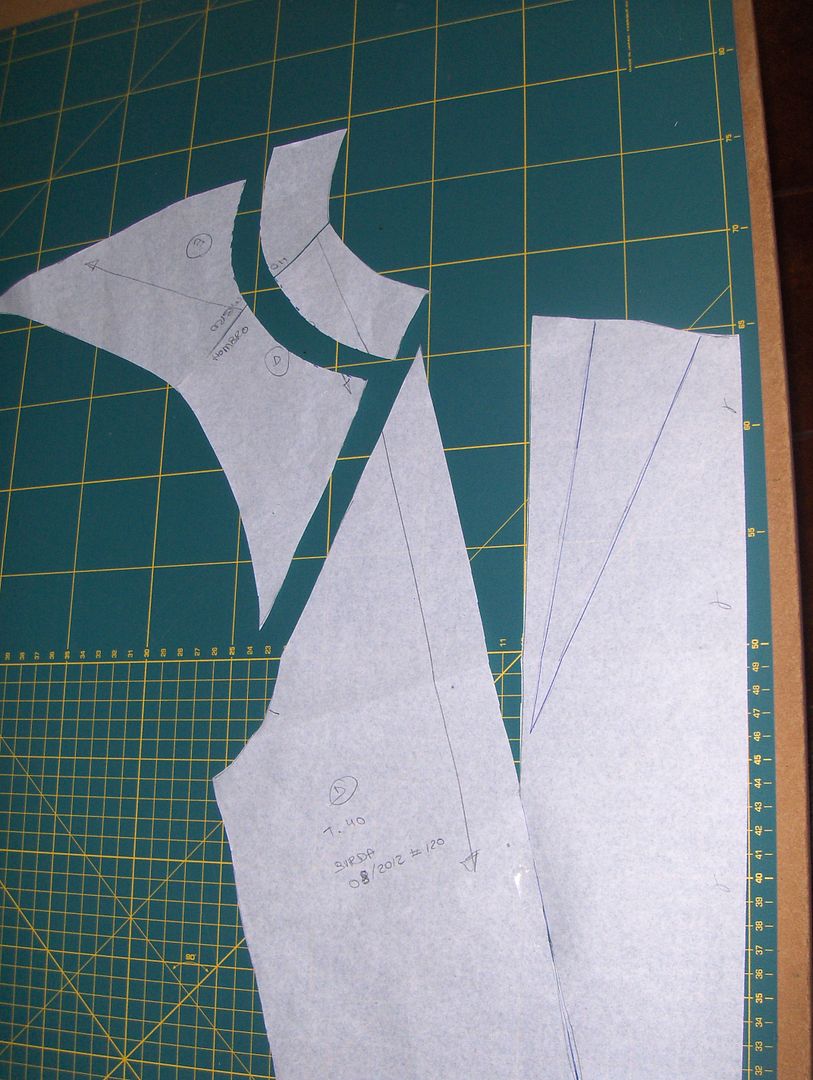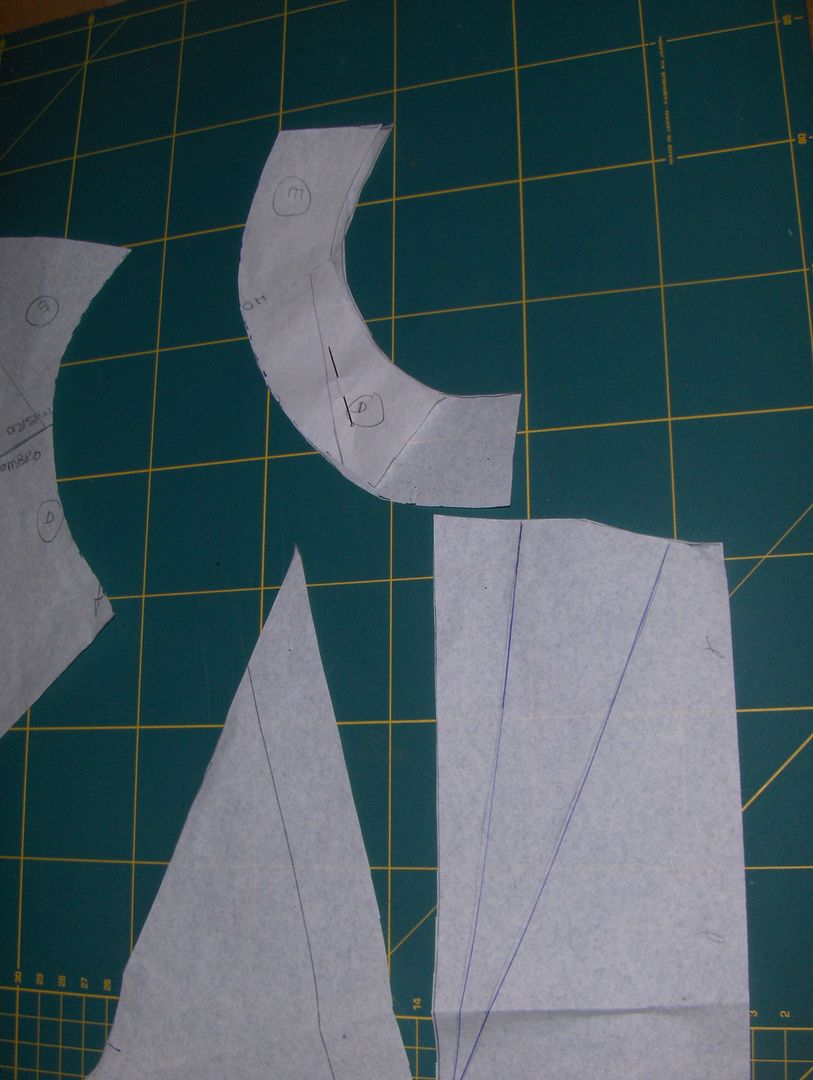 The next step is to put together the two pieces front and back shoulder and draw a line around the contour following about four centimeters from the line of neckline this piece will be what I use on my shoulders, the rest is the waste, only I have extended this piece a few inches to resemble to the image vintage McCalls pattern.
El siguiente paso es unir las dos piezas de hombro delantero y espalda y dibujar una linea siguiendo todo el contorno a unos cuatro centímetros de la linea de escote, esta pieza será lo que voy a usar sobre mis hombros, el resto los deshecho, Solamente me queda alargar esta pieza unos centímetros más para que se asemeje a la imagen del patrón vintage de McCalls.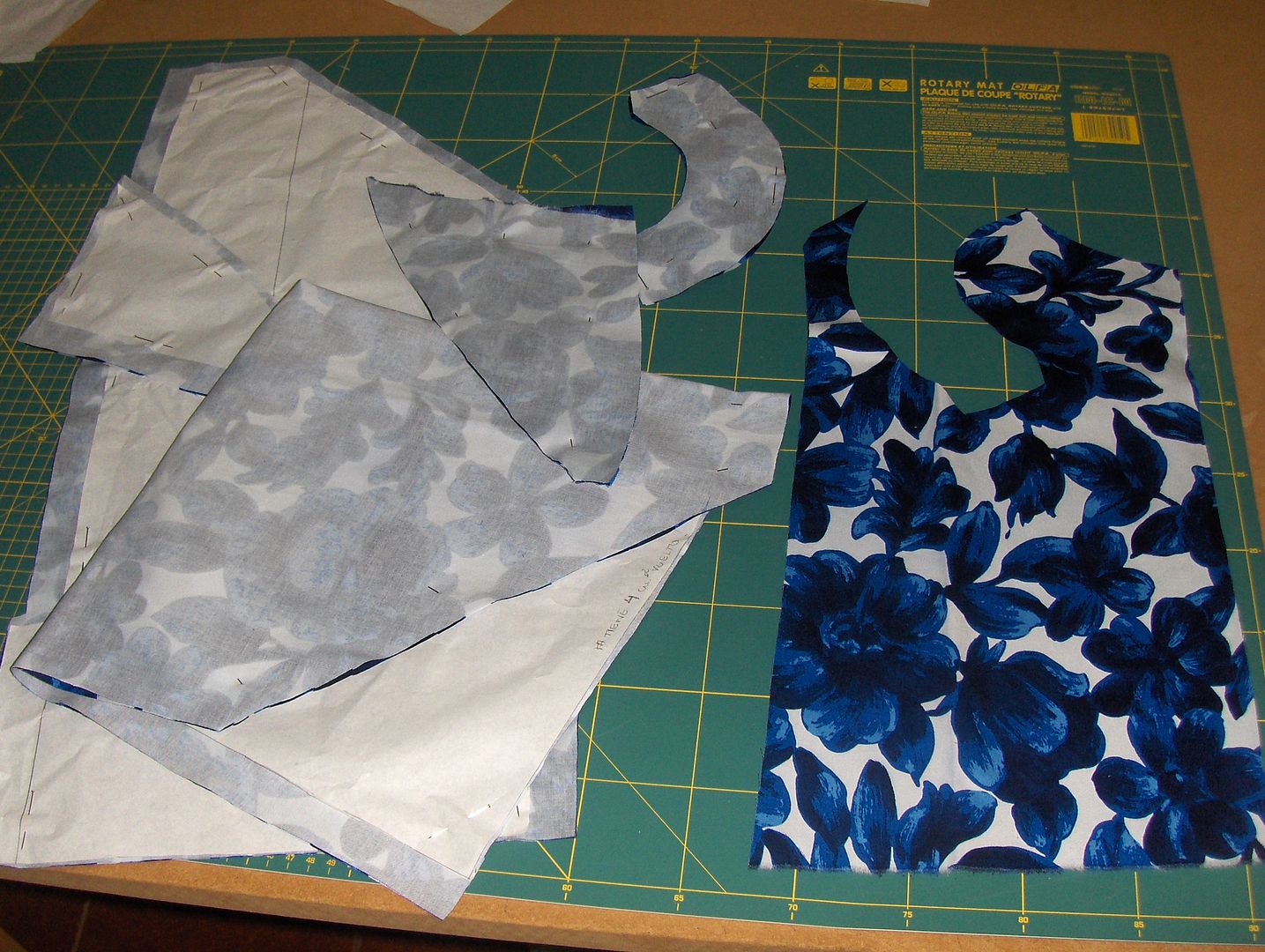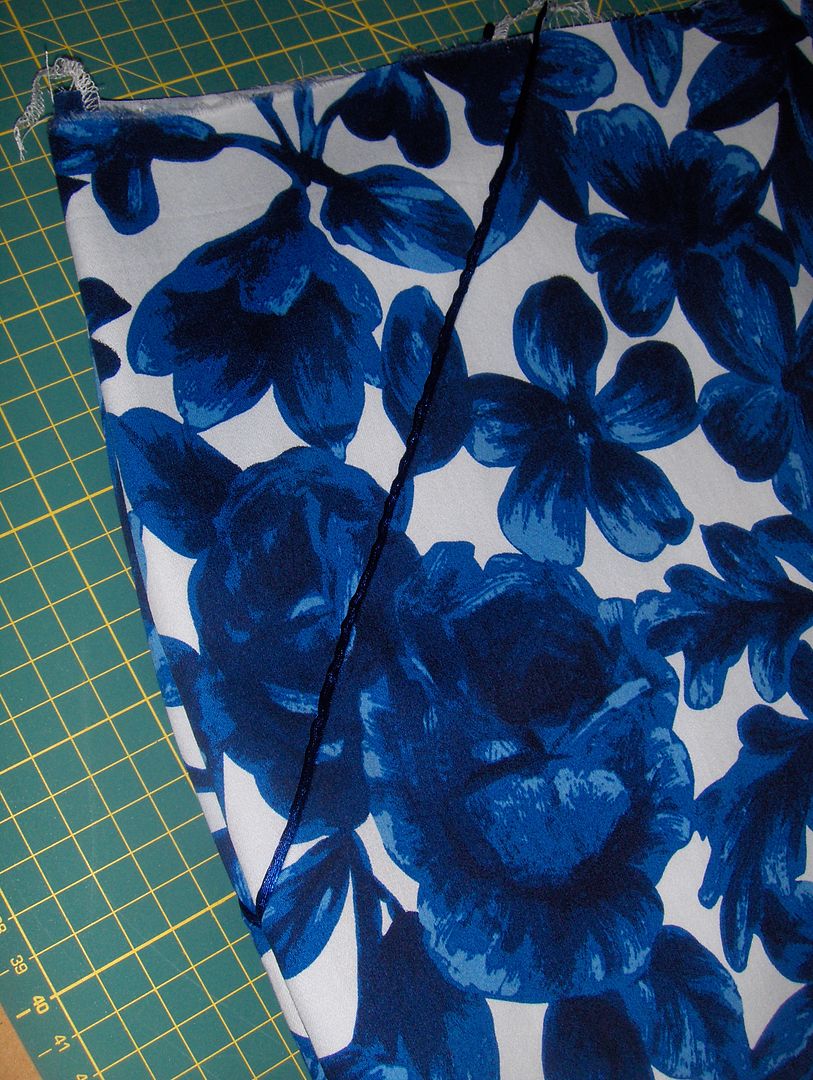 The theme of the fabric is another matter of "hybrid" too (Do you suspect what will be the name of this dress?).
Fell in love with this cotton fabric with spandex, but only 0.66 inches of it was in the shop, so I'll make the skirt and neck with it and the rest with white fabric, the body will surely add some blue flower from residues of fabric to decorate it. After cutting the pieces, that bit is in the first picture is the only thing left over. In the second picture you can see the cut that has the skirt on the bodice, this hides the dart cut hip, is very clever and so beautiful that I did not want to go unnoticed, so I interjected a cord blue at the seam to accentuate it.
El tema de la tela es otro asunto de "híbrido" también (sospechas cuál va a ser el nombre de este vestido?).
Me enamoré de esta tela de algodón con elastán, pero en la tienda solamente quedaba 0,66 centímetros, así que voy a hacer la falda del vestido y el cuello con ella y el resto con tela blanca, seguramente le añadiré al cuerpo alguna flor azul de los restos de la tela para adornarlo. Después de cortar las piezas, ese trozo que hay en la primera foto es lo único que sobró. En la segunda foto se puede ver el corte que tiene la falda en el canesú, este corte esconde la pinza de cadera, es muy ingenioso y tan bonito que yo no quería que pasara desapercibida, así que interpuse un cordoncillo azúl en la costura para acentuarlo.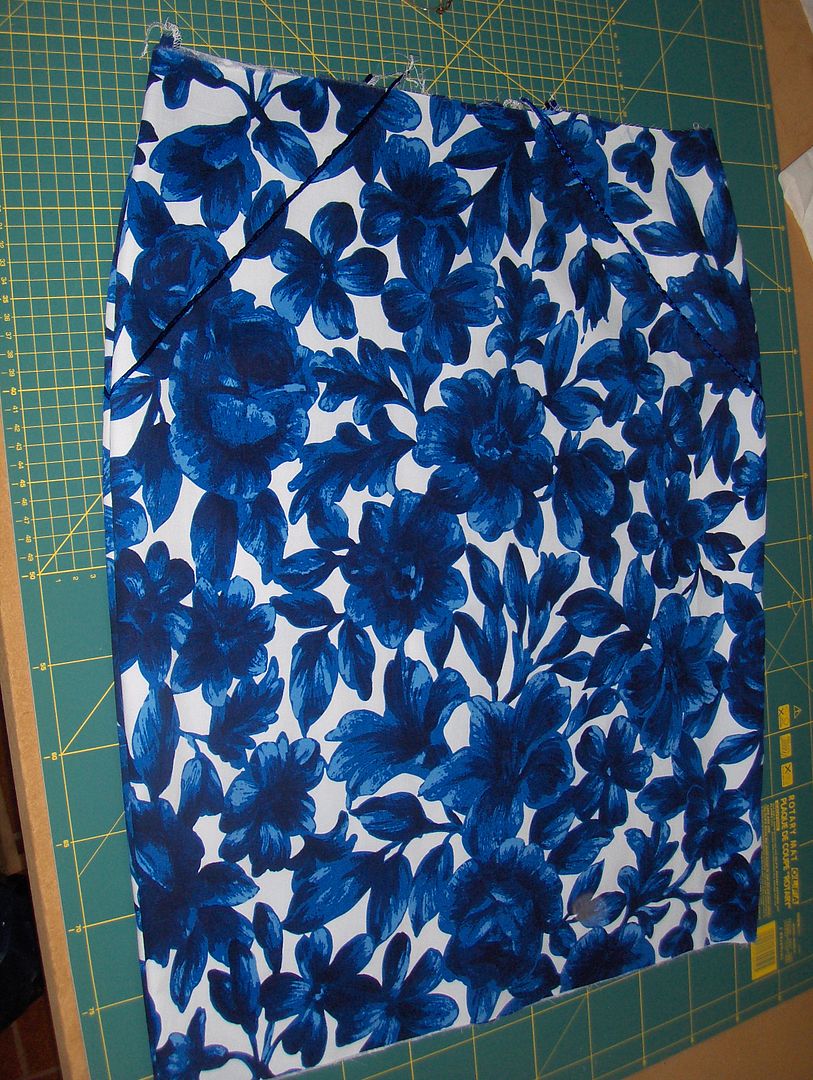 For now I have this, a flowered skirt, so I'll take the afternoon to try to continue with the body of the dress, because I really wanted to use it and there is still a lot of summer around here, usually the cold is felt in mid-November, so hopefully still enjoy it a lot this year.
If all goes well, there will be more progress with pictures and explanations about this "hybrid dress."
Until then, Happy sewing!
Por ahora esto es lo que tengo, una falda llena de flores , así que voy a aprovechar la tarde para intentar seguir con el cuerpo del vestido, porque tengo muchas ganas de usarlo y aún queda mucho verano por aquí, normalmente el frío se deja sentir a mediados de noviembre, así que espero disfrutarlo mucho este año aún.
Si todo va bien, pronto habrá más adelantos con fotos y explicaciones sobre este "vestido híbrido".
Hasta entonces, Feliz costura!!