That is ... we direct toward our goal .. and our goal now is to rectify the neckline of our pattern, so let it ... This post is a step by step explaining all the modifications I made in the original pattern to close the neckline Burdastyle with idea of ​​sewing a small neck after .. Here we go ...
Eso es... vamos directas hacia nuestro objetivo.. y nuestro objetivo ahora es rectificar el escote de nuestro patrón, así que vamos a ello... esto es un post aclarando paso por paso todas las modificaciones que yo hice en el patrón original del Burdastyle para cerrar el escote con idea de coser un pequeño cuello después.. Vamos allá...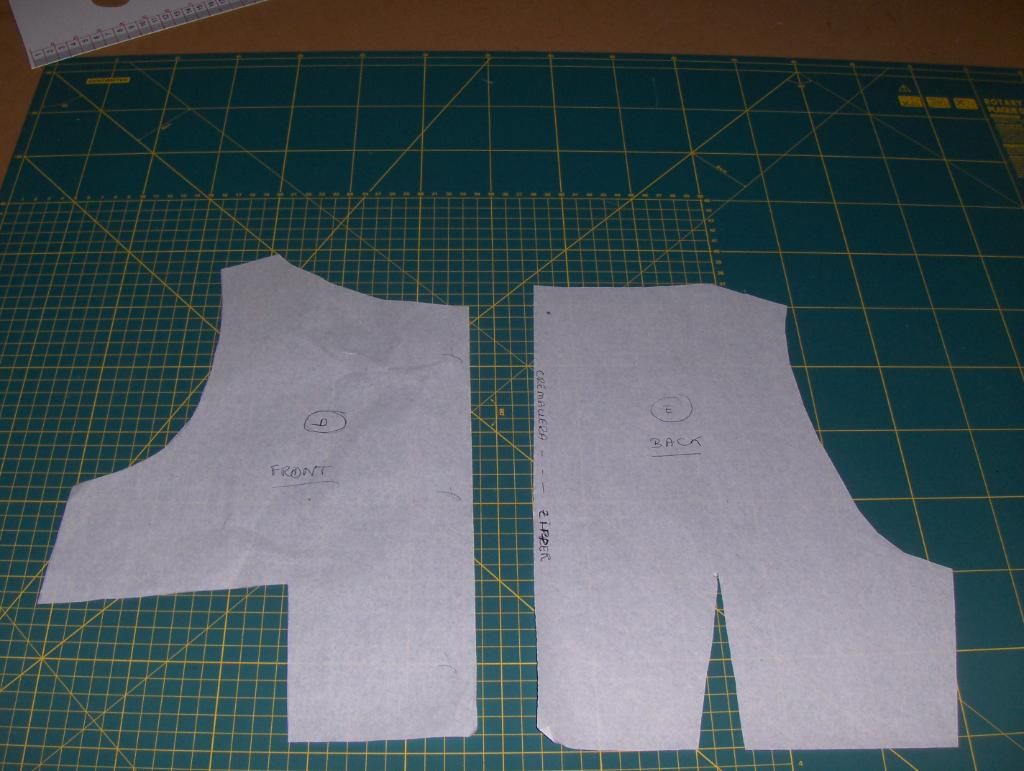 The first photo shows the pattern as we get it from Burdastyle magazine, we start with the front pattern, put a piece of paper under the neckline area and hold them with pins.
La primera foto muestra el patrón tal y como lo obtenemos desde la revista Burdastyle, comenzamos con el patrón delantero, colocamos un trozo de papel debajo de la zona del cuello y sujetamos con alfileres.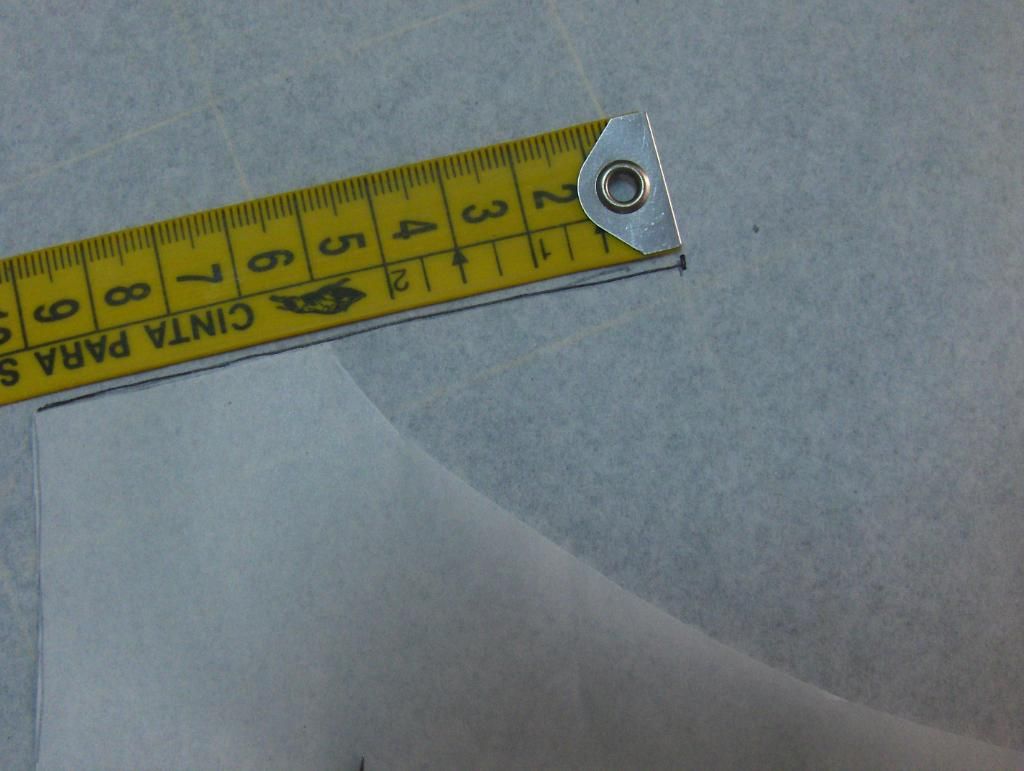 In the photos shown as I lengthened five centimeters from the shoulder seam line toward the neckline
En las fotos se muestra como he alargado cinco centímetros la linea de costura del hombro en dirección hacia el cuello.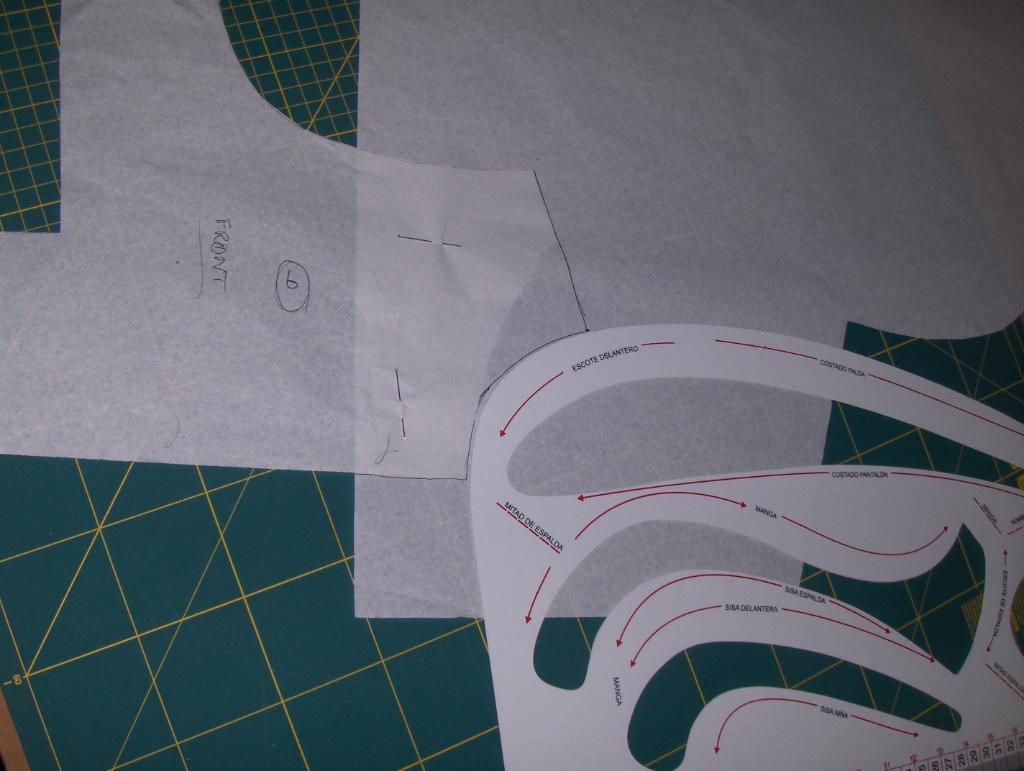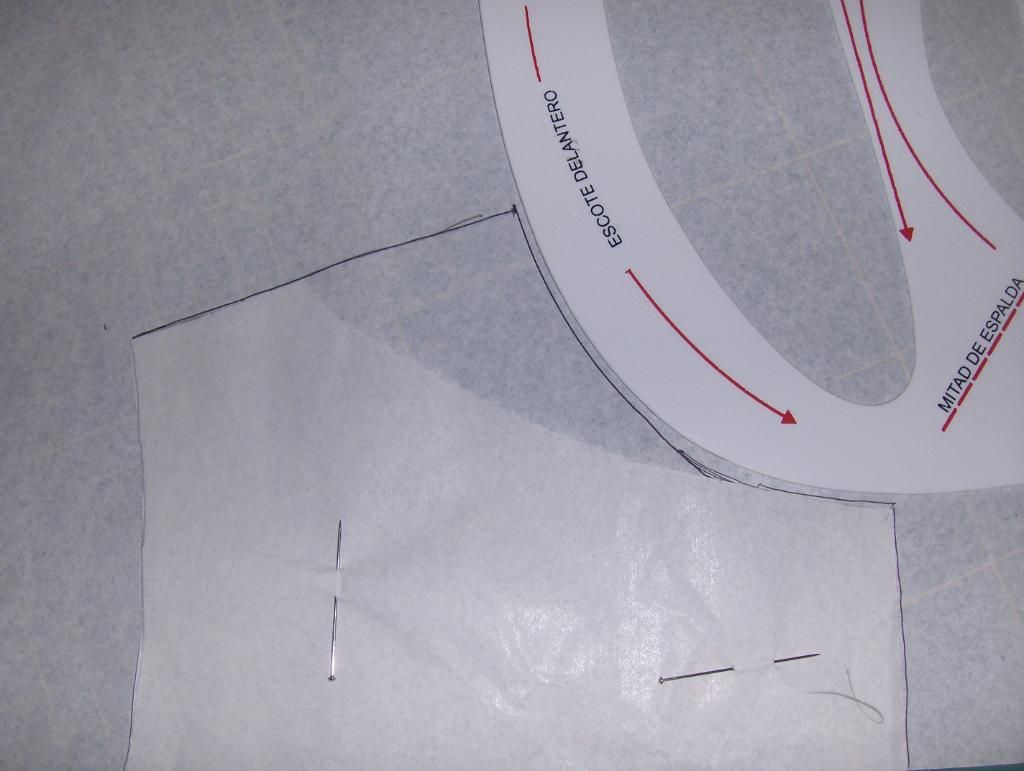 Using the rule curve, we draw (or failing that, draw freehand) front neckline, as shown in the photos.
Usando la regla curva dibujamos (o en su defecto, dibujar a mano alzada) la linea del escote delantero, tal y como muestran las fotos.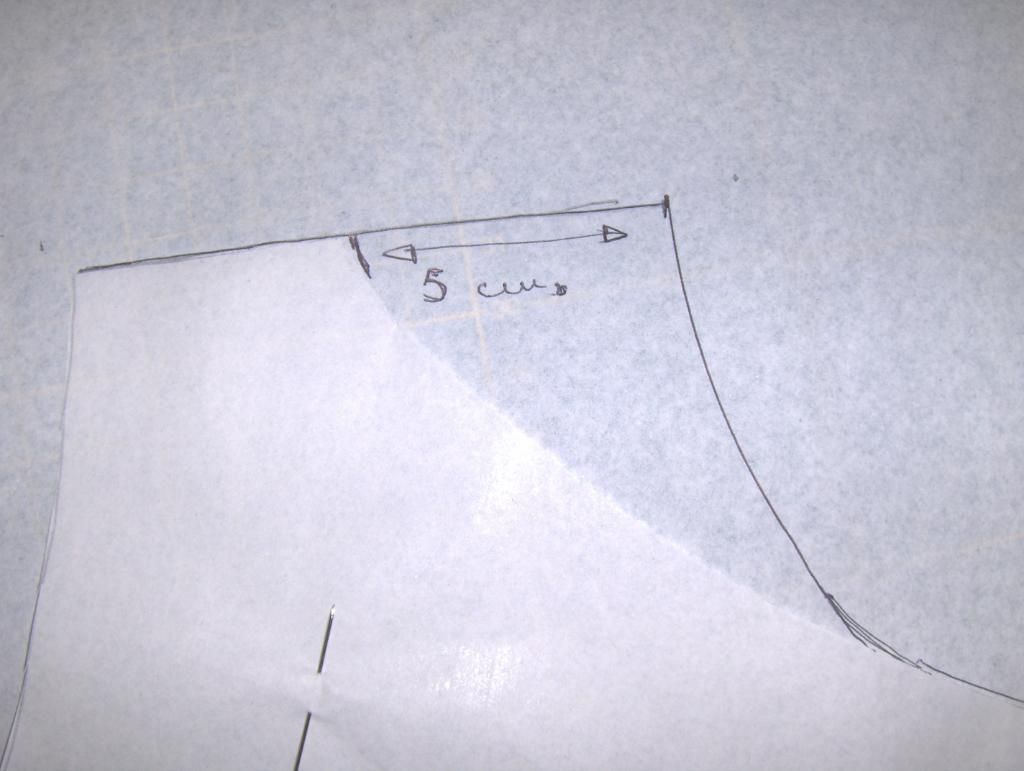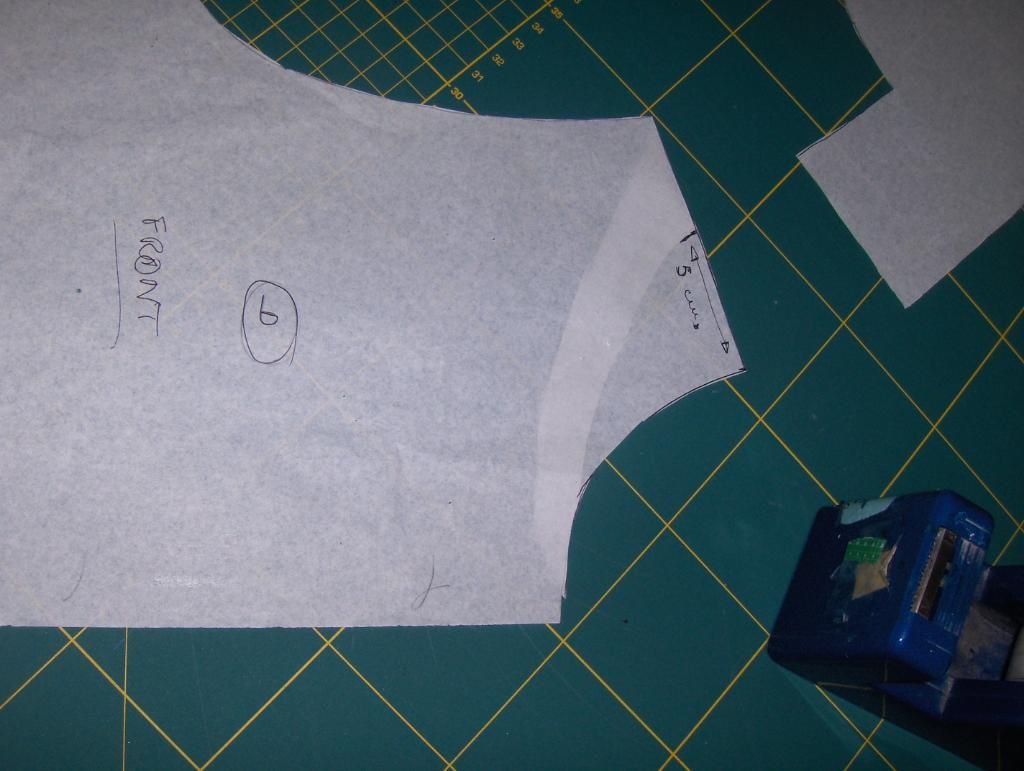 Attach the pattern and the paper added with tape, and cutting the new line of neckline we now have the new front neckline finished pattern.
Pegar con cinta adhesiva el patrón y el añadido y recortar la nueva linea de escote, ahora tenemos el nuevo escote del patrón delantero terminado.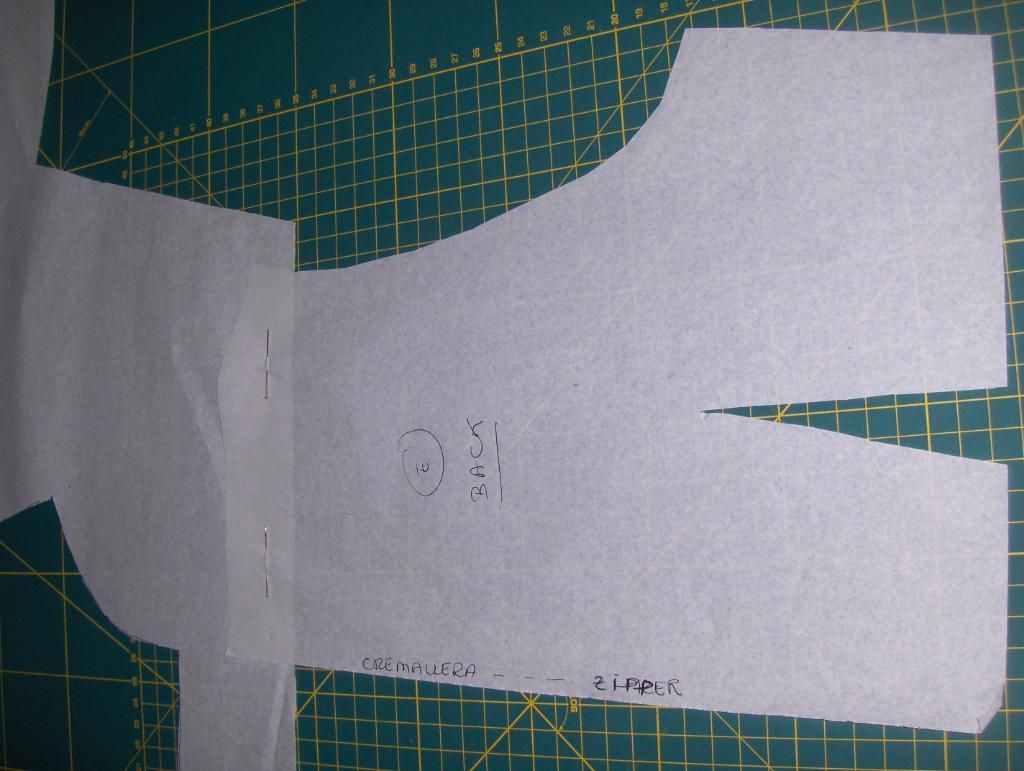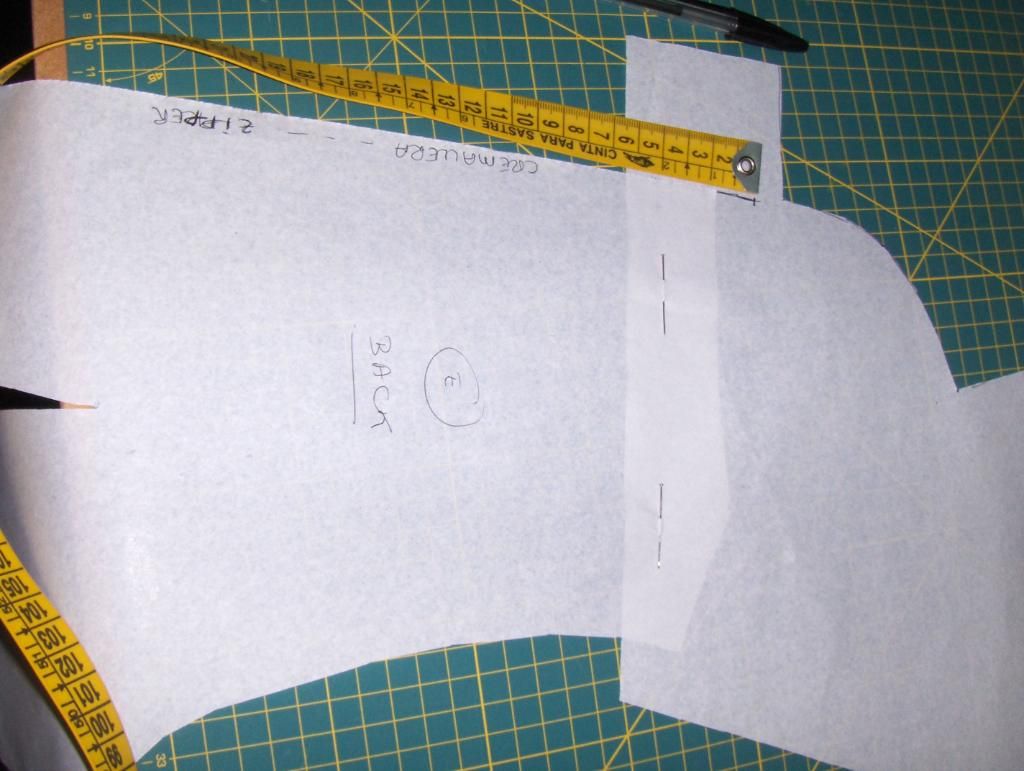 Now on to the pattern of the back ... put a piece of paper under the neckline area and hold them with pins, went up two centimeters in the center line back upward (if you're using a size smaller than the pattern size 40, up only a centimeter)
Ahora vamos con el patrón de la espalda... colocamos un trozo de papel debajo de la zona del cuello y sujetamos con alfileres, subimos dos centímetros en la linea del centro espalda hacia arriba, (si estás usando una talla de patrón menor de la talla 40, sube solamente un centímetro)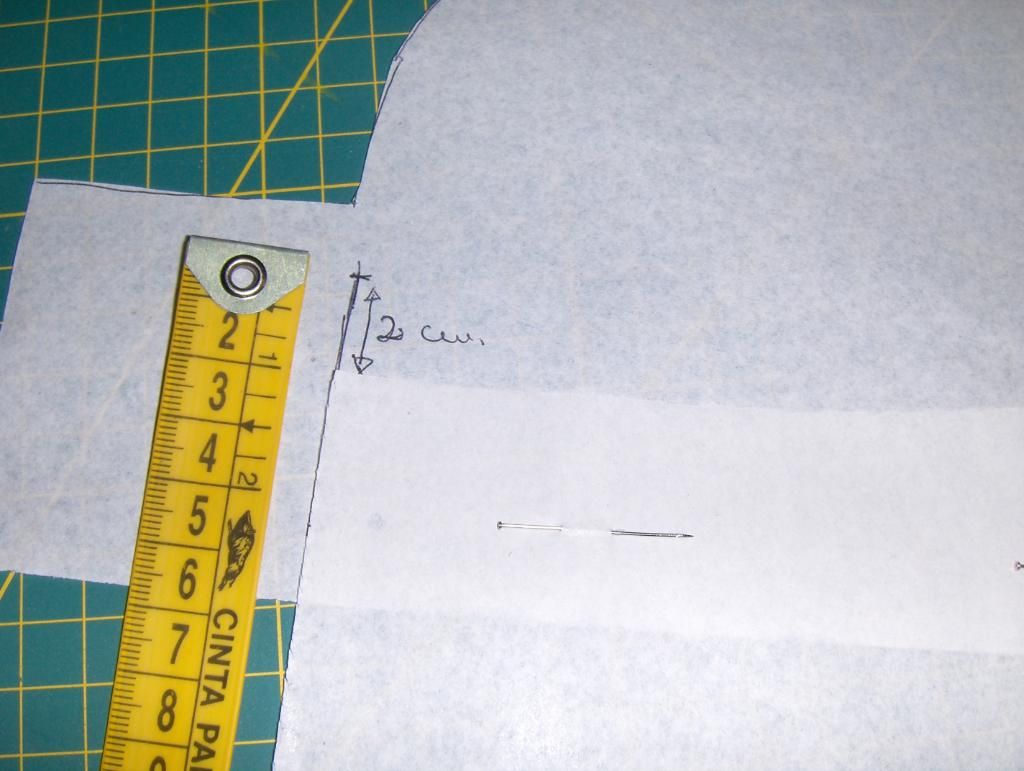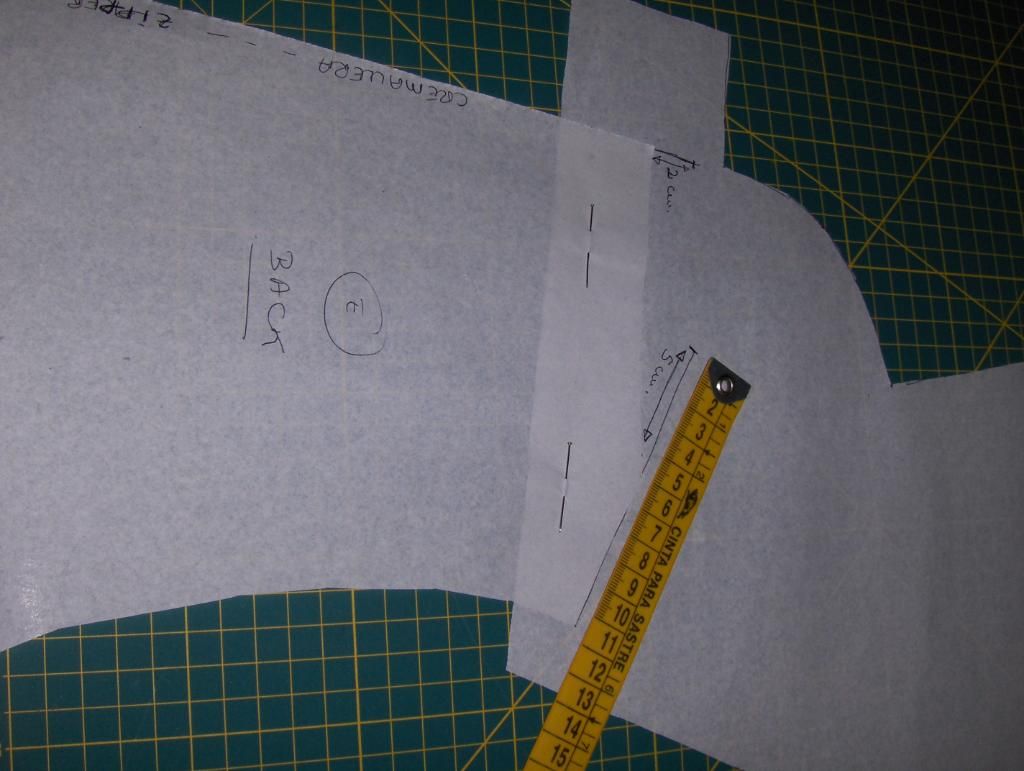 The first photo shows up close two centimeters from the center back, then you have to extend the line of the shoulder seam five centimeters to the neck line (as we did before with the front pattern)
En la primera foto se muestra desde cerca los dos centímetros del centro espalda, después hay que alargar la linea de la costura del hombro cinco centímetros hacia el cuello (igual que hicimos antes con el delantero)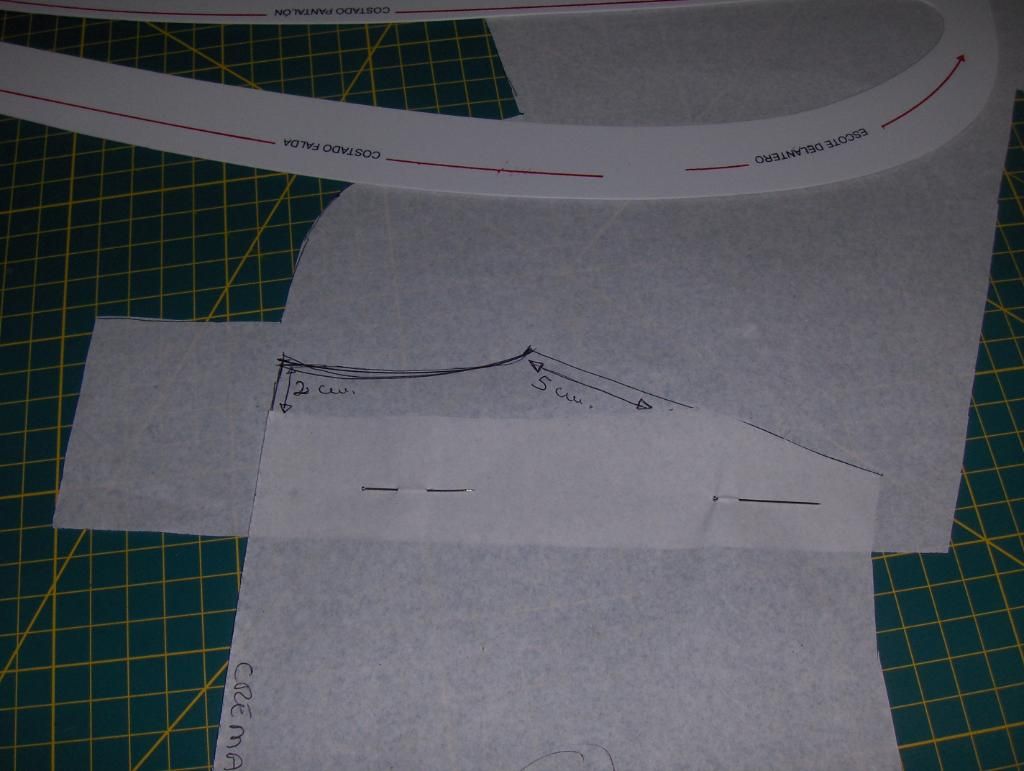 Draw the new line neckline, uniting with the rule (or freehand with a smooth curve)
Dibujamos el nuevo escote de la espalda uniendo con la regla (o a mano alzada con una suave curva)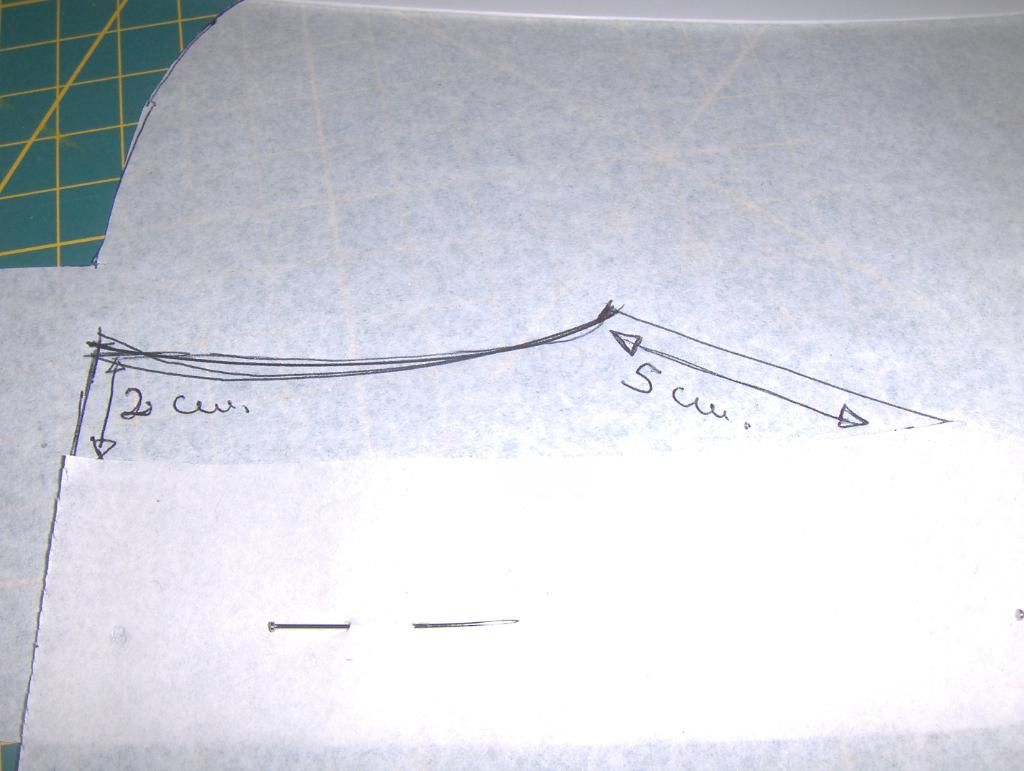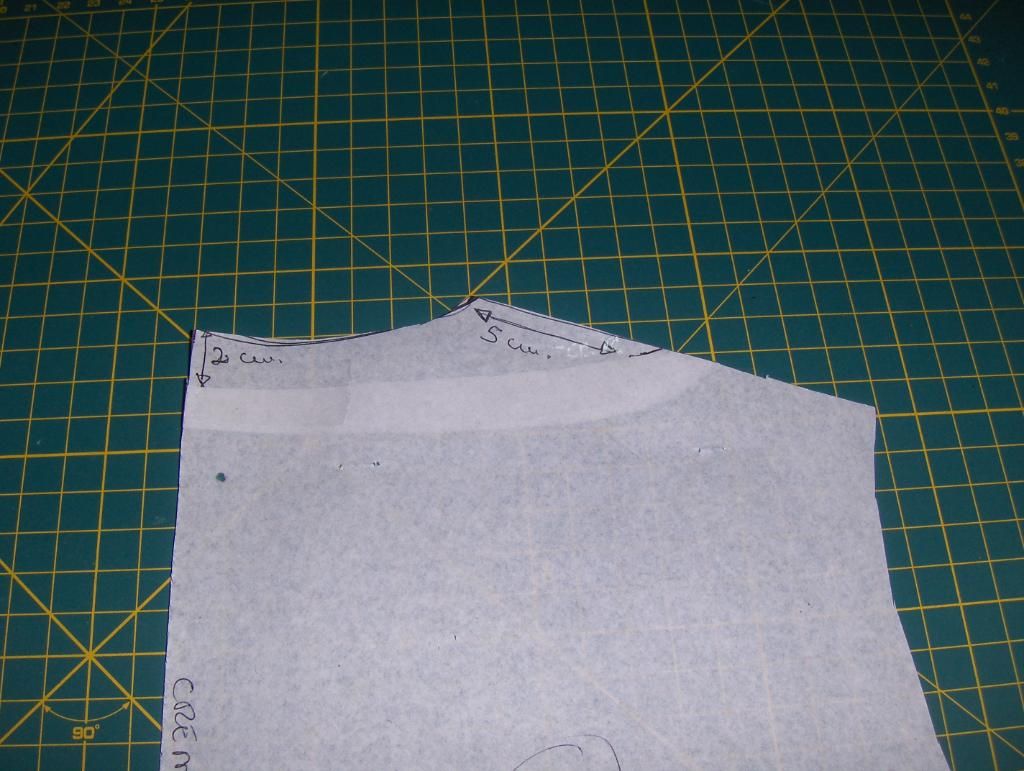 Paste the pattern back to the piece of paper that has served to draw the neckline and cut again by the new line, we have our new necklines finished ...
Pegamos el patrón de espalda al trozo de papel que nos ha servido para dibujar el nuevo escote y recortamos por la nueva linea, ya tenemos nuestros nuevos escotes terminados...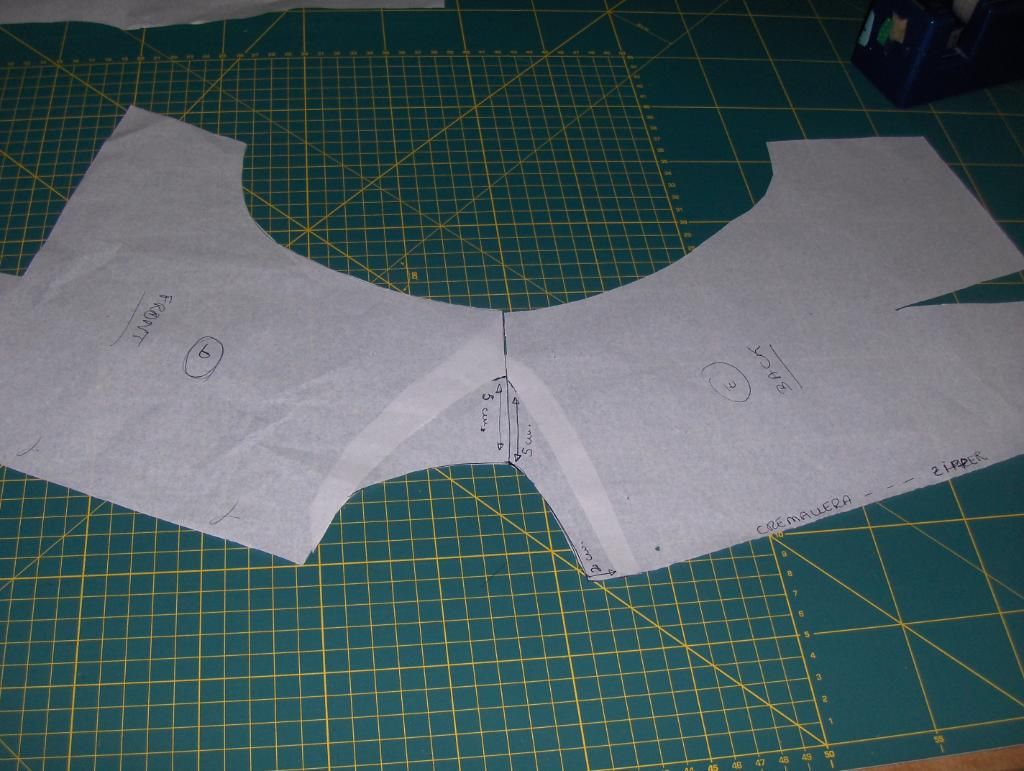 And now we only need to check that the two lines of the front and back shoulders have equal measure. Finished! It was not complicated, right?
Okay, one last thing for today ... This pattern Burdastyle arrives (in the magazine) to size 42 ... If your size is larger than this ... do not worry, tomorrow if no setback, I'm going up a post to show you how to scale patterns. I need you to stay with us in this project!
Do not take your eyes off your goal
!
Y ya solamente nos falta comprobar que las dos lineas de los hombros del delantero y espalda tienen igual medida. Terminado!! No ha sido complicado, verdad??
Bien, una última cosa por hoy... este patrón del Burdastyle llega (en la revista) hasta la talla 42... si tu talla es más grande que esta... no te preocupes, mañana si no hay contratiempo, yo voy a subir un post para mostrarte cómo escalar los patrones, no quiero que te quedes fuera de este proyecto por nada del mundo!
No quites la vista de tu objetivo!!