Bake sweet-looking "different" is becoming lately in all a rewarding experience we enjoyed at home planning the next challenge of making a cake with this or that appearance, on any topic, anything goes as long as the whole family is overturned in research, plan, seek the necessary food that could be used to achieve the desired effect and of course, decorate the cake.
Hornear dulces con apariencia "diferente" se está convirtiendo ultimamente en toda una experiencia gratificante, en casa disfrutamos mucho planificando el siguiente reto de hacer una tarta con esta o aquella apariencia, de cualquier tema, todo es válido siempre que toda la familia esté volcada en investigar, planificar, buscar los alimentos necesarios que podríamos usar para conseguir el efecto deseado y por supuesto, decorar la tarta.
This was the proposed this past weekend, making a very sweet Dalek! For if you are not very aware of the theme, Daleks are the rivals of Doctor Who, a British TV series ... When you see some episodes of this show is impossible not to "fall in love" with these little aliens wanting to EX-TER-MI-NAR everything caught in its path.
Este era la propuesta de este fin de semana, hacer un Dalek muy dulce!! Por si no estás muy enterado del tema, los Daleks son los eternos rivales del Doctor Who, una serie de TV inglesa... Cuando ves algunos capítulos de esta serie es imposible no "enamorarte" de estos pequeños alienígenas con deseos de EX-TER-MI-NAR todo lo que pillan a su paso.
To begin the project, we prepare a "Red Velvet", the taste and texture of this recipe makes a cake exquisite, to get the structure of the Dalek, Eliana and I baked the cake in two twins pudding molds, the night before we had prepared the frosting by mixing 1/4 kg. soft butter 340 g cream cheese, three cups of powdered sugar and two tablespoons of lemon essence, add the food coloring and let stand overnight.
Para empezar el proyecto, preparamos un "Red Velvet", su sabor y textura hace de esta receta un dulce exquisito, para conseguir la estructura del Dalek, Eliana y yo horneamos el bizcocho en dos moldes de flan gemelos, la noche anterior habíamos preparado el frosting mezclando 1/4 kg. de mantequilla blanda con 340 gr de queso crema, tres tazas de azúcar glas y dos cucharadas de esencia de limón, añadimos el colorante y dejamos reposar hasta el día siguiente.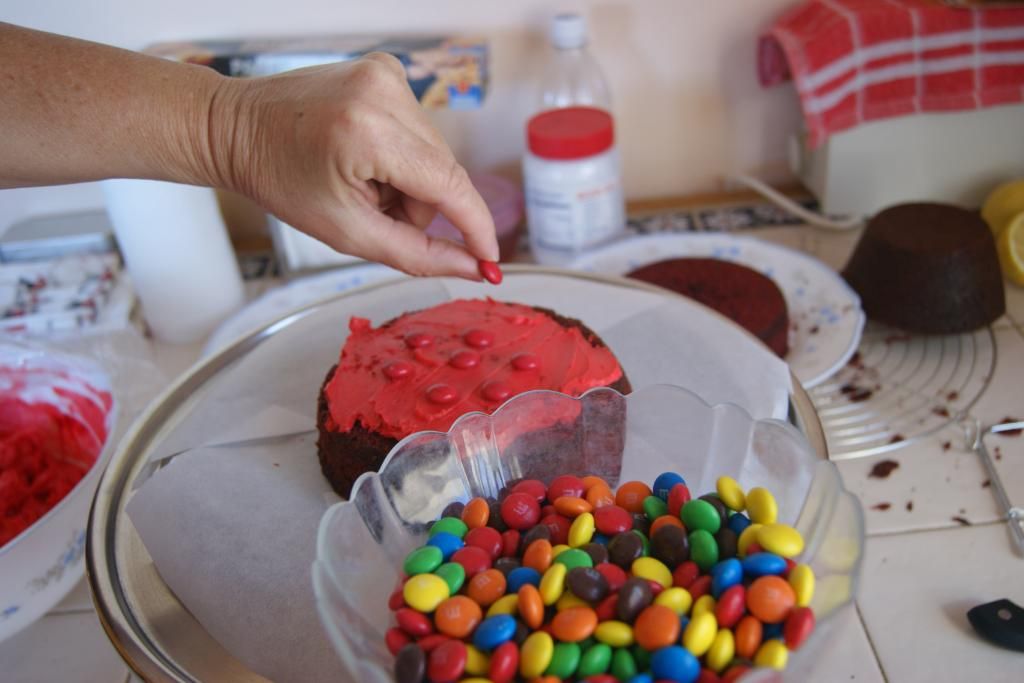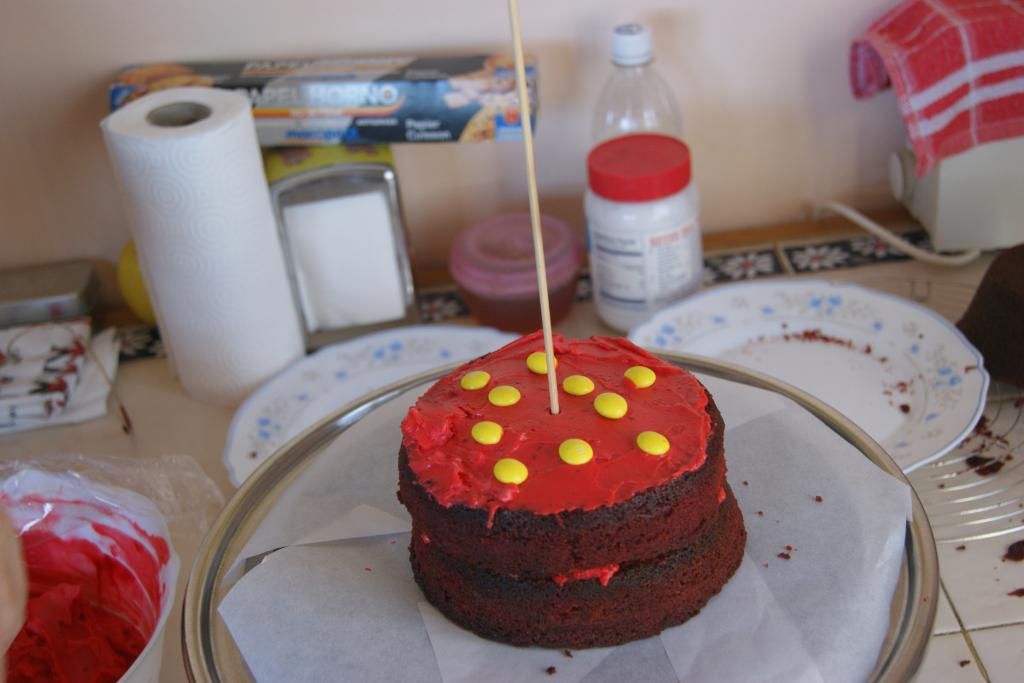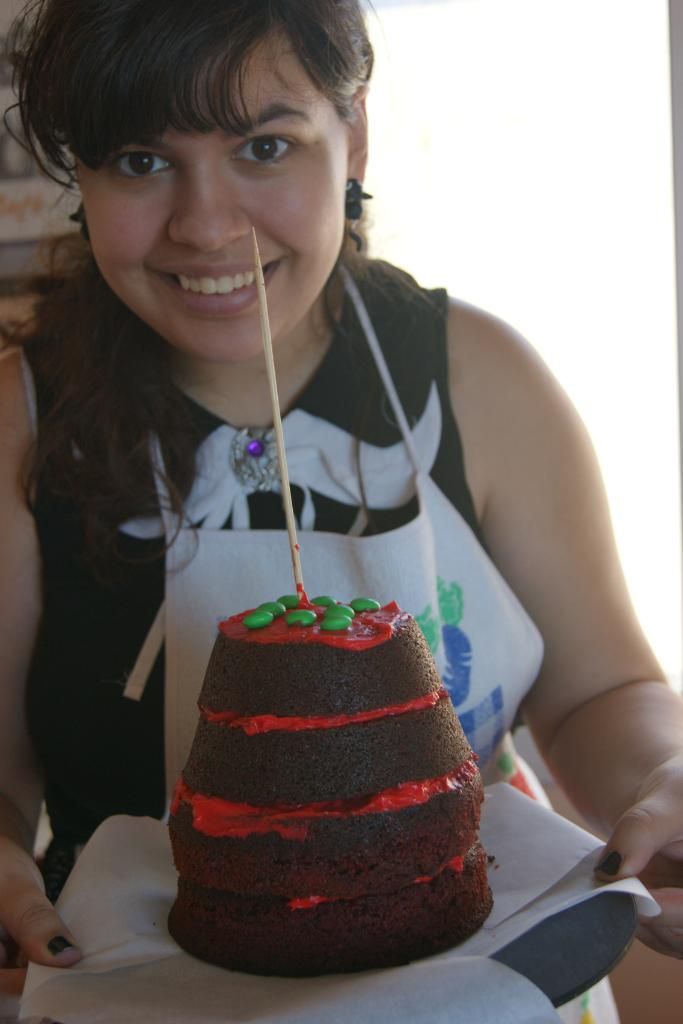 We filled four layers of red velvet cake putting different colored Smarties within each layer. From the second layer we planned to go "digging" the layers of cake on a skewer stick so the cake hold out up without crumbling.
Hemos rellenado cuatro capas de bizcocho red velvet poniendo dentro de la crema Smarties de diferentes colores en cada capa. Desde la segunda capa teníamos previsto ir "clavando" las capas de bizcocho en un palo de brocheta para que el pastel aguantara la altura sin desmoronarse
.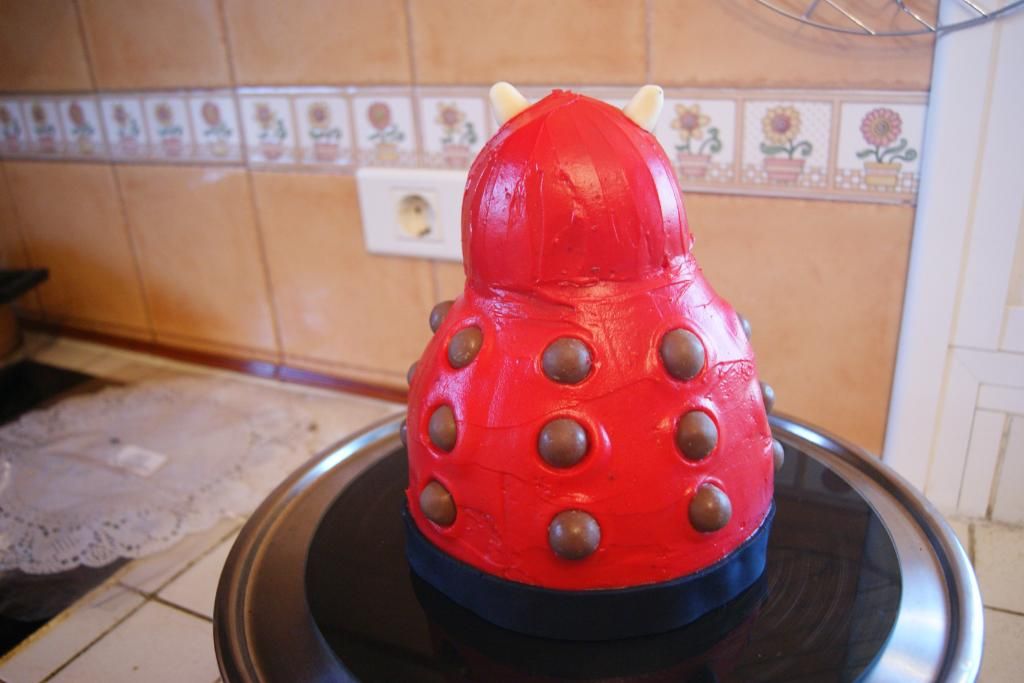 After placing the top, began work perfectly cover and decorate it with frosting. To simulate the bubbles from the "body", we used Maltesers halved.
Después de colocar la parte superior vino el trabajo de cubrir perfectamente con el frosting y decorar. Para simular las bolitas del "cuerpo" , hemos usado Maltesers cortados por la mitad.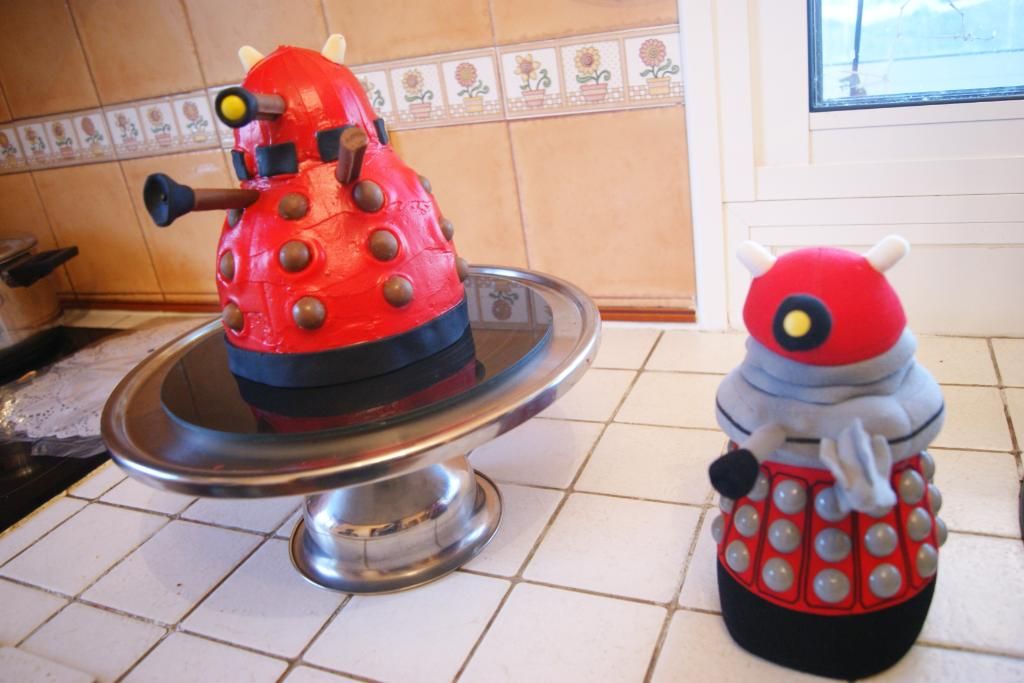 And the rest of the "accessories" are smarshmallows sticks covered with chocolate and black fondant (I have to thank Eliana has been charged with the thankless task of coloring the fondant!)
Y el resto de los "accesorios" son palitos de nubes cubiertos de chocolate y fondant negro (Tengo que agradecer a Eliana de haberse encargado de la ingrata tarea de colorear el fondant!)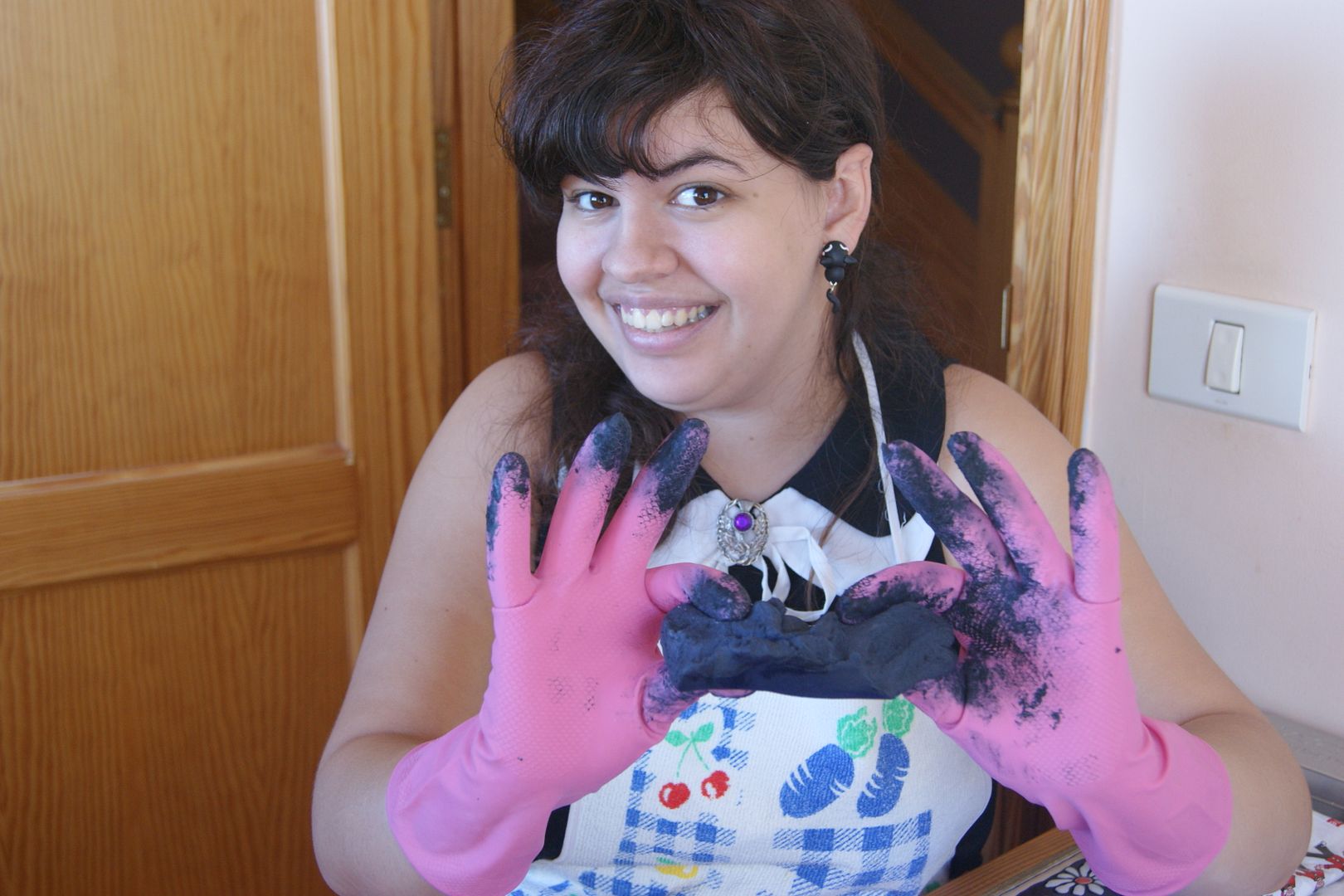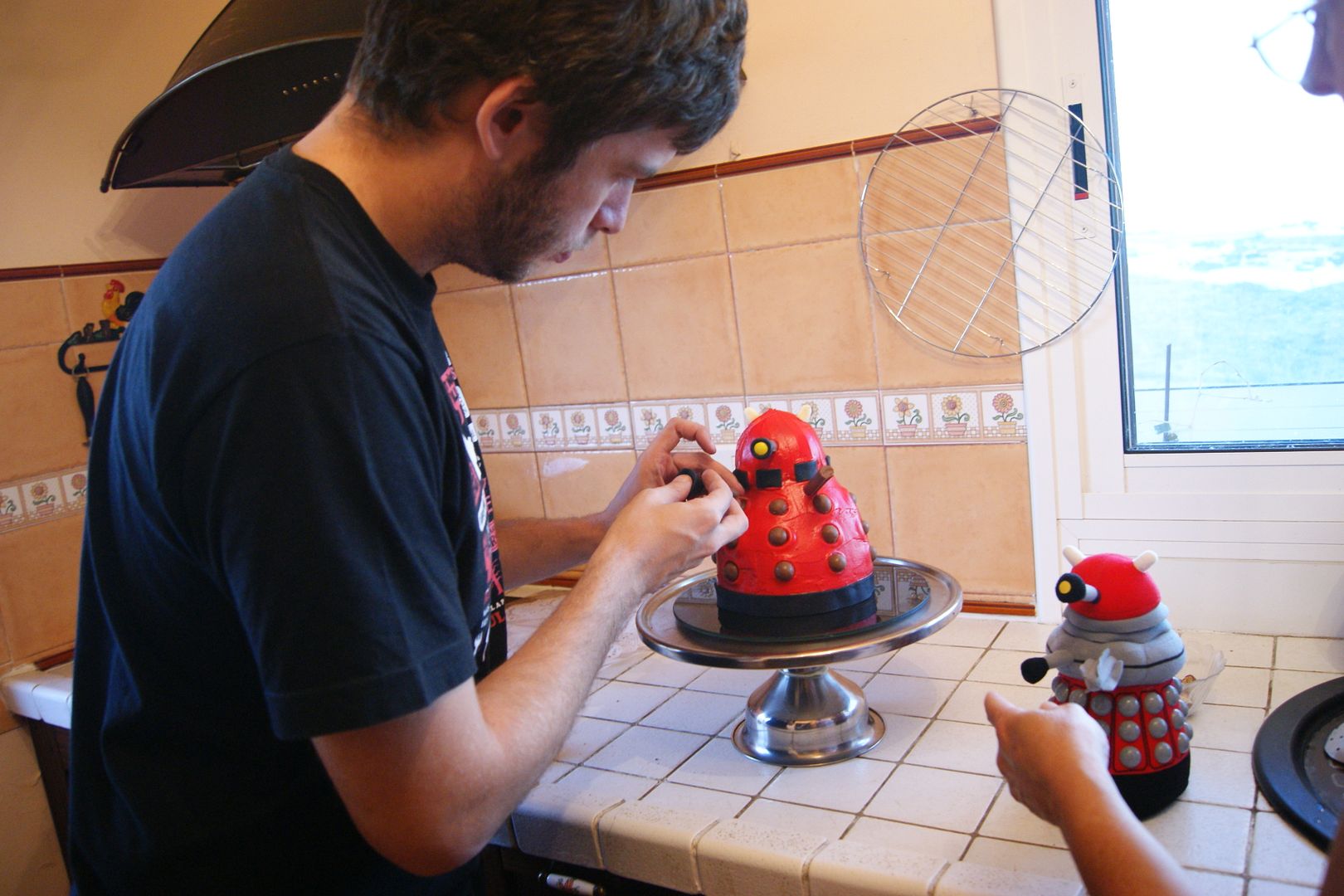 When it's over, we sat laughing and satisfaction, desire fulfilled of having achieved on a cake we had in our minds and it's time to cut the cake and taste the result of our collective work.
Cuando todo ha terminado, nos sentamos entre risas y satisfacción por el deseo cumplido de haber conseguido proyectar sobre un bizcocho lo que teníamos en nuestras mentes y llega el momento de cortar la tarta y saborear el fruto de nuestro trabajo colectivo.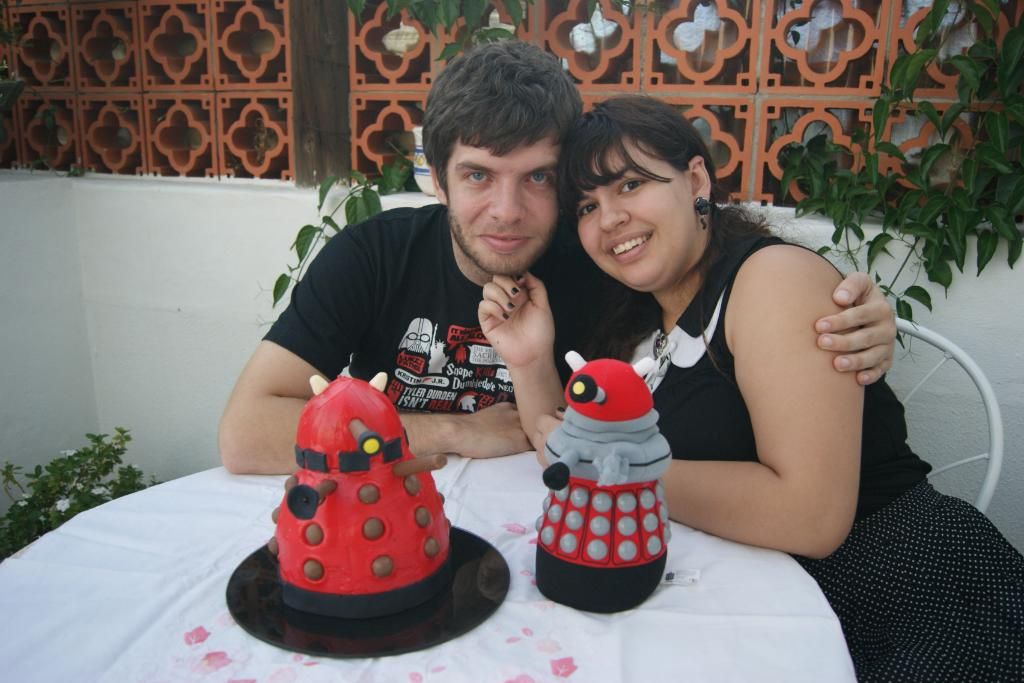 I could say that this is a very sweet to share unforgettable family moments.
Podría decir que esto es una forma muy dulce de compartir inolvidables momentos familiares.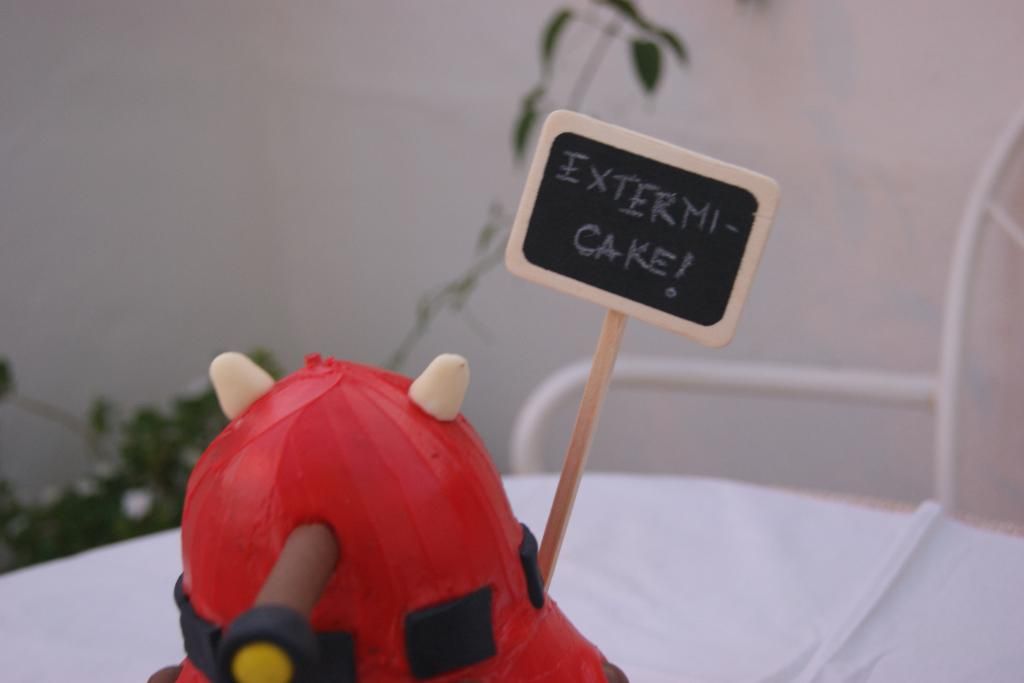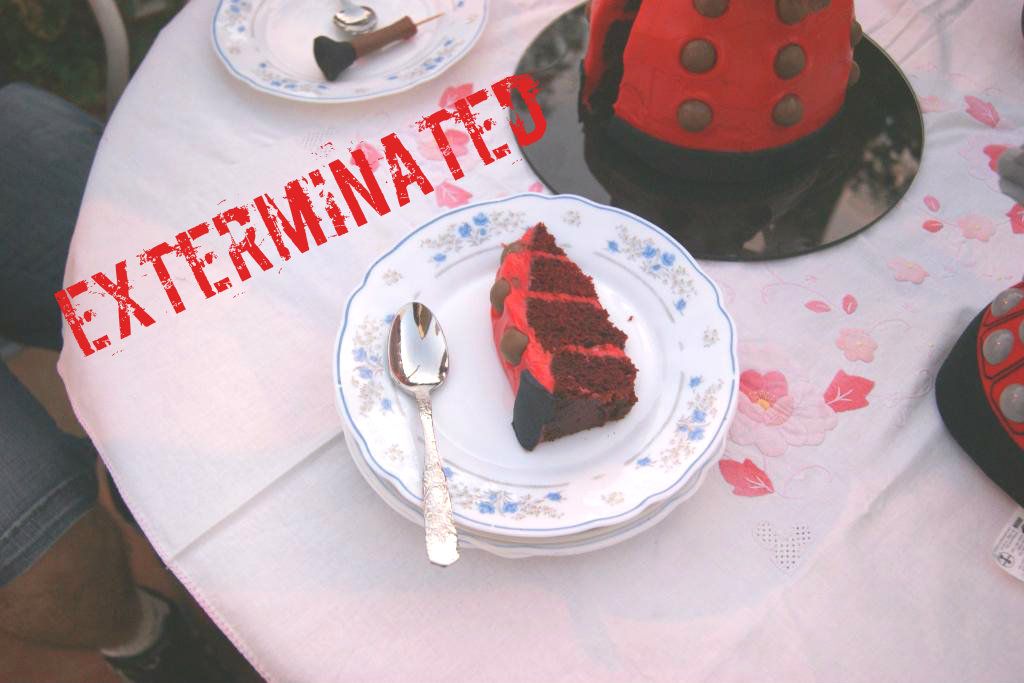 Have a sweet week!!
Tened una dulce semana!!!