Today a quick post to sweeten a little on Monday, a session of butter cookies to celebrate Halloween at home ...
Hoy una entrada rápida para endulzar un poco el lunes, una sesión de galletas de mantequilla para celebrar Halloween en casa...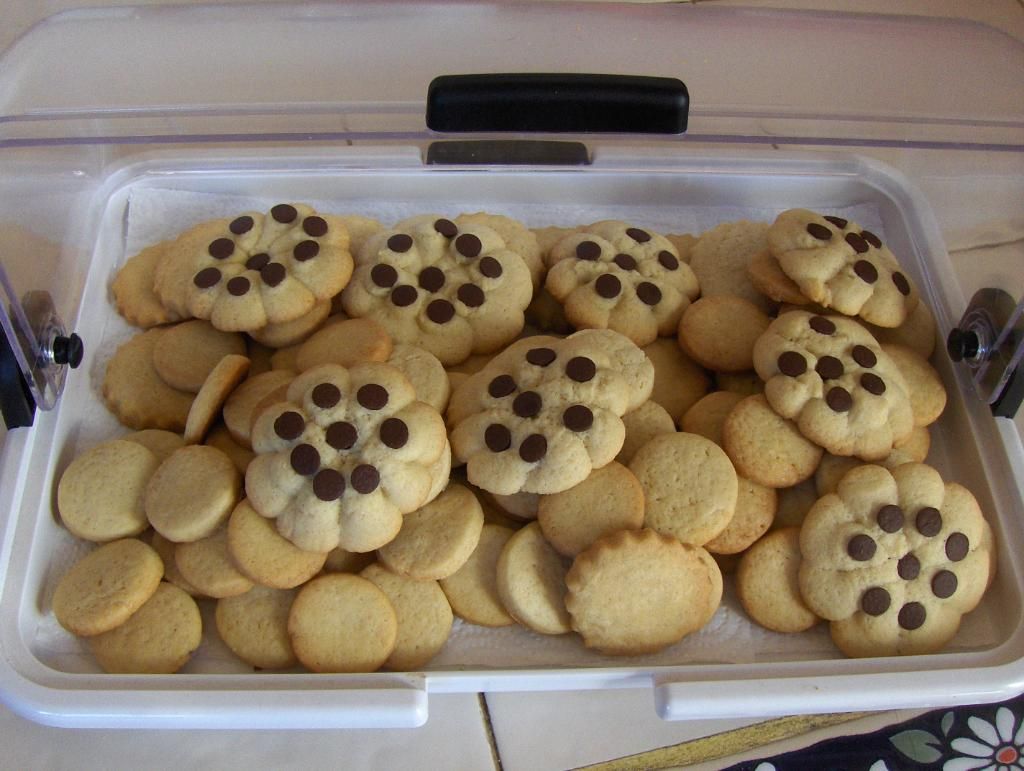 The recipe is very simple and basic ... 250 gr.Soft butter , 250 gr. sugar, a tablespoon of vanilla extract, two eggs, a pinch of salt, 500 gr. flour.
Mix the butter and sugar until dough is light, add eggs and vanilla extract and salt, gradually add the sifted flour and form the dough into a ball, put it a couple of hours in the fridge wrapped in plastic wrap. Then roll out the dough and cut the cookies, bake at 200º C for about 10 minutes, until they begin to brown.
La receta es muy sencilla y básica,... 250 gr de mantequilla blanda, 250 gr. de azúcar, una cucharada de esencia de vainilla, dos huevos, una pizca de sal, 500 gr. de harina.
Mezclar la mantequilla con el azúcar hasta formar una masa ligera, Añadir los huevos y la esencia de vainilla y la sal , incorporar poco a poco la harina tamizada y formar una bola con la masa, meter un par de horas en la nevera envuelta en papel film. Después estirar la masa y cortar las galletas, hornear a 200 ºC durante unos 10 minutos, hasta que empiezan a dorarse.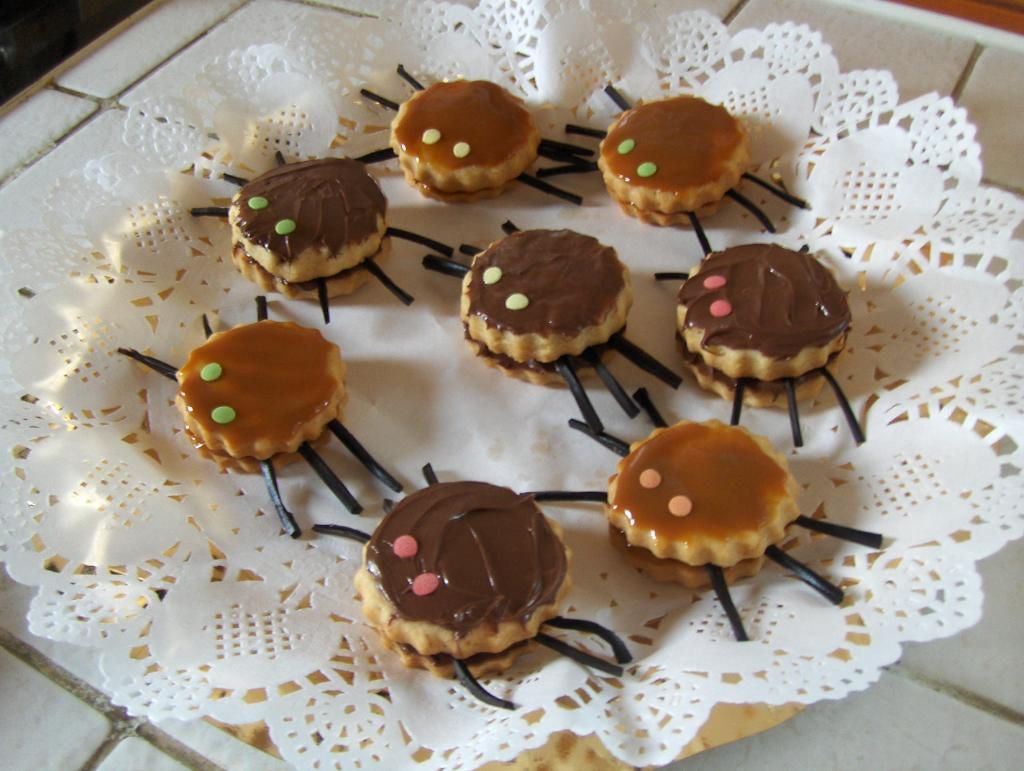 I have reserved some cookies and I filled with Nutella (brown) and dulce de leche (the lighter color), the legs are black licorice pieces, finish them after we laughed a lot at home because we realized that they only had six legs on each spider ... but just disappeared!
He apartado algunas galletas y las he rellenado con Nutella (las de color marrón) y con dulce de leche (las más claritas), las patas son trozos de regaliz negro, después de acabarlas nos hemos reído mucho en casa porque nos dimos cuenta que solamente había puesto seis patas a cada araña... pero igualmente desaparecieron!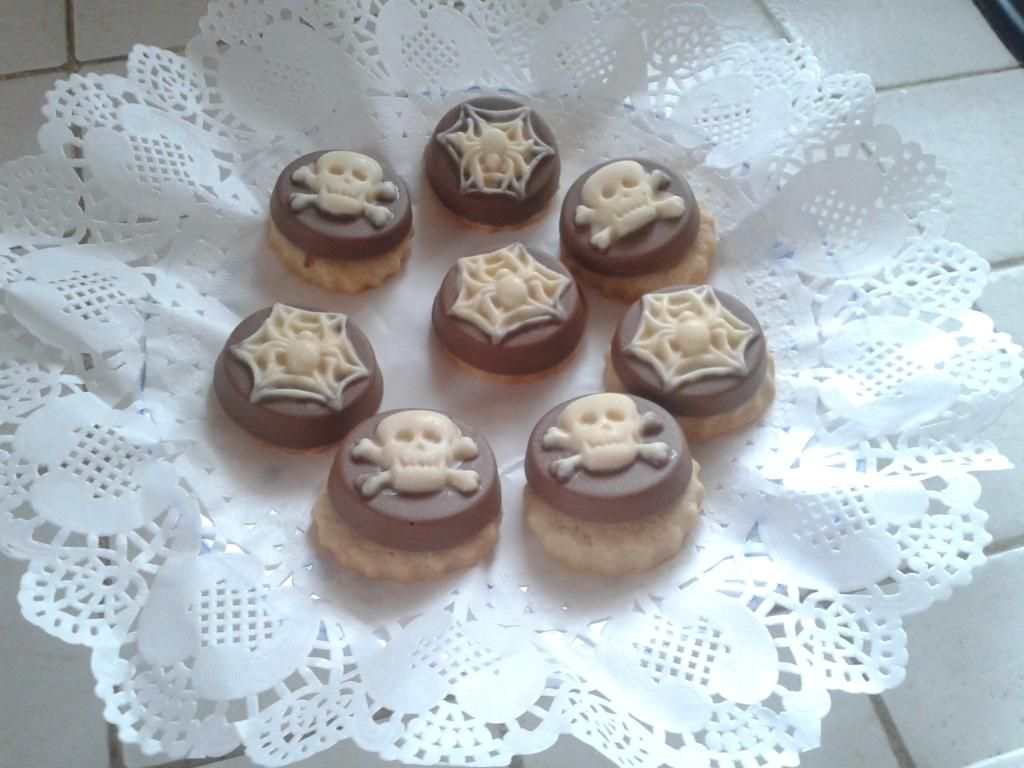 I have reserved a few cookies to use a chocolate mold whit Halloween motif that I had saved a while, I put in the melted white chocolate background, once solidified it, I've melted milk chocolate and put it on top, quickly placed a biscuit on it, that chocolate is adhirise to it when solidified, once cold was very easy to unmold and enjoy these great goodies (I gain weight just by looking at them!)
He apartado unas cuantas galletas para utilizar un molde para chocolate con motivos de Halloween que tenía guardado hace tiempo, he colocado en el fondo chocolate blanco derretido, una vez que solidificó he derretido chocolate con leche y lo puse encima, enseguida coloqué una galleta para que el chocolate se adhirise a ella cuando solidificara, una vez frío fué muy fácil de desmoldar y disfrutar de estas estupendas golosinas (yo engordo con solo mirarlas!)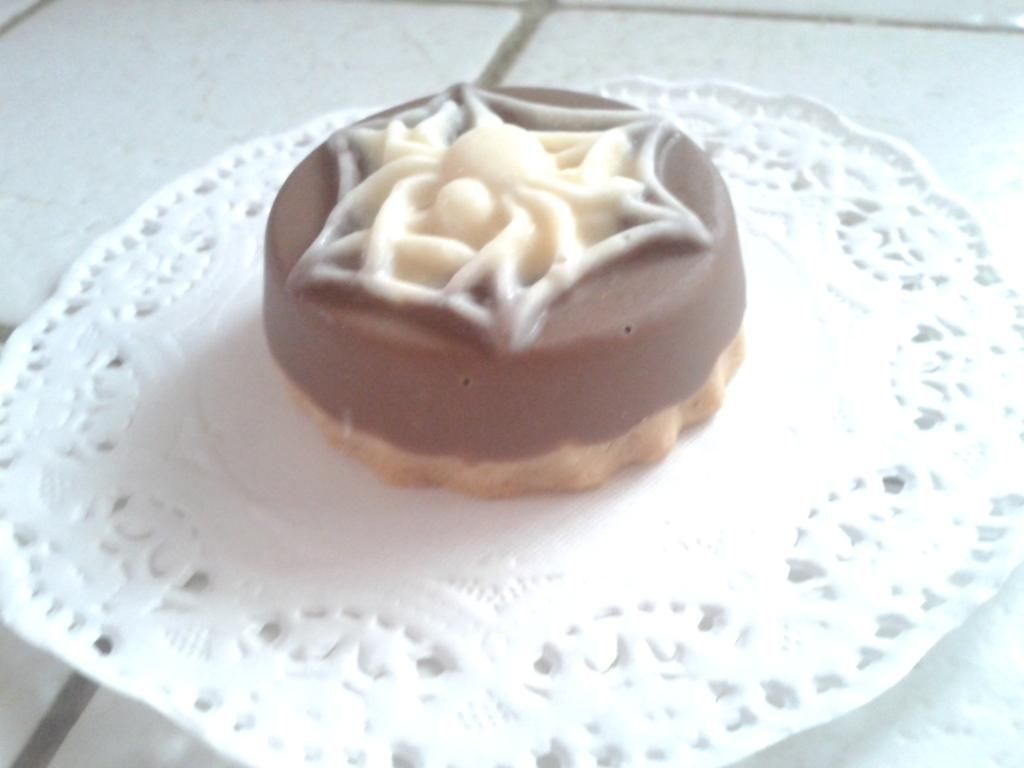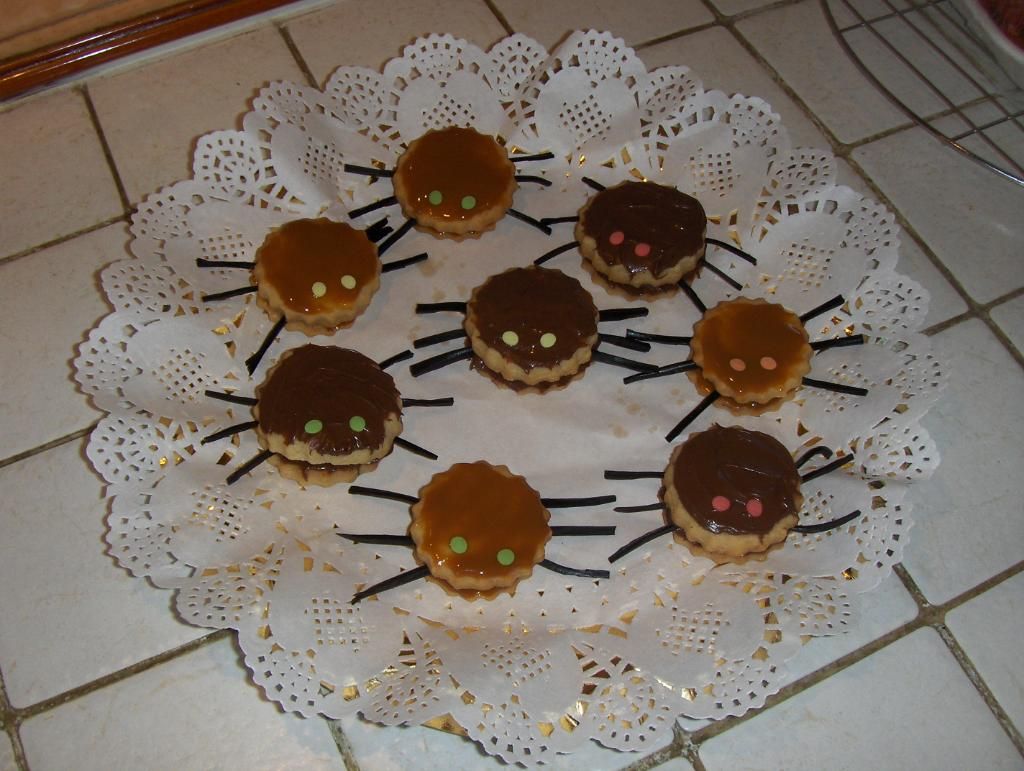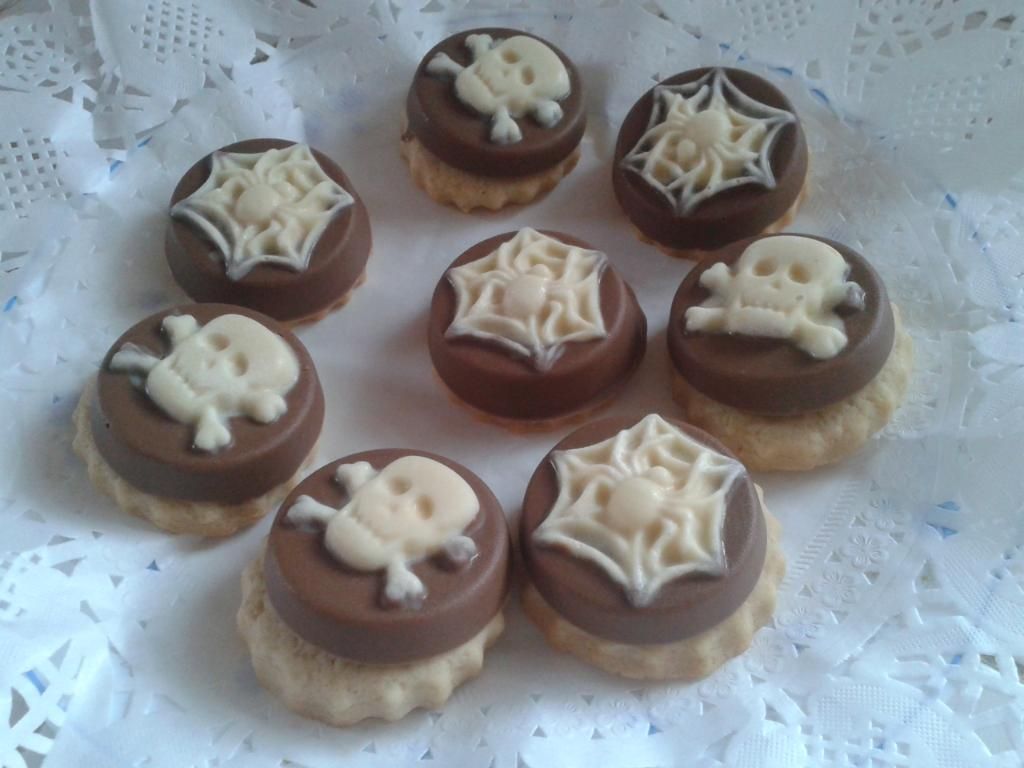 This has been a brief smile for wanting to return again to our Sew Along, from here I want to thank you for joining me on this adventure and ask your permission to "steal" some of the photos of your progress, I'll put them here in the blog to link to your site, if you have trouble just saying (you can use an email for privacy and I will respect your decision, not a problem), if silence I assume I have your permission ... Thank you!
Remember that there is no deadline to join this Sew Along, you can start participating at any time, just say "I want" in this post to sign up.
Then we started to sew the body of our dress ..
.
Esto ha sido una breve sonrisa para volver de nuevo con ganas a nuestro Sew Along, desde aquí quiero daros las gracias por acompañarme en esta aventura y pediros permiso para "robar" alguna de las fotos de vuestros avances, las pondré aquí, en el blog con enlace a vuestra página, si alguna tiene inconveniente basta con decirlo (puedes utilizar un email para mayor privacidad y yo voy a respetar tu decisión, no es problema) , en caso de silencio doy por supuesto que tengo vuestro permiso... Gracias!!
Recordad que no hay fecha límite para unirte a este Sew Along, puedes empezar a participar en cualquier momento, solamente di "Yo quiero" en esta entrada para apuntarte.
Enseguida empezamos a coser el cuerpo de nuestro vestido...