Well, we started ... for this, we set ourselves a goal ... this dress so nice that there are up here, if you're on the way with difficulties, you think that it will be yours very soon and you will wear it, have an object of desire in your mind is a great motivation to overcome the various obstacles you can find on the way, and of course I'll be here if you need me, but you must bear with me ... my time online is limited, but I'll answer you as soon as possible.
...................................................................................................................
Bien, comenzamos... para esto , vamos a fijarnos un objetivo... este vestido tan bonito que hay aquí arriba, si en el camino te encuentras con dificultades, piensa que él va a ser tuyo muy pronto y vas a poder lucirlo, tener un objeto de deseo en tu mente es una gran motivación para superar los distintos obstáculos que te puedes encontrar en el camino, y por supuesto yo voy a estar aquí si me necesitas, aunque debes tener paciencia conmigo... mi tiempo en Internet es limitado, pero yo te voy a contestar lo más pronto posible.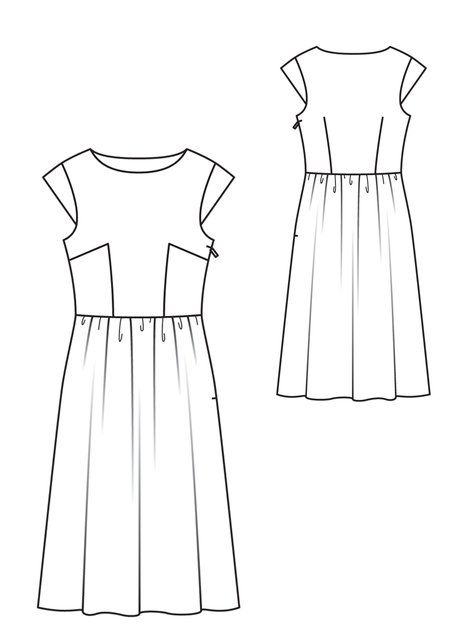 We find this pattern, 133 Burdastyle magazine, August, 2012. Now let's get the pattern with our size and we started the alterations, we need the patterns of the body without the sleeve for this green dress. Once completed, we will have obtained it ..
.....................................................................................................................
En la revista Burdastyle de Agosto de 2012, encontramos este modelo de patrón, el 133. Ahora vamos a obtener el patrón con nuestra talla y comenzamos las transformaciones, para este vestido verde necesitaremos las piezas del cuerpo, sin la manga. Una vez que lo hayamos obtenido tendremos esto..
We will start modifying the pattern to adapt it to our ultimate goal, the first photo shows the front and back patterns, I will work with the size 40.
In the second picture you can see the red lines in the neck area, the pattern of Burda is open neckline and our dress will have a small collar, so I've added two centimeters high at center back and have lengthened the shoulder seam line about five centimeters, then join the rule to get a closed neckline.
I also lengthened the shoulder seam line in the front five centimeters too, and I have redrawn front neckline.
If you do not have an appropriate rule for this, you can draw freehand or to guide you through any patterns you have at home with this closed neckline. Check that the two lines of shoulder, front and back have the same measure.
..............................................................................................................
Vamos a empezar a modificar el patrón para adaptarlo a nuestro objetivo final, la primera foto muestra los patrones de delantero y espalda, yo voy a trabajar con la talla 40.
En la segunda foto puedes ver las líneas rojas en la zona del cuello, el patron del Burda tiene el escote abierto y nuestro vestido tendrá un pequeño cuello alto, así que yo he añadido dos centímetros de altura al centro de la espalda y he alargado la linea de costura de hombro unos cinco centímetros, después unir con la regla para conseguir un escote cerrado.
He alargado tambien la linea de costura del hombro en el delantero cinco centímetros tambien, y he vuelto a dibujar la linea del escote delantero.
Si no tienes una regla apropiada para esto, lo puedes dibujar a mano alzada o guiarte por algún patrón que tengas en casa con este cuello cerrado. Comprueba que las dos lineas de hombro, delantero y espalda miden lo mismo.
To avoid unexpected trouble, the first thing we do is check that the measures correspond to the pattern of our body .. for this we will measure the patterns in the area around of the chest (upper red line) and adjust them to us, I have measured where the red lines above and the total score is 49 centimeters, we know this is half of the total, I mean that the finished garment will measure 98 centimeters chest contouring ... , My chest contouring is 96 centimeters, so I have two centimeters clearance for the dress is comfortable on me. How contour is yours one?? The outline of the pattern and contour of your breast are similar? See if you need to remove a few centimeters, or conversely, add ... now is the time.
...............................................................................................................
Para evitar disgustos imprevistos, lo primero que vamos a hacer es comprobar que las medidas del patrón corresponden con las de nuestro cuerpo.. para ello vamos a medir los patrones en la zona del contorno del pecho (linea roja superior) y ajustarlas a nosotras, yo he medido donde las lineas rojas de arriba y el resultado total es 49 centímetros, sabemos que esto es la mitad del total, osea que el vestido terminado medirá 98 centímetros de contorno de pecho... , mi contorno de pecho es 96, así que tengo dos centímetros de holgura para que el vestido no me esté demasiado ajustado y sea cómodo. Cuanto mide el tuyo?? El contorno del patrón y el contorno de tu pecho son similares?? Mira a ver si necesitas quitar algún centímetro, o por el contrario, añadirlo... ahora es el momento.
.............................................................................................................
Here we go with checking the waist ... if I measure with the tape measure through which the red line at the waist (pictured, bottom line) a whole is 39 centimeters, multiply it by two (for the complete contour of the waist of the pattern) and get that the dress at the waist measured 78 centimeters ... Ops! My actual waist (loosely) is 80 centimeters, so I added one centimeter to the side seam of the waist in the front and another centimeter pattern side seam pattern back, this makes a total added four centimeters to the dress two required and two clearance for my comfort. How's your pattern? Your waist measures the same that your pattern in this area?? You have to add a centimeter or otherwise is too big and you need to remove them? Do it now, and if you need to ask a question, I am to help ....
...............................................................................................................
Vamos con la comprobación de la cintura... si yo mido con la cinta métrica por donde pasa la linea roja en la cintura (en la foto, la linea inferior) en total sumo 39 centímetros, lo multiplico por dos (para obtener el contorno completo de la cintura del patrón) y obtengo que el vestido medirá en la cintura 78 centímetros... Ops! Mi cintura real (sin apretar) mide 80 centímetros, así que he añadido un centímetro en la costura lateral de la cintura en el patrón delantero y otro centímetro en la costura lateral del patrón de espalda, esto hace un añadido total al vestido de cuatro centímetros, dos necesarios y otros dos de holgura para mi comodidad. Qué tal va tu patrón?? Mide lo mismo tu cintura que tu patrón en esta zona?? Tienes que añadir algún centímetro o por el contrario te está demasiado grande y necesitas quitarlos?? Hazlo ahora, y si necesitas preguntar algo, estoy para ayudarte....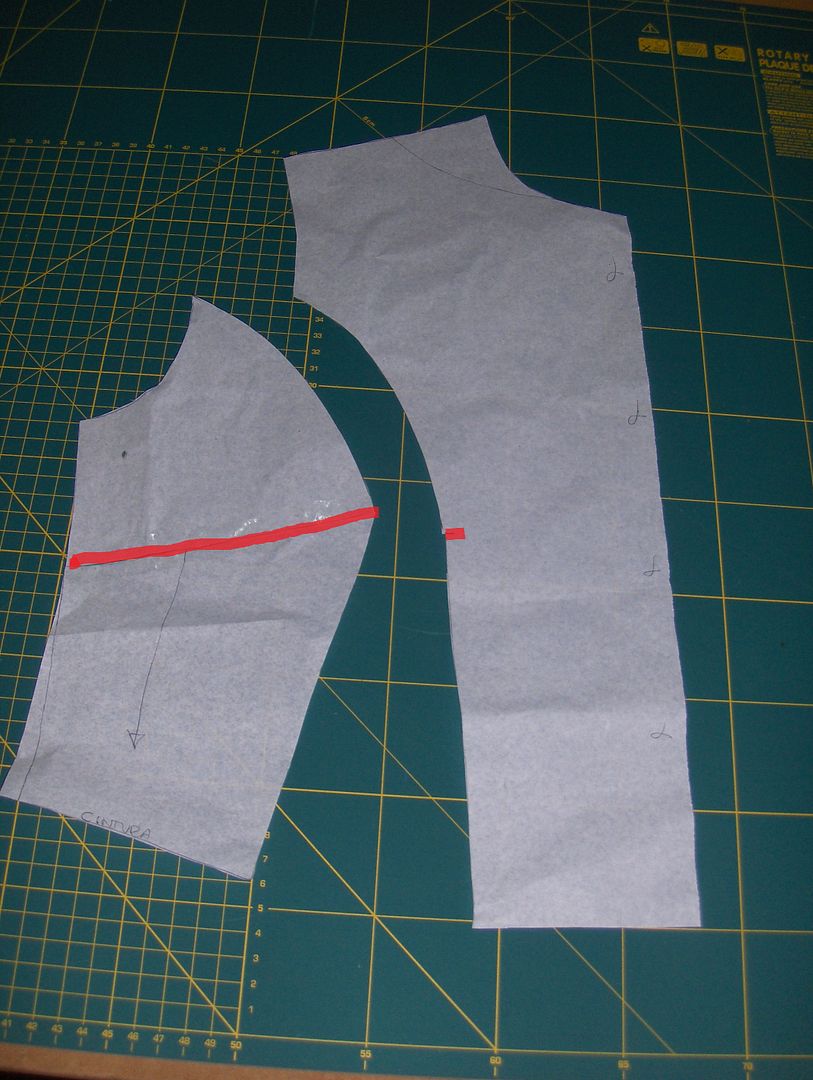 After setting the pattern for real measure of your body, we begin with the transformation of the pattern front, the next step is as simple as joining with adhesive side pattern in the area of ​​the chest dart is marked on the picture with a red line. glue them together and then draw a line starting to form a gentle curve where have beaten the part of the pattern (the red line) and up until it comes to end in the middle of the armhole, separates out there and you have two pieces like photo above.
In addition we will make a small mark (aplomb) with a pen or marker on the two pieces of this pattern, at the point where they were together before (where the red lines).
What's up?? Very boring?? Hold on a little longer, we're almost there ...
.............................................................................................................
Una vez ajustado el patrón a las medida real de tu cuerpo, comenzamos con la transformación del patrón delantero, el siguiente paso es algo tan sencillo como unir con cinta adhesiva el patrón de costado en la zona de la pinza de pecho, está marcada en la foto con una linea roja. pégalos juntos y después dibuja una linea que forme una suave curva empezando en donde has pegado la pieza del patrón (la linea roja) y subiendo hasta que venga a terminar en la mitad de la sisa, separa por ahí y tendrás dos piezas como la foto superior.
Además vamos a hacer una pequeña marca (aplomo) con un boligrafo o rotulador en las dos piezas de este patrón, en el punto donde antes estaban juntas (donde están las lineas rojas ).
Qué tal ?? Muy aburrido?? Aguanta un poco más, ya casi lo tenemos...
The next step is easy, I have measured from the waistline up about 9 centimeters and have separated these parts patterns waist front and back, then I taped together in front of the two pieces (for where it passes the red line) for the waistband of our green dress.
The same pattern in the back, measure 9 centimeters from the waist up and separate the pattern, after taping (where the red line) for the waistband in the back of the green dress.
Well, we're done with the transformation of the patterns of the body and has not been that hard, right?
The next step is to cut the fabric, but first let's go over some tricks to avoid disappointment ...
The fabric .... You have to take into account many fabrics shrink in the wash and steam ... normally, the fabrics that wrinkle, shrink also ... So unless you want a dress with "dry cleaning" for the rest of its life (which is a bummer), now is the time to put your fabric in a bowl of clean water, simply, if you have the slightest suspicion that your fabric can shrink, putting it in water for a couple of hours, then hang until it is dry and iron ... if when you get your water fabric, wring it's not (let it dry and dripping water), you avoid a lot of iron ...
If you are bored all previous steps, back to the beginning of the post and look back that beautiful green dress you want in your closet ... set your eyes on it and imagine with what shoes you going to use ... bag ... all those little goodies that help us move forward and repeat to yourself ... I want it!
Tomorrow we cut the fabric ....
Any questions, concerns, suggestions, you know ... I'm here to help ...
......................................................................................................................
El siguiente paso es muy fácil, yo he medido desde la linea de cintura hacia arriba unos 9 centímetros y he separado estas piezas de la cintura de los patrones delantero y espalda, después he unido con cinta adhesiva, en las dos piezas del delantero (por donde pasa la linea roja) para obtener la banda de la cintura del vestido verde.
Lo mismo en el patrón de espalda, medir 9 centímetros desde la cintura hacia arriba y separar del patrón, después pegar con cinta adhesiva (por donde la linea roja) para obtener la banda de la cintura en la espalda del vestido verde.
Bien, hemos terminado con la transformación de los patrones del cuerpo y no ha sido tan difícil, verdad??
El siguiente paso es ir a meterle tijera a la tela, pero antes vamos a repasar algunos truquillos para evitar disgustos...
La tela.... tienes que tener en cuenta en muchas telas encojen con el lavado y el vapor... normalmente, las telas que se arrugan, tambien se encogen... así que, a menos que quieras un vestido con "lavado en seco" para el resto de su vida (lo cual es un engorro), ahora es el momento de meter tu tela en un barreño con agua limpia, simplemente , si tienes la menor sospecha de que tu tela puede encoger, meterla en agua durante un par de horas, después colgarla hasta que esté seca y plancharla... si cuando sacas tu tela del agua no la retuerces (y la dejas secar escurriendo agua), te evitarás mucha plancha...
Si te aburren todos estos pasos previos, vuelve al principio del post y mira de nuevo ese hermoso vestido verde que quieres en tu armario... fija tu vista en él e imagina con qué zapatos lo vas a usar... el bolso... todas esas pequeñas golosinas que nos ayudan a seguir adelante y repite a tí misma... Lo quiero!!!
Mañana cortamos la tela....
Cualquier pregunta, duda, sugerencia, ya sabes... estoy aquí para ayudarte...
.............................................................................................................
EDITED .... For not much we stress, from now on I will post every other day, one day and another day if not, that leaves a day in between to advance our work and I answer all of you. So it will be more relaxed, but remember that the deadline you do them yourselves, posts will be here forever and you can go at your own pace. A kiss, you are fantastic!
EDITADO.... Para no estresarnos mucho, de ahora en adelante postearé cada tercer día, eso nos deja un día en medio para adelantar nuestras tareas y contestar a todas vosotras. Así será más relajado, pero recordad que la fecha límite la ponéis vosotras, los posts estarán aquí siempre y podeis ir a vuestro ritmo. Un beso , sois fantásticas!