I was thinking it would be a good idea (after seeing the result of the last "UFO jacket", that I got to make a success of it after eighteen years), drastically reduce the stash of UFOs in my sewing cave .
Well! This time I am the happy owner of two garments refashion together and converted into a very autumnal suit by the colors they contain.
Estaba yo pensando que sería una buena idea (después de ver el resultado de la última "chaqueta-UFO", que conseguí llevar a buen término después de dieciocho años), reducir drásticamente la pila de UFOs que hay en mi cueva de costura.
Bien! Esta vez soy la feliz propietaria de dos prendas refashionadas de golpe y porrazo y convertidas en un equipo muy otoñal por los colores que contienen.
Starting with the skirt that was at some point in my life a project I used to blouson for the beach, the cotton fabric is a semi-transparent, I'd love the print of this fabric and this project had cut and stored in a bag about nine years, back in the summer of 2003.
Comenzando por la falda que fue en alguna esquina de mi vida un proyecto de blusón para ir a la playa, la tela es un algodón semi-transparente, de esta tela me había enamorado el dibujo y este proyecto llevaba cortado y guardado en una bolsa unos nueve años, allá por el verano del 2003.
This skirt was like going back to the basic principles sewing, I just cut the top of the blouse from armhole to hem and joined some leftover pieces of fabric that was in the bag to get enough ruching at the skirt, the same amount of black cloth lining done to prevent transparencies and then I cut a strip of fabric slightly wider than the outline of my hip to sew in an elastic, all together ended up being a pretty simple and feminine skirt, and was only looking for a partner for it ...
Esta falda fue como volver a los principios básicos de la costura, yo simplemente corté el alto del blusón desde la sisa hasta el dobladillo y uní algunos trozos de tela sobrante que había en la bolsa para conseguir suficiente fruncido en la falda, la misma cantidad de tela negra hace de forro para evitar transparencias y después yo corté una tira de tela un poco más ancho que el contorno de mi cadera para coser dentro un elástico, todo unido acabó siendo una falda bastante simple y resultona, ya solamente quedaba buscar un compañero para ella...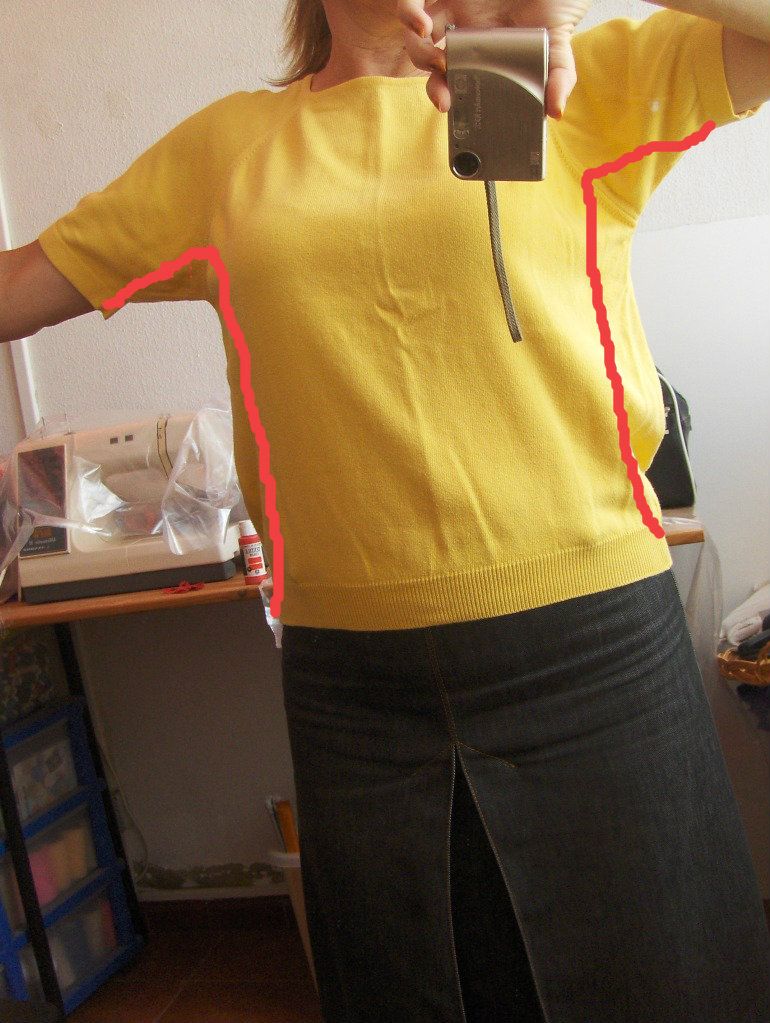 A short-sleeved sweater that had kept it too long waiting for a few sizes to reduce it was the perfect match.
And while I sewed the side seams of the sweater, in my sewing cave sounded Roberta Flack singing "Killing me softly" ... I could not help thinking that I was "killing softly" my pile of unfinished projects and I laughed. (As if you could not find connection between the title of this post and its content ...)
Un suéter de manga corta que llevaba guardado demasiado tiempo en espera de poder reducirlo unas pocas tallas fue la pareja perfecta.
Y mientras cosía las costuras laterales del suéter, en mi cueva de costura sonaba Roberta Flack cantando "Killing me softly"... yo no pude evitar pensar que estaba "matando suavemente" mi pila de proyectos inacabados y me reía. (Por si no encontrabas conexión entre el título de este post y su contenido...)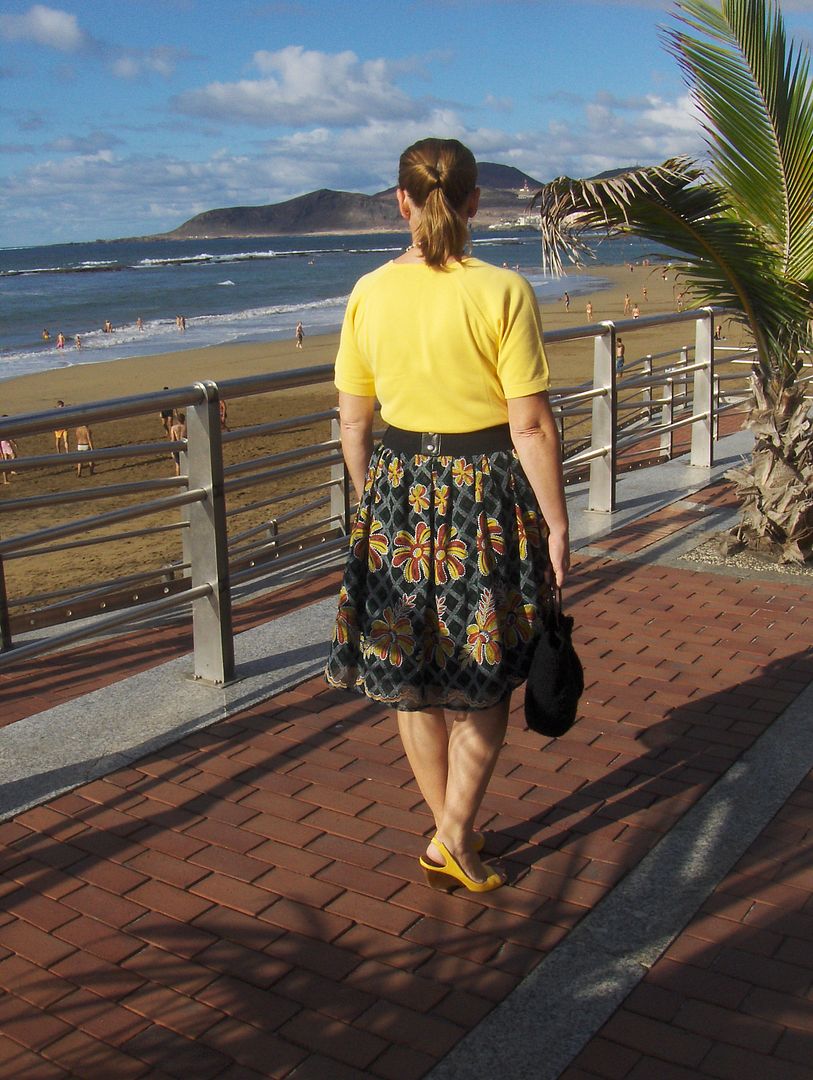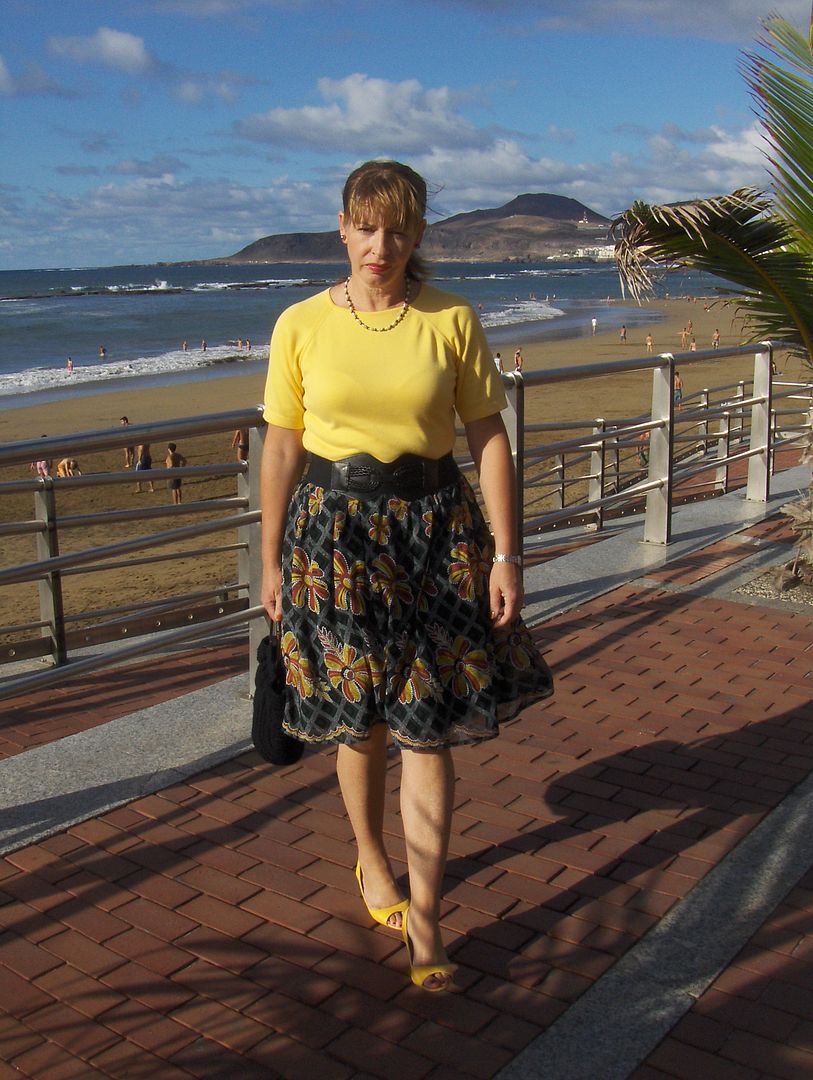 And this time also, my nails are a tribute to the print of the skirt to complete the outfit ...
Y esta vez también, mis uñas son un tributo a la tela de la falda, para completar el outfit...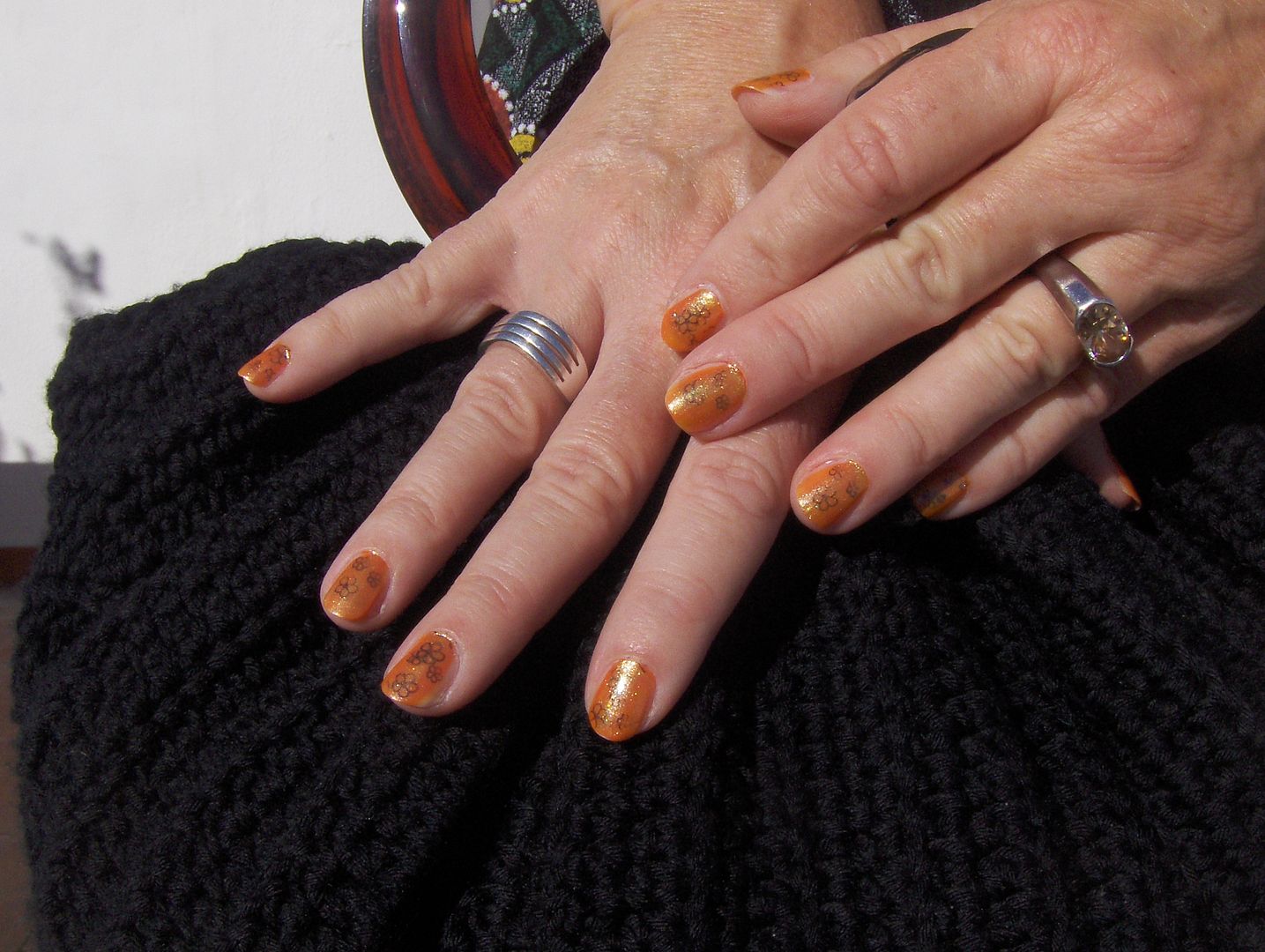 An ride at sunset to dismiss the weekend of this newborn Autumn, taking advantage sunshine of the day that left to enjoy our this wonderful picture, behind the clouds or the horizon, you can see the neighboring island ... Tenerife.
Un paseo al atardecer para despedir el fin de semana del recién nacido otoño aprovechando los últimos rayos de sol del día que nos dejó disfrutar de este maravilloso panorama , detrás de las nubes del horizonte se puede divisar la isla de al lado... Tenerife.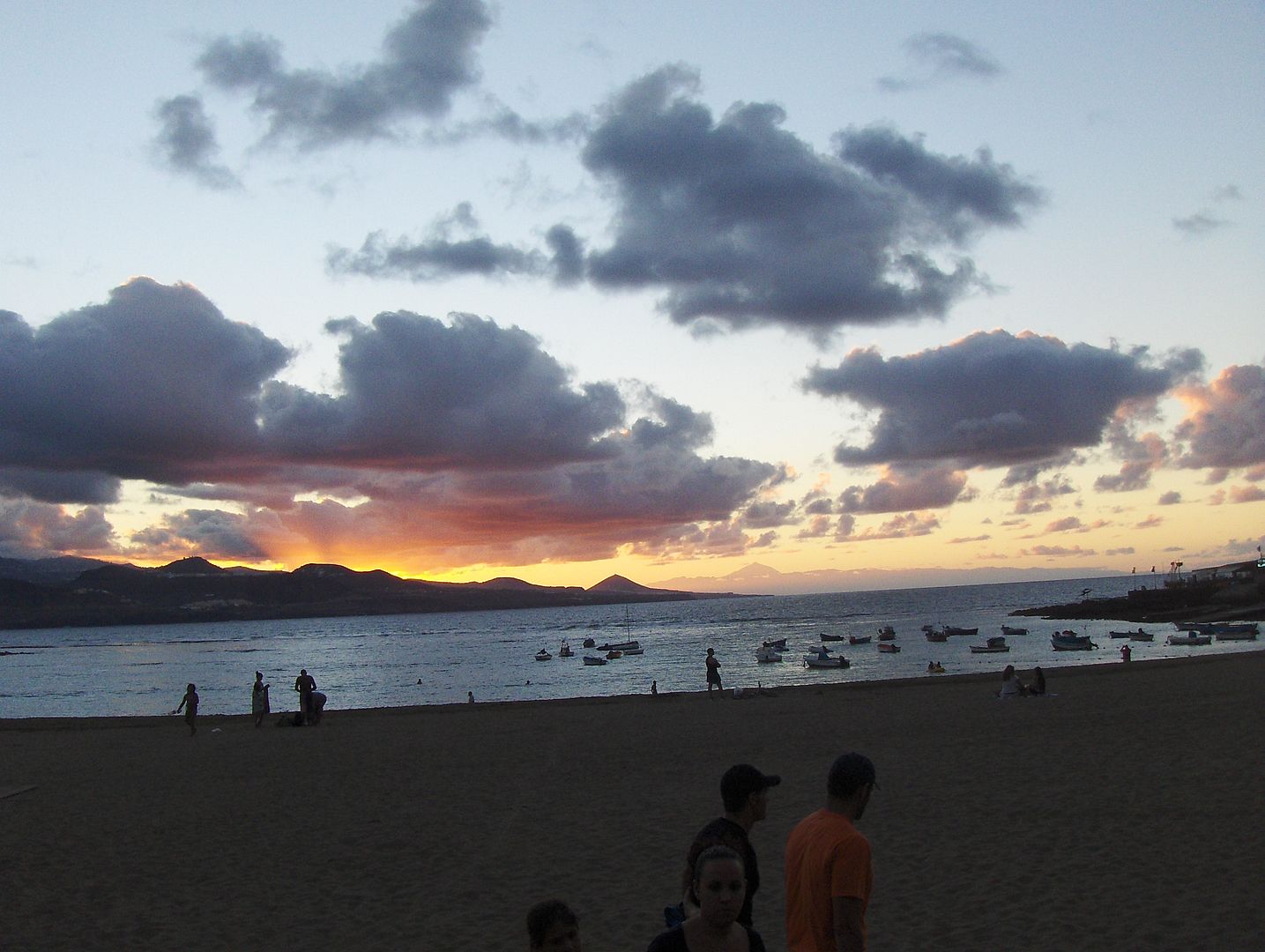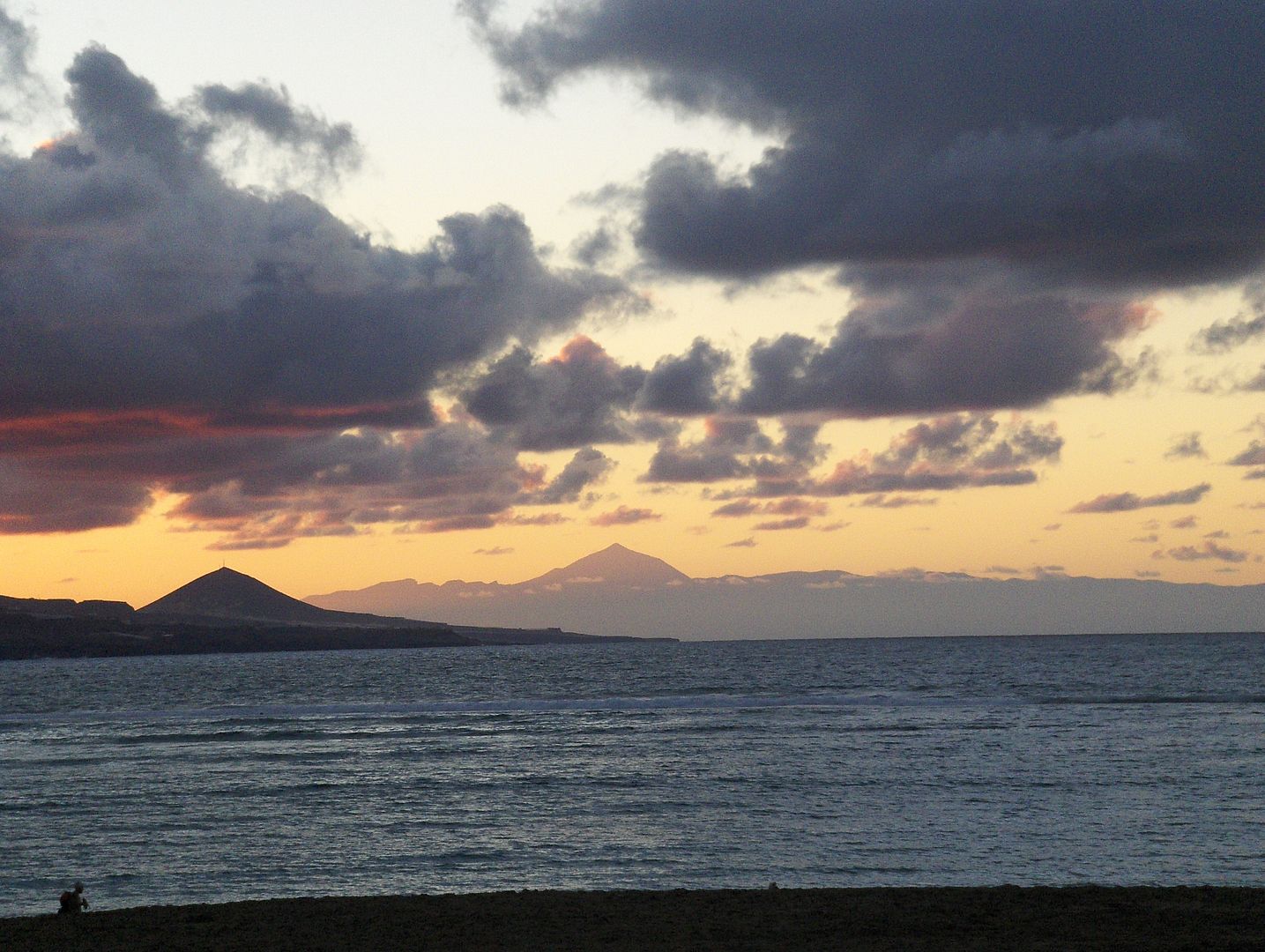 So I'm thinking to start a new project and alternating to a UFO is a good idea to go slowly getting rid of all these unfinished work which they torture me, yelling my name every time I think of a new dress ....
What do you about it?? Your UFOs shout your name too, or they are more benevolent and prefer to sleep in hoping that you will decide to finish them?
Así que estoy pensando que comenzar un proyecto nuevo y alternar con un UFO es una buena idea para ir deshaciéndome poco a poco de todos estos trabajos inacabados que me torturan , gritándo mi nombre cada vez que yo pienso en un vestido nuevo....
Qué hay de tí?? Te gritan tus UFOs también, o ellos son más benevolentes y prefieren dormir en espera que tú te decidas a terminarlos?