It may happen that you have decided to join this group of crazy about sewing and is that going to copy your pattern from the magazine, it does not reach your size .... No matter! That's no problem.
The pattern we have chosen to start, comes from size 34 to size 42, if your size is larger than this simply, this post is for you ... this is called "scale patterns" and you'll see that although there are many pictures is a very easy thing, do not be scared by how long can become the post, you know that a picture is worth a thousand words, so I've got many photos to make it easier to understand.
Here we go ...
Puede darse el caso de que hayas decidido unirte a este grupo de locas por la costura y resulta que al ir a copiar tu patrón desde la revista, éste no llega hasta tu talla.... No importa! Eso no es problema.
El patrón que hemos elegido para comenzar , llega desde la talla 34 hasta la talla 42, si tu talla es más grande que esto simplemente, este post es para tí... esto se llama "escalar patrones" y ya verás que aunque hay muchas fotos es una cosa muy fácil, no te asustes por lo largo que pueda llegar a ser el post, ya sabes que una imagen vale más que mil palabras, así que he sacado muchas fotos para que sea más fácil comprenderlo.
Comenzamos...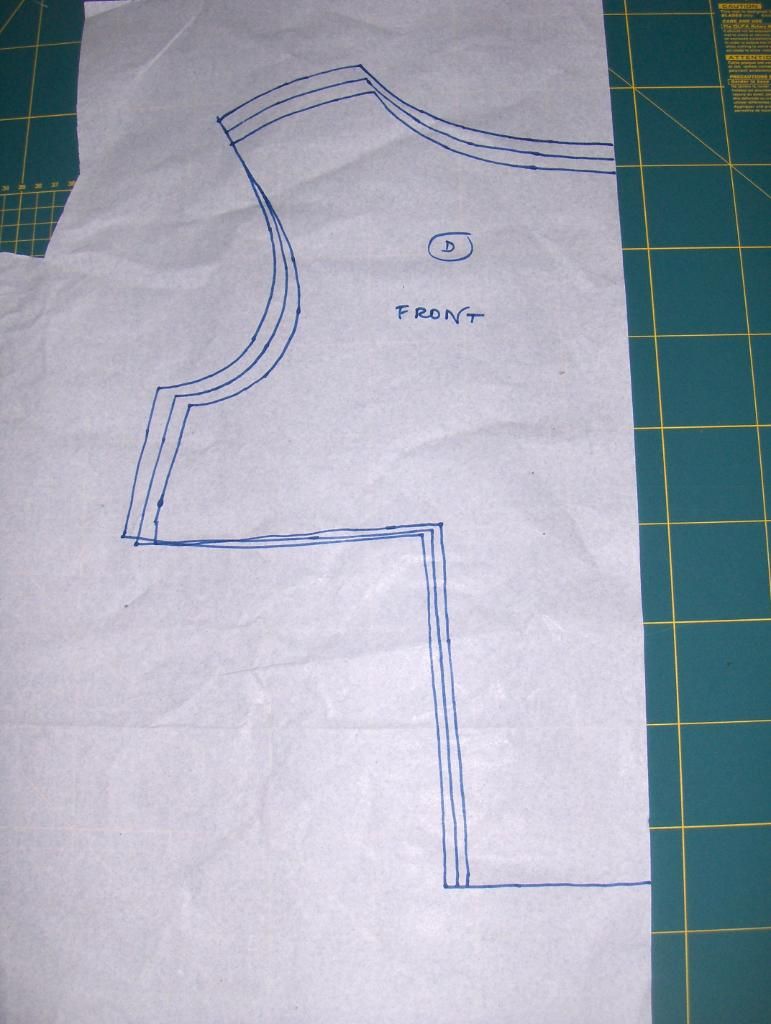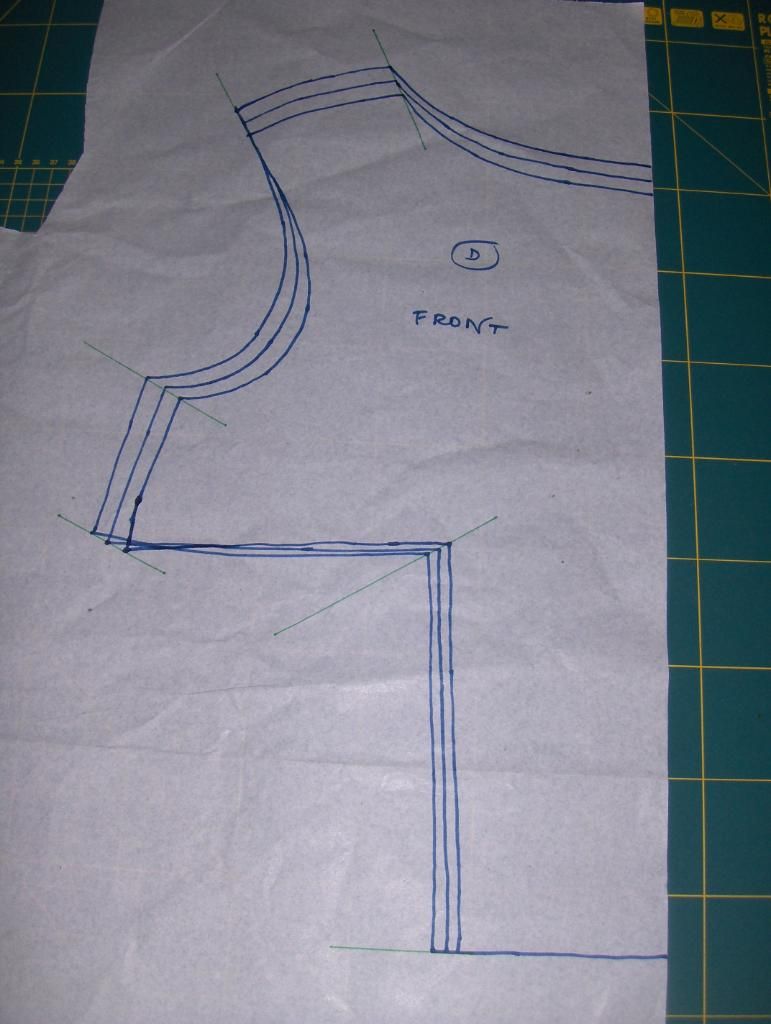 Let's follow the steps to get a size 44 (the pattern of the magazine offers from size 34 to 42). To achieve this, the first thing we need is to copy the lines of the three larger patterns, ie, in the same paper, we copy the size 38, size 40 and size 42, as shown in the first picture.
In the second picture you can see that I have drawn some lines (in green) passing over all the corner points of the pattern, if you click on the picture you can see it bigger. I show you some pictures of some different points that I can understand.
Vamos a seguir los pasos para obtener una talla 44 (el patrón de la revista ofrece desde la talla 34 hasta la 42). Para conseguirlo, lo primero que necesitamos es copiar las lineas de los tres patrones más grandes, es decir, en el mismo papel copiamos la talla 38, la talla 40 y la talla 42, tal como muestra la primera foto.
En la segunda foto puedes ver que he dibujado unas lineas (en color verde) que pasan por encima de todos los puntos de esquina del patrón, si pinchas en la imagen la puedes ver más grande. Te muestro algunas fotos de cerca de los distintos puntos para que me puedas comprender.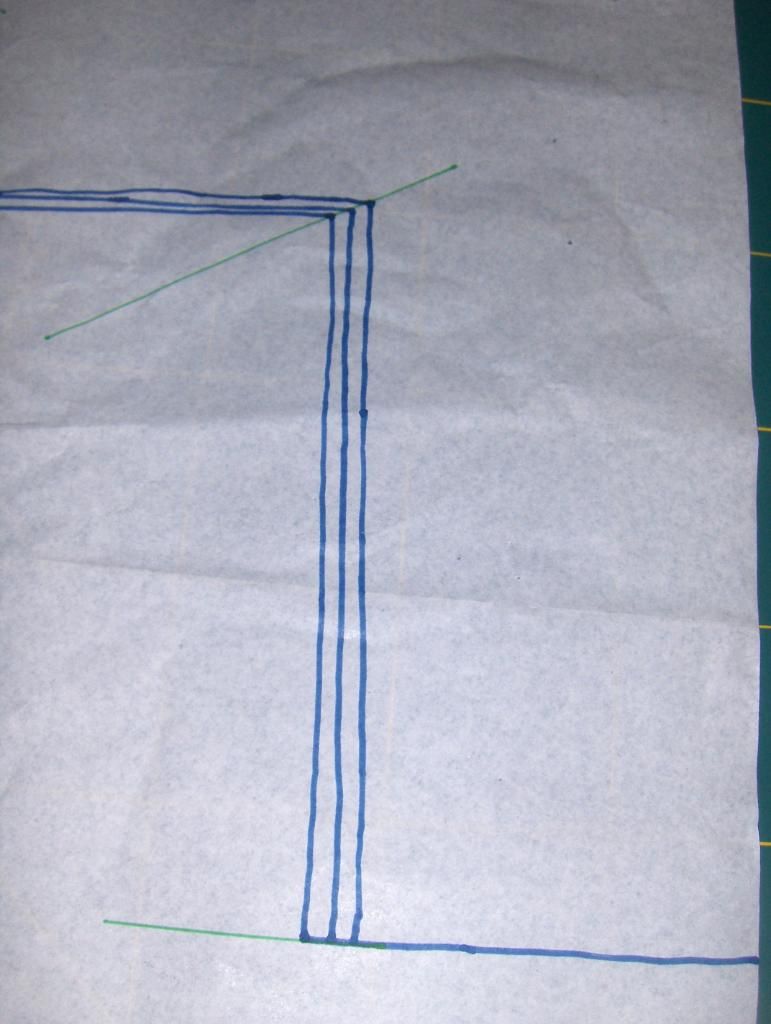 I think with these pictures you can see what I mean, so we're going to the next step ...
Creo que con estas imágenes puedes ver lo que quiero decir, así que vamos con el siguiente paso...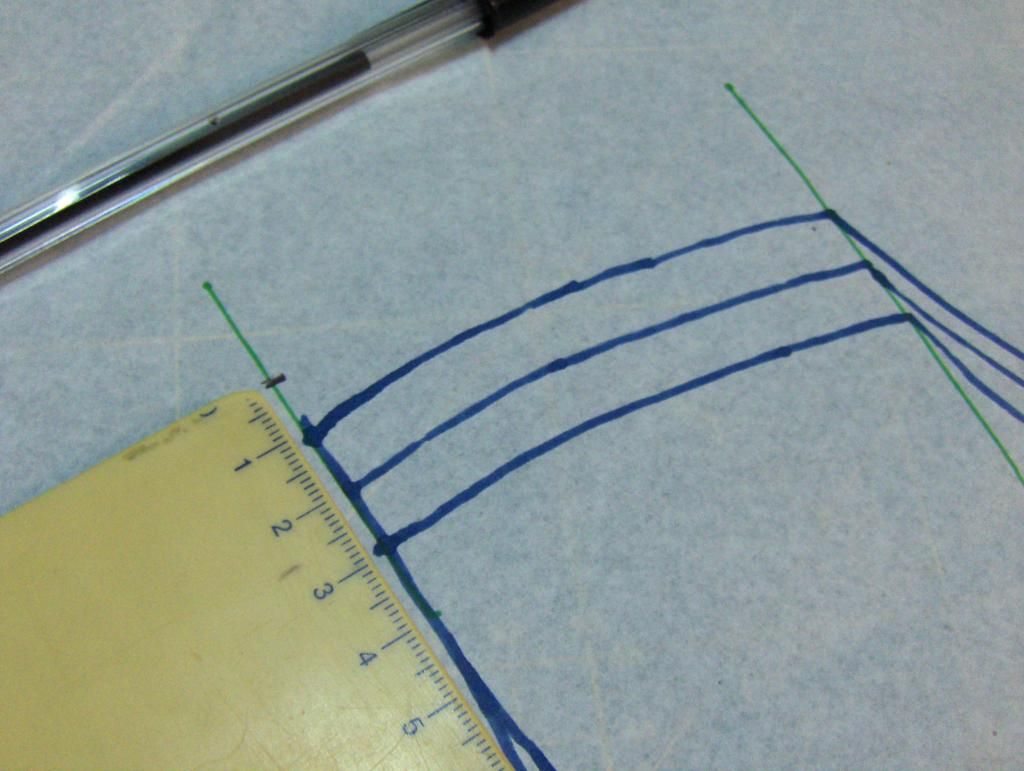 Now let's go point by point on the green lines we've drawn before and measure the distance between the different sizes of the patterns that we copied earlier (blues), that is ... if we see a centimeter away from patterns drawn in blue, then we will make a small mark another centimeter outside, at some points the distance is half a centimeter, make a point half a centimeter more outside to be drawing the new pattern points we want to achieve ... I hope this makes sense to you, just look at the pictures and you'll understand.
Ahora vamos a ir punto por punto en las lineas verdes que hemos dibujado antes y medimos la distancia que hay entre las diferentes tallas de los patrones que hemos copiado antes (los azules), es decir... si vemos que hay un centímetro de distancia entre los patrones dibujados en azul, entonces haremos una pequeña marca un centímetro más afuera, en algunos puntos la distancia es de medio centímetro, haz un punto medio centímetro más afuera para ir dibujando los puntos del nuevo patrón que queremos conseguir... yo espero que esto tenga sentido para ti, simplemente, mira las fotos y podrás comprenderlo.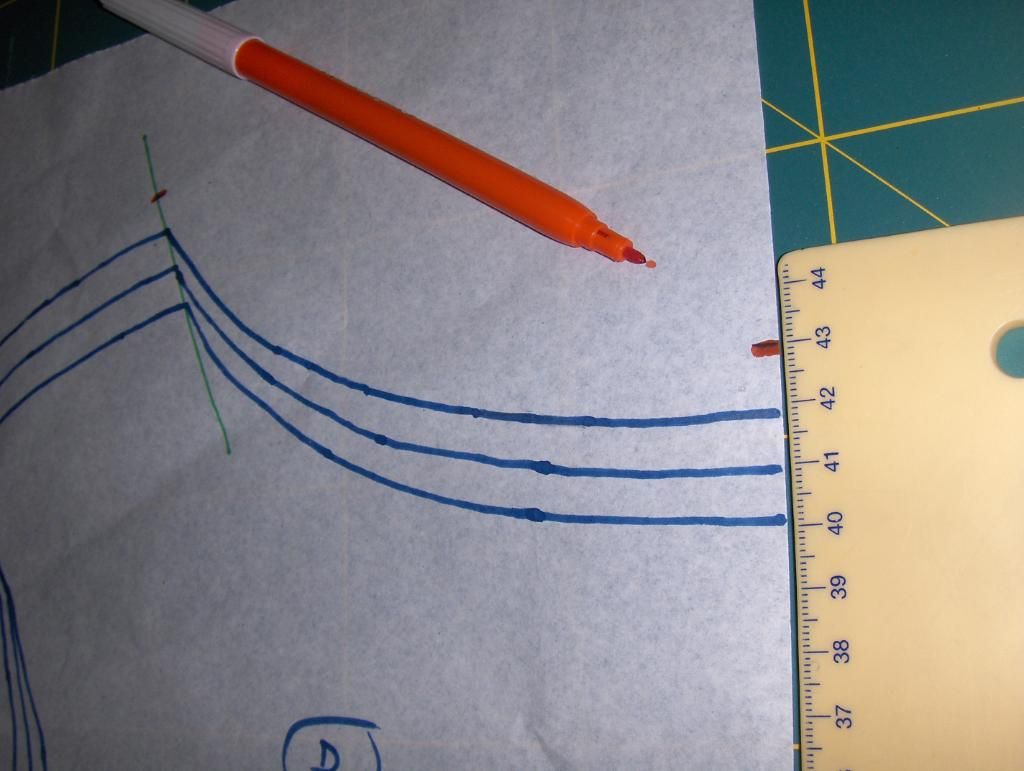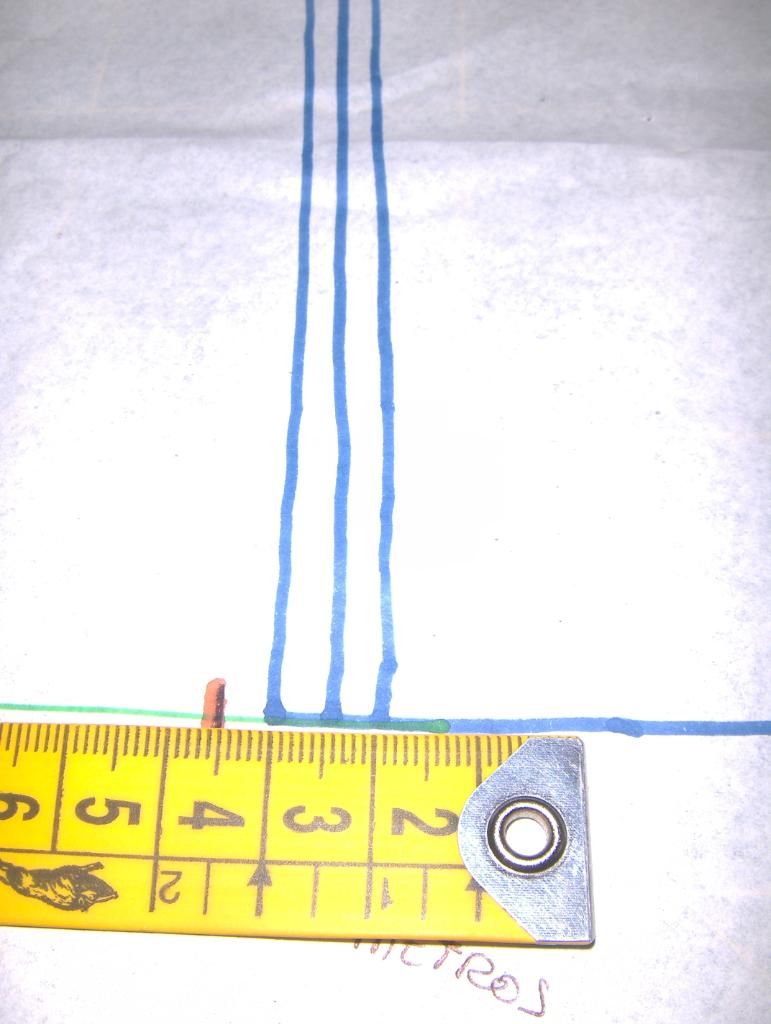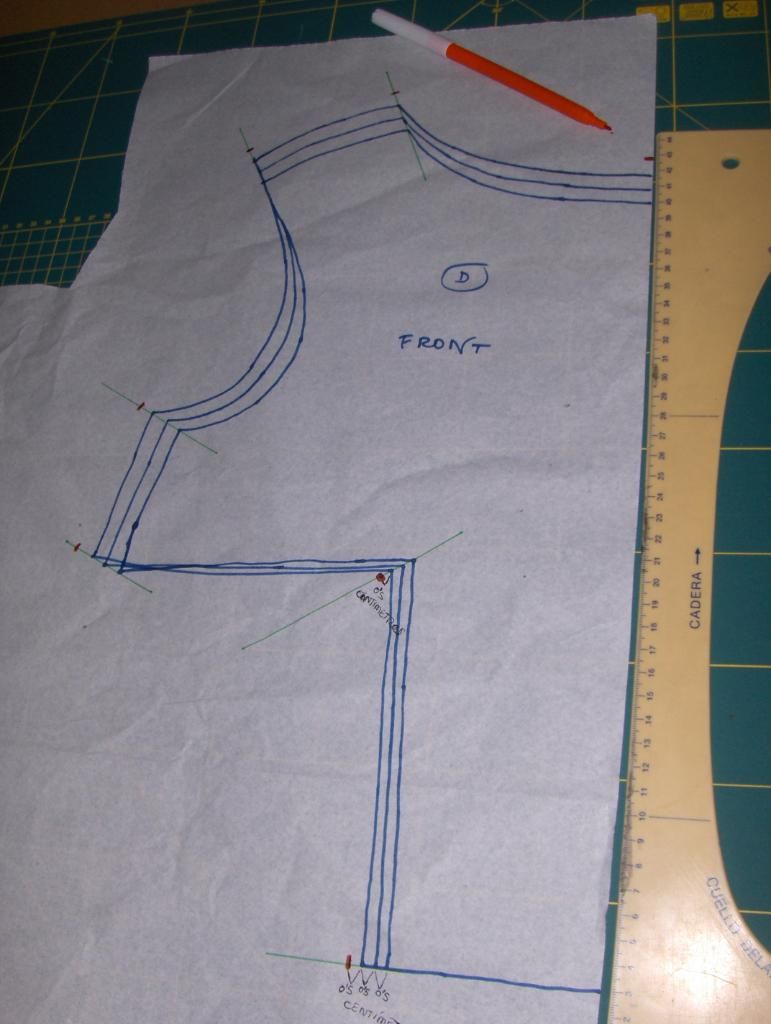 Once you've marked all the points of the new pattern, we need to unite these new items only and we will have our pattern larger size, we will see better with pictures ...
Una vez que hayamos marcado todos los puntos del nuevo patrón , solamente nos falta unir estos nuevos puntos y tendremos nuestro patrón una talla más grande, vamos a verlo mejor con fotos..
.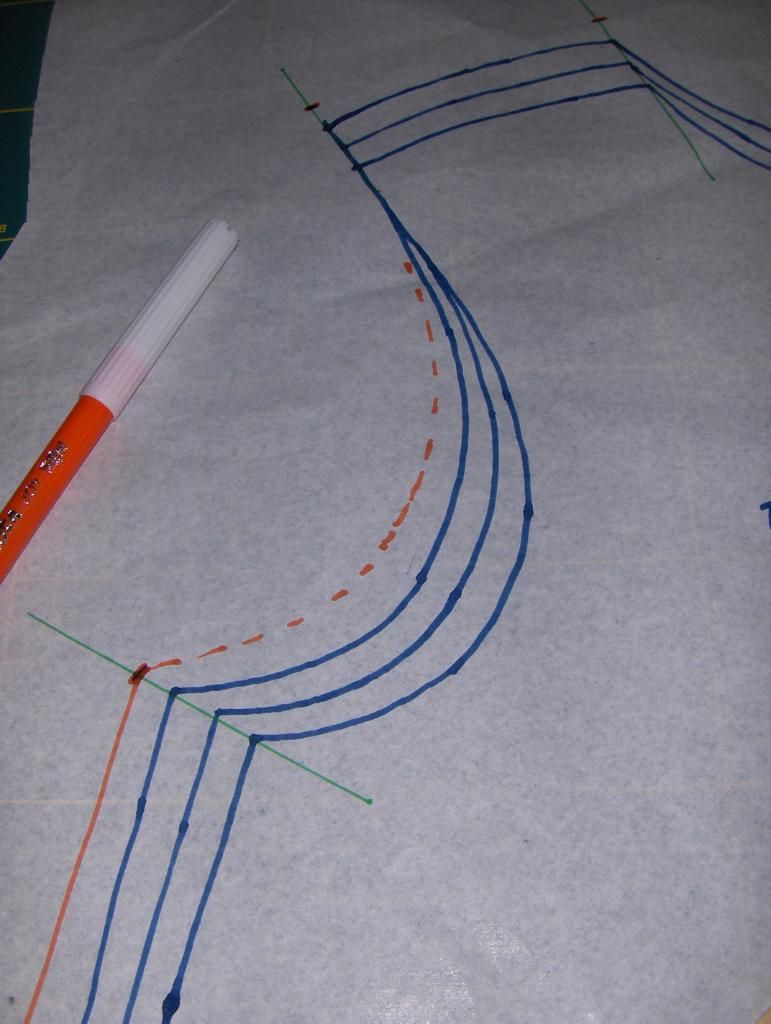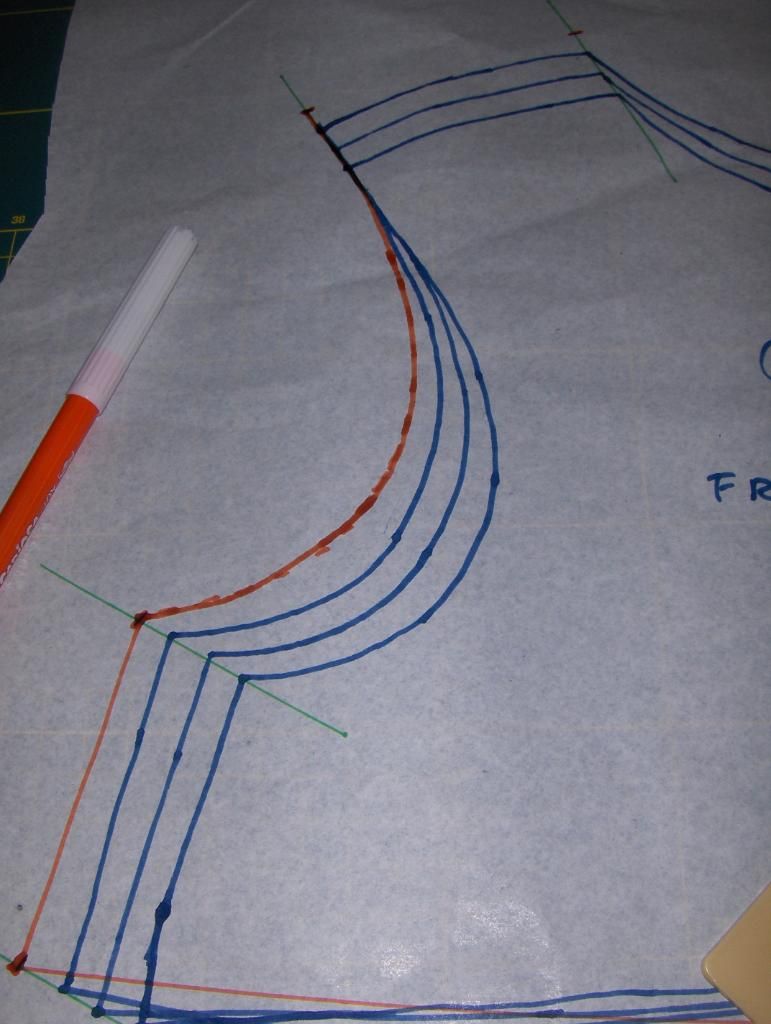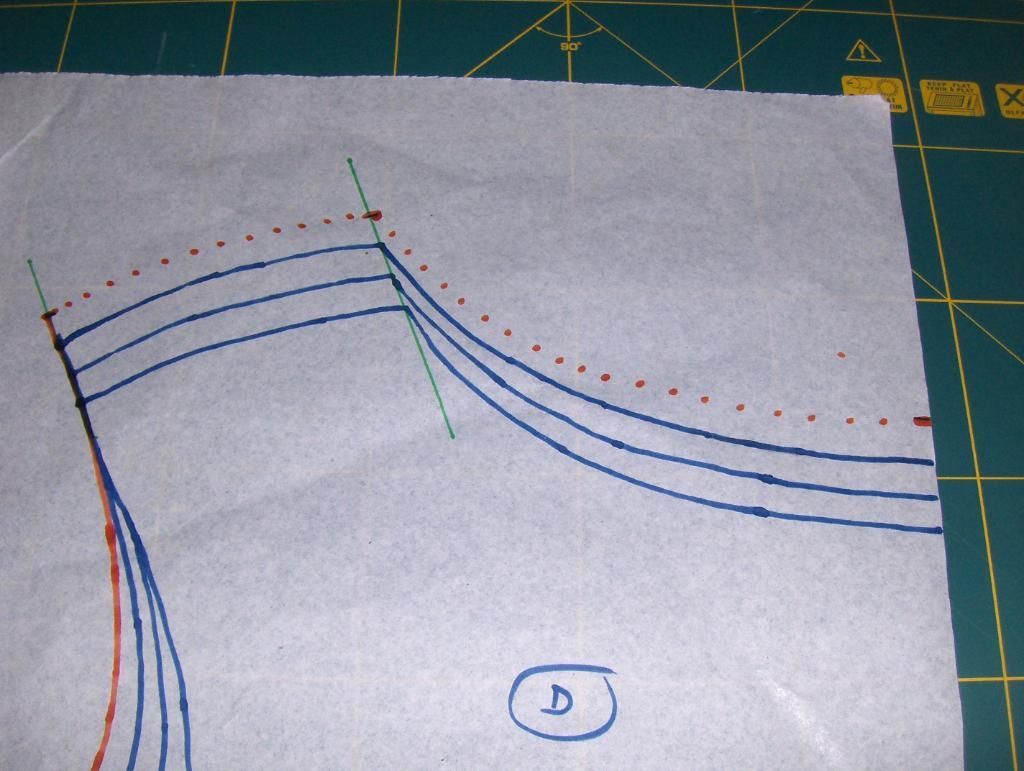 Straight lines can be drawn with a ruler,. To follow curved lines, it is best to draw equidistant dots of the blue pattern and then attaching them to pass over them, I did this with orange marker so you can see it better ...
Las lineas rectas se pueden dibujar con una regla, para seguir las lineas curvas, lo mejor es ir dibujando puntitos de forma equidistante al patrón azul y después, pasar encima de ellos uniéndolos, yo hice esto con rotulador naranja para que puedas verlo mejor...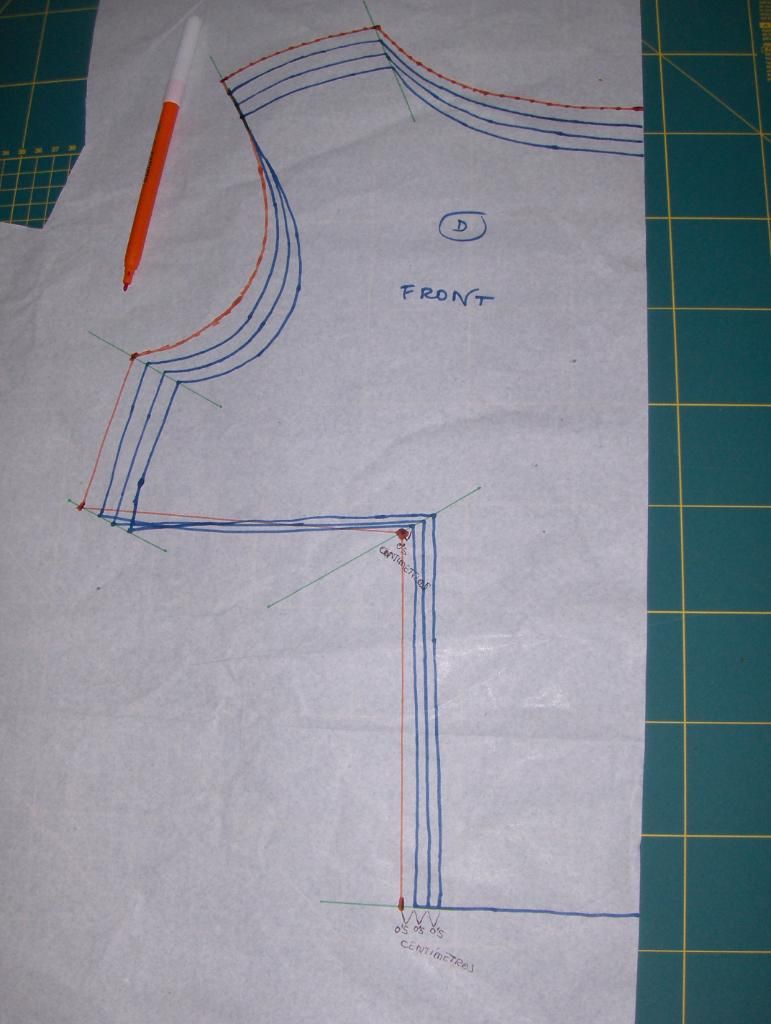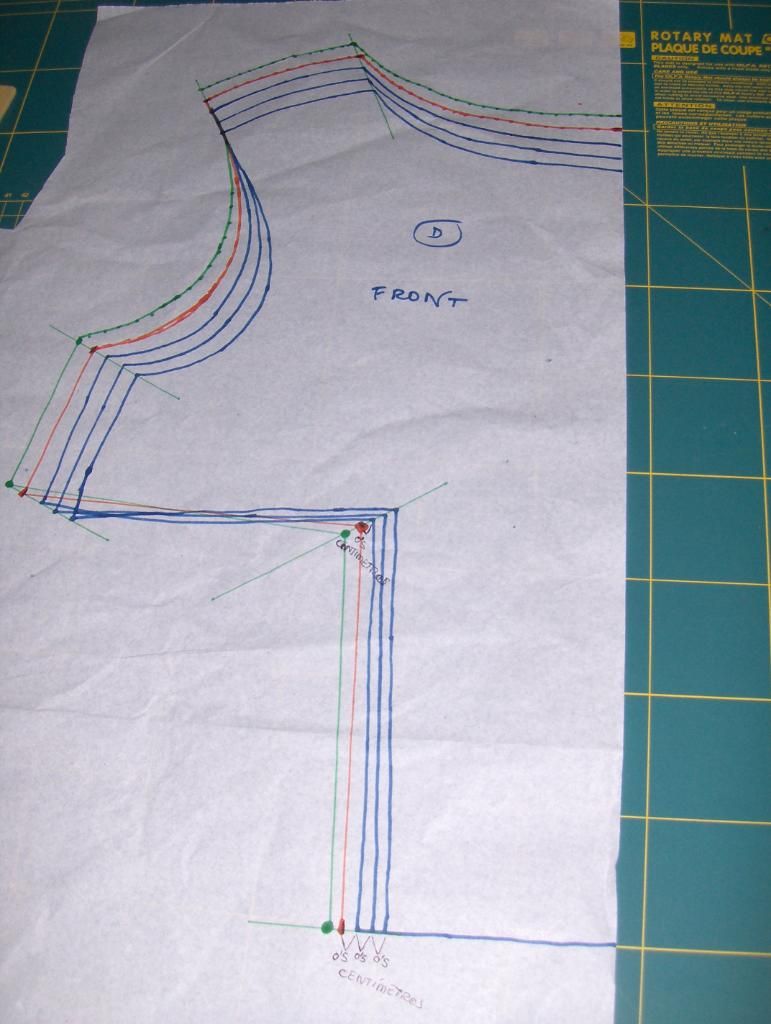 And voila! We already have our pattern of size 44 drawn with orange line (in the first photo). It's that easy! If you need larger sizes, you just have to follow the same steps and get a size 46 (in green, in the second photo).
What do you think about? Do you found easy to understand it?? These same steps are repeated in other parts of the pattern to get different sizes throughout.
And of course, this same system you can use any pattern you want to "enlarge" or made ​​smaller, for ejm. I often read comments from girls who really like models plus sizes, but are great for them ... you haven´t excuse now!
We are already very close to start with our dress ... so you can already start thinking about the accessories that you use for it ... I prepared and I have mine ... And you??
Y Voilá! Ya tenemos nuestro patrón de la talla 44 dibujado con linea de color naranja (en la primera foto). Es así de fácil!! Si necesitas tallas más grandes, solamente tienes que seguir los mismos pasos y tienes una talla 46 (en color verde, en la segunda foto).
Qué te parece?? Te ha resultado fácil de entender?? Estos mismos pasos se repiten en las demás piezas del patrón para conseguir las distintas tallas en todas ellas.
Y por supuesto, este mismo sistema lo puedes usar para cualquier patrón que quieras "agrandar" o hacer más pequeño, por ejm. muchas veces leo comentarios de chicas que les gusta mucho los modelos de las tallas plus, pero son grandes para ellas... ya no tienes excusa!!
Estamos ya muy cerquita de comenzar con nuestro vestido... así que ya puedes ir pensando en los accesorios que vas a usar con él... yo ya tengo los míos preparados... Y tú??