Well, our pattern is already altered and adapted to our measures and our bodies, now we will cut the fabric ..
Before we begin, let me tell you something, I sewed for the public for 20 years, for all body types and all kinds of garments, including all kinds of dresses of ceremony, I also taught pattern making and sewing. This means that over the years I have sought ways to sew faster and garments to finish in less time, along this beautiful adventure in which we are immersed now, I'll try it your way of sewing more faster , you get finished garments in less time too .... but you don´t mistake .... sew faster isn´t sew in any way, or press the machine treadle more thoroughly, no ...
Sew your clothes in less time means learning to eliminate some steps in the process quite troublesome ... you'll agree with me that if you learn to cut the pattern pieces on your fabric without dialing anything, you're ahead of precious time to sew the garment ... If you can sew your pieces, including darts without having to paint anything with chalk or loose threads pass, you're getting ahead of time to sew ... If you can sew without basting anything except some specific things, you're advancing time to sew something else ... and, little by little, stealing time here and there, we will have our garment sewn in less time than we did before ..
Remember that human beings are a creature of habit, so if you are afraid .. you just have to try it, once you've tried it and see it is not that hard, it will become a habit to do it this way ... of course, you are free to sew your way ... I just try to sew is not as long and tedious task for you ... over time you will know the wonderful feeling of starting with a dress in the morning and use it for dining out, this is the case with this dress by ejm ...
Here we go ...
Bien, con nuestro patrón transformado y adaptado a nuestras medidas y nuestro cuerpo, vamos a cortar la tela..
Antes de empezar, déjame contarte algo, he cosido para el público durante 20 años, para todo tipo de cuerpos y todo tipo de prendas, incluyendo toda clase de vestidos de ceremonia, también he dado clases de patronaje y confección. Esto implica que con el transcurso de los años he buscado fórmulas para coser más deprisa y poder terminar las prendas en menos tiempo, a lo largo de esta hermosa aventura en que estamos inmersas ahora, yo voy a intentar que tu forma de coser sea más rápida, que consigas terminar las prendas en menos tiempo también.... pero no te equivoques.... coser más deprisa no es coser de cualquier forma, ni apretar el pedal de la máquina más a fondo, no...
Coser tus vestidos en menos tiempo significa aprender a eliminar algunos pasos bastante engorrosos en el proceso... estarás de acuerdo conmigo en que si aprendes a cortar las piezas de patrón en tu tela sin tener que marcar nada, estás adelantando un tiempo precioso para coser la prenda... si eres capaz de coser tus piezas, incluyendo las pinzas sin necesidad de pintar nada con tiza o pasar hilos flojos, estarás adelantando tiempo para coser... si eres capaz de coser sin hilvanar nada, excepto algunas cosas puntuales, estarás adelantando tiempo para coser otra cosa... así, poquito a poco, robando tiempo de aquí y de allá, tendremos nuestra prenda cosida en menos tiempo que lo hacíamos antes..
Recuerda que el ser humano es un animal de costumbres, así que si tienes miedo.. solamente tienes que intentarlo, una vez que lo has probado y ves que no es tan difícil, se convertirá en una costumbre hacerlo de esta forma... por supuesto, que eres libre de coser a tu forma... yo solamente intento que coser no sea tan largo y tedioso para ti... con el tiempo conocerás la maravillosa sensación de empezar con un vestido por la mañana y usarlo para salir a cenar, este es el caso de este vestido por ejm...
Vamos allá...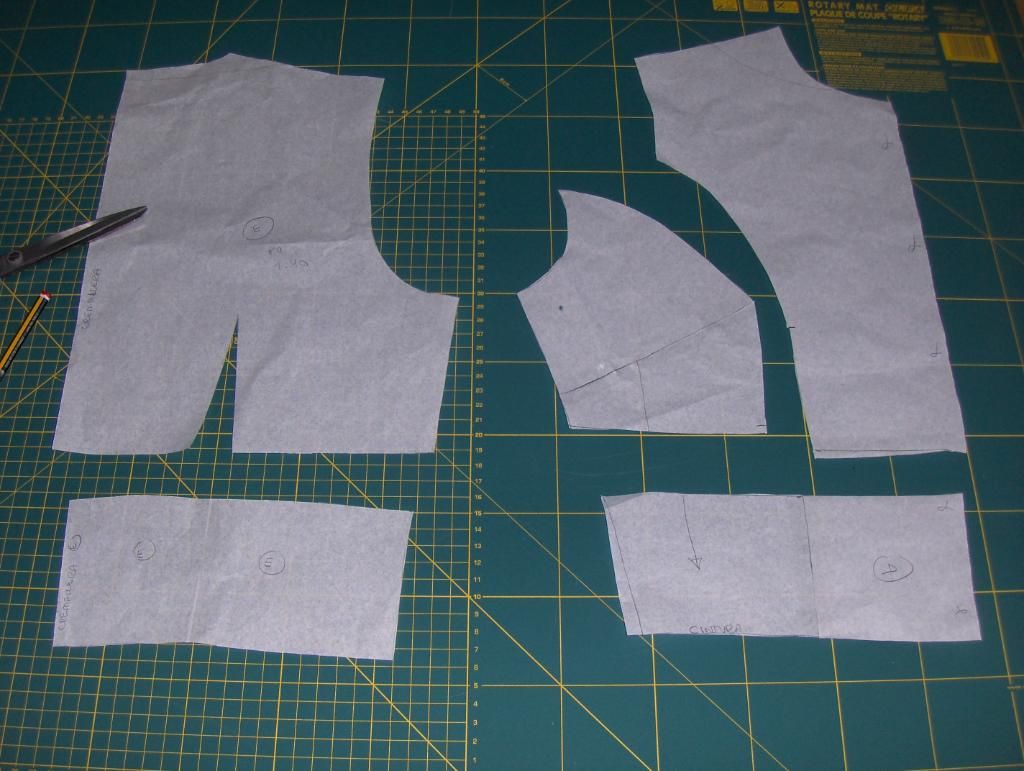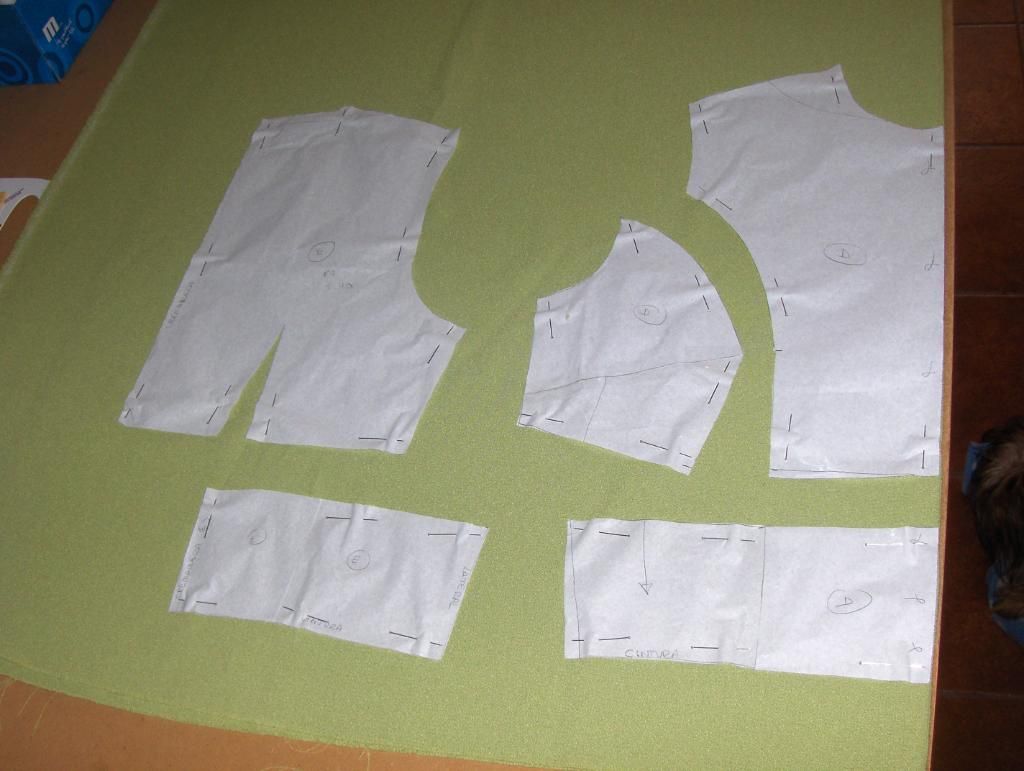 In the last post, we finished transforming the pattern and will certainly pattern pieces as shown in the first picture .. Now we have to put the pieces of the pattern on the fabric folded, as the pattern has no seam allowance added, leave few centimeters of separation between these pieces, and cut as follows .... click the photo to enlarge ...
En el último post, habíamos terminado de transformar el patrón y seguramente tendremos las piezas tal y como muestra la primera foto.. Ahora hay que colocar las piezas del patrón sobre la tela doblada, como el patrón no tiene margen de costura añadido, dejaremos unos centímetros de separación entre estas piezas, y cortamos de la siguiente forma.... pincha en la foto para agrandar...
If you have taken care to ensure that the size of the pattern (in previous posts) and your body are similar, then you have a part of the path traveled. I always cut them with the same seam allowances on the side seams and center back (where will the zip) I leave two centimeters of seam allowance and the rest of the seam allowances to one centimeter.
To cut the fabric, just need a tape measure and our scissors, in the picture above, we have cut the parts of the body front and back, waist bands front and back and white fabric are waistbands front and back. I'm going to use them to lining this part of the dress, if you enlarge the picture you can see the details, now we will see how to cut the fabric without marking anything ...
Si has tenido la precaución de comprobar que las medidas del patrón (en los posts anteriores) y tu cuerpo son similares, entonces tienes una parte del camino recorrido. Yo siempre corto con los mismos márgenes de costura, en las costuras laterales y la del centro de espalda (donde irá la cremallera) dejo dos centímetros de margen y el resto de los márgenes de costura a un centímetro.
Para cortar la tela, solamente necesitamos una cinta métrica y nuestras tijeras, en la imagen superior, tenemos cortadas las piezas del cuerpo ,delantero y espalda, las bandas de la cintura delantero y espalda y la tela blanca son las bandas de cintura delantero y espalda que yo voy a utilizar para forrar esta parte del vestido, si agrandas la foto puedes ver los detalles, vamos a ver la forma de cortar la tela sin marcar nada...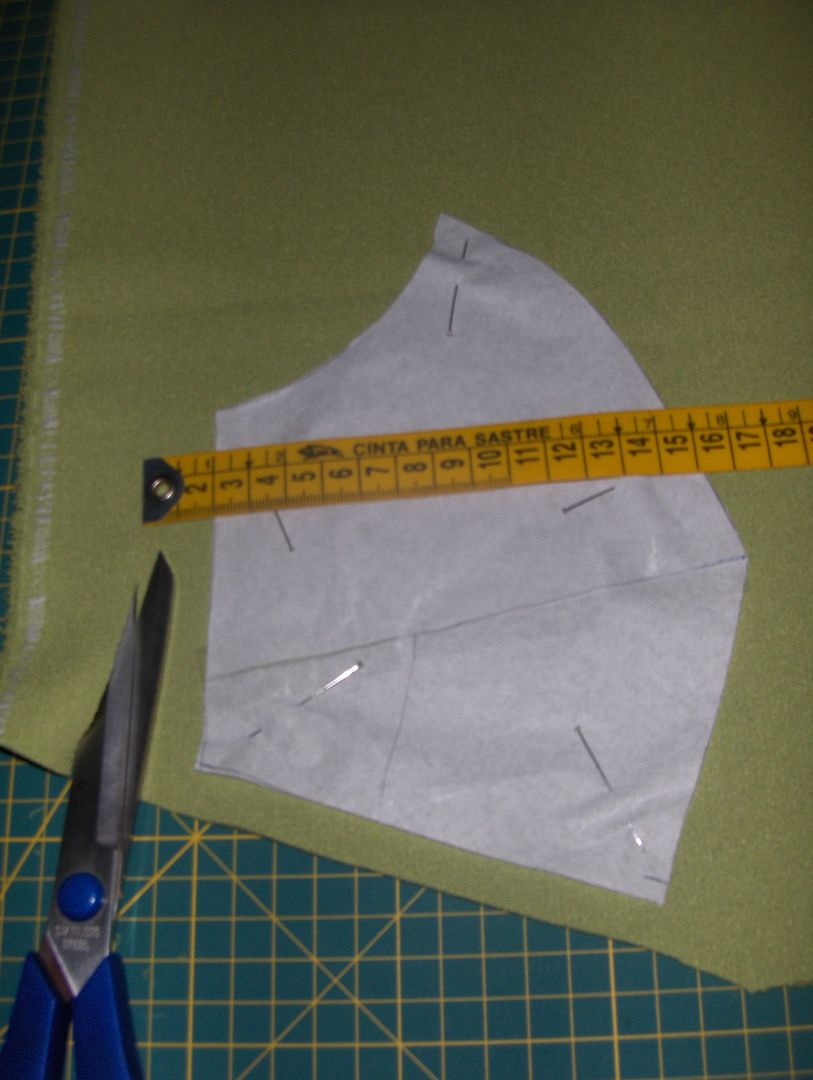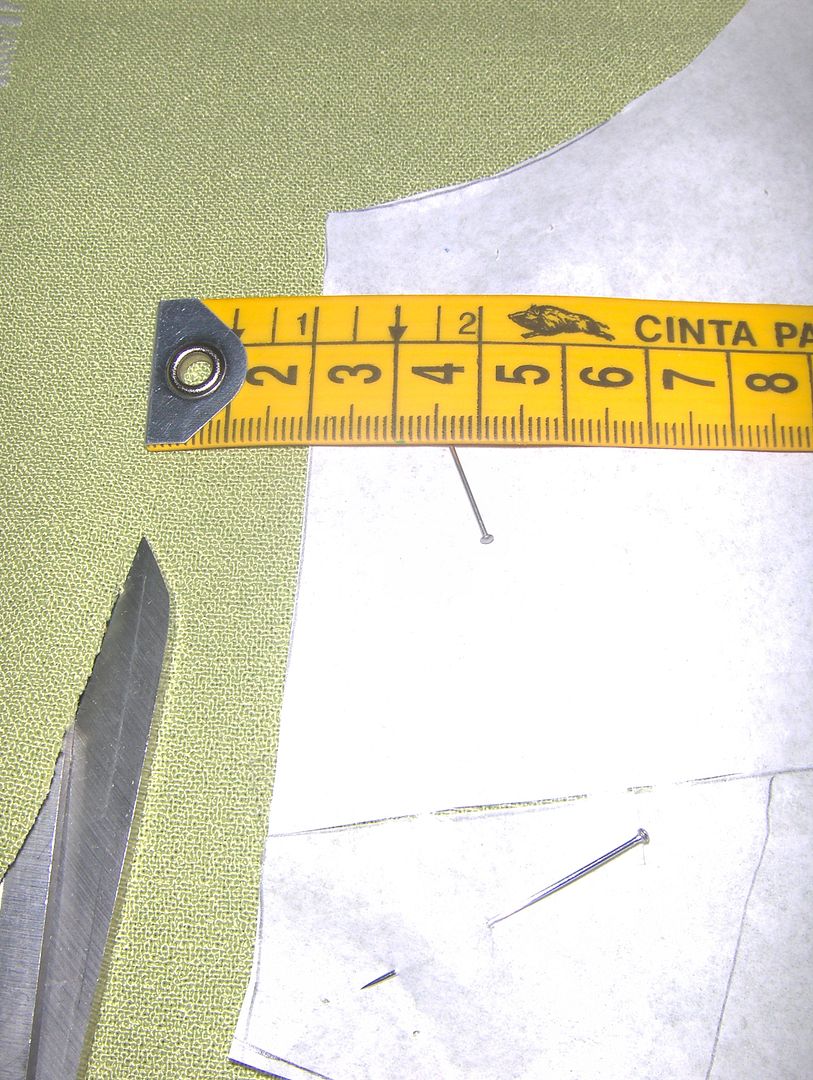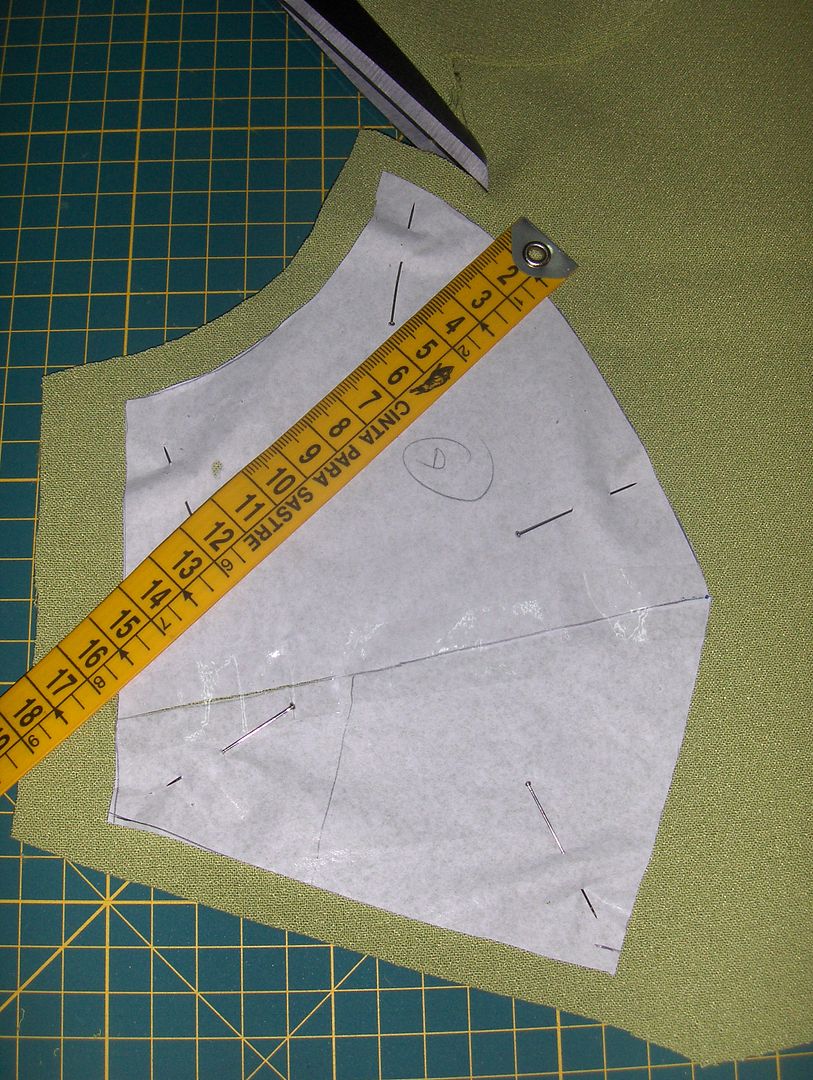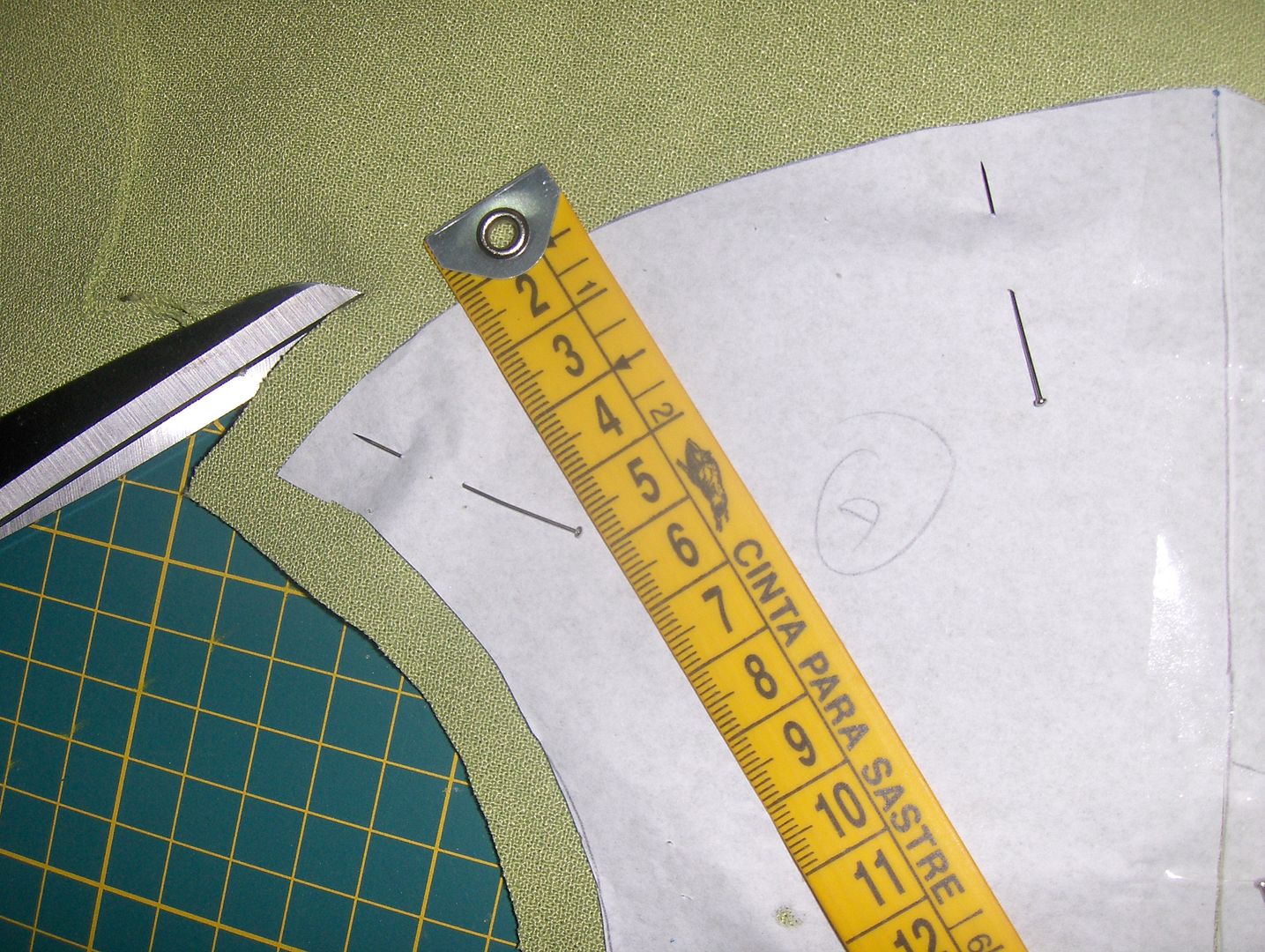 All you have to do is go clamping the measuring tape along the edge of the pattern while you measure centimeters of seam allowance that you need and the scissors is coming behind along the way ... don´t cuts longer "stride" with scissors, tiny cuts are better for giving better control. Easy, right?
And surely you wonder ... "Well, but if I do any marks on the fabric ... How the hell do I know where to sew??", Here we go ...
Todo lo que tienes que hacer es ir sujetando la cinta métrica a lo largo del borde del patrón mientras mides los centímetros de margen de costura que necesitas y detrás la tijera siguiendo el camino... no cortes con grandes "zancadas" con la tijera, mejor ir dando cortes pequeñitos para controlar mejor. Fácil, verdad?
Y seguramente tú te preguntarás... "Bien , pero si no hago ningún tipo de marcas en la tela... Como diablos voy a saber por donde coser??", Vamos alla...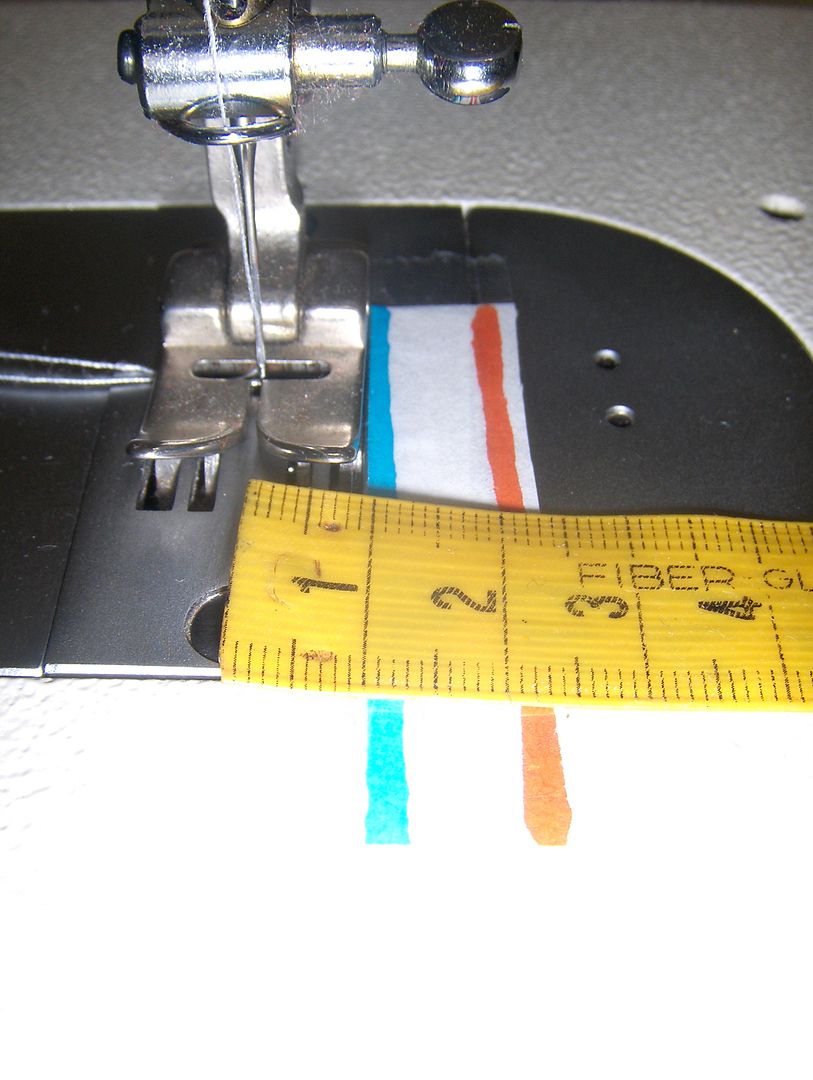 The tip here is to sew it at the same distance from the edge of the fabric ... I mean ... You can use this little trick of the photo above, taped a small piece of paper with two different brands of color, if you look closely, the blue line is exactly one centimeter away from the path of the needle, and the red line is two centimeters of the needle ... then ....
El truco aquí es coser siempre a la misma distancia del borde de la tela... me explico... puedes usar este pequeño truco de la foto de arriba, pegar con cinta adhesiva un pequeño trozo de papel con dos marcas de diferente color, si te fijas bien, la linea azul está exactamente a un centímetro de distancia de el camino de la aguja, y la linea roja está a dos centrímetros de la aguja... entonces....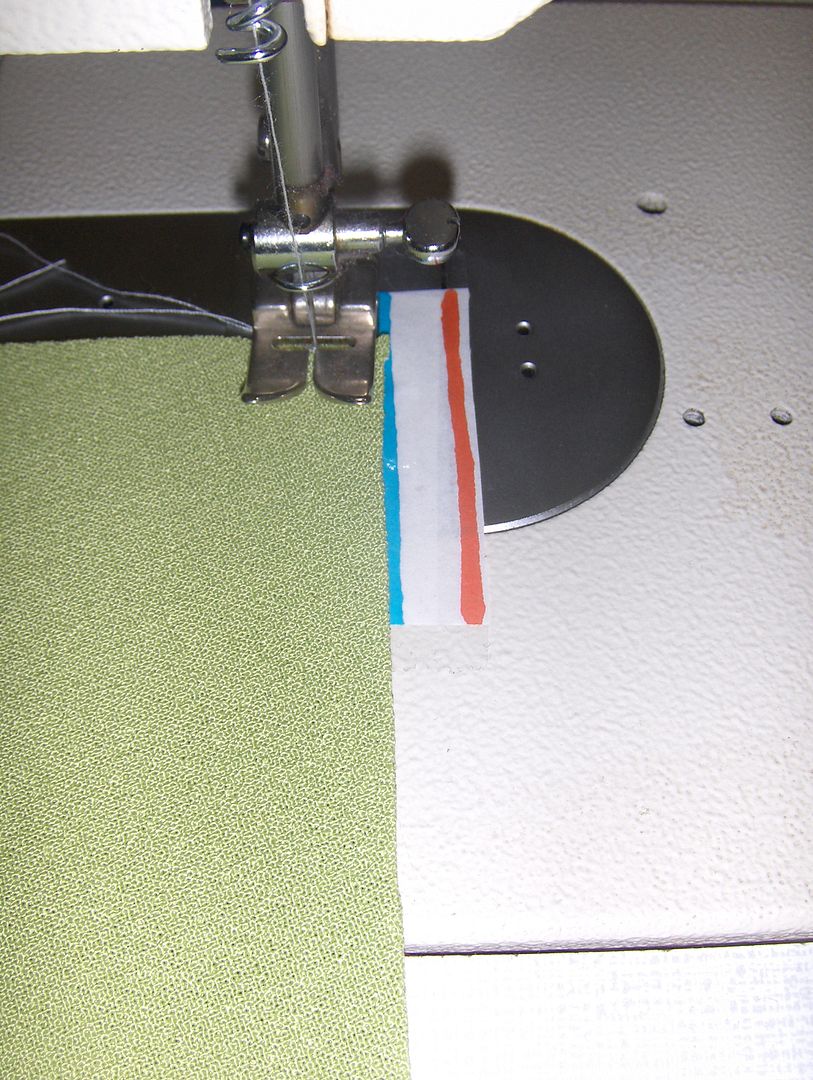 If you sew the two layers of fabric aligning the edge of the fabric with the blue line, you'll be sewing one centimeter of distance, if you put transversal pins to hold the fabric layers, you do not need to baste anything, no need chalking the drawing the pattern, do not spend loose threads to sew on the line where the edge of the pattern was before, what's it going in here??
Any Questions? You can practice this form of sewing a piece of cloth before you start with your dress, and when you have mastered this, you'll see how fast we sew our dress ... the next step is to assemble the bodice and the first test of the dressmaker ... ie .. yourself!
Si coses las dos capas de tela alineando el borde de la tela con la linea azul, estarás cosiendo a un centímetro de distancia, si colocas alfileres transversales para sujetar las capas de tela, no necesitas hilvanar nada, no necesitas marcar con tiza el dibujo del patrón, no necesitas pasar hilos flojos para coser por la linea donde estaba el borde del patrón antes, qué tal todo hasta aqui??
Alguna duda?? Puedes practicar esta forma de coser con un trozo de tela antes de empezar con tu vestido, cuando hayas dominado esto, ya verás que rápido cosemos nuestro vestido... el siguiente paso será montar el cuerpo y la primera prueba de la modista... o sea.. tú misma!!