Like I said in the previous post, I have in my closet the clone sweater that looks Jess in chapter 24 of the first season of New Girl. So I'll tell you how I made it ...
Como te decía en el post anterior, ya tengo en mi armario el clon del sueter que luce Jess en el capítulo 24 de la primera temporada de New Girl. Así que voy a contarte como lo hice...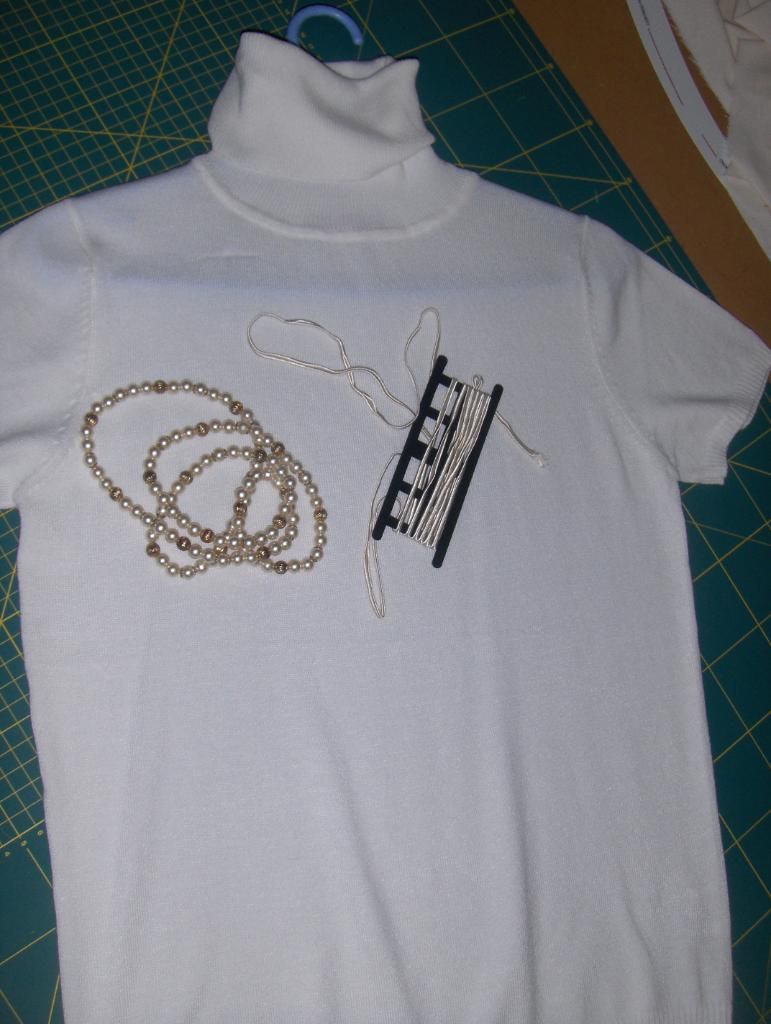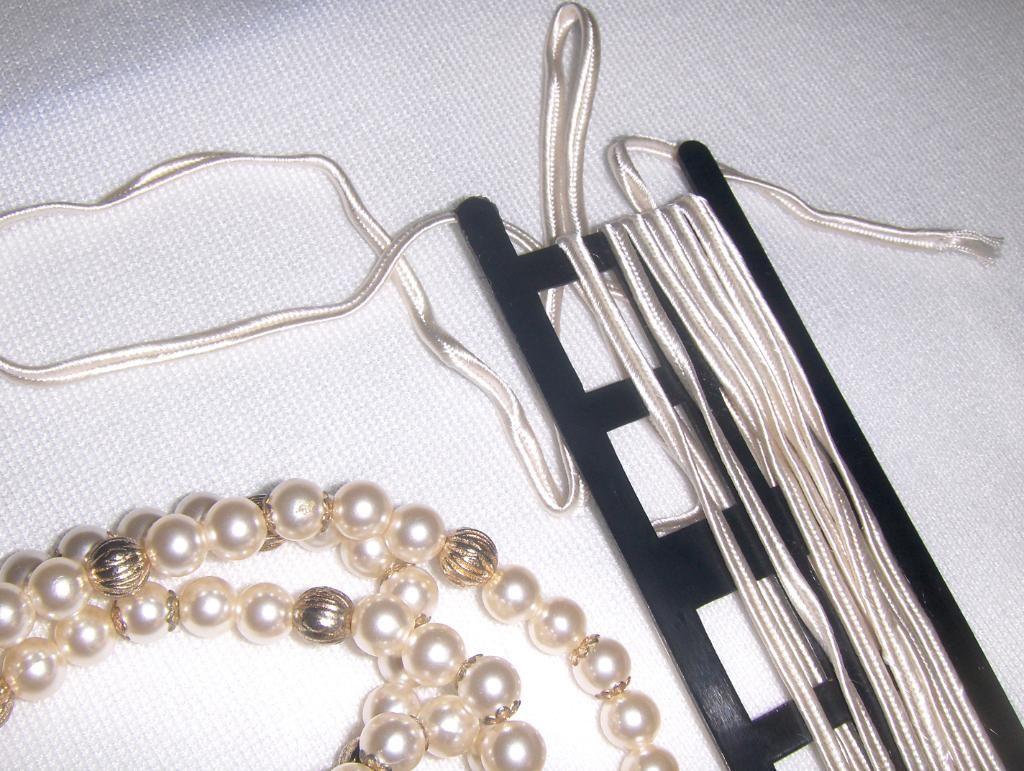 To be honest, I have to say that I have been looking for an ivory sweater, short sleeve and with features similar to the original sweater for about three weeks, every time I passed in front of a store, I went to have a look in search the coveted sweater, no luck and I got tired of looking, until last weekend, by surprise, while I was looking for something else I came across head on with a sweater that could be used for what I had in my mind, although the problem was that this was a high collar sweater ... but that did not stop me, so I took it home and started the transformation ... I used to adorn it a cord that is similar to "mouse tail", but this is double, so you can sew through it. And some jewelry beads on a necklace that was very old and had no use .... so really I have in my wardrobe for a sweater very similar to the original with the only cost 10 euros, that I paid for the sweater. Although I have to say that in the original sweater, pearls are not pearlescent, I used this because it was what I had at home.
Para ser honesta, tengo que decir que llevo buscando un sueter de color marfil, de manga corta y con las características parecidas al sueter original desde hace unas tres semanas, cada vez que pasaba delante de una tienda entraba a echar una ojeada en busca del ansiado sueter, no hubo suerte y me cansé de buscar, hasta que el fin de semana pasado , por sorpresa, mientras estaba buscando otra cosa me topé de frente con un sueter que podría servir para lo que tenía en mente, el problemilla era que este sueter era de cuello alto... pero eso no me detuvo, así que lo llevé a casa y comencé con la transformación... yo usé para adornarlo un cordoncillo que es parecido al de cola de ratón, pero este es doble, así que puedes coser en medio de él. Y algunas perlas de bisutería que tenía en un collar muy viejo que ya no tenía uso .... así que realmente yo tengo en mi armario un sueter muy parecido al original con el único coste de 10 euros que pagué por el sueter. Aunque tengo que decir que en el sueter original , las perlas no son nacaradas, yo usé estas porque era lo que tenía por casa.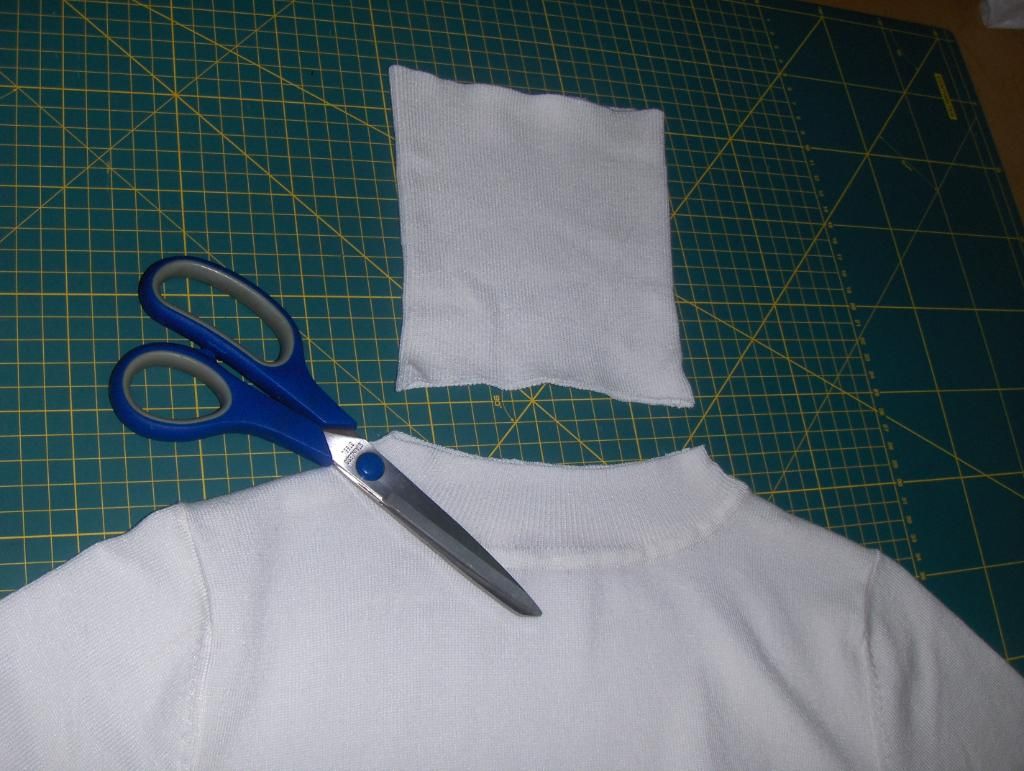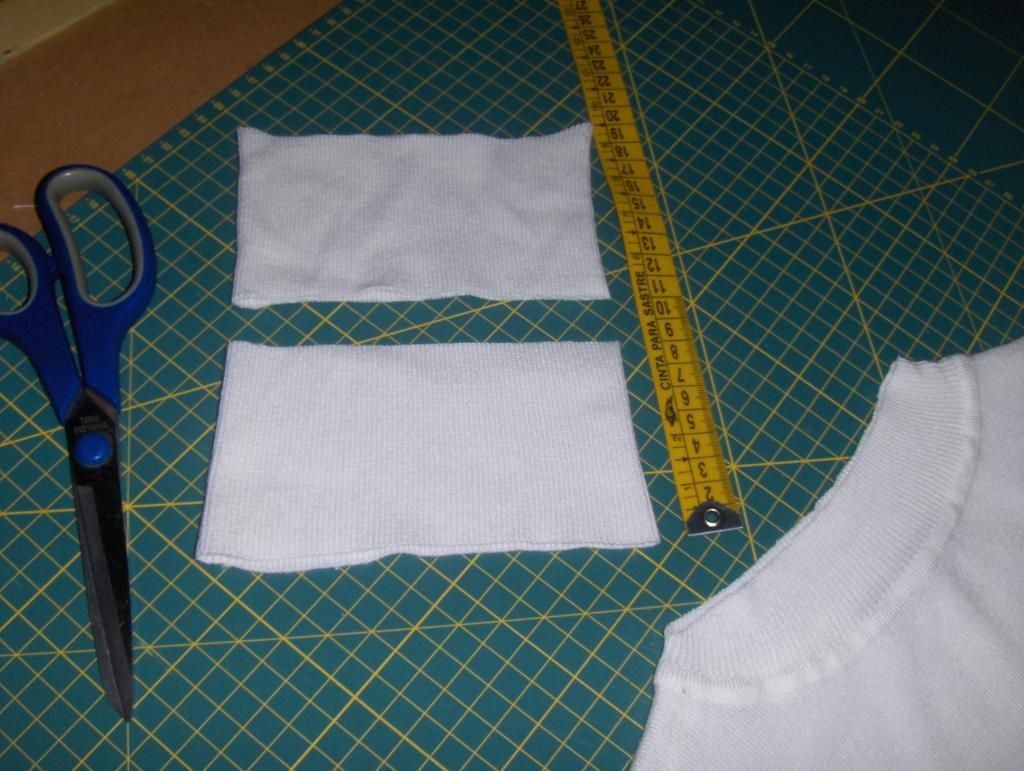 The first thing you need is an overlock, it´s very difficult to achieve this transformation without it, so I cut the turtleneck sweater in a straight line and then cut this again to get two pieces of collar.
Lo primero que necesitas es una overlock, sin ella es muy difícil conseguir esta transformación, así que yo corté el cuello cisne del sueter en linea recta y después corté este otra vez para conseguir dos trozos de cuello.
Then I opened the pieces of the collar (formerly round), and joined to each other with the overlock to make a larger neckband, you should keep in mind that the contours of this new neckband you're doing has approximately the same as the "hole" that you want to open at the neckline of the sweater and you also have to check that the two binding seams must fit the shoulder seams, this means that the piece of collar that goes to the back has to be shorter than the piece that goes to the front of the sweater, well controlled all these measures to avoid disappointment.
Después abrí los trozos de cuello que antes eran redondos, y los uní entre si con la overlock para hacer una tira de cuello más grande, tienes que tener en cuenta que el contorno de esta nueva tira de cuello que estás haciendo tenga aproximadamente la misma medida que el "agujero" que quieres abrir en el escote del sueter y tambien tienes que controlar que las dos costuras de unión tienen que encajar con las costuras de los hombros, esto supone que el trozo de cuello que va a la espalda tiene que ser más corto que el trozo que va al delantero del sueter, controla bien todas estas medidas para evitar disgustos.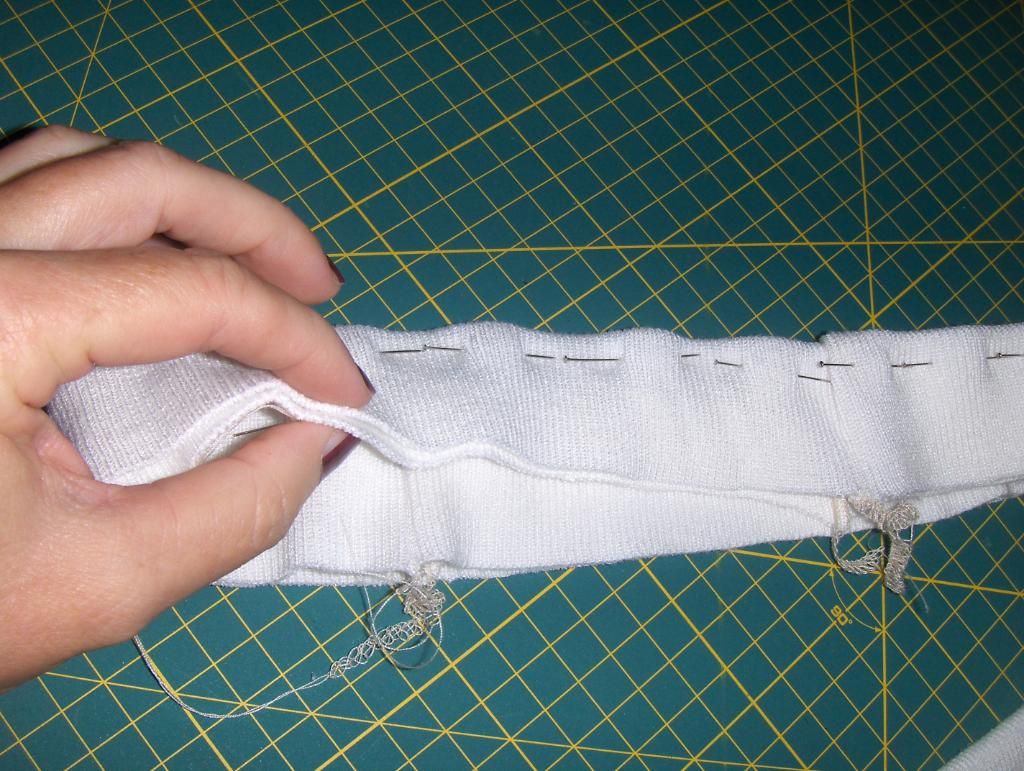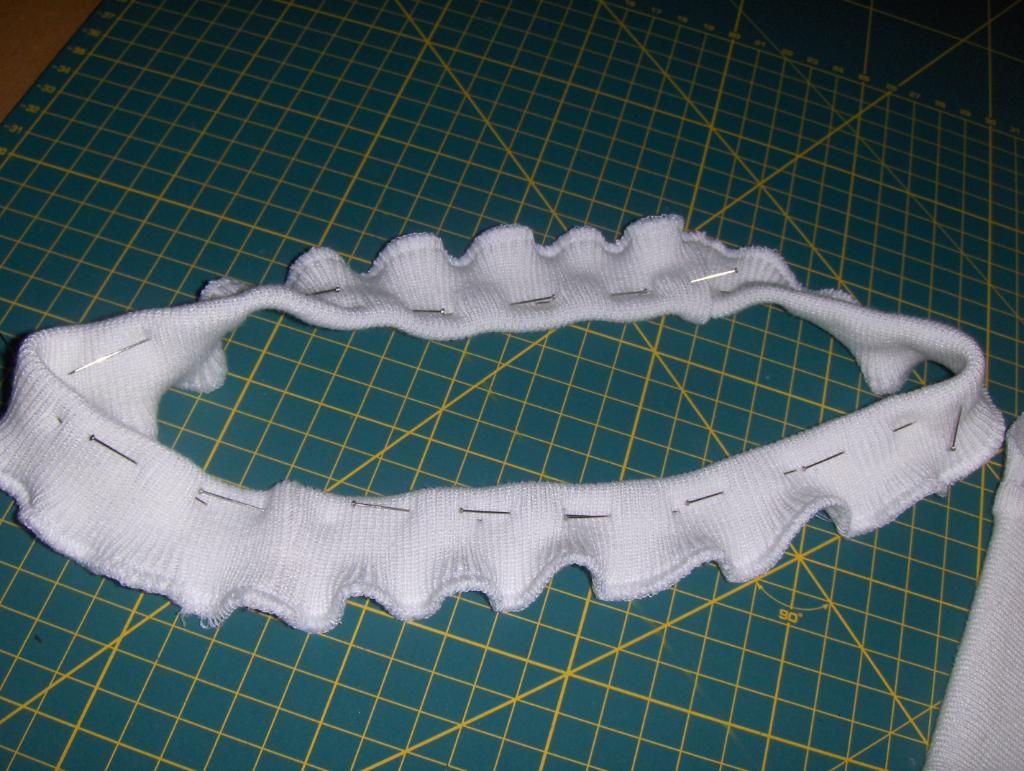 Now fold this collar strip in half lengthwise and shows the first photo and hold with pins in the fold, then join the edges together with overlock. Do not panic if it is wavy, it's normal, you have to do is ...
Ahora doblamos esta tira de cuello por la mitad a lo largo como muestra la primera foto y la sujetamos con alfileres en el doblez, entonces unimos los bordes juntos con la overlock. No te asustes si se queda ondulado, es normal , lo que tienes que hacer es...
Gently iron it after removing the pins, do not drag the iron in the process, only soft touches give the steam to get embed the undulations and mark the fold of the neckband. Now is the time to put the neckband on the final location, be aware of placing the strip bend outward at the outer edge and what you overlock the edge that is closer to the neckline of the sweater, divided adjusting strip the two seams with shoulder seams and pinned.
Plancharlo suavemente después de quitar los alfileres, no arrastres la plancha en el proceso, solamente ir dando toques suaves con el vapor para conseguir embeber las ondulaciones y marcar el doblez de la tira de cuello. Ahora es el momento de colocar la tira de cuello en el sitio definitivo, ten la precaución de colocar el doblez de la tira hacia afuera, en el borde exterior y lo que has remallado en el borde que está más cerca del cuello del sueter, reparte la tira ajustando las dos costuras con las costuras de los hombros y sujeta con alfileres.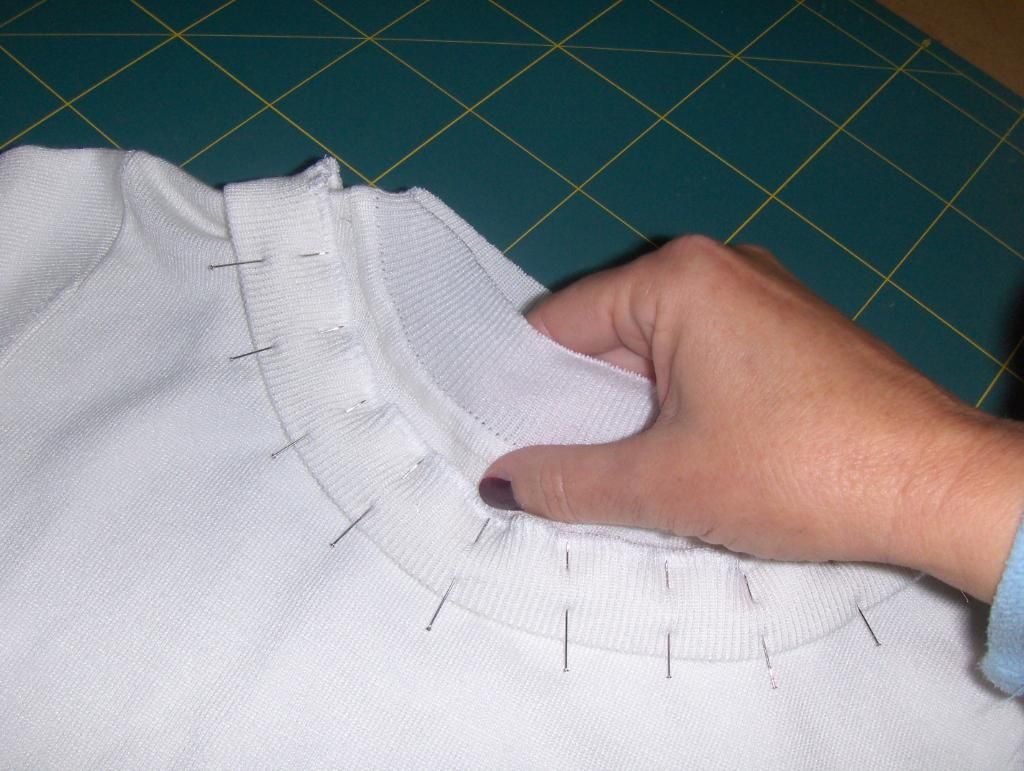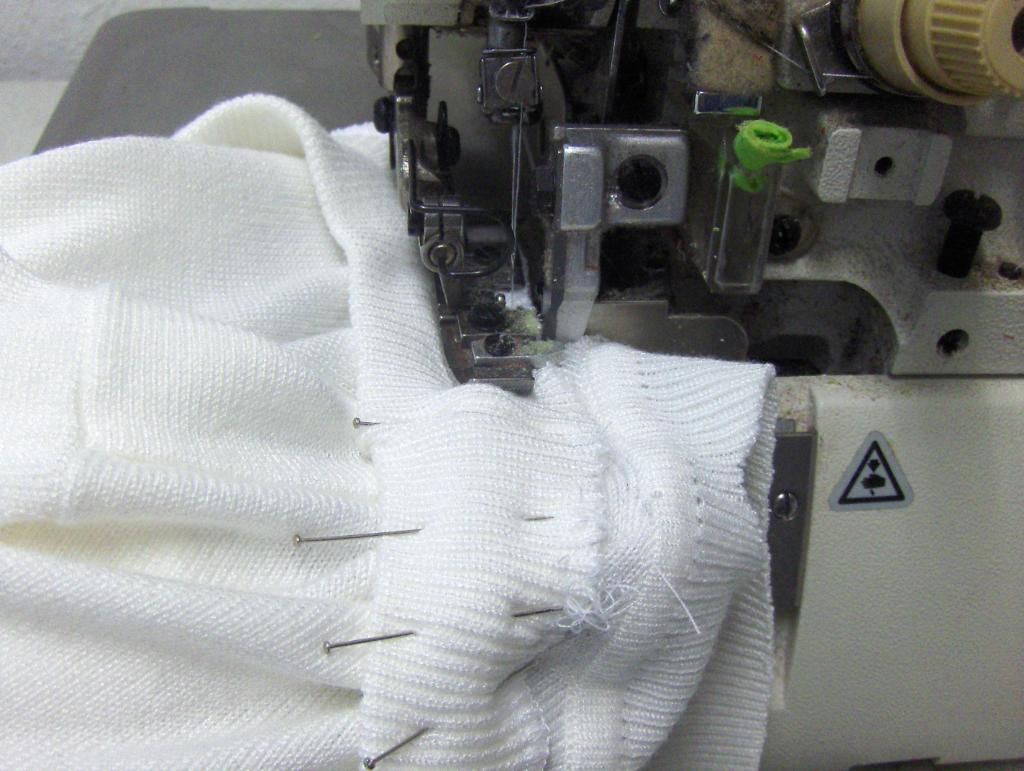 In the first picture you can see up close the position of the neckband, you now have two options, if you control the overlock well, you can go with it to sewing strip neck sweater while you progress slowly and removing pins in the way .... If, however, your overlock controls you , you better take off your pins and basting to take the garment to your serger.
En la primera foto puedes ver de cerca la posición de la tira de cuello, ahora tienes dos opciones, si controlas bien la overlock puedes ir cosiendo con ella para sujetar la tira de cuello al sueter mientras vas avanzando poco a poco y quitando los alfileres en el camino, .... si por el contrario, la overlock te controla a ti, es mejor que hilvanes y quites los alfileres para llevar la prenda a tu remalladora.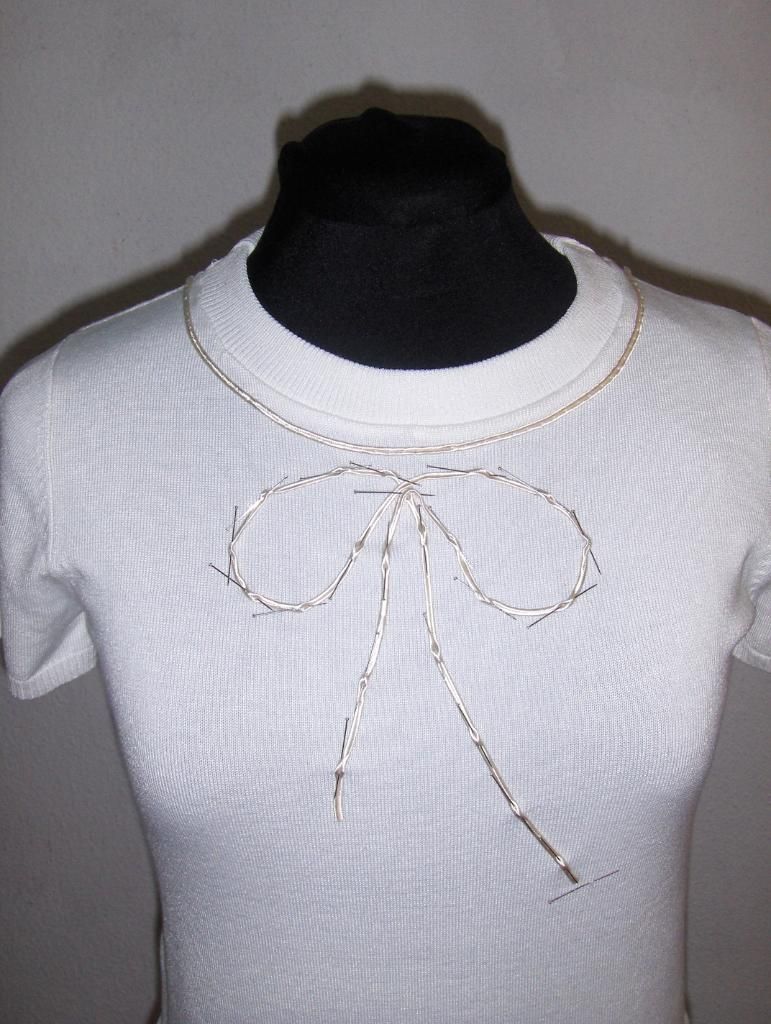 Once you've sewn the collar strip at your sweater just need to give a touch of iron for the new collar is so-nice ... at this point, I took my sweater at my mannequin to place the double satin tape with pins and shaping looped sweater like the original one, do not forget the tape on the edge of the collar too, I've placed it only on the front neckline, I think if you have long hair is better option to avoid tangles from your hair and pearls, but this is my personal choice, you can decide on your sweater if you place all around or only half, like me.
Una vez que has cosido la tira de cuello al sueter solamente necesitas dar un toque de plancha para que el nuevo cuello quede así de bonito... en este punto, yo llevé mi sueter al maniquí para colocar la cinta doble de satén con alfileres e ir dando forma de lazo igual que el sueter original, no te olvides de la cinta en el borde del cuello tambíén, yo he colocado solamente en el escote delantero, creo que si tienes el pelo largo esta opción es mejor para evitar enredones entre el pelo y las perlas, pero esta es mi opción personal, tú puedes decidir en tu sueter si la colocas toda alrededor o solamente la mitad , como yo.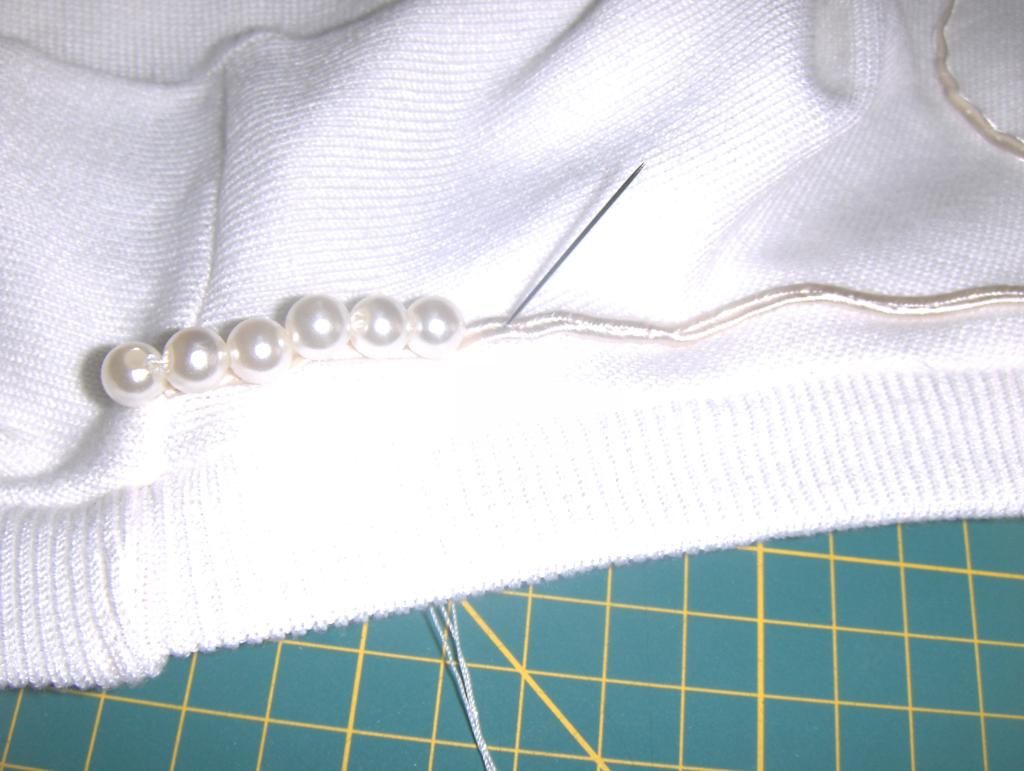 Once you get the approximate shape of the subject, it's time to take the sweater off the mannequin and sewing all the way to the tape by hand with tiny stitches. And we will place the beads, a couple of tips ... use "Jeans topstiching thread" to sew the beads,(Thanks for the translate, Ann!) do not do with regular sewing thread, because you run the risk of it breaking anytime and your pearls fall (and believe me, they will) scattered everywhere, would be a shame to give all this work to finish with a torn sweater and lots of pearls lying in the middle of the street or the bus with no chance of recovering.
And another tip, do not use beads that have a lot of weight because this will cause the sweater fall forward making a very ugly effect.
Now we begin to sew the beads in this way we stick the needle from the wrong side to the right in the middle of the tape, a space below the last bead (calculated that space as the size of a pearl approximately)
.
Una vez que has conseguido la forma aproximada del motivo, es hora de sacar el sueter del maniquí y coser todo el recorrido de la cinta a mano con puntadas pequeñitas. Y vamos a colocar las perlas, un par de consejos,... utiliza hilo torzal para coser las perlas, no lo hagas con hilo de coser normal, porque corres es riesgo de que se rompa en cualquier momento y tus perlas caigan ( y creéme, que lo harán ) esparcidas en cualquier sitio, sería una pena darte todo este trabajo para terminar con un sueter roto y un montón de perlas tiradas en medio de la calle o el autobús sin posibilidad de recuperarlas.
Y otro consejo, no utilices perlas que tengan mucho peso porque esto conseguirá que el sueter caiga hacia delante haciendo un efecto muy feo.
Ahora comenzamos a coser las perlas de esta forma, clavamos la aguja desde el revés hacia el derecho en medio de la cinta, un espacio más adelante de la última perla (calcula ese espacio como el tamaño de una perla aproximadamente).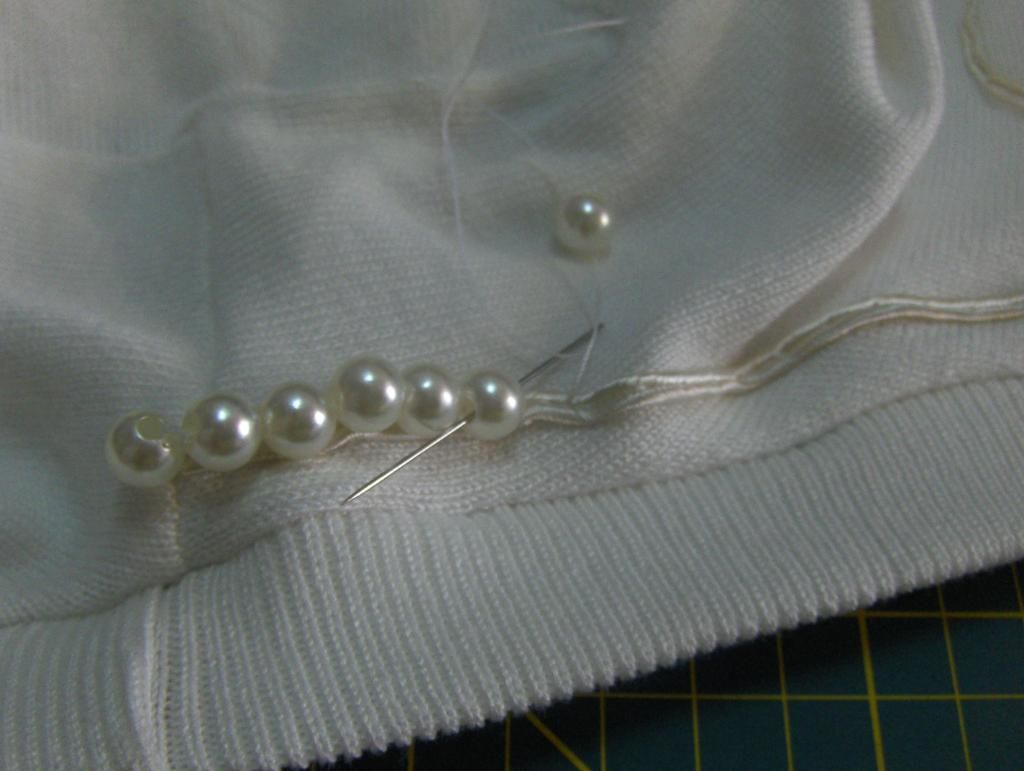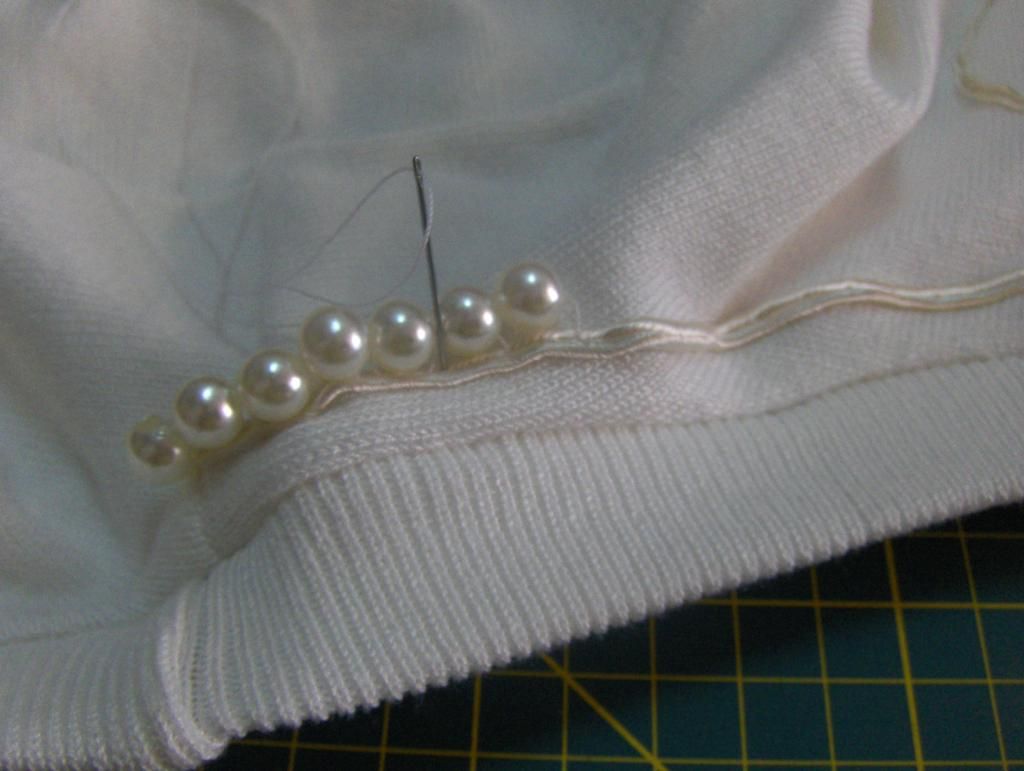 Then take the needle and thread a bead, then pass the needle back into the last bead sewn, as shown in the first picture. After sticking the needle behind the pearl to the wrong side of the sweater and pull the thread completely, you will see how the last pearl is set into place in the line cord, and returns to the first step, stick the needle from the wrong side sweater to the right side leaving the space of a pearl, it´s not difficult and pearls will be perfectly aligned, top right end of the thread. When you're done it's time to enjoy your creation ...
Entonces saca la aguja y enhebra una perla, entonces pasa la aguja hacia atrás en la última perla cosida, como muestra la primera foto. Después clava la aguja detrás de esa perla hacia el revés del sueter y tira del hilo completamente, verás como la última perla se ajusta a su sitio en la linea del cordón, y vuelve al primer paso, clavar la aguja desde el revés hacia el derecho del sueter dejando el espacio de una perla, no es difícil y las perlas quedarán perfectamente alineadas , remata bien el final del hilo. Cuando hayas terminado es hora de disfrutar de tu creación...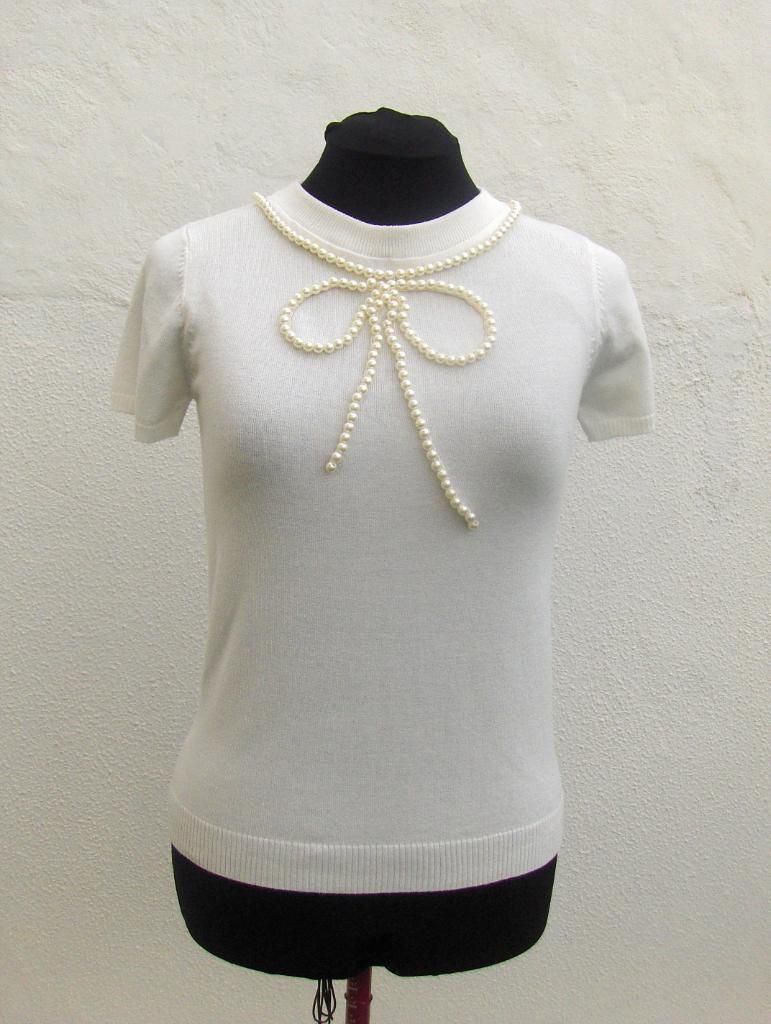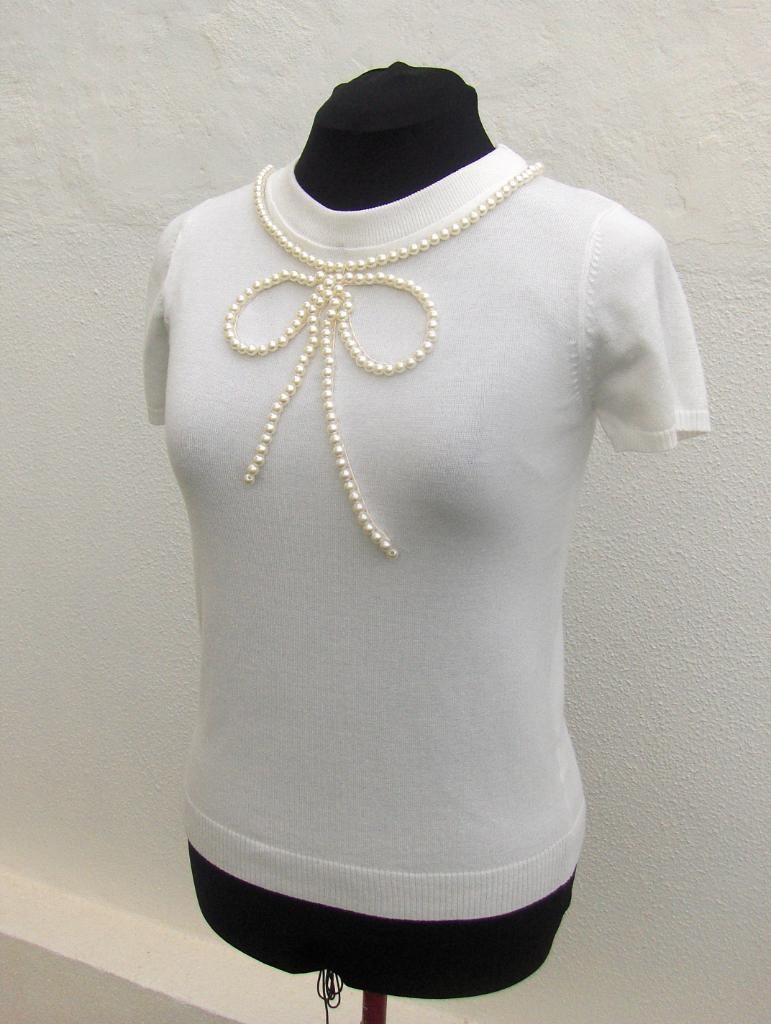 Now we only need to look for what you're going to combine and enjoy a nice sweater, fully customized for very little money .... Do you cheer with yours one???
Ahora solamente nos falta buscar con qué lo vas a combinar y disfrutar de un sueter muy bonito, totalmente personalizado por muy poco dinero.... Te animas con el tuyo???