Very little time these days, you have to excuse me ... but I promise compensate you at the end of the post!
We had been in the last post drawing the pattern of inner facing of the armholes, well, if you already have drawn these patterns front and back armhole, sew again reminds shoulder seams in the same place and also recalls spending a stitch with normal stitch along the sides of the dress after you've tested and have made the necessary corrections, so now you have ...
Muy poco tiempo en estos días, tienes que disculparme... pero yo prometo compensarte al final del post!
Habíamos quedado en el último post dibujando el patrón de las vistas de las sisas, bien, si ya tienes dibujado estos patrónes de sisa delantera y espalda, recuerda volver a coser las costuras de los hombros por el mismo sitio y recuerda también pasar un pespunte con largo de puntada normal en los costados del vestido después de haberte probado y haber hecho las correcciones necesarias, así que ahora tendrás ...
Two paper patterns drawn from the inner facings for the armholes, it's time to cut them on your fabric, I have decided to dispense with the interlining in these armhole facing with my dress, but you have to decide if you need this interfacing with your fabric, if your fabric is slippery or very thin, probably use some interfacing here will come in handy, as I said, I have omitted it because my fabric is pretty consistent .. Now you just have to place these facing at armholes for placing pins as shown in the photo and have a stitch at one centimeter from the edge of the fabric, recalls trim excess fabric in this outline and make small cuts with the tip of the scissors so you can rotate without problems facing inward and overcasting the edge of the facing.
Then, run a stitch that is sewn around the armhole seam passing an almost flush with the binding (see the second photo), this stitching joins three layers of fabric, the fabric facing and seam allowances you cut before.
Dos patrones dibujados en papel de las vistas de las sisas, es el momento de cortarlos en tela, yo he decidido prescindir de la entretela en estas vistas de sisa, pero tú tienes que decidir si tu tela necesita esta entretela, si tu tela es resbaladiza o muy delgada, probablemente el usar un poco de entretela aquí te vendrá bien, como he dicho , yo he prescindido de ella porque mi tela es bastante consistente.. ahora solamente tienes que colocar estas vistas en las sisas correspondientes colocando alfileres como se ve en la foto y pasar un pespunte a un centímetro del borde de la tela, recuerda recortar el exceso de tela en este contorno y hacer pequeños piquetes con la punta de la tijera para que puedas girar la vista hacia adentro sin problemas y remallar el borde de esta vista.
Entonces, pasa un pespunte de carga, esto es coser alrededor de la sisa pasando un pespunte casi a ras de la unión (observa la segunda foto), este pespunte une tres capas de tela, la tela de la vista y los márgenes de costura que has piqueteado antes.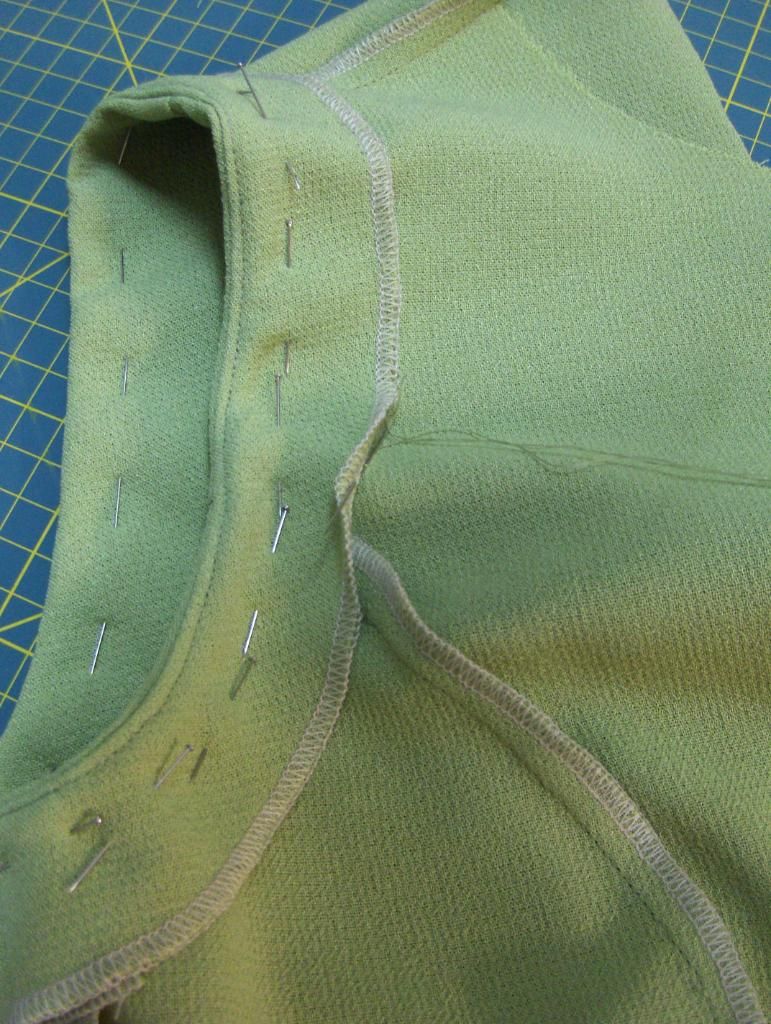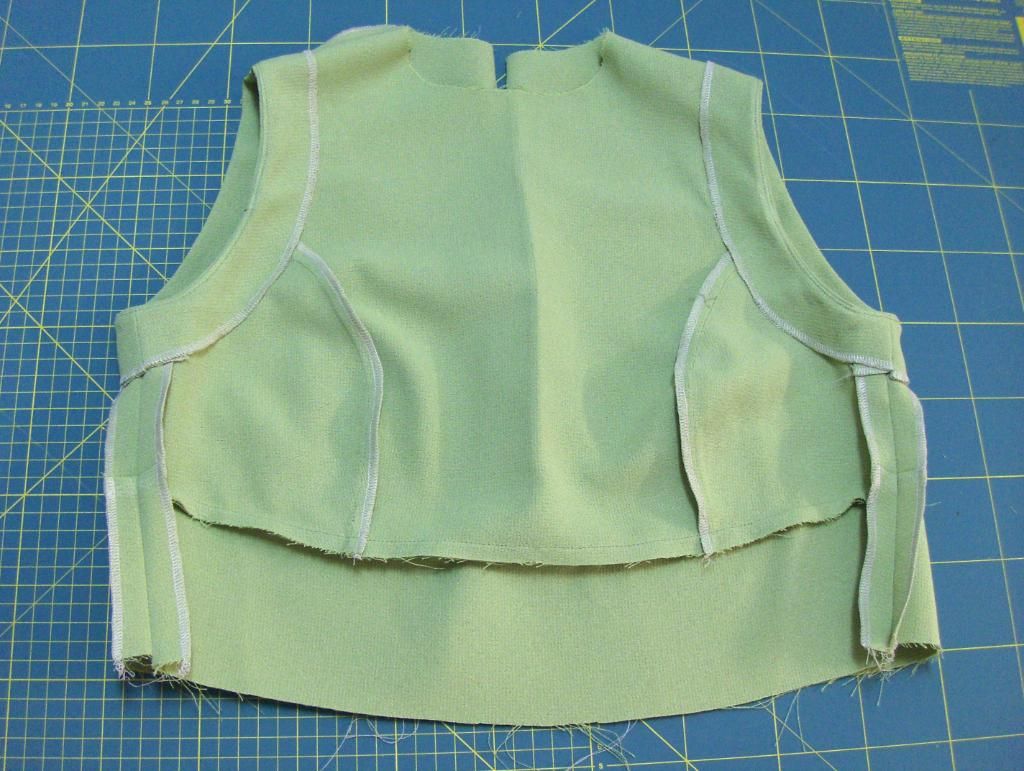 Now you only have to return these inward facings and adjusting them to place it with pins, sew them with an invisible stitch and iron them.
You'll have something like this bodice in the second photo .... if you're curious ... you may have noticed that the interlining waistband has mysteriously disappeared in this photo ... and I have a little secret ... I sewing two equal dresses simultaneously, ... one of them hasn´t interlining and another one has it, if so from time to time, you will see random photos interlinings that come and go ...
Ahora solamente tienes que volver estas vistas hacia el interior y ajustándolas a su sitio con alfileres, cóselas con una puntada invisible y plánchalas.
Tendrás algo como este corpiño que hay en la segunda foto.... si eres curiosa... te habrás dado cuenta que la entretela de la banda de cintura ha desaparecido misteriosamente en esta foto... y es que tengo un pequeño secreto... Estoy cosiendo dos vestidos iguales a la vez,... uno de ellos no tiene entretela y el otro si, así que de vez en cuando, podrás ver fotos aleatorias de entretelas que aparecen y desaparecen...
......................................................................................................................................................................................................................................................................................................................................
I promised you compensate you for the lateness of this post, so I wanted to share with you a little inspiration ... Giuliana, who is participating in this Sew Along though she has no blog, (her nom "war name" is Mataitiana), sent me a link where you can spend hours enjoying all the outfits of Jess, the link is this ...
And I intend to achieve the goal that you obsess a bit more with this, so check out these other links too ...
_
New Girl Galery
_
Some New Girl Video Archives
_
Dress like New Girl
_
New Girl on Facebook
_
What was Jess wearing
Te había prometido compensarte por la tardanza de este post , así que quería compartir contigo un poco de inspiración... Giuliana , que está participando en este Sew Along aunque ella no tiene blog , (su nombre de guerra es Mataitiana), me envió un enlace donde puedes pasar horas disfrutando de todos los outfits de Jess, el enlace es este...
Y yo me propongo conseguir la meta de que tú te obsesiones un poco más así que echa un vistazo también a los enlaces que aparecen más arriba ...