So yeah, we're nearing the end of our New Girl dress! Today we will lining the skirt and waistband and wear our dress New Girl on the streets of our city!
Wearing our dress ..... uploaded to the heels of a dream fulfilled, floating on this dream ...... and we will go to make up with our best smile! That is the perfect makeup, cheaper and effective known so far!
So let's finish our dress ... the first thing we need is to test us the dress and determine the height of the hem, I've cut a little above my knee, because I wanted to get a similar effect to the original dress, but adapted to my age, you decide how far it will get your skirt and sew the hem of your dress, to your taste. I made mine with invisible stitching by hand, it seems to me more appropriate to this dress, but your dress is your choice.
Pues si, estamos llegando al final de nuestro vestido de New Girl!! Hoy vamos a forrar la falda y la banda de cintura y lucir nuestro vestido de New Girl por las calles de nuestra ciudad!!
Con el vestido puesto.....subidas a los tacones de un sueño cumplido, flotando sobre este sueño ...... y como maquillaje vamos a llevar nuestra mejor sonrisa! Que es el maquillaje perfecto , más barato y efectivo conocido hasta ahora!
Así que vamos a terminar nuestro vestido... lo primero que necesitamos es probarnos el vestido y determinar el alto del dobladillo, yo he cortado un poco por encima de mi rodilla, porque quería conseguir un efecto parecido al vestido original, pero adaptado a mi edad, tú decides hasta donde va a llegar tu falda y cose el dobladillo de tu vestido, a tu gusto. Yo hice el mío con puntadas invisibles a mano, me parece más adecuado a este vestido, pero en tu vestido, es tu elección.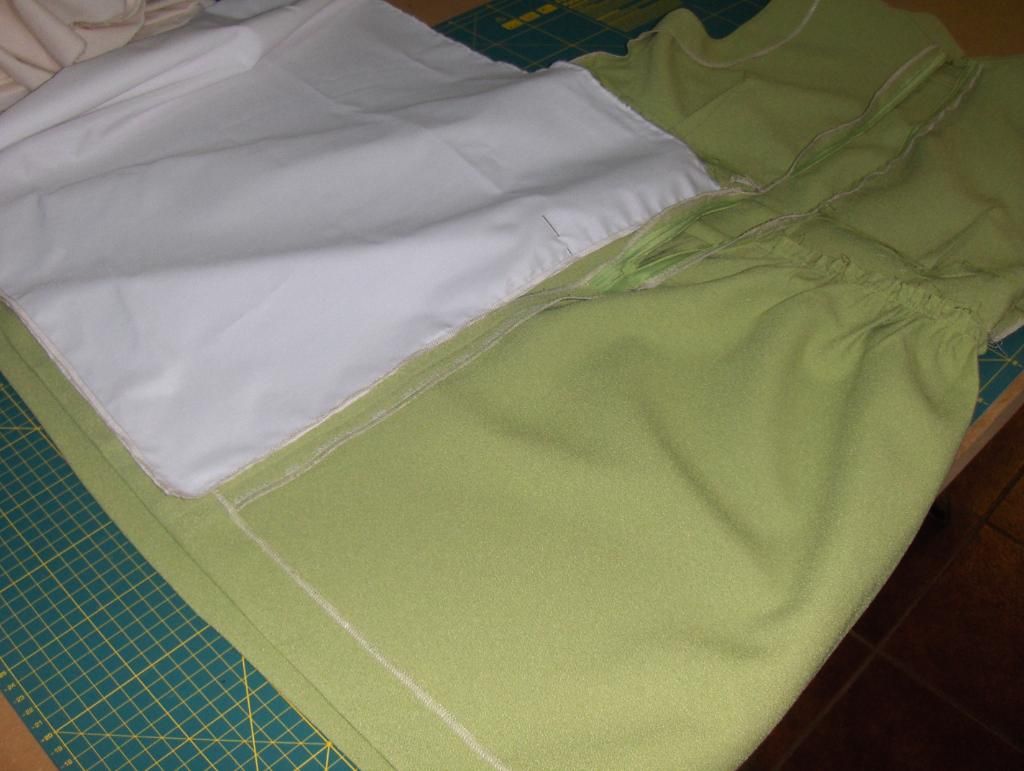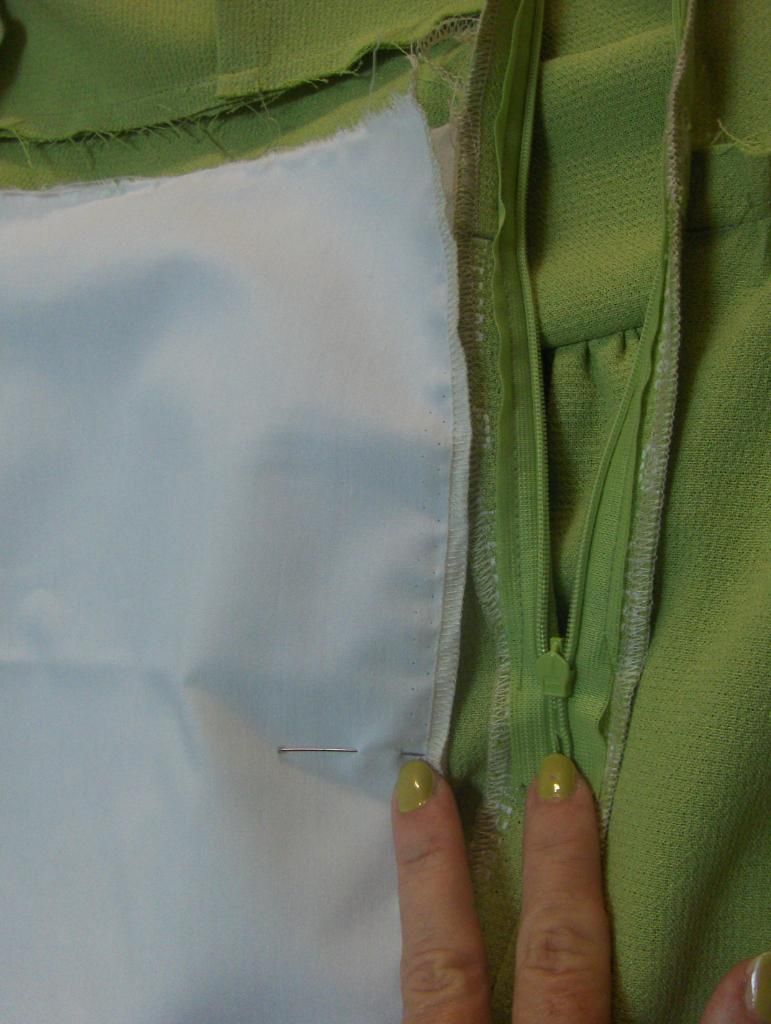 We started by cutting a strip of fabric lining, it´s having high a little less than the height of our skirt, overlock at the two short ends, and spends stitching on the waist of the lining to prepare it for gathering later, now do the following .. .put this skirt lining in position that there is in the first photo, we will determine how far we have to sew the center back seam and how hollow must leave for the zipper, you can see in the second picture I have marked with a cross pin to where I sew from the hem to the pin, so now sew this seam and center back lining ironing open.
Comenzamos cortando una tira de tela de forro que tenga de alto un poco menos que el alto de nuestra falda, overlock por los dos extremos cortos y pasa pespuntes en la cintura del forro para prepararlo para fruncir más tarde, ahora haz lo siguiente... coloca esta falda de forro en la posición que hay en la primera foto, vamos a determinar hasta donde hay que coser la costura de centro de espalda y cuanto hueco hay que dejar para la cremallera, puedes ver en la segunda foto que yo he marcado con un alfiler transversal hasta donde voy a coser desde el dobladillo hasta el alfiler, así que cose esta costura de centro espalda del forro y plancha abierta.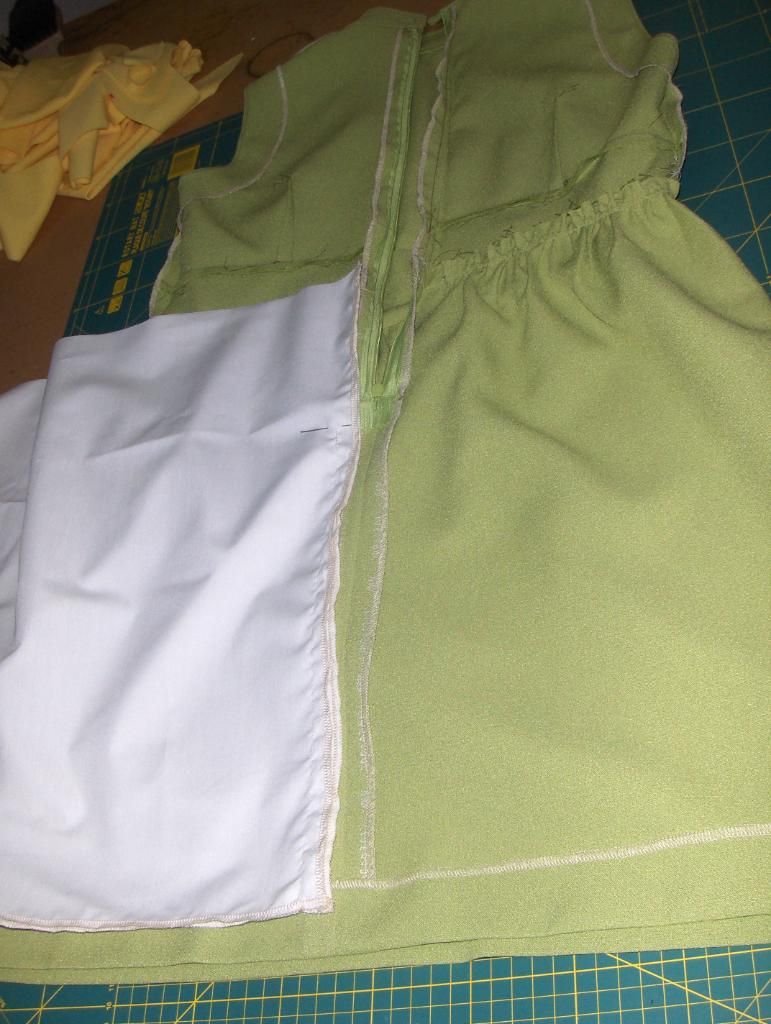 Now place the lining as shown in the first photo, the dress upside down, and lining upside down also put it sideways, now take only one layer of the piece we have left open and pinned the seam allowance of the lining with the seam of the dress,
Ahora coloca el forro como muestra la primera foto,el vestido del revés, el forro del revés también y colocado hacia un lado, ahora tomamos solamente una capa del trozo que hemos dejado abierto y sujeta con alfileres el margen de costura del forro con el margen de costura del vestido,
You can see the pins that hold only along the line where the zipper is sewn, place the zippers preser foot of your sewing machine, or in my case, I have my machine needle to the position of one side (like sew the zipper did before). Sew this piece, from the waist of the skirt to the end of the zipper.
Puedes ver que los alfileres solamente sujetan a lo largo de la linea donde está cosida la cremallera, coloca en tu máquina el pisante de cremalleras o en mi caso, llevo la aguja de mi máquina a la posición de un lado (igual que hice para coser la cremallera antes). Coser este trozo, desde la cintura de la falda hasta el final de la cremallera.
If you give the lining of the skirt to the other side, you come across something like the first picture, so now take the other side of the lining that I have on hand, in the first picture and place it well, with pins to another margin side zipper, sewing with your sewing machine from the waist of the skirt, until the end of this hole zipper, sewing go slowly removing pins as you go along the way.
Si das al forro de la falda hacia el otro lado ten encuentras con algo como la primera foto, así que ahora coge el otro lado del forro que yo tengo en la mano, en la primera foto y lo colocamos igual, con alfileres al otro lado del margen de la cremallera, cose con tu máquina desde la cintura de la falda hasta el final de esta abertura de cremallera, ve cosiendo poco a poco mientras vas quitando los alfileres en el camino.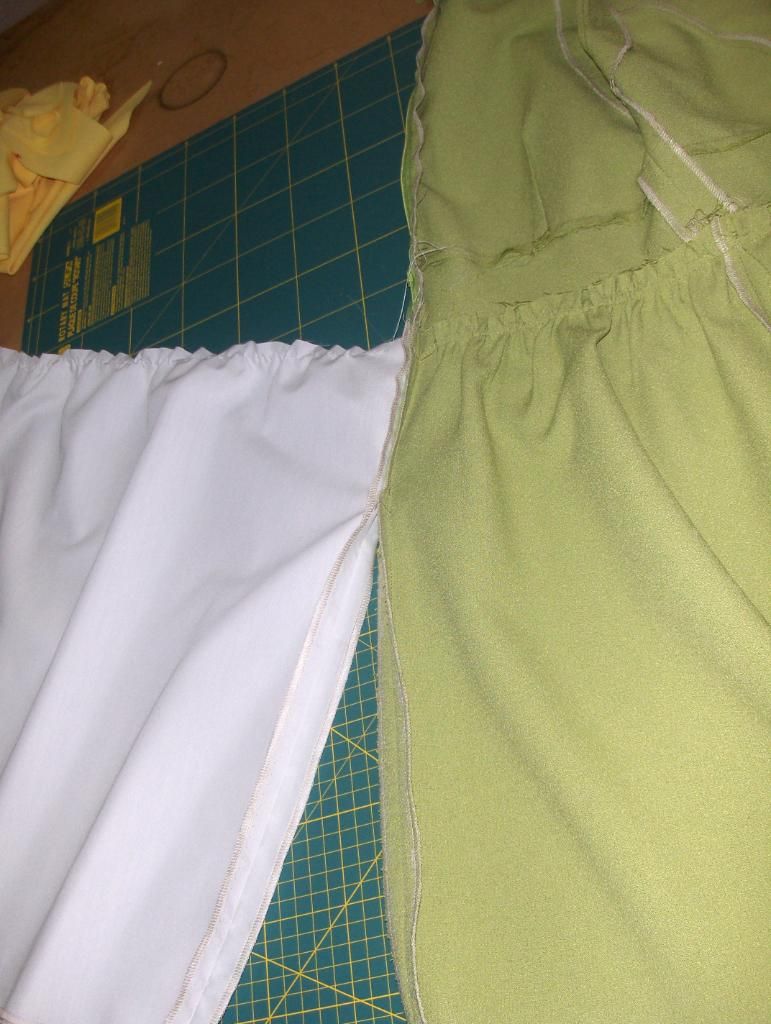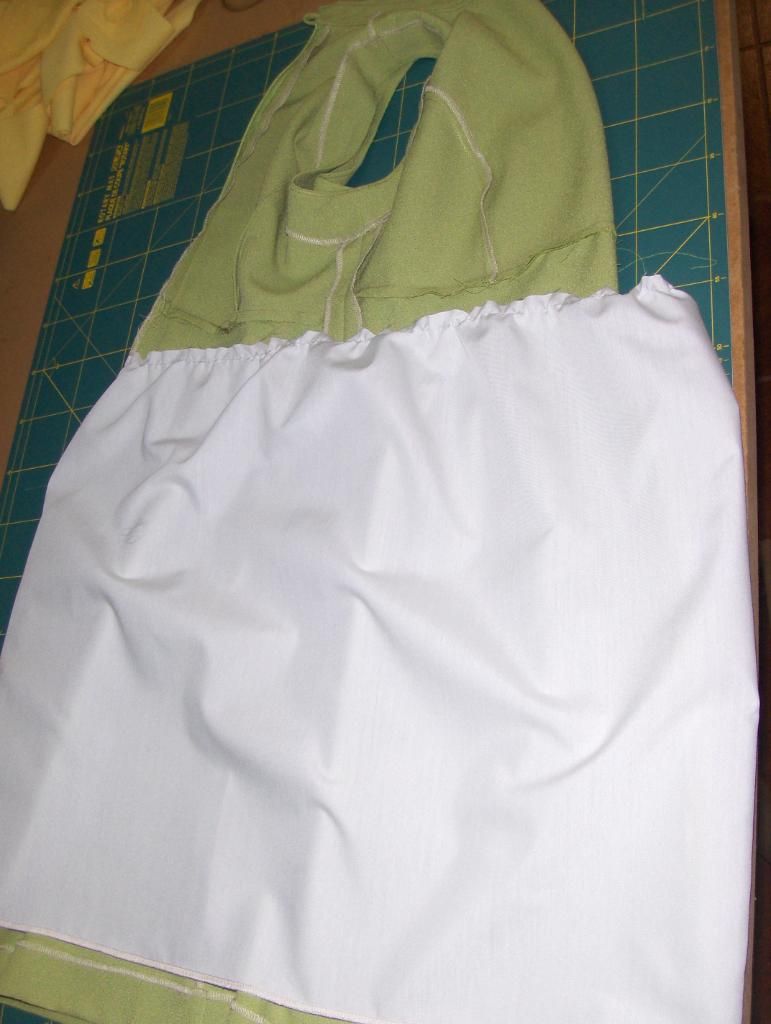 Once completed it, you will have it which appears in the first picture, a skirt lining sewn at the two ends of the zipper to her dress, now you have to go around the lining and tuck the skirt into the liner .
Una vez terminado tendrás esto que aparece en la primera foto, una falda de forro cosida por los dos extremos de la cremallera a la falda del vestido, ahora tienes que dar la vuelta al forro y meter la falda del vestido dentro del forro.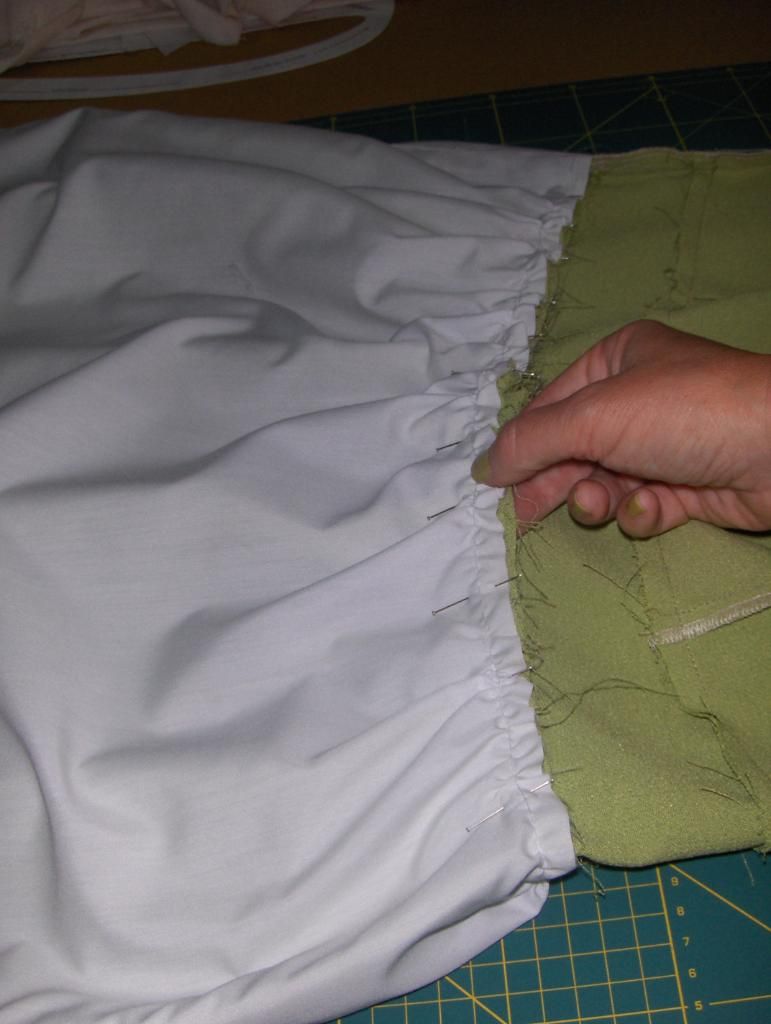 The next step is to pull the threads that have prepared for shirring waist lining, and adapt it to the waist of the dress, sew a stitch to join the lining to the dress as shown in the second photo.
Lo siguiente es tirar de los hilos que hemos preparado para fruncir la cintura del forro y adaptarlo a la cintura del vestido, cose un pespunte para unir el forro al vestido como muestra la segunda foto.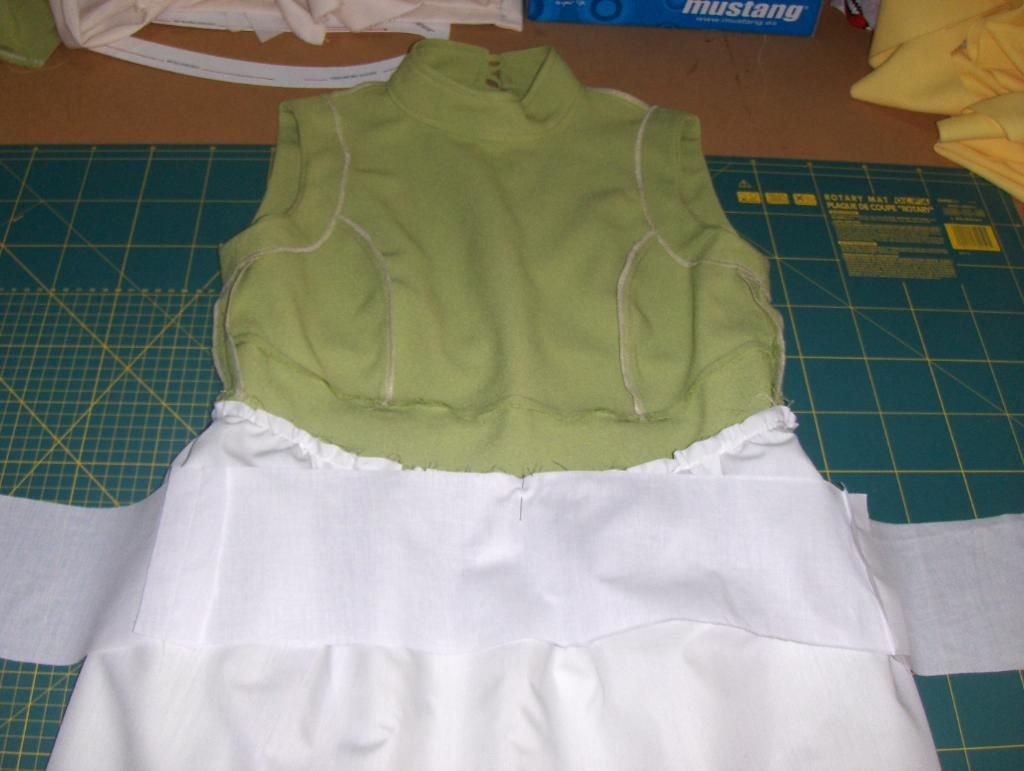 Then we have something like the first picture ... we have our covered skirt, now we need to cover the waistband for extra stability, and we recover the waistbands lining we had cut the beginning, when we cut our dress, sew side seams and ironed open, start nailing with a pin the front center of the waistband lining to the front center of the seam of the skirt, as you can see in the second picture.
Be especially careful in the position of this band lining, it's easy to mess, and if we put somewhere where it no should be, then it is going to mistake us all, so pay close attention to this step.
Entonces tendremos algo como la primera foto... ya tenemos nuestra falda forrada, ahora necesitamos forrar la banda de cintura para darle más estabilidad, así que recuperamos las bandas de cintura del forro que habíamos cortado al principio, cuando cortamos nuestro vestido, cosemos las costuras de costado y planchamos abiertas, comenzamos clavando con un alfiler el centro delantero de la banda de cintura del forro a el centro delantero de la costura de la falda, como puedes ver en la segunda foto.
Ten especial cuidado en la posición de esta banda de forro, es muy fácil liarse, y si colocamos alguna parte donde no debe entonces nos va a descuadrar todo, así que presta mucha atención a este paso.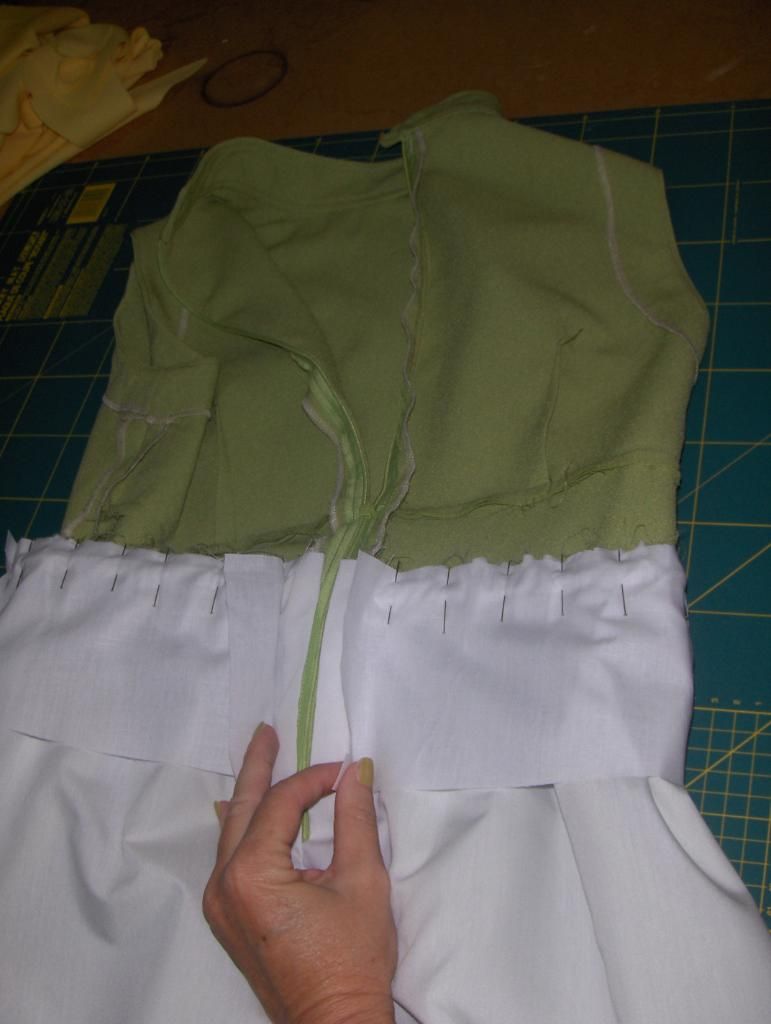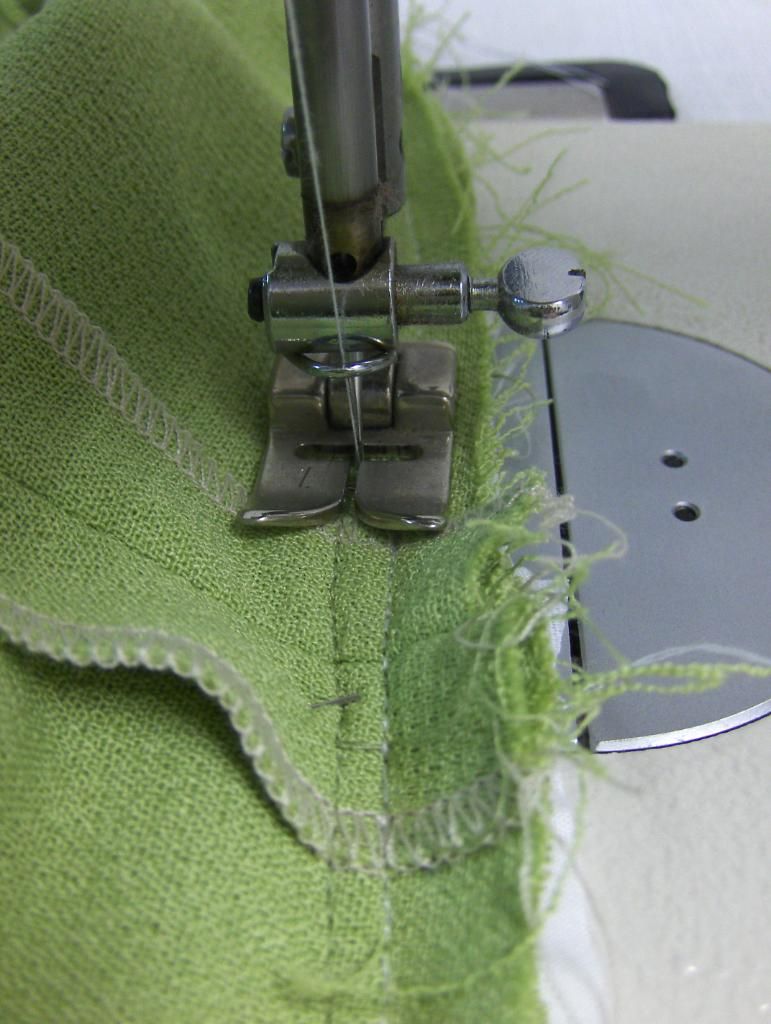 Now we sticking pins around the waist of our dress, sew it to ... Note that to reach the ends of the zipper should not sew all the way, leave a piece unstitched these two extremes, now sew the position shown in the second picture, as close as possible the seam that joins the bodice of the dress with the skirt, start sewing about seven centimeters from one end of the zipper and sew all around to get to another seven centimeters around the other end ..
Ahora seguimos clavando alfileres en todo el contorno de cintura de nuestro vestido, para poder coserlo... fíjate que al llegar a los extremos de la cremallera no debemos coser hasta el final, hay que dejar un trocito sin coser en estos dos extremos, ahora cose en la posición que muestra en la segunda foto, lo más cerca posible de la costura que une el corpiño del vestido con la falda del vestido, comienza a coser unos 7 centímetros desde un extremo de la cremallera y cose todo alrededor hasta llegar hasta otros 7 centímetros aproximadamente del otro extremo..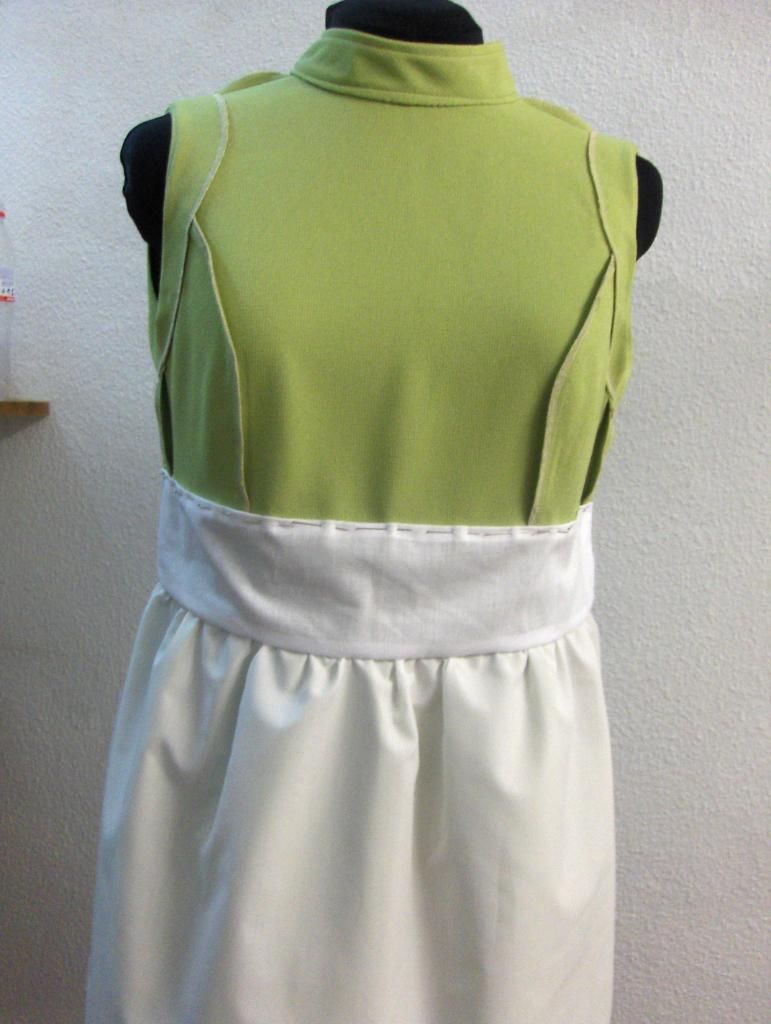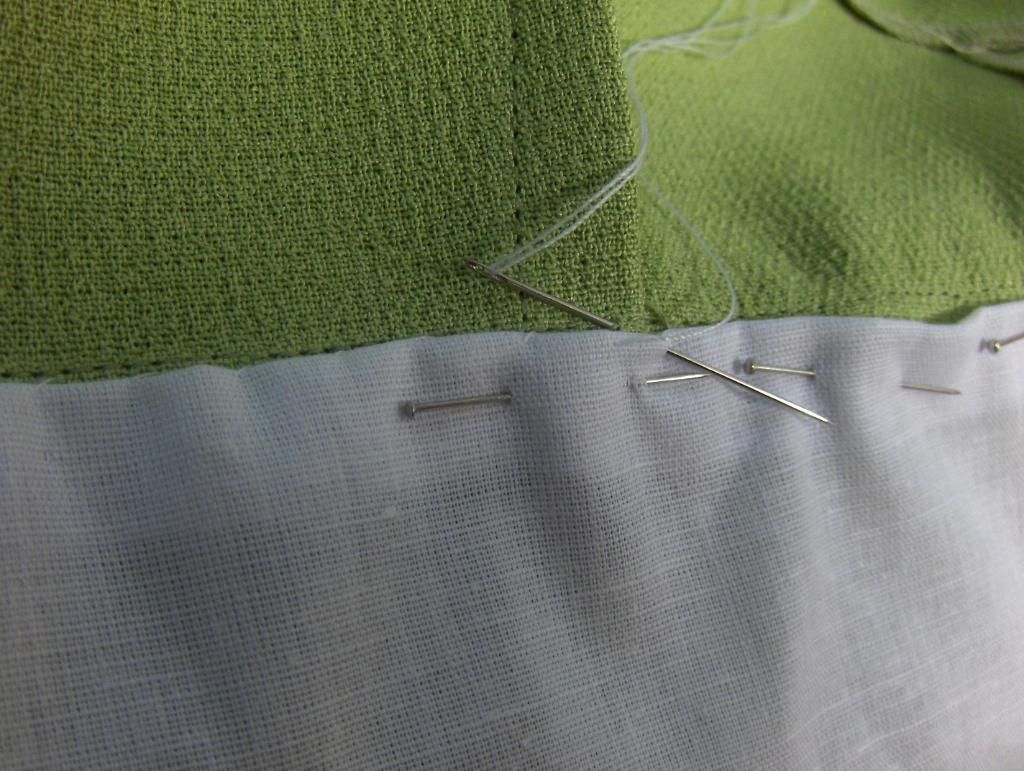 Almost there! Now you just have to back up this band lining, and sticking pins in the upper seam of the waistband ... I've helped with my mannequin (Miss Mercromina), I put the upside down dress on the mannequin and it has been easier to do so, if you haven´t mannequin, you can do it fitting your dress at your table board, as we did for the zipper.
Nailing with pins along the top edge of the band lining and keep nailing to reach the ends of the center back, and go nailing carefully folding the seam allowance inward to finish placing the entire lining band, you can open the photos to see better closely in the footsteps.
Now playing a blind stitch sewing by hand all the way to the pins to secure the lining band to the waist band of the dress, do these steps calmly and neatness so there are no wrinkles, everything must fit perfectly ....
Ya casi estamos!!! Ahora solamente tienes que volver hacia arriba esta banda del forro, y clavar alfileres en la costura superior de esta banda de cintura... yo me he ayudado de mi maniquí (la señorita Mercromina), he puesto el vestido del revés sobre el maniquí y me ha sido más fácil hacerlo así, si no tienes maniquí, puedes hacerlo encajando tu vestido del revés en tu mesa de planchar, igual que hicimos para la cremallera.
Clavar con alfileres todo el borde superior de la banda del forro y seguir clavando al llegar a los extremos del centro espalda, ir clavando con cuidado y doblando el margen de costura hacia adentro hasta terminar de colocar toda la banda del forro, puedes abrir las fotos para ver mejor de cerca los pasos.
Ahora toca coser con una puntada invisible a mano todo el recorrido de los alfileres para sujetar la banda del forro a la banda de cintura del vestido, haz estos pasos con tranquilidad y pulcritud para que no queden arrugas, todo debe encajar perfectamente....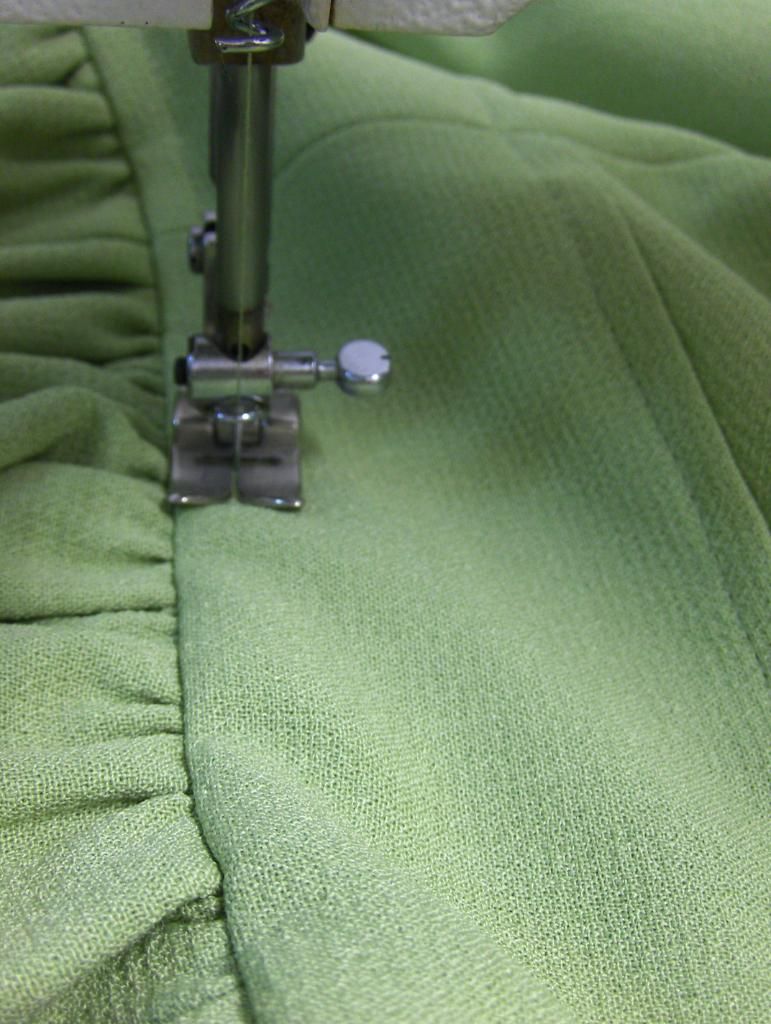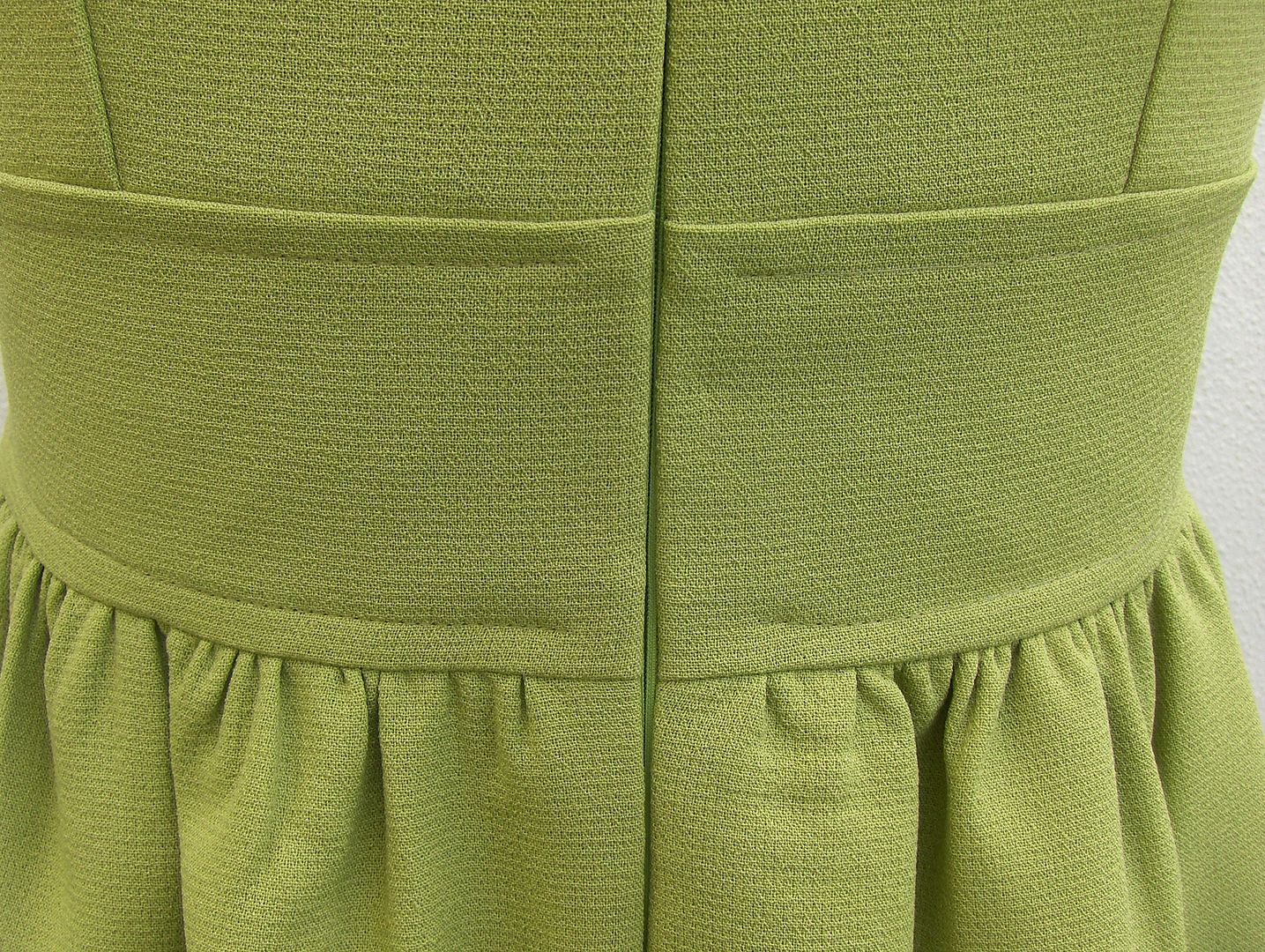 Once you have finished, you can ironing the full dress and have a stitch of view to a centimeter of the seams in the waistband of your dress, this will make a nice effect and will definitely help unite the waistband lining to the dress ... In the back, do not take this stitch to end, because you run the risk of sewing is on the rack and then have trouble going up and down your zipper, stitching begins and ends a few centimeters away from the zipper.
Missing only ironing carefully your dress and sew the buttons on the front ....
Una vez que has terminado, puedes planchar el vestido completo y pasar un pespunte de vista a un centímetro de las costuras en la banda de cintura de tu vestido, esto hará un efecto muy bonito y va a ayudar a unir definitivamente la banda de cintura del forro con la del vestido... En la espalda, no lleves este pespunte hasta el final, porque corres es riesgo de coser sobre la cremallera y tener problemas luego para subir y bajar tu cremallera, comienza y termina el pespunte unos centímetros alejado de la cremallera.
Solamente falta planchar bien tu vestido y coser los botones en el delantero....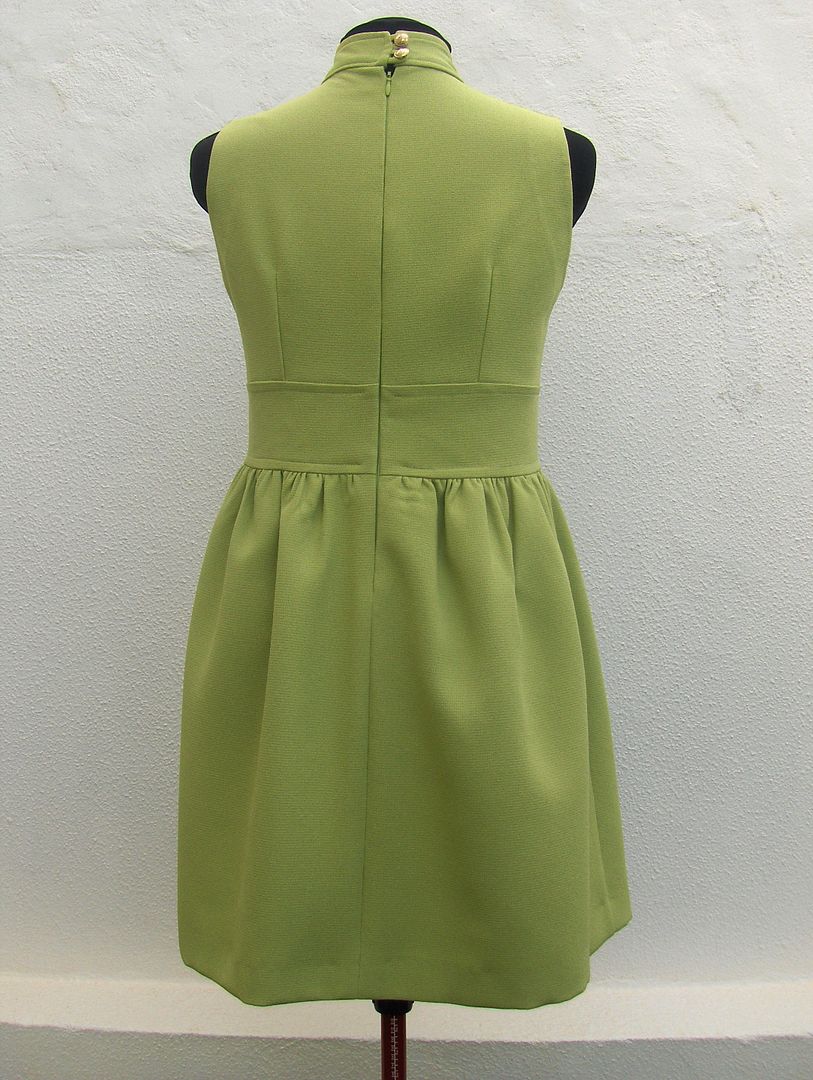 And of course, enjoy our mission accomplished!! We have in our hands the first dress of this TV show and we can wear it totally proud of having sewn it ourselves .... I hope you enjoyed it as much as I do this first project, many more are coming and if you are curious ... the picture that heads this post is also within these projects coming ... we still have many things to do and I'll go slowly giving guidelines to get all these garments, How's yours one?
Y por supuesto, disfrutar de nuestro objetivo cumplido!!!! Tenemos en nuestras manos el primer vestido de esta serie de TV y podemos lucirlo totalmente orgullosas de haberlo cosido nosotras mismas.... Yo espero que hayas disfrutado tanto como yo de este primer proyecto , van a venir muchos más y por si te pica la curiosidad ... la foto que encabeza este post también está dentro de estos proyectos venideros... todavía nos quedan muchas cosas por hacer y yo voy a ir poco a poco dándote las pautas para conseguir todas estas prendas, Qué tal va el tuyo??