I have to thank you all for your kind comments so far, we are a large community willing to share and participate and I am honored to have them all you like virtual friends. So far (and I have to say that this blog has already served four years) I've only found fellowship, kindnes and good words on this cyberspace world ... and this is possible thanks to you, I'm glad to have you as fellow adventures!
And also today I want to share with fellow Spanish speakers a special blog, El Rincon de Celestecielo, this is a Spanish blog devoted entirely to disseminate knowledge (which are many) of the owner in the wonderful world of pattern making and sewing, a very graphic blog which is essential reading for all those seeking information on this topic ... I felt very honored when I found out yesterday that she has LinkMe in the sidebar of her blog with the reference "Blogs Help," Thank Celestecielo!
And going to the task today, prepare a very cute collar for our dress ... Oh! (sigh) we're so close to this beautiful dress hanging in our closet ...
Tengo que dar las gracias a todas por sus amables comentarios hasta ahora, somos una gran comunidad dispuesta a compartir y participar y yo me siento muy honrada de tenerlas a todas como amigas virtuales. Hasta ahora (y tengo que decir que este blog ha cumplido ya cuatro años) solamente he encontrado en este mundo del ciberéspacio muestras de amabilidad, compañerismo y buenas palabras... y detrás de todo eso estais todas vosotras, me alegro infinitamente de teneros como compañeras de aventuras!!
Y hoy quiero compartir también con las compañeras de habla hispana un blog muy especial, El Rincon de Celestecielo, esto es un blog en español dedicado completamente a difundir los conocimientos (que son muchos) de su propietaria en el maravilloso mundo del patronaje y la confección, un blog muy gráfico que es de lectura obligada para todas aquellas que buscan información sobre este tema... yo me sentí muy honrada ayer cuando descubrí que ella me tiene linkeada en la barra lateral de su blog con la referencia "Blogs de ayuda", Gracias Celestecielo!!!
Y vamos con la tarea de hoy, preparar un cuello muy coqueto para nuestro vestido... Ay! (suspiro) estamos tan cerca de colgar este bonito vestido en nuestro armario...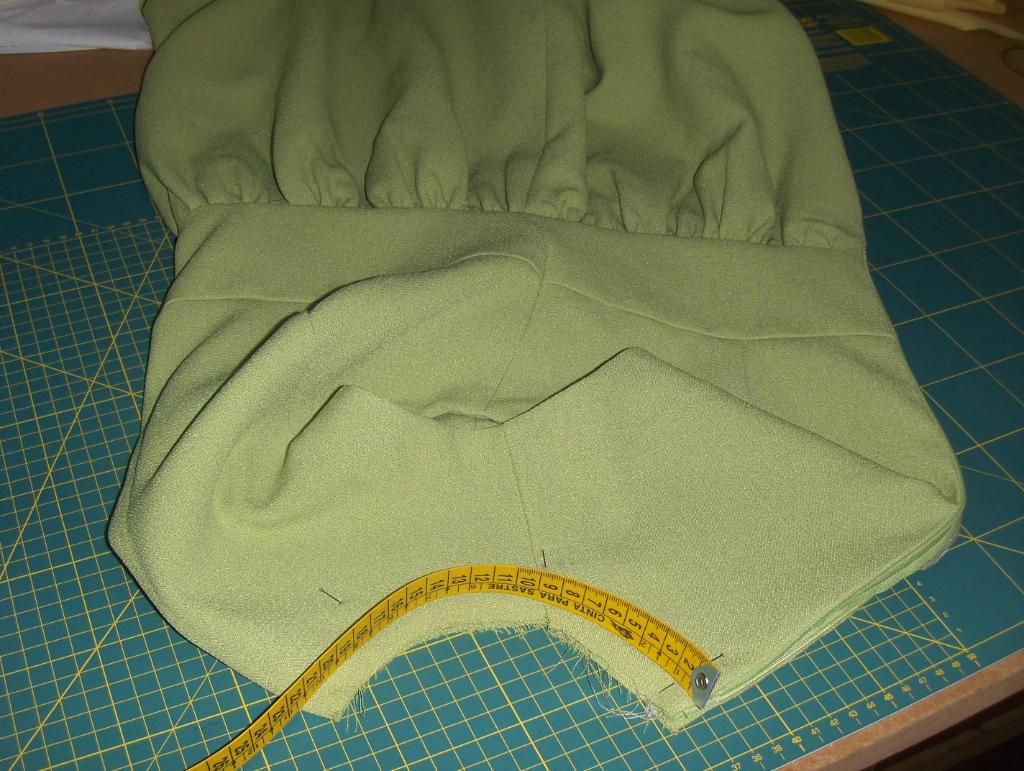 The first thing you need to prepare the collar of your dress is test you the dress ... Now you have to decide in front of your mirror if you need to open up the neck line of your dress or conversely if well in this way, you need to be comfortable and prevent the collar (once it is sewn to your dress), it suffocate and end up becoming a torture, this is the time to decide, once you have achieved this double your dress in half as shown in the first picture and secure the area neckline with some pins, then measure the contour of this neckline line (measuring from one centimeter in from the edge of the fabric) and determine how much we need neckband, I need 21 centimeters. So let's draw the pattern ...
Lo primero que necesitas para preparar el cuello de tu vestido es probarte el vestido... ahora tienes que decidir frente a tu espejo si necesitas abrir más la linea de escote de tu vestido o por el contrario si está bien de esta forma , necesitas estar cómoda y evitar que el cuello (una vez cosido a tu vestido) termine por asfixiarte y convertirse en una tortura, este es el momento de decidirlo, una vez conseguido esto tienes que doblar tu vestido por la mitad como muestra la primera foto y asegurar la zona del escote con algunos alfileres, después mide el contorno de esta linea de escote (midiendo desde un centímetro más adentro del borde de la tela) y determinar cuanto necesitamos de tira de cuello , yo necesitaré 21 centímetros. Así que vamos a dibujar el patrón...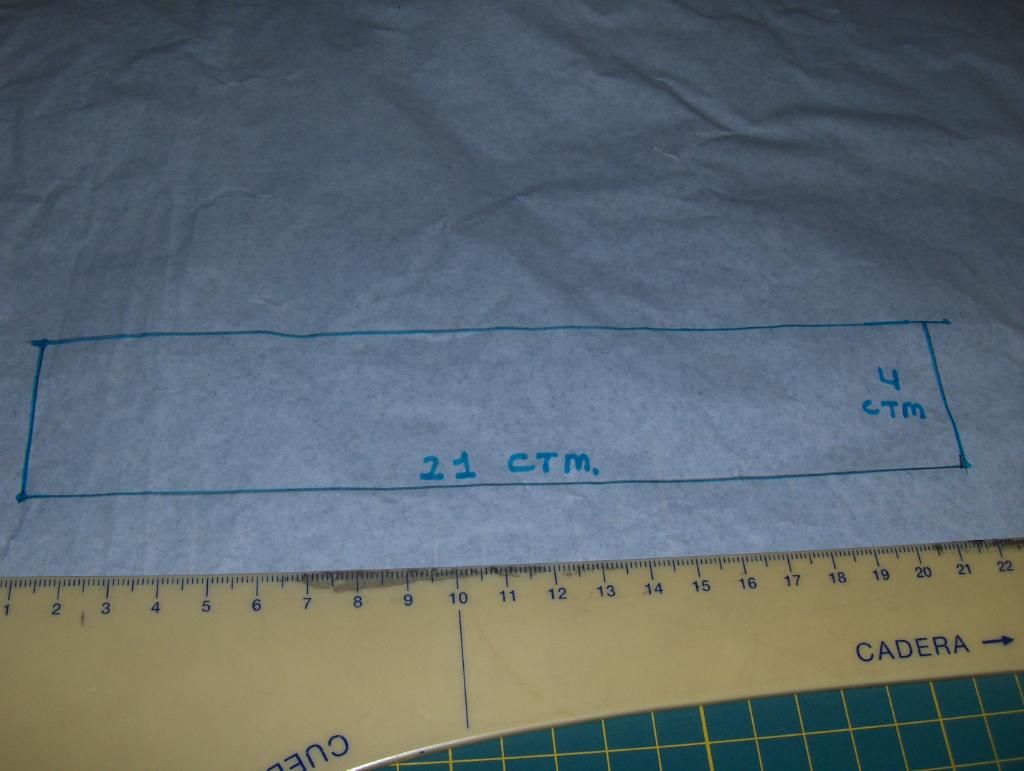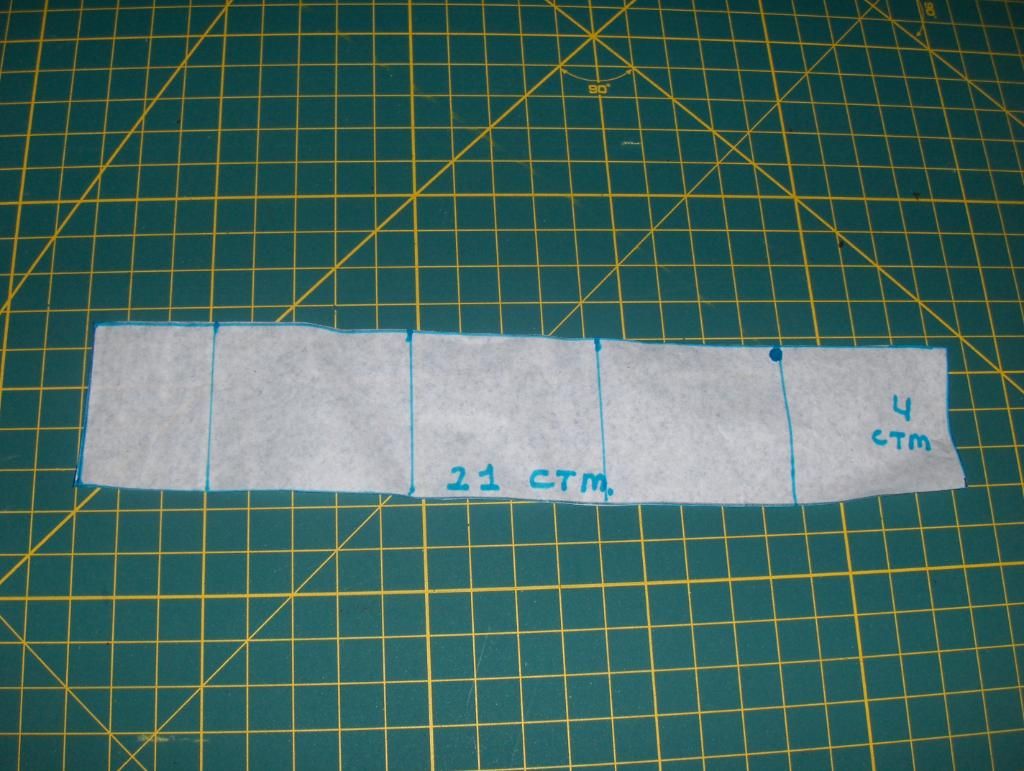 Now prepare on paper a rectangle measuring 21 CTMS. my neck long by 4 CTMS. I'm going to leave high (this measure is optional and you can make your neckband higher or lower, depending on your taste) then I divided into five equal portions about drawing four lines from top to bottom ...
Ahora preparo en papel una rectángulo que mide los 21 ctms. de largo de mi cuello por 4 ctms. que yo voy a dejar de alto (esta medida es opcional y tú puedes hacer tu tira de cuello más alta o más baja, según tus gustos) después he dividido en cinco porciones aproximadamente equitativas dibujando cuatro lineas de arriba a abajo...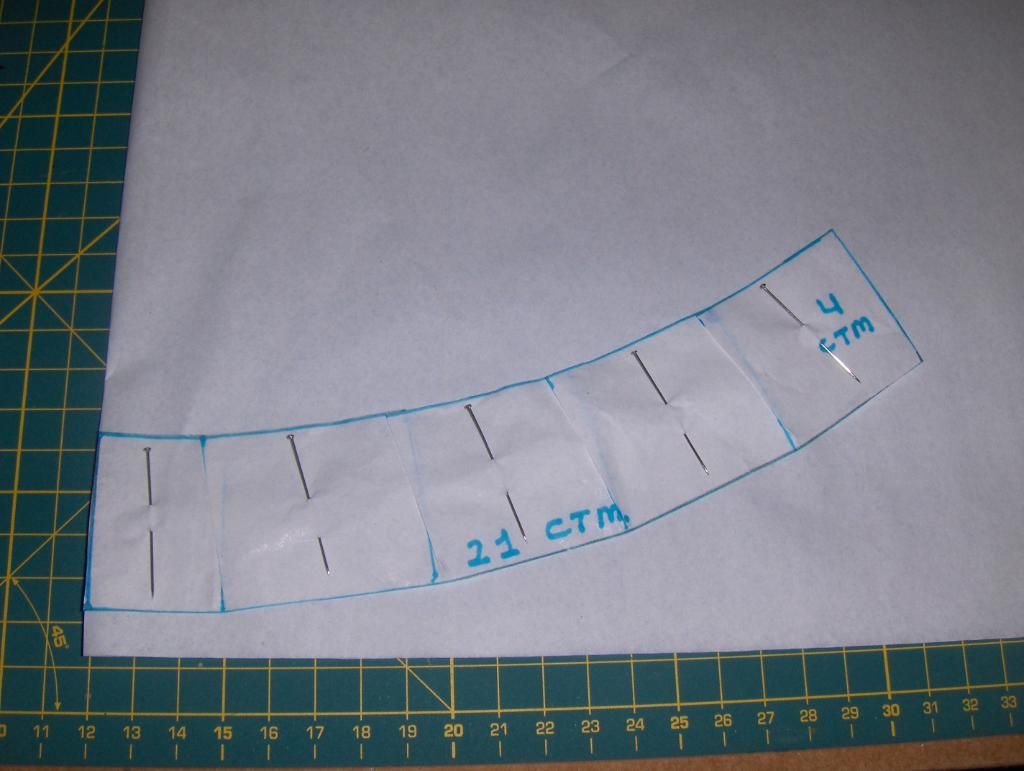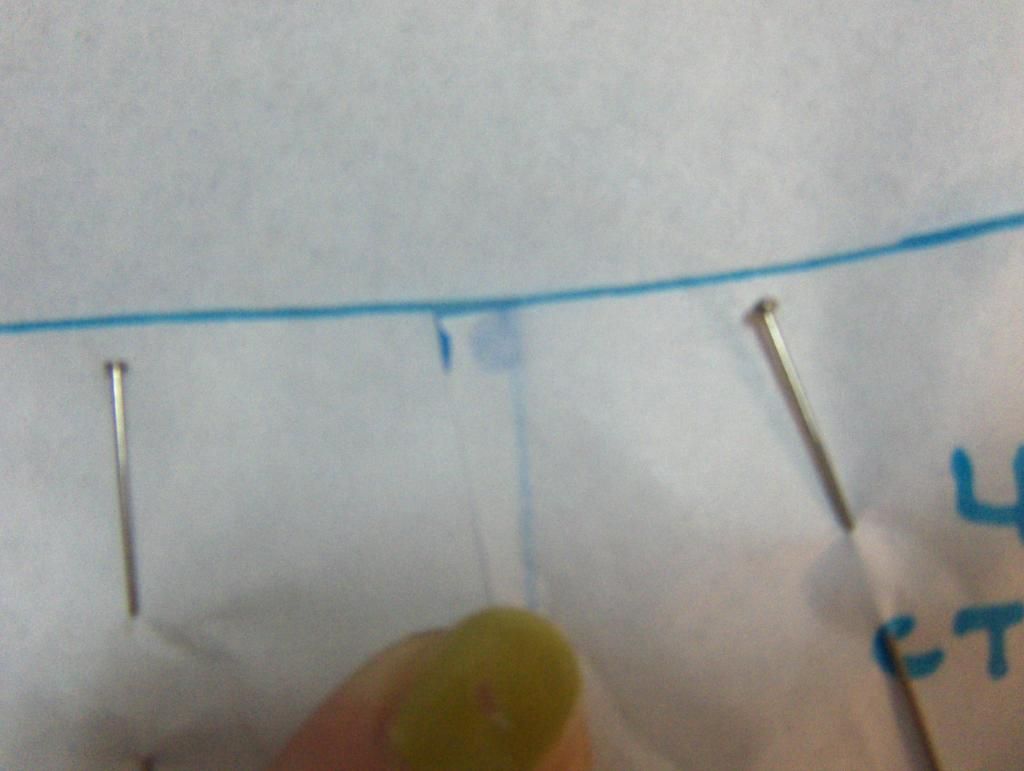 Then we have to make cuts in the drawn lines without cutting the line below, and mount the paper about 0.5 centimeters in each of the cuts, you prepare all this by placing the primary pattern collar on another piece of paper larger than be folded in half, you can see how to place it in the first picture, if you've done this correctly, you will notice that you now have a slightly curved pattern (on the double role), the longest path line, ie below is where our collar will sewn to the dress .... and the shortest path line, ie the upper edge of the collar of our dress ...
Cut out this new slightly curved pattern on the folded paper and when will the pattern splittings collar ...
Although gone now, I'm going to make a recommendation to you , especially if you are a beginner in sewing ... I suggest that you cut this pattern collar in a test piece of fabric ... Fabric can be of your dress if you have more than enough, if not, better use a piece of another fabric like texture, try this collar on your dress and basting only confirms that it´s well, and that is to squeeze you ok .
If you are well , you can go to cut the collar whit the fabric of your dress, if you have problems of adjustment, it´s necessary changes in this collar of proof before proceeding.
Después tenemos que hacer cortes en las lineas dibujadas sin llegar a cortar la linea de abajo, y montar el papel aproximadamente 0.5 centímetros en cada uno de los cortes, todo esto lo preparas colocando este patrón primario de cuello sobre otro trozo de papel más grande que estará doblado por la mitad, puedes ver la forma de colocarlo en la primera foto, si has hecho esto correctamente, observarás que ahora tienes un patrón ligeramente curvado (sobre el papel doble), la linea de recorrido más larga, es decir la de abajo es el sitio donde nuestro cuello irá cosida al vestido.... y la linea de recorrido más corta, es decir la superior es el borde del cuello de nuestro vestido...
Recorta este nuevo patrón ligeramente curvado sobre el papel doblado y cuando desdobles tendrás el patrón del cuello...
Aunque llegado este momento, yo te voy a hacer una recomendación, sobretodo si eres principiante en esto de la costura... yo te sugiero que cortes con este patrón un cuello en un trozo de tela de prueba... puede ser de la tela de tu vestido si tienes de sobra, si no es así, mejor utiliza un trozo de otra tela de parecida textura, prueba este cuello en tu vestido hilvanando solamente y confirma que está bien, que to te aprieta y está ok.
Si está bien, puedes ir a cortar el cuello a la tela de tu vestido, si tienes problemas de ajuste, modifica lo necesario en este cuello de prueba antes de seguir.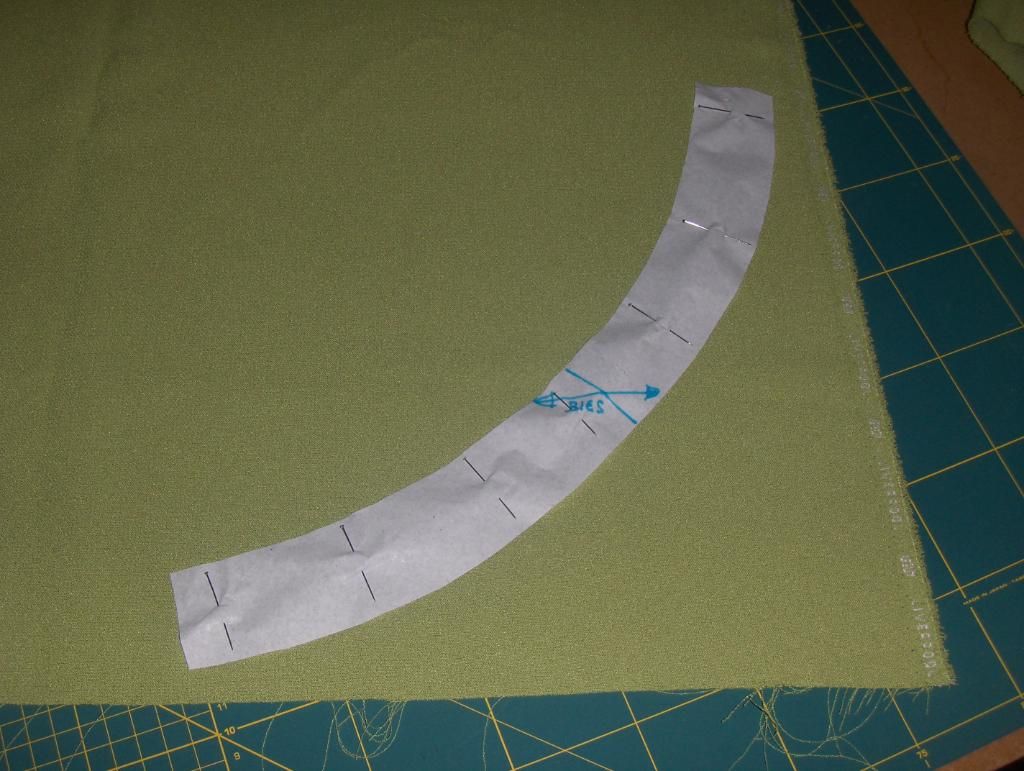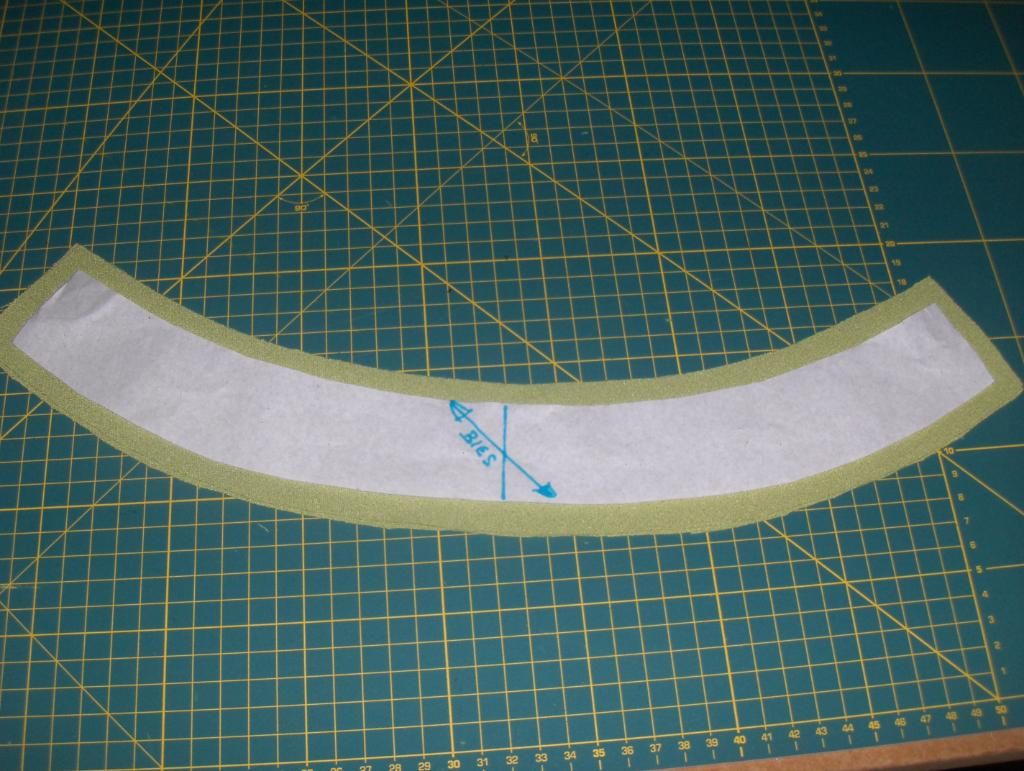 A small tip that we will use to achieve a more flexible collar strip is cut out the center of the pattern on the bias of the fabric, this will help us with the comfort of our collar, you cut two layers of collar placing them in the same position on the fabric and leave one centimeter seam allowance all around the pattern, now you need to make a decision about whether you are going to use interlining on your strip collar, I do not need it because as I said before, my fabric is very stable, if you think you need it, do not forget to cut the interlining also bias ... interlining only on one layer of the collar .
Un pequeño truco que vamos a utilizar para conseguir una tira de cuello más flexible es cortar el centro del patrón sobre el biés de la tela, esto nos ayudará con la comodidad de nuestro cuello, corta dos capas de cuello colocandolos en la misma posición sobre la tela y deja un centímetro de margen de costura todo alrededor del patrón, ahora necesitas tomar la decisión sobre si vas a usar o no , entretela en tu tira de cuello, yo no la necesito porque como he comentado anteriormente, mi tela es muy estable, si crees que tú la necesitas, no te olvides de cortar la entretela también al bies... se entretela solamente una capa del cuello.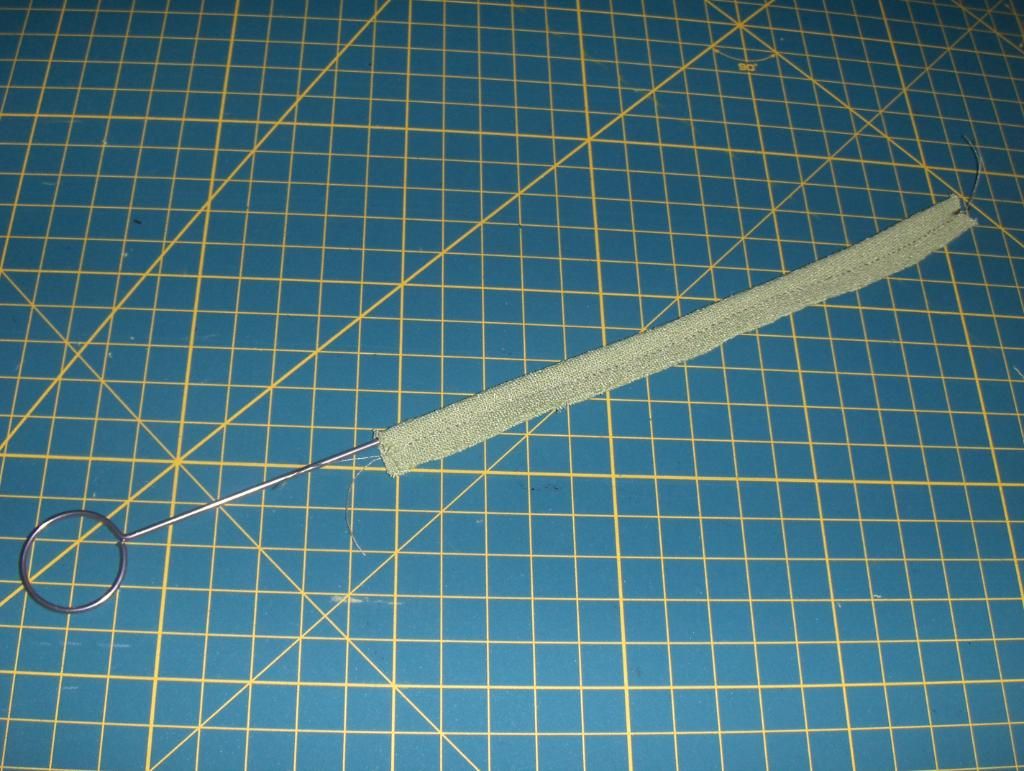 As we want wear a very cute dress, because we're worth it!, We will prepare some loops to close our collar on the back so I've cut a small strip of fabric on the bias of 2.5 centimeters wide by 20 centimeters long , this strip of fabric has to go on the bias because this is the only way to get it flexible enough to what we do, so you have to sew it by folding it in half lengthwise and sew about one centimeter from the fold of the fabric, then again it must be the right (like a sock the right back, as my friend said ! Wink)
To make it the right there in the haberdashery one hook for this, if you do not have it you can use a very small safety pin nailed on one end and turning inside with a lot of patience ...
Como queremos lucir un vestido muy coqueto, porque nosotras lo valemos!, vamos a preparar unos ojetes para cerrar nuestro cuello en la espalda así que he cortado una pequeña tira de tela al biés de 2.5 centímetros de ancho por 20 centímetros de largo, esta tira de tela tiene que ir al biés porque es la única forma de conseguir que lo suficientemente flexible para lo que queremos hacer, así que hay que coserla doblándola por la mitad a lo largo y coser aproximadamente a un centímetro del doblez de la tela, después hay que volverla del derecho (como volver un calcetín del derecho, que diría una amiga mía! Guiño)
Para volverla del derecho existe en las mercerías una aguja especial para esto, si no la tienes puedes usar un imperdible muy pequeñito clavandolo en un extremo y girándolo por dentro con mucha paciencia...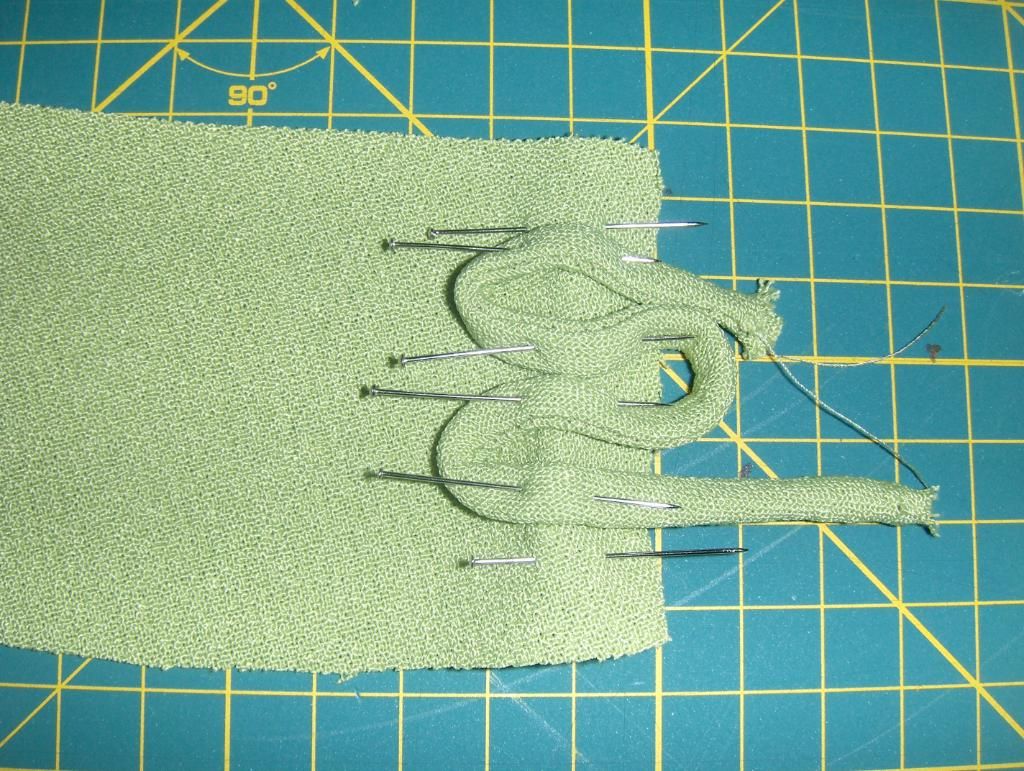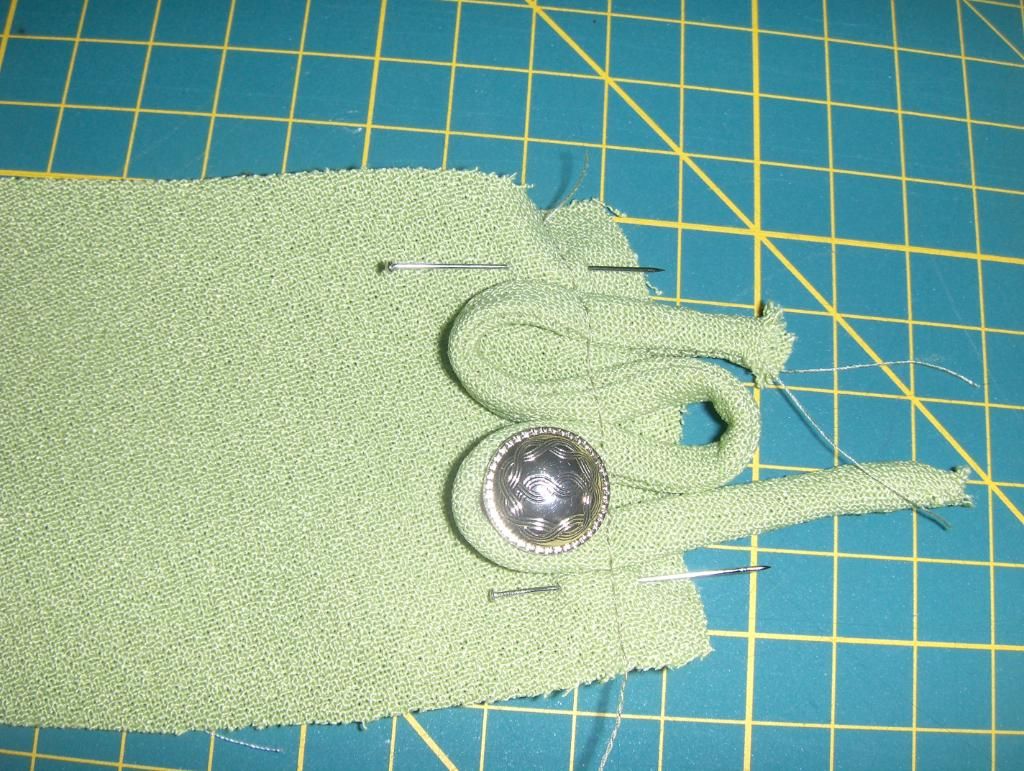 Once You've turned it the right, you have to put it in one of the short ends of a layer collar, look at the photos to understand how they are to be placed, make sure it goes well one of the buttons you're going to use here, if everything is going well and stitch to secure the strips ....
Una vez que lo has girado del derecho, tienes que colocarlo en uno de los extremos cortos de una capa del cuello, fíjate en las fotos para comprender la forma que han de ser colocados, asegúrate que pasa bien uno de los botones que vas a usar aquí, si todo está bien pasa un pespunte para asegurar las tiras....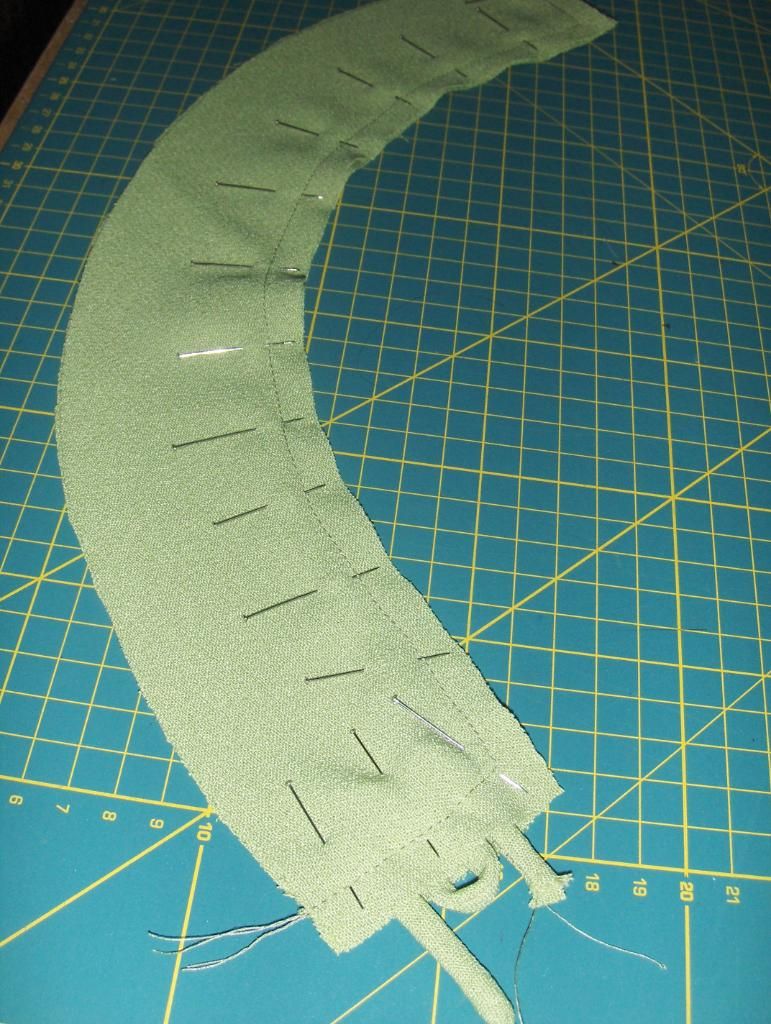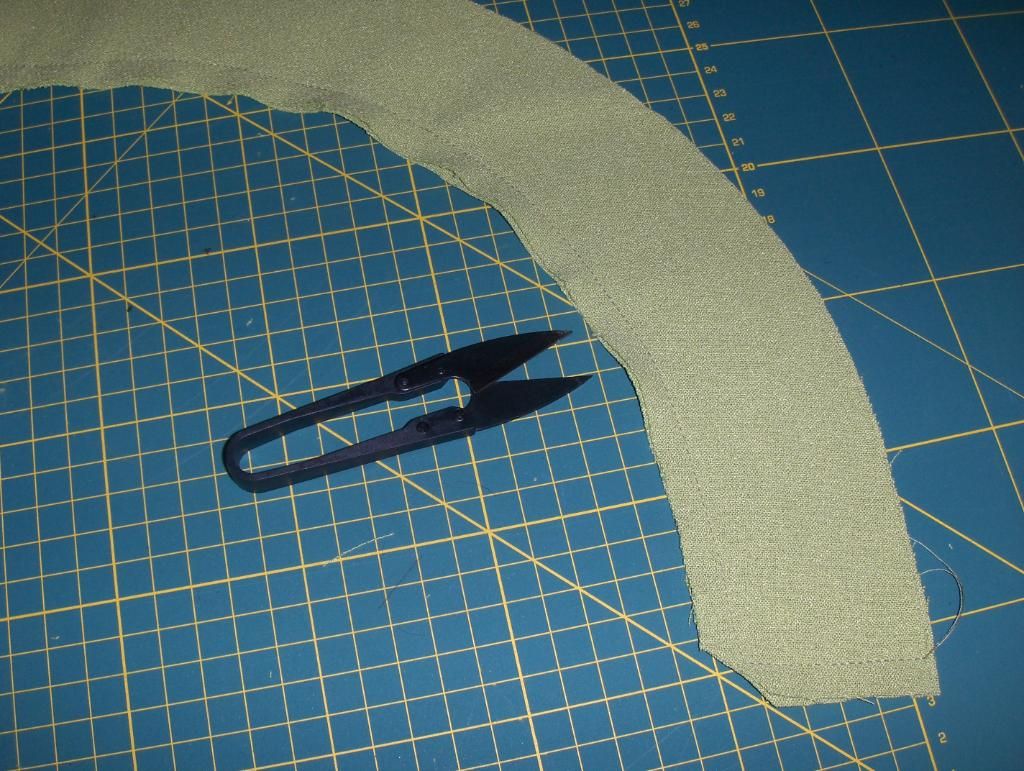 Then place the other layer on top of the collar and sew around, leaving open the end with longer travel as the photo shows, you make small cuts all the way to the edge of the collar so that it can rotate it smoothly. When you've sewn on three sides, you can cut the excess strips before you placed loops to eliminate bulges.
Entonces coloca la otra capa del cuello encima de esta y cose alrededor dejando abierto el extremo con recorrido más largo como muestra la foto, haz pequeños cortes en todo el recorrido del borde del cuello para poderlo girar sin problemas. Cuando hayas cosido los tres lados, puedes cortar el sobrante de las tiras de ojales que has colocado antes para eliminar bultos.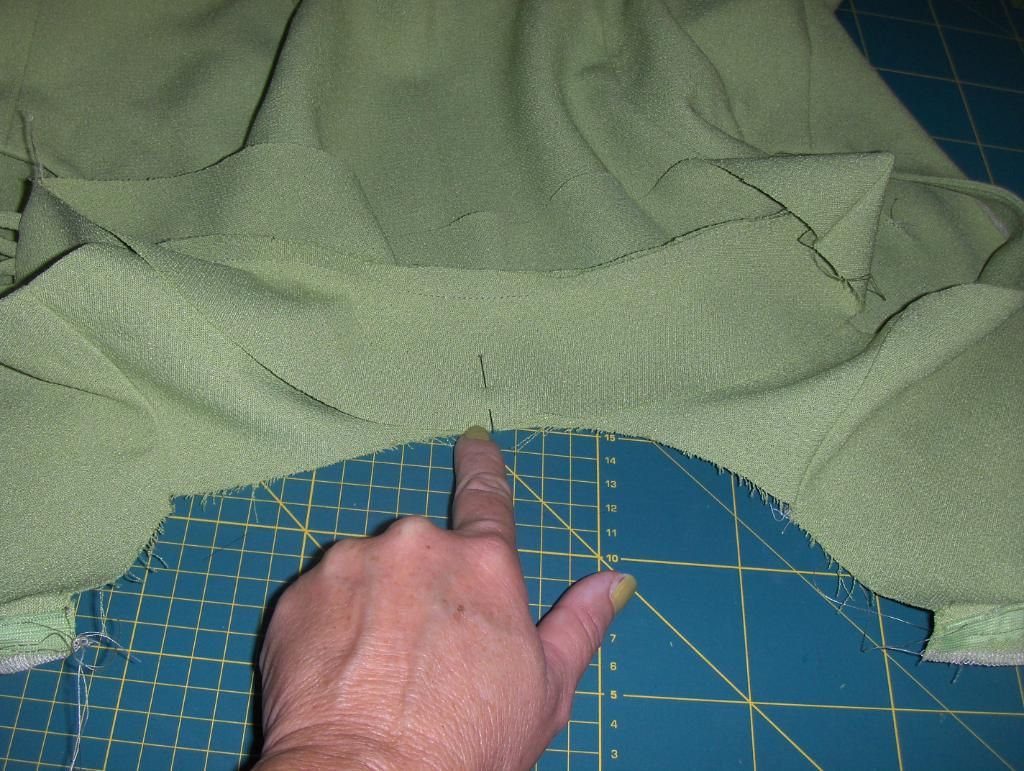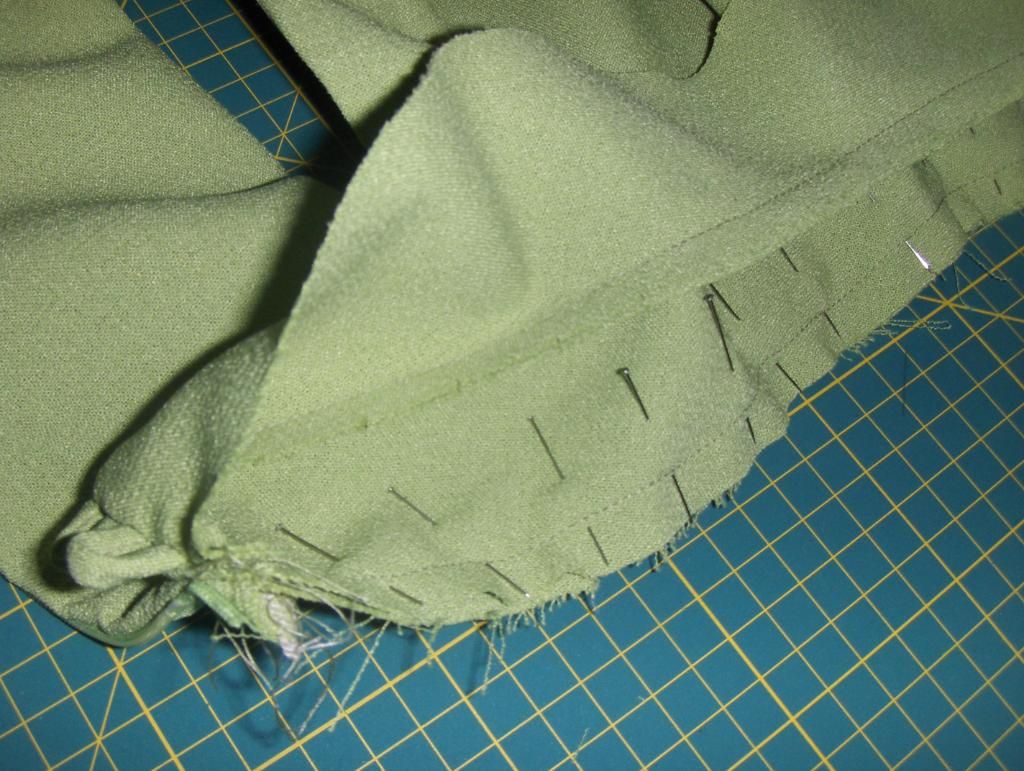 Now let's sew our this collar at our dress , collar right back and nailed the center of a layer of the collar with the center line of the neckline of the dress and do the same with the two ends, then sticking pins distributing the rest of the collar and sew at one centimeter from the edge of the fabric.
Ahora vamos a coser este cuello a nuestro vestido, vuelve el cuello del derecho y clava el centro de una capa del cuello con el centro de la linea de escote del vestido y haz lo mismo con los dos extremos, entonces clava alfileres distribuyendo el resto del cuello y cose a un centímetro del borde de la tela.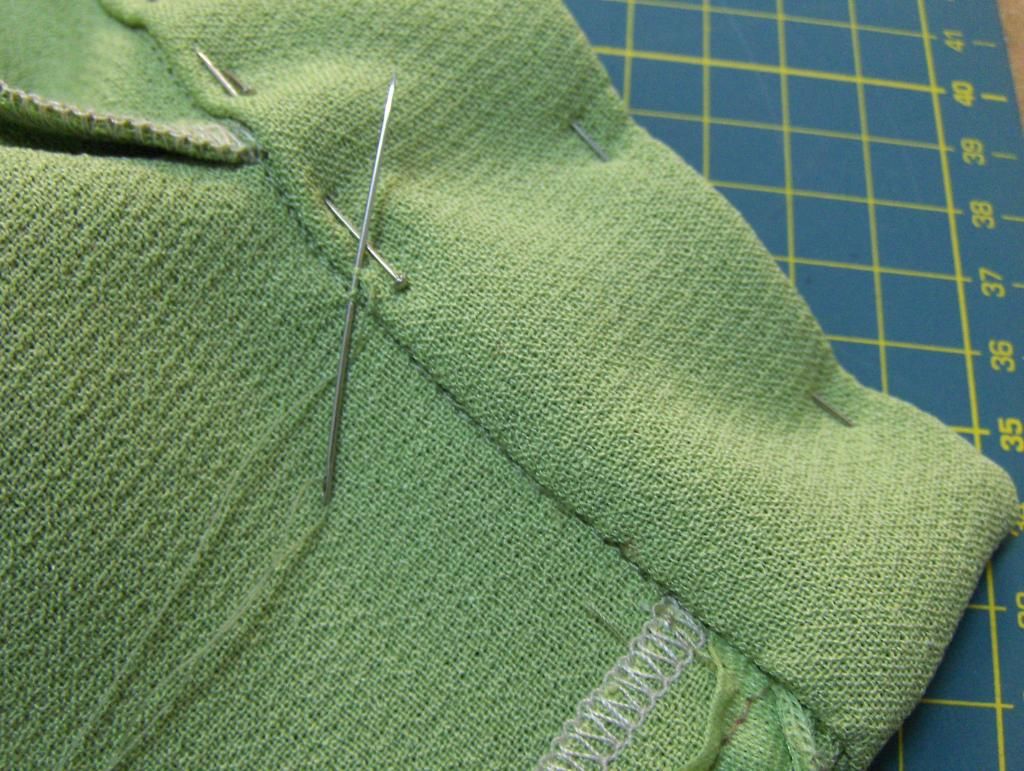 I´s time to turn out the collar of our dress, nail some pins on the edge of the collar to hold the two layers of fabric in place, then tuck into the seam allowance in the other layer of the collar and secured with pins also , complete this step sewing by hand with invisible stitches, make neatly in this step so that not go out any stitches for the right to wear a beautiful collar on our dress.
Ha llegado el momento de girar el cuello de nuestro vestido, clava algunos alfileres en el borde del cuello para mantener las dos capas de tela en su sitio, después remete hacia adentro el margen de costura de la otra capa del cuello y asegura con alfileres también, termina este paso cosiendo a mano con puntadas invisibles, se pulcra en este paso para que no salga ninguna puntada por el derecho y poder lucir un cuello bonito en nuestro vestido.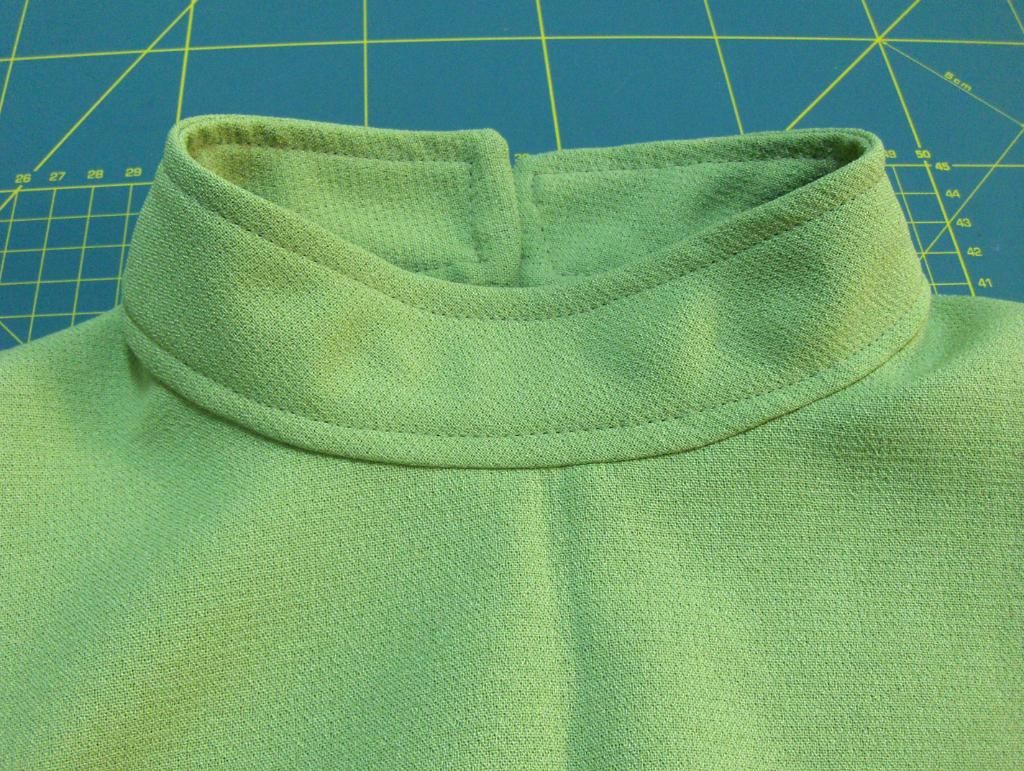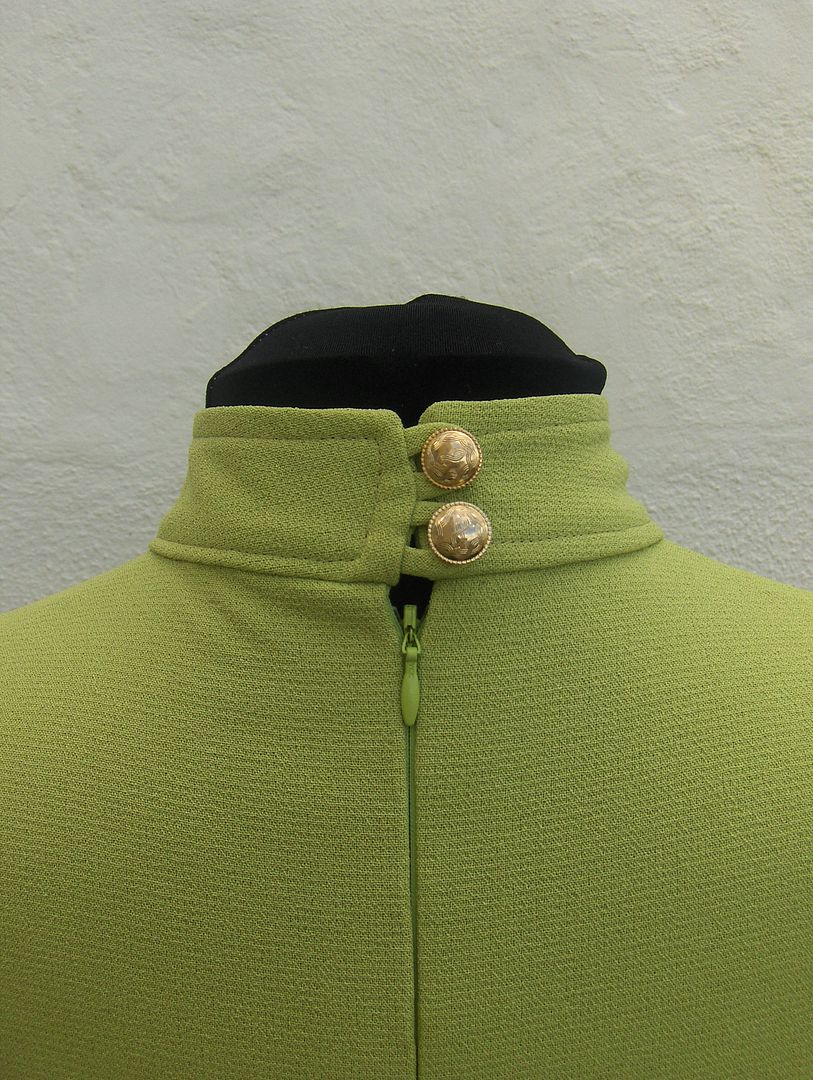 Once you're done it , you can spend a view stitching around the edge of the collar, it will be very nice and will help maintain the shape of the collar, iron and sew the buttons in place .... Now, take a moment to enjoy admiring this pretty collar ....
I wanted to ask at this time that the girls that decided to make this dress with sleeve submit an email to my email address in order to prepare them a tutorial that I send email you, and I will not do this sew along so ..... along, lol.
A big big kiss to all and I would go to receive photos of your progress .... when I have a few, I'll do a special post to share and to recreate the work of all friends .
Una vez que has terminado, puedes pasar un pespunte de vista en todo el borde del cuello, quedará muy bonito y ayudará a mantener la forma del cuello, plancha y cose los botones en su sitio.... ahora, tómate un ratito para disfrutar admirando este bonito cuello....
Quería pedir en este momento a las niñas que decidieron hacer este vestido con manga que me envíen un email a mi dirección de correo para poder prepararles un tutorial que enviaré por email, así no haré este sew along tan..... along, jeje.
Un besazo enorme para todas y me gustaría ir recibiendo fotos de vuestros adelantos.... cuando tenga unas cuantas haré un post especial para compartirlas y poder recrearnos con los trabajos de todas las compañeras.