It´s impossible for me to be with my quiet hands, so while I´m doing my green dress of New Girl and helped Eli with her ​​green dress also, I made this other yellow dress to my other darling, Antonella ..
Es imposible que pueda estar con las manos quietas, así que mientras hacía el vestido verde de New Girl y ayudaba a Eli con su vestido verde también, le hice este otro vestido amarillo a mi otro ojito derecho, Antonella... Este vestido luce como la luz del sol en un día nublado..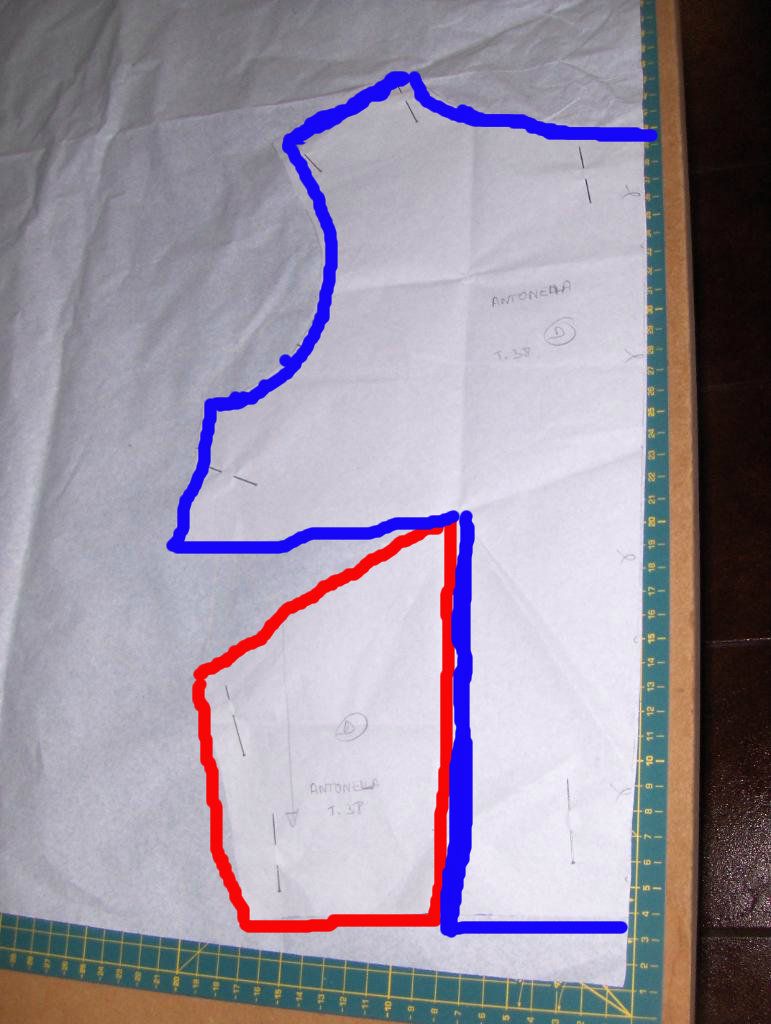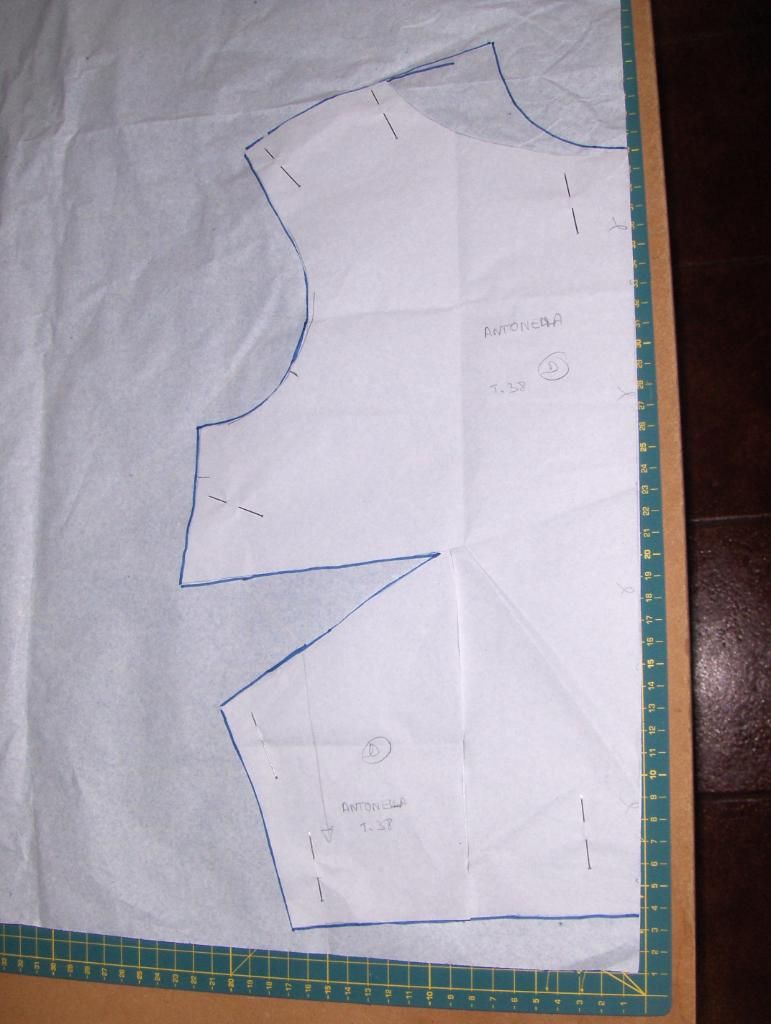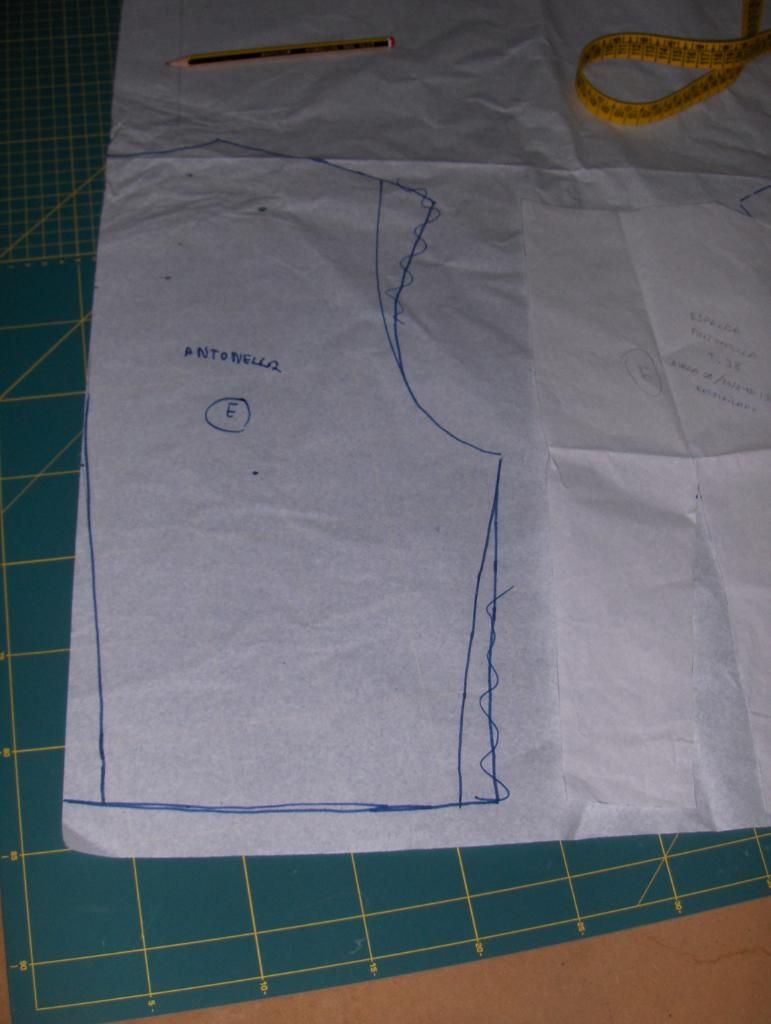 To make this dress I went back to using the Burdastyle magazine pattern of August, # 133. This time I made some simple alterations to adjust the model that which I wanted to get in this dress, and the fabric is a medium weight knit, I wanted to eliminate the largest number of darts in the bodice, so pins front of body pattern (blue line) over another pattern paper and placed the ned selvedge front (red line) as shown the first photo, ("Disclaimer" ... I swear I didn´t drink any drop alcohol when I tried to draw those lines ...)
In the second picture you can see how I drew the outline and elongated the shoulder line to get the neckline closed, so joining the net selvedge by dart set, I've removed it and the pattern only gets the chest dard.
In the back bodice, I have reduced the width of the waist and I parted with the front pattern also to fit the waist of Antonella, another alteration was in the top of the armhole to adjust your three-quarter sleeve, the sleeve pattern is since another dress in the same magazine August and the skirt is a quarter circle with the waist measurement, this is all about pattern alterations .... The rest was "a breeze" ...
Para hacer este vestido yo volví a usar el patrón de la revista Burdastyle de agosto, # 133. Esta vez yo hice unas modificaciones muy simples para ajustar al modelo que yo quería conseguir con este vestido, como la tela es un tejido de punto algo grueso, yo quería eliminar el máximo posible de pinzas de ajuste en el cuerpo del vestido, así que sujeté el patrón delantero de cuerpo (linea azul) sobre otro papel de patrones y coloqué el costadillo delantero (linea roja) en la forma que muestra la foto primera, ("Descargo de responsabilidad" ...te juro que no había bebido ni una gota de alcohol cuando intenté trazar esas lineas...)
En la segunda foto puedes ver como dibujé el contorno y he alargado la linea de hombro para conseguir el escote más cerrado, al unir el costadillo por la pinza de ajuste, la he eliminado y el patrón solamente se queda con la pinza de pecho.
En la espalda solamente he reducido el ancho de la cintura y lo he repartido con el patrón delantero también para ajustarlo a la cintura de Antonella, otra alteración fué en la parte alta de la sisa para ajustarle una manga tres cuatros , el patrón de la manga es de otro vestido que hay en la misma revista de agosto y la falda es un cuarto de círculo con la medida de cintura , esto es todo en cuanto a alteraciones en el patrón.... lo demás fué "coser y cantar"...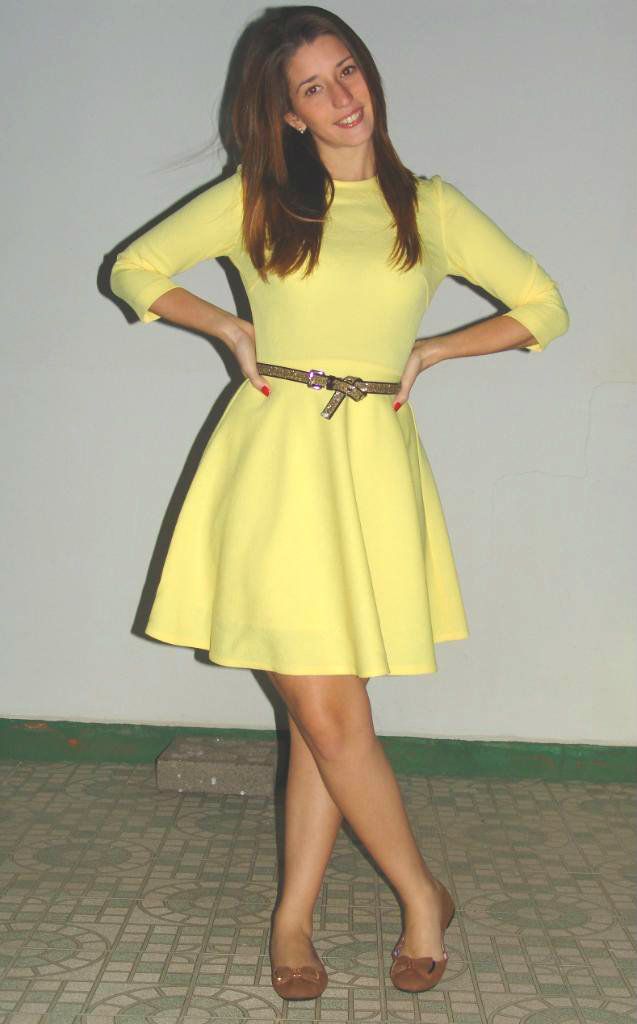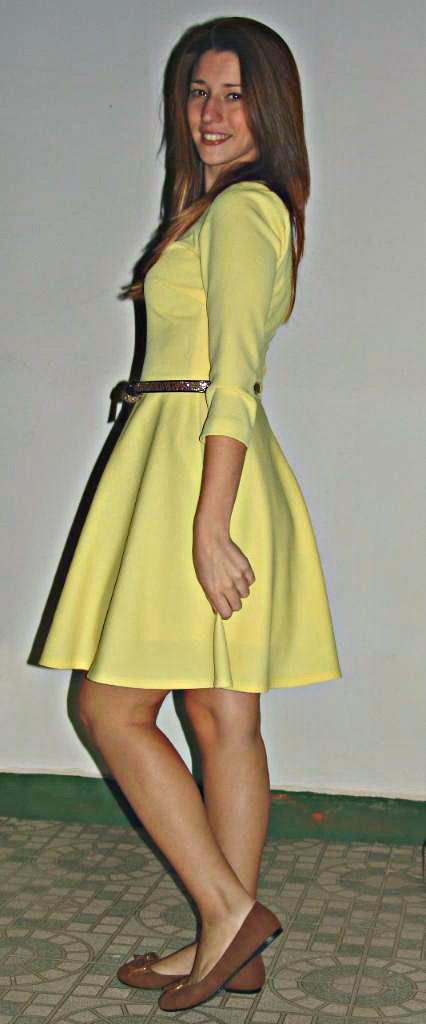 And it´s very easy to sew for this girl ....
I remind you that this weekend will start the next dress our Sew Along, so you can keep voting for it, but I think the # 1 is going to be the one, I am delighted with it and wanting to start it, and remember that if you have not yet, you can join us for sewing here, no deadlines and you can sew your own pace ... Do you feel like?
Y es que es muy fácil coser para esta niña....
Os recuerdo que este fin de semana comenzará el siguiente vestido de nuestro Sew Along, así que puedes seguir votando para elegir, aunque creo que el nº 1 va a ser el elegido, estoy encantada con él y deseando empezarlo, y recuerda que si aún no lo has hecho, puedes unirte a nosotras para coser aquí , no hay fechas límites y puedes coser a tu ritmo... Te animas?