Dear friend! I'm so happy that you got here! Although I can not mention to return the all due to time constraints (together with my tortoise speed ADSL), I'm trying to keep an eye of you all ,so, if you see that I do not answer to something, give me a pull my ears (but not too strong!) can happen if I forgot or in the case of email, many times I have had to rescue them from Spam.
So the last time we were left with the bodice of the dress tested on our body and modify what was needed
...
Querida amiga!! Estoy tan feliz que has llegado hasta aquí! Aunque no pueda comentaros a todas por falta de tiempo (junto con la velocidad tortuga de mi ADSL), si que intento estar pendiente de todas vosotras, si veis que no os contesto a algo, darme un tirón de orejas (pero no muy fuerte!) porque igual se me ha pasado o en el caso de los correos, muchas veces los he tenido que rescatar de Spam.
Así que la última vez nos habíamos quedado con el corpiño del vestido probado sobre nuestro cuerpo y modificar lo que hacía falta...
Well, apart from the particularities of each body, there is a change we have to do here .. armhole trim!
The specific model of this pattern we had chosen for our project has a shoulder line too long, so let's to fix that ... what you have to do is ... with your bodice put on your body and closed back with pins or zipper (the method that you have chosen), we will draw an imaginary line armhole, I've stuck the pins on my fabric drawing this line while I look at myself front mirror, it 's easy .. You decide where you would like to get the armhole and put the pins doing this line, I've had to "reposition" some pins to get a straight line (no bent pins), but it is actually very easy to get, as this we will do it ourselves on our body, only "draw" the line of the front armhole ... unless you are a contortionist ...
See my pins, they are marked in the red circle ... and the black line shows the opposite side as it should be ... more or less ..
Bien, aparte de las particularidades de cada cuerpo, hay una modificación que tendremos que hacer si o si.. recortar la sisa!
El modelo específico de este patrón que habíamos elegido para nuestro proyecto tiene una linea de hombro "caída", demasiado larga, así que vamos a arreglar eso... lo que tenéis que hacer es... con vuestro corpiño puesto y cerrado por detrás con alfileres o cremallera (el método que hayais elegido), vamos a trazar una linea de sisa imaginaria, yo he clavado los alfileres sobre mi tela dibujando esta linea mientras me miro al espejo, es fácil.. Tú determinas hasta donde quieres que te llegue la sisa y colocas los alfileres haciendo esta linea, yo he tenido que "recolocar" algunos alfileres para conseguir una linea recta ,( sin alfileres torcidos), pero en realidad es muy fácil de conseguir, como esto lo vamos a hacer nosotras mismas sobre nuestro cuerpo, solamente " dibujamos" la linea de sisa del delantero... a menos que seas contorsionista...
Mira mis alfileres, están señalados dentro del círculo rojo... y la linea negra del lado contrario muestra como debería ir ... más o menos..
Now we have to take away the garment being careful not to lose any pin of your site .. in this picture you can see close the way where spend my pins ... this line of pins, line simulates the line of our armhole edge, ie ... we need one centimeter seam allowance from that line of pins outward , for sew this seam allowance to the facing holding our armholes, and then proceed ... cut with scissors where the red dotted discontinuous line shows .
Ahora tenemos que quitarnos la prenda con cuidado de no perder ningún alfiler de su sitio.. en esa imagen puedes ver de cerca por donde pasan mis alfileres... esta linea de alfileres simula la linea del borde de nuestra sisa, es decir... que necesitamos un centímetro de margen de costura desde esa linea de alfileres hacia afuera para coser a este margen de costura las vistas que limpiarán nuestas sisas, entonces procedemos así... cortamos con la tijera por donde muestra la linea de puntos discontínuos rojos.
First, we cut the front on this side we have marked with pins (in this case we are cutting right armhole), and once we've cut the excess fabric do the same with the back armhole, we cut following the same way, ie .. starting to cut into the curve of the armhole and climb back up to the shoulder line, where to go to meet the cut part of the front, (I hope I have not confused), in short, we cut the front side of the first to shoulder and then the side of the back to shoulder ...then put together the two armholes (left and right) bending the bodice at center front bodice putting together all sides, so you can copy the new armhole at other side of the bodice, for both armholes are exactly equal.
En primer lugar , cortamos el frontal de este lado que hemos marcado con alfileres (en este caso estamos cortando la sisa derecha), y una vez hemos recortado este exceso de tela sobrante hacemos lo mismo con la sisa de la espalda, recortamos siguiendo el mismo camino, es decir.. empezando a cortar en la curvatura de la sisa de espalda y subir hasta la linea del hombro, donde debe ir a encontrarse con la parte cortada del delantero, (espero no haberte liado,), en resumen, recortamos el lado del frontal primero hasta el hombro y después el lado de la espalda hasta el hombro... entonces, coloca juntas las dos sisas (izquierda y derecha) doblando el corpiño por el centro del delantero y encarando todo el corpiño juntos ambos lados, de esta forma, puedes copiar la nueva sisa en el otro lado del corpiño, para que ambas sisas sean exactamente iguales.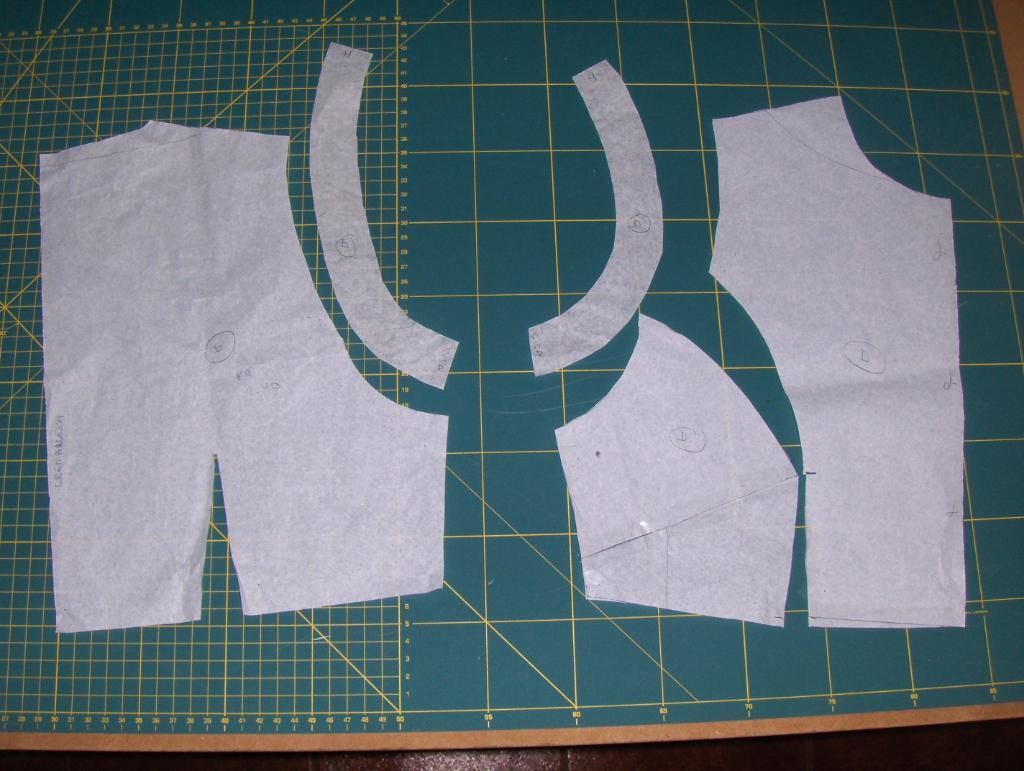 The next step is to copy on paper, this new cut armhole we have to cut into fabric ... that is, we will make the pattern of the facing of armholes .... Well! for not ending this post, I'm going to deflect to a post I made some time ago explaining exactly how to draw the pattern view armhole and neckline of a dress that originally came with sewn sleeve ... so I decided to make it without sleeves and so I made a tutorial to show how to get this pattern drawing ... Now! this tutorial I show you is to get the armholes and neckline view all of a piece and we only going to draw the pattern of the back and front armholes ... In short, follow the same steps but draws only armholes patterns, which is what we want now. The tutorial is here
El siguiente paso es conseguir copiar en papel esta nueva sisa que hemos recortado para poder cortarlas en tela... es decir, vamos a hacer el patrón de las vistas de las sisas.... Bien! para no hacer este post interminable, yo te voy a desviar a un post que hice hace algún tiempo explicando precisamente como dibujar el patrón de la vista de sisa y escote de un vestido que venía originalmente con manga cosida... así que yo decidí hacerlo sin mangas y por lo tanto hice un tutorial para mostrar como conseguir dibujar este patrón... Ahora bien! este tutorial que te muestro es para conseguir la vista de sisas y escote todo de una pieza y nosotros solamente vamos a dibujar el patrón de las sisas de espalda y frontal... en resumen, sigue los mismos pasos pero dibuja solamente los patrones de las sisas, que es lo que nos interesa ahora mismo. El tutorial está aquí.
.................................................................................................................................................................................................................................................................................................................................
If all went well, we will have patterns facing of the front and back armholes as shown in the photo above, plus ... I always recommend that you take the reforms made ​​to the garment until the paper pattern, this means that if you decide on another occasion to repeat that garment with another fabric, already you have made the modifications in the pattern and everything will be "a breeze" ...
So far our duties today ... tomorrow if there are no setbacks, we'll go to sewing these armholes facing our bodice ... If you have questions, I'm here!
It goes without saying that if you've decided to make this dress with sleeves sewn, you have to ignore this post and the next ... If this is your case, at the very end, when our dress is completely sewn, I'm going to give the steps to make your sleeves and go up tutorials specifically for you.
Si todo ha salido bien, tendremos los patrones de las vistas de las sisas delantero y espalda tal y como muestra la foto de arriba, además... yo siempre recomiendo llevar las reformas que has hecho a la prenda hasta el patrón de papel, esto significa que si en otra ocasión decides repetir esa prenda con otra tela, ya tienes las modificaciones hechas en el patrón y todo será "coser y cantar"...
Hasta aquí nuestros deberes de hoy... mañana si no hay contratiempos, iremos a coser estas vistas a las sisas de nuestro corpiño... Si tienes dudas, estoy aqui!
Obvia decir que si tú has decidido hacer este vestido con mangas cosidas, tienes que ignorar este post y el siguiente... si este es tu caso, al final del todo, cuando nuestro vestido esté completamente cosido, yo voy a ir dando los pasos para hacer tus mangas y subiré tutoriales expresamente para ti.
....................................................................................................................................................................................................................................................................................................................................
Por cierto, si quieres cotillear lo que nos espera con el Burda de Diciembre, ya puedes echar una ojeada aquí.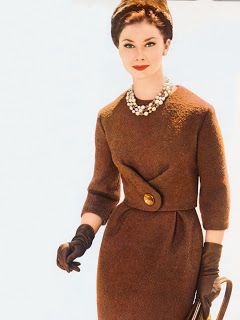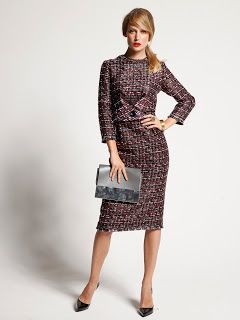 I'm dying to make the dress vintage Burdastyle magazine shows in its December edition, Wow! Is not it wonderful?? You can have a look
closet it here, our friend Anatolia has a review of it.
Yo me muero de ganas de hacer el modelo vintage que trae la Burdastyle de diciembre, Caramba! No es precioso?? Puedes echar
un vistazo aquí, nuestra amiga Anatolia tiene una revision completa.