And I wanted to cut the fabric, I already know that the pattern making has been long and maybe a bit heavy, but we do this once and it is worth having a pattern with our measurements for any garment we please , from now we can say that this dress will be "a breeze" ... let's cut the fabric and check the bodice of our red dress ... Hopefully with the idea that we wearing it for Christmas Eve ...
Y ya tenía ganas de cortar la tela, ya se que el patronaje se ha hecho un poco largo y quizá pesado, pero esto lo hacemos una sola vez y vale la pena tener un patrón con nuestras medidas para hacer cualquier prenda que se nos antoje, a partir de ahora podemos decir que este vestido será "coser y cantar"... vamos a cortar la tela y probar el cuerpo de nuestro vestido rojo... con un poco de suerte lo estenaremos para la noche de Navidad...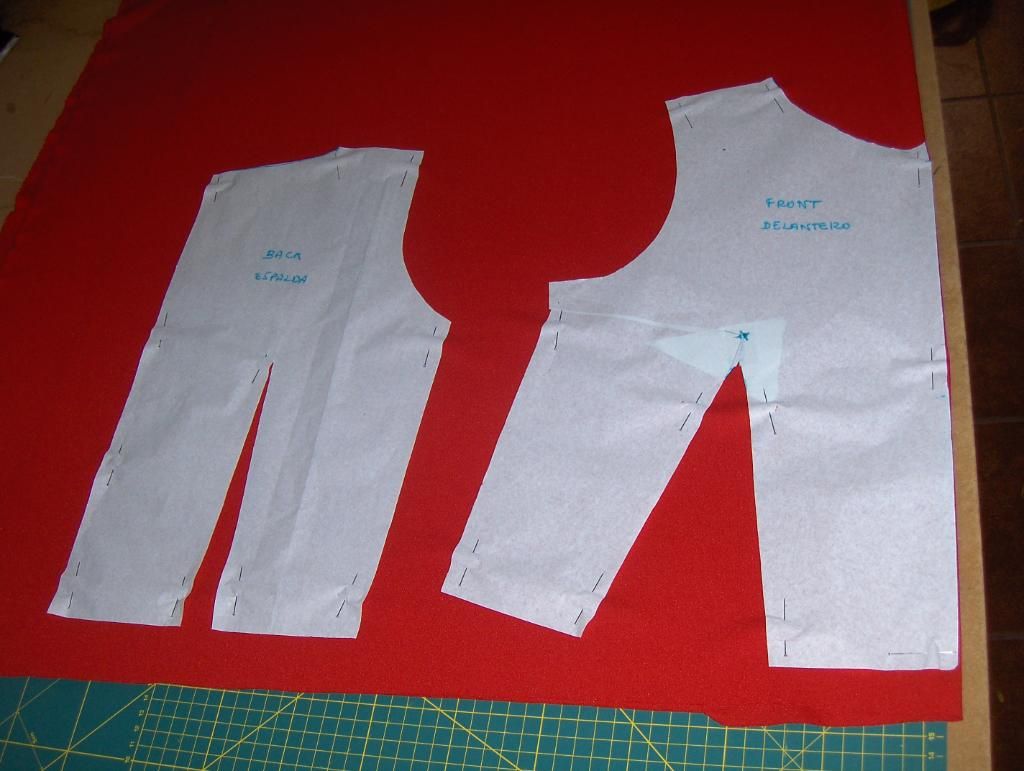 We are going to cut the fabric, so fold it in half and place above of the bodice patterns, remember that the center front is placed above the fold of the fabric!
Como siempre que vamos a cortar la tela, la doblamos por la mitad y colocamos los patrones del cuerpo encima, recuerda que el centro del delantero se coloca sobre el doblez de la tela!
We already have the back and front pieces cut, we need to cut the fabric pieces with seam allowances because our pattern does not have them , so we left as in the previous dress, two centimeters of seam allowance in the side seams and zipper (on the center back) ... and the rest (line neckline, shoulders, armholes and waist leave one centimeter seam allowance, check here if you have doubts ...
Ya tenemos las piezas de espalda y delantero cortadas, necesitamos cortar las piezas de tela con márgenes de costura porque nuestro patrón no tiene, así que dejamos igual que en el vestido anterior para las costuras de los costados y la cremallera en el centro de la espalda , dos centímetros de margen de costura... y en el resto (linea de escote, hombros, sisas y cintura dejaremos un centímetro de margen de costura, revisa aqui si tienes dudas...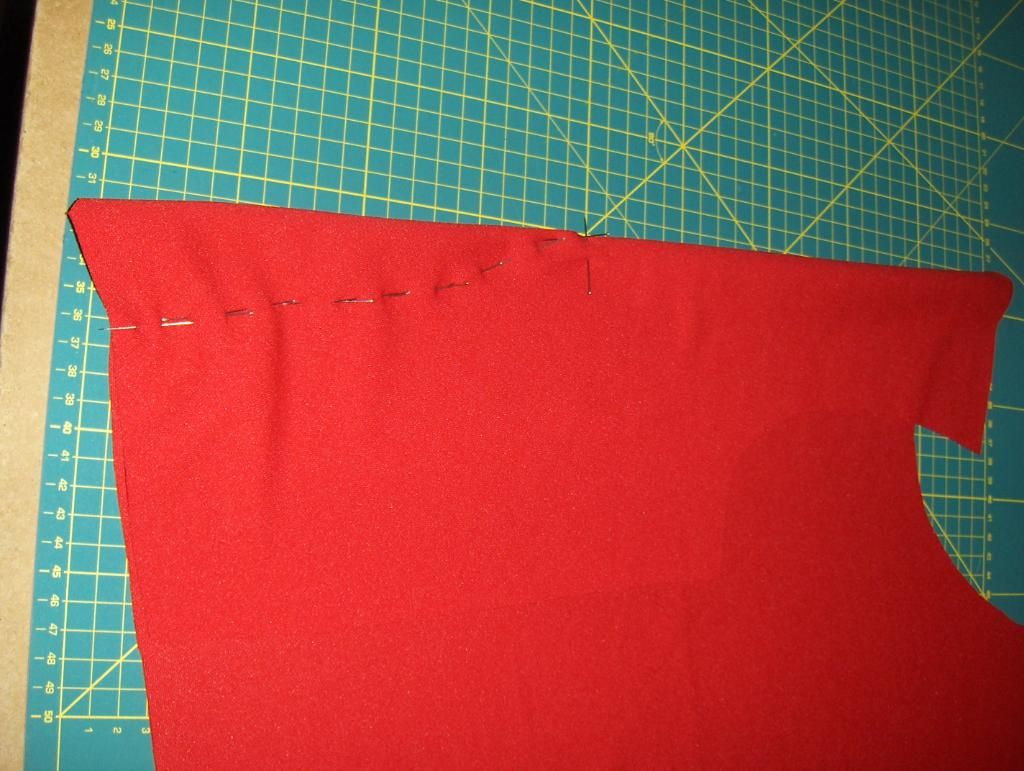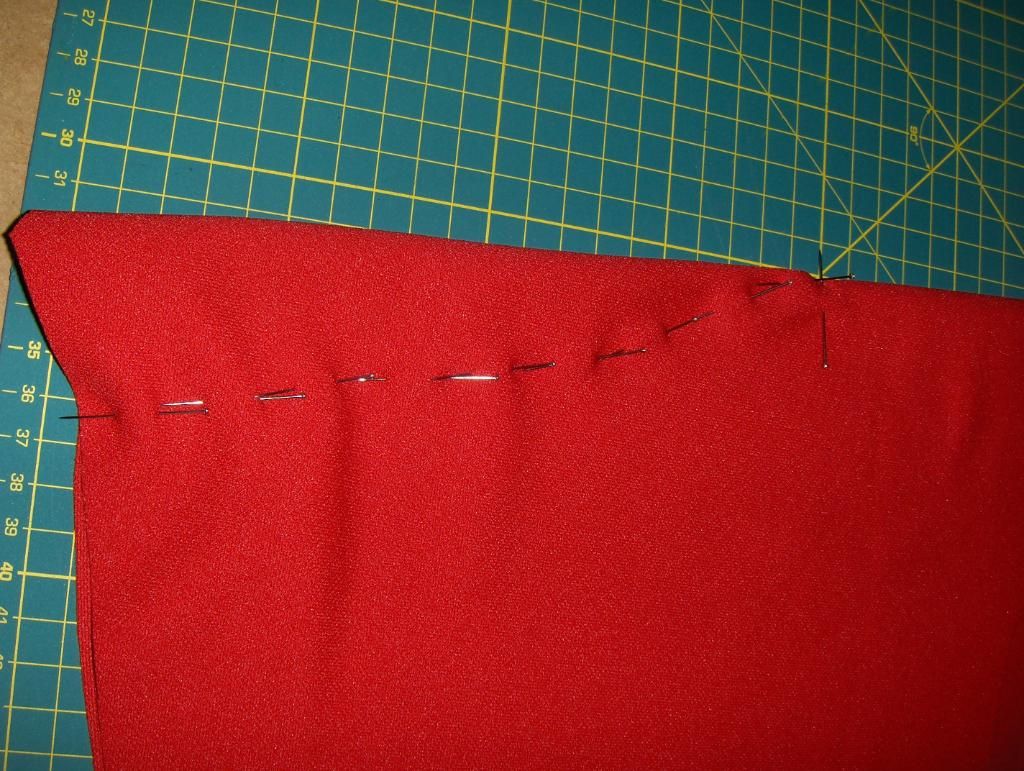 Surely I have noticed that this dress will go faster because many times I'm going to report you to the previous posts in the green dress, because many steps are the same, so follow the same steps to sew darts here ... although in this case, these darts are not going to sew in a straight line, instead ... we will make a smooth curve as we reach the apex of the dart, this curve is important to accommodate our chest in it, also the darts sewn back, after joining the front body and the back and stitch length, to basting mode ....
Seguramente he habrás dado cuenta que este vestido irá más deprisa porque muchas veces yo voy a reportarte a los posts anteriores del vestido verde, puesto que muchos pasos son iguales, así que sigue los mismos pasos que aquí para coser las pinzas... aunque en este caso , estas pinzas no las vamos a coser en linea recta, en vez de eso... vamos a hacer una suave curva cuando estamos llegando al vértice de la pinza , esta curva es importante para acomodar nuestro pecho en ella, cose también las pinzas de la espalda , después une el cuerpo delantero y los de la espalda con un pespunte largo, a modo de hilván....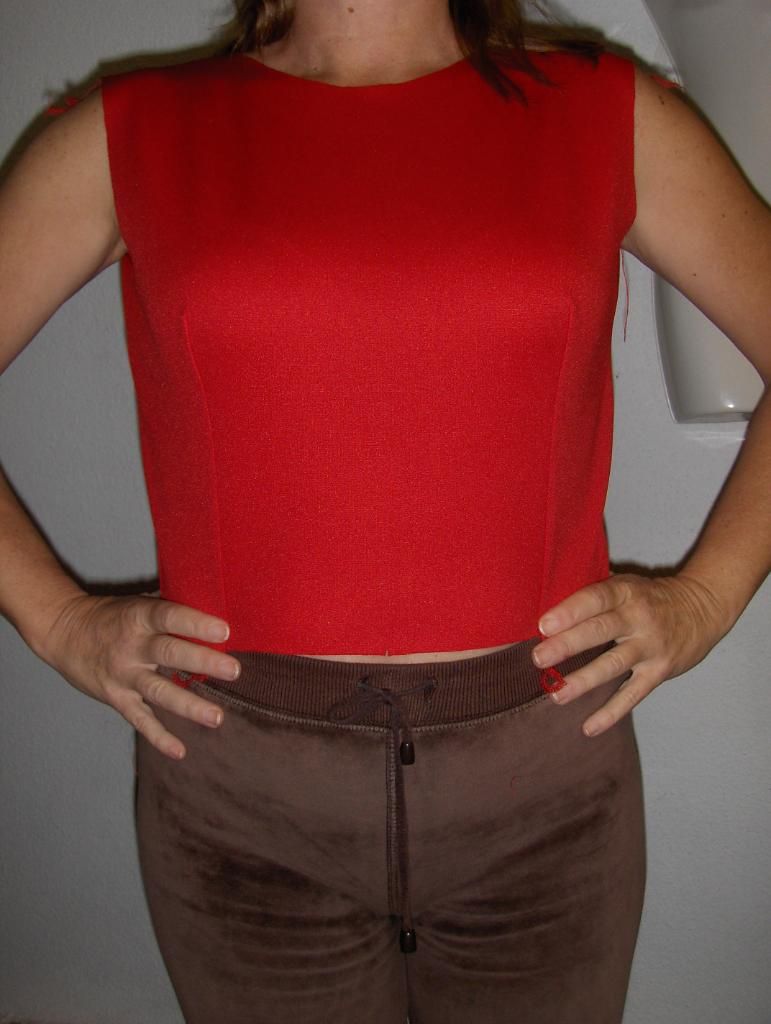 Once you've sewn the bodice of your dress, it's time to check on our body to see if there is something to tweak, remember that you can check the bodice of your dress with the help of another person that you put pins in the closure of the zip as we did here ... or it perhaps be better for you baste the zipper, that's your decision, in any case you need to look at the mirror and check everything testable, in principle I see my body well dress from the front ...
Una vez que hemos cosido el cuerpo de nuestro vestido es hora de probárnoslo para ver si hay algo que retocar, recuerda que puedes probarte el cuerpo de tu vestido con ayuda de otra persona que te ponga alfileres en el cierre de la cremallera como hacíamos aquí... o quizá sea mejor para ti hilvanar la propia cremallera, eso es tu decisión, en cualquier caso necesitas mirar en el espejo y comprobar todo lo comprobable, yo en principio veo bien mi cuerpo de vestido desde el frente...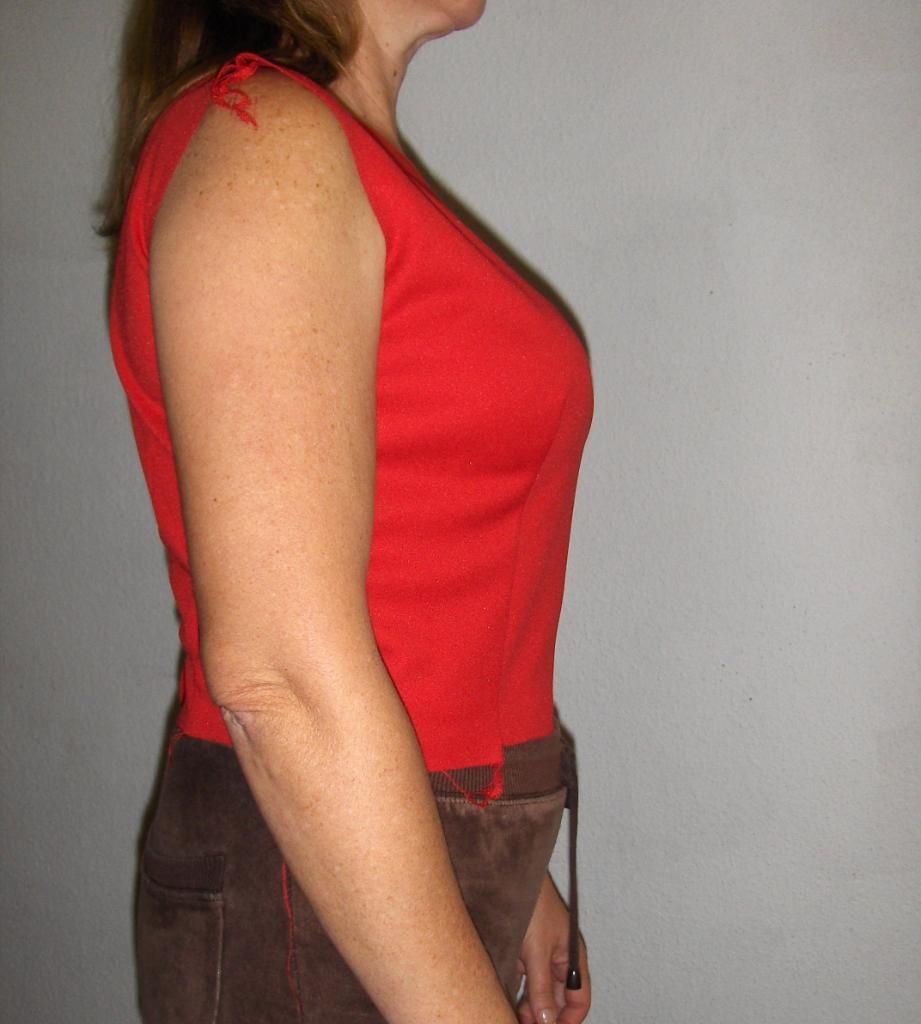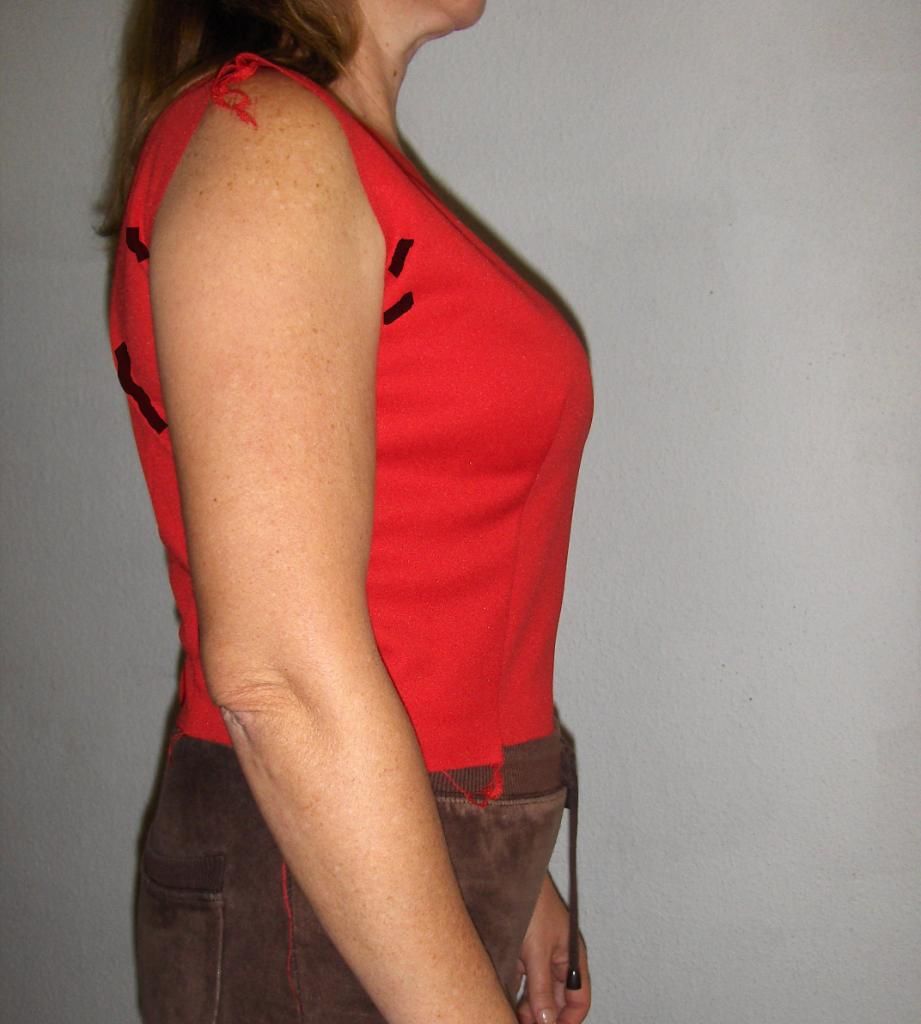 However, you can see from the photos (which are the same photo) that appear wrinkles on my armhole, what it´s telling me that leftover fabric in this part and I need to cut the excess fabric to make the "hole" in the armhole larger and so these wrinkles disappear ....
How's your bodice? Do you need to tweak something? Do you need help?
Sin embargo, puedes ver en las fotos (que son la misma foto) que en la sisa aparecen arrugas, lo que me está diciendo que sobra tela en esta parte y necesito recortar este exceso de tela para hacer el "agujero" de la sisa más grande y así desaparecer estas arrugas....
Qué tal va tu cuerpo del vestido?? Necesitas retocar algo?? Necesitas ayuda??