Well, it's time to adjust our pattern ... Sorry for the delay, but everyday things interfere many times and we must continue on the path ... So here I am again, as I said once we have finished drawing patterns back and front with our own measures, it is time to draw the darts to get that them fit well into our body .... here we go ...
Bien, es hora de ajustar nuestro patrón... siento la tardanza, pero las cosas cotidianas interfieren muchas veces y hay que seguir en el camino... así que aquí estoy otra vez, como te decía una vez que hemos terminado de dibujar los patrones de espalda y delantero con nuestras propias medidas, es hora de dibujar las pinzas para conseguir que se ajusten bien a nuestro cuerpo.... allá vamos...
As we agreed at the last post, we have drawn our patterns back and front, so we'll have something like in the picture ...
Tal y como habíamos quedado en el último post, tenemos dibujados nuestros patrones de espalda y delantero, así que tendremos algo así como en la foto...
We begin by adjusting our pattern of back, you'll see how easy ... we only have to measure the width of this pattern where the red line shows, this is a quarter of our chest contouring, mine is 24.5 ctm ... Now we go to our measurents, and look for the fourth of our waist, mine is 20 ctm., we find the difference between these two measures ... 24.5 -20 = 4.5 ctm., So we have to fit our 4.5 centimeters pattern back, we will do so as follows ...
Comenzamos por entallar el patrón de espalda, ya veréis que fácil... solamente tenemos que medir el ancho de este patrón en donde muestra la linea roja, esto es una cuarta parte de nuestro contorno de pecho, el mío es 24.5 ctm... ahora tenemos que ir a nuestras medidas y buscar la cuarta parte de nuestro contorno de cintura, el mío es 20 ctm., hallamos la diferencia entre estas dos medidas... 24.5 -20 = 4.5 ctm., así que tenemos 4.5 centímetros para entallar nuestro patrón de espalda, lo haremos de la siguiente manera...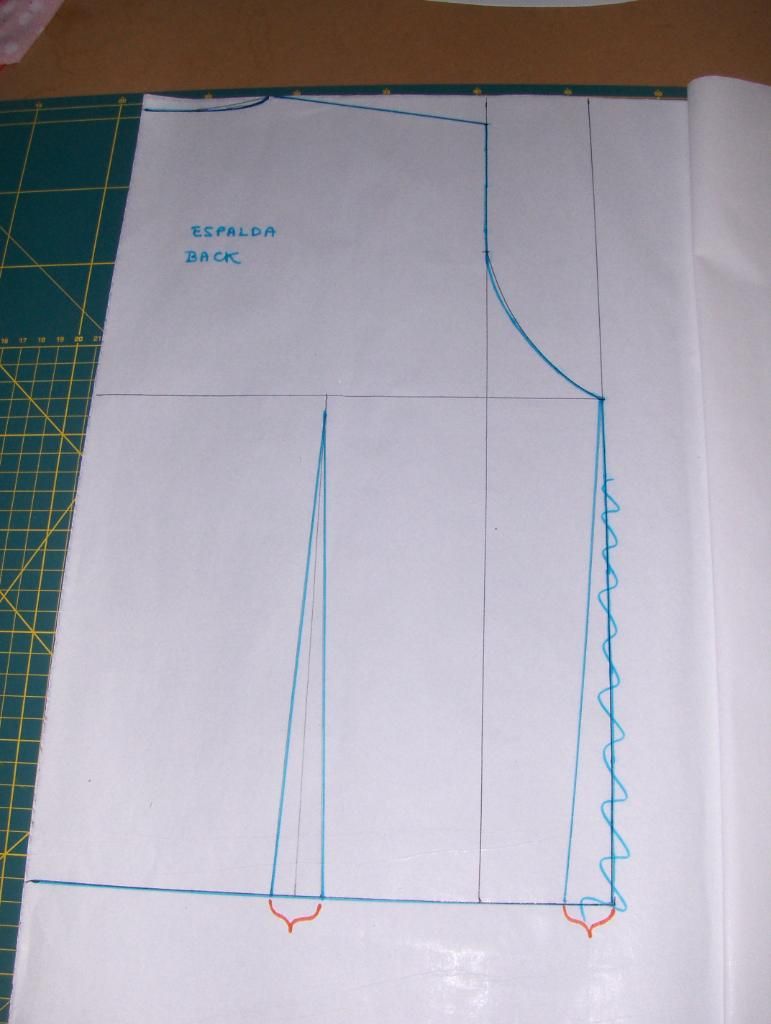 Distributing these adjustment centimeters so, I have subtracted 2.5 centimeters in the line side and I left 2 ctm. to draw the dart back ... where we put this dart?? after adjusting necessary centimeters on the side, we found just half of the new measure waist .... here we draw a line at right angles that reaches the heigh side, as shown in the photo .... So far so good?
Since we can only distribute the centimeters left over to draw the dart of the back, in my case were 2 ctm and draw the dart, as shown in the photo ...
Repartiendo estos centímetros de entalle así, yo he restado 2.5 centímetros en la linea de costado y he dejado 2 ctm para dibujar la pinza de espalda, ... donde situamos la pinza?? después de entallar los centímetros necesarios en el costado, hallamos justamente la mitad de la nueva medida de cintura.... aquí dibujamos una linea en ángulo recto que llega hasta el alto de costado, como muestra la foto.... hasta aquí todo bien??
Ya solamente nos queda repartir los centímetros que sobraban para dibujar la pinza de espalda, en mi caso eran 2 ctm y dibujar la pinza, como muestra la foto...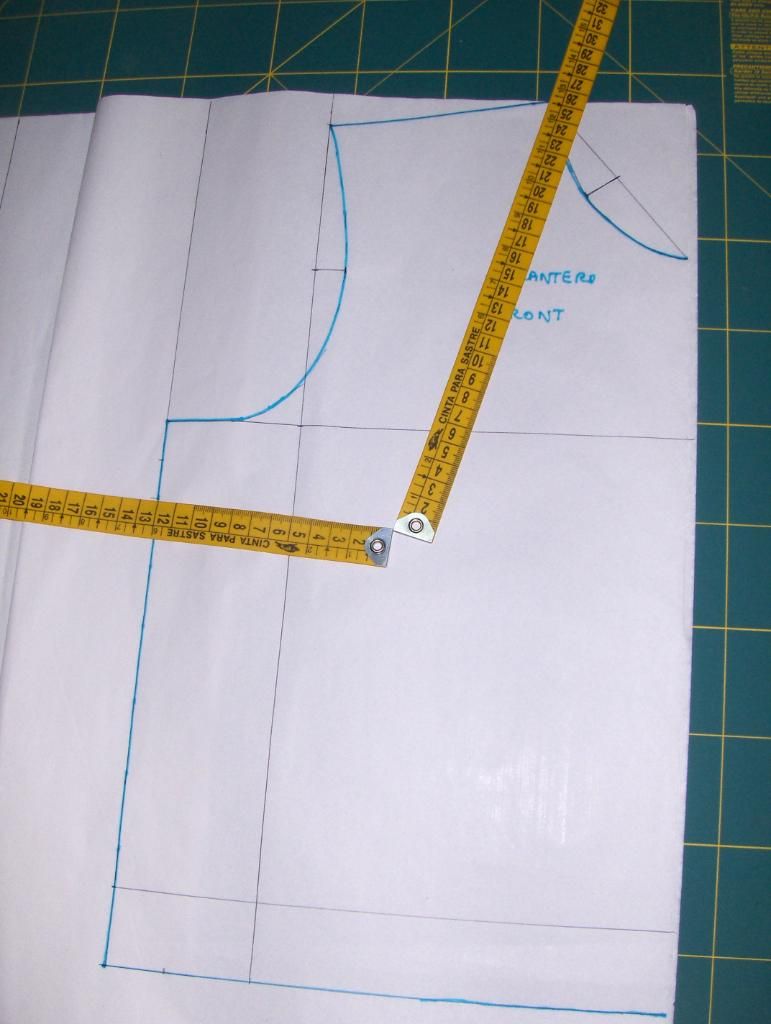 Now we need to draw our pattern front darts ... going first with chest dart, we put two rules in the position shown in the photo, first put a ruler horizontally located about 5 ctm. below the armhole, this rule is our measure of breast dart along we noted in our measures, for me is 12 ctm .....
And the other rule comes from the vertex between the neckline and shoulder, down ... must meet the first rule and must measure our high chest dart in my case is 25 ctm .... you play a little grope until these two measures are touching ... this point is supposedly our nipple, so draw the lines and the meeting point ...
Ahora nos falta dibujar las pinzas de nuestro patrón delantero... vamos primero con la pinza de pecho, vamos a colocar dos reglas en la posición que muestra la foto, primero colocamos una en horizontal situada unos 5 ctm. más abajo que la sisa, esta regla es nuestra medida de largo de pinza de pecho que tenemos anotada en nuestras medidas, en mi caso es 12 ctm.....
Y la otra sale desde el vértice entre la linea de cuello y el hombro, hacia abajo... debe encontrarse con la primera y tiene que medir nuestro alto de pinza de pecho, en mi caso es 25 ctm.... debes jugar un poco a ir tanteando hasta que estas dos medidas se toquen... este punto será supuestamente nuestro pezón, así que dibuja las lineas y el punto de encuentro...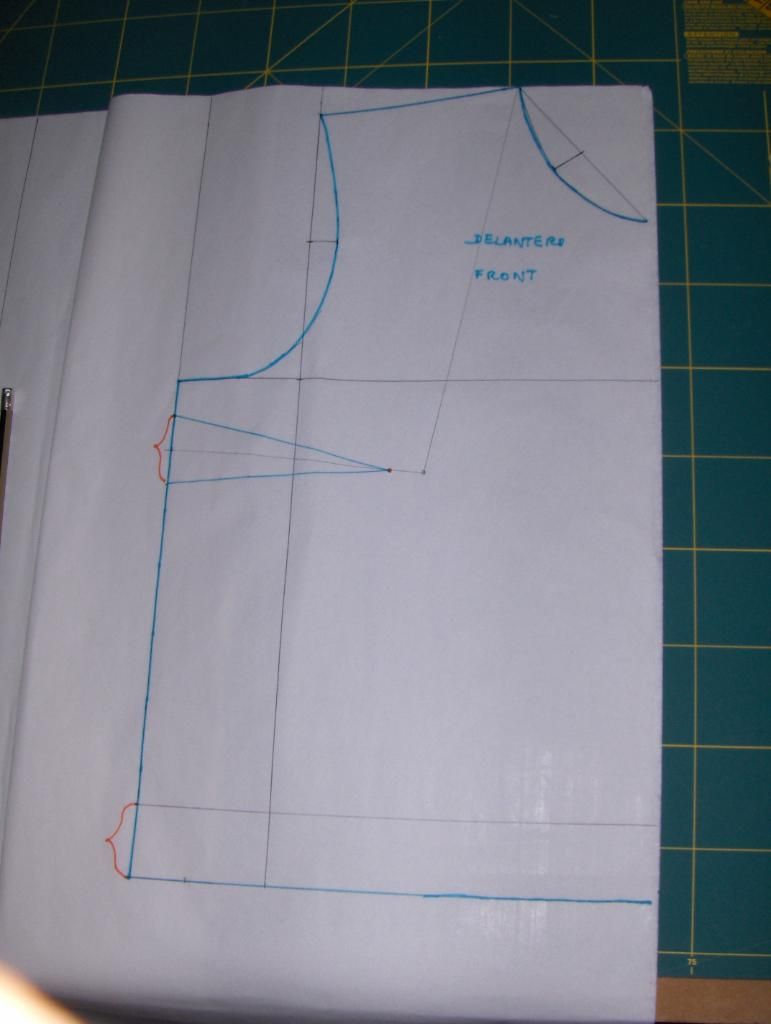 The first is to draw the chest dart, is as easy as moving the same measure as that between the high of our front and back pattern, this measure is also given in the bottom of the pattern ... Notice that I've drawn a parenthetical there for you to see, well .. in my pattern that measure of difference is 4 ctm. this will be the depth of the chest dart, so mark these centimeters in our chest dart as you can see in the photo ... Note that the chest dart does not reach the end of the line, it ends two centimeters before meeting point, consider this little detail.
Lo primero es dibujar la pinza de pecho, es tan fácil como trasladar la misma medida que hay entre el alto de nuestro patrón delantero y nuestro patrón de espalda, esta medida la puedes ver en la parte inferior del patrón ... fíjate que he dibujado un paréntesis para allí para que la veas, bien.. en mi patrón esa medida de diferencia es de 4 ctm. esto va a ser la profundidad de la pinza de pecho, así que marcamos estos centímetros en nuestra pinza de pecho como puedes ver en la foto... fíjate que la pinza de pecho no llega hasta el final de la linea, termina dos centímetros antes del punto de encuentro, ten en cuenta este pequeño detalle.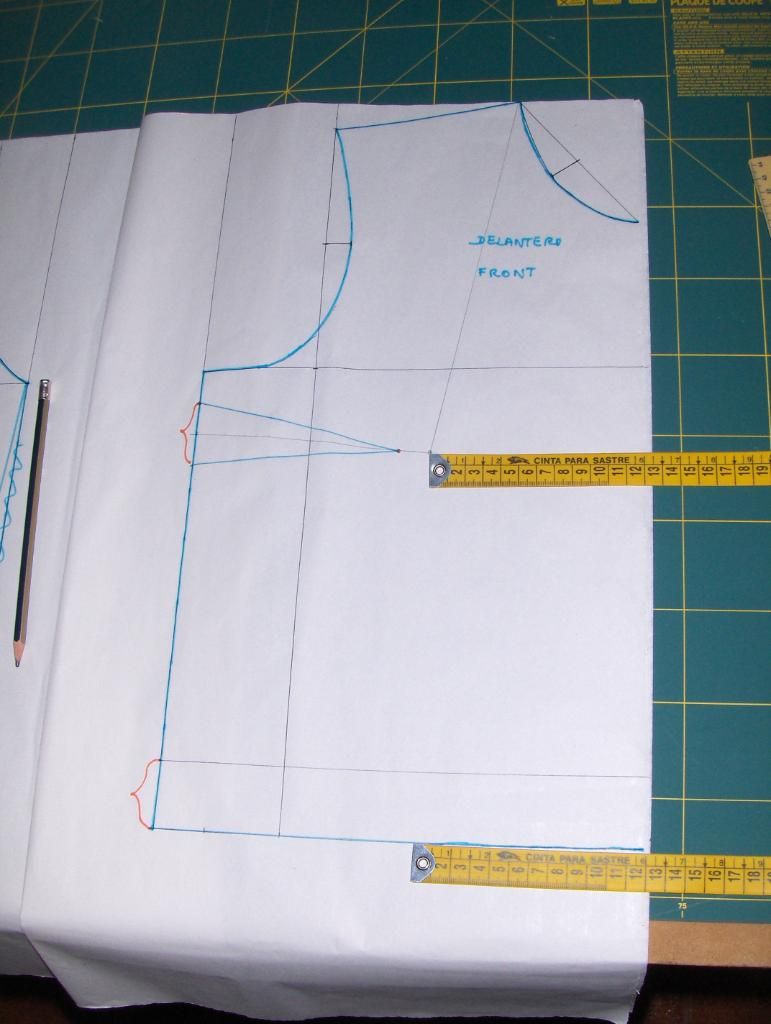 Now that we have drawn our chest dart, We'll draw the adjustment, for this we will measure from the meeting point to the center of the pattern, make a small mark with the same measure at the waist of the pattern, look like they are tape measures placed on the picture to understand what I mean ... After you draw a vertical line at this point, from the waist to the meeting point ...
Ahora que tenemos dibujada nuestra pinza de pecho, vamos a dibujar la pinza de entalle, para esto vamos a medir desde el punto de encuentro hasta el centro del patrón, haz una pequeña marca con la misma medida en la cintura del patrón , fíjate como están colocadas las cintas métricas en la foto para comprender lo que quiero decirte... después debes dibujar una linea vertical en este punto, desde la cintura hasta el punto de encuentro...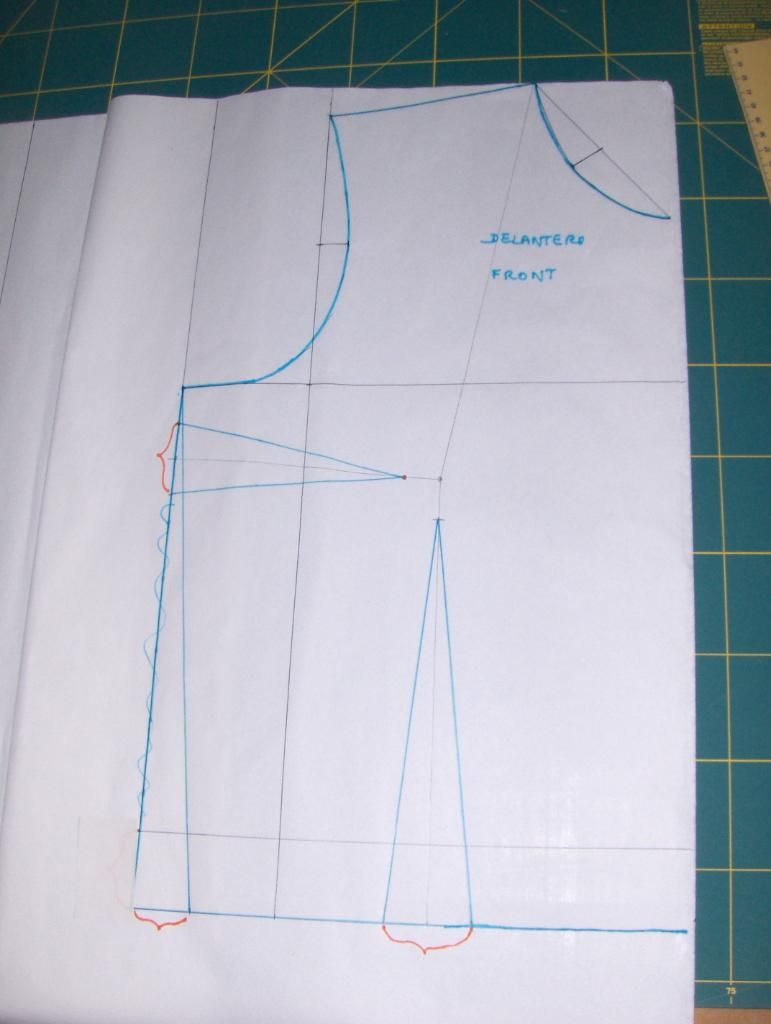 We return to do the same as before in the back pattern, measure the width of the pattern, in my case is 26.5 ctm. and subtract a quarter of our waistlines, for me is 20 ctm. so now I have 6.5 ctm. to fit the pattern at the waist, these centimeters are shared between the side and dart adjustment, so I have reduced 2.5 ctm. on the side and the remaining 4 ctm. at the adjustment dart ....
Volvemos a hacer lo mismo que antes en el patrón de espalda, medir el ancho del patrón , en mi caso es 26.5 ctm. y restar la cuarta parte de nuestra cintura, en mi caso es 20 ctm. así que ahora tengo 6.5 ctm. para entallar el patrón en la cintura, estos centímetros se reparten entre el costado y la pinza de entalle, así que yo he reducido 2.5 ctm. en el costado y los restantes 4 ctm. en la pinza de entalle....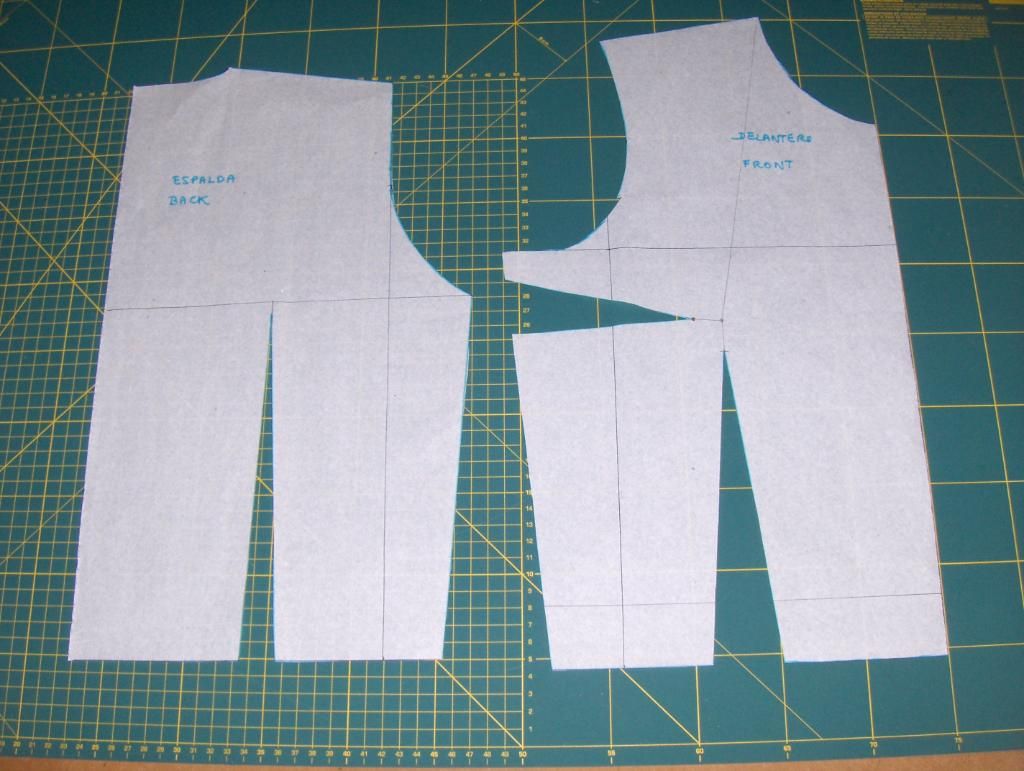 And that's it! In this way we have our pattern with our own measures suited to our body ... It was nothing complicated, right?
Well, these patterns front and back are basic patterns and now we will get all our patterns since them, however, to be completely safe especially if you are beginner, I suggest you make a muslin test with them, this is simply cut the body into a piece of fabric scraps you have ... remember to leave two centimeters at the front center line so you can pin to close it and check that the pattern conforms to your body, look at all you may need some adjustment, perhaps the neckline is too closed, or armhole .. .
everything should fit well on your body, if you need to adjust something, do it and then take these tweaks to the pattern, so it will become your perfect pattern.
The next post will be a slight alteration in the pattern for our red dress and cut the fabric ... with a little effort we will be premiering our dress next weekend ... Yay! The next weekend!
Y ya está!!! Con esto ya tenemos nuestro patrón con nuestras propias medidas adaptado a nuestro cuerpo... No ha sido nada complicado, verdad??
Bien, estos patrones de delantero y espalda son patrones básicos y desde ahora vamos a obtener todos nuestros patrones desde ellos, sin embargo, para estar completamente segura sobretodo si tienes nivel principiante, yo te sugiero que hagas una muselina de prueba con ellos, esto es simplemente cortar este cuerpo en un trozo de tela que tengas por ahí de restos... recuerda dejar dos centímetros en la linea del centro delantero para que puedas colocar alfileres para cerrarlo y comprueba que el patrón se adapta a tu cuerpo, mira todo lo que pueda necesitar algún ajuste, quizá el cuello es demasiado cerrado, o la sisa...
todo debe encajar bien en tu cuerpo, si necesitas ajustar algo, hazlo y después lleva estos retoques al patrón, de esta forma se convertirá en tu patrón perfecto.
El siguiente post será una pequeña transformación en el patrón para nuestro vestido rojo y cortar la tela... con un poquito de empeño estaremos estrenando nuestro vestido el próximo fin de semana... Si!!! El próximo fin de semana!!!