Well, we already have the measures of our body and we will now draw up the basic pattern of back, you'll see how easy it is ..
Bien, ya tenemos las medidas de nuestro cuerpo y ahora vamos a dibujar el patrón básico de espalda, ya veréis lo fácil que es..
First, we need to make a rectangle that having wide the ultimate measure of our chest measurement, ie, a quarter in my case are 24.05 centimeters. The height of the rectangle will be the measure
waist length of back, mine are 42 centimeters.
En primer lugar necesitamos hacer un rectángulo que tenga de ancho la medida final de nuestro contorno de pecho, es decir, la cuarta parte, en mi caso son 24.5 centímetros. Este rectángulo tendrá de alto la medida del largo de talle de espalda, en mi caso son 42 centímetros.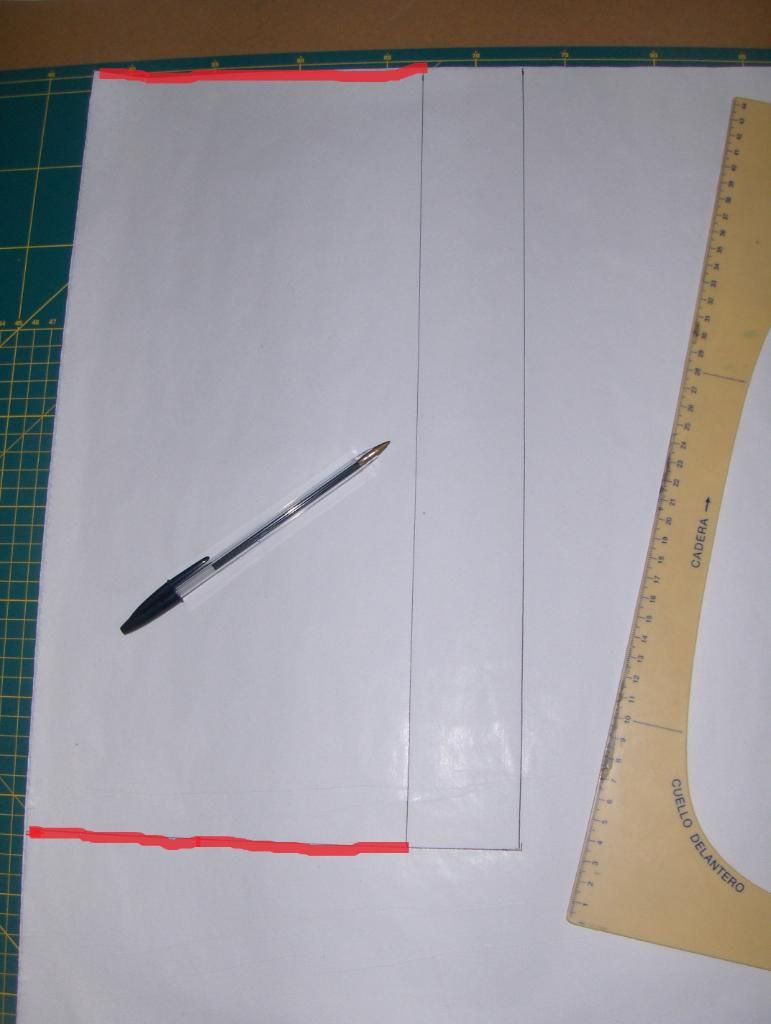 Now we will measure from where the red lines indicate and we will put here half our wide of back, in my case is 19 centimeters, draw a vertical line as shown in the photo.
Ahora vamos a medir desde donde indican las lineas rojas y vamos a poner aquí la mitad de nuestro ancho de espalda, en mi caso son 19 centímetros, trazamos una linea vertical como muestra en la foto.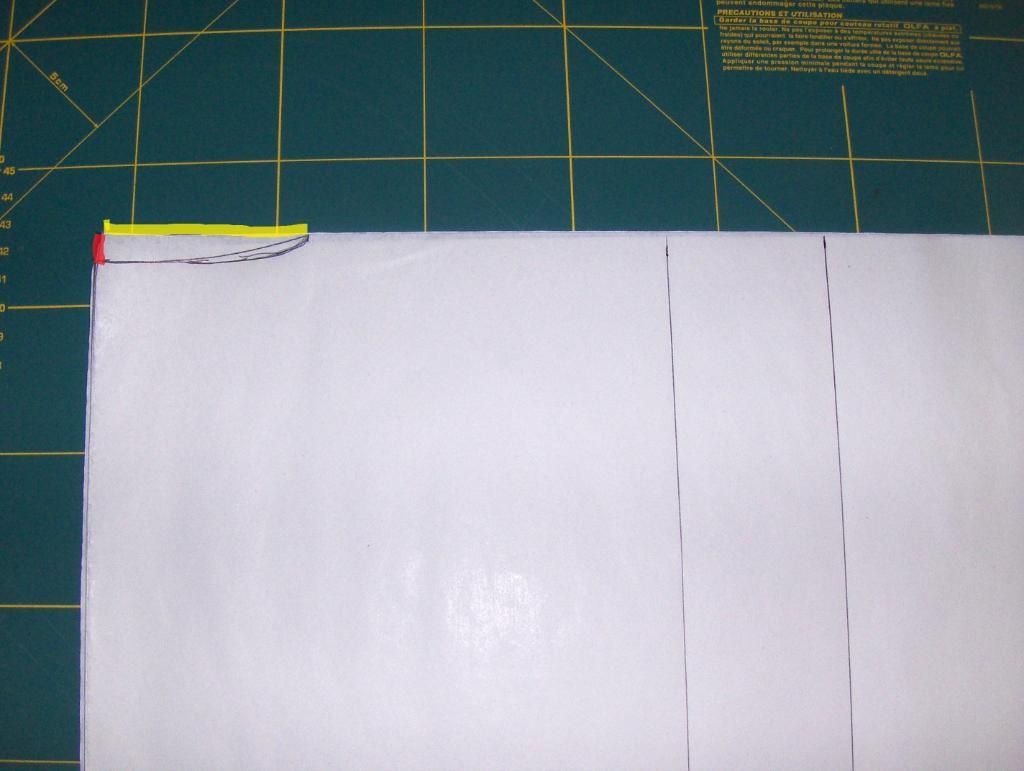 Now we go to the top corner and go down an centimeter and a half from the corner down (red line) and make a mark.
Then measure from that corner to the other side the sixth of our neck contour, me 6.8 centimeters (yellow line), join these two points with a curve as shown in the photo.
Ahora nos vamos a la esquina superior y bajamos un centímetro y medio desde la esquina hacia abajo (linea roja) y hacemos una marca.
Después, medimos desde esa esquina hacia el otro lado la sexta parte de nuestro contorno de cuello, yo 6.8 centímetros(linea amarilla), unimos estos dos puntos con una curva como muestra en la foto.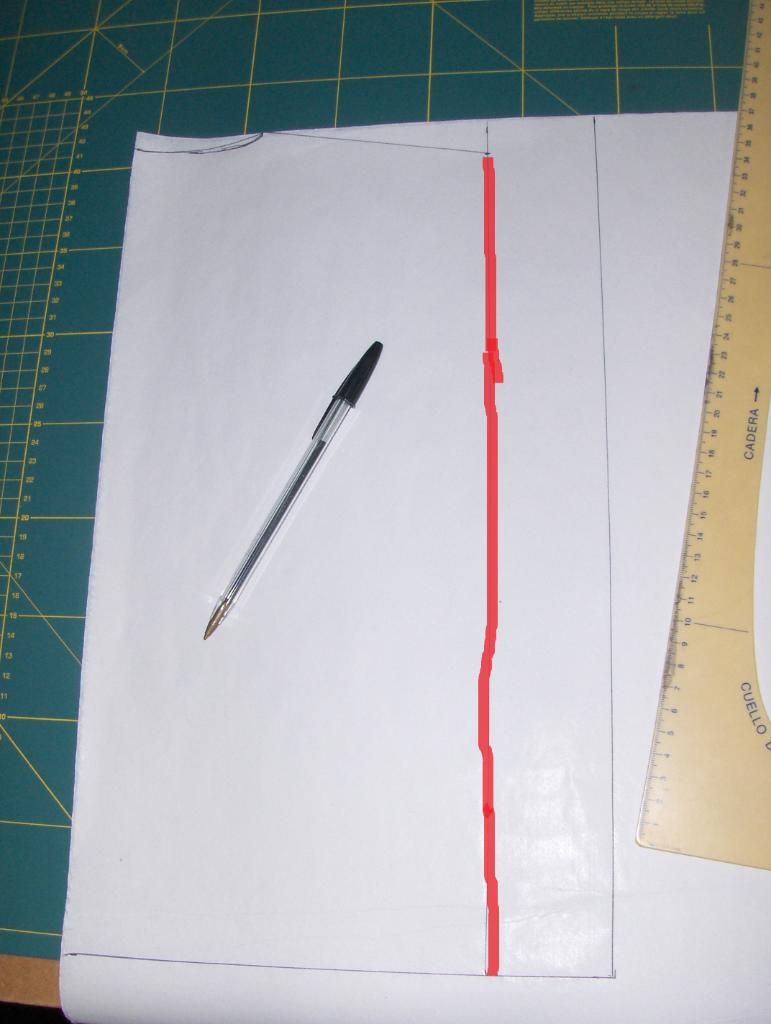 The next step is to measure from the bottom up our measure shoulder high, in my case is 40 centimeters, indicating the red line, so on top of this line we unite with another to the neck line we have drawn before , so we have drawn the neck
line
and shoulder.
El siguiente paso es medir desde abajo hacia arriba , nuestra medida de alto de hombro, en mi caso son 40 centímetros, lo que indica la linea roja, así que en el tope de esta linea unimos con otra linea hasta el cuello que hemos dibujado antes, de esta forma ya tenemos dibujado el cuello y el hombro.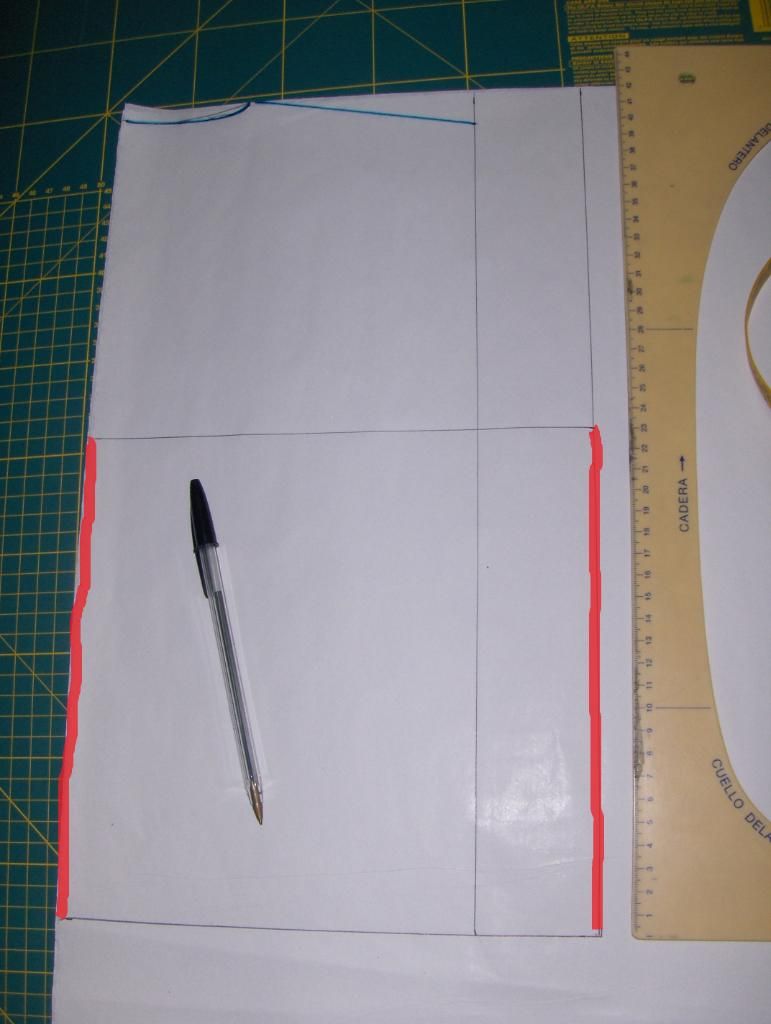 Now we measure from the lower upwards, as shown by the red lines and here we put our height side, in my case are 23 centimeters, draw a horizontal line at this point.
Ahora medimos desde el bajo hacia arriba, como muestran las lineas rojas y aquí ponemos nuestro alto de costado, en mi caso son 23 centímetros, trazamos una linea horizontal en este punto.
We make a small mark right between the line we just drew and the shoulder line, as shown in the photo.
Hacemos una pequeña marca justamente entre la linea que acabamos de dibujar y la linea del hombro, como muestra la foto.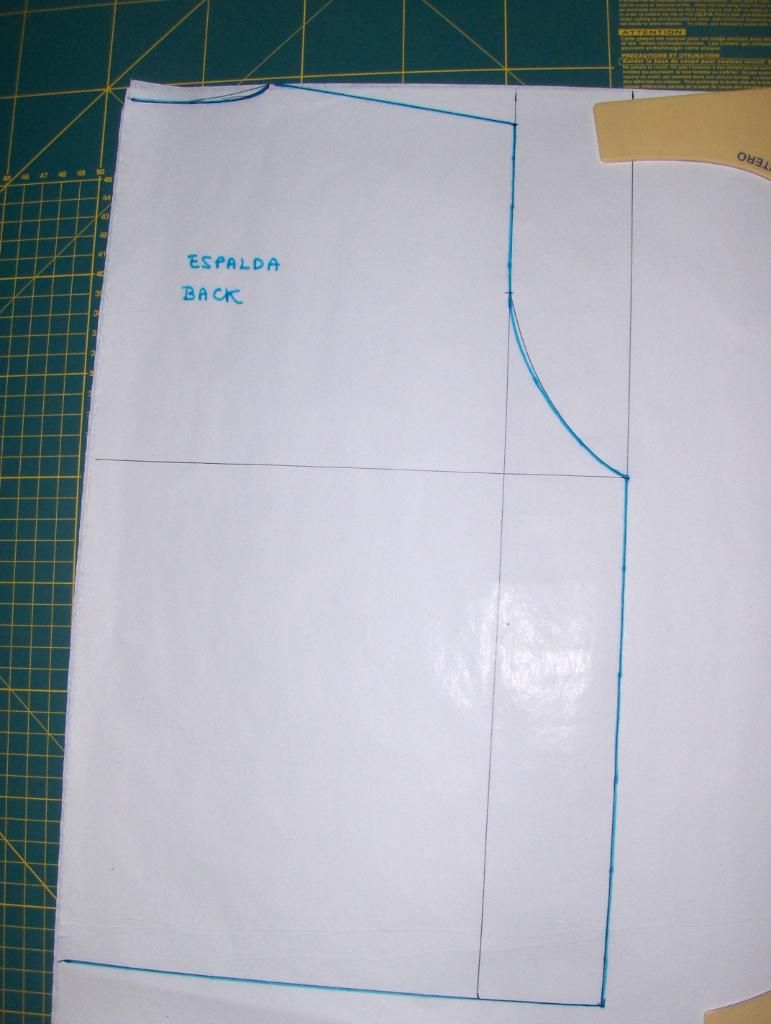 Now we just need to complete already our pattern as shown in the photo, the top half of this last step is drawn in a straight line from the shoulder and to reach the mark that we've made drawing a smooth curve, finish drawing the pattern back as picture show and it's already!
It was easy, right? Now we just need our pattern front and then draw the darts adjustment to start cutting our dress ... I can't wait!
Ahora ya solamente necesitamos completar nuestro patrón como muestra la foto, la mitad superior de este último paso se dibuja en linea recta, desde el hombro y al llegar a la marca que hemos hecho seguimos dibujando una suave curva, terminar de dibujar el patrón de espalda como muestra la imagen y ya está!!!
Ha sido fácil, verdad?? Ahora solamente necesitamos nuestro patrón de delantero y luego dibujar las pinzas de entalle para empezar a cortar nuestro vestido... Estoy deseando!!!