And now it's time to draw our front pattern, if you look closely at the photos of the previous post corresponding to the tutorial to draw the pattern of the back, the center of our pattern was located on the left side and all alterations to draw armhole and side were on the right side ... Now let's do it inversely, so this pattern of front, we will leave the center of the pattern on the right side and alterations for armhole and on the left side, so it will be easier to work with afterwards alterations necessary for adjusting darts and others ... trust me ...
Y ahora es el momento de dibujar nuestro patrón del delantero, si te fijas bien en las fotos del post anterior que corresponde a el tutorial para dibujar el patrón de espalda, el centro del patrón quedó situado en el lado izquierdo y todas las transformaciones para dibujar la sisa y el costado se hicieron en el lado derecho... ahora vamos a hacerlo inversamente, así que en este patrón delantero, vamos a dejar el centro del patrón en el lado derecho y las transformaciones para la sisa y el costado en el lado izquierdo, de esta forma será más fácil después para trabajar con las alteraciones necesarias para el ajuste de pinzas y demás... confía en mí...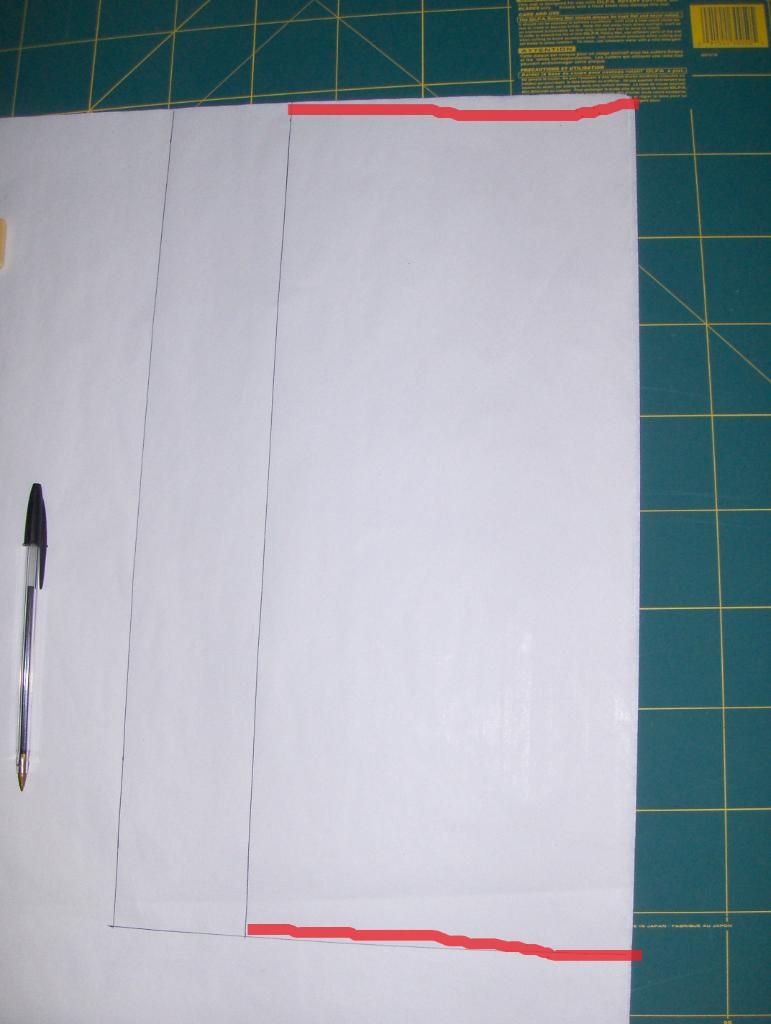 We start by drawing a rectangle again, this time it will be tall,our front waist length
, mine are 46 centimeters. Wide, we need a quarter of our bust measurement + 2 centimeters, that is, if a quarter of my bust measurement is 24.5 centimeters, I'm going to add two centimeters to this measurement and need 26 centimeters to the overall width of this rectangle, when this rectangle exterior is finished, we will measure the half of width of our back where the red lines shown, mine is 19 centimeters and draw a vertical line as shown in the photo.
Comenzamos dibujando otra vez un rectángulo, esta vez tendrá de alto nuestro largo de talle delantero, el mío son 46 centímetros. De ancho, necesitamos una cuarta parte de nuestro contorno de pecho + 2 centímetros, es decir, si la cuarta parte de mi contorno de pecho es 24.5 centímetros, yo voy a añadir 2 centímetros más a esta medida y necesitaré 26 centímetros para el ancho total de este rectángulo, una vez terminado este rectángulo exterior, vamos a medir la mitad de nuestro ancho de espalda donde señalan las lineas rojas , la mía es 19 centímetros y trazamos una linea vertical como muestra la foto.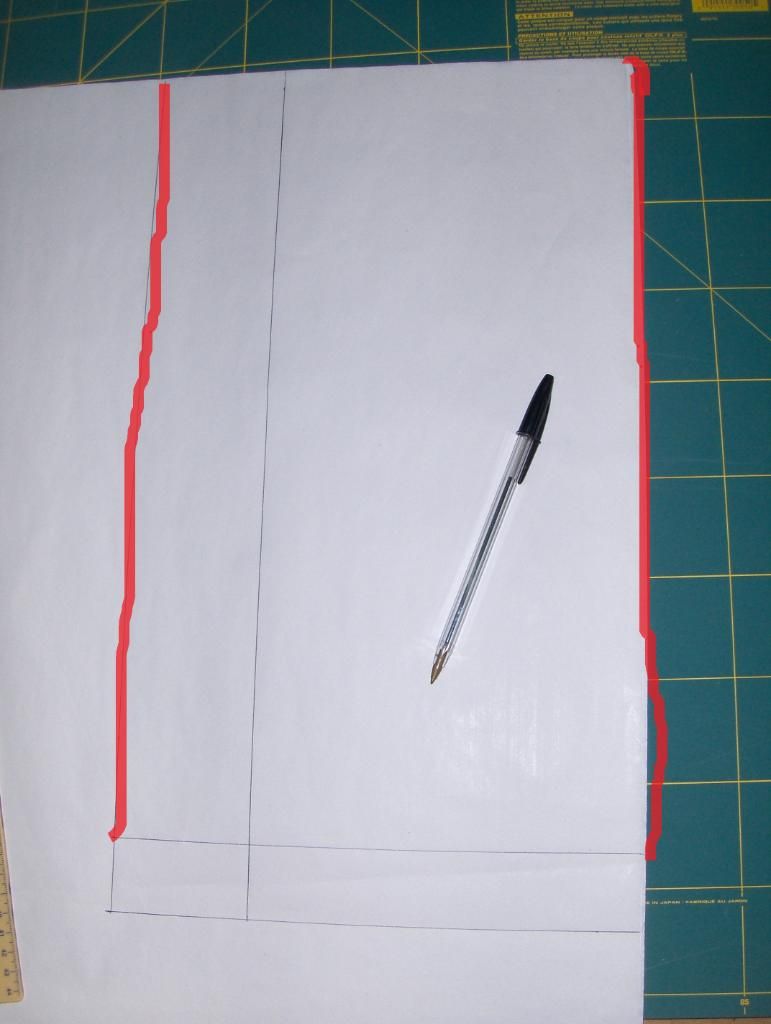 Now let's measure from the top of this pattern downwards with our measure of Back waist length
, where the red lines indicate, then we draw a horizontal line in this measure as the photo shows.
Ahora vamos a medir desde la parte alta de este patrón hacia abajo con nuestra medida de largo de talle de espalda, donde señalan las lineas rojas, entonces trazamos una linea horizontal en esta medida como muestra la foto.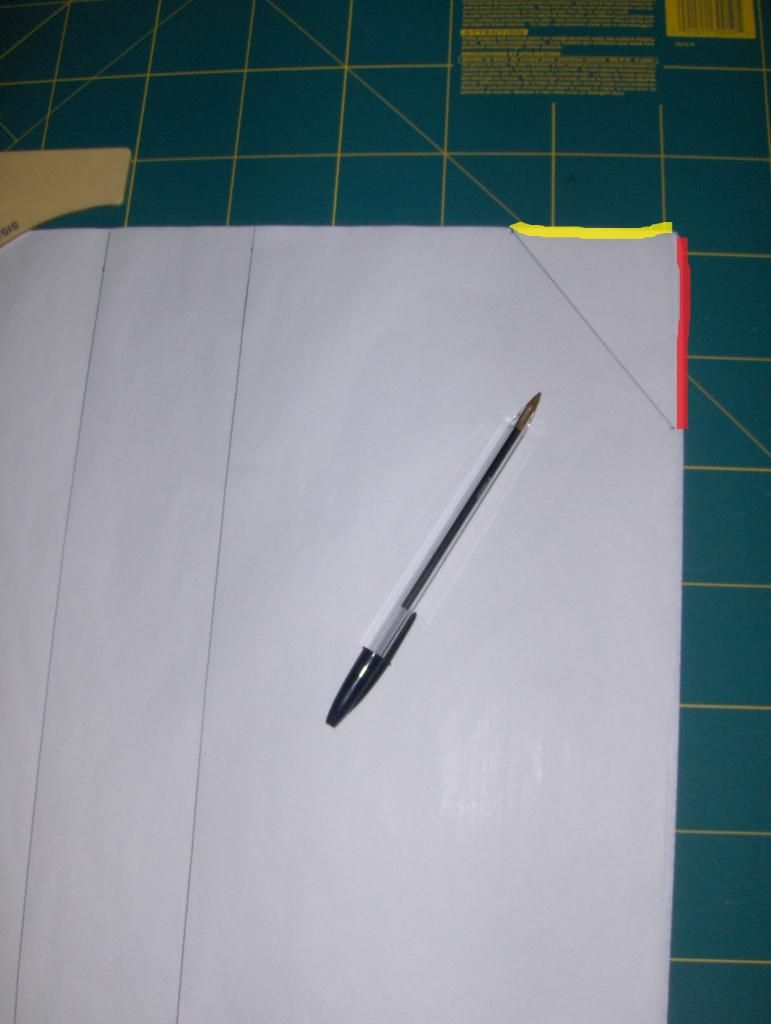 The next step is to draw the neckline, for this we go to the upper corner of the center of the pattern and we will measure from the vertex to the opposite side (the yellow line) one-sixth of our neck contour, mine is 6.8 centimeters .... and from that corner down (the red line) one-sixth of our neck contour + 2 centimeters, mine is 8.6 +2 = 8.8 cm ... I have rounded to 9 centimeters. We connect these two marks with a diagonal line as shown in the photo.
El siguiente paso es dibujar la linea de escote, para ello nos vamos a la esquina superior central del patrón y vamos a medir desde el vértice hacia el lado opuesto (la linea amarilla) una sexta parte de nuestro contorno de cuello, el mío es 6.8 centímetros.... y desde ese mismo vértice hacia abajo (la linea roja) una sexta parte del contorno de nuestro cuello + 2 centímetros, el mío será 6.8+2= 8.8 centímetros... yo he redondeado a 9 centímetros. Unimos estas dos marcas con una linea en diagonal como muestra la foto.
Now we look just at the center diagonal line and we will make a mark ... at that mark draw a small line of 2 centimeters as shown in photo ....
Ahora buscamos justamente en centro de esa linea diagonal y vamos a hacer una marca... en esa marca dibujamos una pequeña linea de 2 centímetros como muestra la foto....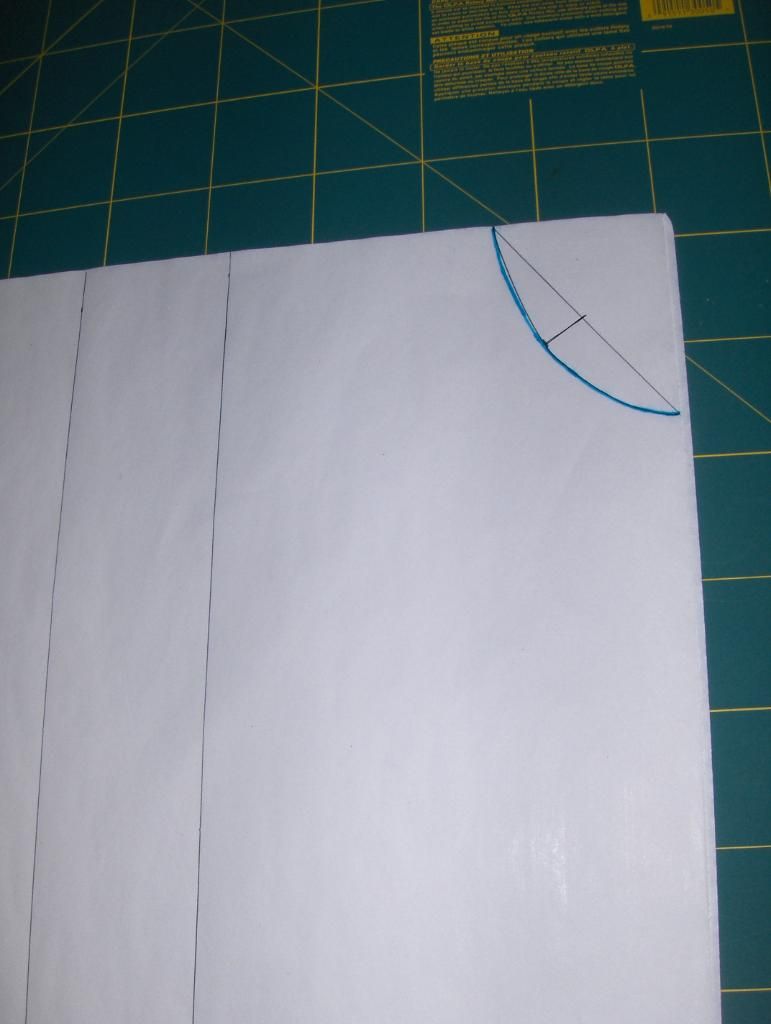 And draw a curved line that starts at the top spot, passing through the tip of the little mark and ends at the below mark, this will be our neck line ...
Y dibujamos una linea curva que comienza en el punto superior, pasa por la punta de la pequeña marca y termina en la marca de abajo, esto será nuestra linea de cuello...
So far so good? We´re very near the end ... Now we measure from the horizontal line inside the box is up (look at the red line, from where starts to up) this measure will be our high shoulder, mine is 40 centimeters. At this point we draw a straight line to the neckline and we have drawn the shoulder from our pattern, almost finished ...
Hasta ahora todo bien?? Ánimo, que nos queda muy poquito... ahora vamos a medir desde la linea horizontal que queda dentro del rectángulo hacia arriba (fíjate en la linea roja, desde donde comienza hacia arriba) esta medida será nuestro alto de hombro, el mío es 40 centímetros. En este punto dibujamos una linea recta hacia el cuello y ya tenemos dibujado el hombro de nuestro patrón, ya casi terminamos...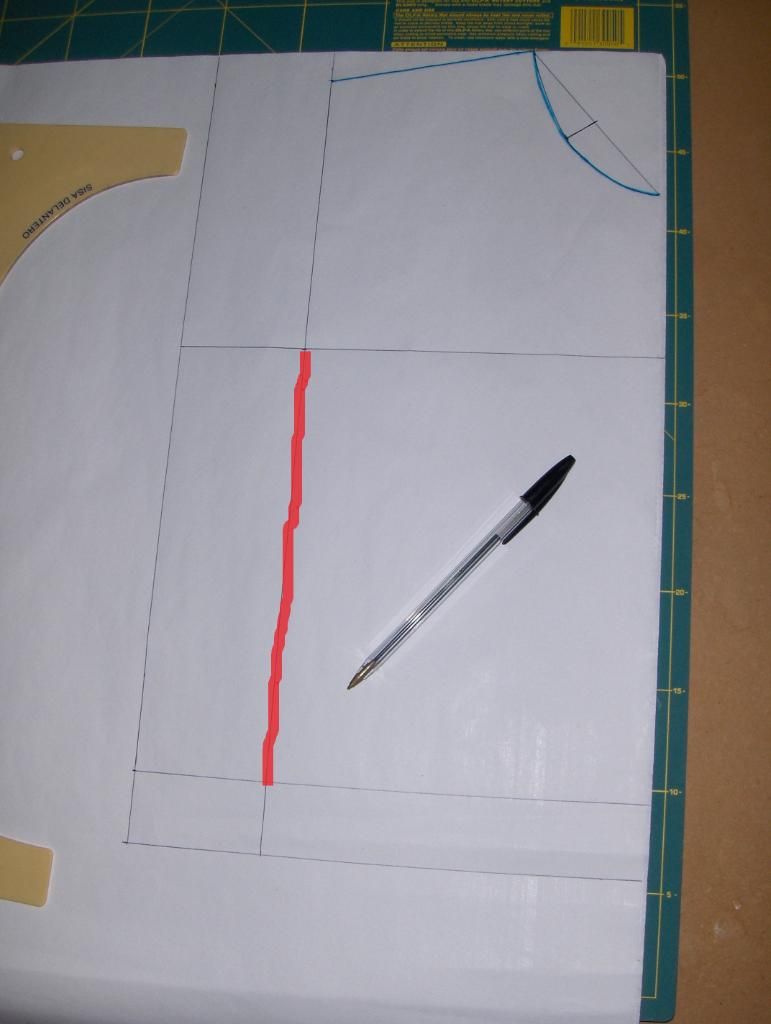 Now we return to measure from the same spot up (Look closely at the red line) and add our Height of side
, draw a horizontal line to dial it.
Ahora volvemos a medir desde el mismo sitio hacia arriba (fíjate bien en la linea roja) y añadimos nuestro alto de costado, trazamos una linea horizontal para marcarlo.
We seek the point halfway between the high side and the tip of the shoulder and draw a small mark, which measures 1.5 centimeters inwards the pattern, as shown in the photo.
Buscamos la mitad entre el punto de este alto de costado y la punta del hombro y trazamos una pequeña marca, que mide 1.5 centímetros hacia el interior del patrón, como muestra la foto.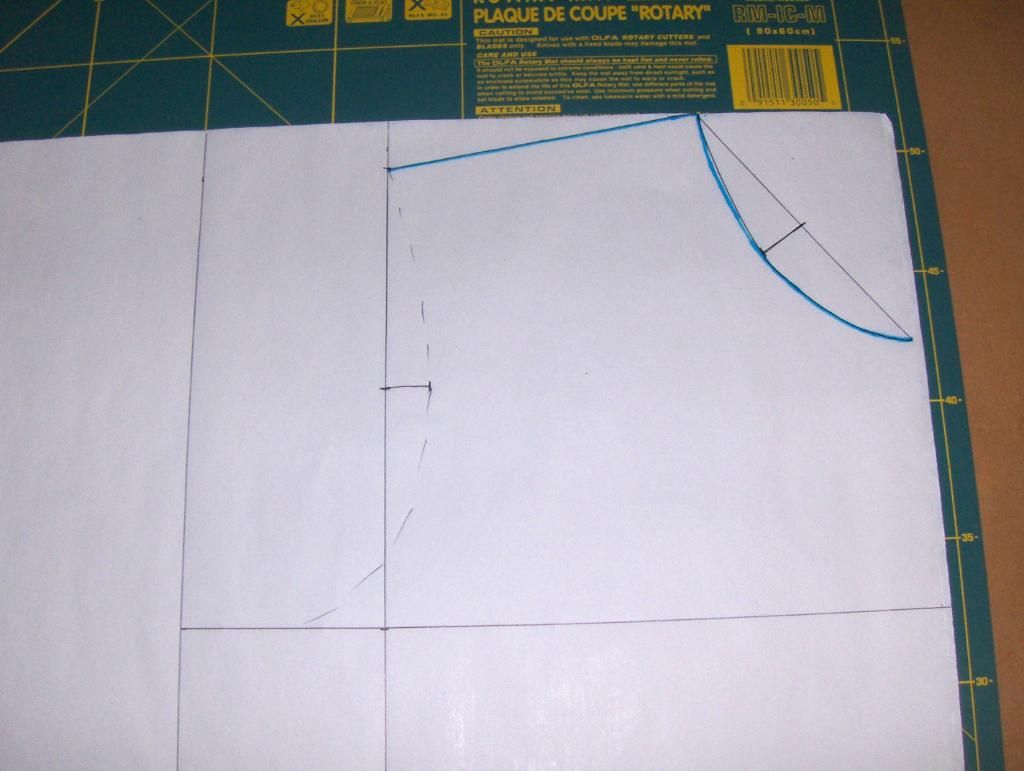 Solely we need to draw a curve that starts at the point of the shoulder, playing the last mark we have made of 1.5 cm and comes to die almost at the height of the side, look carefully you as it´s depicted in the picture, this will be our armhole ...
Solamente nos falta dibujar una curva que comienza en el punto del hombro, tocando la última marca que hemos hecho de 1.5 centímetros y que venga a morir casi en la altura de costado, fíjate bien como está dibujada en la foto, esto será nuestra sisa ...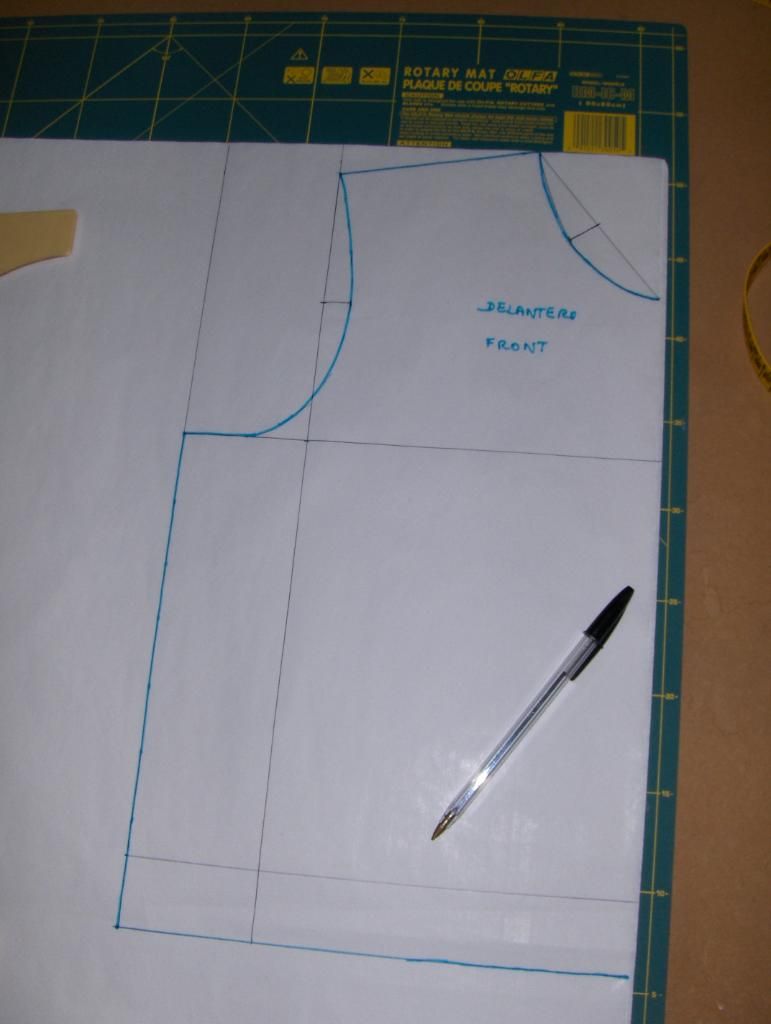 And voila! Reviewing it with a blue pencil around the outline of the pattern we have already finished it ... you tell me that it has been easier! Now we have a basic pattern of back and front with our own measures tailored to our body, we need only adjust the darts will be the next post and we can start with our dress .... and whatever else we want, because having this pattern in our power and some alterations, we have the ability to bring into our closet any garment ... just need a little bit of enthusiasm ... and I have a lot of it to share with all of you who are united in this little adventure! And of course to who want to join too, you´ll be welcome!
Y Voilá!!! Repasando con un lápiz de color azul todo el contorno del patrón ya lo tenemos acabado... no me digas que no ha sido fácil!! Ahora tenemos un patrón básico de espalda y delantero con nuestras propias medidas adaptado a nuestro cuerpo, solamente nos falta ajustarlo con las pinzas que será el próximo post y podremos comenzar con nuestro vestido.... y lo que se nos apetezca, porque teniendo en nuestro poder este patrón y algunas alteraciones tenemos la posibilidad de llevar a nuestro armario cualquier prenda... solamente necesitamos un poquito de ilusión... y yo tengo mucha para compartir con todas vosotras que estáis unidas en esta pequeña aventura!!! Y por supuesto a todas las que quieran unirse también, serás bienvenida!!