So let's finish our dress, dear friends cyber-seamstresses ... for it, now let's do the sleeves from scratch ... so we started to take a few measures in our arm and draw the pattern ... This time I will show you some pictures from a book because my assistant hasn´t arms to take action on it, so let it ..
.
Así que vamos a terminar nuestro vestido, queridas amigas cibercostureras... para ello, hoy vamos a hacer las mangas partiendo desde cero... así que comenzamos por tomar unas pocas medidas en nuestro brazo y dibujar el patrón... esta vez os voy a mostrar algunas fotos desde un libro puesto que mi ayudante no tiene brazos para poder tomar las medidas sobre ella, así que vamos a ello...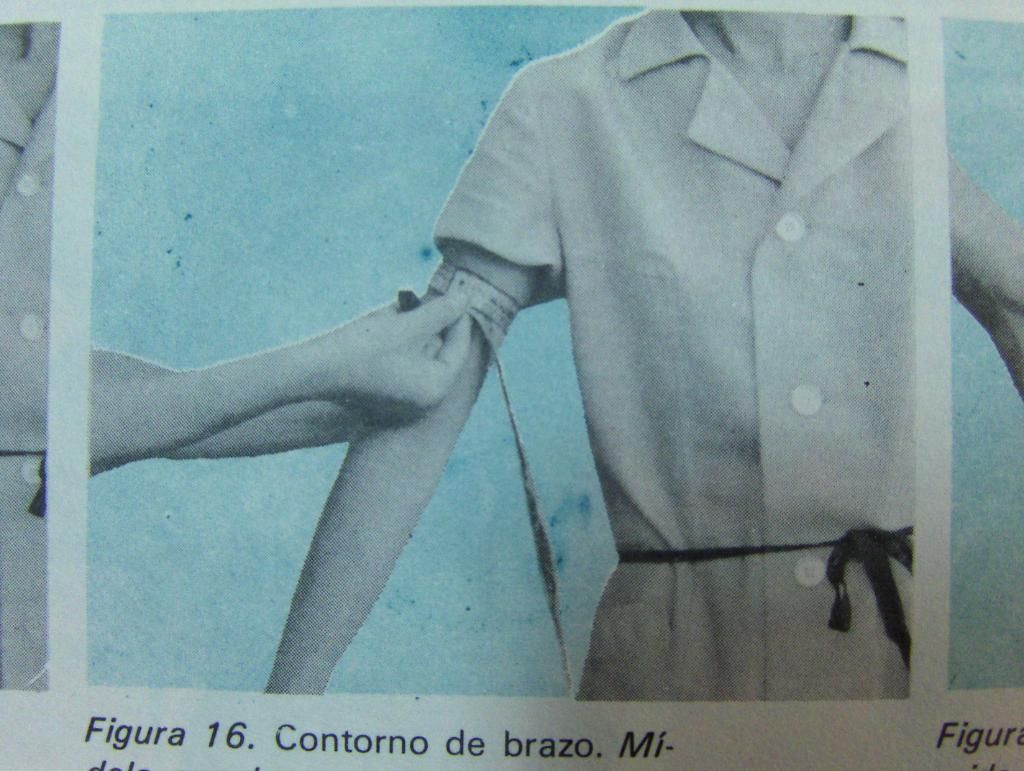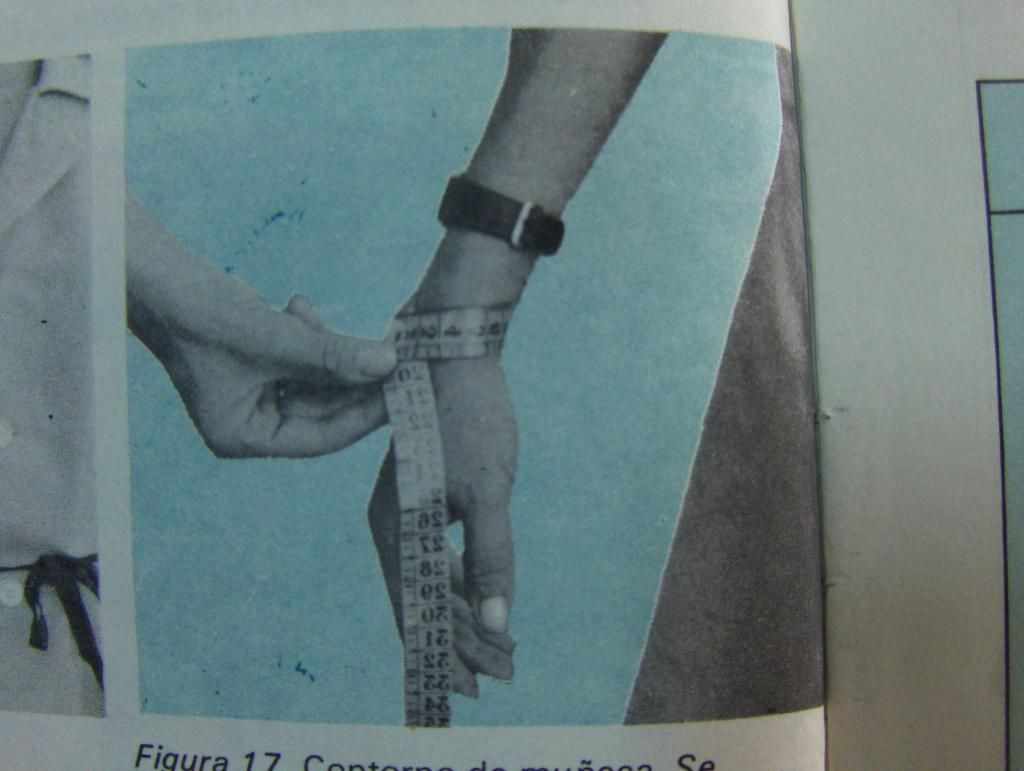 Only need four steps from our arm, the first photo shows the way to take the measure of our arm outside, look at the position of the arm slightly bent, measure from the top through the elbow to the wrist .. mine is 60ctm.
The second measure is the inside of your arm length, taken with the straight arm from the armpit to the wrist ... mine is 42 ctm.
The third picture is the outline of arm, taken in the widest part of the arm and has to be loose, do not press the tape ... should actually be able to put your fingers with the tape measure around ... mine is 36 ctm. half used, so .. 18 ctm.
The fourth photo is the wrist measurement is taken at the wrist and should be loose but not as much as before .... mine is 18ctm. , let's use this half, so 9 ctm.
Solamente necesitamos cuatro medidas desde nuestro brazo, la primera foto muestra la forma de tomar la medida exterior de nuestro brazo, fíjate en la posición del brazo, un poco doblado, mide desde la parte superior pasando por el codo hasta la muñeca.. la mía es 60ctm.
La segunda medida es el largo interior de tu brazo, se toma con el brazo recto desde la axila hasta la muñeca... la mía es 42 ctm.
La tercera foto es el contorno de brazo, se toma en la parte más ancha del brazo y tiene que ser floja, no aprietes la cinta métrica... en realidad deberías ser capaz de meter los dedos con la cinta métrica alrededor... la mía es 36 ctm. se usa la mitad, así que.. 18 ctm.
La cuarta foto es el contorno de muñeca, se toma en la muñeca y también debe ser floja, aunque no tanto como la anterior.... la mía es 18ctm. ,de esta vamos a usar la mitad , así que 9 ctm.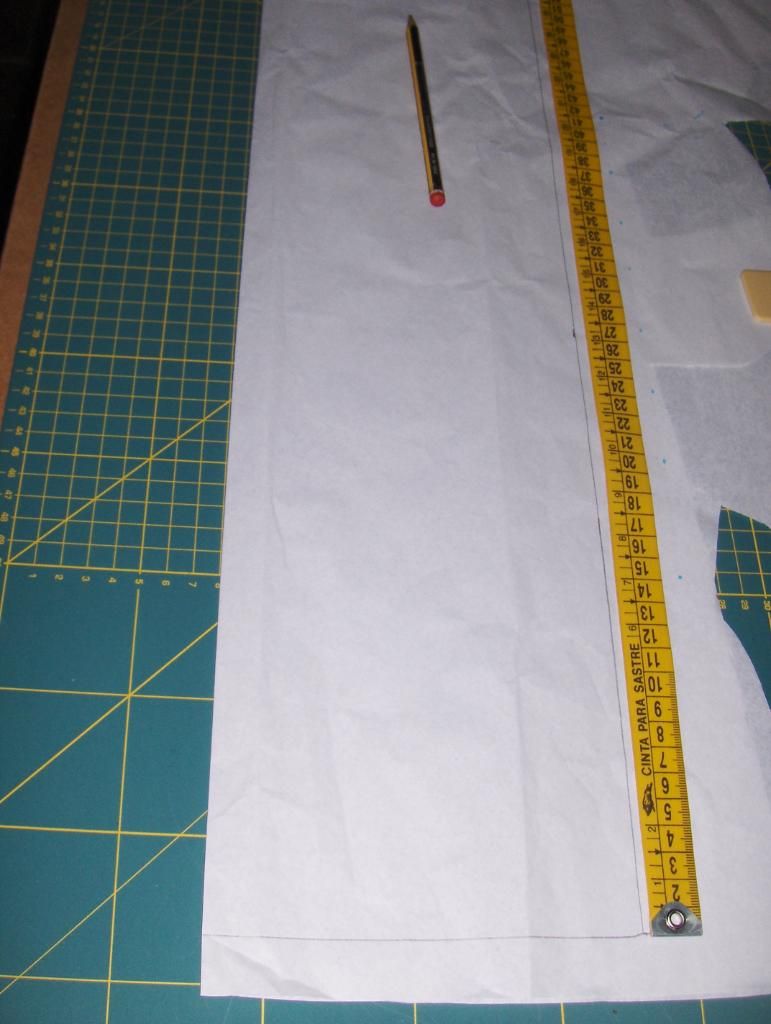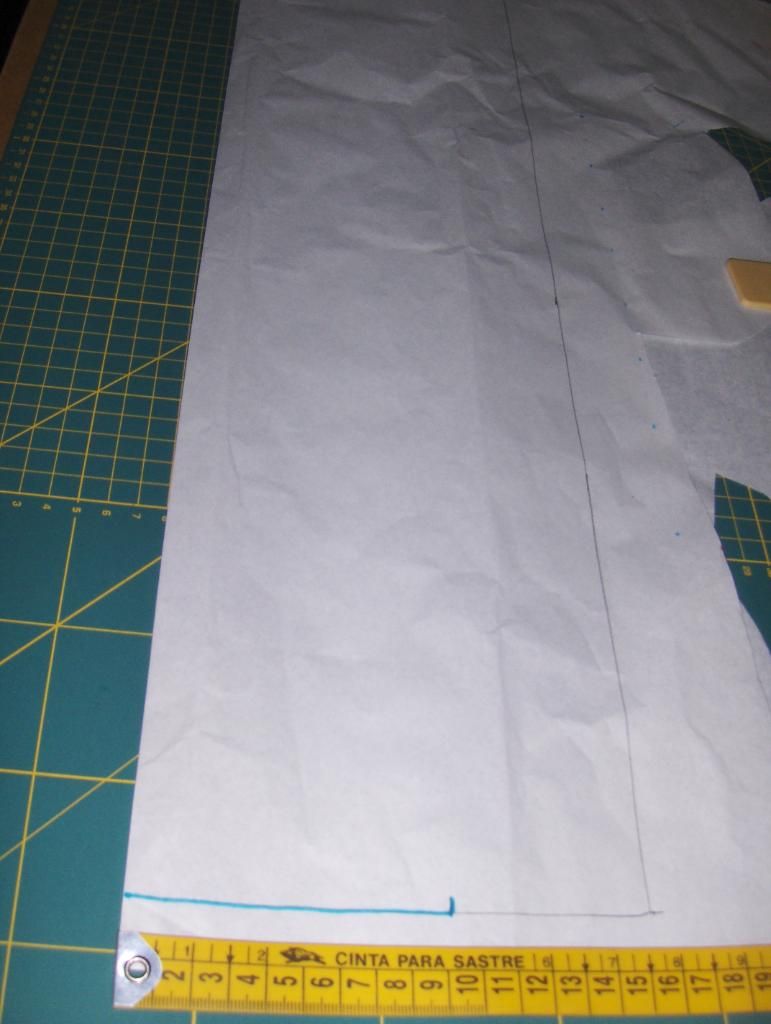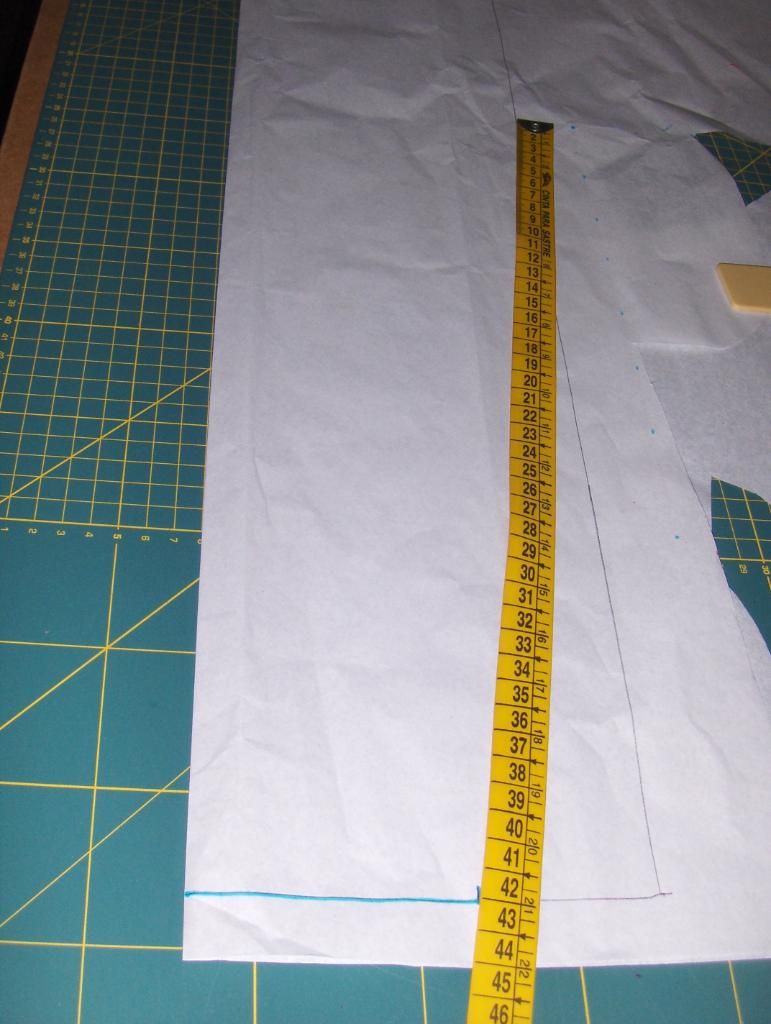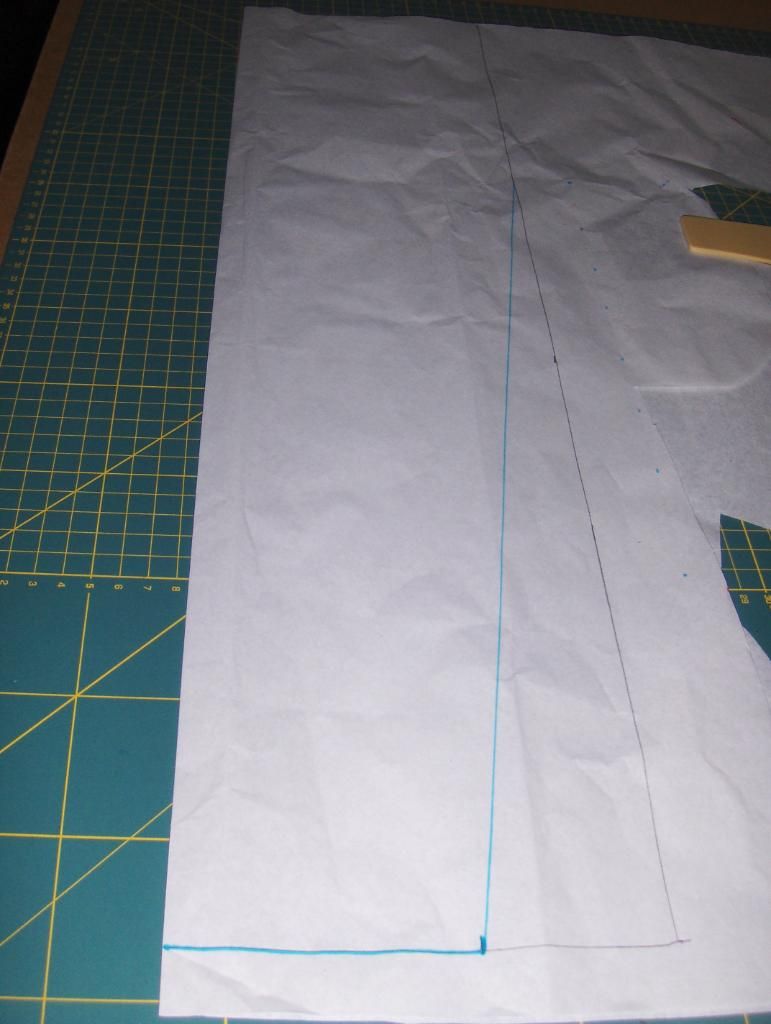 We begin by folding tissue paper over, ie the fold of the paper is on the left in the first picture ... so draw a rectangle from the fold of the paper to the other side to be as high outside our arm and half-width of the contour of your arm.
In the second photo, we will draw on the bottom of our pattern a line (blue) that has wide half our wrist measurement ...
In the third photo, we will place the tape measure or ruler from the end of the blue line is tilted toward the outer edge of the pattern and have high inside as our arm, look at the picture to understand better .. .
In the fourth picture you can see that I have drawn the line for long inside the arm ...
Comenzamos doblando un papel de seda a lo largo, es decir el doblez del papel está al lado izquierdo en la primera foto... así que dibujamos un rectángulo desde el doblez del papel hacia el lado contrario que tendrá de alto la medida exterior de nuestro brazo y de ancho la mitad del contorno de nuestro brazo.
En la segunda foto, vamos a dibujar en la parte inferior de nuestro patrón una linea (azul ) que tenga de ancho la mitad de nuestro contorno de muñeca...
En la tercera foto, vamos a colocar la cinta métrica o una regla desde el final de la linea azul que se incline hacia el borde exterior del patrón y tenga de alto la medida interior de nuestro brazo, fíjate en la foto para comprender mejor...
En la cuarta foto puedes ver que ya he dibujado la linea correspondiente al largo interior del brazo...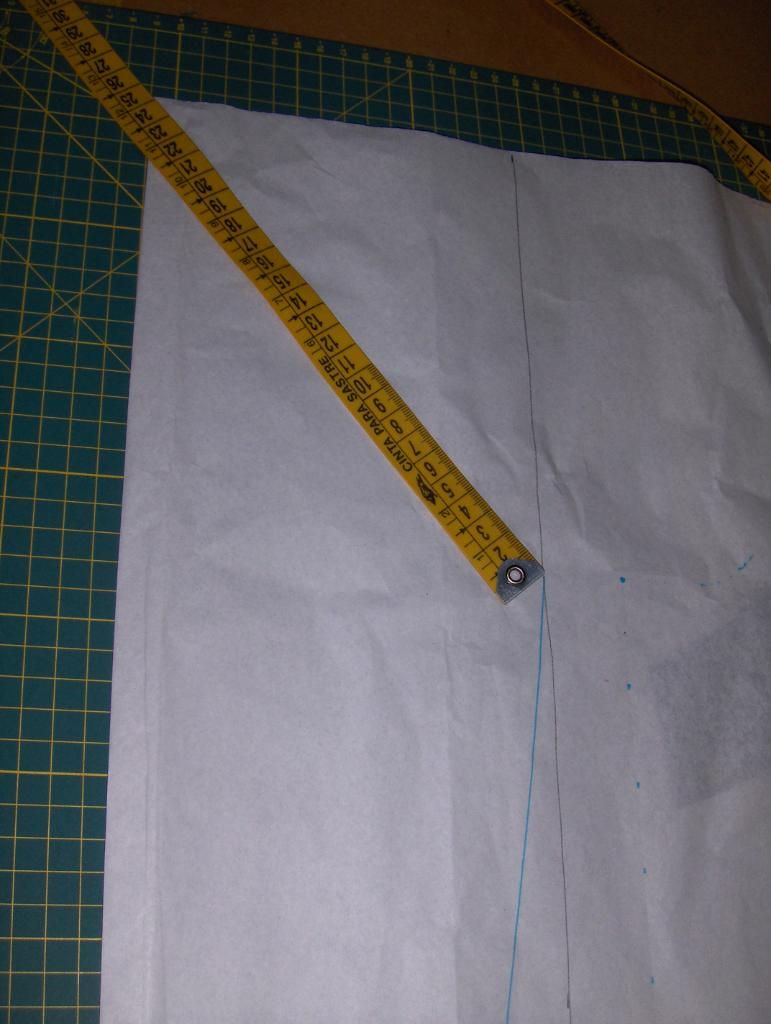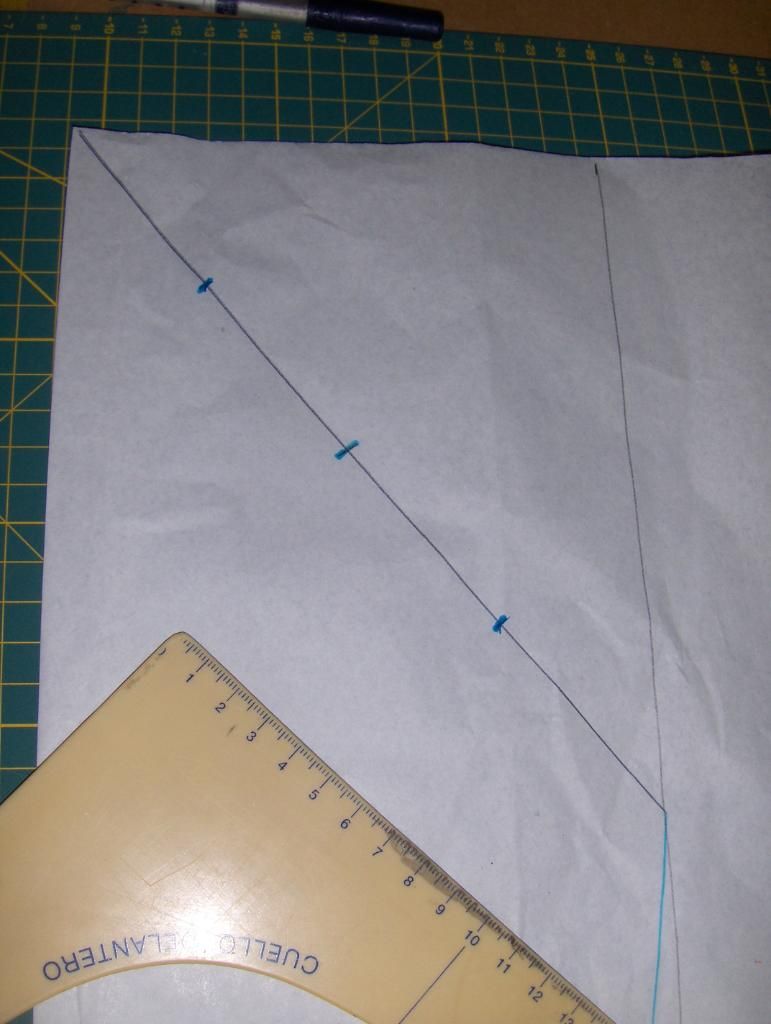 Now let's work on the top of the pattern to draw our sleeve armhole, simply draw a straight line from the tip of the blue last line we have drawn up the top as shown in photo ... in the second photo, you'll see that this line is divided into four equal parts ...
Ahora vamos a trabajar en la parte superior del patrón para dibujar la sisa de nuestra manga, simplemente traza una linea recta desde la punta de la última linea azul que hemos dibujado hasta la esquina superior como muestra la foto... en la segunda foto, verás que esta linea se divide en cuatro partes iguales...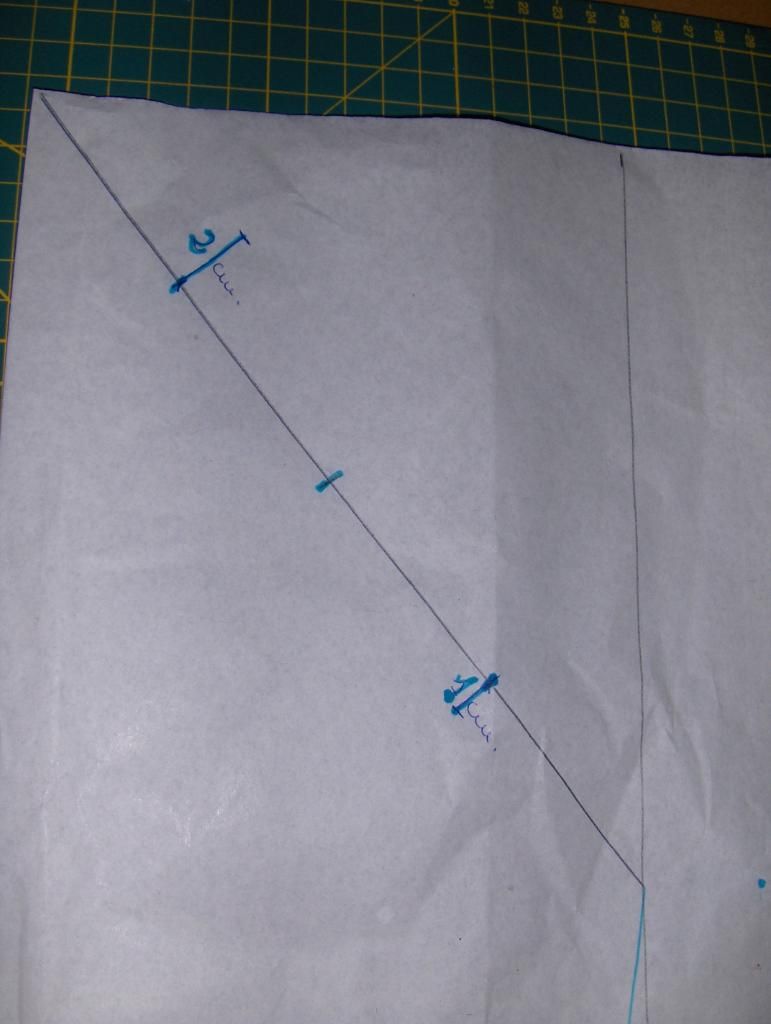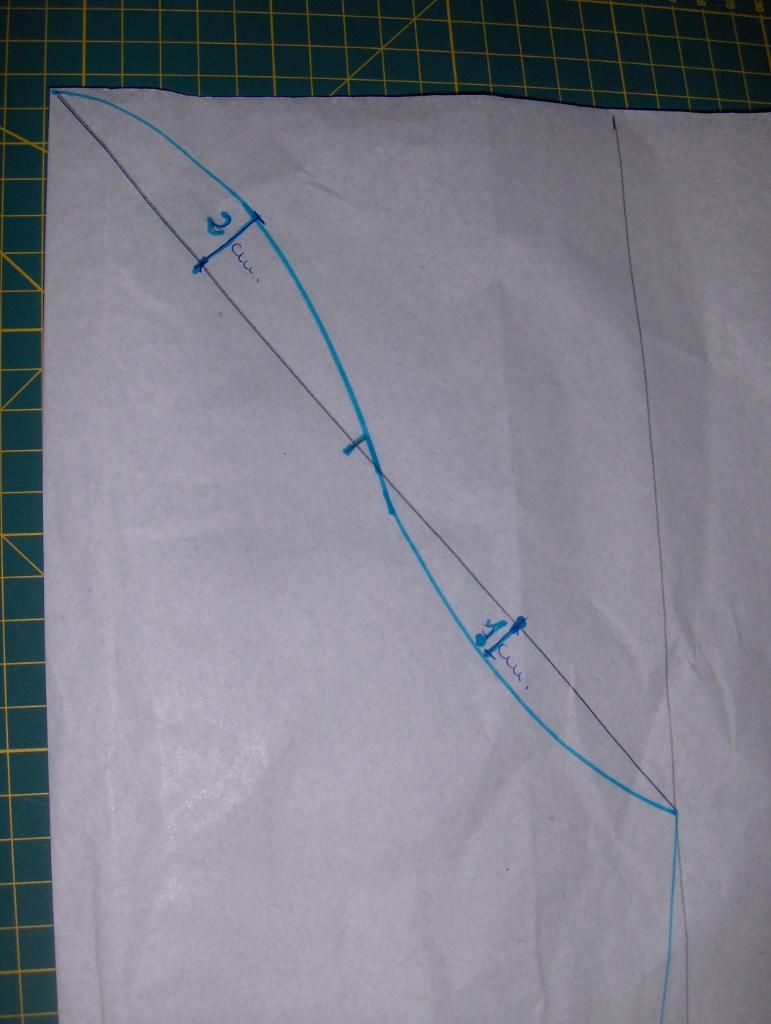 Then up at the first mark two centimeters out of the pattern and the third mark one centimeter to the inside ... in the second picture you will see how all these points together with a S-shaped line ... this is the front of our sleeve ...
Entonces sube en la primera marca dos centímetros hacia el exterior del patrón y en la tercera marca un centímetro hacia el interior... en la segunda foto verás como unir todos estos puntos con una linea en forma de S....esta será la parte delantera de nuestra manga...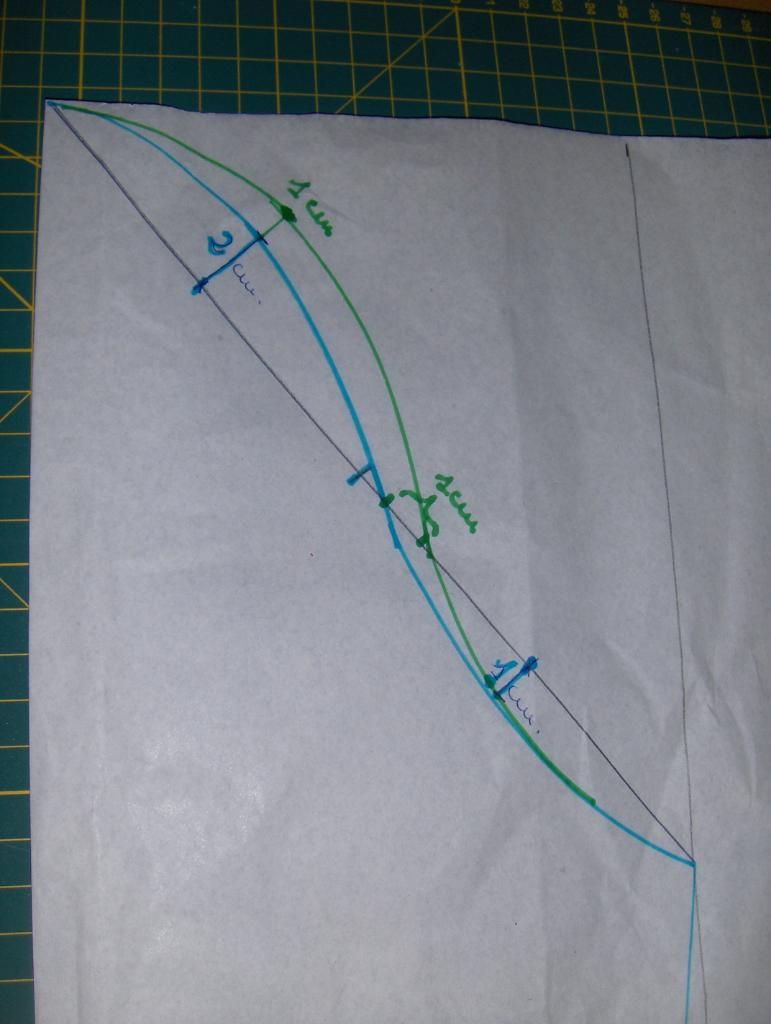 Look what we do to draw the back of our armhole ... Be guided you through the photos and I've drawn green with a marker ... that's the back of our armhole (remember that the paper is double)
Fíjate lo que vamos a hacer para dibujar la parte de espalda de nuestra sisa... guíate por las fotos y lo que he dibujado con rotulador de color verde... eso es la espalda de nuestra sisa (recuerda que el papel está doble)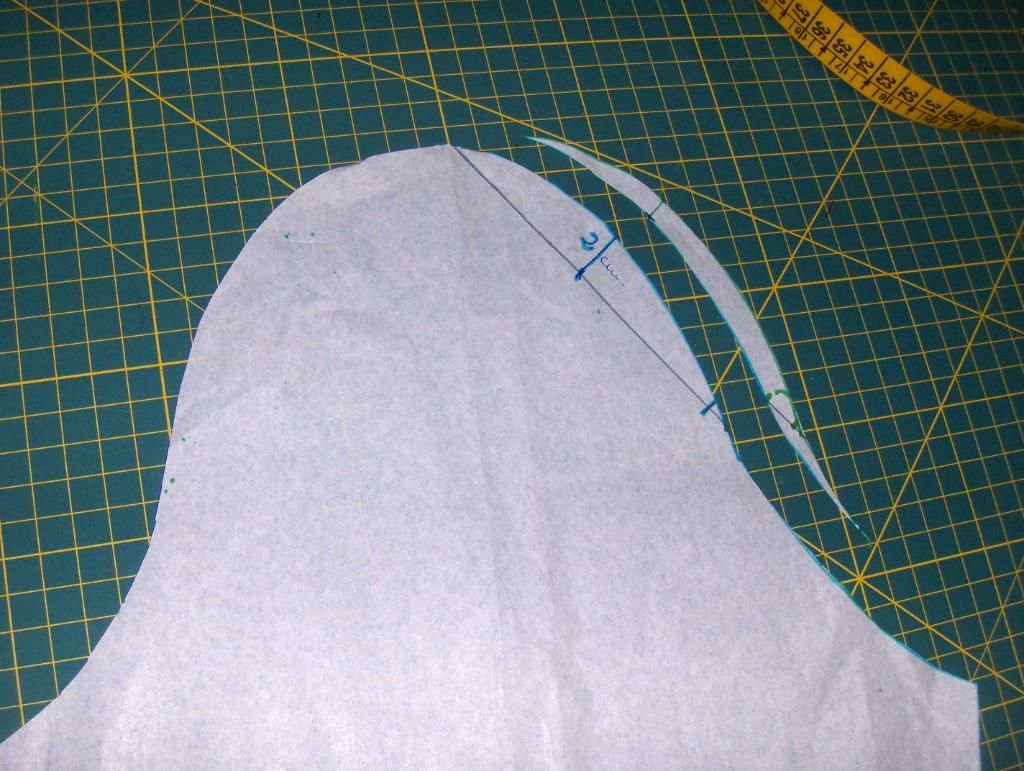 The next step is to cut the pattern with the folded paper and open our full sleeve pattern, now cut in the front of the sleeve as shown in the photo, this will be the front side and the intact side that will not cut back our sleeve ...
So this is our basic pattern of sleeve, I mean ... This pattern is fully adjusted to our arm and serve to knit fabrics, by ejm. but if we want to make other sleeves blouses or coats as we have to make alterations, so let's do the same thing with basic bodice patterns we had done for our dress ... I mean that we will always have to copy this pattern saved every time we need to make new patterns of sleeves, so we just have to copy the outline of the pattern in another paper to make the necessary alterations ... So far so good??? Then sew the sleeves to our dress ....
El siguiente paso es recortar el patrón con el papel doblado y abrir nuestro patrón de manga completo, ahora recorta en la parte del delantero de la manga como muestra la foto, este lado será el delantero y el lado intacto que no has recortado será la espalda de nuestra manga...
Así que este es nuestro patrón básico de manga, es decir... este patrón es totalmente ajustado a nuestro brazo y serviría para tejidos de punto, por ejm. pero si queremos hacer otro tipo de mangas como blusas o abrigos tenemos que hacer transformaciones, así que vamos a hacer lo mismo que con los patrones básicos de cuerpo que habíamos hecho para nuestro vestido... osea que vamos a tener siempre este patrón guardado para copiarlo cada vez que necesitemos hacer patrones nuevos de mangas, de esta forma solamente tenemos que copiar el contorno del patrón en otro papel para hacer las transformaciones necesarias... Todo bien hasta ahora??? Enseguida cosemos las mangas a nuestro vestido....