And today we finished our dress, I apologize to you because although my dress was finished for Christmas Eve, I had no time to get up all the tutorials so that you could get it too, but you know well that being a mother, wife, worker and all that what probably know as well as I, it has reduced too much time on these special days, however, let's finish it! We cut and sew our dress sleeves ...
Y hoy terminamos nuestro vestido, yo tengo que disculparme porque aunque mi vestido estaba terminado para la Nochebuena, me ha faltado tiempo para conseguir subir todos los tutoriales para que tú pudieses conseguirlo también, pero sabes bien que ser madre , esposa, trabajadora y todo eso de lo que seguramente sabes tanto como yo ha restado mucho tiempo libre en estas fechas tan señaladas, sin embargo, vamos a acabarlo!! Cortamos y cosemos las mangas a nuestro vestido...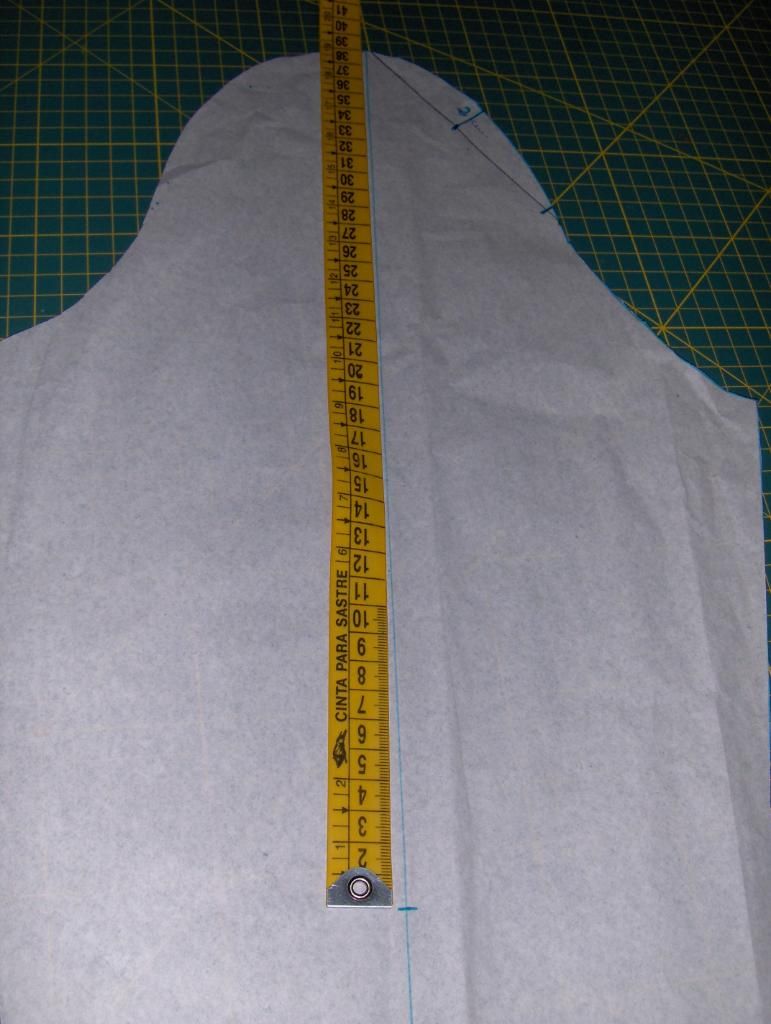 In the last post we had completed the pattern of the sleeves and I recommended that you will keep the basic pattern and will copy another like reviewing the outline, if you did it and now you need to determine two things, the first is the high you want to give this sleeve, guided by the central line that divides the sleeve into two sides, determines how high or measure you need, measuring from your arm and make a mark, you can cut around the pattern, I'm vague, so what I did was to determine the high my sleeve and fold the excess paper up, just ...
Another thing you need to check before moving forward is to make sure that the contour of the sleeve armhole pattern (red line) should be about 2 or maybe 3 centimeters more than the path of the armhole of your dress, remember that I had "opened "armhole of my dress because it was small me, so you measure these contour and accommodates the armhole sleeve to that outline leaving 2-3 centimeters for gathering a little cap sleeve, if it´s necessary decreases some bit the cup height to adjust it ...
En el último post habíamos completado el patrón de las mangas y yo te recomendé que guardaras el patrón básico y copiaras otro igual repasando el contorno, si lo has hecho así ahora necesitas determinar dos cosas, la primera es el alto que quieres dar a esta manga, guiándote por la linea central que divide la manga en dos lados, determina que alto quieres midiendo desde tu brazo y haz una marca, puedes cortar por ahí el patrón, yo soy un poco vaga, así que lo que hice fué determinar el alto de mi manga y doblar el sobrante del papel hacia arriba, simplemente...
Otra cosa que necesitas comprobar antes de seguir adelante es asegurarte que el contorno de la sisa del patrón de manga (linea roja) debe tener unos 2 o quizá 3 centímetros más que el recorrido de la sisa de tu vestido, recuerda que yo había "abierto" un poco la sisa de mi vestido porque me estaba justa, así que mide este contorno y acomoda la sisa de la manga a ese contorno dejando esos 2-3 centímetros para fruncir un poco la copa de la manga, si es necesario reduce un poco la altura de la copa hasta ajustar...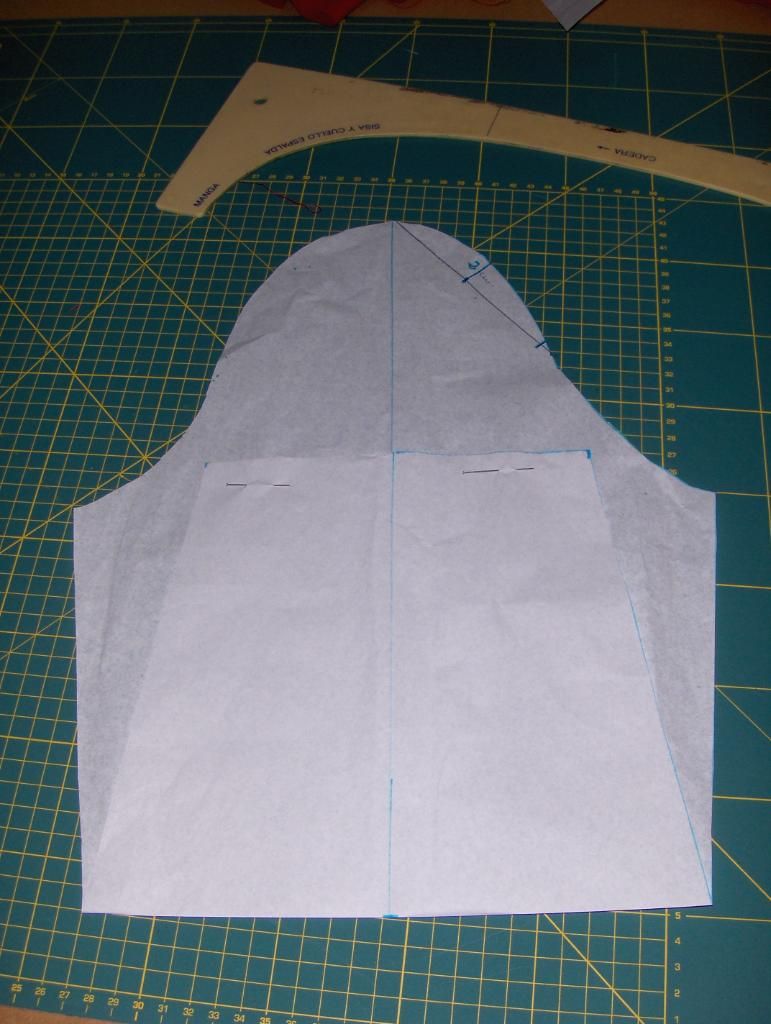 Once you have done this we can only cut the sleeves on the fabric and leave one centimeter seam allowance in the path of the armhole, two centimeters seam allowance on the side seams and I left four ctm. of hem ...
Una vez has hecho esto solamente nos queda cortar las mangas en la tela y dejar un centímetro de margen de costura en el recorrido de la sisa, dos centímetros de margen de costura en las costuras laterales y yo he dejado cuatro ctm. de dobladillo...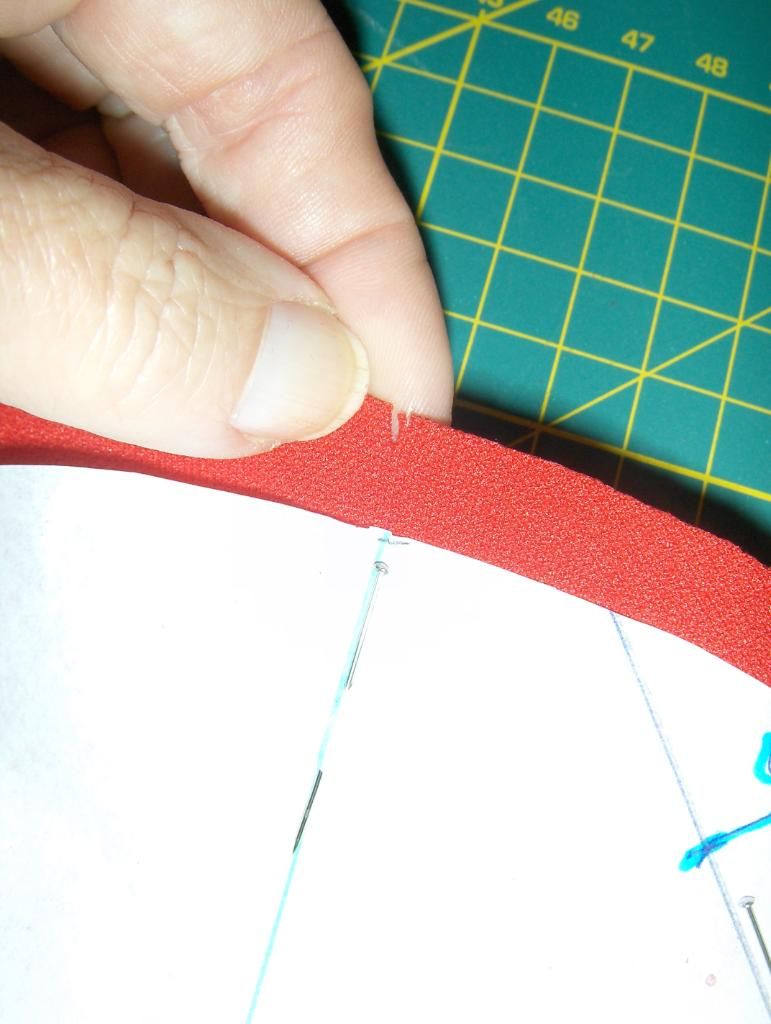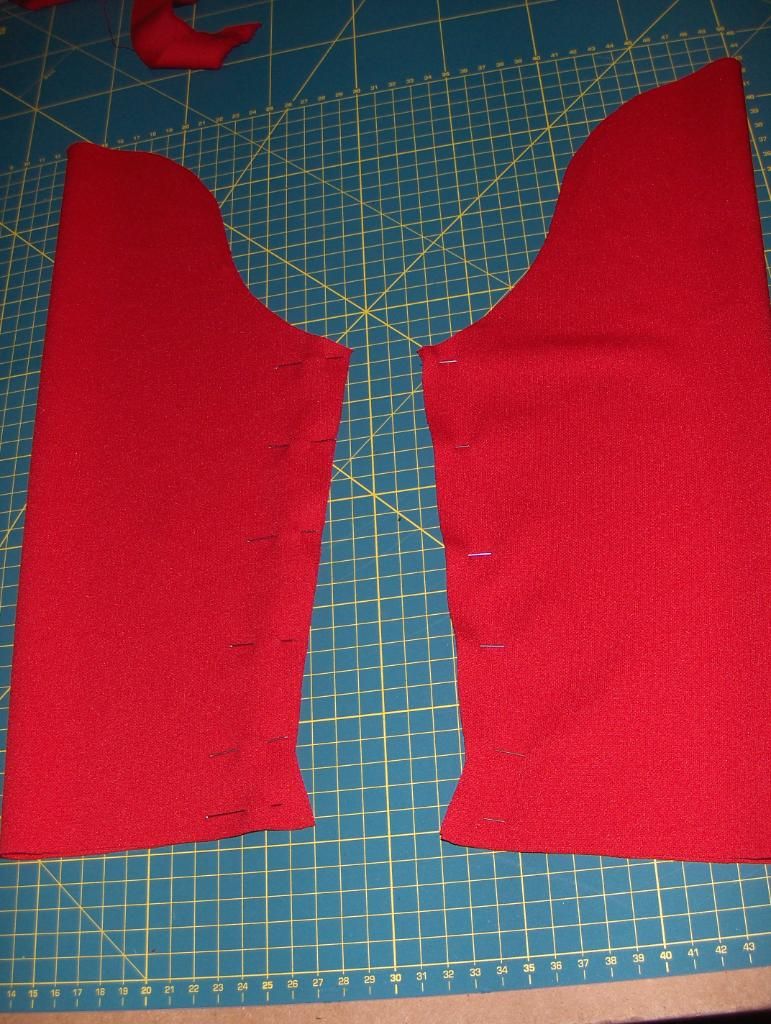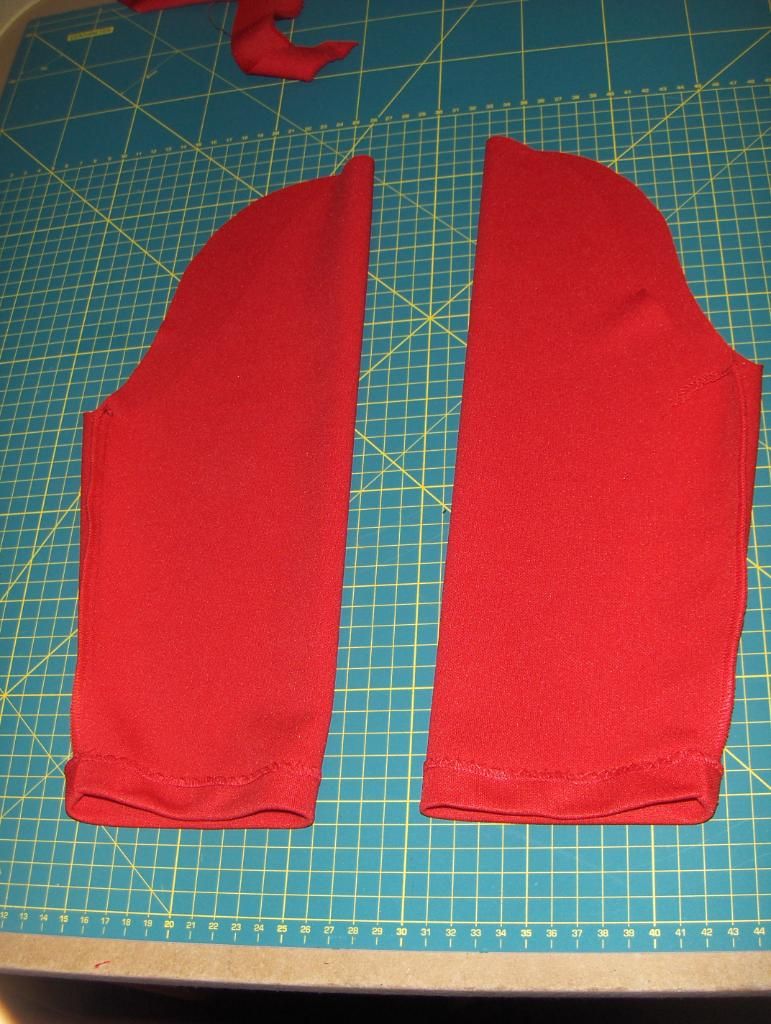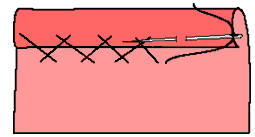 Do not forget to make a small mark on the top center of the sleeve, this mark will join the shoulder seam where the sleeve join the bodice of the dress, so cross pin and sew, iron and finishes the hems of the sleeves, it used to have a stitch elasticity ... I also have hand sewn with point as the last photo, sorry, I do not know its name in English ...
No te olvides de hacer una pequeña marca en el centro superior de la manga, esta marca se unirá a la costura de hombro cuando unamos la manga al corpiño del vestido, así que alfileres transversales y cose , plancha y acaba los dobladillos de las mangas, utiliza para esto una puntada que tenga elasticidad... yo los he cosido a mano con punto escapulario ...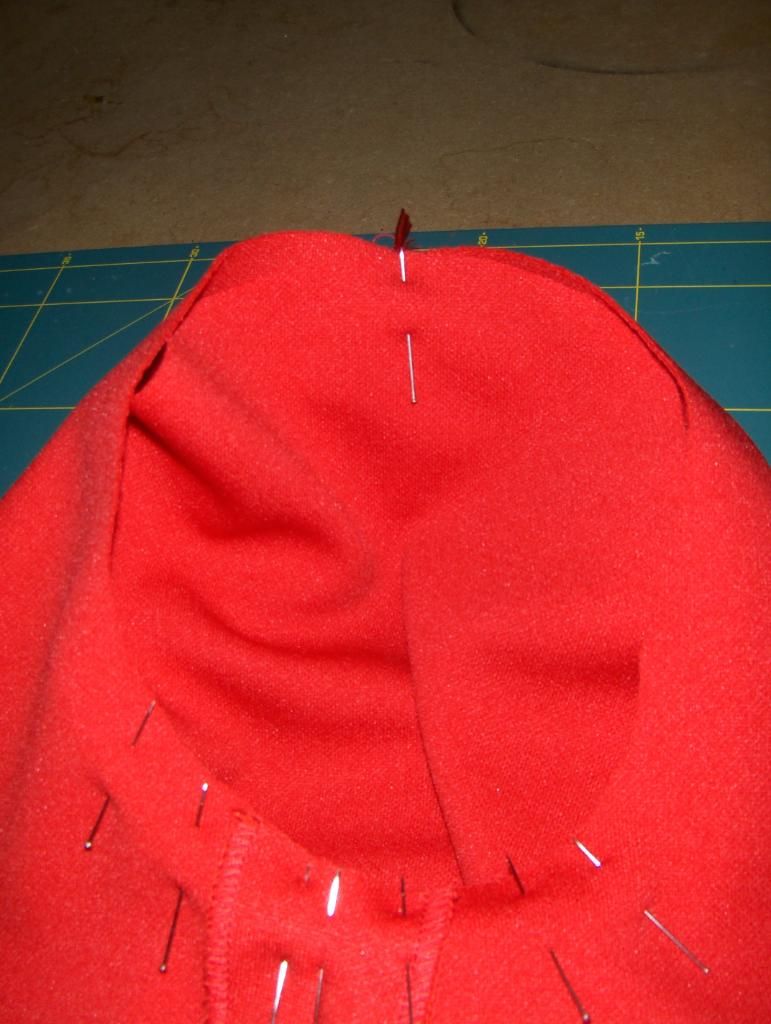 Now it's time to sew the sleeve to the dress, for this I use a technique that is good for me, you should try it ... if the result convinces you well .. if not, use the traditional method of wrinkle cap sleeve before nailing it to the bodice, I go with my method ....
First picture ... join the corresponding sleeve to the armhole of the dress, first sticking pins in the bottom half, make sure the sleeve seam and the bodice fit perfectly, these early pins nailed from the side of the bodice ...
Second photo ... attached with a pin the center of the sleeve (the brand we did above) with the shoulder seam of the bodice ...
Ahora llega el momento de coser la manga al vestido, para esto yo utilizo una técnica que es buena para mi, tú debes probarla... si te convence el resultado bien.. si no es así, utiliza el método tradicional de fruncir la copa de la manga antes de clavarla al cuerpo, yo voy con mi método....
Primera foto... une la manga correspondiente a la sisa del vestido primero clavando alfileres en la mitad inferior, asegúrate que la costura de la manga y la del corpiño coinciden perfectamente, estos primeros alfileres los clavamos desde el lado del corpiño...
Segunda foto... une con un alfiler el centro de la manga (la marca que hicimos anteriormente) con la costura del hombro del corpiño...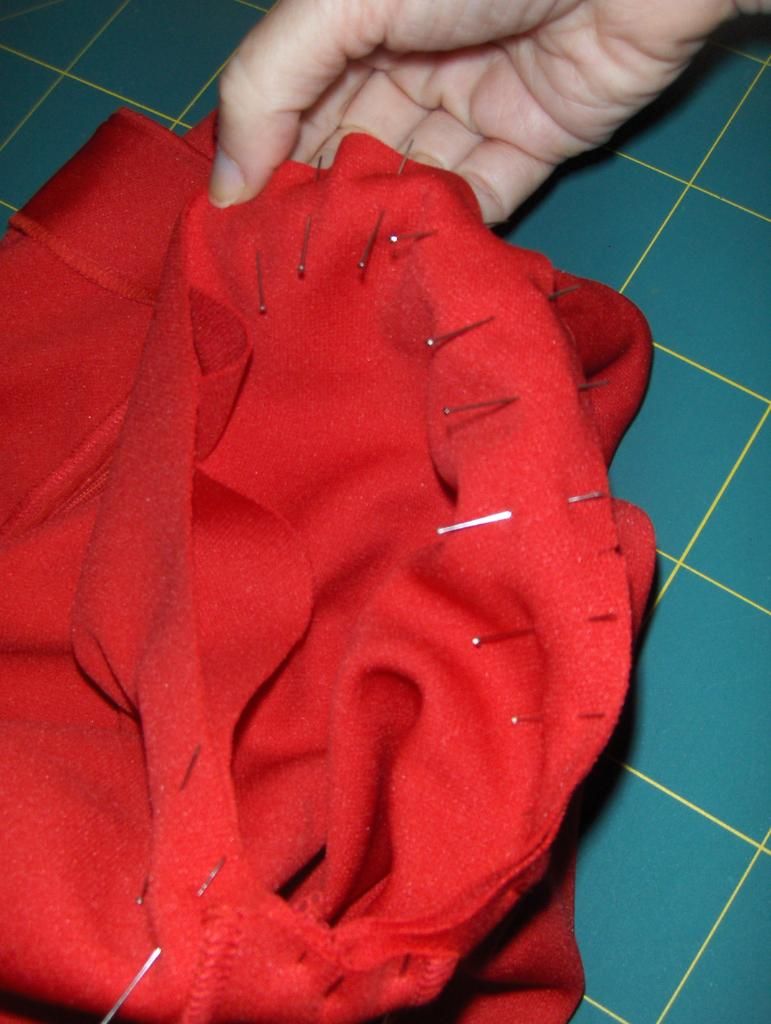 Now from the upper pin, we will distribute the sleeve sticking pins to finish in the top pins that nailed before the armhole ... if you care to bend outward as the photos show while distributing the sleeve you will see that there is no fold ... turning out fabrics, avoid the folds ... when you finish nailing one side starts with the other side of the sleeve until it is fully nailed ...
Ahora desde ese alfiler superior vamos clavando alfileres distribuyendo la manga hasta terminar en los primeros alfileres que clavamos antes en la sisa... si tienes la precaución de doblar hacia afuera como muestran las fotos mientras vas distribuyendo la manga, verás que no hay ningún pliegue... al girar hacia afuera las telas, evitamos los pliegues... cuando termines de clavar un lado comienza con el otro lado de la manga hasta dejarla completamente clavada...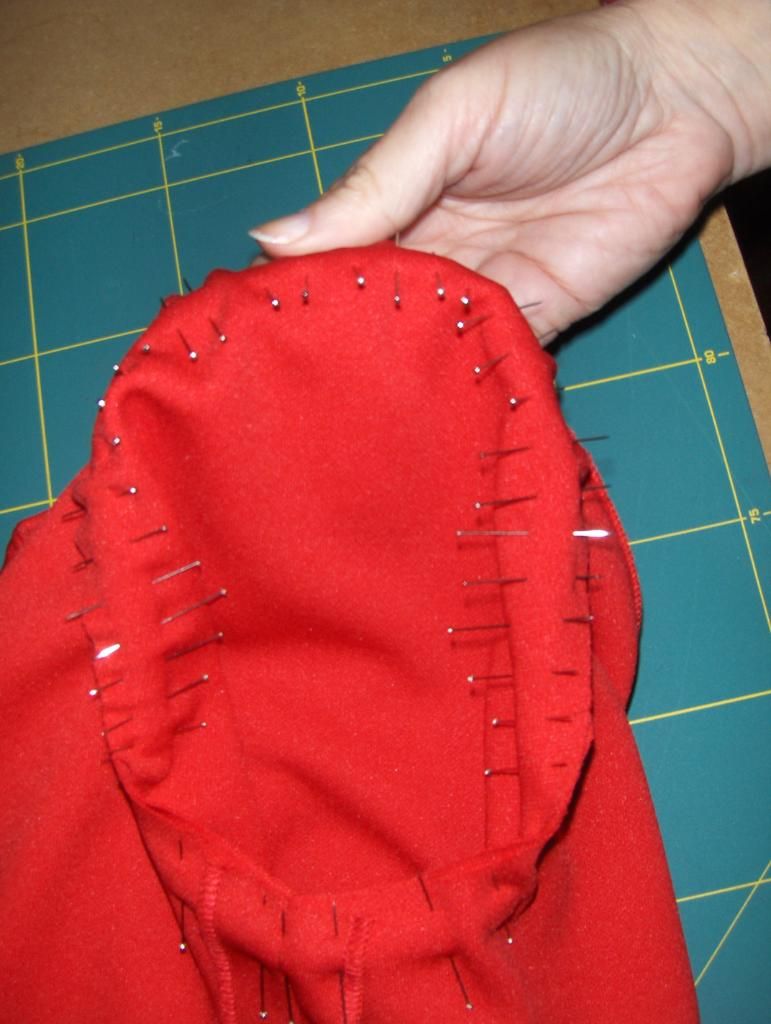 When you've finished nailing full sleeve need replacing more pins in the spaces between the pins you've nailed first while doing this again sees distributing fabric sleeve that isn´t folded anywhere .... . how do you about everything? Did you it??? It wasn´t difficult ...
Cuando has terminado de clavar la manga completa es necesario volver a colocar más alfileres en los espacios entre los alfileres que has clavado primero, mientras haces esto ve distribuyendo de nuevo la tela de la manga para que no hayan pliegues en ningún sitio..... qué tal ?? Lo has conseguido??? No ha sido difícil para nada...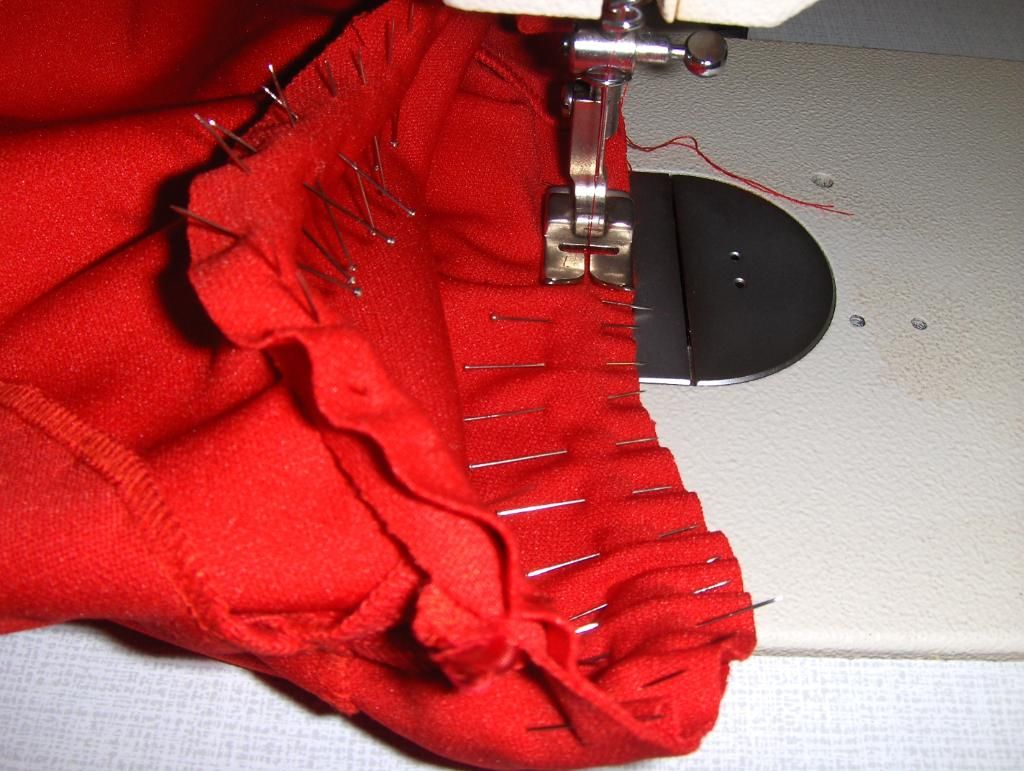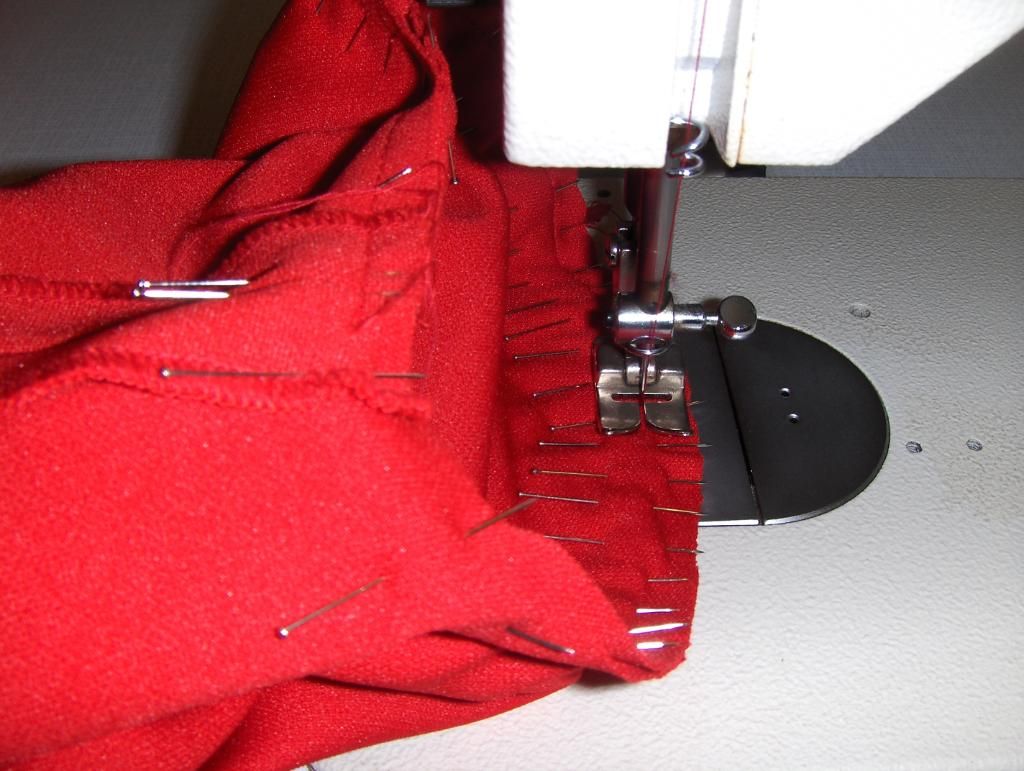 And it only remains for us to sew slowly over these pins, you need to sew first with a long stitch and remove the pins after you verify that the sleeve is well located and no wrinkles or pinching fabric anywhere ... If it is, you can spend far above the previous stitch with normal stitch and after overlock ....
Y ya solamente nos resta coser despacio por encima de todos estos alfileres, te recomiendo que cosas primero con una puntada larga y después de quitar los alfileres compruebes que la manga está bien ubicada y no hay arrugas ni pellizcos de tela en ningún sitio... si está bien, puedes pasar un pespunte encima del anterior ahora con la puntada normal y remallar....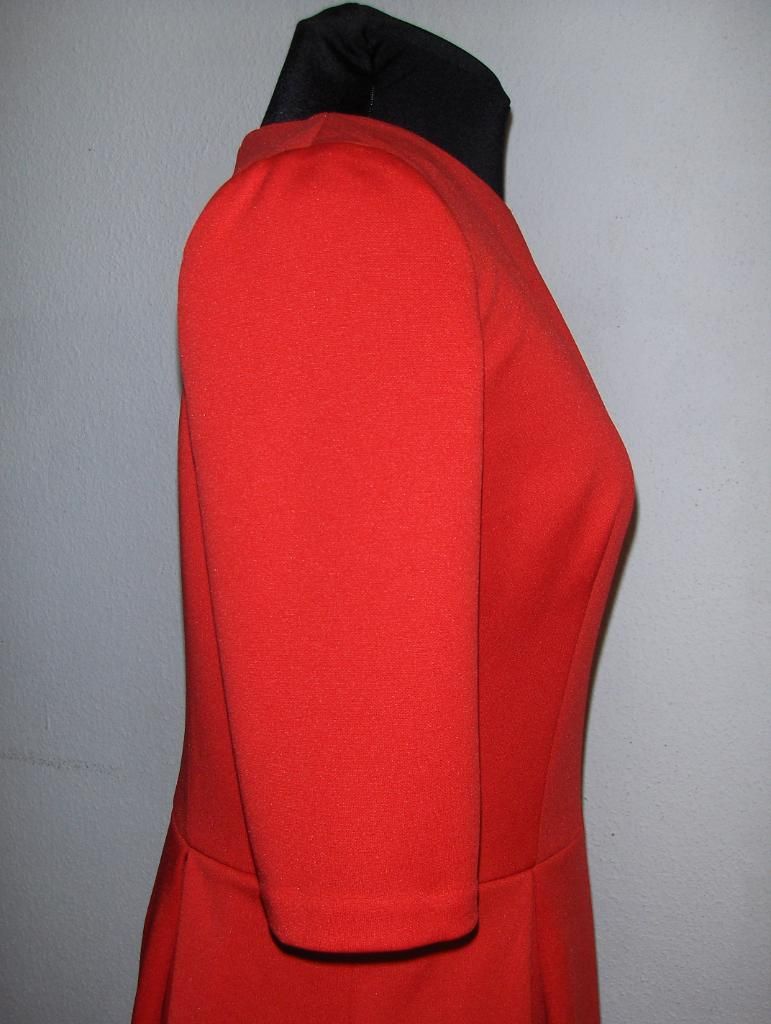 When you do the same with the other sleeve, check that the two sleeves are equal in every way ....
Cuando hagas lo mismo con la otra manga, comprueba que las dos mangas están iguales en todos los sentidos....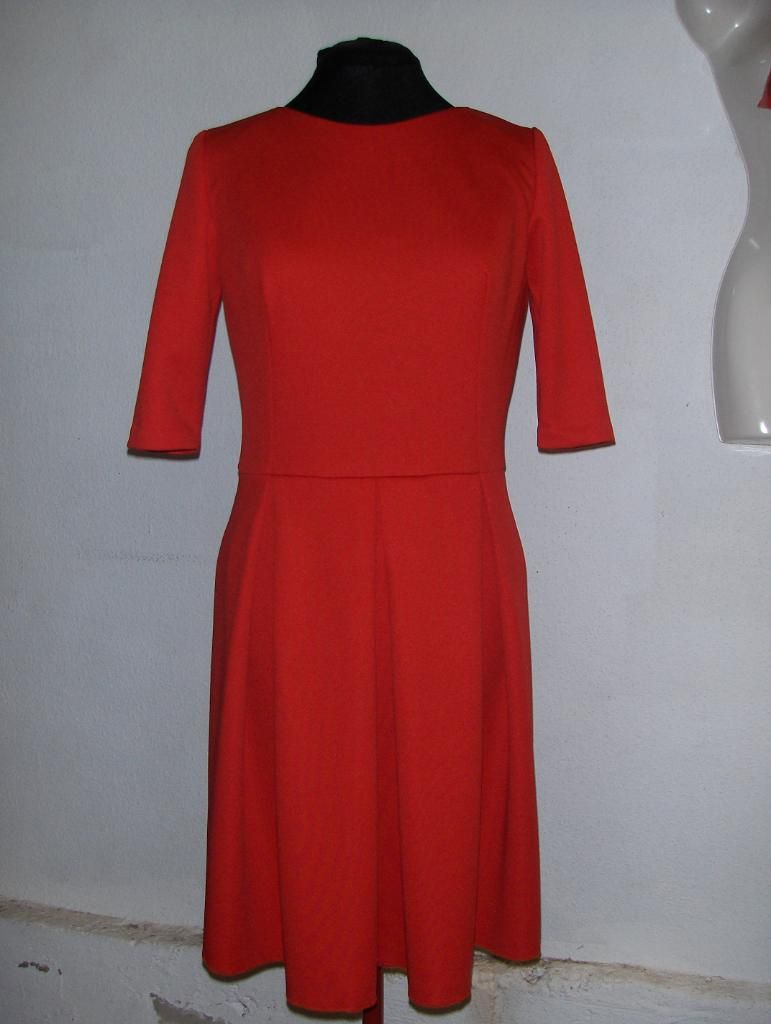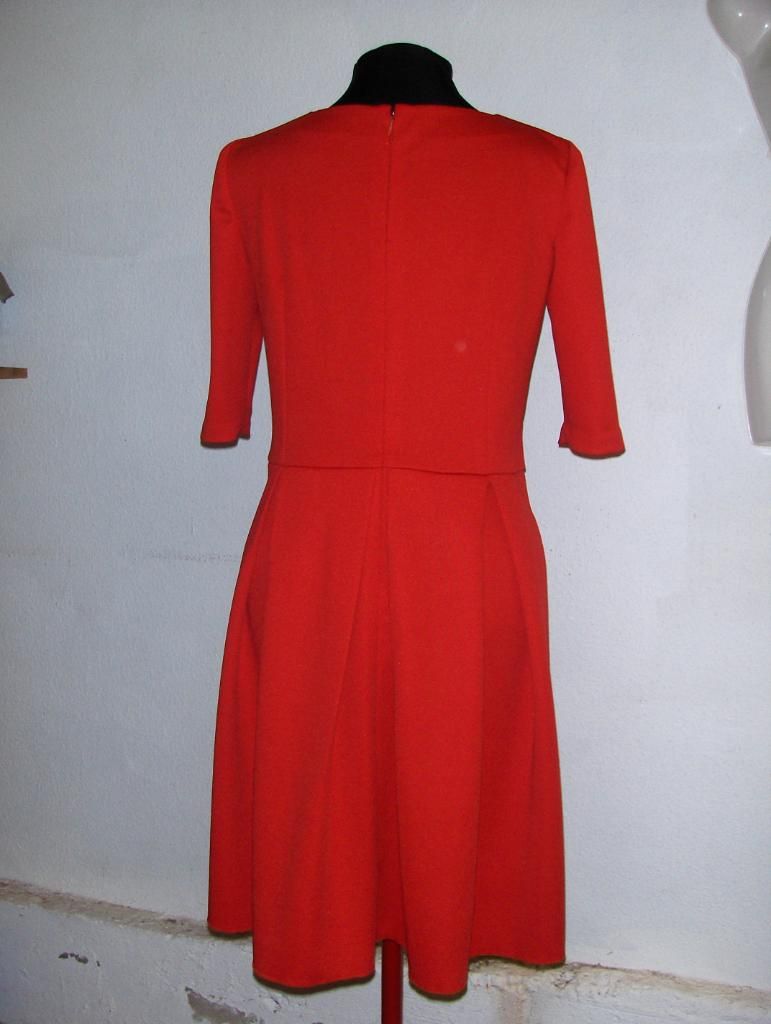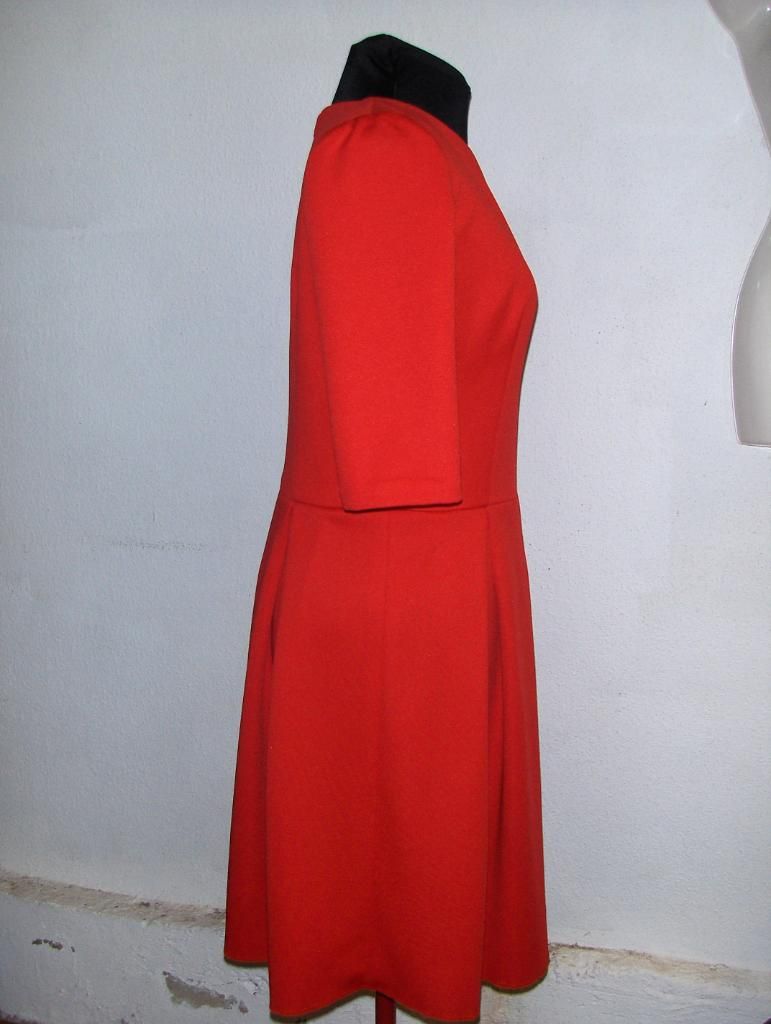 Well, I for my part I have finished my dress .... finally decided not to lining the skirt because I've noticed that the dress feeling better to my siluet with my inseparable pettit coat underneath, so in my case the lining is of over ... but if you want to line the skirt is very easy and you only need a little thin knit ... I'm going to explain what you have to do ...
Bien, yo por mi parte he terminado mi vestido.... finalmente decidí no forrar la falda porque me he dado cuenta que el vestido sienta mejor a mi figura con mi inseparable pettit coat debajo, así que en mi caso el forro está de más... pero si tú quieres forrar la falda es muy fácil y solamente necesitas un poco de tela de punto delgada... yo te voy a explicar lo que tienes que hacer...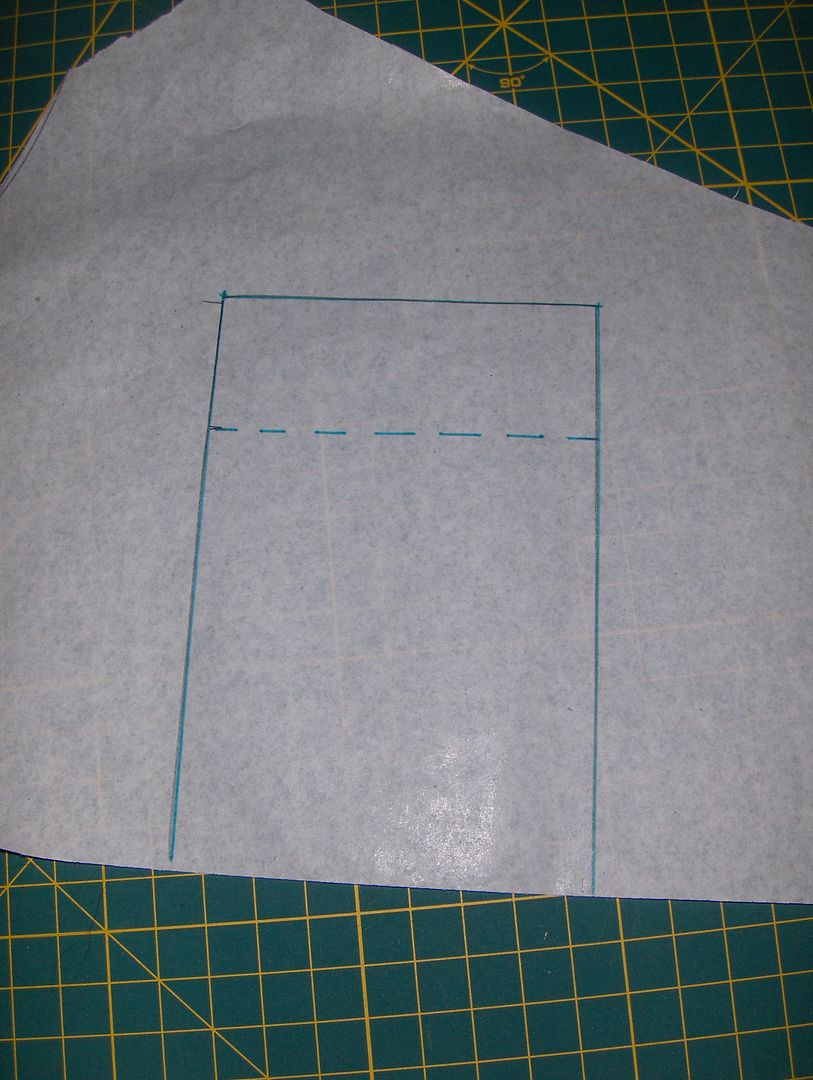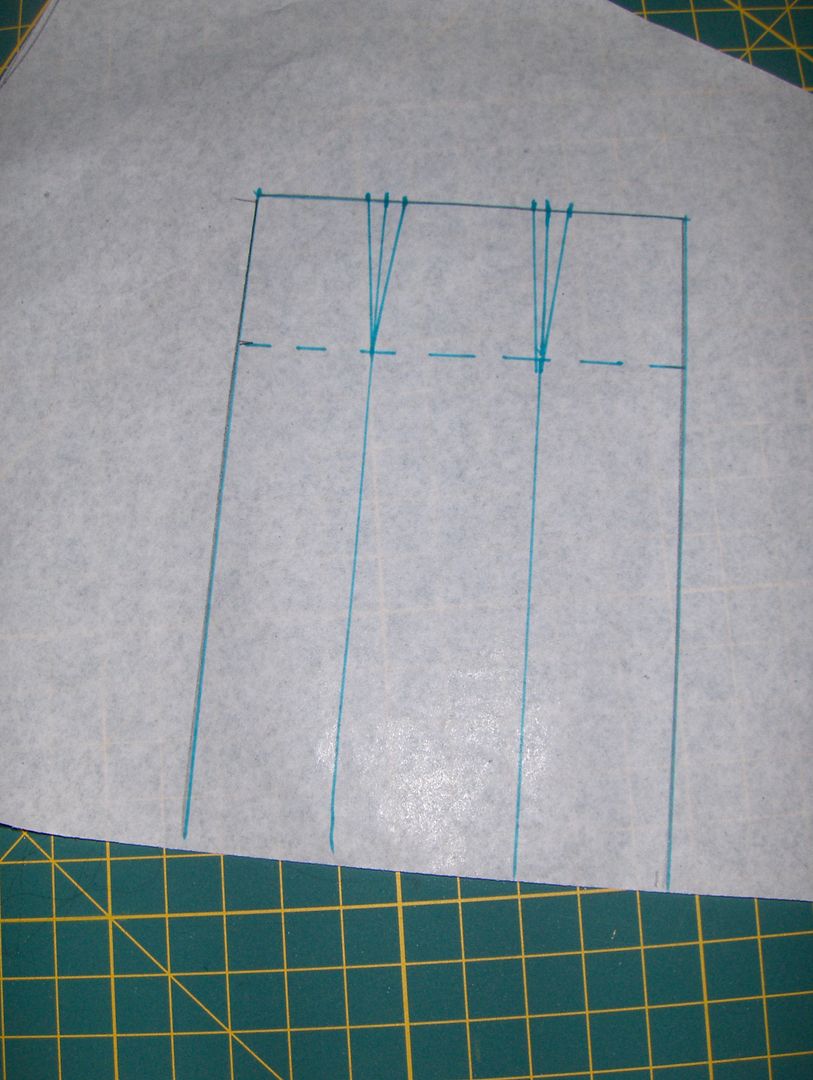 I've drawn this in small, but you must do it with your measures, you have to make your front lining pattern and another pattern lining back .... first picture ... draw a rectangle that has the same high as the top of the skirt of your dress, but remains about 5 centimeters to that high, remember that the liner should be smaller in height than the skirt .. Must have wide waist measurement of your dress, ie if you're doing the front pattern, you should measure the waist of your dress in the front and add to this measure 4 ctm. more to draw the darts then ... do the same with the back then the waist measurement plus 4 centimeters back ...
Second photo ... draws a dashed line from about 15 ctm. Top line of horizontal ...
Third photo, distributes the pattern into three pieces of equal measure and draw dart two centimeters each as shown in photo ..
Yo he dibujado esto en pequeño, pero tú debes hacerlo con tus medidas, tienes que hacer un patrón de delantero de tu forro de falda y otro patrón de espalda .... primera foto... dibuja un rectángulo que tenga de alto la misma medida del alto de la falda de tu vestido, pero resta unos 5 centímetros a ese alto, recuerda que el forro debe ser más pequeño de altura que la falda.. De ancho debe tener la medida de cintura de tu vestido, es decir que si estás haciendo el patrón del delantero, debes medir la cintura de tu vestido en el delantero y añadir a esta medida 4 ctm. más para dibujar las pinzas después...haz lo mismo con la espalda después, la medida de la cintura de espalda más 4 centímetros ...
Segunda foto... dibuja una linea discontínua a unos 15 ctm. de la linea superior en horizontal...
Tercera foto, distribuye el patrón en tres trozos de igual medida y dibuja pinzas de dos centímetros cada una como muestra la foto..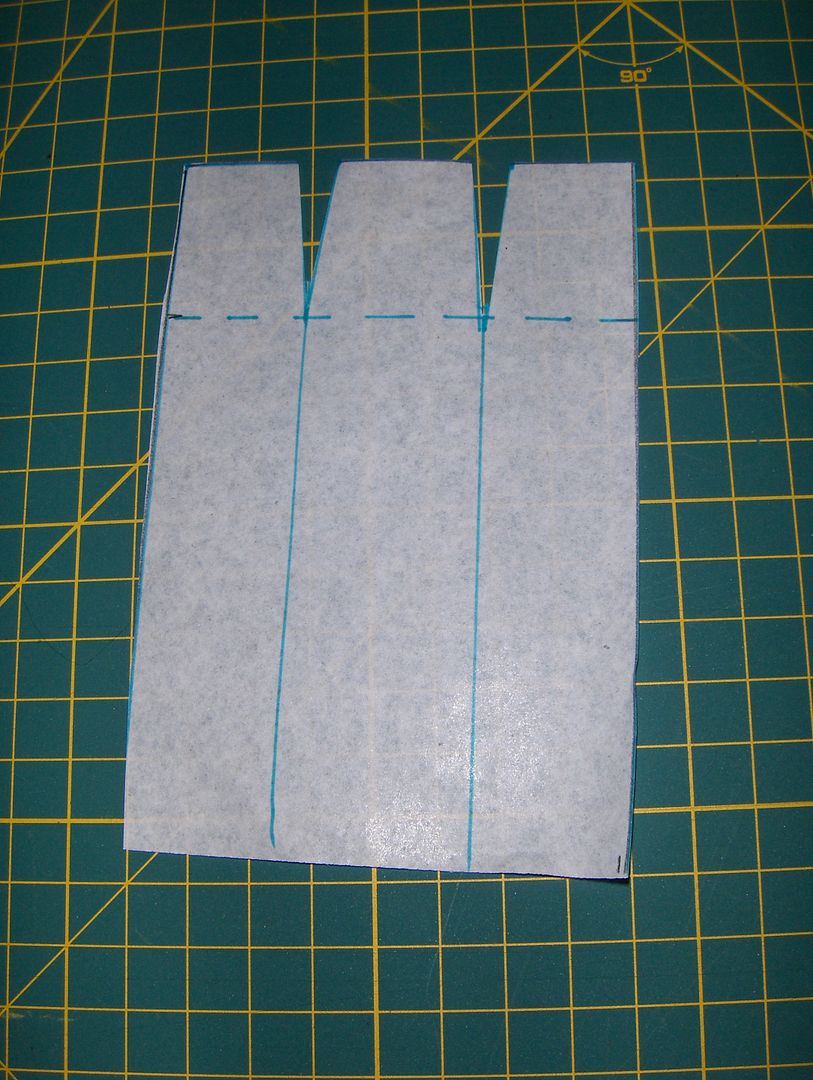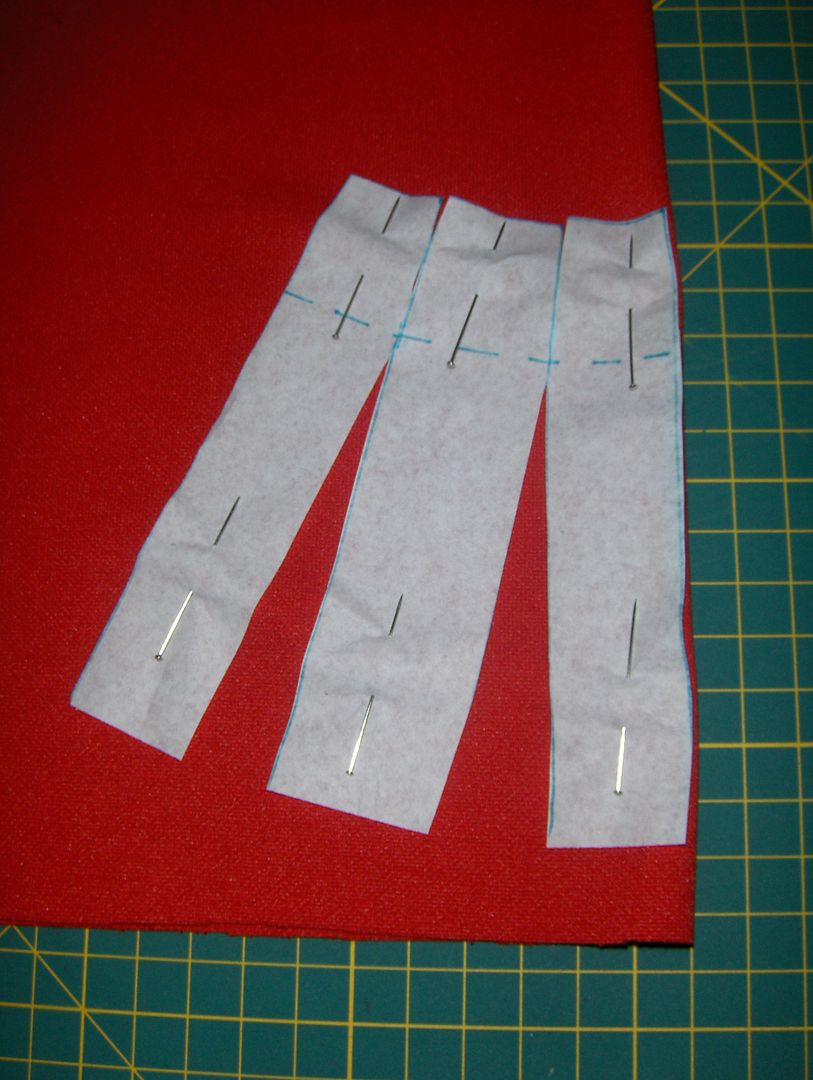 When you draw the pattern with darts is time to close these darts as shown in the first photo, after cutting by the vertical lines to open the pattern below, remember that it must cut front pattern on the fabric folded to out in one piece ... and to the back must also leave a seam in the center of the rack back to ... only is joining the front with their backs to the side seams, sew around the waist of the dress and close in the back as far as the zipper, the length of the zipper can sew by hand with small stitches, after sewing the hem and iron .... You start thinking about the accessories that you will use in this dress ... (I think I love this part ....)
Now ... Yay! Our dress is officially over! Finally I need only ask you if you have done this dress, let me know to make a post with all the dresses of this second Sew Along, Like I did before with the first dress .... I hope your posts! Although I think there is someone out there who has done it ....
Cuando has dibujado el patrón con las pinzas es hora de cerrar estas pinzas como muestra la primera foto después de cortar por las lineas verticales para que el patrón se abra por abajo , recuerda que el patrón delantero debes cortar la tela sobre el doblez para que salga de una pieza... y para el de la espalda debes dejar una costura también en el centro de espalda para la cremallera... solamente queda unir el delantero con las espaldas por las costuras laterales, coser por la cintura del vestido y cerrar en la espalda hasta donde lllega la cremallera, el trozo de la cremallera puedes coserlo a mano con pequeñas puntadas, después de coser el dobladillo y planchar.... puedes empezar a pensar en los accesorios que vas a usar con este vestido... (creo que esta parte me gusta mucho....)
Ahora siiiiii! Nuestro vestido está oficialmente terminado!!! Por último solamente me falta pediros que si habeis hecho este vestido , avisadme para hacer un post con todos los vestidos de este segundo Sew Along, igual que hice antes con el primer vestido.... Espero vuestros posts!!! Aunque creo que ya hay alguien por ahí que lo ha terminado....