It is time to cut our fabric .... so let's make some small adjustments to the patterns, having finished our pattern with our measures ... you'll see that this dress we will end in a sigh ... here we go ...
Es hora de cortar nuestra tela.... así que vamos a hacer unos pequeños ajustes en los patrones, después de haber terminado nuestro patrón con nuestras medidas... ya veréis que este vestido lo vamos a terminar en un suspiro... vamos allá...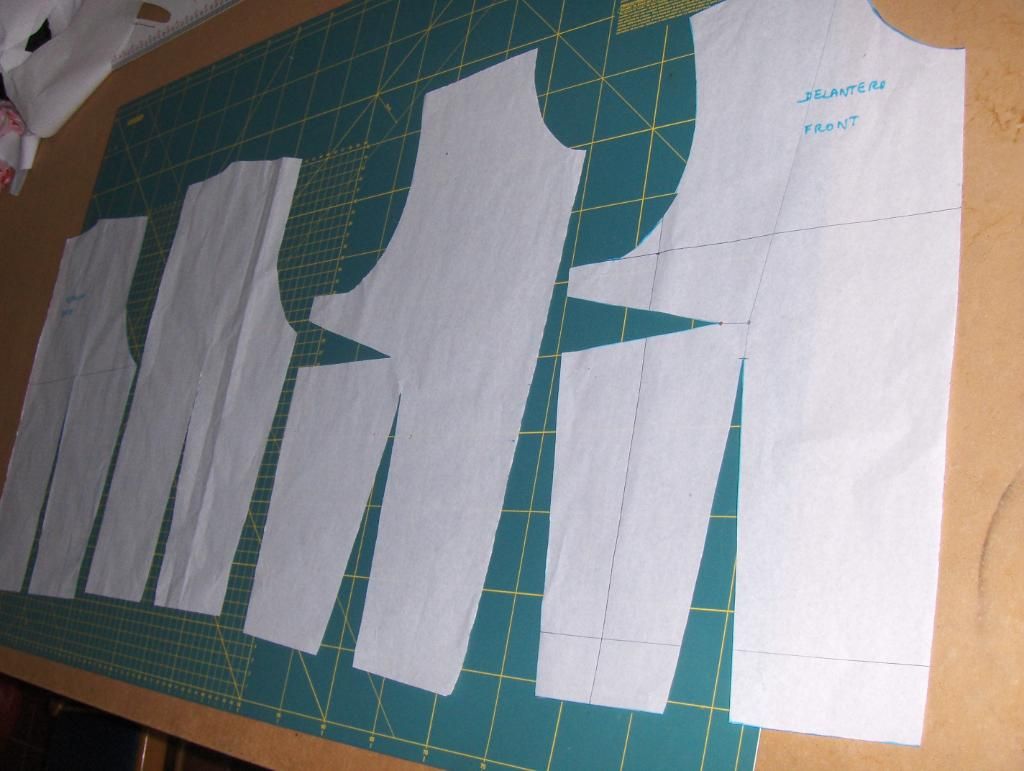 We already had from our previous post patterns front and back bodice completely finished, so we have to keep those patterns because whenever we will start with a new dress we will do the following ... place them above of other paper and holding them with pins, draw the outline of each one and then we cut it, so we have again a new copy of the front and one in the back that are what we use to make the necessary alterations to dress. The original patterns are going to save and take care with care, to re-make copies of them every time we need it, so now we will work with two copies of the front and back patterns ....
Ya teníamos desde el post anterior nuestros patrones de cuerpo delantero y espalda totalmente terminados, así que esos patrones los tenemos que guardar porque siempre que vayamos a comenzar con un vestido nuevo vamos a hacer lo siguiente... colocarlos encima de otro papel y sujetándolos con alfileres, dibujamos el contorno de cada uno y luego lo recortamos, así que tenemos otra vez una nueva copia del delantero y otro de la espalda que son los que vamos a usar para hacer las transformaciones necesarias para el vestido. Los patrones originales los vamos a guardar y cuidarlos con mimo, para volver a sacar copias de ellos cada vez que lo necesitemos, así que ahora vamos a trabajar con estas dos copias de los patrones delantero y espalda....
So the first thing we are going to alter is the neckline because the necklines of the red dress of New Girl a little more open than our basic pattern, start with the pattern of the back, so we measure from the center of the back below a centimeter (in the first picture), then measure the shoulder line 4 centimeters (second photo), finally draw a curved line joining the two marks and cut it to open the neckline of our dress.
Así que lo primero que vamos a modificar es el escote porque el vestido rojo de New Girl tiene la linea de escote un poco más abierta que nuestro patrón básico, comenzamos con el patrón de la espalda, así que medimos desde el centro de la espalda hacia abajo un centímetro (en la primera foto), después medimos en la linea de hombro 4 centímetros (segunda foto), por último dibujamos una linea curvada uniendo estas dos marcas y recortamos para abrir la linea del escote de nuestro vestido.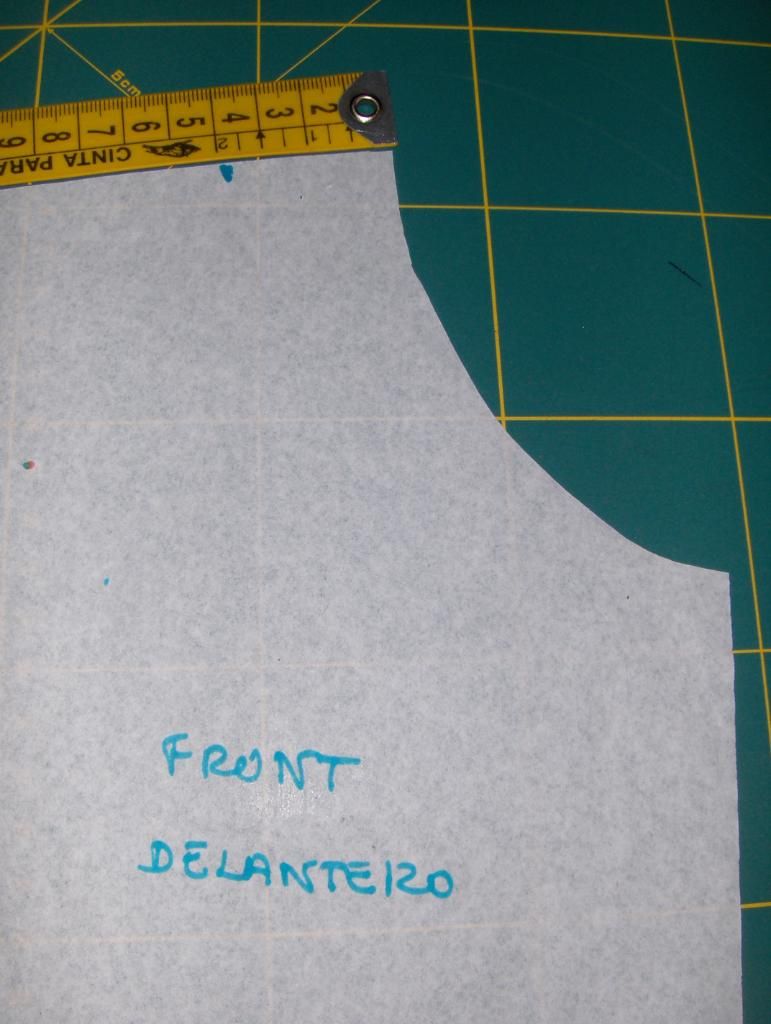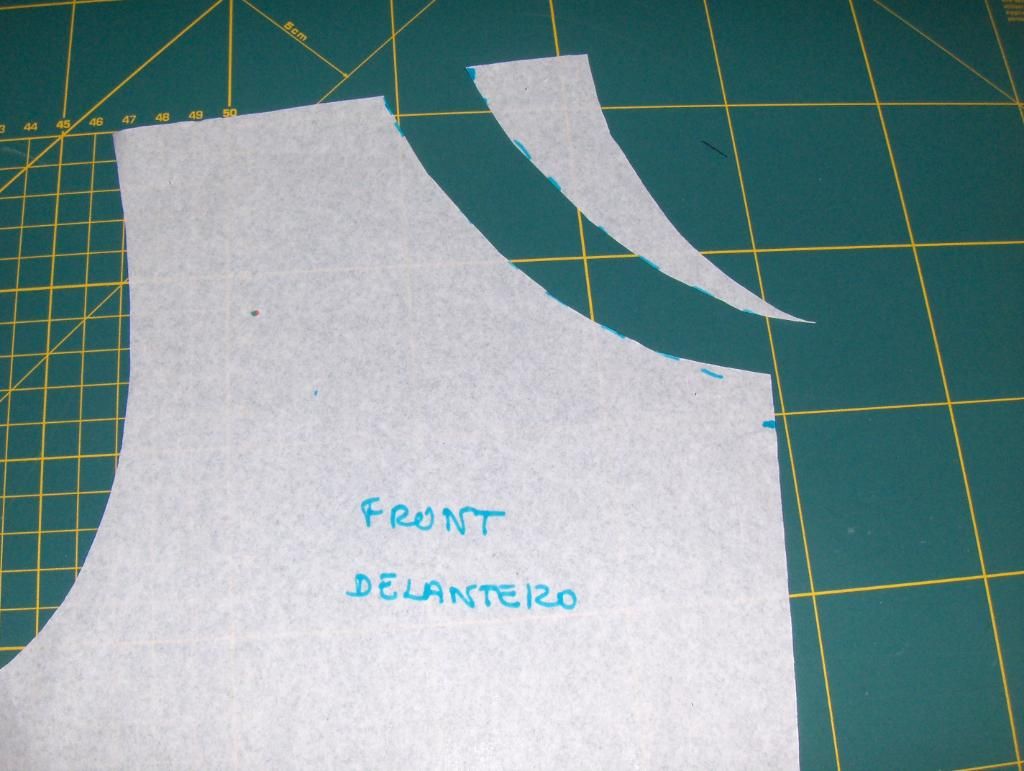 We will then open the front neckline of our pattern, so we measure in the shoulder line also 4 centimeters (first picture), and draw a curved line that ends at the center front (second photo) ... please ignore the little mark that I did in the front center ... at first I thought the line of neckline down here too, but then I thought it would be nicer if it only opened in the shoulders and the front center left as is, so after cutting the line to open the front neckline (third photo)
Después vamos a abrir el escote de nuestro patrón delantero, así que medimos en la linea del hombro 4 centímetros también (la primera foto), y dibujamos una linea curva que termina en el centro del delantero (segunda foto)... por favor, ignora la pequeña marca que yo hice en el centro delantero... en principio pensé en bajar la linea de escote aquí también, pero después pensé que quedaría más bonito si solamente lo abría en los hombros y dejaba el centro delantero tal cual, así que después recortar por la linea para abrir el escote delantero(tercera foto)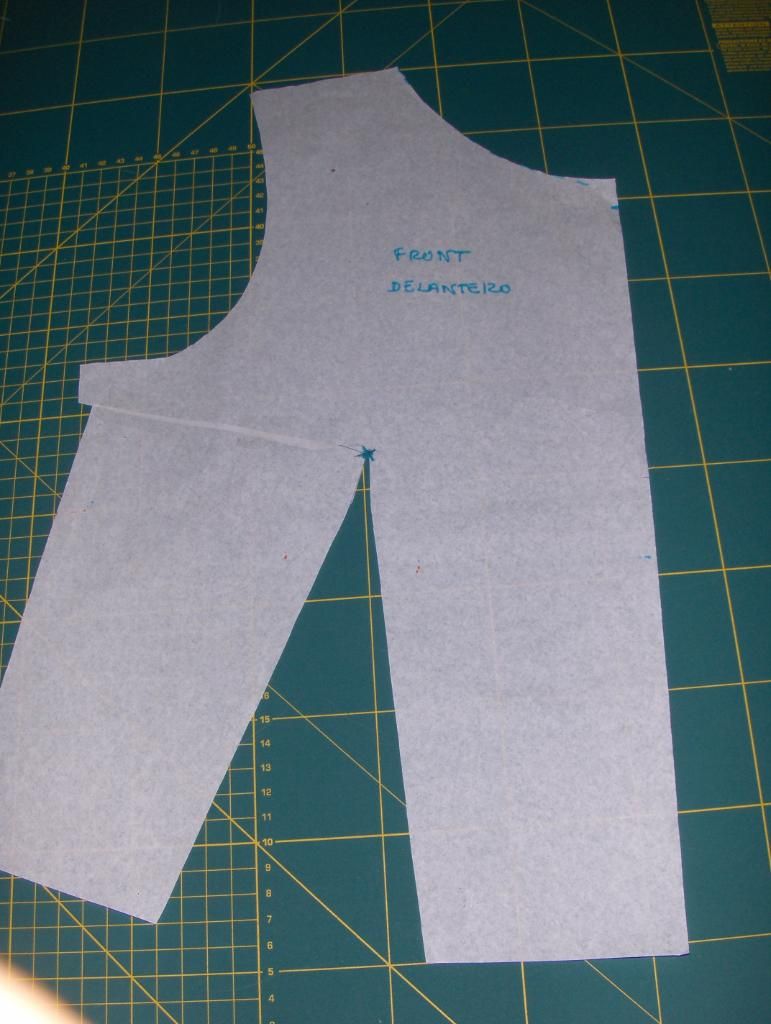 Then it was time to hide the chest dart in the front pattern to move it to dart waist adjustment ... for this we have to extend the lines from the tip of the two darts until they are found, this is the meeting point (which would be our nipple in the pattern). Now make a small cut with scissors from the top of the waist dart upward to the meeting point and then stick with tape connecting the chest dart as shown in the photo ... We have done away with the chest dart.
Entonces llegó el momento de esconder la pinza del pecho en el patrón delantero para trasladarla a la pinza de entalle de la cintura... para esto tenemos que alargar las lineas desde la punta de las dos pinzas hasta que se encuentran, este punto de encuentro (que sería nuestro pezón en el patrón). Ahora haz un pequeño corte con la tijera desde el vértice de la pinza de cintura hacia arriba, hasta el punto de encuentro y después pega con un trozo de cinta adhesiva uniendo la pinza de pecho como muestra la foto... hemos hecho desaparecer la pinza de pecho .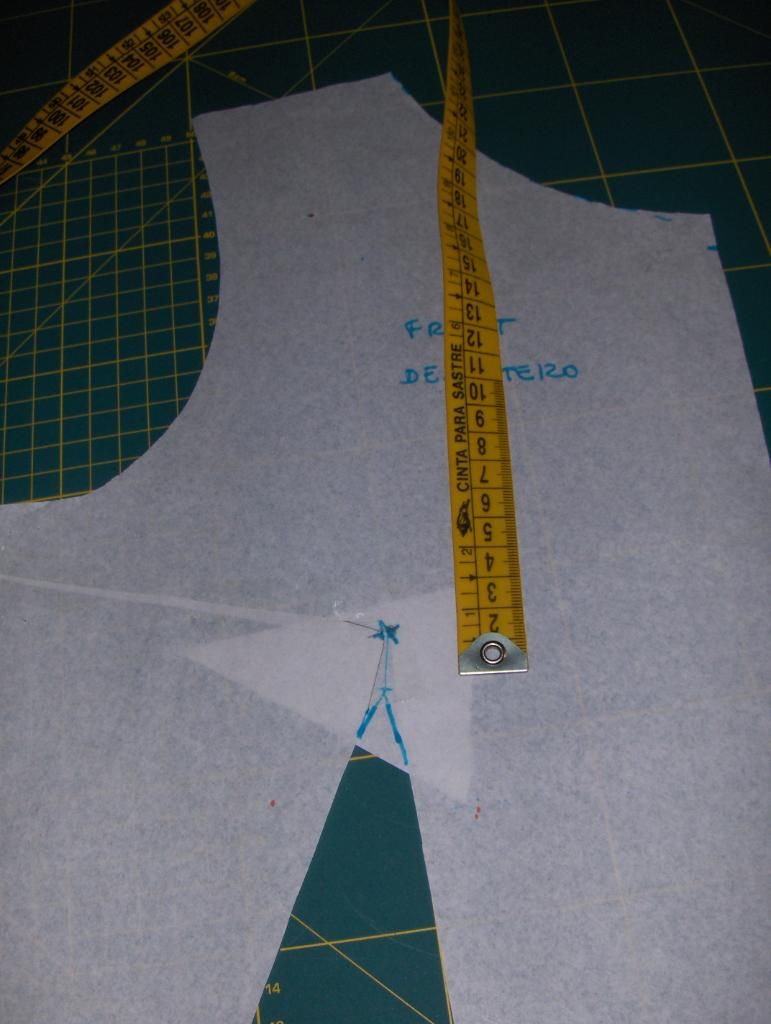 The next step is to glue a piece of paper which shows the first picture to come back down a bit the apex of our waist dart that ends just below the meeting point, so I drew this vertex two centimeters below the meeting point and cut as shown in the second picture ...
El siguiente paso es pegar un trocito de papel en donde muestra la primera foto para volver a bajar un poquito el vértice de nuestra pinza de cintura para que termine un poco más abajo del punto de encuentro, así que dibujamos este vértice dos centímetros más abajo del punto de encuentro y recortamos como muestra la segunda foto...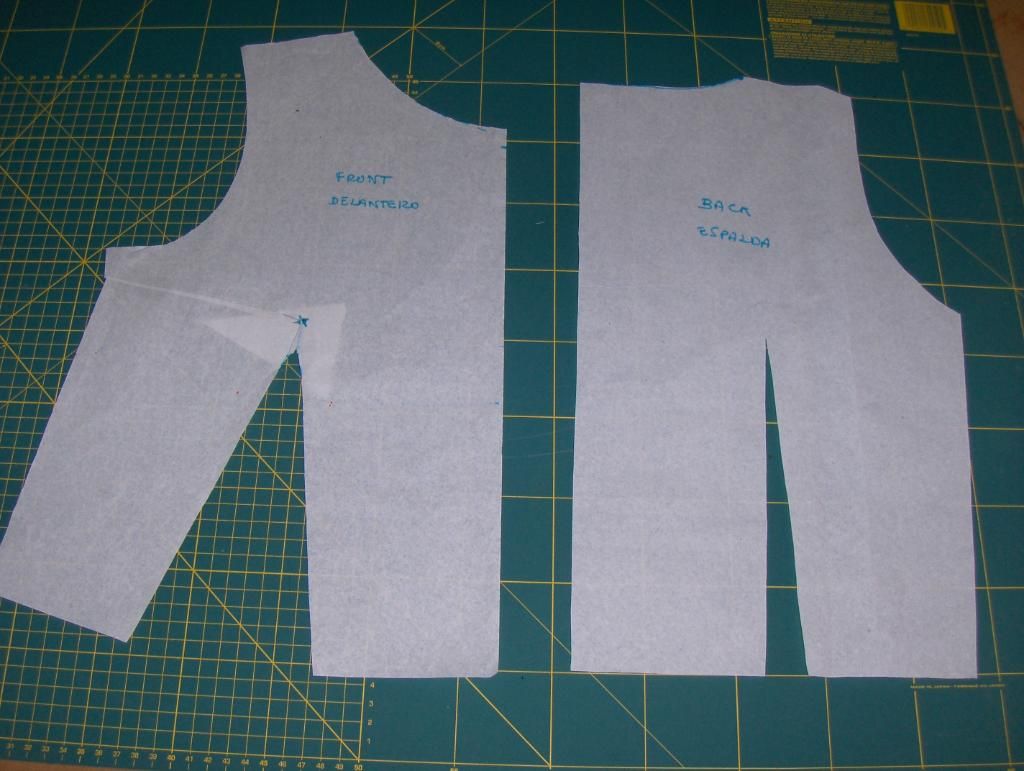 And... our patterns are ready for cut the fabric!! It was easy, true??? And I say always, pattern making is magic... darts and lines appear and desappear... It´s sooo enjoyable!!!
Y ya están nuestros patrones preparados para ir a cortar la tela!!! Verdad que ha sido fácil?? Y como yo siempre digo, el patronaje es magia... aparecen y desaparecen pinzas y lineas.... es muy divertido!!
..................................................................................................................................................................................................................................................................................................................................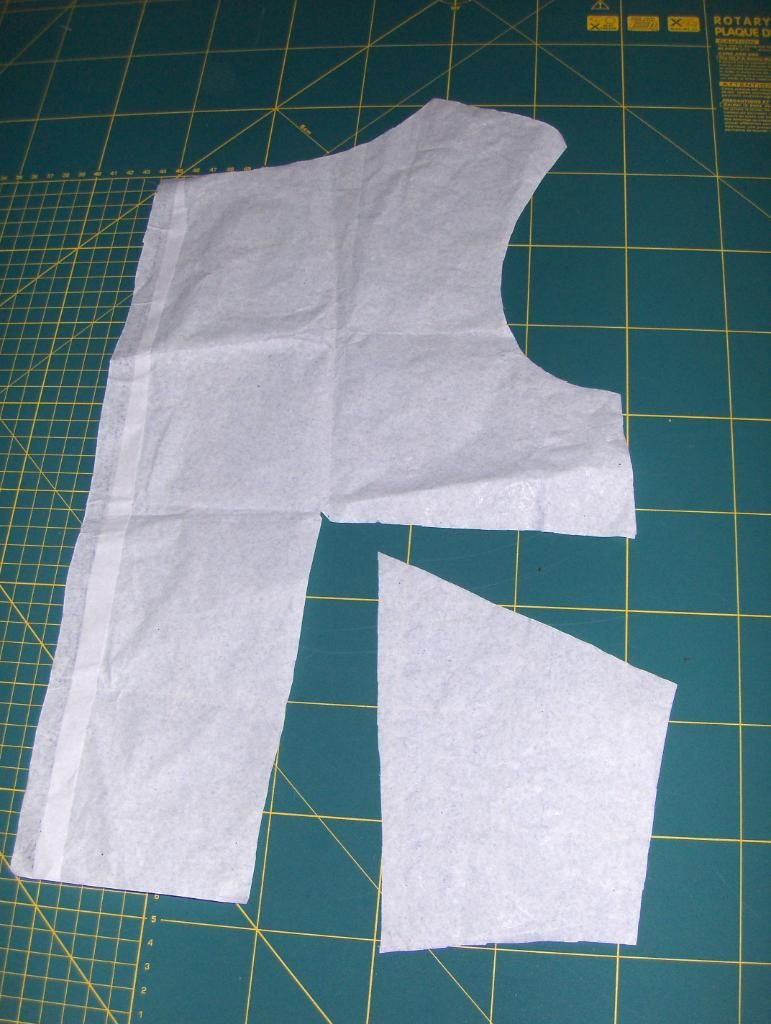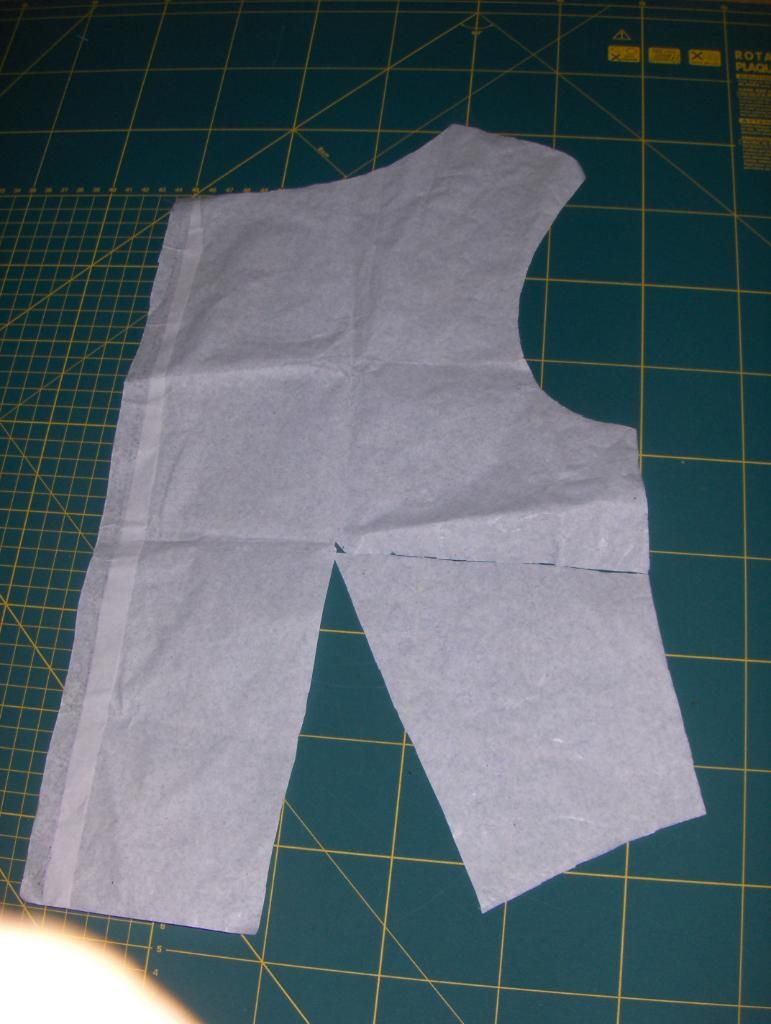 For the friends who had asked about cutting the dress with the Burdastyle pattern we used for the previous dress ... Here the only transformation that we do with this pattern will be in the front and we just have to taping the selvedge pattern as shown in these two photos ... the neckline leave it at that because it´s already open enough, so let's cut the fabric ....
Yay!, cut the fabric!
Para las compañeras que habían preguntado acerca de cortar el vestido con el patrón del Burdastyle que hemos usado para el vestido anterior... aquí la única transformación que vamos a hacer con este patrón será en el delantero y simplemente tenemos que pegar con cinta adhesiva el costadillo del patrón tal como muestran estas dos fotos... el cuello lo dejamos así porque ya está suficientemente abierto, así que vamos a cortar la tela....
Siiiiiii , cortar la tela!!!