The next step to complete this beautiful red dress is to finish the neckline of our dress ... I said earlier that this dress was very easy and quick to finish and I hope you have been well for you too .... we´ll sew the neckline ...
El siguiente paso para terminar este bonito vestido rojo es acabar el escote de nuestro vestido... te había dicho anteriormente que este vestido era muy fácil y rápido de terminar y yo espero que haya sido así para ti también.... vamos a coser el escote...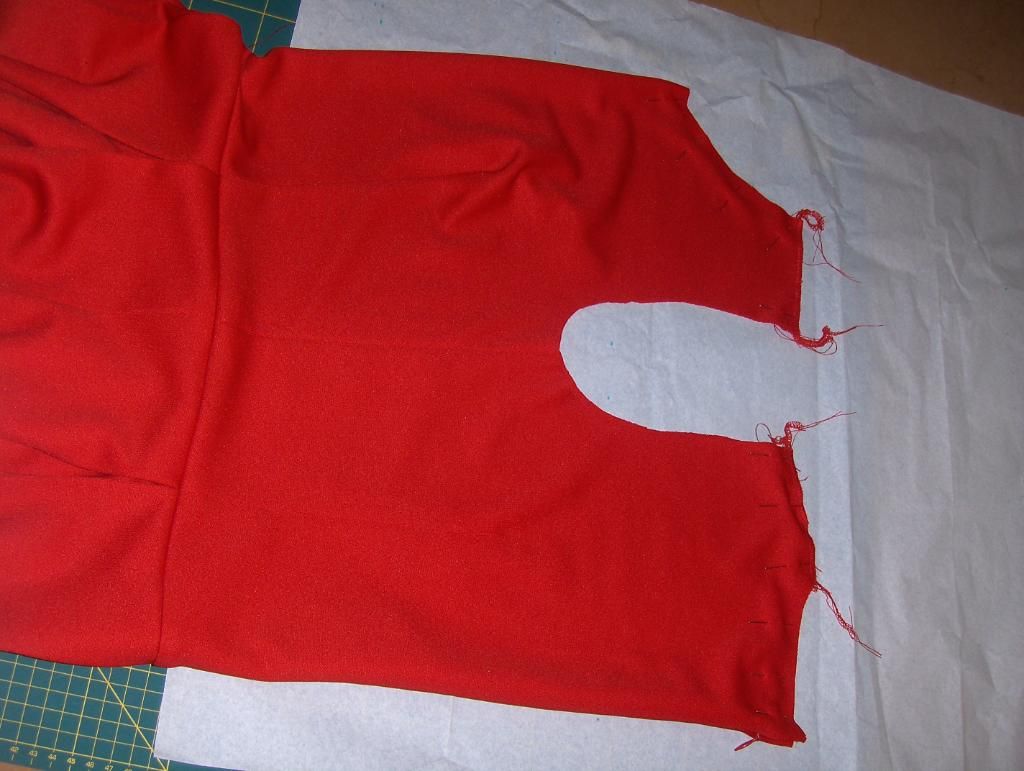 The first thing we need is to unpick the shoulder seams, to make it easier to copy neckline, and to draw the inner facing of the neckline to finish it ... so after we unstitching soulders , put our dress folded as shown in photo on a paper pattern ... it has to be well up on the table and the two sides of the dress be fully placed symmetrically.
Lo primero que necesitamos es descoser las costuras de los hombros, para que sea más fácil copiar la linea del escote y poder dibujar las vistas del escote para acabarlo... así que después de descoser los hombros colocamos nuestro vestido doblado como muestra la foto sobre un papel de patrones... tiene que quedar bien plano sobre la mesa y los dos lados del vestido estar totalmente situados simetricamente.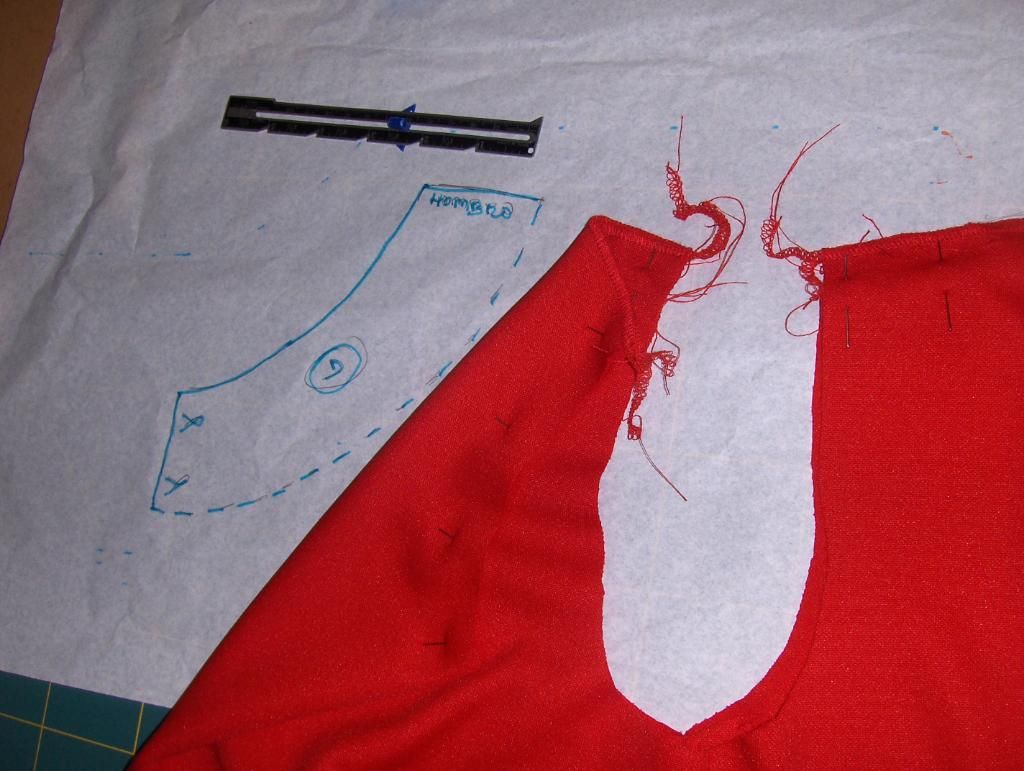 Now we just have to go over the outline of our front and back neckline and transfer them to the paper for get patterns for the inner facing of front and back ... Once you have reviewed the contour drawn in the pattern all the notes necessary for do it easier to understand after cutting the fabric. I've left than five centimeters width for these inner facing and remember that you must cut the center front double ... and that these facing inner have added seam allowances already .
Ahora solamente tenemos que repasar el contorno de nuestro escote delantero y espalda y trasladarlo al papel para obtener los patrones de las vistas de delantero y espalda... una vez has repasado el contorno, dibuja en el patrón todas las notas necesarias para que sea más fácil comprender después al cortar la tela. yo he dejado un ancho de cinco centímetros para estas vistas y recuerda que el centro delantero debes cortarlo doble... y que estas vistas tienen los márgenes de costura añadidos ya.
Cut of the pieces on the fabric..
.
Recorta las piezas en la tela..
.
Now back to sewing the shoulder seams as they were initially, but also added some ribbon by sewing the seam along the shoulder seam to prevent the seam from stretching over time ..
Ahora vuelve a coser las costuras de los hombros como estaban inicialmente, pero añade también a esta costura alguna cinta cosiendola junto a la costura de hombros para evitar que esta costura se estire con el tiempo..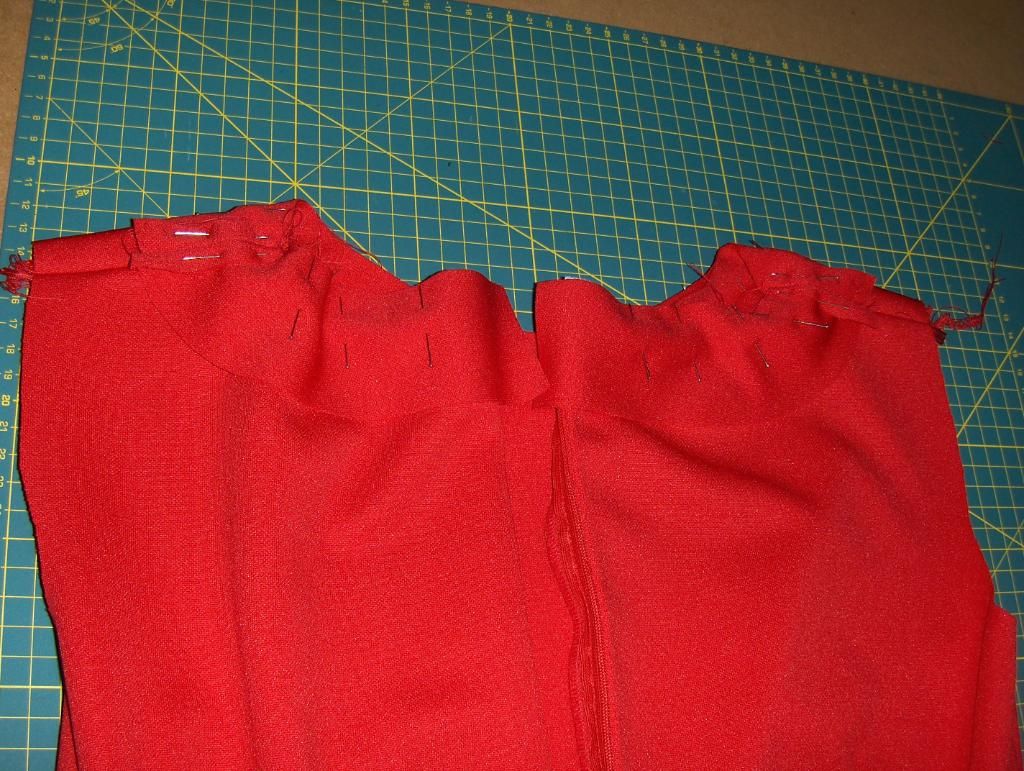 Now sew the inner facing the front and back side seams and overlock the outer edge, but you can see in the photo that I had not done it yet, I noticed it later and had to return to unstitching one piece of fabric to pass the serger, so do not forget this, then pin in place at the neckline of the dress.
Ahora cose las vistas del delantero y espalda por las costuras de los lados y remalla el borde exterior, aunque puedes ver en la foto que yo no lo había hecho aún, me di cuenta más tarde y tuve que volver a descoser un trocito para poder pasar la remalladora, así que no te olvides de esto, después sujétalas con alfileres en su sitio en el escote del vestido .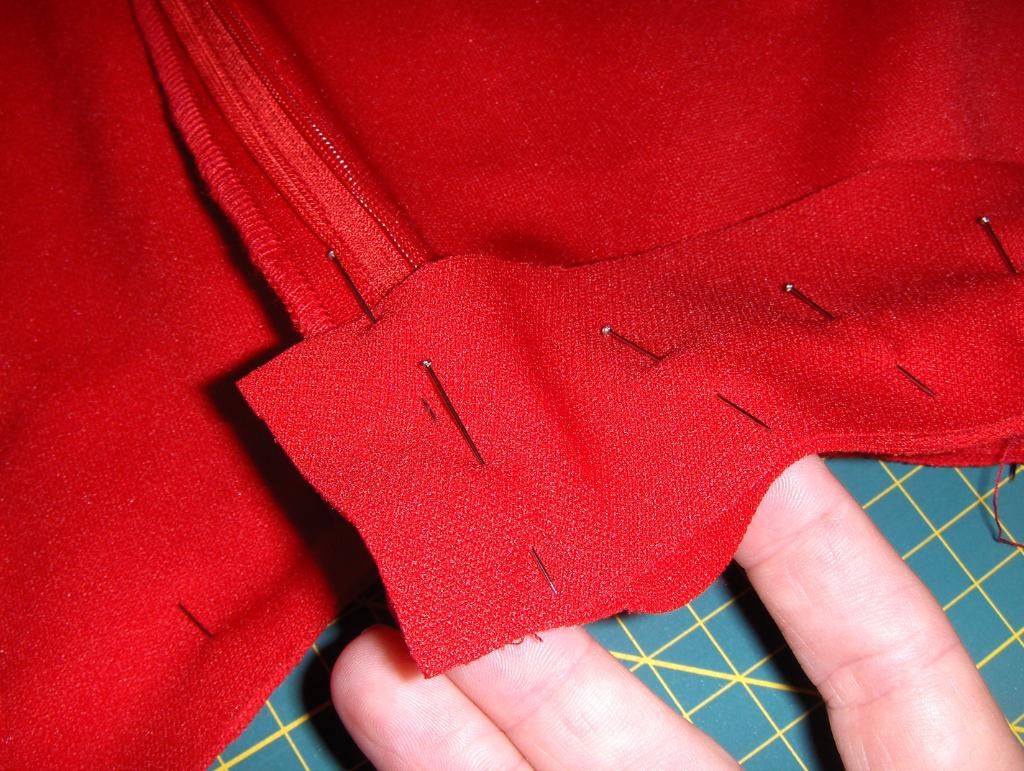 Let's make a perfect finish on the back of our dress if we do this, look at the first picture, place a pin a few centimeters before the zipper, now you can see in the second picture as I fastened with a pin above the zipper and while the fabric of the inner facing is straight, the fabric of the neckline of the dress (below) makes a loop, it´s meaning that there are more path of fabric in the layer underneath and the top is straight ... pinned in this position ...
En la espalda vamos a hacer acabados perfectos si hacemos lo siguiente , fíjate en la primera foto, coloca un alfiler a algunos centímetros antes de la cremallera, ahora puedes ver en la segunda foto como he sujetado con un alfiler encima de la cremalleray mientras la tela de la vista está estirada, la tela del escote del vestido (debajo) hace un bucle, es decir que hay más recorrido de tela en la capa de debajo y la de arriba está estirada... sujeta con alfileres en esta posición...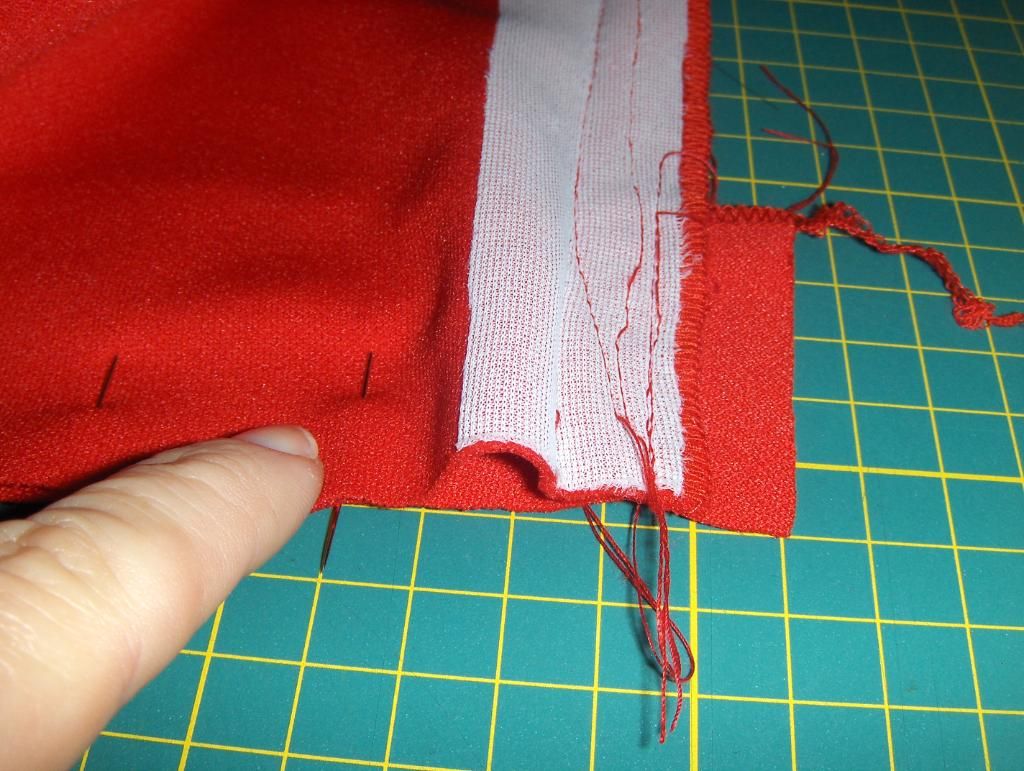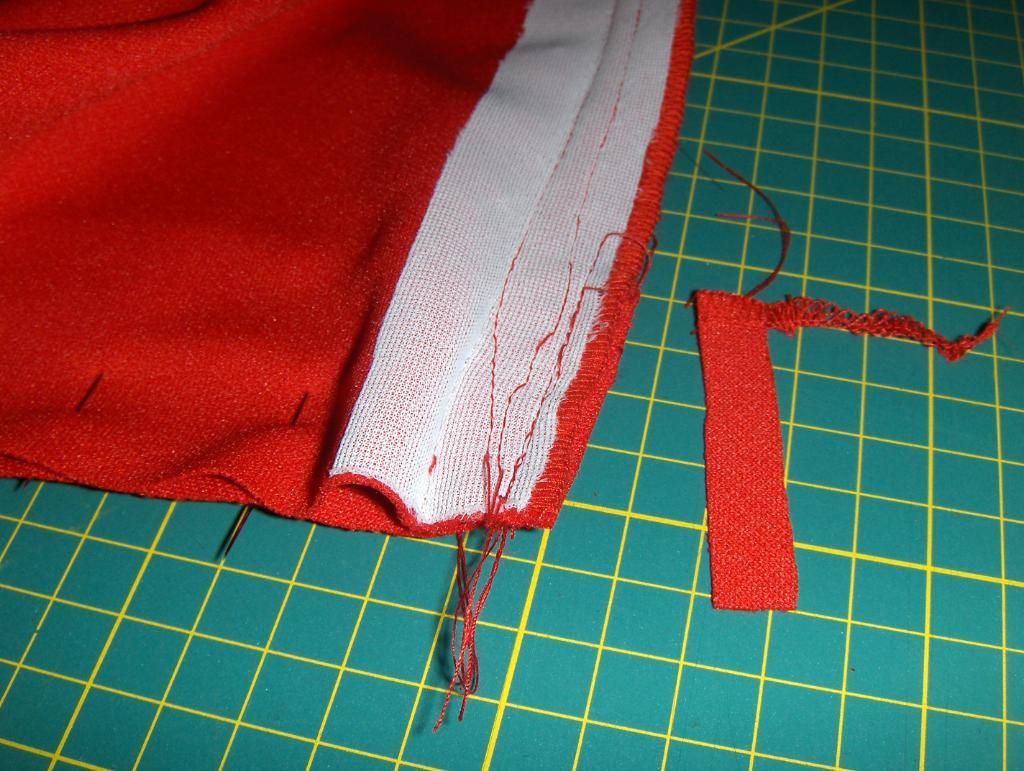 In these pictures you can see it from the bottom side of the fabric and it´s perhaps easier to understand what I mean, once you've got it, you stitch since top to bottom along the edge of the zipper, notice a little leftover of fabric at the inner facing (now below), so after sewing, you can trim the excess fabric as shown in the second photo.
En estas fotos se puede ver desde el lado de debajo de la tela y quizá es más fácil entender lo que te quiero decir, una vez que lo has comprendido, tienes que pasar un pespunte de arriba a abajo siguiendo el borde de la cremallera, notarás que sobra un poquito de tela de la vista (ahora debajo), así que después de coser, puedes recortar este exceso de tela como muestra la segunda foto.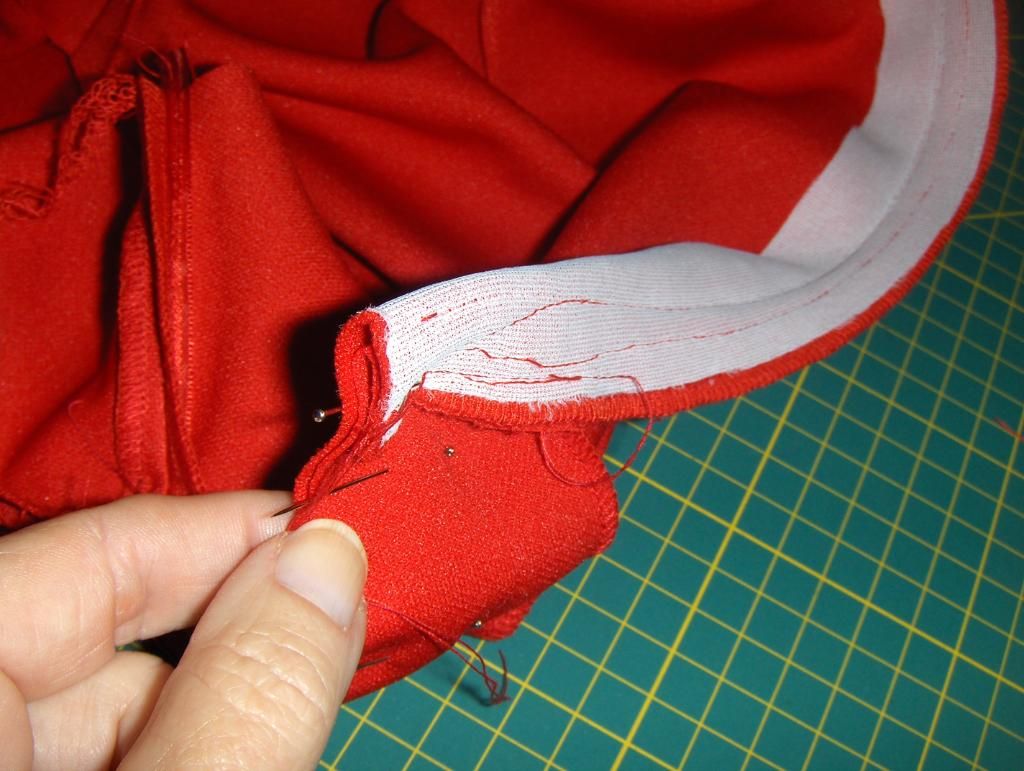 Then simply fold the top edge as shown in the first picture and stitch all the way around the necklineto attach the seam allowance to the dress, checks that the two ends are sewn exactly the same distance from the top, so trim and do bites all around to reduce bulk when you go to turn the inner facing of the neckline. After spending a topstitching... to understand a little more, check out this post.
Después, simplemente dobla el borde superior como muestra la primera foto y pasa el pespunte por todo el contorno del escote para unir las vistas al vestido, controla que los dos extremos se han cosido exactamente a la misma distancia del punto superior, así que recorta y haz piquetes todo alrededor para que no haya mucho bulto cuando vayas a dar la vuelta a las vistas de escote. Después de pasar un pespunte de carga ... para comprender un poco más, echa un vistazo a este post.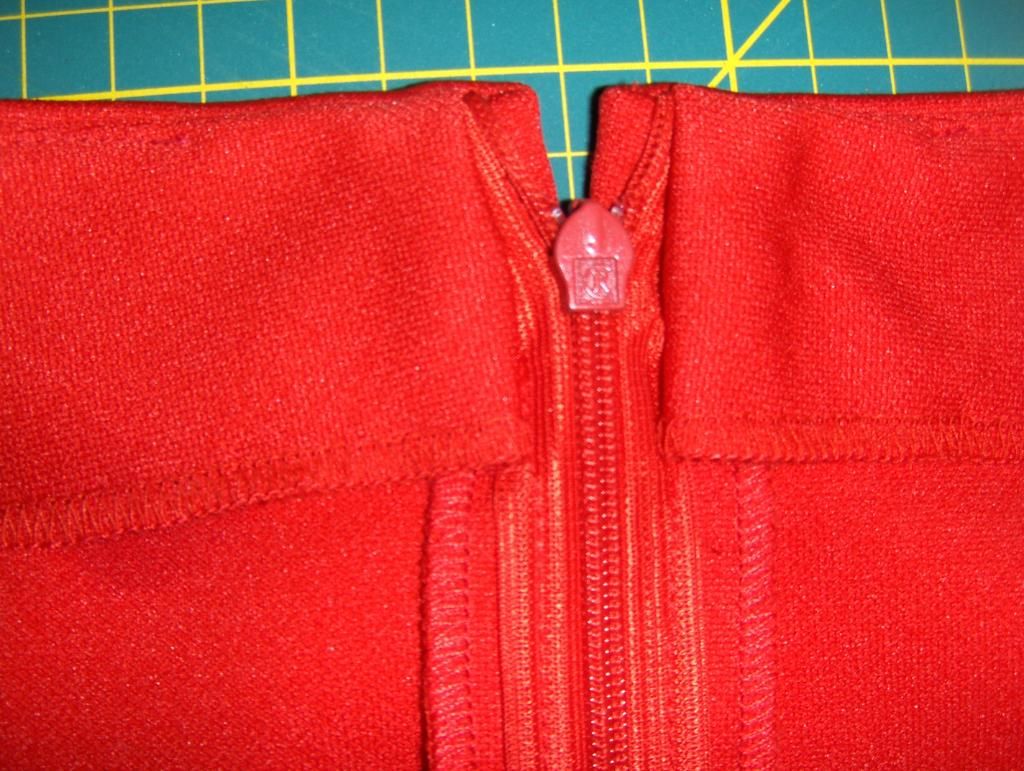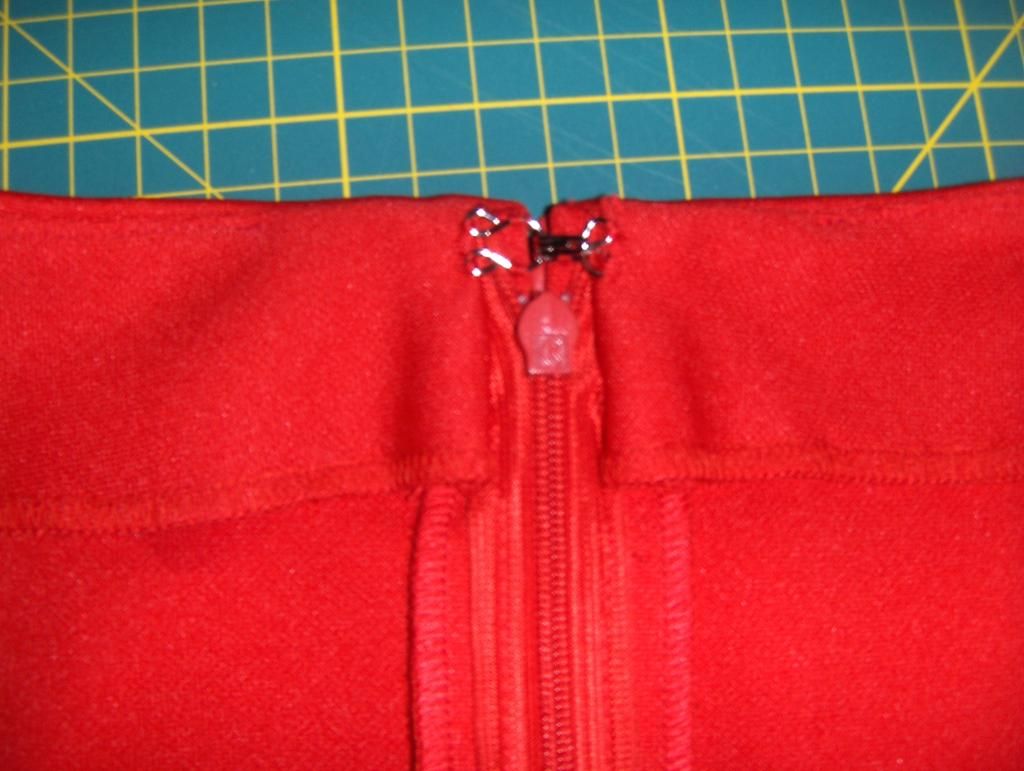 Now we just have to turn on the inner facing of the neckline themselves, secure them with pins and sew hidden stitches to hold the edge of the inner facing to the dress .... ironing carefully and you'll have something like the first picture, you can sew a hook up in the end of the zipper and finish!
Already we are lacking only the sleeves .... Are you excited?
Ahora solamente tienes que girar sobre si mismas las vistas del escote, sujetar con alfileres y coser con puntadas escondidas para sujetar el borde de las vistas al vestido.... plancha con mucho cuidado y tendrás algo como la primera foto, puedes coser un enganche arriba, en el final de la cremallera y acabado!
Ya solamente nos faltan las mangas.... no estás emocionada??