So you need very little to complete our red dress! Then we will see that with some little things that we are done we will enjoy a nice dress.
By now we had been in the previous post checking the bodice of the dress and I had to cut some fabric to open the armhole of mine, so I did it, I cut a few centimeters and went to try it to check it was OK once done it´s time to sew the skirt to the bodice ...
Así que ya falta muy poquito para terminar nuestro vestido rojo!! Enseguida veremos que con algunas pequeñas cosas que nos quedan por hacer vamos a disfrutar de un bonito vestido.
Por ahora nos habíamos quedado en el post anterior probandonos el corpiño del vestido y yo tuve que recortar algo de tela para abrir la sisa del mío, así lo hice, recorté algunos centímetros y volví a probarmelo para comprobar que estaba bien, una vez hecho esto es hora de coser la falda al cuerpo del vestido...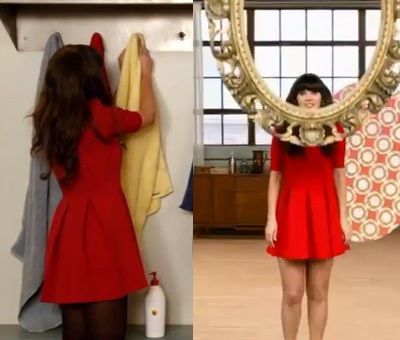 In this picture we can see that her dress has three pleats front and three in the back, sides no pleats, so let's do this ..
.
En esta imagen podemos ver que la falda del vestido tiene tres pliegues delantero y tres en la espalda, en los costados no hay pliegues, así que vamos a hacer lo siguiente...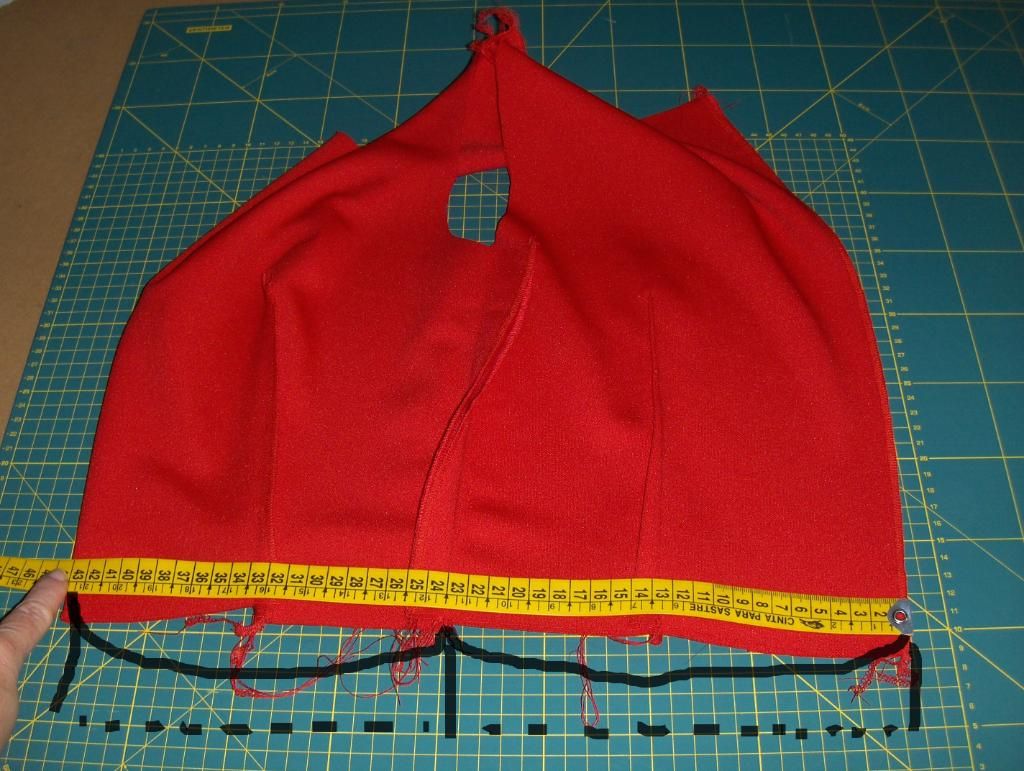 On the table, fold the bodice in half as shown in the photo and measure all the way from the waist including seam allowances, I have in the back 25 centimeters and 22 centimeters in front. Write down your measures ...
Sobre la mesa, doblamos el cuerpo del vestido por la mitad como muestra en la foto y medimos todo el recorrido de la cintura incluyendo los márgenes de costura, yo tengo en la espalda 25 centímetros y en el delantero 22 centímetros. Apunta tus medidas...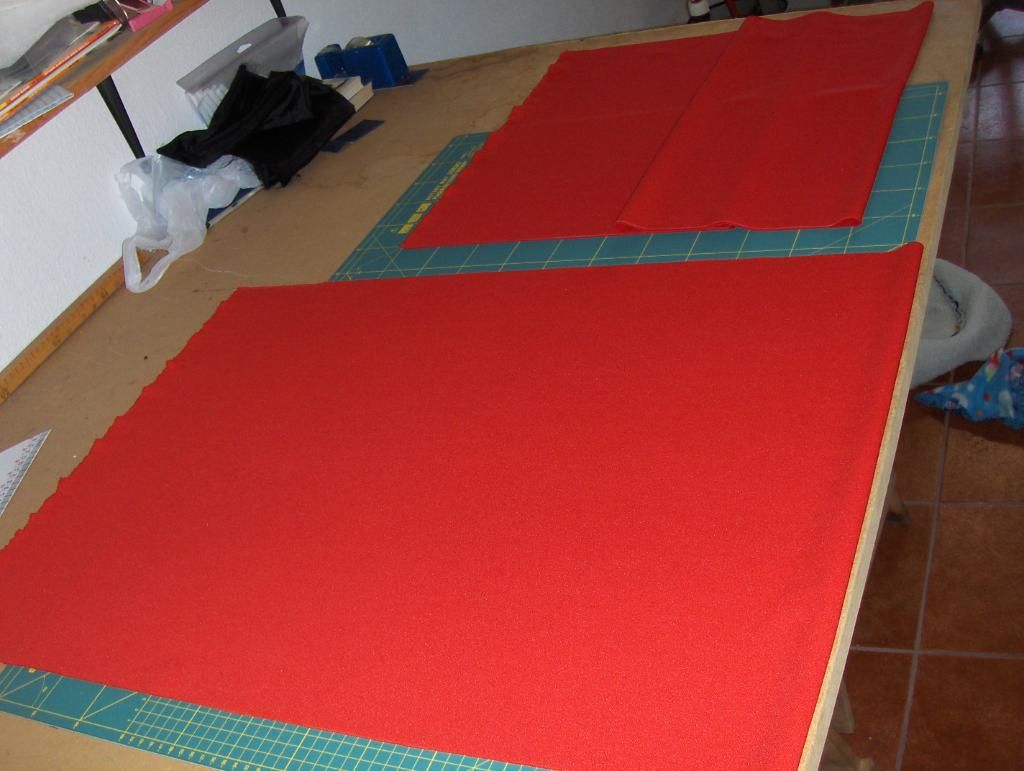 Cut your fabric into two pieces measuring height, the height that you leave your skirt including one centimeter seam allowance for attaching the skirt to the bodice and hem centimeters needed to, and the full width of the fabric, in my if I cut two height skirt 60 centimeters each.
Recorta en tu tela dos trozos que midan de alto , el alto que vas a dejar a tu falda incluyendo un centímetro de costura para unir la falda al corpiño y los centímetros que vayas a dejar de dobladillo, y todo el ancho de la tela, en mi caso he cortado dos altos de falda de 60 centímetros cada uno.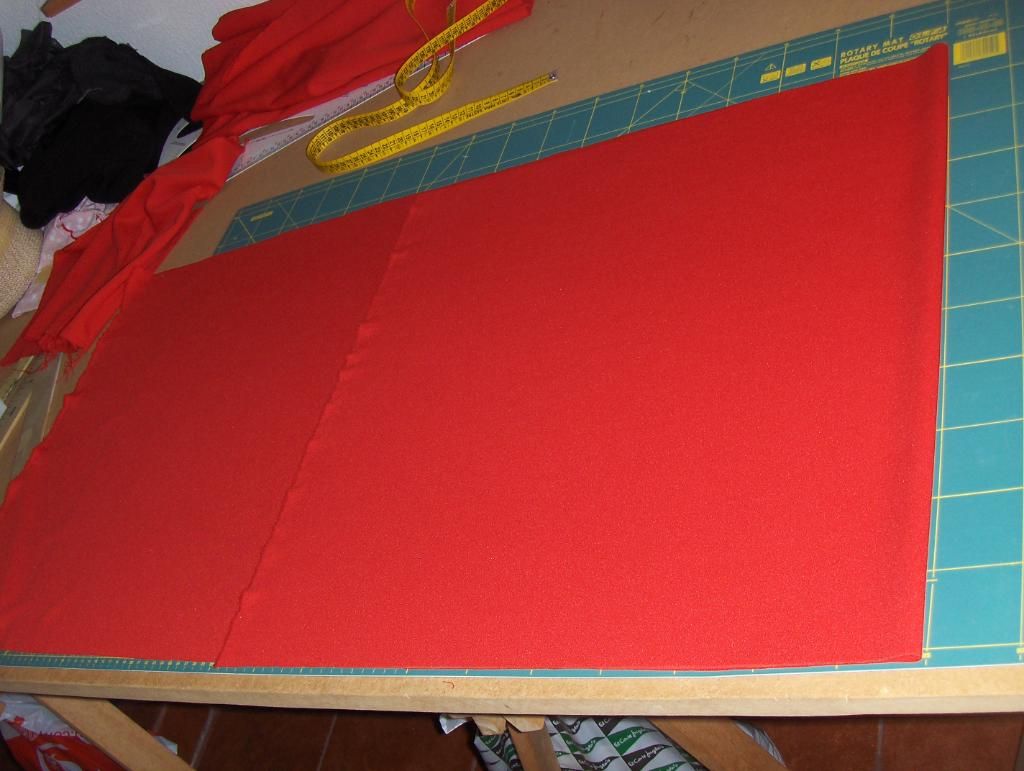 And now let's do a little mathematical operation, we will calculate how much fabric width needed for the front and back of the skirt, so we started by the front, my front bodice measured 22 centimeters, and wide enough to need three pleats running this front, so I'll put 20 centimeters deep in each fold, delivering 10 centimeters on each side of the fold, this means that in the front I need the 22 ct. + 10 ct. a fold + 10 ct. the second fold + 10 ct. the center fold (if you notice, the center crease in the fold of the fabric, so took only 10 ct. because the other 10 ct. they are on the side of the fabric underneath.
So ... 22 + 10 + 10+ 10 = 52 ct. folded fabric (in total 104 ct.)
Hope this makes sense to you, it is really a very easy operation, look at the photo and you'll notice that there is an extra piece of cloth on the side after putting the 52 ct. that I need double ...
Y ahora vamos a hacer una pequeña operación matemática, vamos a calcular cuanto ancho de tela necesitamos para el delantero y la espalda de la falda, así que comenzamos por el delantero, mi delantero del corpiño medía 22 centímetros, además necesito ancho suficiente para los tres pliegues que lleva este delantero, así que voy a poner 20 centímetros de profundidad en cada pliegue, repartiendo 10 centímetros a cada lado del pliegue, esto significa que en el delantero voy a necesitar los 22 ct. + 10 ct. de un pliegue + 10 ct. del segundo pliegue + 10 ct. del pliegue central (si te fijas, el pliegue central está en el doblez de la tela, así que tomamos solamente 10 ct. porque los otros 10 ct. están en el lado de la tela de debajo.
Entonces... 22 + 10 + 10 + 10 = 52 ct. de tela doblada ( en total 104 ct.)
Espero no haberte liado mucho, en realidad es una operación muy fácil , mira la foto y verás que sobra un trozo de tela en el lateral después de haber puesto estos 52 ct. que yo necesito dobles...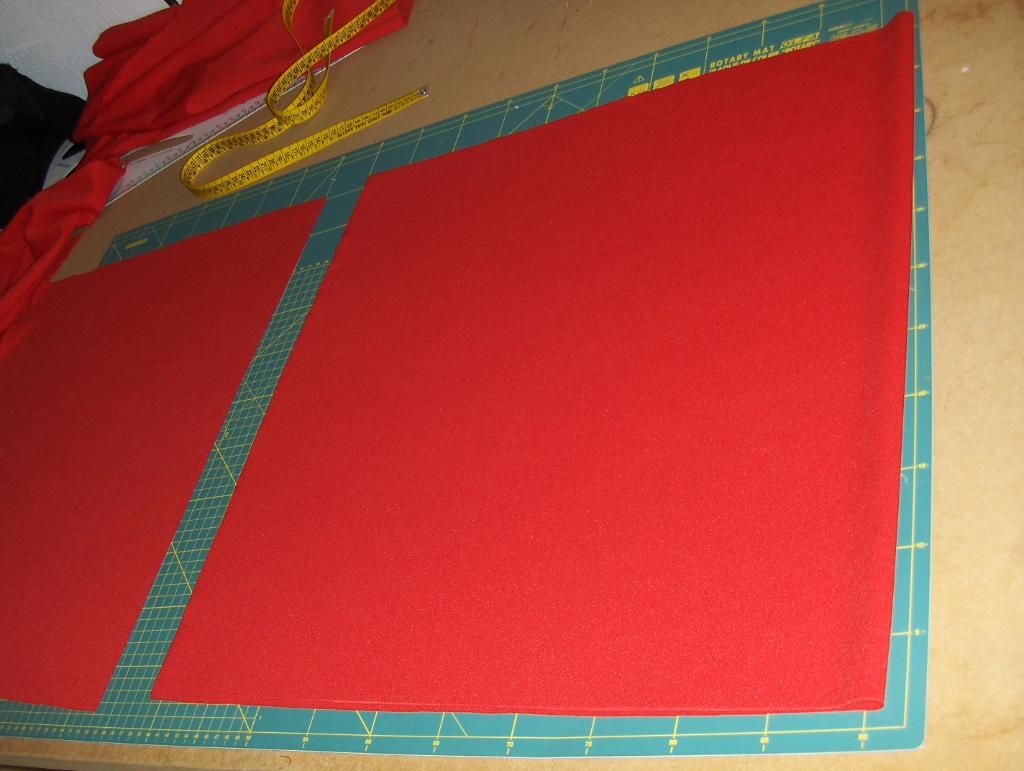 Cut the piece of fabric that will serve us to cut a sleeve ... Now do the same with the other height of the skirt that will go to the back, I remember that I needed back 25 ct. + 10 ct. + 10ct. +10 ct. = 55 ct., Cut the cloth on the side that will serve us for the other sleeve. Now, we need to cut this piece of the back skirt and open it in two pieces, cut along the fold of the fabric. After sewing the three pieces in the center front and back at the sides to form the skirt.
Recorta ese trozo de tela que nos va a servir para cortar una manga... Ahora hacemos la misma operación con el otro alto de la falda que irá destinado a la espalda, recuerdo que en la espalda yo necesitaba 25 ct. + 10 ct. + 10ct. +10 ct. = 55 ct., recorta el trozo de tela en el lateral que nos servirá para la otra manga. Ahora, necesitamos cortar este trozo de la falda de espalda y abrirlo en dos piezas, corta por el doblez de la tela. Después cose las tres piezas con el delantero en el centro y las espaldas en los laterales para formar la falda.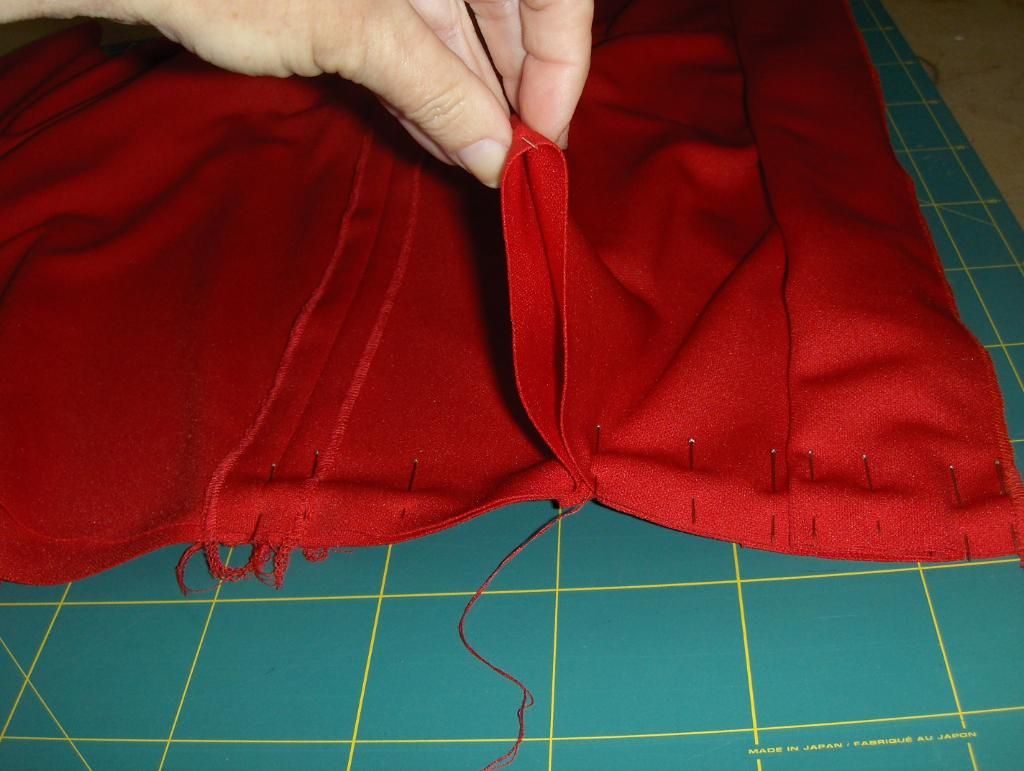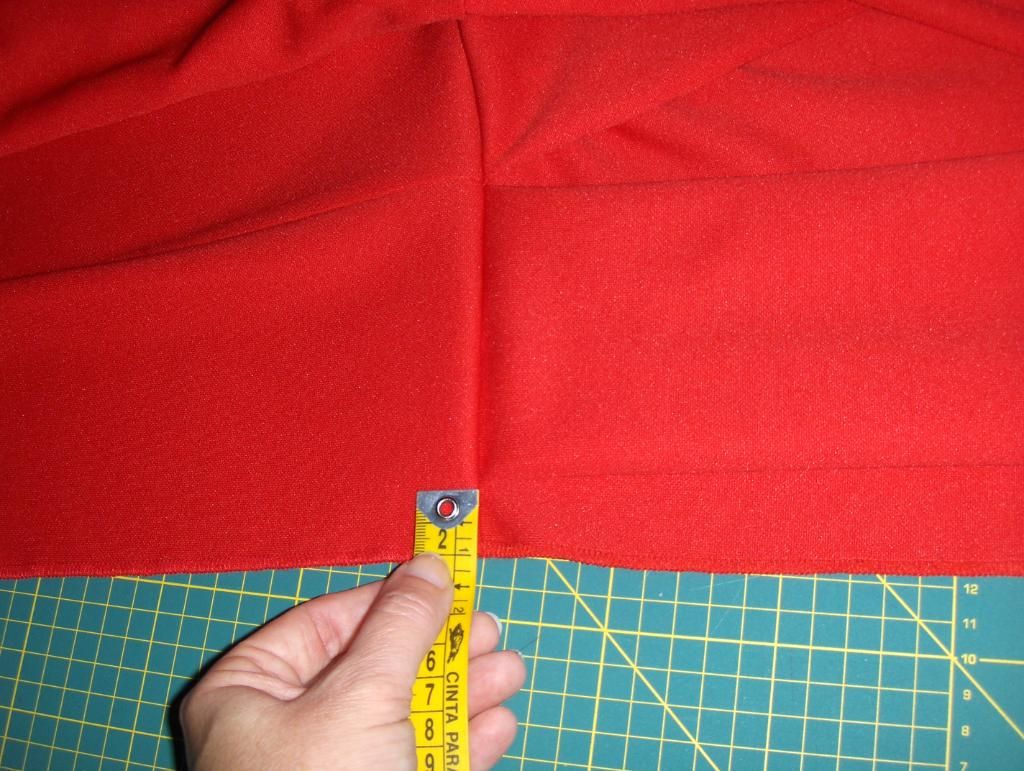 The rest is pretty easy, distributes the fabric and make a fold of 20 ct. matching seams darts front and back, plus a fold in the front center and a half fold back on each side of the rack where it will go. The latter folds not just put in the path of the zipper, but half a centimeter away from it so you will not have problems with the zipper.
El resto es bien fácil, reparte la tela y haz un pliegue de 20 ct. que coincidan con las costuras de las pinzas del delantero y la espalda, un pliegue más en el centro delantero y medio pliegue en la espalda a cada lado de donde irá la cremallera. Estos últimos pliegues no los pongas justamente en el recorrido de la cremallera, sino medio centímetro apartado de ella para que después no tengas problemas con la cremallera.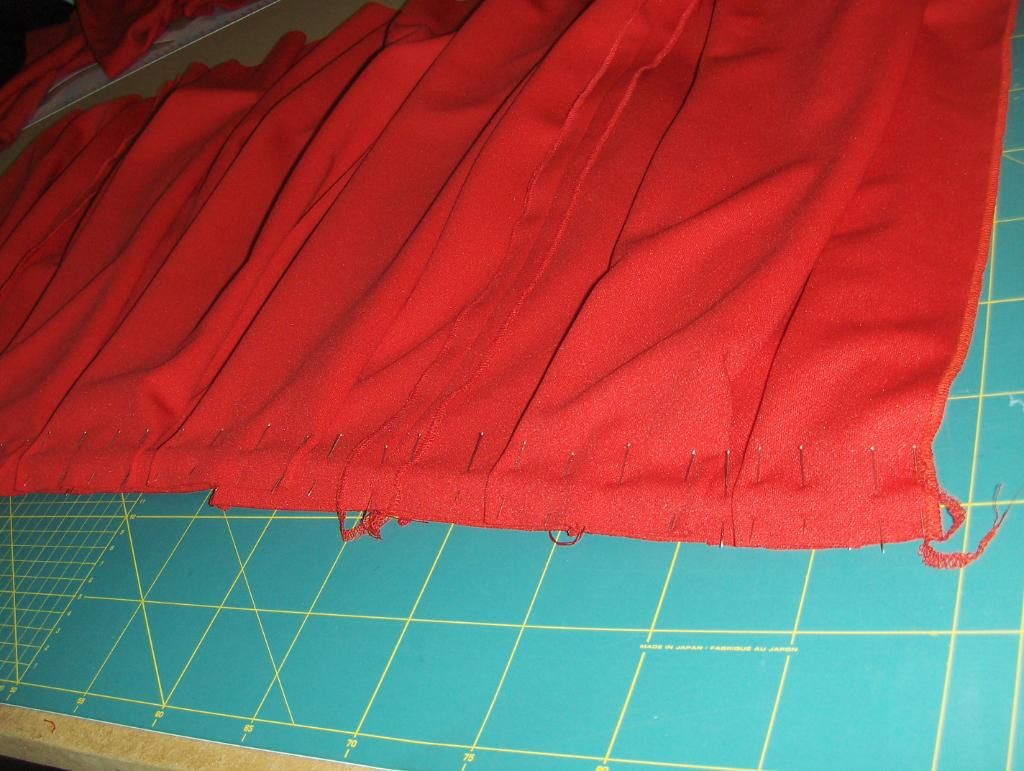 Once well distributed all folds and verified that all is well, it is time to go to the sewing machine and stitch, overlock the seam and then iron the seam allowance.
Una vez bien repartidos todos los pliegues y comprobado que todo está bien, es hora de ir a la máquina de coser y pasar pespunte, después remalla la costura y plancha el margen de costura.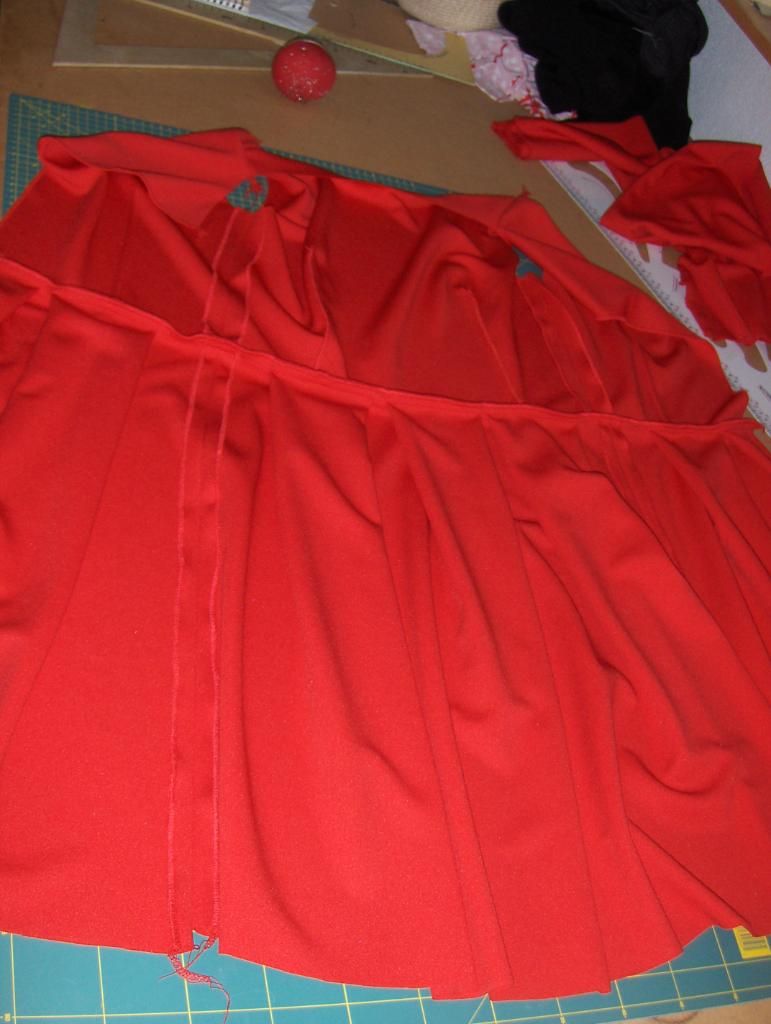 We already have something like this photo has been easy, right??? It´s less, we will sew the invisible zipper to our dress now ..
.
Ya tenemos algo parecido a esta foto, ha sido fácil, verdad??? Ya queda menos, ahora vamos a coser la cremallera invisible a nuestro vestido...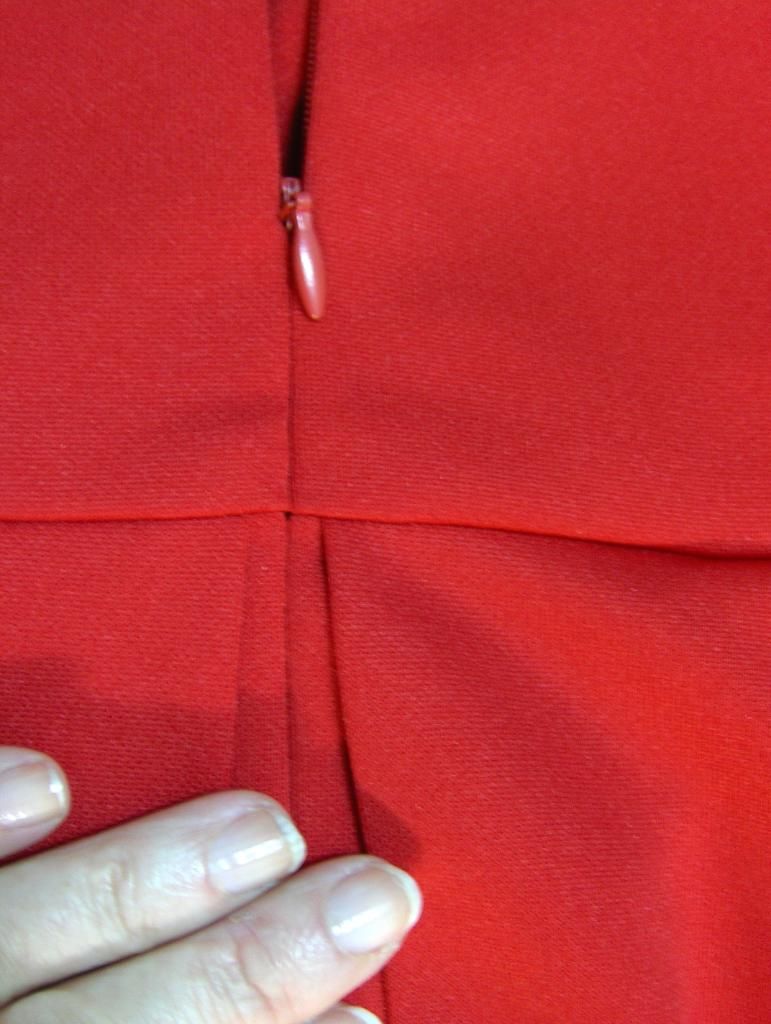 Now we will use a small tip to prevent that the zipper stretch the knit fabric, we only have to cut two strips of knitted interlining, this is a fusible interlining, is very thin and malleable, but will help the zipper does not stretch the knit fabric to go with the sewing machine and just right. as we have a seam allowance of two centimeters in the center back, let's cut the strips three centimeters wide and long the same as our zipper, we stuck with the iron and then sew the piece of the skirt from the zipper down, we are going to focus in this post to sew the zipper, and we are very close to the end ....
Ahora vamos a utilizar un pequeño truco para evitar que la cremallera estire la tela de punto, solamente tenemos que cortar dos tiras de entretela de punto, esta entretela es termoadhesiva, es decir que se pega con la plancha y es muy delgada y maleable, pero ayudará a que la cremallera no estire la tela de punto al ir cosiendo con la máquina y quede perfecta. como tenemos un margen de costura de dos centímetros en el centro de espalda, vamos a cortar las tiras de tres centímetros de ancho y de largo el mismo que nuestra cremallera, las pegamos con la plancha y después de coser el trozo de la falda desde la cremallera hacia abajo, nos vamos a fijar en este post para colocar la cremallera, ya estamos muy cerquita del final....