It´s beautiful!! When I finished the last knit jumper, I proposed me knitting more items this year, I´m a very slow knitter ... but I love it and I can almost classify knitting needles as another vice of mine, I always think that the time I spend on knitting some rows, I would may finished half sewing dress ... it's so!, so forward with the purpose of this year, I've updated some old projects in Raverly and I started with this lovely jumper, prelude to spring, when the birds begin to migrate back home ....
.
No es precioso!!!! Cuando yo terminé de tejer el último suéter, yo me propuse tejer más en este año, soy una tejedora muy lenta... aunque me gusta mucho y casi puedo clasificar las agujas de tejer como otro vicio de los míos, siempre pienso que el tiempo que gasto en tejer algunas vueltas, seguramente ya tendría medio vestido acabado... no puedo evitarlo!, así que siguiendo adelante con el propósito de este año, yo he actualizado algunos viejos proyectos míos en Raverly y he comenzado con este precioso suéter, preludio de primavera, cuando los pájaros comienzan a emigrar de nuevo a casa....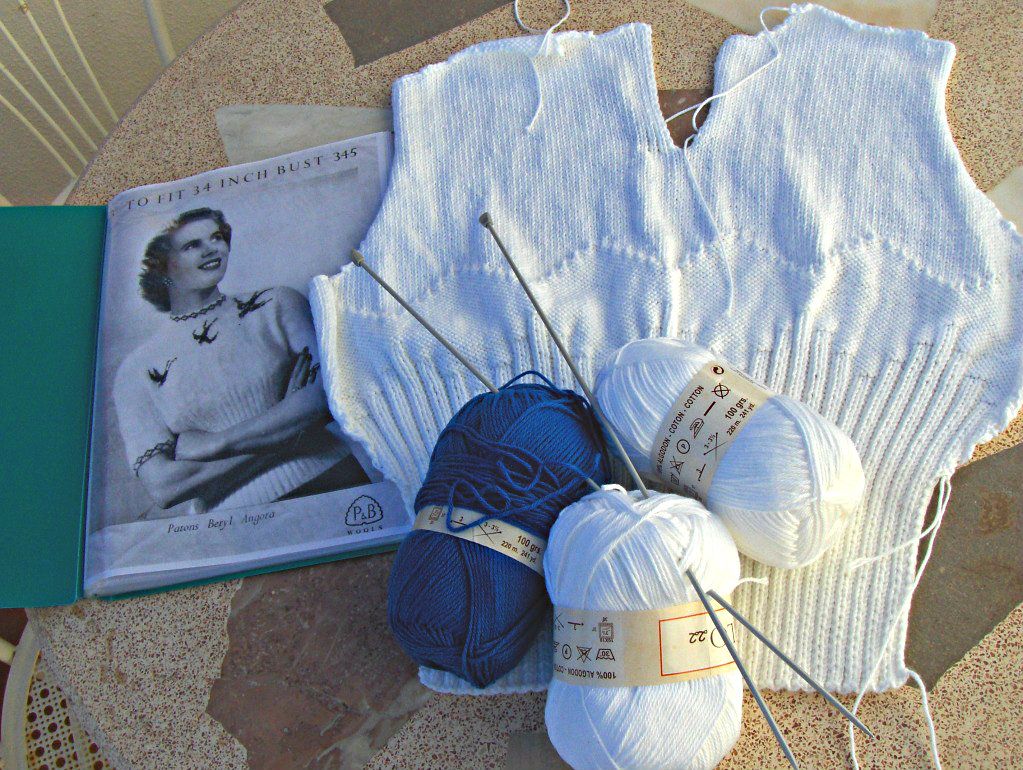 This pattern is really very easy and fast, you can quietly knitting while enjoying a relaxing time with an old movie, the last one added to my collection was "Guys and Dolls" 1955, It´s gorgeous! with Marlon Brando and my beloved Frankie Blue Eyes (Frank Sinatra).
Realmente este patrón es muy fácil y rápido , puedes tejer tranquilamente mientras disfrutas de un rato de relax con una película antígua, la última añadida a mi colección ha sido "Ellos y ellas", una preciosidad de 1955, con Marlon Brando y mi adorado Frankie Ojos Azules (Frank Sinatra).
And so, foolishly
, I completed the jumper back! The pattern is free if you are a member of Raverly, if you have not, go now ... because there are real inspirations, lots of free patterns and lots of great people, you can find me here, do not forget to say "Hello"!
Y así, un poco a lo tonto, ya he completado la espalda del suéter!! El patrón es gratis si ya eres miembro de Raverly, si aún no lo eres, ya estás tardando... porque hay auténticas inspiraciones por allí, montones de patrones gratis y mucha gente genial, puedes encontrarme aquí, no te olvides de decir " Hola"!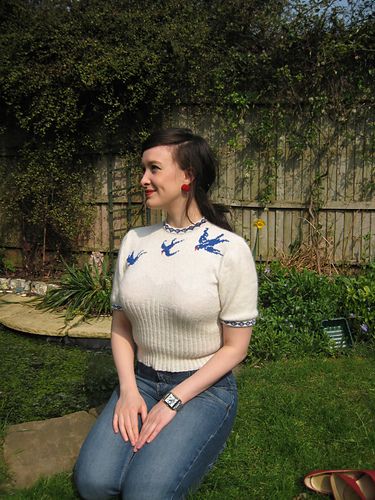 This is a picture borrowed from here, so you can see the jumper in all its glory after the end ... The original pattern suggests using angora wool, but considering the warm weather where I live, I used cotton balls, soft and fresh ... needlework being of 2.5 and 3, and it´s a pleasure ... The added bonus of this pattern is original early 50s ... What do I can ask else? You have all the details of the pattern here.
Do you cheer???
Esta es una foto tomada prestada de aquí, para que puedas ver el suéter en todo su esplendor una vez finalizado... el patrón original sugiere utilizar lana angora, pero teniendo en cuenta el clima cálido donde yo vivo, he utilizado ovillos de algodón, suave y fresco... está siendo tejido con agujas del 2.5 y 3 , y es un auténtico placer... el añadido extra para conseguir enamorarme definitivamente fué que este patrón es original de principio de los años 50... Qué más puedo pedir?? Tienes todos los detalles del patrón aquí.
Te animas???