A long time ago I discovered that the Internet is a wonderful source of friendship, good fellowship and compartment, I can not say anything bad about it so far, it only brought cheerfulness to my life and good feelings ...
And today it happened again!
Hace mucho tiempo que he descubierto que Internet es una maravillosa fuente de amistad, buen compañerismo y compartimento, no puedo decir nada malo de ello hasta ahora , solamente ha traído a mi vida alegría y buenos sentimientos ...
Y hoy ha vuelto a suceder!!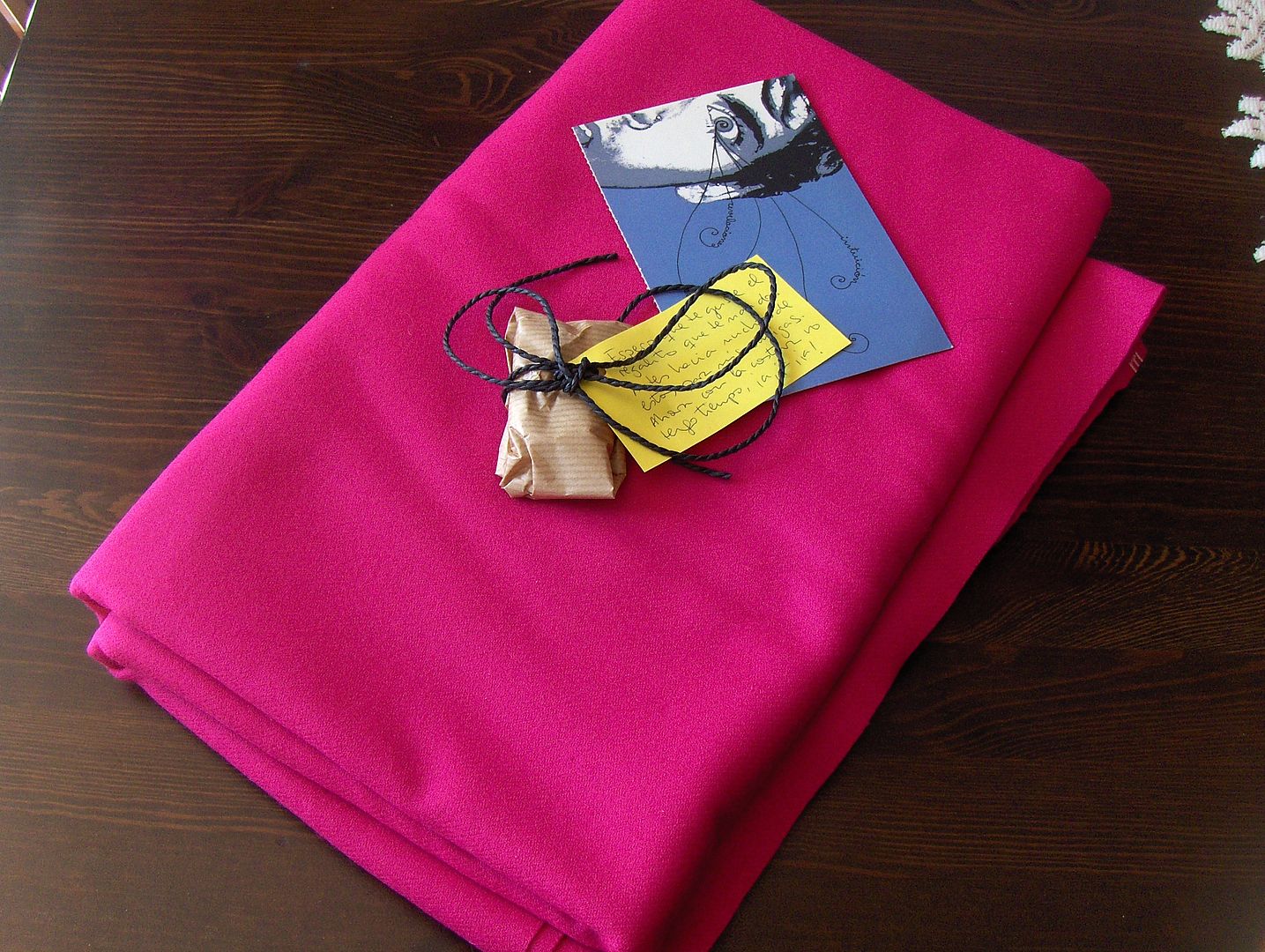 This morning upon returning from work at home I found a package that had brought the postman in my absence ... to begin at the beginning, I have to go back to the costumes of Sew Along of "New Girl" that we have in this blog with many dear friends who have joined this little adventure, but I was totally in love with a fuchsia coat that wore Jess in one of the chapters, it was impossible for me to find this color wool in this small island where I live, even I was looking online to look if the desired wool fuchsia appeared somewhere, but nothing ....
I had begun to think that I could not possibly to cover the challenge of this beautiful coat when my dear Maider appeared on the scene, the blog "Masustak eguskitan" ... she told me via email that she had bought the wool fuchsia and hoped excited to start with the coat ... so in my head was kindled a little idea and I told her if she could buy the fabric for me and send it to my home ... well, I have to say that this girl is a heaven! I've taken more longer time to say it than what she took to buy the fabric and today I have it in my possession .... Oh, I'm the luckiest girl!!!
Esta mañana al volver del trabajo encontré en casa un paquete que había traído el cartero en mi ausencia... para comenzar por el principio, tengo que remontarme al Sew Along del vestuario de "New Girl" que tenemos en perspectiva en esta blog con muchas queridas amigas que se han sumado a esta pequeña aventura, si bien yo estaba totalmente enamorada de un abrigo fucsia que Jess lucía en uno de los capítulos era imposible para mi encontrar lana de este color en esta pequeña isla donde yo vivo, incluso estuve buscando online por ver si aparecía la ansiada lana fucsia por algún sitio, pero nada....
Había empezado a pensar que me sería imposible cubrir el reto de este hermoso abrigo cuando apareció en escena mi querida Maider, del blog "Masustak eguskitan"... ella me comentó via email que ya había comprado la lana fucsia y esperaba emocionada para comenzar con el abrigo... así que en mi cabeza se encendió una pequeña idea y yo le comenté si ella podría comprar la tela para mi y enviarla a mi casa... bien, tengo que decir que esta chica es un cielo!! He tardado más en decirlo que lo que ella tardó en comprarla y hoy tengo la tela en mi poder.... Oh, no soy la chica más afortunada??
And if that were not enough, also I find in the package a beautiful brooch handmade by her that it will goes great for this same coat and beautiful words dedicated to me! I am so happy!
Y por si esto fuera poco, además me encuentro en el paquete un hermoso broche hecho a mano por ella que irá genial para este mismo abrigo y unas hermosas palabras dedicadas a mi!!! Yo soy tan feliz!!!
So in this fun barter I offered to send to her the same amount of red wool, it´ll complement the other red coat costume Jess .... though the picture does not do justice to the color, I assure you that this red is more pop .
Así que en este divertido trueque, yo me ofrecí a enviarle a ella la misma cantidad de lana roja para completar el otro abrigo rojo del vestuario de Jess.... aunque la foto no hace justicia al color, yo te aseguro que el color rojo es más vivo en realidad.
Then I can officially say that this coat will be the next garment our Sew Along!
Do you cheer up to sew it with us??? My mother, as I'm excited! Thanks Maider, you will never know how happy you made me!
Entonces yo puedo decir oficialmente que este abrigo será la siguiente prenda de nuestro Sew Along!!!
Te animas a coserlo con nosotras??? Madre mía, que emocionada estoy!!! Gracias Maider, no sabrás nunca lo feliz que me has hecho!!!