Am I happy???? That is bit!! I am very, very happy!
Last year I discovered a page where they are scanned many Burda magazines since 1950, although there are no pictures of the first magazine that corresponds to January of that year. The magazines available for our enjoyment begin in the month of February ... so being the decade of the 50s my favorite period of fashion, it isn´t surprising that when I discovered that I dreamed of making some beautiful models of these magazines ...
If at this time of year we are dedicated to do resolutions for the rest of the year, and most humans think at doing exercise more, lose some kilos or quit smoking .... (I don´t smoke), most of what I aspire to in this coming year is to knit more .... I am a sooooooo slow knitter .... and make some of the models of these magazines ... those are my resolutions for the New Year ... What do you think?
Que si estoy contenta???? Eso es poco decir!!!! Estoy muy, muy contenta!!!
El año pasado yo descubría una página donde se encuentran escaneadas muchas revistas Burda desde el año 1950, aunque no hay imágenes de la primera revista que corresponde a Enero de ese año. Las revistas disponibles para nuestro disfrute comienzan en el mes de Febrero... así que siendo la década de los 50s mi periodo favorito de moda no es de extrañar que cuando yo descubrí esto soñé con hacer algunos modelos de estas hermosas revistas...
Si en estas fechas del año nos dedicamos a hacer propósitos para el resto del año, y la mayoría de los humanos piensan en hacer más ejercicio, bajar algunos kilos o dejar de fumar.... (yo no fumo), lo más a lo que yo aspiro en este año que comienza es a tejer más.... soy una tejedora muuuuuuy lenta.... y a hacer algunos de los modelos de estas revistas... esos son mis propósitos para el Año Nuevo... qué te parece??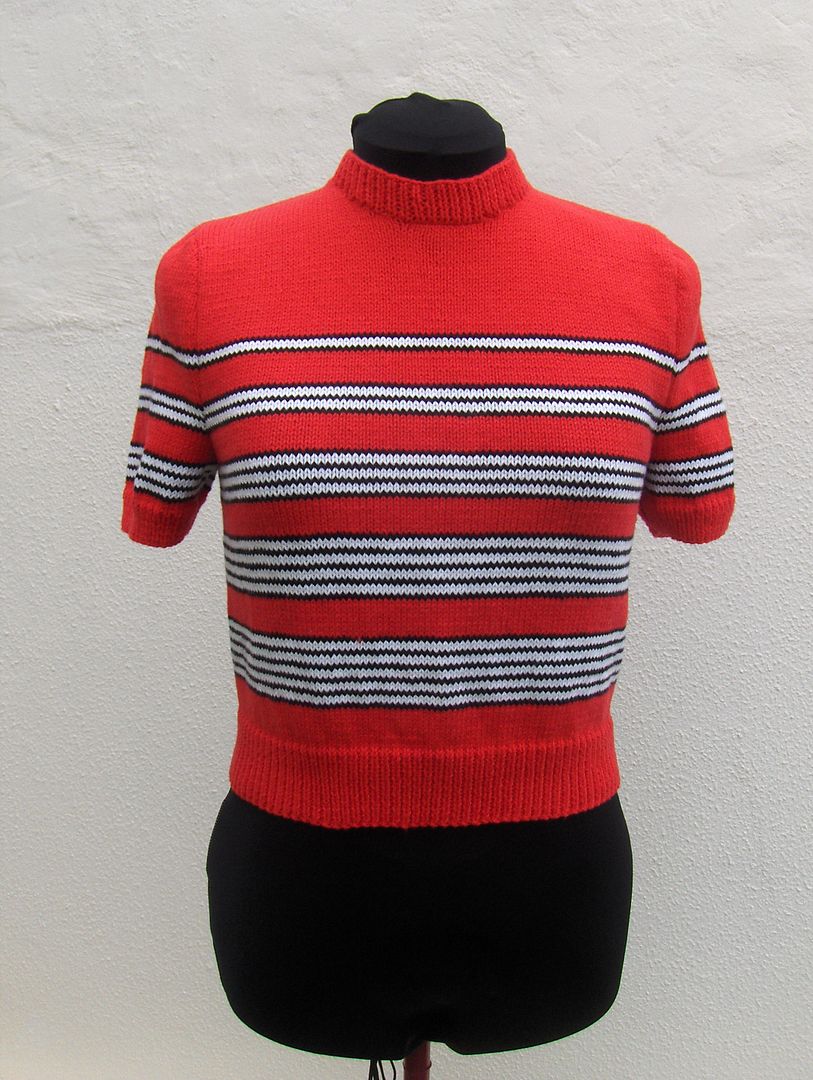 This delicious decreasing striped sweater appeared on the back cover of the magazine Burda March 1950 and although the original one is knitted in red, brown and white ... I chose to change brown to black in preference to wear this sweater with my pants with taste to the 40s, this will give you an idea of ​​how long they have been waiting most of my projects on my wish list .... we must go back to April, 2012 ... to see the beginning of this sweater on my needles ....
Este delicioso suéter a rayas decrecientes salió en la contraportada de la revista Burda de Marzo de 1950 y aunque el original está tejido en rojo , marrón y blanco... yo opté por cambiar el marrón con el negro en preferencia a usar este suéter con mi pantalón con sabor a los 40s , esto te dará una idea de cuanto tiempo llevan esperando la mayoría de mis proyectos en mi lista de deseos.... tenemos que remontarnos a abril del 2012 ... para ver el comienzo de este suéter en mis agujas....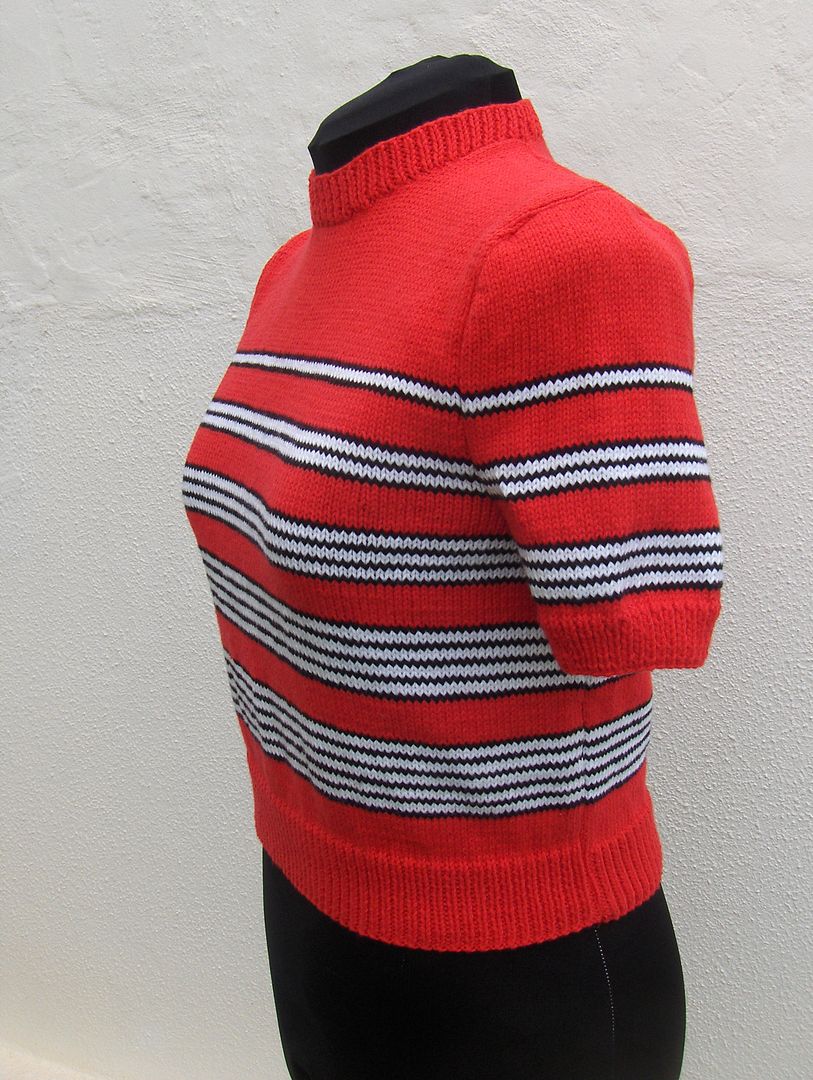 I don´t know German language, so I have not really followed the pattern of the magazine, I just knitted in stockinette stitch following my instinct and tasting occasionally to get the sweater had the same appearance as the magazine, it isn´t difficult because it´s a very simple sweater, decreasing striped bands offer fun as the project progresses ....
No entiendo ni patata de Alemán, así que en realidad no he seguido el patrón de la revista, simplemente he tejido en punto jersey siguiendo mi instinto y probando de cuando en cuando para conseguir que el suéter tuviera el mismo aspecto que la revista, lo que no es difícil porque en realidad es un suéter muy simple, la diversión la ofrecen las bandas de rayas en decreciente según va avanzando el tejido....
So I invented in the back ... when I realized that the neckline of the sweater so closed, I figured should be done some opening in the back for coming through my head ... Ohhh ...Is not cute???
Así que yo he inventado en la espalda... cuando me dí cuenta que el escote del suéter es tan cerrado, imaginé que habría que hacer alguna abertura en la espalda para que entre por mi cabeza... Ohhh... no es lindo???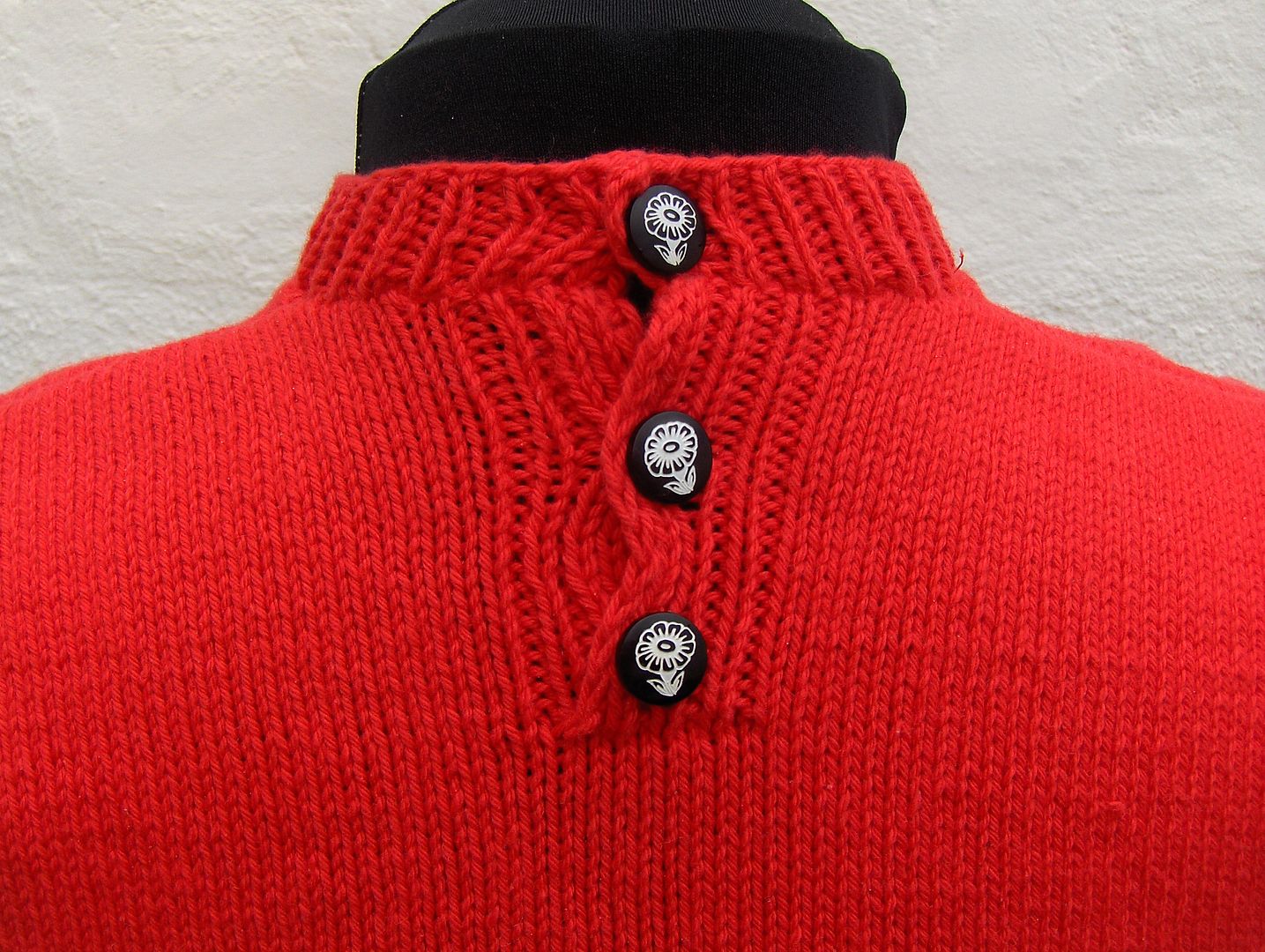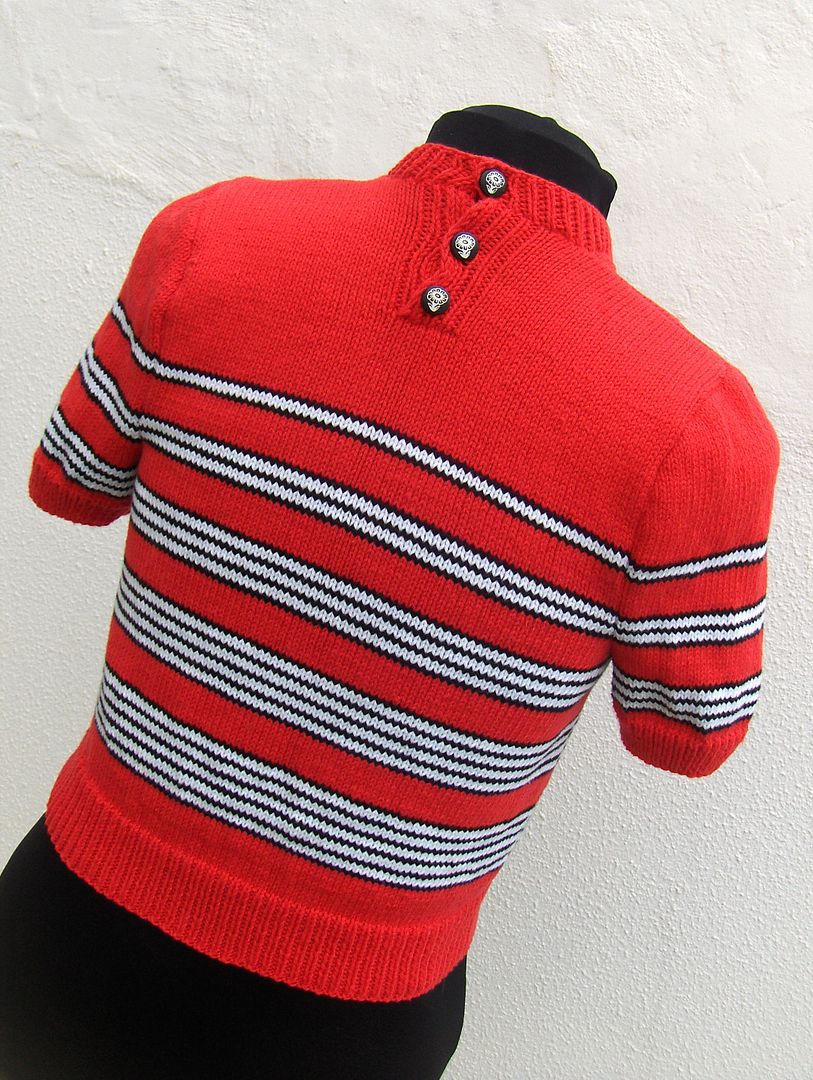 I'll try to take some pictures with the two pieces together, "Striped Sweater" and my pants with taste of 40s .... Although the first thing will be a post with all dresses of all participants in the latest Sew Along ... I have some photos of the wonders which you have made ... so if you've finished your dress, give me a notice to include you in the post, please ....
Intentaré sacar algunas fotos con las dos piezas juntas, "Striped Sweater" y mi pantalón con sabor a los 40s.... aunque lo primero será un post con todos los vestidos de las participantes en el último Sew Along... ya tengo algunas fotos de las maravillas que han hecho ... así que si has terminado tu vestido, dame un aviso para incluirte en el post, por favor....