This may seem joke, because of the image that heads this post and the image of the first test of our muslin there is more than a world of difference ... I'd say there's a universe of difference!
But we will not let ourselves be discouraged by a muslin .... Note that this is not a commercial pattern where everything is given fact, it is a complete learning as altering our own patterns on our body, that gives us a world of possibilities for any garment that we set with these patterns garment become perfectly adjusted to our particular body, so let's take a quick look at the muslin that will lead the way to our coat dreamed ...
Esto puede parecer cachondeo, porque de la imagen que encabeza este post y la imagen de la primera prueba de nuestra muselina hay algo más que un mundo de diferencia... yo diría que hay un universo de diferencia!!!
Pero no vamos a dejarnos desalentar por una muselina.... Ten en cuenta que esto no es un patrón comercial donde todo se nos da hecho, es un completo aprendizaje de como modificar nuestros propios patrones sobre nuestro cuerpo, eso nos da un mundo de posibilidades para que cualquier prenda que nos propongamos con estos patrones se conviertan en la prenda perfectamente ajustada a nuestro cuerpo en particular, así que vamos a echar un vistazo rápido a la muselina que nos llevará de camino a nuestro abrigo soñado...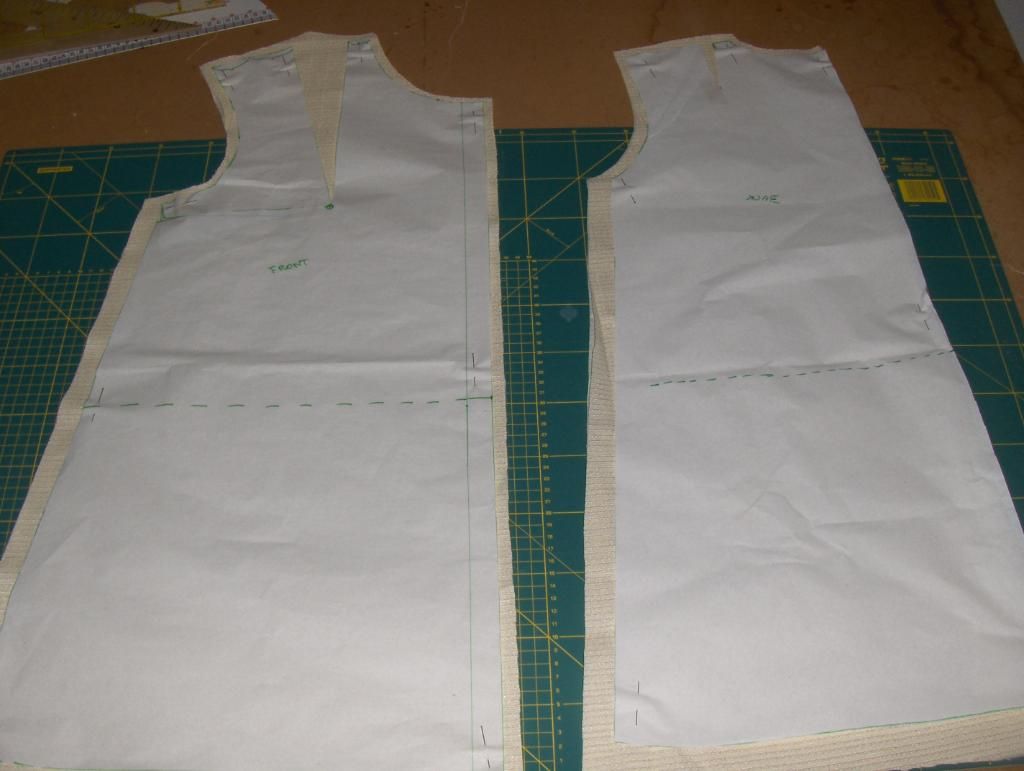 First cut the front and back pieces in any fabric we have out there with no particular purpose in this muslin going to make all the changes we need to coat the perfect fit to your body, the most fun of muslin is that it can write or draw whatever is appropriate to reach the final adjustment, a small tip is used to sew the muslin around the wire the reels surplus that is left out there, every time I sew a garment and the leftover thread bobbin is not necessary to empty them (what a hassle), so when we sew the muslin is a good time to use that thread that is left for this coil or such other and thus emptied. You can sew a muslin with threads of different colors, it will not matter what!
Well, I cut the pieces and have left two centimeters of seam allowance on the sides. In the shoulderNeckline, armholes and front center I left one centimeter margin at the hem and I left three centimeters. Remember that the piece goes back on the fold of the fabric.
Once cut the pieces look at the second photo, I have placed some pins along the lines of intersection in the center front pattern, you have to push that line the muslin cloth to keep it in the guide it's time to test our muslin to do this ...
En primer lugar cortamos las piezas de delantero y espalda en cualquier tela que tengamos por ahí sin uso determinado, en esta muselina vamos a hacer todos los cambios que necesitemos para el perfecto ajuste del abrigo a nuestro cuerpo, lo más divertido de una muselina es que en ella podemos escribir o dibujar lo que sea adecuado para llegar al ajuste final, un pequeño truco es utilizar para coser la muselina todo el hilo sobrante de las canillas que va quedando por ahí, cada vez que coso una prenda y me sobra hilo en la canilla no es necesario volver a vaciarlas (lo que es un rollo patatero), así que cuando cosemos la muselina es un buen momento para usar ese hilo que va quedando por esta canilla o aquella otra y vaciarlas de este modo. Puedes coser una muselina con hilos de diferentes colores, que no va a importar nada!
Bien, he cortado las piezas y he dejado dos centímetros de margen de costura en los laterales. En el hombro, escote , sisas y centro delantero he dejado un centímetro de margen y en el dobladillo he dejado tres centímetros. Recuerda que la pieza de espalda va sobre el doblez de la tela.
Una vez cortadas las piezas fíjate en la segunda foto, he colocado algunos alfileres siguiendo la linea del centro de cruce en el patrón delantero, esa linea hay que trasladarla a la tela de la muselina para tenerla de guía en el momento de probar nuestra muselina, para ello...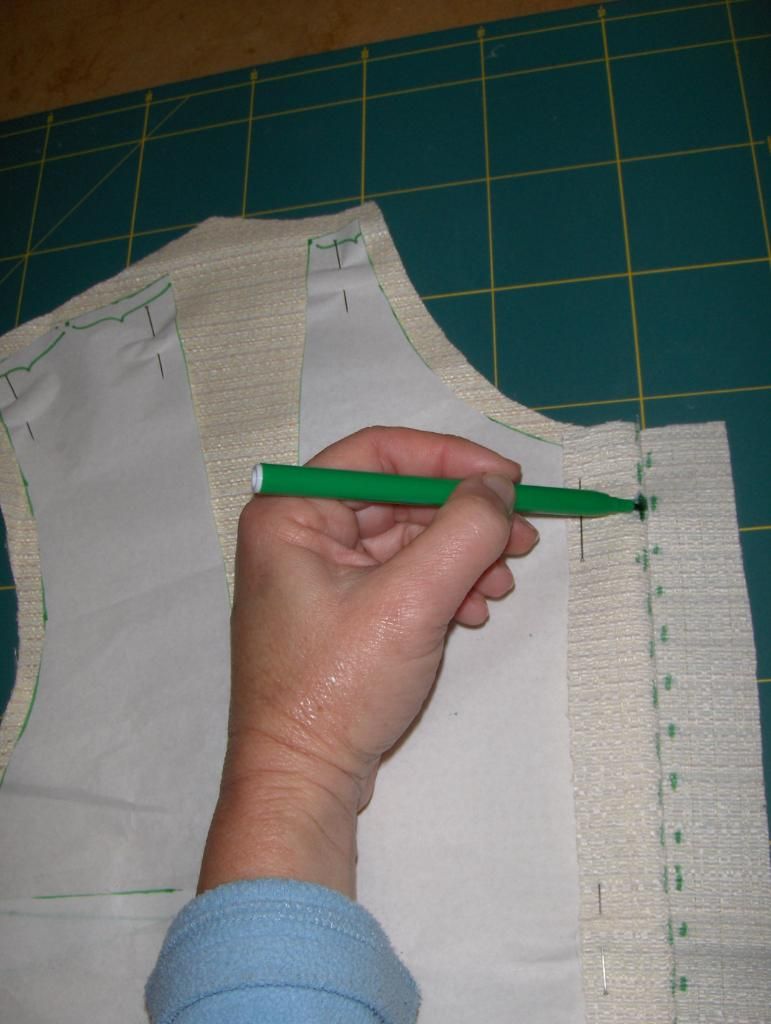 I opened the central seam allowances just by folding the fabric where the pins, so we are looking at the good side of the pieces, we can make all that centerline crossover from neckline to hem in the two pieces of fabric .
After this, you can mark the darts to sew them as shown in this tutorial and finish sewing the muslin.
He abierto los márgenes centrales de la tela doblando justamente por donde están los alfileres, así tenemos a la vista el derecho de las piezas, podemos marcar toda esa linea central de cruce desde el escote hasta el dobladillo en las dos piezas de tela.
Después de esto, ya puedes marcar las pinzas para coserlas como muestra este tutorial y terminar de coser la muselina.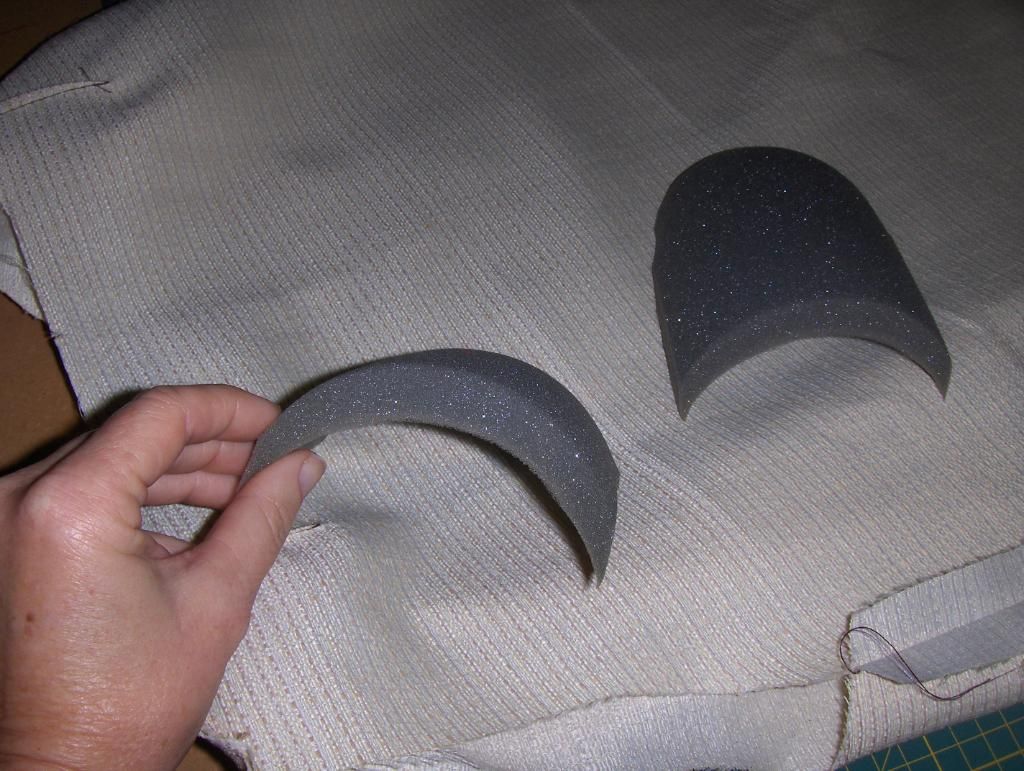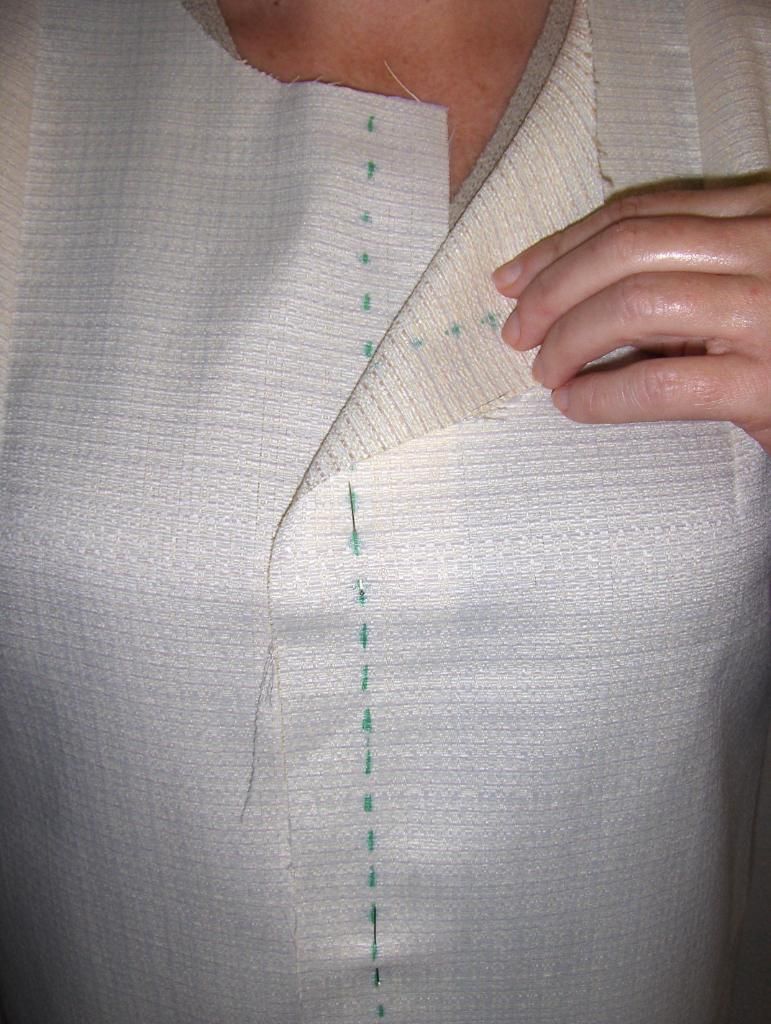 Now we should look for our cave sewing small shoulder pads, I know many do not like pads, but in a coat that is a must!! Although they are tiny! If you look at the coats and jackets all pads have incorporated that change with the fashions, spoken or larger and small and unobtrusive, but this is part of a coat and helps to achieve this elegant silhouette.
Now you can try on the muslin, for that you must keep in mind a few things .. since the coat is a garment that always be used on other items, this should be loose enough to be comfortable underneath clothes, so try it with what you're going to use, that is ... I live in a warm climate and probably more that I will use will be under a blouse or shirt, if you live in a cold climate and plan to use the coat on a sweater, then do this test with a sweater underneath.
To simulate the coat buttoned, ie the coat closed with buttonholes and buttons ... we will match the two lines we have drawn in pen before the front and we stick pins to close as shown in the second photo.
Ahora deberíamos buscar por nuestra cueva de costura unas hombreras pequeñas, ya se que a muchas no nos gustan las hombreras, pero en un abrigo esto es imprescindible!! Aunque sean pequeñitas! Si te fijas en los abrigos y chaquetas todos tienen hombreras incorporadas que van cambiando con las modas, más grandes y pronunciadas o pequeñas y discretas, pero esto es parte de un abrigo y ayuda a conseguir esa silueta elegante.
Ahora puedes probarte la muselina, para ello debes tener en cuenta un par de cosas.. puesto que el abrigo es una prenda que siempre se va a usar sobre otras prendas, este debe ser lo suficientemente holgado para estar cómodas con ropa debajo, así que pruébalo con lo que vayas a usar, es decir... yo vivo en un clima cálido y probablemente lo más que usaré debajo será una blusa o camiseta, si vives en un clima frío y piensas usar el abrigo sobre un suéter, entonces haz esta prueba con un suéter debajo.
Para simular el abrochado del abrigo, es decir, el abrigo cerrado con sus ojales y botones... vamos a hacer coincidir las dos lineas que hemos dibujado con rotulador antes en los delantero y clavamos alfileres para cerrar tal como muestra la segunda foto.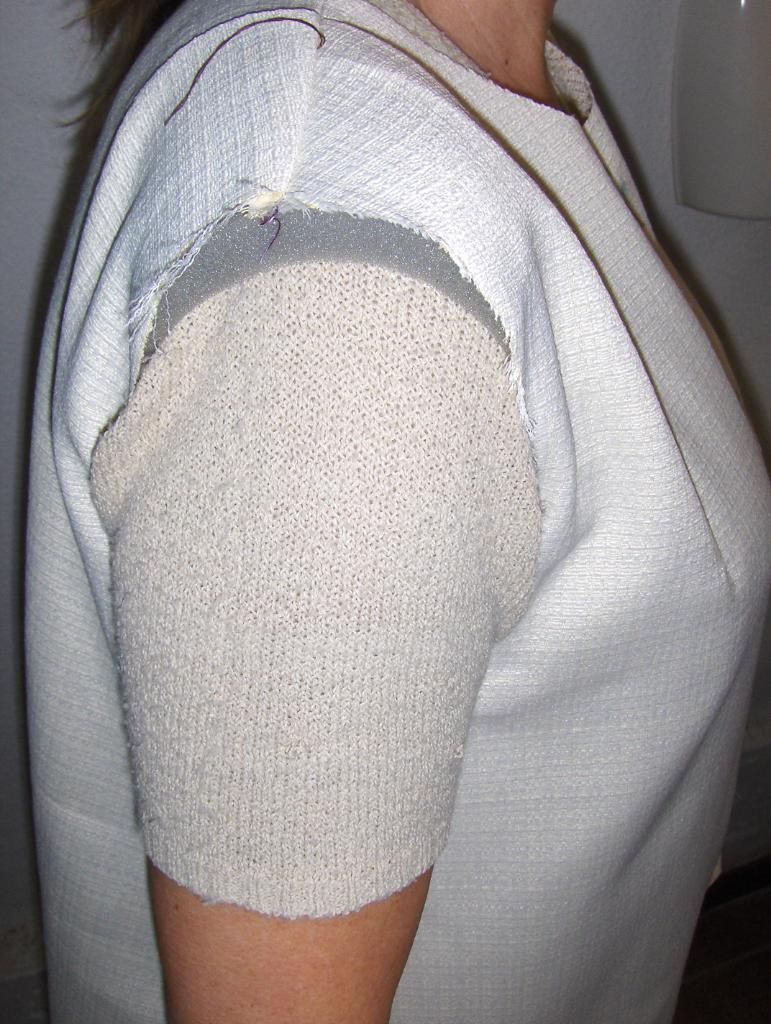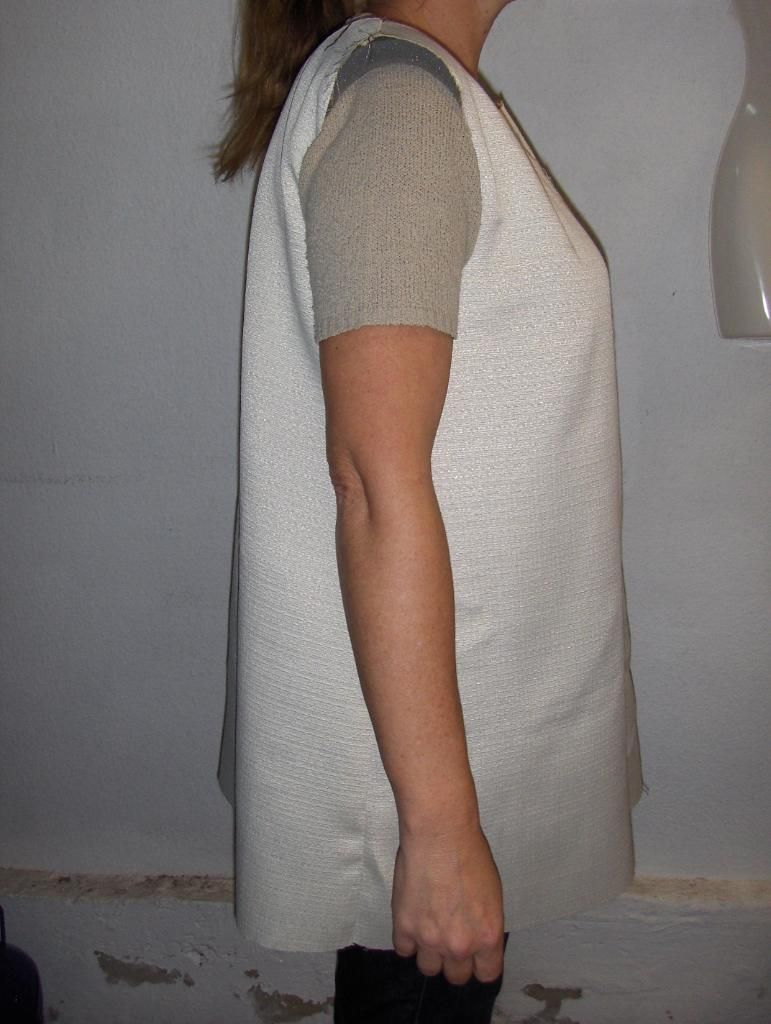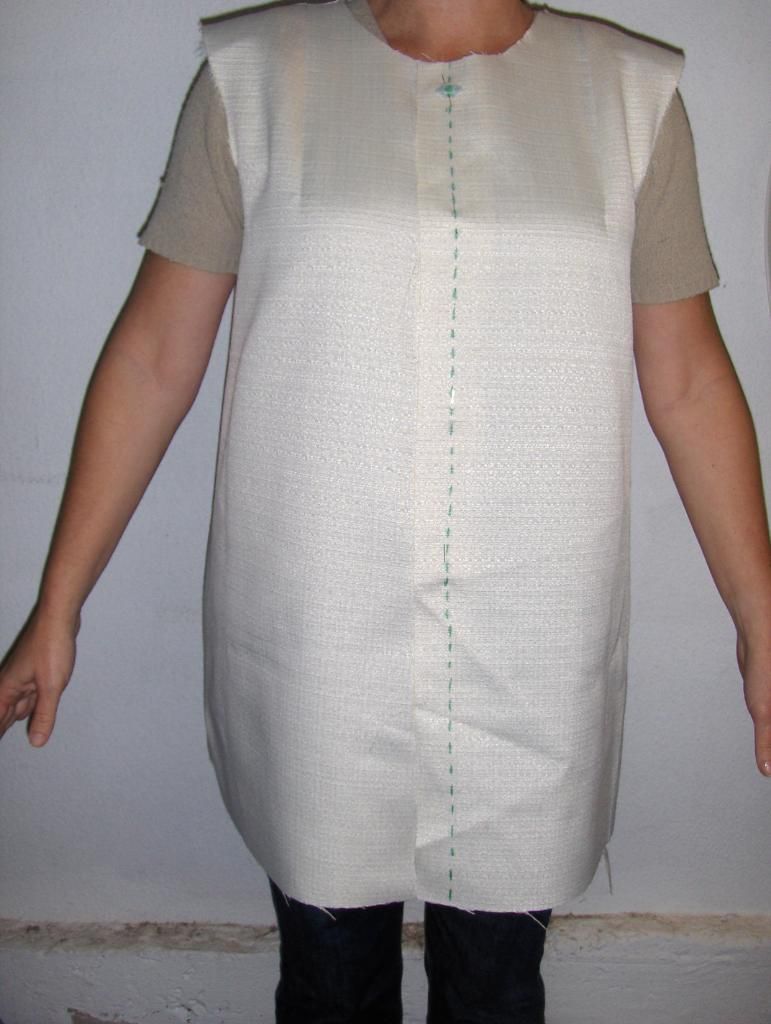 Do not worry because the muslin sack now look more than anything else, you'll see that is slowly taking shape to go, the most important thing now is to see that ...
- You are well wide, well mine ...
- It's okay tall, I'm also happy with that ..
- That the neckline is wide enough to wear a garment with neck beneath it, but closed enough to coat no "dance" on you, in my case I also agree.
- Chest dart that runs from the shoulder down effectively on the chest, not out of it ... mine is well on the site.
- Armhole that is open enough to not "pull" ... But if you look at the first picture, I need more hole cut armhole on the bottom, to test the muslin can see the wrinkles that form in this area of the armpit, so in this test only need open a little more this part of the armhole, otherwise okay.
Nor muslin worry because it does not seem to have the silhouette of the coat if you compare, you have to keep in mind that the coat has made ​​the hem, the lining inside and a lifetime that we will be discovering in this Sew Along, so it is normal coat has a silhouette finished with a well-defined low and our muslin seems that hangs down without any grace, but you see the change gradually, as I said before ...
Well, now I'm going to pilfer more my muslin and the sleeves!
Do you think so far??
No te preocupes porque la muselina ahora parezca más un saco que otra cosa, ya verás que poco a poco va a ir tomando forma, lo más importante ahora es comprobar que...
- te está bien de ancho, la mía bien...
- que está bien de alto, tambien estoy contenta con eso..
- que el escote es lo suficientemente ancho para poder usar una prenda con cuello debajo de él, pero lo suficientemente cerrado para que el abrigo no "baile" sobre ti, en mi caso también estoy de acuerdo.
- que la pinza de pecho que sale desde el hombro cae efectivamente sobre el pecho, no por fuera de él... la mía está bien en el sitio.
- que la sisa es lo suficientemente abierta para que no "tire"... bien, si te fijas en la primera foto, yo necesito recortar más el agujero de la sisa por la parte de abajo, al probar la muselina puedes ver las arrugas que se forman en esta zona de la axila, así que en esta prueba solamente necesito abrir un poco más esta parte de la sisa, por lo demás está bien.
Tampoco te preocupes porque la muselina no parece tener la silueta del abrigo si los comparas , tienes que tener en cuenta que el abrigo tiene hecho el dobladillo, el forro y toda una vida interior que vamos a ir descubriendo en este Sew Along, así que es normal que el abrigo terminado tiene una silueta con un bajo bien definido y nuestra muselina parece que cuelga hacia abajo sin ninguna gracia, pero verás el cambio poco a poco, como dije antes...
Y bien, ahora me voy a sisar más mi muselina y a por las mangas!!
Qué te parece todo hasta ahora??