And we continue with our particular adventure to get a beautiful coat of "New Girl", the next step is to alteration the pattern back, here we go ...
Y seguimos con nuestra particular aventura de conseguir un precioso abrigo de "New Girl", el siguiente paso es transformar el patrón de espalda , vamos allá...
As we did earlier with the pattern of the front, we will get a bigger size in the pattern back too, so we do the same thing again cut by lines drawn above and we split the pattern one centimeter high and another centimeter in width, holding it over another larger paper as the first picture shows.
Now we have to extend the center line back down and also copy on paper the waist line, you can see that I did with dashed lines.
Igual que hicimos anteriormente con el patrón del delantero, vamos a obtener una talla más grande en el patrón de espalda también, así que hacemos otra vez lo mismo de cortar por las lineas que habíamos dibujado anteriormente y separamos el patrón un centímetro a lo alto y otro centímetro a lo ancho, sujetándolo sobre otro papel más grande como muestra la primera foto.
Ahora hay que alargar la linea del centro de espalda hacia abajo y también copiar en el papel la linea de cintura, puedes ver que yo lo hice con lineas intermitentes.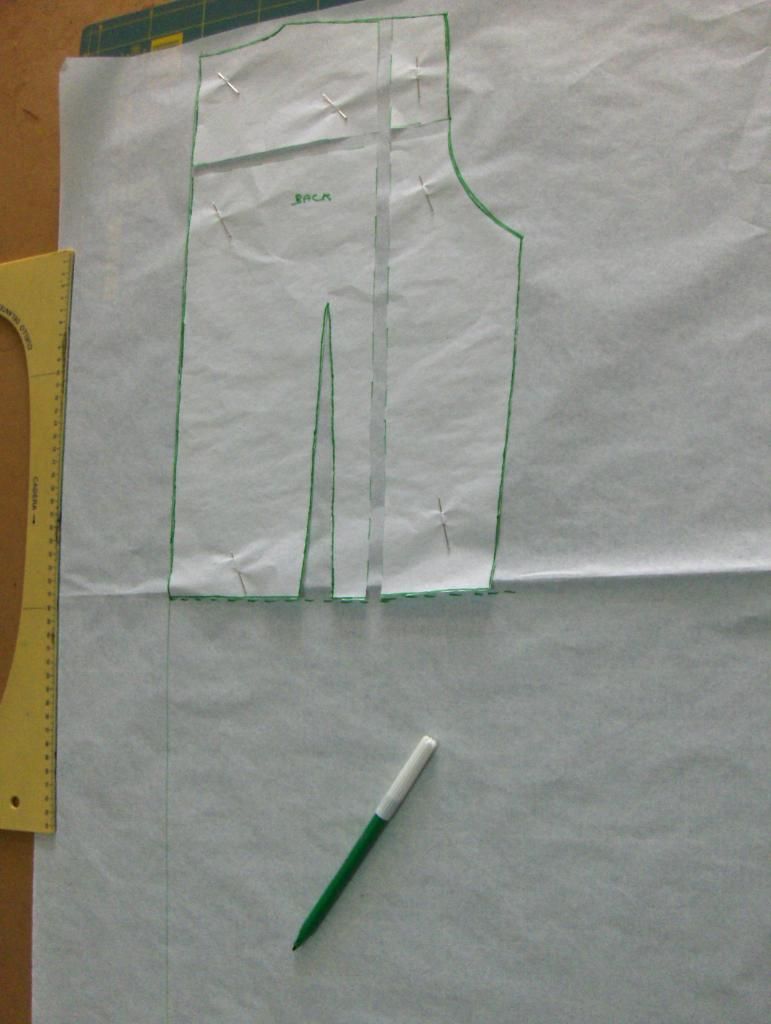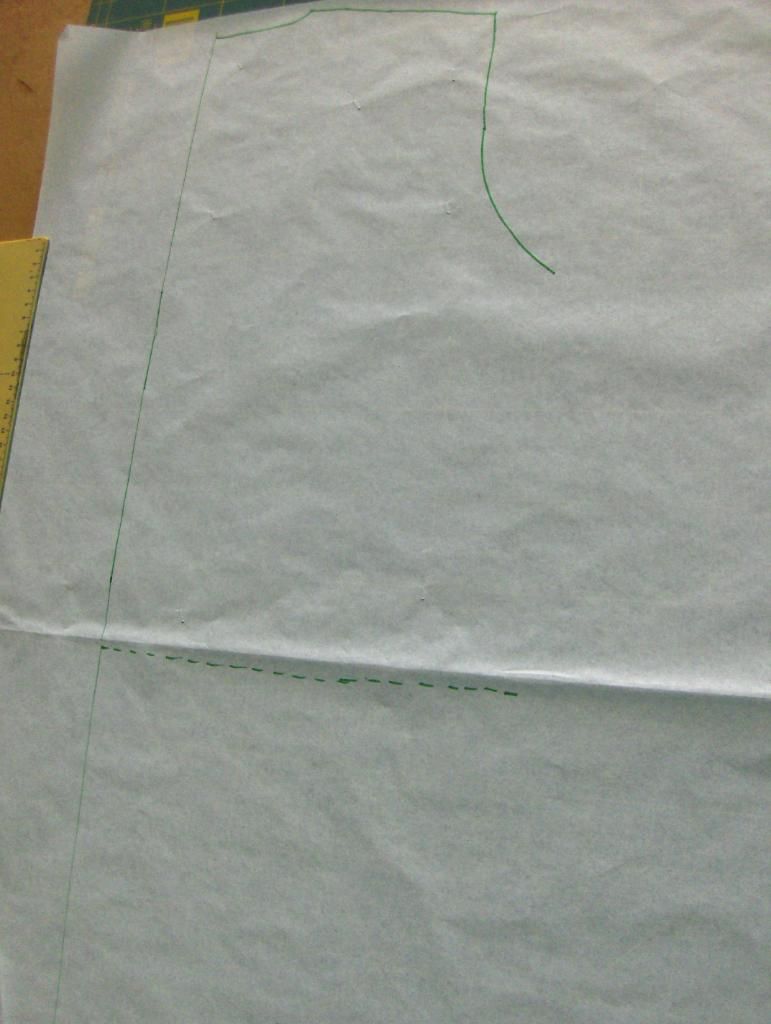 In addition you also have to copy large role in the whole contour of the pattern you have held with pins, then you can remove this pattern by removing the pins and have something like the second picture.
Además también tienes que copiar en el papel grande todo el contorno del patrón que tienes sujeto con los alfileres, luego puedes quitar este patrón sacando los alfileres y tendrás algo así como la segunda foto.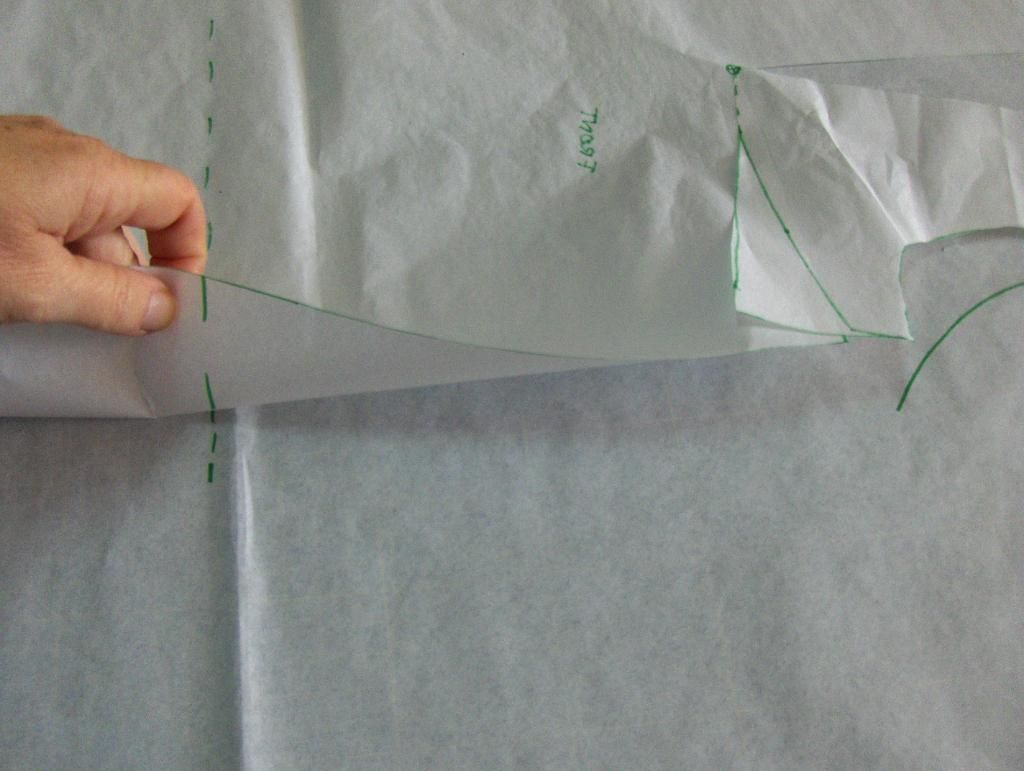 Now we need to draw the full length of the pattern of our coat to put it above the paper, we have trimmed front pattern from the previous post, put the final matching armhole and waist intermittent lines, look at the photos to understand how to put it ... well, pinned the pattern of the front in that position and draw the paper all the way around the side and bass, leaving two equal parts in the pattern of the front and back that we're drawing now.
Ahora necesitamos dibujar el largo total del patrón de nuestro abrigo, para ello colocamos encima del papel, el patrón del delantero que tenemos recortado desde el post anterior, colócalo haciendo coíncidir el final de la sisa y las lineas intermitentes de la cintura, fíjate en las fotos para comprender la forma de colocarlo bien..., sujeta con alfileres el patrón del delantero en esa posición y dibuja al papel todo el contorno del lateral y el bajo, quedando estas dos partes iguales en el patrón del delantero y el de la espalda que estamos dibujando ahora.
Once done it, you can now remove the front pattern and have something like the first picture, the pattern back to our shelter is almost formed, we will enlarge the neckline of this pattern back two centimeters as we did in front pattern ...
Una vez hecho esto, ya puedes quitar el patrón del delantero y tendrás algo como la primera foto, el patrón de espalda de nuestro abrigo ya está casi formado, vamos a agrandar el escote de este patrón de espalda dos centímetros igual que hicimos en el delantero...
Now you can cut back the pattern all the way around .... only one last thing we need ... We'll add a little comfort to the back of our coat to not be tight when using a garment below it, so we put the pattern front and back in the position shown in the second picture, make a small mark right where dart is the front.
Ahora ya puedes recortar el patrón de espalda por todo el contorno.... solamente nos falta una última cosa... vamos a añadir un poco de comodidad a la espalda de nuestro abrigo para que no resulte tirante cuando usemos alguna prenda debajo de él, así que colocamos el patrón del delantero y espalda en la posición que muestra la segunda foto, haz una pequeña marca justo donde cae la pinza del delantero.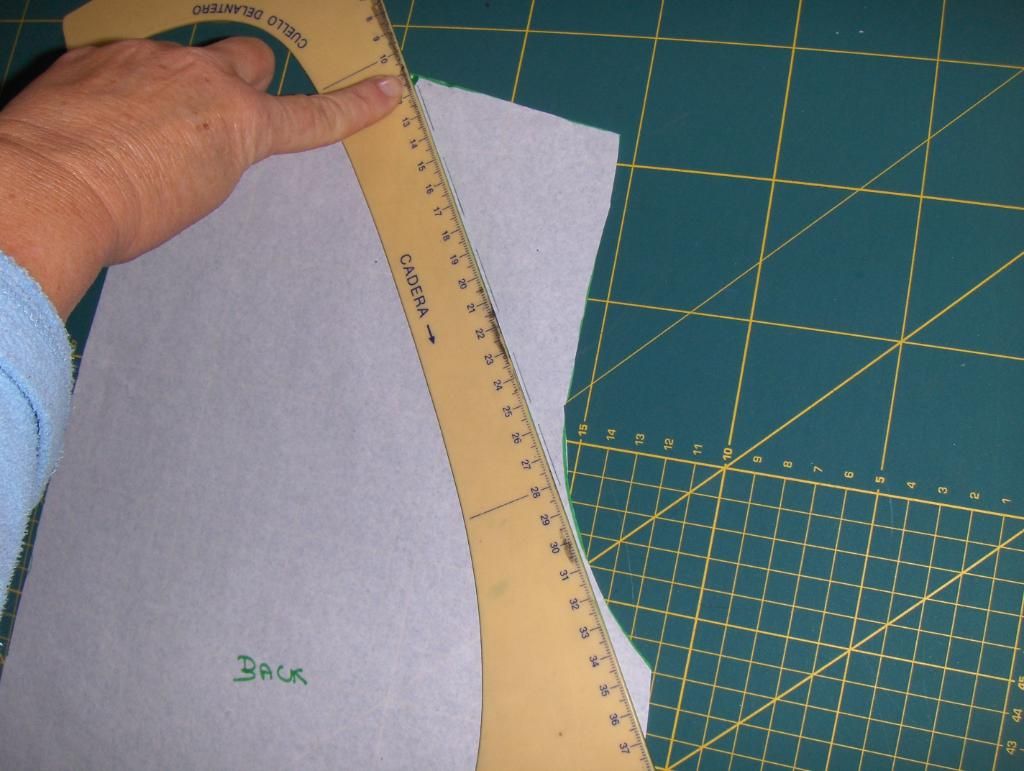 In the first picture you can see clearly what I mean ... Now place a rule that goes from the mark you just made up the armhole of the pattern, make it match the contour, wherever it falls, drawing a line with a pencil.
En la primera foto puedes ver bien lo que quiero decir... ahora coloca una regla que va desde esa marca que acabas de hacer hasta la sisa del patrón, hazla coincidir con el contorno, donde quiera que caiga y traza una linea con un lápiz.
Cut along the pencil line you just drew to get something like the first picture, do not tear the paper completely .... then placed under a piece of paper and separate the line where you cut one centimeter as shown in the second photo.
Corta en la linea del lápiz que acabas de dibujar para obtener algo como la primera foto, no separes el papel completamente.... entonces coloca debajo un trozo de papel y separa la linea por donde has cortado un centímetro como muestra la segunda foto.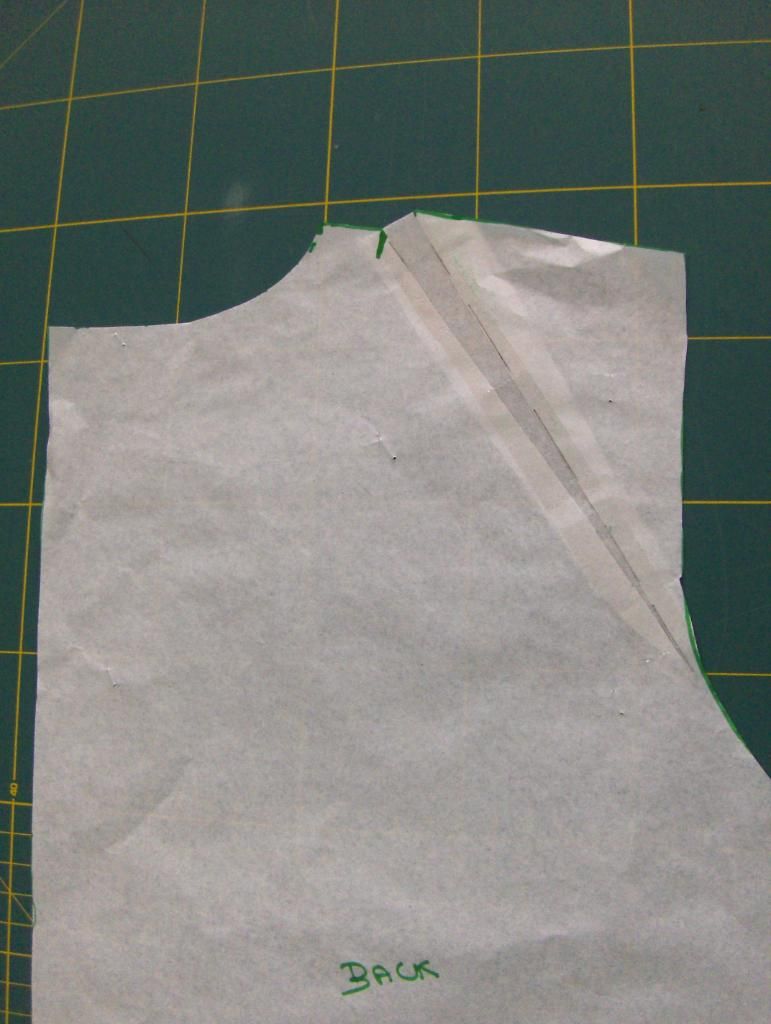 In this position, glue the paper with adhesive tape along the cut and trim any excess auxiliary paper, as the second picture being ....
En esta posición, pega el papel con cinta adhesiva a lo largo de todo el corte y recorta el exceso del papel auxiliar, quedando como la segunda foto....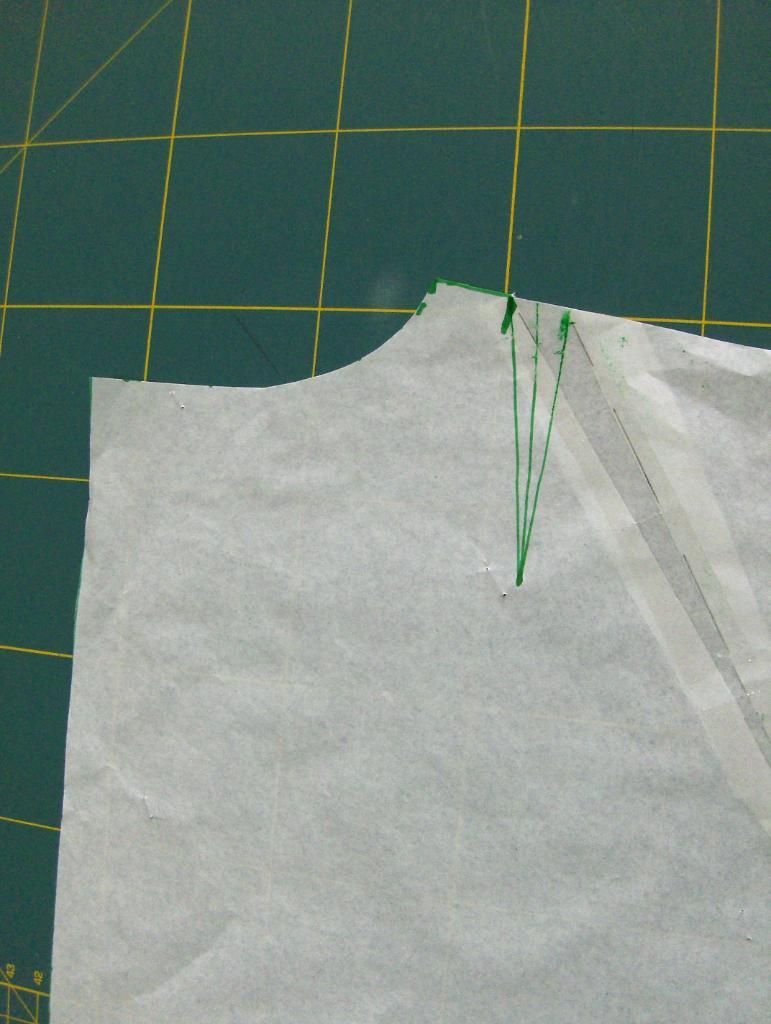 Now to the shoulder line cut in a straight line .... in the second picture you can see I've drawn a small dart in the shoulder with that centimeter orf comfort that we have added ... length of the dart is 7 centimeters.
Ahora vuelve a cortar la linea de hombro en linea recta.... en la segunda foto puedes ver que he dibujado una pequeña pinza de comodidad en el hombro con ese centímetro que hemos añadido...el largo de la pinza es de 7 centímetros.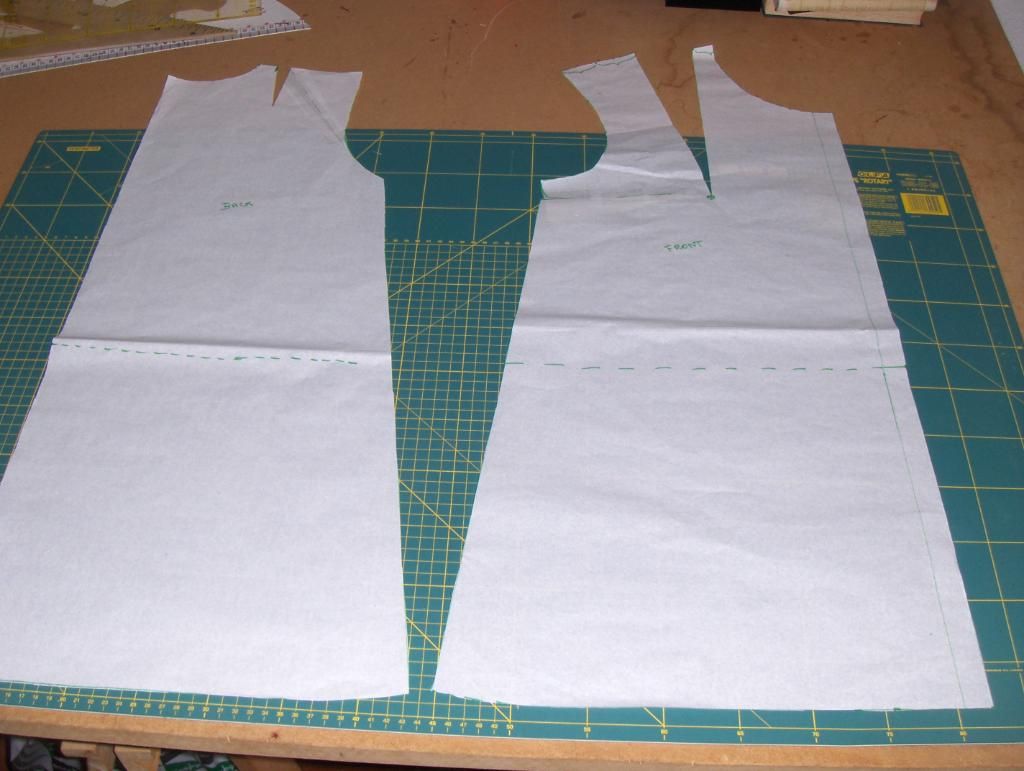 And that's it! We have in our possession the pattern front and back of our coveted coat! What's it going so far? So let's start with the part we like best of all ... cut and sew, right?
These two patterns are going to cut a muslin. In the previous post you can see that I'm going to use an old curtain fabric that does not use, so find a piece of fabric for your sewing cave to prove our muslin, cut patterns and we just closed the darts and sew the sides and shoulders ... we are immediately in front of our mirror!
Y ya está!!! Tenemos en nuestro poder el patrón delantero y espalda de nuestro codiciado abrigo!! Qué tal todo hasta ahora?? Así que vamos a comenzar con la parte que más nos gusta de todo... cortar y coser, verdad?
Con estos dos patrones vamos a cortar una muselina, es decir... una prenda de prueba. En el post anterior puedes ver que yo voy a usar una tela de cortina vieja que no uso, así que busca algún trozo de tela por tu cueva de costura para probarnos nuestra muselina, corta los patrones que acabamos de hacer y cierra las pinzas y cose los laterales y los hombros... nos vemos enseguida delante de nuestro espejo!!